Let Me Check: Still Nothing to Complain About

Considering we could be slipping & sliding to work I have no qualms about invigoratingly cool mornings and the colorful pile of leaves lurking on my yard.
On this date in 1969 two inches of snow delighted residents of the Twin Cities. On October 12, 1918, raging wildfires swept across Cloquet and Moose Lake. A "hurricane of burning leaves and smoke" left 453 people dead and 11,000 homeless.
The fires gripping California are apocalyptic; a tornado doesn't hold a candle to a 100-foot tall wall of flames moving at 30 mph. To date 8,550,951 acres of U.S. land has been charred, closing in on the all-time record of 10,125,149 acres scorched in 2015. And 13 of California's 20 biggest blazes have burned since 2000.
Showers stay mainly south of Minnesota until the PM hours Saturday, but next week looks dry with a run of 60s. We may see a couple 70s before the flakes start to fly. BTW, I don't see any accumulating snow close to home looking out 2 weeks. Beyond that - all bets are off.
87F on this date in 1975, but 2.5 inches snow fell here on October 12, 2009. Where are we living?
---
Not Bad for Mid-October. Highs mostly in the 60s; even a shot at 70F again late next week? Considering we could be shoveling right now I don't expect too many complaints. ECMWF guidance for the Twin Cities: WeatherBell.
---
84-Hour Rainfall Outlook. NAM guidance (12km) shows a bulls-eye of heavy rain from near Des Moines and Waterloo to the Quad Cities and Madison in the coming days. Some half inch rainfall amounts are possible Saturday over the southern third of Minnesota. Map: NOAA and Tropicaltidbits.com.
---
Late October: Cooling Down. There's a shocker. Considering the sun angle Wednesday evening, October 25, will be equivalent to the sun angle on February 17, you would expect a cooling trend. Nothing too harsh or arctic, but by the last week of October just about all of us will have experienced our first frost/freeze.
---
---
---
---
Deadly California Wildfires Continue. Here's an excerpt of a Praedictix briefing that went out Wednesday morning:
Praedictix Briefing: Issued Wednesday, October 11th, 2017:
*At least 115,000 acres have burned over the past several days due to at least 15 separate wildfires across Northern California. A minimum of 25,000 people have been evacuated due to wildfires across the state, with at least 2,000 structures destroyed.
* California Governor Jerry Brown has declared a State of Emergency over the past several days for the following counties due to the ongoing wildfires: Butte, Lake, Mendocino, Napa, Nevada, Orange, Solano, Sonoma, and Yuba. President Donald Trump has approved a Major Disaster Declaration for the state of California, which allows federal aid and funding to be available to the state.
* New evacuations were issued overnight for portions of Sonoma and Napa Counties. The San Francisco Chronicle has a live feed with the latest developments on North Bay fires, including the latest numbers and evacuations.
* Fire weather conditions will worsen across northern California today as a frontal boundary moves through, with increasing northerly winds and lower humidity values. These conditions will allow any ongoing wildfires to once again spread quickly across the region.
* We're also watching wildfires across southern California as well, particularly the Canyon 2 Fire located east of Anaheim. Winds will increase in these areas Thursday into the end of the week, allowing the potential of new fires and fire growth.
---
Numerous Fires Continue Across California. Dozens of wildfires continue to burn across the state of California, with areas of northern California – including the Santa Rosa area – hit the hardest. You can view an interactive map of the active wildfires from CAL FIRE and view more information on individual fires.
---
Sonoma and Napa County Active Fires. At least 50,000 acres have burned in the Central and Southern LNU Complex fires across Sonoma and Napa Counties, which includes the Tubbs and Atlas fires. As of last night, the Tubbs and Nuns Fire have burned at least 32,000 acres combined with 0% containment. More information on the Tubbs and Nuns Fire, including evacuation areas, can be found from the city of Santa Rosa. The Atlas Fire, threatening northern Napa communities, had burned 26,000 acres and was only 3% contained as of last night. More information on the Atlas Fire, including evacuation areas, can be found from CAL FIRE.
You can view an interactive map of these active wildfires from CAL FIRE with the latest updates.
---
Red Flag Warnings In Effect. Fire weather conditions will worsen across northern California throughout the day as a front passes through, bringing lower humidity values and strong north winds. Sustained winds are expected to be between 15-30 mph, with wind gusts approaching 50 mph especially into the evening and overnight hours. These conditions will make firefighting conditions difficult, and ongoing fires – and any new ones that spark – will be able to spread quickly, once again endangering communities downwind of the fires.
---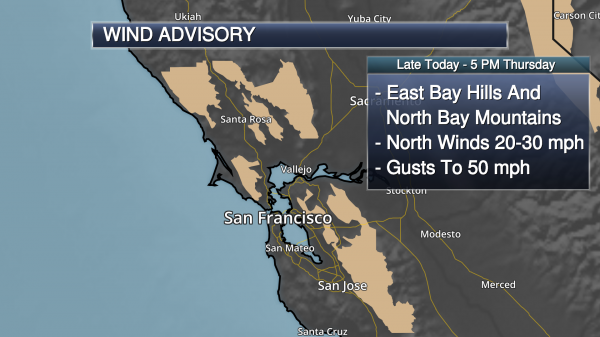 Wind Advisory. With gusts to 50 mph possible behind that front, especially into the evening and overnight hours, a Wind Advisory has been issued for the East Bay Hills and North Bay Mountains from this evening through 5 PM Thursday. Winds will be on the decrease throughout Thursday, with calmer conditions for firefighters to potentially make progress on ongoing fires Thursday Night and Friday. Unfortunately, another system will drop into the region Friday Night into Saturday, increasing the winds and the fire danger once again. The National Weather Service in San Francisco provides some context between what is expected with this wind event versus the events of Sunday Night:
It is important to put this upcoming wind event in perspective with the one we just had that has led to the devastating fires over the North Bay. For Sunday night we did see local gusts of 60 to 80 mph and even in North Bay Valley locations winds were gusting over 35 mph. In this case winds for higher elevation spots (especially over 1,500 feet) winds will locally gust in the 45 to 55 mph range while valley areas should see gusts peaking in the 20 to 30 mph range. However the values over the North Bay Mountains and East Bay Hill may be high enough to topple some additional trees and power lines.
---
Wind And Fire. This means that the Red Flag Warning and Wind Advisory cover some of the same areas in the North Bay Mountains and East Bay Hills. For the North Bay Mountains, the alerts go into effect at 5 PM this evening. In the East Bay Hills, they go into effect at 11 PM tonight. Map credit: NOAA.
---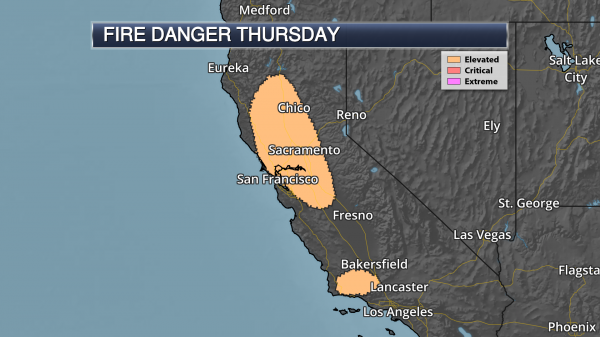 Fire Danger Continues Thursday. We will continue to see an elevated fire danger Thursday in parts of the Bay Area and Sacramento Valley with those strong northerly winds expected. We also will see strong northerly winds develop Thursday evening into the nighttime hours across the Santa Barbara County Mountains toward I-5, leading to an elevated fire danger as well. Mapping: Praedictix and AerisWeather.
---
Fire Weather Watch In Southern California. Due to the fire weather threat starting Thursday Night, a Fire Weather Watch has been issued across southern Santa Barbara County into the Los Angeles and Ventura County mountains through Saturday morning. Winds are expected to be out of the north to northwest at 15-30 mph, with gusts to 50 mph possible. The strongest winds are expected through the Santa Ynez Range and across the I-5 corridor. Fires could rapidly spread across these areas due to the strong winds and low humidity values. There is the potential that strong winds could continue into the weekend as well.
---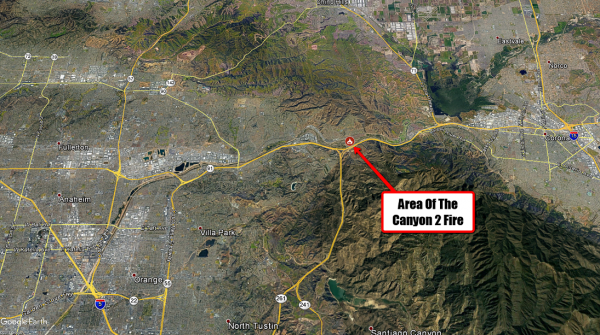 Canyon 2 Fire. Progress is being made on the Canyon 2 Fire burning east of Anaheim. As of yesterday evening, the fire had burned 8,000 acres but was 40% contained. Evacuations were lifted last night for eastern Anaheim neighborhoods, but were still in effect for parts of Orange, CA. More information on this fire can be found from local officials:
Other Useful Links:
Meteorologist D.J. Kayser, Praedictix
---
California Increased Wildfire Risk
. Some perspective from
Climate Signals
: "..
.Extreme heat and years of ongoing drought are both linked to climate change and are increasing wildfire risk throughout California by contributing to the frequency and severity of wildfires in recent decades. Ten of California's 20 largest wildfires on record have all burned in the last 10 years, while pine beetles, heat and California's five-year drought have caused 66 million trees to die in the state's Sierra Nevada forests since 2010. A formal modeling analysis has identified the fingerprint of global warming in California's wildfires, reporting that  "an increase in fire risk in California is attributable to human-induced climate change..."
---
The Meteorologist's Lament.
Weather forecasts are better than ever, but the public doesn't seem to realize it,  according to meteorologist Mike Smith reporting at
Slate
: "...
For meteorologists like me, this is frustrating. Our increasingly accurate forecasts save untold numbers of lives. For instance, the death rate from tornadoes has been cut by more than 95 percent since the 1930s, the last decade when there was no tornado warning system of any kind. In the 1970s and '80s, thunderstorm-related downbursts—violent downrushing air that spreads out when it reaches the ground, creating wind shear—were the No. 1 cause of airliner crashes. Thanks to the work of weather scientists, the last wind shear-related airline crash was in 1994. It's easy to overlook these major advances because when meteorology is successful, nothing happens. Planes don't crash. People don't die, or at least they die in far smaller numbers than before the storm warning system existed. It's a bit like national security—stopping a terrorist attack before it happens doesn't make for as good a news story
..."
---
Why Choose a Career in Weather? It's Complicated If it weren't for weather merit badge and a tropical storm named Agnes, which flooded my home in 1972, I might have a real job. Most meteorologists were traumatized by a major storm at a tender age: a hurricane, flood, tornado or blizzard, something traumatizing and life-changing. A career in meteorology is lifelong therapy, as we tee up questions with no good answers. How could this happen? Why wasn't the forecast better? Today I'm involved with two weather companies attempting to make forecasts more accurate for consumers and businesses. Because roughly a third of America's GDP is now "weather-sensitive". This year variability in weather will impacted US GDP to the tune of $879 billion. With better forecasts companies can optimize operations, save money - and keep staff safer.
---
Super Bowl of Weather. Hey, what's 175 degrees above friends? From -60F to +115F, Minnesota has just about everything (except hurricanes). Thank God for that. Details via the Minnesota DNR.
---
Hurricane Season Isn't Even Over, But It's Already Secured Its Place in History Books. Here's an excerpt of an insightful post at Capital Weather Gang: "This year's hurricane season isn't over. It still has 50 days left, but it's already one of the most terrible on record, which will be talked about and remembered for generations. Like other famous seasons — 1995, 2004 and 2005 to name a few — 2017 has had many storms and many significant landfalls. Impressive records are falling this year. In an average season, we would typically have seen 10 named storms, five hurricanes and two major hurricanes by Oct. 11. This year — far from average — there have been 15 named storms from Arlene in April through Ophelia in early October. Nine of those storms became hurricanes, and it just happened to be nine consecutive storms from Franklin to Nate. That's only happened three other times that we know of..."
Map credit: "The entire coastline from Texas to North Carolina has experienced tropical-storm-force winds this year." (Laris Karklis/The Washington Post).
---
First 10-Hurricane Streak in Atlantic Since 1886. The New York Times provides perspective on a crazy year in the Atlantic basin.
---
84% of Puerto Rico Is Without Power.
The New York Times
reports that 80% of the island's cellphone antennas are down, making communication difficult.
---
Help Puerto Rico Recover by Mapping Damaged Area.
Crowd-sourcing mapping details can help residents of Puerto Rico can back up to speed faster, reports
Atlas Obscura
: "...
When you go someplace like Dominica, you simply don't have that," says Tyler Radford, the executive director of Humanitarian OpenStreetMap Team, a nonprofit that does emergency mapping in the wake of disasters. "If you pull up a map, you won't see the outline of each building. You'll only see the major roads." These mapping disparities matter for governmental and humanitarian organizations delivering aid after a hurricane, earthquake, or other disaster. Radford's organization mobilizes volunteers from around the world to try to fill in those gaps, fast. Currently, they have a call out for volunteers to help improve digital maps of Puerto Rico and Dominica, in the wake of Hurricanes Maria and Irma, areas of Mexico City affected by the earthquake, and Bangladesh and Nepal, which experienced extreme flooding in August. Anyone can sign up to help create maps that will aid workers on the ground.
.."
---
"Darwin Award": These Hurricane Chasers Are Being Ridiculed for Decisions During Nate. Public service or dangerous stunt? Here's an excerpt from Capital Weather Gang: "...The work that I do here is a public service," Timmer told The Washington Post via email, "and like first responders who place themselves in harm's way, we do go into dangerous situations but as top professionals do so in intelligent and cautious ways so that people understand the dangers and when told to evacuate they will do so." Theiss takes a similar approach to chasing storms. "This is no different than a war photographer going to war or an astronaut going to space in the name of science." Theiss told The Post. The only difference, he says, is that he's "going to war with nature..."
---
---
Why Do Hurricanes Hit the East Coast of the USA But Not the West Coast? It's all about water temperatures. Upwelling of chilly water on the west coast of the USA keeps temperatures chilly, which prevents (most) hurricanes and tropical storms from coming ashore from Seattle to San Diego. Here's a clip from The Columbus Dispatch: "...There are two main reasons for this disparity. The first is that hurricanes in the northern hemisphere form at tropical and subtropical latitudes and then tend to move toward the west-northwest. In the Atlantic, such a motion often brings the hurricane into the vicinity of the East Coast of the U.S. In the Northeast Pacific, the same west-northwest track carries hurricanes farther offshore, well away from the U.S. West Coast. "The second factor is the difference in water temperatures along the U.S. East and West coasts. Along the East Coast, the Gulf Stream provides a source of warm (above 80 degrees) waters, which helps to maintain the hurricane. Along the West Coast, however, ocean-surface temperatures rarely rise above the lower 70s, even in the middle of summer. Such relatively low temperatures do not provide enough thermal energy to sustain a hurricane's strength..."
---
Interpreting Hurricane Forecast Displays Can Be Difficult for General Public. New research highlighted at ScienceDaily caught my eye: "...This suggests that people may be more likely to evacuate or take precautionary actions if one of the lines in an ensemble overlaps with their own town, but feel relatively safe if not. This type of risk assessment is inaccurate because forecast scientists choose how many lines they want to show -- meaning that ensemble forecasts rarely show all the possible paths the hurricane could take. These findings matter because the visualization technique chosen can change what information people think is most important and affect decision making about mandatory evacuations and allocation of emergency management resources, the researchers said..."
---
NOAA Is Running Out of Money for its Hurricane Hunting Planes and Drones. I had no idea. MSN.com has details: "In the aftermath of Hurricane Sandy, the U.S. National Oceanic and Atmospheric Administration (NOAA) began a unique program to more closely study these devastating tropical storms and their impacts using small, expendable drones called Coyotes. But despite the system proving its worth as recently as the monitoring of Hurricane Maria, the project is now effectively dead amid a funding crisis that has begun to threaten the agency's aerial research efforts in general, including leaving one of its research planes, a modified Gulfstream IV-SP business jet, increasingly dangerous to fly..."
File photo credit: TIME Inc. "One of NOAA's Coyotes in 2015."
---
Scientists Ground Truth What Influences Hurricanes. USGS has an interesting read: "...Reliable, global observations of tropical cyclones are even shorter, dating to satellite monitoring in the 1970s. Instrumental records of past storms are relatively robust in some regions, such as the North Atlantic, but still only extend back to approximately 1850. "Future research would look at whether increased hurricane activity during the Younger Dryas was more extensive along the East Coast or limited to Florida, as well as whether cyclone activity in the North Atlantic increased during other episodes of AMOC reduction," said Toomey. Research was conducted by analyzing sediment cores collected offshore Florida in 2002. Early Holocene and Younger Dryas sections of these cores were identified and sediment-size changes were then measured to identify deposits likely derived from intense storm events. The article, "Increased hurricane frequency near Florida during Younger Dryas Atlantic Meridional Overturning Circulation slowdown," is authored by the USGS, the Woods Hole Oceanographic Institution, Texas A&M University, and the Bermuda Institute of Ocean Sciences..."
---
New Orleans Has to Work Fast to Avoid Washing Away by 2050. VICE reports: "...Link agrees: "New Orleans's big threat now is heavy rain." The levees being breached during Katrina were "the more serious source of water," at the time, he told me, but the highest rainfall Katrina dropped anywhere in Louisiana was 15 inches. Compare that to well over 50 from Harvey, and you see the danger. "[If] you're talking about 50 inches of rain over an enclosed bathtub like New Orleans, it's going to be terribly flooded," Link told me. "If Harvey had parked its butt over New Orleans, New Orleans would have had just as much or more flooding as it did during Katrina." Worryingly, New Orleans is seeing an uptick in extreme rain events these days—a 62 percent increase since 1950, according to a 2015 report from Climate Central. That's a change that Barry Keim, Louisiana's state climatologist, recently told the New Orleans Times-Picayune was "consistent with a warming climate..."
---
There's a New Type of Northern Lights, Scientists Call it "Steve". Gomn.com has the details: "Space.com says Steve isn't actually new. People previously just referred to the phenomenon as "proton arcs." Now that it (kind of) has a name, scientists will be looking to find exactly what it's all about. Then it might get an official name. Although it probably couldn't beat Steve. MLive.com says NASA scientists have recently turned Steve into an acronym: Strong Thermal Emission Velocity Enhancement. Now it's not quite so random..."
Photo credit: Space.com. "Photographer Dave Markel caught this view of a strange aurora-like feature that appears in the skies of northern Canada. Based on data from European Space Agency's Swarm satellites, it appears to be a 16-mile-wide (25 km) ribbon of flowing gas in an area whose temperature is 5,500 degrees Fahrenheit (3,000 degrees Celsius) higher than the surroundings; the gas flows at 3.5 miles per second (6 km/s) compared to a speed of 33 feet/second (10 m/s) on either side of the ribbon. They're calling the feature "Steve." Credit: Dave Markel Photography.
---
Killing Obama's Power Plan Hasn't Stopped the Renewable Boom Yet. Bloomberg explains: "...The investments in solar and wind are a testament to the seemingly unstoppable boom in renewables that has been driven more by economics and state environmental policies than federal regulations. So far this year, U.S. utility giants including Warren Buffett's Berkshire Hathaway Inc., American Electric Power Co. and Xcel Energy Inc. have laid out plans to collectively spend billions on wind farms that'll replace aging coal-plants. "The Clean Power Plan doesn't make a jot of difference," said Amy Grace, an analyst at Bloomberg New Energy Finance. "Utilities are installing wind and solar because it is cheaper than running existing plants, and corporations are procuring wind and solar because it's economic to do so..."
---
Don't Market EVs as "Green". Promote something a granola-munching hippy might drive? Not so much, according to the author of a story at Inside EVs: "...Faster, cooler, smarter, more fun to drive… and good for the environment. Electric vehicles (EVs) are all that and more. That's why I'm calling for an immediate ban on "green" stereotypes from all EV marketing efforts. No more talking flowers, dancing animals or smiling trees—ever. Why? Because EVs don't need to win the hearts of environmentalists. They had them at hello. The hearts they have to win are those who don't believe EVs are the future. But alas, the writing is on the wall. More and more manufacturers are committed to producing all-electric vehicles, including big players like GM, Porsche, BMW and Jaguar. If great marketing helps build an emotional connection between your target consumer and your product/service, then these manufacturers must court self-proclaimed "car buffs"—like me. It's actually quite simple. You go after what drives people to have a passion for cars and driving..."
---
Maybe It's Time to Cede US Freeways to Driverless Cars. An article at WIRED.com caught my eye: "...Autonomous vehicles are truly on the way, but until they complete their conquest, they'll have to share the road with awful human drivers. People are unpredictable. They don't always follow the rules. They get distracted, brake late and hard, and make aggressive lane changes. They've already proved a menace to the robots: A quick check of records from the California DMV shows humans have a nasty habit of rear-ending driverless cars stopped at red lights or stop signs.The solution? Keep 'em separate. Give each class of car its own lanes, or even entire roads. That's the thrust of a white paper proposal that imagines an "autonomous vehicle corridor" replacing the I-5 freeway between Seattle and Vancouver. In other words, that entire stretch of critical roadway linking two major cities across an international border would be given over to driverless cars by 2040, with no old-fashioned, human piloted, cars allowed..."
Image credit: Madrona Venture Group.
---
China Charges Toward Electric-Car Supremacy. The Wall Street Journal explains: "Watch out Detroit: A Chinese electric car revolution is on the way. China is placing big bets on a plan to reshape the global auto industry by replacing gas-guzzling cars on its streets with new-energy vehicles. Ahead of Donald Trump's trip to China in November, the White House is focused on holding back Chinese exports in traditional industries like steel and aluminum. But that's a sideshow. A titanic struggle is under way to control the industries of the future from robotics to medical equipment and artificial intelligence. In new-energy vehicles, China is firmly in the driving seat..."
Image credit: WSJ. "China is the world's largest market for electric vehicles, thanks largely to a relentless program of subsidies and incentives." Photo/Video: Eva Tam/The Wall Street ​Journal​
---
There's Enough Wind Energy Over the Oceans to Power Human Civilization. A story at The Washington Post made me do a double-take: "New research published on Monday finds there is so much wind energy potential over oceans that it could theoretically be used to generate "civilization scale power" — assuming, that is, that we are willing to cover enormous stretches of the sea with turbines, and can come up with ways to install and maintain them in often extreme ocean environments. It's very unlikely that we would ever build out open ocean turbines on anything like that scale — indeed, doing so could even alter the planet's climate, the research finds. But the more modest message is that wind energy over the open oceans has large potential — reinforcing the idea that floating wind farms, over very deep waters, could be the next major step for wind energy technology..."
Photo credit: "An offshore wind farm stands in the water near the Danish island of Samso, May 19, 2008." REUTERS/Bob Strong.
---
Nobel Prizes Are Great, but College Football is Why American Universities Dominate the World. Quartz connects the dots: "...The connection between brawny linemen and brainy physicists may seem remote, but it's really not. In order to support a large number of high-powered professors, US universities need to attract a huge number of tuition-paying students, and they need to turn those students into loyal lifelong donors. In order to draw state appropriations, they also need to extend their reach beyond their own alumni by attracting the political support of citizens in the immediate community and in the state at large. And they need to do so within an extremely competitive higher education market consisting of nearly 5,000 degree-granting institutions..."
Photo credit: Gophersports.com.
---
That Halloween Costume May Give You Head Lice. Other than that, go for it! Huffington Post reports: "...Doctors usually see a jump in head lice this time of year. Although many people associate it with the start of the school year, the real cause may be even scarier: Halloween costumes. Cherie Sexton, a nurse practitioner in Oregon, Ohio, says trying on Halloween costumes is a real bugaboo. "We have a lot of people going into stores right now, trying on masks, trying on costumes and trying on wigs," Sexton told Toledo station WTOL-TV. "And a lot of people don't give much thought to the fact that several people could've tried it on before them." Sexton's solutions might strike some as nitpicking: 
Never try on a mask in a store without wearing a bathing cap over your hair..."
---
Ikea Just Launched a Pet Furniture Collection. This is why North Korea hates us. Bored Panda explains: "IKEA is well known for stocking everything you could possibly need to make a house a home (plus plenty of things that you don't need, yet somehow still end up buying). One thing they've always lacked however is a collection of furniture specifically designed for pets, but IKEA aims to change all of that with its new range called Lurvig. What's a lurvig? It's the Swedish word for "hairy" (obviously) and the range includes everything from dog beds and couch covers to cat tunnels and scratching posts..."
---
Radioactive Pigs Are Wandering Central Europe, 30 Years After the Chernobyl Nuclear Disaster. Well that can't be good. The Verge has details: "Thirty years after a reactor exploded at the Chernobyl nuclear power plant in Ukraine, radiation is still turning up in some unexpected places: for instance, in the wild boars tramping through the mountains of the Czech Republic — almost a thousand miles away. These radioactive boars aren't turning into teenage mutant ninja pigs, but they aren't safe for eating, either. That's a problem in a country where boar meat is mixed into stews and goulash. In fact, the wild boars are being irradiated by their own food: the wild mushrooms they depend on during the cold winter months, Reuters reports..."
Photo credit: Marisa04 (Pixabay)
---
56 F. maximum temperature yesterday in the Twin Cities.
61 F. average high on October 11.
72 F. high on October 11, 2016.
October 12, 1969: Snow accumulates in several locations. Minneapolis receives 2 inches, while St. Cloud records 3.6 inches, Redwood Falls gets 1.7 inches, and Springfield records 1.5 inches.
October 12, 1918: Dry fall weather sets the stage for dangerous fires. Several fires roar through large areas of Carlton and St. Louis Counties. The towns of Cloquet, Moose Lake and Brookston are the hardest hit. The Carlton County Vidette calls it a 'Hurricane of burning leaves and smoke'. At least 453 fatalities are reported, and possibly as many as 1,000 occurred. Over 11,000 people would be left homeless.
---
---
TODAY: More clouds than sun. Winds: SE 10-15. High: 64
THURSDAY NIGHT: Partly cloudy. Low: 50

FRIDAY: Patchy clouds, close to avg. temperatures. Winds: N 5-10. High: 61

SATURDAY: Best chance of showers PM hours. Winds: E 8-13. Wake-up: 47. High: near 60

SUNDAY: Partly sunny, breezy and cooler. Winds: NW 8-13. Wake-up: 44. High: 54

MONDAY: Chilly start, mild finish. Bright sunshine. Winds: S 5-10. Wake-up: 38. High: 61

TUESDAY: Blue sky, another fine fall day. Winds: NW 5-10. Wake-up: 48. High: 65

WEDNESDAY: Plenty of sun, lukewarm breeze. Winds: SW 7-12. Wake-up: 47. High: 68
---
Climate Stories...
EPA Rolls Back Clean Power Plan (CPP) as Country Pushes Back: From Climate Nexus: Reasoning that the Obama administration overstepped legal boundaries in formulating its signature climate regulation, the EPA formally began the process of rescinding the Clean Power Plan Tuesday. The agency took the unusual step of providing a closed-door, pre-announcement briefing to conservative allies only, leaving businesses, reporters, state regulators and environmental groups--who are usually provided briefings ahead of major federal announcements--in the dark. While some red states and industries applauded the move, major companies (including Apple, Amazon, Google and Microsoft) and city and state leaders have condemned the repeal, and more attorneys general have pledged to join legal action against the rollback. The Wall Street Journal reports that many of the country's biggest power companies plan to continue shifts to natural gas and renewables, and policymakers and experts emphasize that the EPA's move could prove to be nothing more than a morale boost for the faltering coal industry.  For more on the legal reasoning behind the CPP rollback, scroll down to the Denier Roundup. (Rollback: Washington Post $, Reuters, Politico, BBC, Bloomberg, Vox, The Hill. Replacement options: New York Times $, Politico Pro $. Pushback: The Guardian, AP (CT), AP (MA), Red state response: Washington Examiner, AP, Great Falls Tribune. Power companies: WSJ $. Coal industry and CPP: NPR. Commentary: New York Times editorial $, NPR, Gina McCarthy interview, New York Times explainer $, Mother Jones, Rebecca Leber analysis, ThinkProgress, Joe Romm column, LA Times editorial $, Miami Herald editorial, Baltimore Sun editorial, Greensboro News & Record editorial, Salisbury Post editorial, Wilmington News Journal editorial, Madison.com, Phil Hands cartoon)
---
Amid Wreckage of Hurricane-Devasted Caribbean, Leaders See a Climate Change Opening. The  Los Angeles Times reports: "...We did not choose this opportunity. We did not wish it," he added. "Having had it thrust upon us, we have chosen actively and decisively to be that example to the world." The plan, which began in 2015 after Tropical Storm Erika's floods and mudslides left the island with a $482 million reconstruction bill, calls for more renewable energy and less fossil fuels, hospitals and clinics that won't become paralyzed by power outages, infrastructure built around the environment and crops capable of withstanding today's climate swings. "The intensity of hurricanes are increasing and we need to ensure we can build better, resilient infrastructure," said Skerrit, who arrived in Washington Monday ahead of a World Bank and International Monetary Fund meeting this week to press his case for assistance. "We're going to need significant sums of resources..."
---
Carbon-Sucking Technology Needed by 2030s, Scientists Warn. Reuters has the details: "As efforts to cut planet-warming emissions fall short, large-scale projects to suck carbon dioxide out of the atmosphere will be needed by the 2030s to hold the line against climate change, scientists said on Tuesday. Many new technologies that aim to capture and store carbon emissions, thereby delivering "negative emissions", are costly, controversial and in the early phase of testing. But "if you're really concerned about coral reefs, biodiversity (and) food production in very poor regions, we're going to have to deploy negative emission technology at scale," said Bill Hare of Climate Analytics, a science and policy institute..." Image: NASA.
---
Scientists Say Cost of Capturing CO2 Declining. The Associated Press reports: "Technology now in limited use removes about 90 percent of carbon dioxide from the smokestacks of coal-fired power plants, but energy experts say cost remains the chief obstacle to bringing the "clean coal" touted by President Donald Trump into the mainstream. They cite recent advances in applying the longstanding technology, despite some earlier setbacks, but say the U.S. power sector needs bigger tax credits or other incentives to close the cost gap for using them....The U.S. has successfully cut other smokestack pollutants, including sulfur, nitrogen and mercury. But carbon dioxide is a bigger challenge because there is so much of it. Coal- and gas-fired electrical generators produce about 30 percent of CO2 from human activity. Other industries like cement, steel and fertilizer manufacturing add another 20 to 25 percent. Farming and vehicles are also major contributors..."
---
Knocking at our Door: Climate Change and Conflict. Minnpost explains the shifts in rainfall, drought and sea level rise impacting local populations and migration patterns: "...Looking beyond Syria, we see the challenges caused by climate change in many places: rising sea levels in Bangladesh, drought in Somalia, and flooding in Pakistan. It is a tragedy when we view these events as a "problem over there," effectively disregarding their significance. As individuals and entire groups are displaced by these environmental disasters, the risk of conflict increases around the world. It is even more tragic, however, and one of our greatest threats, when climate change is viewed as a hoax or when the underlying scientific evidence is argued as fake. Climate change is a reality, it is a global phenomenon, and the consequences are knocking at our door: witness Hurricanes Harvey and Irma. While there certainly are stark differences between Texas and Syria, each new environmental catastrophe brings the risk of social unrest and conflict closer to our door."
Photo credit: REUTERS/Muhammad Hamed. "The Syrian conflict can be viewed, in part, as a product of climate change."
---
The Most Powerful Evidence Climate Scientists Have of Global Warming. InsideClimate News has the details: "...More than 90 percent of the excess heat trapped by greenhouse gas emissions has been absorbed into the oceans that cover two-thirds of the planet's surface. Their temperature is rising, too, and it tells a story of how humans are changing the planet. This accrued heat is "really the memory of past climate change," said Kevin Trenberth, the head of climate analysis at the National Center for Atmospheric Research and co-author of a new paper on ocean warming. It's not just the amount of warming that is significant—it's also the pace. The rate at which the oceans are heating up has nearly doubled since 1992, and that heat is reaching ever deeper waters, according to a recent study. At the same time, concentrations of carbon dioxide in the atmosphere have been rising..."
Graphic: Paul Horn, InsideClimate News.