Alerts Broadcaster Briefing: Here is an excerpt of an Alerts Broadcaster briefing I issued Sunday afternoon, July 20, 2014.
* Intense heat, humidity and instability coupled with a ripple of low pressure aloft likely to ignite severe storms from the Dakotas into western Wisconsin Monday afternoon into Tuesday morning. This squall line may produce significant wind damage and flooding rains.
* Ripe for MCS formation Monday PM hours: Meso-convective system capable of 70-90 mph wind gusts, capable of significant damage and power outages, especially central Minnesota from Alexandria and Brainerd to St. Cloud and Twin Cities.
* Typhoon Matmo likely to miss Philippines, but hit Taiwan as a Category 2-3 storm by the AM hours, July 23 (local time). Shanghai, China may experience very heavy rain and flooding from this system by July 25.
---

Ripe For Extreme Storms. The atmosphere will be locked and loaded for very severe storms from the eastern Dakotas and much of Minneosta into far western Wisconsin late Monday into Tuesday morning. Highs surging well into the 90s coupled with dew point in the mid/upper 70s will create an extremely unstable atmosphere able to support a small derecho or MCS system dominated by straight-line winds over 70-80 mph and hail. An isolated tornado can't be ruled out either, although that's not the primary risk. NOAA SPC has escalated the risk from "slight" to "moderate", underscoring the growing probability of a significant severe storm outbreak late Monday and Monday night.
---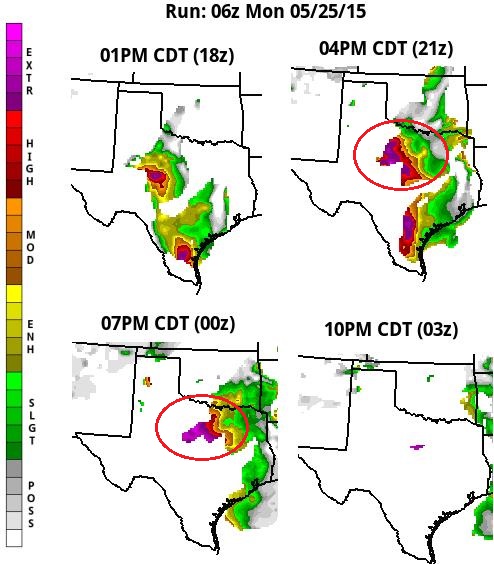 Tracking The TPI. Alerts Broadcaster's exclusive TPI (Tornado Potential Index) further isolates the risk of extreme storms capable of damaging winds, from near Bismarck, North Dakota early afternoon tomorrow to the Minnesota border by late afternoon, then pushing toward Alexandria, St. Cloud and the Twin Cities during the evening hours, probably as an MCS system generating damaging wind gusts.
---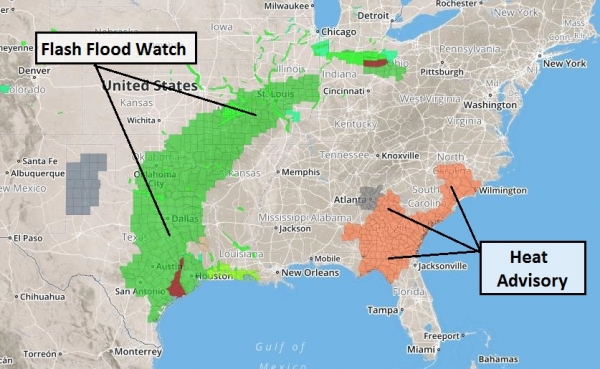 Heat Spike. Monday may wind up being the hottest day of the summer with highs near 100F from eastern South Dakota into southwest Minnesota, mid 90s over much of central and southern Minnesota. The urban heat island will add a few degrees of additional heat, making the Tiwn Cities metro feel like 100-105 by mid and late afternoon, with an elevated risk of heat exhaustion and heat stroke (before severe storms break the heat later in the evening).
---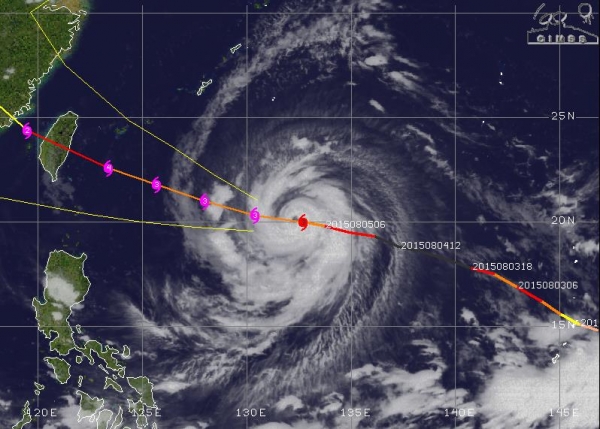 Typhoon Matmo Threatens Taiwan. The newest typhoon is forecast to produce sustained winds of 95-110 mph with gusts as high as 115-120 mph (5-10 foot storm surge) as it pushes toward Taiwan in the coming days, passing south and west of Taipei by early morning on July 23, local time. I do expect significant disruptions across Taiwan with a potential for major urban flooding and moderate storm surge damage. Shanghai may experience some flooding from a weakening Matmo as the center of circulation pushes over China by July 25.
Summary: Conditions are increasingly ripe for an outbreak of extreme T-storms late Monday and Monday night from the Dakotas into Minnesota and Wisconsin. The primary risk is violent straight-line wind gusts (NOAA SPC has mentioned wind gust speeds of "hurricane force" - which would imply 75-90 mph winds). Typhoon Matmo is strengthening, and although Manila and the Philippines should be spared this time around, Taiwan may not be quite so lucky. We'll keep you posted with an update Monday morning.