What Season Is It? Welcome to the "In Between"

The TV show "Stranger Things" on Netflix brought us the Upside Down. Today I'd like you to consider the In Between. You know what I'm talking about. There's a brief period, maybe 30-40 days, when we're not shoveling OR weeding. Winter's most obnoxious side effects have faded, but spring has yet to tee up trouble.
No more subzero lows and no getting chased indoors by severe thunderstorms! The wind doesn't hurt your face AND mosquitoes have yet to descend on The Bold North.
We're in between seasons, and as much as I look forward to hitting the beach and doing shots of sunscreen, there is something to be said for the Dog Days of March.
A blizzard pounds Boston today with 12-18 inches of snow; the 3rd Nor'easter in 10 days. It can always be worse. Meanwhile, Minnesota enjoys mellowing temperatures with a streak of 40s. 50F isn't out of the question by Saturday. Any storms slide south of Minnesota until further notice as we limp into spring.
For the record, the sun will be as high in the sky today as it was on September 27. No 60s brewing anytime soon, but the meltdown continues. 
---
Trending Milder. 40s return for much of this week; maybe mid to upper 40s by the weekend as Pacific air finally returns for an extended duration. Nothing arctic brewing; we'll experience more cold fronts, but the sun is now too high in the sky for numbing cold. ECMWF data: WeatherBell.
---
Relatively Mild Finish to March. GFS guidance tries to carve out a mild ridge of high pressure over much of central Canada; a cut-off low forecast to be centered over Kansas by the evening of March 26. If the map above verifies (a big if) we could expect consistent 40s and 50s roughly 2 weeks out.
---
Toasty April? NOAA's favorite climate model continues to show (crazy) temperature anomalies for next month, especially to our north, where temperatures are predicted to be as much 20-25F warmer than normal. Not buying it yet, but the CFSv2 has been fairly consistent with the warm signal. After a chilly February and March, with La Nina fading in the Pacific, we're due for a warmer than average month. Map: WeatherBell.
---
---
Praedictix Briefing: Issued Monday, March 12th, 2018:
* The third Nor'easter in two weeks will impact parts of the Northeast starting tonight through the middle of the week.
* Heavy snow will once again be one of the major stories, with 6-18"+ possible from central Long Island into New England. This heavy snow swath includes Boston (MA), as well as Portland, Bangor and Caribou (ME). This snow will fall at a 1-3" per hour rate, making travel difficult.
* High Wind Watches are in effect across eastern Massachusetts, as winds will gust up to 65 mph. This could cause some power outages, especially with expected wet snow that will more easily cling onto power lines and tree branches. Strong winds near the coast could cause blizzard conditions Tuesday.
* Minor high tide coastal flooding is also expected with this system, especially in areas vulnerable from the previous two coastal systems.
---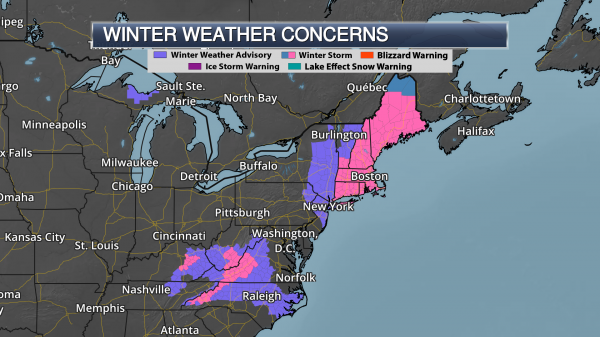 Winter Weather Concerns. Across parts of the Ohio Valley and Mid-Atlantic, Winter Storm Warnings and Winter Weather Advisories are in effect from Tennessee to Virginia and North Carolina in association with the developing coastal low. Storm total snow accumulations of 2-8" are expected across this region through tonight.
In the Northeast, Winter Storm Warnings are in effect this morning from Long Island to northern New England, including Boston (MA), as well as Portland, Bangor and Caribou (ME). This is where the heaviest swath of snow is expected, with 6-18" of snow possible through the middle of the week. Winter Weather Advisories are in effect south and west of where the warnings are, including New York City. Snow totals in these areas will generally be under a half a foot. For the larger cities under winter alerts this morning:
New York City (NY) is under a Winter Weather Advisory from

8 PM

tonight

to

Noon

Tuesday

for 2-4" of snow.
Boston (MA) is under a Winter Storm Warning from

11 PM

tonight

to

8 PM

Tuesday

for 12-22" of snow.  
Portland (ME) is under a Winter Storm Warning from

Midnight

tonight

to

8 AM

Wednesday

for 10-18" of snow. 
Bangor (ME) is under a Winter Storm Warning from

8 AM

Tuesday

to

2 PM

Wednesday

for 10-18" of snow. 
Caribou (ME) is under a Winter Storm Warning from

Tuesday

afternoon through

Wednesday

evening for 9-14" of snow. 
---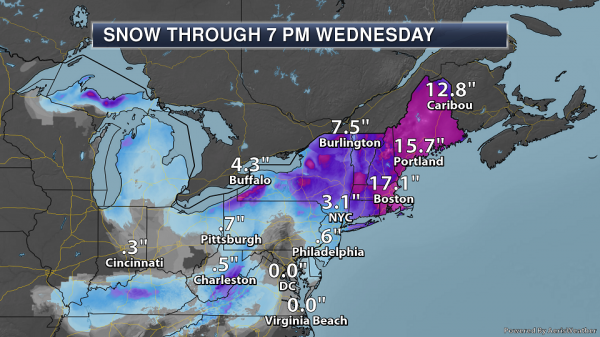 Northeast Snowfall Expected. The heaviest swath of snow across the Northeast is expected to fall from eastern Massachusetts to southern Maine, where snowfall totals of a foot or more are expected. Snow totals in the immediate Boston area could approach 16-18" by the time the snow comes to an end Tuesday Night, with the heaviest falling during the day Tuesday. Snow totals just southeast of Boston, however, could approach 20" for areas like Plymouth. In New York City, snow totals of 2-4" are expected.
---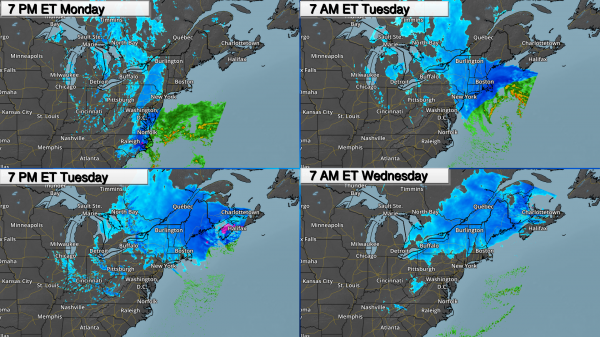 Timing The Precipitation. Snow will continue to fall from Kentucky into the Mid-Atlantic today, falling heavily at times. As we head into tonight, snow will start to spread into the Northeast as the system intensifies off the East Coast. Moderate to heavy snow is likely across the Northeast Tuesday, with the potential of blizzard conditions in coastal Massachusetts and Maine. Snow will taper off in New York City Tuesday afternoon and in Boston Tuesday Night. Heavy snow will continue to fall in parts of Maine Tuesday Night into early Wednesday.
---
Monday Night/Tuesday Wind Gusts. The strongest wind gusts (40 mph+) with this coastal low are expected near the coast, especially along the southeastern Massachusetts coast. In areas like Cape Cod and Martha's Vineyard, winds will gust up to 65 mph during the height of the system. This would have the potential of causing power outages across the region, especially in places that have been hard hit by the previous coastal storms. We could also see blizzard conditions as these strong winds combine with the heavily falling snow to create very low visibilities for an extended period of time.
---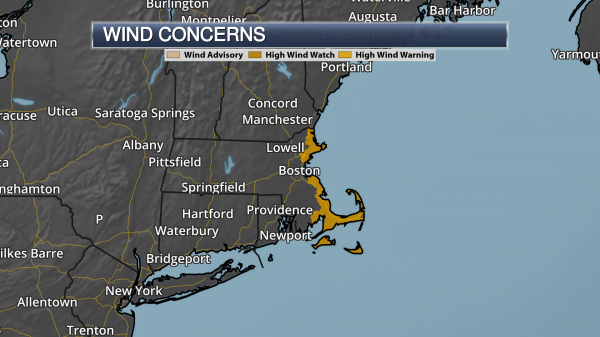 High Wind Watches. Due to the potential of winds up to 65 mph, High Wind Watches have been issued for eastern coastal Massachusetts. This includes southern coastal Plymouth County, Cape Cod and the islands from tonight into Tuesday evening, with the strongest winds expected Tuesday morning.
Summary. Another high impact Nor'easter will impact parts of the Northeast starting tonight, lasting into the middle of the week. At least 6" of snow is expected to fall from central Long Island into Maine, with over a foot possible from eastern Massachusetts to southern Maine. The heavy snow, combined with gusty winds of at least 40 mph near the coast, will contribute to the potential of blizzard conditions as well, reducing visibility. High Wind Watches are in effect for eastern Massachusetts, including Cape Cod, as winds up to 65 mph are expected. The combination of heavy snow (falling at 1-3" per hour rates) and gusty winds will have major impacts on travel, especially during the height of the snow Tuesday into Tuesday night. Minor high tide coastal flooding is also expected with this system, especially in areas vulnerable from the previous two coastal systems.
D.J. Kayser, Meteorologist, Praedictix
---
---
---
Nuclear Fusion on Bring of Being Realized, Say MIT Scientists. Here's an excerpt from The Guardian: "The dream of nuclear fusion is on the brink of being realised, according to a major new US initiative that says it will put fusion power on the grid within 15 years. The project, a collaboration between scientists at MIT and a private company, will take a radically different approach to other efforts to transform fusion from an expensive science experiment into a viable commercial energy source. The team intend to use a new class of high-temperature superconductors they predict will allow them to create the world's first fusion reactor that produces more energy than needs to be put in to get the fusion reaction going..."
Image credit: "A visualisation of MIT's planned fusion experiment." Photograph: Ken Filar/MIT.
---
Even a Little Light In Your Bedroom at Night Can Heighten Depression. Big Think explains: "Sleeping with even a little bit of light in your bedroom at night can heighten depression, says a new study from the American Journal of Epidemiology.  Even when other factors were taken into consideration — like whether the patients smoked, ate poorly, etc — this increase in light in the bedroom accounted for a big jump in depression. 900 elderly Japanese patients were studied over the course of 2 years and it was found that those with over 5 lux had a higher chance of developing depression by 60-65%. Out of the 900 people in the study, just 150 of those slept in rooms with more than 5 lux..."
Photo credit: Wikicommons: Japanexperterna.
---
Does Your Lake Have a Moving Island? Atlas Obscura has all the head-scratching details: "Residents up in Crow Wing County have had enough. "The wild beast of North Long Lake," as one person described it to a local TV news crew, broke loose from the shoreline last fall. Heedless of property lines and proper decorum, it caromed around the lake for about three weeks before coming to rest, leaving behind crumpled docks and mangled boat lifts. For now it is harmless, frozen in place. As the spring thaw approaches, the residents who live around North Long Lake are gearing up once more to deal with their beast. It won't be easy..."
Photo credit: "The bog on Minnesota's North Long Lake last fall." Steve Kohls/ Forum News Service.
---
---
40 F. Twin Cities high yesterday.
39 F. average high on March 12.
23 F. high on March 12, 2017.
March 13, 2006: A March snowstorm dumps 9.9 inches at the Twin Cities.
March 13, 1851: Before the spring green-up, dry grassy areas are a fire risk. On this date prairie fires blazed in Minnesota.
---
---
TUESDAY: Cool sunshine. Winds: NW 7-12. High: 37
TUESDAY NIGHT: Mostly clear. Low: 20

WEDNESDAY: Blue sky, trending milder. Winds: W 7-12. High: 44

THURSDAY: Plenty of sunshine, no complaints. Winds: NE 5-10. Wake-up: 27. High: 43

FRIDAY: Partly sunny, feels like March. Winds: E 5-10. Wake-up: 24. High: 45

SATURDAY: Intervals of sun, hints of spring. Winds: SW 3-8. Wake-up: 28. High: 48

SUNDAY: Patchy clouds, still storm-free. Winds: N 3-8. Wake-up: 31. High: 47

MONDAY: Light slushy mix possible. Winds: E 7-12. Wake-up: 32. High: near 40
---
Climate Stories...
The Oily Path to Tackling Climate Change. Axios has more details on additional tax incentives to encourage carbon capture: "On the outskirts of America's oil capital is a carbon capture project poised to reap hundreds of millions of dollars in new federal tax credits. There's a catch, though: it uses the carbon to extract oil.Why it matters: Capturing carbon to extract oil seems counterintuitive to addressing climate change, but experts who have crunched the numbers say this technology is a necessary, if controversial, step that's helped along by these kinds of projects. A new report by the International Energy Agency shared exclusively with Axios that is being released today finds a provision in the recently passed budget bill is poised to drive a record amount of investment to carbon capture..."
Illustration credit: Rebecca Zisser / Axios.
---
OCEANS: Headlines and links via Climate Nexus: "This dire ocean scenario is a stark reminder of why the world is trying to stop climate change (Washington Post $), Paris of the oceans' pact crucial to save seas, says WWF head (Reuters), Brazil protecting vast sea areas in bid to safeguard biodiversity (Reuters), Scott Walker pulls request for marine sanctuary after Trump review." (The Hill)
---
---
Get the Politics Out of Climate Change. An Op-Ed at Bloomberg View resonated; here's a snippet: "...Perhaps the accumulating concrete signs of climate change are helping people recognize the need to act. But stronger leadership is also needed to get state carbon taxes across the finish line. What's needed most is to get this issue out of partisan politics, where it never belonged. There's nothing left or right about seeing that lower emissions are essential to insure against the possibility of extreme warming, sea-level rise and severe weather patterns. Carbon taxes, moreover, should appeal to Republicans as much as Democrats, for two reasons. First, they make it possible to reduce emissions with a minimum of government intervention. Put a price on carbon pollution that accounts for the damage it inflicts, and the market can be left to work out the most efficient ways to dial it back. Second, the revenue can be used to reduce other taxes. (The legislation in Washington was not revenue-neutral, which may explain why it failed to draw Republican support.)..."
---
Track the Spread of Climate Misinformation on the Web. You can check out the claims and refutations  at Hoaxy.
---
CLIMATE IMPACTS: From Climate Nexus: "Global warming is already fueling 'high-tide' floods — and it's only going to get worse (USA Today, Axios, InsideClimate News), as climate change parches Somalia, frequent drought comes with conflict over fertile land." (PBS NewsHour)
---
Fleet of Sailboat Drones Could Monitor Climate Change's Effect on Oceans. Natural patterns of El Nino and La Nina are superimposed over a slow warming of the world's oceans, as reported by Science Magazine: "Two 7-meter-long sailboats are set to return next month to California, after nearly 8 months tacking across the Pacific Ocean. Puttering along at half-speed, they will be heavy with barnacles and other growth. No captains will be at their helms. That is not because of a mutiny. These sailboats, outfitted with sensors to probe the ocean, are semiautonomous drones, developed by Saildrone, a marine tech startup based in Alameda, California, in close collaboration with the National Oceanic and Atmospheric Administration (NOAA) in Washington, D.C. The voyage is the longest test for the drones and also the first science test in the Pacific—an important step in showing that they could replace an aging and expensive array of buoys that are the main way scientists sniff out signs of climate-disrupting El Niño events..."
Photo credit: "Carrying a suite of 15 instruments, saildrones 1005 and 1006 started their Pacific journey last September from Alameda, California." Jennifer Keene, UW/JISAO and NOAA PMEL.
---
The Battery Will Kill Fossil Fuels - It's Only a Matter of Time. Because every industry and technology gets disrupted - nobody gets a pass in perpituity. Here's a clip from Bloomberg: "...Batteries, once relegated to powering small devices like remote controls and watches, are now poised to energize the things most central to daily life, from smartphones to cars to entire homes and offices. And Big Oil's taken notice. At CERAWeek by IHS Markit -- an annual conference that has drawn some of the largest names in the world of fossil fuels to Houston this week -- executives met to talk batteries, not once, but twice. "The question is no longer if batteries will disrupt the power sector," IHS wrote in a description of one of the discussions, "but rather how much and how fast?" (If it's any indication of how the industry itself feels about this, the first of these sessions was held across the street from the actual conference, at a restaurant, and it was still packed.)..."