Sticky & Stormy Here - Imagining the Unimaginable

Remind me not to whine about the humidity, or the thunderstorms, or the inevitable cold fronts anytime soon. Our weather woes are embarrassingly trivial compared to what residents from Texas and Florida to Puerto Rico and the Caribbean are facing.
It's hard for Minnesotans to comprehend a mega-storm like Maria, which raked Puerto Rico with 150 mph wind gusts. Imagine the worst severe storm you've ever encountered; multiply wind speeds by 2, and then have it last the better part of 8 hours.
Maria was the rough equivalent of a 50-mile wide EF-4 tornado; one that wouldn't go away. The risk of starvation, infection, disease & civil unrest will be off the scale in coming weeks. Sadly, many who survived the storm may not survive Maria's aftermath.
After a heat index above 100F yesterday 100F yesterday, today brings highs in the 80s and sauna-like dew points above 70F. Storms flare up today; now Sunday now looks drier and sunnier. The farther you drive up I-35 or I-94, the greater the odds of running into puddles this weekend.
We dry out next week, with Fall-like highs in the 60s.
---
* Image above courtesy of NASA's International Space Station.
---
A Flush of September Warmth and High Dew Points. Dr. Mark Seeley reports at Minnesota WeatherTalk: "The trend toward above normal temperatures this month, which began on the 10th, continues in a big way through this weekend. Most observers now report September mean temperatures that are 2 to 4 degrees F warmer than normal, but have yet to see real extremes. This will change for Friday through Sunday as several areas of the state will see daytime highs soar into the 80s and 90s F, with nighttime lows in the 60s and 70s F. As a result, it is likely that some new daily temperature records will be set in terms of both warm daytime highs and warm nighttime lows. So far the highest temperature measured this month was 93 degrees F on the 14th at Browns Valley (Traverse County). This is likely to be surpassed. According to the Minnesota State Climatology Office it is especially unusual to see a series of nighttime low temperatures in the 70s F so late in the month of September. In fact for the Twin Cities climate record consecutive nightly lows in the 70F during the month of September is rare indeed, having happened only in 1897, 1927, 1939, 1948, and 1955. Should nighttime lows remain in the 70s F both Friday and Saturday (Sept 22-23) it will be the latest ever such occurrence..."
---
---
Fall Color Update. Colors are peaking from near Bemidji to Warroad and Roseau. The Brainerd Lakes and North Shore are still 1-2 weeks away from peak color. Map courtesy of the Minnesota DNR.
---
---
Praedictix Briefing: Issued Friday morning, September 22nd, 2017:
* Power continues to be out for all of Puerto Rico in the wake of Maria, and likely will be for up to a half a year, according to the mayor of San Juan. The Puerto Rico Electric Power Authority has said that they hope to get some areas back up within weeks if it is possible. Many communication links continue to be down, which means the extent of the damage is unknown in spots. Flooding continues along some rivers – mainly in northern and eastern Puerto Rico – but river levels are decreasing. President Donald Trump issued a disaster declaration for Puerto Rico Thursday.
* For recovery efforts in Puerto Rico, scattered showers and storms will continue across the region through the weekend. Heat index values are expected to be near 100 across parts of the region, making conditions unpleasant.
* Maria is impacting the Turks and Caicos and the southeastern Bahamas this morning as a major Category 3 hurricane. Heavy rain (up to 20"), damaging storm surge of 9-12 feet and hurricane-force winds can be expected throughout the day.
* Maria will continue to move in a north to northwest direction over the next five days, bringing the system away from the Bahamas into the weekend.
* Confidence is increasing that Maria will stay offshore the East Coast into next week, curving back out into the Atlantic by the end of the week. Impacts such as high surf and rip currents can still be expected along the East Coast from Maria, however. By early next week, tropical storm force winds will also be possible along the Outer Banks due to an expansive wind field associated with Maria.
* Even though Jose has become post-tropical off the New England coast, the system is still bringing tropical storm conditions to Cape Cod with gusts over 50 mph at times. Tropical Storm Warnings remain in place. Jose will continue to weaken over the next several days.
---
Morning Satellite Of Maria. Maria continues to be a major hurricane this morning; however the eye isn't as visible on satellite. This is a sign of upper level winds that are starting to disrupt the system. As of this morning, the center of Maria was near the Turks and Caicos Islands, officially about 30 miles north-northeast of Grand Turk Island. Maria had sustained winds of 125 mph, and was moving to the northwest at 7 mph. (Satellite data: AerisWeather)
---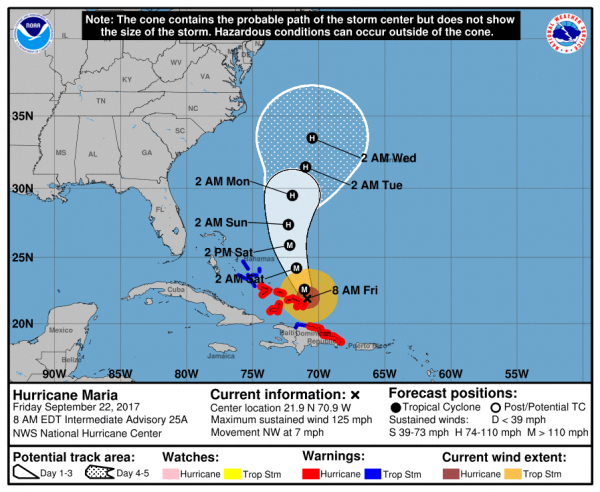 Maria Official Track. Maria will continue off to the north and northwest over at least the next 72 hours, which will continue to bring the center of the system near the Turks and Caicos as well as the southeastern Bahamas today. The system is expected to undergo a weakening trend over the next several days, due to increasing upper level winds as well as cooler waters that Maria will be moving over. Maria will lose major hurricane status by Sunday, but continue to have winds of at least 75 mph by Wednesday morning, when the system is expected to be sitting well northwest of Bermuda. This path would continue to keep Maria well east of the United States coast; however dangerous surf and rip currents are likely starting later today along the Southeast Coast.
---
Maria Looks To Remain Offshore. Confidence is increasing that Maria is likely to stay off the East Coast, with most guidance showing this. However, it is still too early to be 100% certain that that will happen. Maria will still bring impacts to parts of the East Coast, however, even if it does remain offshore. This includes the threat of high surf and rip currents, as well as gusty winds depending how close the storm passes.
---
Gusty Winds By Early Next Week In The Outer Banks. Going off the current path for Maria, winds of at least tropical storm force are expected across most of the Bahamas over the next couple days, with hurricane force expected for the southeastern Bahamas. As the system moves north, these tropical storm force winds will be possible for areas of the coastal Mid-Atlantic and Bermuda by early next week due to an expected large wind field with Maria.
---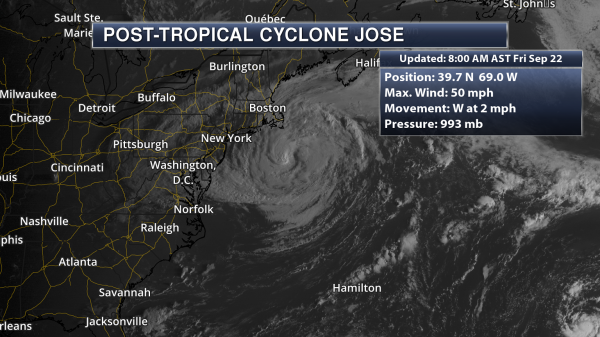 Jose Still Bringing Tropical Storm Conditions To Cape Cod. Even though Jose has become a post-tropical system, we are still seeing tropical storm force wind gusts (39+ mph) at times across Cape Cod and the Islands. Earlier this morning, a reporting site on Block Island reported sustained winds of 43 mph with gusts to 53 mph. As of 8 AM AST, Jose had winds of 60 mph and the center of the system was sitting 115 miles south-southeast of Nantucket, MA. (Satellite data: AerisWeather)
---
Jose Official Track. Jose remains in an area of weak steering, which means the system will continue to meander over the next couple days. Later today the system is expected to slowly move back to the east, continuing through the weekend. Jose will continue to weaken during this time. Tropical storm force winds will continue to be possible today in areas under a Tropical Storm Warning across parts of eastern Massachusetts. Some minor coastal flooding is also possible along portions of southern New England. Tropical Storm Warnings are in effect for the following areas:
* Woods Hole to Sagamore Beach, including Cape Cod
* Block Island
* Martha's Vineyard
* Nantucket
Summary: The Turks and Caicos and the southeastern Bahamas will continue to see hurricane conditions due to category 3 Maria during the day as the system continues to push off to the northwest. Maria will continue on a north to northwest track into early next week, meaning the system is likely to remain offshore the Southeast Coast. During this time the system is likely to undergo slow weakening. Current model output shows that by the middle of next week Maria will get pushed east, further out into the Atlantic. Confidence is increasing that Maria will not approach the East Coast, but we will continue to monitor the system over the next several days. Jose, which is now a post-tropical system, is still bringing tropical storm force conditions to Cape Cod and the Islands today. Jose will continue to weaken through the weekend.
Meteorologist D.J. Kayser, Praedictix
---
Anatomy of a Disaster. Wednesday morning Category 4 Hurricane Maria tracked over Puerto Rico, knocking out the NOAA NEXRAD Doppler radar on the island, in fact all radars went down as winds reached 150 mph in some locations. But the weather satellites (including non-operational GOES-16 above) kept on working, a reminder of how reliant, how dependent we are on satellites. They provide much of the "initialization data", the raw fuel, that goes into the weather models. Before the first weather satellites was launched (TIROS-1 in 1960) we had to rely on ship reports in the Atlantic, Caribbean and Gulf of Mexico to have any clue where tropical systems were. Ships! Now we take for granted that we can instantly call up Doppler radar images or satellite pictures, 24 hours a day.
But it costs money to maintain these weather systems, so (in my humble opinion) now might not be the very best time to cut NOAA's budget. We all pay $3/year for the privilege of having the best weather service on the planet. Considering America experiences more extreme weather than any other country on Earth, we deserve nothing less. Back to Maria and Puerto Rico, which may be without power for a couple of months, according to local officials. The grid is down across the entire island. Food will spoil rapidly; emergency supplies will need to be airlifted and shipped to San Juan to feed this nation of 3.5 million people, now experiencing the worst storm-related disaster since 1932. I don't want to minimize the scale of this tragedy. Many Caribbean island nations are down for the count - with little chance of tourist dollars returning for years, so they won't have the cash flow to be able to quickly rebuild.
Maria was the third most intense hurricane to hit the USA on record - I fear we're going to see a slow-motion tragedy unfold in Puerto Rico in the coming weeks and months. Many people who survived the storm may not survive the aftermath. I hope I'm wrong.
---
---
Harvey, Irma, Maria: This is the Hurricane Season Scientists Expected...and Feared. Eric Holthaus reports for Grist: "...There is evidence that we are emerging from an era of messy meteorological data, where we were blind to warming seas strengthening hurricanes because the really damaging ones were rare. If that's true, weather historians may look to this year as the beginning of a frightening new phase of superstorms. About 85 percent of all damage done by hurricanes is attributable to "major" storms — those stronger than Category 3, so roughly one-quarter of all storms. While relatively infrequent, they are by far the most destructive — a Category-5 cyclone has 500 times the power of a Category 1. Globally, major hurricanes have become slightly more common in recent decades, even as overall numbers have held steady. Further, there's nothing in recorded history that resembles what Irma and Maria have inflicted on Caribbean islands in recent days..."
Photo image of Hurricane Maria from NASA astronaut Randy Bresnik aboard the ISS, the International Space Station.
---
---
---
What Can Accumulated Cyclone Energy (ACE) Show Us About Atlantic Hurricane Risk. Here's an excerpt of a post at Artemis.bm: "Accumulated cyclone energy (ACE) is just one of the measures used to identify how active or severe a tropical cyclone or hurricane season has been. It's a measure used by the National Oceanic and Atmospheric Administration (NOAA) to express the activity of individual tropical storms and entire seasons, using an approximation of the energy used by a tropical storm over its lifetime. The NOAA uses the ACE of a whole season, which is the sum of the ACE for every storm, to help understand how active it was. Accumulated cyclone energy ACE is often discussed in the forecasts that we publish prior to the Atlantic hurricane season, it's just one of the figures used in forecasts, alongside the number of tropical storms and hurricanes that are expected to form. What's interesting about the ACE numbers is that they are easily translated into a cumulative index showing the severity of a season..."
---
Hurricane Imagery. Check out GOES-16 imagery, along with new 2-minute radar loops that incorporate NEXRAD Doppler, FAA radar, and even select commercial radar stations to provide more coverage and resolution. YouTube link via AerisWeather.
---
Flood, Fix and Flip: Houston Housing Investors See Profit in Harvey's Wake. Reuters has the story: "Addressing a real estate conference in flood-ravaged Houston this month, longtime investor Ray Sasser detailed his strategy: buy up to 50 flooded homes at deep discounts, then fix and flip them for a hefty profit. Sasser first followed that game plan after Tropical Storm Allison flooded the city in 2001. He bought homes for 30 to 40 percent of their pre-storm value, spent another 15 percent on repairs, and sold many a year later - at full value. The quick recovery surprised him, he said. "This can't be true," he recalled thinking at the time. The bet that home prices in hard-hit Houston neighborhoods will fully recover after Hurricane Harvey could be riskier, Sasser and local economists said. But a rush of investors eager to snap up flooded homes reflects broader confidence in the resilience of Houston's unique metropolitan economy..."
File photo: "Houses are seen partially submerged in flood waters caused by Tropical Storm Harvey in Northwest Houston, Texas, U.S. on August 30, 2017." REUTERS/Adrees Latif/File Photo.
---
GOP Rep on Paying for Flood Loss: "At Some Point God is Telling You to Move". TheHill has more details: "Rep. Jeb Hensarling (R-Texas) said on Thursday that it's unreasonable for taxpayers to repeatedly pay for homes that have flooded, suggesting that homeowners move out of at-risk houses.  "We have these repetitive loss properties. So, for example, we have one property outside of Baton Rouge that has a modest home worth about $60,000 that's flooded over 40 times. The taxpayers have paid almost half a million dollars for it," Hensarling said on CNBC's "Squawk Box."  "At some point, God is telling you to move," he added. "If all we do is force federal taxpayers to build the same home in the same fashion in the same location and expect a different result, we all know that is the classic definition of insanity," he continued..."
---
How to Avoid Cars With Flood Damage. CNET has some timely advice: "...Here's a quick checklist for avoiding soggy vehicles: 
Examine the car's title. Any reputable dealer or seller will let you know the car has a Salvage or Flood branded title from water incursion. That's establish on the car's state record once an insurance company has made that declaration. Note that this entire scenario has a big loophole:
Cars that never saw an insurance adjuster, either because they weren't insured or the owner knew what would happen when a claim was made on a flooded car, may end up on the private market after being dried out and cleaned up.  This non-insurance loophole is one of the most troublesome.
Check the National Motor Vehicle Title Information System, NMVTIS, which is a free online database run by the DOJ..."
---
Feature: Extreme Heat - an "Unseen Threat" - Burns U.S. Urban Poor. Reuters explains: "...Jenkins-Smith is among the growing number of city dwellers whose health is at risk from increasingly hotter summers - a threat that has prompted cities nationwide to look for innovative ways to keep their most vulnerable residents safe and cool. Rife with asphalt and concrete that absorb and radiate heat, many U.S. cities amount to giant heat traps, scientists say. The phenomenon is known as the urban heat island effect. It can add as much as 5 degrees Fahrenheit (3 degrees Celsius) to daytime temperatures in cities, according to the U.S. Environmental Protection Agency. The problem is even worse at night, when city temperatures can be as much as a whopping 22 degrees Fahrenheit (12 degrees Celsius) warmer than green rural areas, where heat is more effectively released back into the atmosphere, the agency said..."
---
Steamy Weekend - Cooling Off Next Week. From early July to early October in the span of a couple days early next week. Consider this a summer bonus; a taste of autumn returns next week with highs in the 60s. Twin Cities ECMWF numbers: WeatherBell.
---
84-Hour Rainfall Potential. You can clearly see the projected track of Hurricane Maria, coming uncomfortably close to the Outer Banks of North Carolina early next week. A conveyor-belt of moisture from the Gulf of Mexico fuels heavy showers and T-storms from Texas across the Plains into the Upper Midwest.
---
7-Day Rainfall Potential. NOAA models print out a 10-12" bulls-eye over western and central Texas, wih 2-4" rainfall amounts from eastern New Mexico to Sioux Falls, Alexandria and Duluth over the next week.
---
---
Trending Milder Rest of 2017. With the exception of North Dakota and part of Montana, just about the entire USA is forecast to be milder than average the rest of the year. What a shock. Forecasts above courtesy of NOAA CPC.
---
Wind Powered Electricity is Competitive, Even Without Subsidies. Here's an excerpt of a post at Scientific American: "...But it's important to note that the price of wind energy offered through a PPA is an all-in price that includes the effect of subsidies such as the federal wind production tax credit, which provides a tax subsidy of 18 to 23 dollars per megawatt hour of energy produced. When you exclude the production tax credit and look at the levelized cost of energy (LCOE) from interior wind, it still comes in at an extremely competitive cost of less than 50 dollars per megawatt-hour (5 cents per kilowatt-hour). For comparison, the Energy Information Administration estimates a best-in-class combined cycle natural gas power plant has an LCOE of about 54 dollars per megawatt-hour (5.4 cents per kilowatt-hour). So even when you account for the effect of the federal wind production tax credit, wind energy remains an extremely competitive generating resource..."
File image: Star Tribune.
---
---
Elon Musk's Solar Partnership Strategy Doesn't Look So Crazy Anymore. Bloomberg explains: "Elon Musk took a lot of heat last year when his Tesla Inc. bought solar-panel installer SolarCity for $2 billion. The synergies between his two companies didn't seem immediately obvious, among other issues, critics said. But now other solar installers are looking to partner with companies as they wrestle with a market that is shrinking after 16 years of rapid growth. Their longtime sales model -- knocking on doors, cold calling at home, setting up mall kiosks -- has proven to be costly. Far more effective to use the umbrella of bigger established companies to find customers, they've decided. Sunrun Inc., for example, will try to sell panels through Comcast Corp., the biggest cable-TV company in the U.S. Last month, the two agreed to a deal in which Comcast will use its vast marketing arm to tap some of its 27 million customers for solar..."
---
The Science Behind the 15 Most Common "Smart Drugs". Can we (safely) hack our brains? Quartz explains: "Not all drug users are searching for a chemical escape hatch. A newer and increasingly normalized drug culture is all about heightening one's current relationship to reality—whether at work or school—by boosting the brain's ability to think under stress, stay alert and productive for long hours, and keep track of large amounts of information. In the name of becoming sharper traders, medical interns, or coders, people are taking pills typically prescribed for conditions including ADHD, narcolepsy, and Alzheimer's. Others down "stacks" of special "nootropic" supplements. For obvious reasons, it's difficult for researchers to know just how common the "smart drug" or "neuro-enhancing" lifestyle is. However, a few recent studies suggest cognition hacking is appealing to a growing number of people..."
Photo credit: "A smart habit?" (Unsplash/Hal Gatewood)
---
The Impossible Burger: Inside the Strange Science of the Fake Meet that "Bleeds". I love a burger or steak as much as the next guy or gal - I'm trying to keep an open mind. Here's a clip from WIRED.com: "The cook, complete with hair net, lays the red patty down on the grill and gives it a press with a spatula. And there, that unmistakable sizzle and smell. She flips the patty and gives it another press, lets it sit, presses it, and pulls it off the grill and onto a bun. This is no diner, and this is no ordinary cook. She's wearing not an apron, but a lab coat and safety goggles, standing in a lab-kitchen hybrid in a Silicon Valley office park. Here a company called Impossible Foods has over the last six years done something not quite impossible, but definitely unlikely: Engineering a plant-based burger that smells, tastes, looks, and even feels like ground beef..."
---
This Stanford Professor Has a Theory on Why 2017 is Filled with Jerks. Has it always been this bad, and social media is just making us bigger, louder jerks? New York Magazine explains: "...The more assholes you're around, the more asshole-y you get." But there are other factors that have led to this explosion of assholes, Sutton points out, everything from heat and crowding to imbalances in power and the wealth gap. "The research says that when we're in those situations, there's envy going up, and sort of disdain goes down." Research also shows that technology has increased the "asshole problem," as Sutton puts it, because people are much more likely to be mean if they don't have to make eye contact. And because technology has created the expectation for things to happen faster, and at all hours of the day, hurriedness and sleep deprivation have become major factors..."
---
A French Chef's Plea to Relinquish His Michelin Stars is Proof Success Can Be Truly Soul-Crushing. According to a report at Quartz the pressure was just too much: "Some chefs spend their lives chasing a Michelin star. Sébastien Bras has three—and he would very much like to give them back. Bras, owner and chef of the restaurant Le Suquet in the southern France town of Laguiole, took to Facebook Live this week to ask that he not be included in future Michelin guides. Against a backdrop of green hills, he explained that he wanted to concentrate on cooking without the pressure of Michelin rankings hanging over his head. "Today we would like to go forward with a free spirit, to continue serenely, without tension, to maintain our establishment with a kitchen, a welcome, a service which are the expression of our own spirit and of the land," he said..."
Photo credit: "We would like to go forward with a free spirit, to continue serenely, without tension." (Facebook).
---
94 F. high yesterday in the Twin Cities, maximum heat index was 101 F.
69 F. average high on September 22.
73 F. high on September 22, 2016.
September 23, 1995: 0.2 inches of snow falls in the St. Cloud area.
September 23, 1985: Early snow falls over portions of Minnesota and western Wisconsin. Just under a half inch (0.4) is recorded at MSP Airport, mostly during the afternoon.
September 23, 1937: From summer to winter. The temperature was 101 at Wheaton. Then a cold front came through causing the mercury to tumble below freezing.
---
---
TODAY: Steamy with some sun, few T-storms. Winds: S 8-13. High: 86
SATURDAY NIGHT: Muggy, best chance of storms west of MSP. Low: 70

SUNDAY: More sun, T-storms northern and western Minnesota. Winds: S 10-15. High: 88

MONDAY: Showers and T-storms likely. Winds: NW 8-13. Wake-up: 65. High: near 70

TUESDAY: Stray shower, cooler and drier. Winds: NW 8-13. Wake-up: 54. High: 63

WEDNESDAY: Plenty of sunshine, pleasant. Winds: W 5-10. Wake-up: 50. High: 66

THURSDAY: Clipper arrives, few showers. Winds: NW 10-15. Wake-up: 53. High: 63

FRIDAY: Mostly cloudy, feels like autumn. Winds: NW 10-15. Wake-up: 48. High: 60
---
* Cumulonimbus mammatus clouds courtesy of Praedictix meteorologist, Susie Martin.
---
Climate Stories...
Poll: Americans Divided by Party on Global Warming's Role in Hurricanes. TheHill has the story: "Americans are divided over whether or not global warming plays a significant role in the intensity of hurricanes, following a devastating hurricane season in the U.S., according to a new CNN poll. More than three-quarters of Democratic respondents, 78 percent, believe that climate change has contributed to the recent increase in the severe tropical storms, an increase of 30 percentage points since 2005. Only 15 percent of Republicans answered that they believe it to be a cause, a 10-point decrease over the same time period, the poll found. Nearly half of those polled, 49 percent, believe in global warming as a cause of the increasing frequency of powerful storms, an increase of 36 percent since 2005. Hurricane Katrina, a Category 5 storm, struck Louisiana in 2005, killing 1,833 people..."
---
How Will Climate Change Impact Future Floods and Flood Insurance? Here's an excerpt of a timely interview at PBS NewsHour:
"PS: Can't we mitigate the effects of flooding? I mean, that's what they're doing, raising houses all over the coastline in the United States, and [countries like] Holland.
RH: The types of mitigation efforts you're talking about are critical. This is what we often hear referred to as 'resilience' or 'adapting' to a changing climate. And that has to be a key component of all strategies. We absolutely do need to strengthen that infrastructure, whether it's elevating buildings, green infrastructure that can capture some of these excess water. We need those strategies. But you start to wonder, at what point have things changed too much for us to be able to adapt to? For example, if you look at parts of South Florida, as sea levels rise, as the water table rises, no matter how much money you put into trying to build sea walls, that water is just going to make its way up, like Swiss cheese through some of that limestone. You can't hold the water back...."
Photo credit: "Houses are seen submerged in flood waters caused by Tropical Storm Harvey in Northwest Houston, Texas, on August 30, 2017." Photo by REUTERS/Adrees Latif
---
Canada's Justin Trudeau, Promoting Paris Accord, Cites "Stark Reality" of Global Warming. The Wall Street Journal reports: "Canadian Prime Minister Justin Trudeau called on world leaders Thursday to build clean economies to help tackle climate change, seeking to bolster support for the Paris agreement that the U.S. wants to renegotiate or leave. The "stark reality" of global warming is already taking a toll in Canada, where permafrost in the western Arctic is melting, tundra are eroding and sea ice conditions are becoming "dangerous and unpredictable," Mr. Trudeau said in an address before the United Nations General Assembly in New York..."There's no country that can walk away from the challenge and reality of climate change," Mr. Trudeau said, reiterating Canada's "unwavering" commitment. "We have a responsibility to future generations and we will uphold it..."
Photo credit: "Canadian Prime Minister Justin Trudeau spoke to the United Nations General Assembly on Thursday in New York. In his speech, Mr. Trudeau touted Canada's free-trade agreement with the European Union and his country's commitment to fighting climate change." Photo: Caitlin Ochs/Bloomberg News.
---
Climate Deniers Want to Protect the Status Quo That Made Them Rich. Say what? Here's a clip from The Guardian: "...Short-termism and self-interest is part of the answer. A 2012 study in Nature Climate Change presented evidence of "how remarkably well-equipped ordinary individuals are to discern which stances towards scientific information secure their personal interests". This is surely only half the explanation. A 2007 study by Kahan et al on risk perception identified "atypically high levels of technological and environmental risk acceptance among white males". An earlier paper teased out a similar point: "Perhaps white males see less risk in the world because they create, manage, control and benefit from so much of it." Others, who have not enjoyed such an armchair ride in life, report far higher levels of risk aversion. Another 2011 paper observed uncontroversially that "conservative white males are likely to favour protection of the current industrial capitalist order which has historically served them well". It added that "heightened emotional and psychic investment in defending in-group claims may translate into misperceived understanding about problems like climate change that threaten the continued order of the system..."
---
Hurricane Harvey - a Climate Angle? Climate Signals provides perspective: "...Climate change raises or amplifies the three primary hazards associated with hurricanes: storm surge, rainfall, and the power ceiling, aka potential speed limit, for hurricane winds. Sea level rise has elevated and dramatically extended the storm surge driven by hurricanes - the main driver of damage for coastal regions. Climate change has been found to have significantly increased the rainfall in hurricanes.[6][7] A warmer atmosphere holds more water vapor, feeding more precipitation into all storms including hurricanes, significantly amplifying extreme rainfall and increasing the risk of flooding. Hurricanes are fueled by ocean heat. As climate change warms sea surfaces, the heat available to power hurricanes has increased, raising the limit for potential hurricane wind speed and with that an exponential increase in potential wind damage. Harvey intensified rapidly amid sea surface temperatures in the Gulf of Mexico up to 2.7 - 7.2°F (1.5 - 4°C) above average, relative to a 1961-1990 baseline..."[8]
Map credit: Praedictix and AerisWeather.
---
California Cities Step Up Fossil Fuel Suits: San Francisco and Oakland brought a legal challenge Wednesday against five major oil companies, arguing that the fossil fuel companies should be forced to pay for infrastructure protecting the cities from sea level rise. The cities' parallel suits, filed in the state Superior Court, allege that ExxonMobil, BP, Chevron, ConocoPhillips and Royal Dutch Shell knew about the risks of burning fossil fuels and engaged in deceptive public campaigns around the science behind climate change. The cities' legal challenges join a separate effort brought earlier this summer by Marin and San Mateo counties and the city of Imperial Beach against 37 of the world's major fossil fuel companies. (WSJ $, AP, Buzzfeed, Reuters, InsideClimate News, LA Times $, KQED, The Hill, ThinkProgress, KALW, East Bay Times)
---
Republican Senator Endorses "Price on Carbon" to Fight Climate Change. TIME has the details: "Sen. Lindsey Graham endorsed a "price on carbon" to fight climate change, breaking with much of the Republican Establishment. Speaking at a climate change conference held by former Secretary of State John Kerry at Yale University, the South Carolina Republican called for a "price on carbon," saying he would take the idea to the White House for consideration. "I'm a Republican. I believe that the greenhouse effect is real, that CO2 emissions generated by man is creating our greenhouse gas effect that traps heat, and the planet is warming," said Graham. "A price on carbon—that's the way to go in my view..."
File image: Wikipedia.