Out on a Muddy Limb: Spring Comes Early This Year

If you don't like the weather in New England now, just wait a few minutes" said Mark Twain. Looking at weather data - extremes appear to be trending even more extreme over time.
Exhibit A: this winter. Low 60s in New York City yesterday - today a foot of snow. EF-3 tornadoes roaring through New Orleans. As much as 15 to 20 FEET of snow for the mountains of California. Not to mention at least 5 separate thousand-year flash floods in 2016. Maybe weather has always been this crazy, but it does make you stop and wonder.
It was so cold yesterday I saw a teenager with his pants pulled all the way up. Remarkable. Expect brisk sunshine and teens again today, but we enjoy our own weather-whiplash Friday as temperatures surge into the 40s. 50F is not out of the question, which is perfectly normal for April Fool's Day.
Meteorological Winter officially comes to an end in 19 days but you could make a case that winter is already over. We'll see more cold frontal passages and spurts of slush into March, but nasty wind chills?
Breathe deep to feel today's cold tickle - spring arrives Friday.
---
Graphic credit above: NOAA NCDC.
---
Snow-Burst. This storm is a "bomb", slang for a storm that is strengthening explosively. The fast forward motion will prevent even heavier amounts, but a swath of 12" is likely from the northern suburbs of New York City to Hartford, Providence and Cape Cod. Boston should pick up at least 10" of snow. Near-blizzard conditions are possible from Long Island and the immediate coast of Connecticut to Cape Cod. Source: 4 KM NAM from NOAA and Tropicaltidbits.com
---
Serious Weather Whiplash. From low 60s on Wednesday to nearly a foot of snow and near-blizzard conditions 12 hours later in New York City? That's about as extreme as it ever gets.
---
Light-Switch Winter. Fromm 60s to nearly a foot of snow in less than 24 hours? That's pretty impressive. Snowfall deficits are about to be erased, in a meteorological blink of an eye. Source: AerisWeather.
---
A Volatile Pattern. There's plenty of weather on both coasts; the biggest Nor'easter of a slow (easy) winter out east, while California, coastal Oregon and Washington get battered by high seas, heavy rains and mountain snows. High pressure dominates over the central USA with a rapid warming trend by Friday.
---
---
AerisWeather Briefing: Issued Wednesday, February 8th, 2017
* After near record warmth today in the Northeast, the weather will quickly take a turn for the worst as we head into late tonight and into Thursday as a coastal low rapidly develops.
* This will bring the heaviest snow so far this season to parts of the I-95 corridor, from Philadelphia to New York City and Boston, as we head into the day Thursday, with 6-12" of snow possible. This will have a major impact on the Thursday morning commute in both Philadelphia and New York City.
* Winter Storm Warnings have already been issued for these areas, which is where the heaviest of the snow is expected to fall.
* Winds will also be on the increase as the low pressure center rapidly deepens, leading to the potential of blizzard-like conditions.
---
Rapidly Developing System. As we head into the overnight hours, a coastal low will rapidly develop off the Mid-Atlantic coast and start moving up the eastern seaboard. While it could start off as a rain/snow mix after midnight in coastal areas, a quick changeover to snow is expected by the Thursday morning commute. With heavy snow expected to be falling by the commute tomorrow morning in Philadelphia and New York City, travel is expected to be treacherous (if not impossible) due to the potential of 2" per hour snowfall rates along with blustery winds causing near white-out conditions. While snow will be falling for the morning commute tomorrow in Boston, the heaviest will not likely move in until the late morning hours.
Snow will end in Philadelphia as we head into the early afternoon hours Thursday, throughout the afternoon in New York City, and during the evening in Boston.
---
Winter Storm Warnings. Due to the potential of 6-12" of snow with this system, Winter Storm Warnings have already been issued from Philadelphia to Boston, with Winter Storm Warnings north of that along the Maine coast (including Portland). Map credit: Aeris AMP.
---
Potential Snow Totals. Where those Winter Storm Warnings are in effect is where we expect to see some of the heaviest snowfall as we go through Thursday, with 6-12" of snow expected. The higher end of those totals will occur where the heaviest bands set up, which could produce 2" of snow per hour, and even some thundersnow.
Breaking Down Expected Snowfall Totals Locally:
---
Washington D.C.:
---
New York City: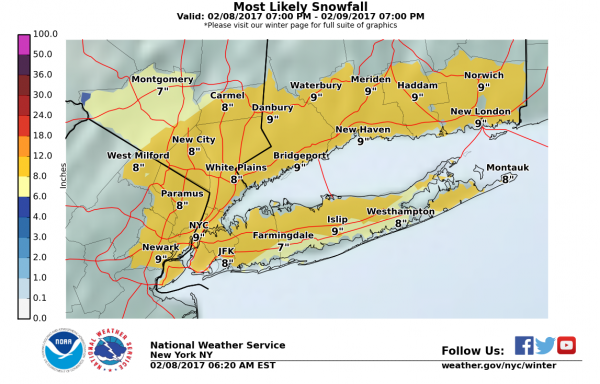 ---
Boston, MA:
---
Philadelphia, PA:
---
Blizzard-Like Conditions. With heavy snow expected to be falling, and winds on the increase (gusting 30-35 mph at times) due to the rapidly deepening system, near zero visibility is expected during the day along the eastern seaboard. This will help make travel even more difficult while the snow is falling tomorrow. BPI map series: AerisWeather.
Summary: As a low pressure center spins up off the Mid-Atlantic coast tonight, it will rapidly strengthen heading into Thursday, creating a winter storm for the Northeast. Winter Storm Warnings are already out for Philadelphia to New York City and Boston for the potential of 6-12" of snow through the day tomorrow with up to 2" per hour falling at times. Some of the heaviest snow for Philadelphia and New York City will fall during the morning rush hour, and with strong winds expected will create treacherous travel conditions. This will likely be the heaviest snow for the season so far along parts of the I-95 corridor. Snow will push north and east throughout the day and into the evening, and by tomorrow night most of the snow will be done across the large metropolitan cities.
D.J. Kayser, Meteorologist, AerisWeather
---
What February? Today's chill will get your attention, but March kicks in Friday and lingers into next week with 30s and 40s. MSP temperature ECMWF numbers: WeatherBell.
---
2 Weeks Out: Still Mild. The flow is forecast to be weak for late February; originating over the Pacific, not Canada. The result will be temperatures 10-20F. warmer than average across most of the USA.
---
January: Warmer and Wetter Than Average Across the USA.  Here's an excerpt from NOAA: "Last month, the average contiguous U.S. temperature was 33.6 degrees F, 3.5 degrees above the 20th-century average. January 2017 ranked as the 18th warmest January in the 123-year period of record, according to scientists from NOAA's National Centers for Environmental Information. Most locations from the Rockies to the East Coast were warmer than average with 24 states across the Southeast, Midwest and Northeast much warmer than average. The Northwest and Northern Rockies proved cooler than average..."
---
This Monster Tornado Just Rolled Through New Orleans - Major Damage Reported. The east side of New Orleans was hit the hardest - hundreds of homes may have been damaged - at least 5 injuries as of Tuesday evening. This is the kind of wedge tornado you'd expect to see in Kansas, not The Big Easy. Details via The Capital Weather Gang: "Severe thunderstorms barreled through the Southeast on Tuesday, dropping multiple tornadoes in southern Louisiana, one of which did major damage to communities in east New Orleans — among the areas devastated by Hurricane Katrina. The large tornado was filmed by storm chasers and residents as it tracked from west to east across the populous New Orleans region. Multiple tornado warnings were issued as the storm evolved in which the National Weather Service used strong language to convey a tornado had been spotted on the ground. The National Weather Service confirmed at least three tornadoes touched down..."
Video credit: NASA.
---
Is New Orleans in Tornado Alley? Technically no, but Dixie Alley? Yes. Check out the photos at NBCnews.com and you'll see the level of damage, which appears to be EF-3 or higher.
---
9 Tornadoes in Louisiana and Mississippi - 31 Injured - 9,400 Residents Without Power. ABC News has more details.
---
Imagery of Louisiana Tornado Outbreak from GOES-16. NOAA NESDIS has more details: "This visible animation from GOES-16 shows the tornadic storms that swept through  Louisiana yesterday, February 7, 2017. According to several news outlets, Louisiana remains in a state of emergency after the storms destroyed homes and businesses, disrupted power, and injured dozens of people in the southeastern part of the state. As this imagery illustrates, the high-resolution offered by GOES-16's Advanced Baseline Imager will allow meteorologists to see meteorological phenomena in vivid detail. For example, in this loop, note how the top of the tornadic storm can be seen passing along the southern coast of Lake Pontchartrain..."
---
Broader Updrafts in Severe Storms May Increase Chance of Damaging Hail. ScienceDaily has the results of new research from Penn State: "...New research that Kumjian and Eli Dennis, graduate student in meteorology, published in the Journal of the Atmospheric Sciences, suggests that changes in environmental vertical wind shear influence the growth of "significant" hail -- bigger than two inches in diameter. Vertical wind shear is the variation in wind speed or direction from the bottom to the top of a layer in the atmosphere. The greater the difference in speed and/or directionality, the greater the shear. Hail forms when small particles like frozen raindrops -- hail embryos -- are ingested into a storm's updraft. Once they rise in the updraft, the embryos grow as additional liquid water freezes onto them..."
Photo credit: "A supercell thunderstorm passes near Elm Creek, Nebraska, in July 2014. Penn State meteorologists have been examining the widths of storms' updrafts to predict the likelihood of dangerous hail." Credit: NOAA.
---
New  for 2017 Hurricane Season: Storm Surge Watches, Warnings. It's all about setting expectations. NOLA.com has information on new terminology and forecasts coming up this year: "In a new effort to explain the dangers ahead, the National Hurricane Center will start issuing storm surge watches and warnings, with maps depicting the affected areas, during the 2017 hurricane season. Surge-specific messages and maps will supplement wind-based messages and graphics normally issued by the agency for tropical storms and hurricanes. "Storm surge is often the greatest threat to life and property from a tropical cyclone, and it can occur at different times and at different locations from a storm's hazardous winds," said a National Hurricane Center news release announcing the new products..."
Graphic credit: "This example of a hurricane storm surge watch and warning map is based on a specific path of a slow-moving Category 2 hurricane. Note that part of the West Bank inside the post-Katrina hurricane levee system is in the warning area. Different paths by a Category 2 storm might produce different surge warning and watch areas, and a Category 3 or larger hurricane could result in the east bank area inside the levee system being included in a surge warning area." (National Hurricane Center).
---
Minnesota Trending Warmer and Wetter. If there was any doubt in your mind a time series from The University of Minnesota Department of Soil, Water and Climate shows the actual trends since 1891.
---
Warming-Driven Heat Waves Could Tax U.S. Electrical Grid. Here's a snippet from Climate Central: "That increased demand means electricity providers will need to increase capacity to guard against spikes in usage, potentially requiring up to $180 billion of additional grid investment, the study, detailed Monday in the journal Proceedings of the National Academy of Sciences, suggests. "The big implication of this study is that adaptation to rising temperature . . . will be more expensive than what the existing models tell us," co-author Catie Hausman, an energy and environmental economist at the University of Michigan, said. That means that reducing greenhouse gas emissions now to avoid those future costs is also a more valuable prospect. That Earth's rising temperature will lead to more intense and more frequent extreme heat events is one of the basic tenets of climate change..." (Graphic credit: Department of Energy).
---
Weak El Nino Returning by Spring? For months I've been telling you how the pattern resembles an El Nino warming phase, especially the parade of damaging storms for the west coast and a bias toward warmth, nationwide. Now NOAA NCEP is predicting the onset of a "weak El Nino" for the Northern Hemisphere by spring. Go figure.
---
February Looks To Be Warm, And Not Because a Groundhog Said So. Marshall Shepherd explains at Forbes: "...Weather forecasts, like seasonal prediction models, try to predict the state of the atmosphere by solving complex hydrodynamic equations. However, weather models try to predict the exact "state" of the atmosphere or "weather" at specific date and time. However, the limits of the initial atmospheric states, observations, boundary conditions and assumptions about the evolving atmosphere limit accuracy to about 10 to 14 days. Seasonal forecasts cannot predict the exact daily "weather" at a given location three months in advance but rather try to assess the short-term climate state based on the ENSO (El Nino Southern Oscillation) cycle and other processes that show some level of predictability at monthly, seasonal or annual time scales. Other clues about seasonal predictability have been detected in an "alphabet soup of processes..." (Graphic credit: NOAA).
---
55 Year Anniversary of TIROS-4. OK, the onboard black and white TV cameras lasted about 4 months, but we suddenly had imagery from space, an entirely new perspective on weather and the planet - and it set a benchmark for everything that has come since. Details via NASA: "TIROS 4 (Television and InfraRed Observation Satellite) was a spin-stabilized meteorological spacecraft designed to test experimental television techniques and infrared equipment. The satellite was in the form of an 18-sided right prism, 107 cm in diameter and 56 cm high. The top and sides of the spacecraft were covered with approximately 9000 1- by 2-cm silicon solar cells. It was equipped with two independent television camera subsystems for taking cloudcover pictures and three radiometers (two-channel low-resolution, omnidirectional, and five-channel scanning) for measuring radiation from the earth and its atmosphere..."
---
Data Dashboard: Energy. Carbon Brief has an interesting look at how the world consumes energy: "Carbon Brief has compiled key indicators on the world's emissions, energy and electricity. Use the tabs at the top to explore our interactive data dashboard. For example, it allows you to see how the UK's electricity demand has changed over the past 30 years and where that electricity has come from, as well as comparing the UK's usage and mix to other countries. Data on energy and emissions are from the BP Statistical Review of World Energy 2015. The review is updated once per year, usually in mid-June. Data on total electricity consumption along with figures for nuclear and renewable power are also from the BP review..."
---
New Xcel Program Sells Renewable Energy Directly to Businesses and Homeowners. Midwest Energy News has the details: "Minnesota's largest utility this spring will offer businesses and ratepayers the opportunity to buy shares of power directly from two renewable energy sources. However, critics of the program say it could siphon customers away from the state's growing community solar market. The Public Utilities Commission approved a pilot for the program, known as Renewable Connect, in January. The pilot allows Xcel Energy to apportion 50 megawatts of wind generated from the 200 MW Odell Wind Farm in southwest Minnesota to the program. Another 25 MW has been added to the program from the North Star Solar Project in Chisago County, according to Laura McCarten, Xcel's regional vice president..."
---
GM's Bolt EV Ready to Take On Tesla. Here's an excerpt from CNN Money: "...Besides powerful performance, the Bolt's big battery pack also gives it 238 miles of driving range, as estimated by the EPA. That's way more than other electric cars near its price range. It's also enough for the Bolt to take on the Tesla Model 3 which is expected to come out later this year with a similar range. The best feature on the Bolt is that, if you want, you could hardly ever use the brake pedal. Shift the "gear selector" to Low and, when you lift your foot off the accelerator, the car slows dramatically, as if you were stepping gently on the brake pedal. This also charges the batteries a little, again just like stepping lightly on the brakes..."
---
Climate Change: Coalition Supports Carbon Capture Tax Credit. Here's an excerpt of an intriguing story at TIME: "A rare coalition of energy companies, green groups and trade unions united this month to support a measure before Congress that helps fight greenhouse gas emissions by providing a tax credit for capturing and storing carbon dioxide. The provision — known as the Section 45Q tax credit — grants a tax incentive to energy and industrial companies that store carbon dioxide through a set of technologies commonly known as carbon capture and sequestration (CCS), rather than releasing the pollutant into the atmosphere. Support for a measure strengthening the tax credit came in the form of a letter sent last week to members of Congress. Representatives of environmental groups like the Natural Resources Defense Council, unions like the AFL-CIO and companies like Arch Coal, the country's second largest coal producer, signed the letter..."
Image credit: World Resources Institute.
---
Who Will Profit From the Grid of the Future? The Desert Sun has a long analysis: "Warren Buffett has amassed a $70-billion fortune by taking the long view. In the utility industry, the long view looks like this: People will always need electricity, which makes utilities relatively safe investments. And as renewable energy continues to displace fossil fuels — a trend that will almost certainly continue, whatever President Donald Trump might do — utilities stand to profit by building massive power lines connecting the far-flung places with the strongest wind and sunlight to the cities that need clean power..."
Photo credit: Jay Calderon.
---
The Powerful 1940 Map That Depicts America as a Nation of Immigrants. Unless you have Native American blood odds are you are an immigrant - or a descendent of immigrants. Atlas Obscura has an interesting story: "In the years leading up to the Second World War, isolationist sentiment coursed pretty strongly throughout the United States. Some Americans feared that immigrants were a threat to the country. Sound familiar? Then you'll have no trouble understanding the reasons why the map below, titled America–A Nation of One People From Many Countries, was published in 1940 by the Council Against Intolerance in America.  "With the exception of the Indian, all Americans or their forefathers came here from other countries," the illustrator Emma Bourne inscribed on the map. The Council Against Intolerance commissioned Bourne's work in an effort to remind Americans that the U.S. had always defined itself as a country of varied national origins and religious backgrounds..."
Map credit: "America—A Nation of One People From Many Countries," by Emma Bourne published in 1940 by the Council Against Intolerance in America." From the collection of Stephen J. Hornsby/Courtesy the Osher Map Library and Smith Center for Cartographic Education
---
Best All-Inclusive Resorts in the Caribbean. If you need a mental health break check out the list from U.S. News: "U.S. News ranks the best resorts by taking into account reputation among professional travel experts, guest reviews and hotel class ratings. Use the filters and settings below to help find the best resort for you. Read the Best Hotels Methodology."
---
14 F. high temperature yesterday in the Twin Cities.
27 F. average high on February 8.
17 F. high on February 8, 2016.
February 9, 1899: The mercury plummets to -59 at Leech Lake Dam.
---
---
TODAY: Cold sunshine, feels like 0F. Winds: SW 5-10. High: 17
THURSDAY NIGHT: Mostly clear, rising temperatures. Low: 15

FRIDAY: Partly sunny, feels like late March. Winds: SW 10-15. High: 48

SATURDAY: A little light rain PM hours. Winds: E 5-10. Wake-up: 32. High: 41

SUNDAY: Peeks of sun, a bit cooler. Winds: NW 10-20. Wake-up: 29. High: 38

MONDAY: Mix of clouds and sun, quiet. Winds: W 7-12. Wake-up: 26. High: 45

TUESDAY: Some sun, still dry. Winds: NW 10-15. Wake-up: 25. High: 43

WEDNESDAY: More sun, early case of spring fever? Winds: W 7-12. Wake-up: 27. High: 46
---
Climate Stories...
A Conservative Case for Climate Action. Here are a couple of excerpts of an Op-Ed from a group of Republicans pushing for a revenue-neutral carbon tax, courtesy of The New York Times: "...By contrast, an ideal climate policy would reduce carbon emissions, limit regulatory intrusion, promote economic growth, help working-class Americans and prove durable when the political winds change. We have laid out such a plan in a paper to be released Wednesday by the Climate Leadership Council...First, the federal government would impose a gradually increasing tax on carbon dioxide emissions. It might begin at $40 per ton and increase steadily. This tax would send a powerful signal to businesses and consumers to reduce their carbon footprints. Second, the proceeds would be returned to the American people on an equal basis via quarterly dividend checks..."
The Plan referenced above is here.
---
A Conservative Answer to Climate Change. The same group of conservatives pushing for a revenue-neutral carbon tax wrote an Op-Ed for The Wall Street Journal: "Thirty years ago, as the atmosphere's protective ozone layer was dwindling at alarming rates, we were serving proudly under President Ronald Reagan. We remember his leading role in negotiating the Montreal Protocol, which continues to protect and restore the delicate ozone layer. Today the world faces a similar challenge: the threat of climate change. Just as in the 1980s, there is mounting evidence of problems with the atmosphere that are growing too compelling to ignore. And, once again, there is uncertainty about what lies ahead. The extent to which climate change is due to man-made causes can be questioned. But the risks associated with future warming are so severe that they should be hedged. The responsible and conservative response should be to take out an insurance policy..." (Image credit: NASA).
---
---
Republican Statesmen Propose Replacing Obama's Climate Plans with a Carbon Tax. A more elegant and potenntially effective solution than regulation, but in this political climate will the administration see the light? Here's an excerpt from The Washington Post: "...Despite the group's impeccable Republican credentials — Baker, Paulson and Schultz served as treasury secretaries and Feldstein and Mankiw as CEA chairs, under GOP presidents — the proposal faces long odds. Many congressional Republicans are adamantly against a tax increase of any kind, and President Trump repeatedly emphasized he is far more interested in promoting the extraction of fossil fuels in United States than curbing the nation's carbon emissions. A proposed carbon tax also failed recently in a ballot initiative in Washington state, in part because it divided the environmental and social left — with many liberals wanting to use any revenue to invest in clean energy and other social causes rather than to return it to the public..."
Photo credit: "James A. Baker, seen here at former first lady Nancy Reagan's funeral in March 2016, is a member of the Climate Leadership Council. Despite its impeccable Republican credentials, the group faces long odds with its carbon-tax idea." (Jae C. Hong/Associated Press).
---
Who Is Still Fighting Climate Change? The U.S. Military. Here's an excerpt from National Geographic: "...The Defense Department has been planning for climate change for more than a decade, often in the face of roadblocks set up by climate science skeptics in Congress. In 2014 and again last year, Republicans in the House of Representatives added language to Defense Department spending bills prohibiting funds from being spent to plan or prepare for climate change. Terrorism is the greater threat, the authors of those prohibitions declared, and federal funding should be steered towards snuffing out ISIS instead. Both times, the restrictions were nullified by the Senate. It is too early to say whether efforts to bar defense spending on climate change will be tried again..."
Photo credit: "Tests of the Orion spacecraft were made at Naval Station Norfolk in August 2013. The low-lying base is at risk from rising seas." Photograph by NASA, eyevine, Redux.
---
Good Luck Killing the EPA. Eric Roston has an Op-Ed at Bloomberg: "...Rule-of-thumb holds that once countries pollute their way into economic progress, they'll pause for a second and check to see if they can still breathe the air and swim in the water. If not, they fix it. China is currently the leading example, with India coming up behind. There are fewer examples of nations unwinding national environmental efforts.  Internationally, the U.S. does pretty well when it comes to protecting its environment and doing its part to combat global climate change. It ranks 26 among 180 nations in the 2016 Environmental Performance Index, a collaboration of the World Economic Forum and Yale University and Columbia University researchers. That's just worse than Canada and a bit better than the Czech Republic..."
---
A Crack in an Antarctic Ice Shelf Grew 17 Miles in the Last Two Months. The New York Times reports: "A rapidly advancing crack in Antarctica's fourth-largest ice shelf has scientists concerned that it is getting close to a full break. The rift has accelerated this year in an area already vulnerable to warming temperatures. Since December, the crack has grown by the length of about five football fields each day. The crack in Larsen C now reaches over 100 miles in length, and some parts of it are as wide as two miles. The tip of the rift is currently only about 20 miles from reaching the other end of the ice shelf. Once the crack reaches all the way across the ice shelf, the break will create one of the largest icebergs ever recorded, according to Project Midas, a research team that has been monitoring the rift since 2014..."
Image credit: 2016 Microsoft Corporation Earthstar Geographics.
---
Climate Change Could Open Up Another Arctic Shipping Route. Pacific Standard reports: "...The team found that, under the climate scenario in which temperatures rise one to two degrees Celsius, the route will be navigable for a full four months out of the year. In a worst-case climate scenario, where temperatures climb by as much as four or five degrees Celsius, the route could be open for more than six months at a time. (It's worth noting here that the latter scenario becomes far more likely should global leaders renege on their pledges under the Paris Agreement—the global climate accord that aims to limit warming to two degrees—as President Donald Trump has repeatedly threatened to do.) But an iceless Arctic doesn't necessarily mean smooth sailing. The authors point out that extreme winds and bigger waves will also become more likely along the Northern Sea Route..."
Image credit: The Arctic Institute.
---
3 Ways You Can Help the World's Climate Scientists Right Now. Dr. Marshall Shepherd has some good suggestions at Forbes: "I often sit back and watch certain things quietly. This past week has been one of those moments. An article this weekend in the British media brought up the old and oft disproven argument about the"warming pause." However, as scientists dug into this latest desperate "Hail Mary" pass, it was apparent that there was more to this latest saga. My colleagues Phil Plait at Blastr and Andrew Freedman at Mashable have written excellent pieces laying out how scientists debunked these latest claims. They also fill in other pieces to this rather odd story. This latest drama just highlights the level of innuendo and confirmation bias that still can rear its head in the climate discussion. However, my focus herein is different. This week I saw three opportunities that I wanted to share with the broader public that can actually help climate scientists rather than continually distracting them..." (Image credit: NOAA).
---
Do Not Buy the House Science Committee's Claim that Scientists Faked Data Until You Read This. Popular Science takes a look at the latest spasm of conspiracy theory: "...The House Science Committee press release, which includes quotes from committee Chairman Lamar Smith as well as Darin Lahood (R-Ill) and Andy Biggs (R-Ariz), misrepresents a procedural disagreement as proof that human caused climate change is not occurring. It's akin to pointing to a family argument as proof that they aren't actually related. "What the House Committee is trying to do, like they did in the past, is debunk the whole issue of global warming," said Yochanan Kushnir, a Senior Scientist at the Lamont Doherty Earth Observatory. At the center of the argument is contention over how NOAA maintains climate data records. Climate researchers receive grants to process and develop climate-related data sets. Once those data sets are fully developed, it becomes the responsibility of NOAA's National Climactic Data Center (NCDC) to preserve, monitor, and update that data—which can sometimes be what data scientists refer to as messy..."
Image credit: Donald LeRoi, NOAA Southwest Fisheries Science Center. "Climate scientists have worked hard for decades to prove climate change. Why is the US House Committee on Science, Space and Technology working so hard not to believe them?"
---
The Winter of Blazing Discontent Continues in the Arctic. Here's a clip from a story at Climate Central: "...Temperatures are forecast to reach the melting point in Svalbard, Norway, an island between the Greenland and Karas Seas. The North Pole could also approach the melting point on Thursday. It's just the latest signal that the Arctic is in the middle of a profound change. Sea ice extent has dropped precipitously as has the amount of old ice, which is less prone to breakup. Beyond sea ice, Greenland's ice sheet is also melting away and pushing sea levels higher, large fires are much more common and intense in boreal forests and other ecosystem changes are causing the earth to hyperventilate. Together, these all indicate that the Arctic is in crisis. It's the most dramatic example of how carbon pollution is reshaping the planet and scientists are racing to understand what comes next."
Image credit: "Abnormally warm air is expected to reach the North Pole by Thursday." Credit: Climate Reanalyzer
---
---
No Data Manipulation in 2015 Climate Study, Researchers Say. There was no temperature "pause"; additional heat energy was absorbed by ocean water, especially in the Pacific. Here's an excerpt at The New York Times: "...Dr. Hausfather was one of the authors of a review of the NOAA ocean data, which showed the most change. The paper, published in January, compared the old and new NOAA data with independent data from satellites, buoys and other sources and found that the new data matched the independent data more closely. The result, he wrote, "strongly suggests that NOAA got it right and that we have been underestimating ocean warming in recent years." In an interview on Monday with E&E News, Dr. Bates appeared to distance himself from some of what he wrote in the blog post, and from the way his criticisms were portrayed in the Mail on Sunday article. "The issue here is not an issue of tampering with data," he said, "but rather really of timing of a release of a paper that had not properly disclosed everything it was..."
Graphic credit: CarbonBrief fact check. "Global sea surface temperatures from the old NOAA record (ERSSTv3b), the new NOAA record (ERSSTv4), and instrumentally homogenous records from buoys and satellites. See Hausfather et al 2017 for details, as well as comparisons with shorter Argo-based records."
---
Think Climate Change is a Hoax? Visit Norway. Here's an excerpt from Climate Home: "...One concern is that as the ice melts, historic claims from Russia, Canada and the US together with other Arctic nations on portions of the oil and mineral-rich ocean will cause friction. "In the mid- to far- term, as ice recedes and resource extraction technology improves, competition for economic advantage and a desire to exert influence over an area of increasing geostrategic importance could lead to increased tension," reads the US strategy document. Another worry is that ice-free routes will see a surge in shipping. According to the UN's IPCC climate science panel Arctic shipping lanes could be open for four months a year by 2050. There are already signs of an uptick in traffic..."
Photo credit: "Gyldenlove Glacier, Greenland." (Pic: NASA Goddard Space Flight Center)
---
Coastal Megacities vs. The Sea. The Center for Climate and Security has a link to a paper, highlighting risks to some of the world's most populated cities: "Cities are on the sharp end of a range of risks from criminal violence, terrorism and war to demographic pressures, to climate and environmental change. Coastal megacities are especially at risk given the specific impacts of climate change they face, including accelerated global sea-level rise, increased storm frequency and severity, and destruction to critical infrastructure such as port facilities, rail and road linkages, and energy installations, all of which are amplified as urban populations become ever larger. All these risks can lead to the loss of livelihoods as well as significant loss of life itself. Furthermore, the interaction of these risks could exceed the existing coping capacity of communities and governments and contribute to an increase in insecurity and possibly violent conflict." (Graphic credit: Climate Central).