Apparent Uptick in Natural Disasters - Mild Thanksgiving?

Like most mere mortals, I tend to respond to facts, evidence and data. Hand-waving arguments, innuendo and conspiracy theories? Not so much.
A recent update from USA FACTS caught my eye. It shows an increase in natural disasters across the
nation, from an average of 25.2 disaster declarations from 1980 to 1989 - to an average of 121/year in the last 10 years. Severe storms increased from 18.3 per year in the 90s to an average of 40.4 per year in the 2000s.
Fluke or trend? Even accounting for the fact that more people are living in high-risk areas is this a symptom of a warming climate?
According to the MN DNR, Minnesota has experienced 8 "mega-rainfall" events since 2002. Record rains from Hurricanes Harvey and Florence. And now the most devastating fire in California history? What we have here is an accumulation of coincidences.
No big weather headaches locally for the next couple of weeks, just a chilly weekend, followed by warming temperatures next week. Models hint at mid to upper 40s on Thanksgiving, maybe rain for Black Friday.

Note to readers in other states of this great union: upper 40s in late November, in Minnesota, is considered cause for celebration. 
---
Graphic credit above: New York Times.
---
---
USA Facts: Declared Natural Disasters Becoming More Frequent. Some of this may be demographic shifts and people (increasingly) living in threatened areas, but a warming atmosphere appears to be making natural disasters (that would have formed...naturally) even more extreme and more expensive. Check out page 31 of the 76-page PDF from USA FACTS.
---
---
Cold Weather Perspective. Mark Seeley's weekly post at Minnesota WeatherTalk provided some interesting perspective: "The week of November 7-13 brought temperatures that ranged from 11 to 15 degrees F colder than normal. In fact for the Twin Cities it was the coldest such week in history (1872-present). Here is a ranking of the five coldest weeks of November 7-13 for the Twin Cities climate:
2018 mean temperature 21.2°F
1896 mean temperature 22.4°F
1947 mean temperature 23.6°F
1921 mean temperature 23.9°F
1995 mean temperature 25.1°F
The week was so cold that soils began to freeze up and ice began to form on shallow lakes around the state. No wonder the sunny days with daytime highs in the 40s and 50s F (as high as 55°F at Browns Valley) over Wednesday and Thursday (Nov 14-15) felt so fantastic this week!..."
---
Thanksgiving Thaw. If the sun is out for a few hours temperatures may come close to 50F on Thanksgiving Day in the Twin Cities. ECMWF data: WeatherBell.
---
Storm Potential Around December 1? Confidence levels are low, because it's the GFS model, and because the map above is a prediction for nearly 2 weeks out. If (a big if) this verifies southern moisture may spark a significant storm over the central USA; it's unclear whether Minnesota temperatures would be cold enough aloft for all-snow. Too early to know with any level of confidence.
---
The Simple Reason That Humans Can't Control Wildfires. Stating the obvious, fire is unlike any other natural disasters. Here's a clip from The Atlantic: "...It was not like a bonfire or even a house fire. It was a wall of flame, probably 100 feet high. The vision made him realize it is impossible to fight wildfires. It also changed his life. Williams had never seriously studied wildfires before he saw the Las Conchas Fire in New Mexico. He is now a professor at Columbia, and one of the world's leading experts on how climate change has intensified the problem of wildfire. "The fire, to me—it's like an ocean," he said. "It's so strong that we don't really stand a chance of doing much to it. When it's that big, and there are helicopters dropping water and retardant on it, they're doing nothing. When you see firefighters spraying hoses at it, [the fire] is so hot that they can't even be close enough to be within hose-shot..."
Photo credit: "Firefighters battle the Camp Fire near Paradise, California." Stephen Lam / Reuters.
---
Praedictix Briefing: Issued Friday morning, November 16th, 2018:
Heavy snow had fallen across parts of the Northeast in the past 24 hours, including over a half a foot in Central Park. The heaviest totals were further inland, however, with 13.0" reported in Gardnertown, NY.
Snow will continue across mainly New England today, with the heaviest expected to fall in Maine. Some areas could see an additional 6-8" of snow by the time the system moves out of the region later tonight.
We continue to watch destructive wildfires burning in California. While containment continues to increase on the Camp, Woolsey, and Hill fires, the Camp Fire is producing toxic air quality across northern California. Bad air quality will continue to the weekend in northern California, including Sacramento and the Bay Area.
---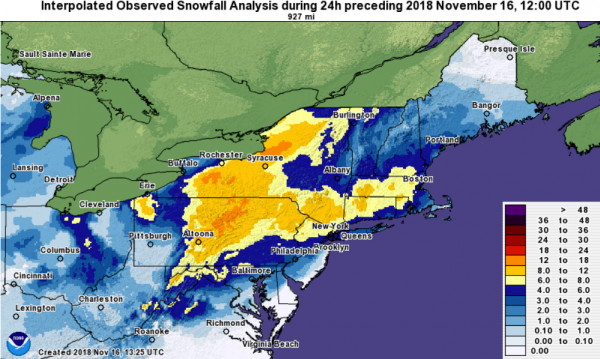 Heavier Snow Than Expected. The atmosphere stayed colder for longer than expected, leading to a slower changeover to rain for areas like New York City yesterday. This led to higher than expected snow totals across parts of the region and brought traffic to a standstill in the New York metro last night. Overall, 6.4" of snow fell in Central Park, with 3.6" in Philadelphia and 1.4" at D.C.-Reagan National. All of those totals set new records for the day. The heaviest snow fell further inland, though, and some of those totals included:
13.0" – Gardnertown, NY
12.3" – Newton, PA
12.1" – Kiamesha Lake, NY
12.0" – Chinchilla, PA
11.0" – Walden, NY
10.2" – Montague, NJ
10.0" – New Fairfield, CT
9.3" – Carlisle, MA
---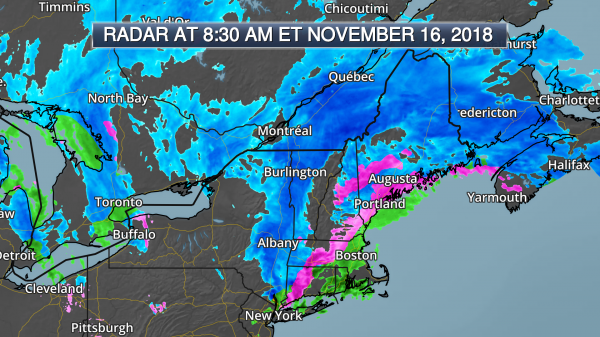 Snow Continues To Fall In New England This Morning. Conditions are improving this morning across parts of the Northeast, but snow continues to fall across parts of New York state and Connecticut into Maine. Rain has been falling this morning in both New York City and Boston.
---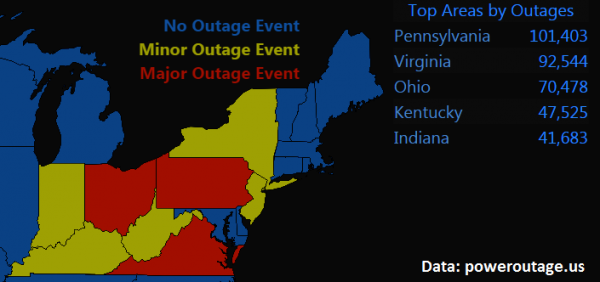 Power Outages. Numerous power outages have occurred due to the snow and ice from the Ohio Valley into the Mid-Atlantic and Northeast. As of about 8:15 AM ET this morning, the state with the most power outages was Pennsylvania with over 100,000 reported. (Image and numbers: https://poweroutage.us/)
---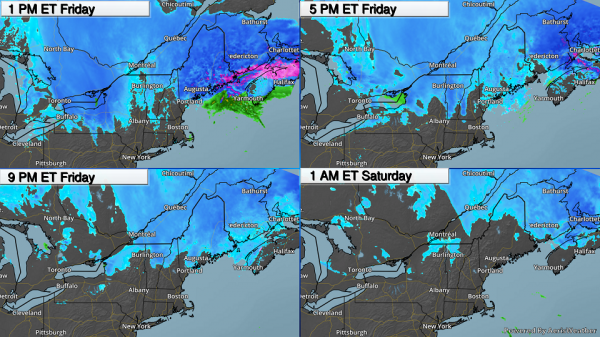 Tracking Wintry Weather. Snow will continue – heavy at times – across New England as we head through Friday into Friday Night, before finally pushing out of the region overnight into Saturday morning.
---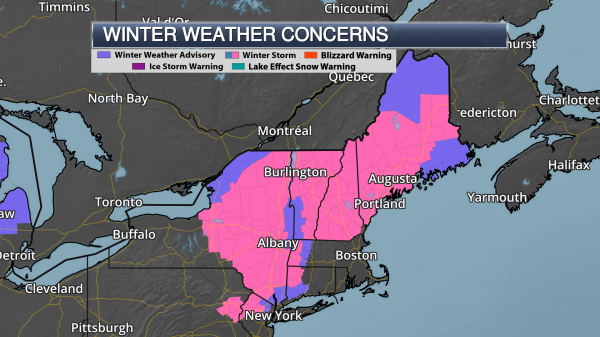 Winter Alerts Still In Place. Winter Storm Warnings and Winter Weather Advisories remain in effect across parts of New England as this system continues to move out of the region. Some of the larger cities under winter alerts this morning include:
Albany, NY: Winter Storm Warning until 1 PM for an additional 1-3" of snow.
Burlington, VT: Winter Storm Warning until 3 PM for total snow accumulations of 5-9".
Portland, ME: Winter Storm Warning until 4 PM for additional heavy snow.
Augusta, ME: Winter Storm Warning until 4 PM for an additional 1-2" of snow.
Caribou, ME: Winter Weather Advisory until 2 AM Saturday for total snow accumulations of 4-8".
---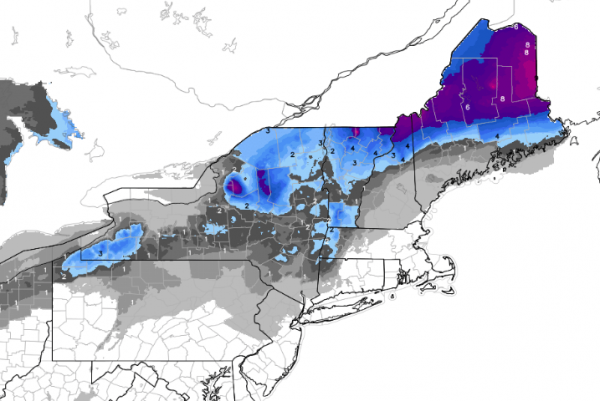 Additional Snow Forecast. The heaviest additional snow today will fall from parts of New York state into Maine, with the potential of 6"+ for areas like Caribou and Millinocket. Some lake effect snow, totaling 1-3", will fall southeast of Lake Erie.
---
California Wildfire Update. Multiple wildfires continue to burn in California with three major wildfires that are most concerning: the Camp Fire, the Woolsey Fire, and the Hill Fire.
The Camp Fire has burned 141,000 acres and is 40% contained.
The Woolsey Fire has burned 98,362 acres and is 62% contained.
The Hill Fire has burned 4,531 acres and is 99% contained.
More information is available from:
---
Air Quality Concerns Into The Weekend. While the winds have calmed down and the fire weather concern remains lower, the biggest concern over the next few days is going to be toxic air quality across northern California. The Camp Fire produced the world's worst air quality Thursday – even worse than typically seen across cities in India and China. This very poor air quality will continue through at least the weekend in northern California including the Bay Area and Sacramento with not much relief until potentially next week. Rain chances will also start to increase by the middle and end of next week across California, but that could have the potential to lead to mudslides.
D.J. Kayser, Meteorologist, Praedictix.
---
---
Could a Fire-Resistant Material Have Saved Many California Homes? A story at CNBC.com caught my eye; here's an excerpt: "...The panel technology is not new. NASA has been using a version of it to build spacecraft for years because of its strength. And former President Jimmy Carter used the material in his charity work decades ago on damaged buildings in Florida and Georgia. But it never really took off in the United States. "The reason the product has not been used well in the United Stated to date is because we have wood," said Geoffrey Evancic, chief operating officer of Hutter Pioneer, a construction company that is working with the RSG 3-D panels..."
---
The Media Barely Covered One of the Worst Storms to Hit U.S. Soil. The Atlantic explains: "...Despite the tens of thousands of American citizens affected, mainstream-U.S. media coverage of Yutu has been woefully limited. This reality is at once disappointing and expected for those living in the CNMI and on the nearby island of Guam. Together, the two U.S. territories make up the Mariana Islands—an archipelago about a three-hour flight from Japan and at least 13 hours from California. Home to the indigenous Chamorro people as well as many other Asian and Pacific Islander ethnic groups, the Marianas can seem like an abstraction to those in the continental U.S. Many Americans know these islands either as distant sites hosting major U.S. military bases (as highlighted by North Korea's nuclear threat to Guam last year), or as postcard-perfect tropical paradises..."
Image credit: "A satellite image provided by the National Oceanic and Atmospheric Administration shows the moment the eye of Super Typhoon Yutu passed over Tinian, one of the three main islands in the U.S. Commonwealth of the Northern Mariana Islands." (NOAA / AP).
---
Cloud Seeding: It Just Might Work. Quartz has some fascinating statistics on cloud seeding, trying to nudge Mother Nature to make rain or snow. Here's an excerpt: "It sounds like the stuff of cartoon supervillains, but weather modification techniques like cloud seeding could be a powerful tool as the planet warms and droughts worsen. Seeding clouds aims to squeeze more precipitation out of them, boosting rainfall in dry areas and adding to the snowpack that feeds streams and rivers winding down from mountains. It's a product of WWII-era scientific utopianism resurrected to head off climate-change-era dystopias, and it could be a last-ditch effort to halt global warming itself. Water managers from Australia to Israel to the American West are investing millions of dollars into the technique, with China—which has a considerable need for it—leading the way..."
Image credit: Snowbrains.com and sanjindumisic.com
---
The Hail Mary Plan to Restart a Hacked U.S. Electric Grid. It's probably just a matter of time before this happens, according to experts interviewed in a WIRED.com story: "...Over the past few years, the threat of grid hacking has morphed from a distant possibility to a stark reality. The most chilling incidents to date are two cyberattack-induced blackouts in Ukraine—one in December 2015 and the next a year later in December 2016—that caused power outages for hundreds of thousands of residents in Kiev for a few hours each time. Both attacks are thought to have been perpetrated by Russian state-sponsored hackers. And though a similar incident hasn't played out in the US so far, there is increasing evidence that various hacker groups have infiltrated US grid defenses. The Department of Homeland Security warned repeatedly this year that it has detected extensive Russian probing of the US grid. But awareness can only get you so far. For actual resilience, the industry needs what cybersecurity practitioners call an "assume breach" mentality: thinking not just about how to keep attackers out, but knowing how to respond if and when they do break in..."
Photo credit: "A Plum Island grid utility pole. The power lines for the RADICS test grid were physically separate from the Plum Island lines." DARPA.
---
America's Wind Farms Are Ready to Go It Alone. Bloomberg explains: "A coming-of-age moment is bearing down on the U.S. wind power industry, and proponents say it's ready—well, mostly ready. For a quarter-century, the industry has been supported by federal tax credits that helped it attract $250 billion in investments and create 100,000 jobs, according to the American Wind Energy Association. That support ends next year, but analysts and executives say the credits have done what they were supposed to do: make the industry competitive. Established supply chains, taller towers, bigger rotor blades, and the use of artificial intelligence to boost efficiency have made wind power cheaper than coal and on a par with natural gas. And soon enough, offshore wind farms could expand the renewable energy source's influence beyond rural states such as Texas and Kansas to the high-population corridors along the East and West coasts..."
Photo credit: "The GE-Alstom Block Island Wind Farm off Block Island, Rhode Island." Photographer: Eric Thayer/Bloomberg.
---
Delay, Deny and Deflect: How Facebook's Leaders Fought Through the Crisis. Which reminds me, if a product or service is "free" YOU are the product. Here's an excerpt from a fairly damning New York Times story: "...But as evidence accumulated that Facebook's power could also be exploited to disrupt elections, broadcast viral propaganda and inspire deadly campaigns of hate around the globe, Mr. Zuckerberg and Ms. Sandberg stumbled. Bent on growth, the pair ignored warning signs and then sought to conceal them from public view. At critical moments over the last three years, they were distracted by personal projects, and passed off security and policy decisions to subordinates, according to current and former executives. When Facebook users learned last spring that the company had compromised their privacy in its rush to expand, allowing access to the personal information of tens of millions of people to a political data firm linked to President Trump, Facebook sought to deflect blame and mask the extent of the problem..."
Photo credit: "Facebook has gone on the attack as one scandal after another — Russian meddling, data sharing, hate speech — has led to a congressional and consumer backlash." Credit:Tom Brenner for The New York Times.
---
When the Tech Mythology Collapses. Every perceived technological convenience comes with a caveat: a possibility of losing control over one's data and privacy. Is the tide turning against tech companies that trade in personal data? Here's a clip from The Atlantic: "...A historical analog for this fall from grace does exist. There was a time when Americans loved and talked about the transcontinental railroads the way we loved and talked about the internet. The steel lines spanning the nation were, as the Stanford historian Richard White put it, "the epitome of modernity." "[Americans] were in love with railroads because railroads defined the age. The claims made for railroads by men who wrote about them were always extravagant," White wrote in Railroaded: The Transcontinentals and the Making of Modern America. "The kind of hyperbole recently lavished on the Internet was once the mark of railroad talk." Then the public turned on the transcontinental railroads. "The innovations entrepreneurs brought to the railroads—financial mechanisms, pricing innovations, and political techniques—were as harmful to the public, to the republic, and even to the corporation as they were profitable to many of the innovators," White continued..."
Photo credit: "Mark Zuckerberg in May 2018." Stephen Lam / Reuters.
---
A Visual History of the Future. Utopian over-reach or a realistic vision of what's to come. To quote Yogi Berra: "Predictions are hard, especially about the future". Here's a link to a compelling series at How We Get To Next: "Skies full of personal flying vehicles, robotic servants, and mail carriers with jetpacks.  Decades ago, artists' imaginings formed high expectations about the world to come. Were these just fantasies — or was it the work of pioneers whose visions of the future actually helped to shape it? "A Visual History of the Future" will explore how imagery in advertising, magazines, and other media has been used to inspire, sell, and build our ideas of the future. We'll look at everything from the home to infrastructure to the cities we live in — at ideas that ranged from the insightful to the absurd. And we'll be looking at the times in which these images were created: what was happening in the world that formed "the future" of that time?..."
---
How the Wall Street Journal is Preparing Its Journalists to Detect Deepfakes. Welcome to the newest chapter of fake news - the emerging ability to manipulate video. Here's an excerpt from NiemanLabs: "...The production of most deepfakes is based on a machine learning technique called "generative adversarial networks," or GANs. This approach can be used by forgers to swap the faces of two people — for example, those of a politician and an actor. The algorithm looks for instances where both individuals showcase similar expressions and facial positioning. In the background, artificial intelligence algorithms are looking for the best match to juxtapose both faces. Because research about GANs and other approaches to machine learning is publicly available, the ability to generate deepfakes is spreading. Open source software already enables anyone with some technical knowledge and a powerful-enough graphics card to create a deepfake..."
---
The Best Snow Shovels of 2018. And what a lovely Christmas gift this would make. Here's a clip from a thorough review at Review.com: "...And after many hours of scooping and maneuvering, some of our findings surprised us: Features, such as additional handles, turned out to be more troublesome than we anticipated.But it was easy to pick the most well-made shovels—like one of our favorites, Forest Hill Homeowner Aluminum Scoop Shovel (available at Amazon)—from the more indifferent products on the market. Here's how the best snow shovels we tested ranked, in order:
True Temper Aluminum Blade 20-inch Shovel
Forest Hill Homeowner Aluminum Scoop Shovel
Tabor Tools 18-inch Blade Snow Pusher
Snow Joe Shovelution
True Temper 18-inch Mountain Mover
Bully Tools 22-inch Combination Snow Shovel
Suncast 20-inch Steel Core Combo
Emsco Bigfoot Shock Shield 25-inch Snow Pusher..."
Photo credit: Reviewed / Dan Roth.
---
Al Roker Apologizes for Underestimating Winter Storm, Draws Mixed Reactions. I feel his pain. Here's a clip from USA TODAY: "Everybody makes mistakes – though if you're Al Roker and part one of the top meteorology teams in morning television, you'd better be ready to apologize. Roker said "our bad" to viewers on Friday morning after Thursday's storm in the Northeast turned out to be bigger, and more troublesome for commuters and travelers, than experts originally predicted. Roker's mea culpa was ready to go Friday, and a few viewers thanked him for his candor. "Thank you for your honesty this morning concerning the botched storm predictions on the east coast. The first admission I've heard since the storm!" one viewer wrote..."
---
---
35 F. high on Friday in the Twin Cities.
41 F. average high on November 16.
34 F. maximum temperature at MSP on November 16, 2017.
November 17, 1996: Six inches of snow falls in Douglas, Pope, and Stevens Counties.
November 17, 1835: A strange night is observed at Ft. Snelling. Northern lights are seen over prairie fires.
---
---
SATURDAY: Partly sunny, chilly. Winds: NW 8-13. High: 27
SATURDAY NIGHT: Mostly clear and cold. Low: 11

SUNDAY: Plenty of sunshine, still dry. Winds: SW 10-15. High: 33

MONDAY: Mix of clouds and sun, still brisk. Winds: NW 8-13. Wake-up: 21. High: 32

TUESDAY: Patchy clouds, no travel problems. Winds: S 8-13. Wake-up: 18. High: 35

WEDNESDAY: Plenty of sun, feeling better. Winds: E 5-10. Wake-up: 26. High: near 40

THANKSGIVING DAY: Giving thanks for a dry, south breeze. Winds: S 10-20. Wake-up: 31. High: 47

BLACK FRIDAY: Chance of light rain or drizzle. Wake-up: 34. High: 43
---
Climate Stories...
Climate Change Made Recent Hurricanes Wetter, and They May Get Worse. LiveScience has the story: "Some of the biggest storms in recent years were fueled by climate change, which increased the amount of their drenching rainfall. Future storms could be even windier, wetter — and potentially more destructive — according to a new study. Researchers evaluated 15 tropical cyclones (which are called hurricanes when they form in the Atlantic) from the past decade and then simulated how the storms would have performed during preindustrial times, prior to the advent of recent climate change. They also peered into possible future scenarios, modeling what the storms might look like if they took shape during the late 21st century, should Earth's climate continue to warm..."
Image credit: "Captured by the GOES-16 satellite on Aug. 25, 2017, this image shows Hurricane Harvey as it reached its peak intensity — Category 4 — with maximum sustained winds of 130 mph." NESDIS.
---
How Humans Are Transforming the Hurricanes of the Future. More perspective in a post at The Verge: "...Today's paper provides yet more evidence about the ways in which climate change shapes extreme weather events, says Dim Coumou, an atmospheric scientist at the Potsdam Institute for Climate Impact Research who was not involved in the study. "It's a very important confirmation of our understanding of how hurricanes change with global warming." Climate scientist Michael Mann says that some of the results make perfect sense. "We expect greater rainfall and flooding from hurricanes as ocean surface temperatures and atmospheric moisture content increases in a warming world." But he cautions that the papers use a single climate model, so "it is difficult to draw other general conclusions from these studies..."
Image credit: "Hurricane Harvey from the International Space Station, August 28th, 2017." Photo by Randy Bresnik/NASA. 
---
WILDFIRES: Climate Nexus has headlines and links: "California: Camp fire missing soars past 600 with death toll up to 63 (The Guardian), California air is so bad it's blotting out the sun (Bloomberg), smoke spreading from California fires sparks health concerns (AP), President Trump to visit California in wake of fires (New York Times $), see how a warmer world primed California for large fires (National Geographic), California's wildfire epidemic is blamed on bad building decisions (Bloomberg), as wildfires grow deadlier, officials search for solutions" (AP).
---
Climate Change Could Devastate Crop Yields. But New Research Shows Farmers Can Adapt. I would point out that they are already adapting. Pacific Standard has the story: "...Still, Butler says that his findings suggest farmers have adjusted to changes in climate before—a factor that's not always present in big-picture projections of U.S. agricultural output. "It shows some agency on the farmers' part," he says. "They aren't just mutely being affected by climate-responsive agriculture." In practice, Butler hopes the union of climate and crop-production research will result in more accurate forecasts, helping farmers better prepare and adjust. For now, he's satisfied to be engaging farmers in this work, especially because studies have found that Midwest farmers are among some of anthropogenic climate change's strongest skeptics..."
Photo credit: WCCO Radio.
---
John Kerry: Europe Must Tackle Climate Change or Face Migration Chaos. BTW, this is why our military is paying attention to climate volatility and weather disruption - because it often forces people from their homes, which can create a domino effect of instability, migration and civil war, which has a tendency to draw in the United States. Here's a snippet from The Guardian: "Europe faces even deeper political turmoil and the possibility of mass migration from Africa unless the world urgently addresses the threat of climate change, the former US secretary of state John Kerry said on Thursday. Speaking at a Guardian Live event, at Central Hall in London, he said he was deeply disturbed at how issues such as climate change, cyber wars and the future of the oceans were not ballot box issues, admitting it was hard to translate these issues into an acceptable set of choices for voters..."
---
Heat Waves (Magnified) by Climate Change Could Impair Male Fertility. One note: climate change doesn't cause heat waves - but there's ample and growing evidence that a warming climate makes naturally occurring heat waves longer, and more intense. The Washington Post delves into a touchy subject - is there really a link? "...Heat doesn't just kill. It is also diminishes the vitality of sperm, curtailing the capacity to reproduce, as scientists have documented. "Heatwaves reduce male fertility and sperm competitiveness, and successive heatwaves almost sterilise males," wrote the authors of a study published Tuesday in the peer-reviewed Nature Communications. But the research points newly to an even longer-lasting effect. Ecologists and evolutionary biologists at the University of East Anglia in Norwich, England, found that heat stress appears to be associated with transgenerational fertility problems..."
Image credit: "Green fluorescent protein, or G.F.P., highlights sperm in the female reproductive tract following mating with control (left) and male subject to heat wave (right)." (Matthew Gage and Martin Taylor).
---
---
Farms and Forests Could Be Key to Curbing Greenhouse Gas Emissions. A Thursday story at Star Tribune caught my eye; here's the intro: "Managing the nation's landscapes with carbon in mind — from prairies to farms to urban and northern forests — could cut greenhouse gas emissions as much as 21 percent annually, or about equal to the discharge of all cars and trucks on the road today. And Minnesota is among the states that could do the most: It ranks 8th overall, with the potential to reduce its net carbon emissions by up to a third, according to a study published Wednesday in the journal Science Advances. The strategy won't solve climate change on its own, said the lead author, Joe Fargione, an ecologist with The Nature Conservancy in Minneapolis. But the study, which measured 21 specific practices, illustrates that such "natural climate solutions" have enormous potential..."
Photo credit: Jeff Wheeler – Star Tribune. "Gallery: Martin Larsen in a field with a cover crop of rye grass that remains after he harvested the corn from the land he farms near Byron."
---
How Hurricanes Are Getting Stronger: Headlines and links from Climate Nexus: "Two studies published Wednesday in the journal Nature shed new light on how human influence made the impacts of recent devastating hurricanes worse. One study used historical modeling to find that climate change increased rainfall from Hurricane Katrina by 8.7 percent, Hurricane Maria by 8.9 percent, and Hurricane Irma by 6.3 percent. The study also predicts that warming will increase the strength and intensity of future storms. A second study finds that Houston's buildings caused Hurricane Harvey to dump more rain on the city as the storm snagged on skyscrapers, while the city's paved areas reduced drainage and upped flood levels." (AP, NPR, Wired, PBS, The Guardian, Bloomberg)
October 10, 2018 file image of Hurricane Michael: NOAA and AerisWeather.
---
What Electrical Vehicle Sales Say About Transition Off Fossil Fuels. Here's a clip from a story at TheHill: "...So, what can be done? Likely the greatest challenge is to increase consumer awareness. Research shows the vast majority of Americans have only the vaguest awareness of EVs. Public knowledge has stayed stagnant in the past few years — even in California, where public chargers are being rolled out, incentives are generous, and political leaders continue to tout the cars. Public awareness campaigns are underway, such as those by Veloz and 'Drive Change. Drive Electric', but they are only just getting started on mobilizing consumer interest. The second challenge is getting a more diverse set of EV models into the showroom. Automakers need to electrify SUVs, minivans, and pickup trucks, which Americans are increasingly flocking to..."