Dreaming of a White Christmas? You May Be in Luck

This is the dark season, when a combination of meager daylight, a dearth of sunshine and debilitating bouts of holiday stress leave many of us curled up on the sofa in the fetal position. No wonder we turn on Christmas lights and light Hanukkah candles.
Look at the bright side - quite literally. Within 2 short weeks daylight is on the increase again, even though average temperatures won't start to rise until late January. If you don't enjoy dressing in layers or pleading with your car heater - this too shall pass.
But a few outbreaks of polar air are inevitable at this latitude. As advertised for several days now, numbing air is on the way - by Christmas weekend highs hold in single digits with lows dipping below 0F. Not record low territory, but cold enough to get your attention.
The latest clipper sails east today; flurries taper with highs near 30F. Temperatures trend above average into Thursday, when there's still a potential for accumulating snow to freshen up the dirty pile of snow-like grit in your yard.
We WILL have a white Christmas. It WILL get Nanook. Hey, this is still Minnesota, right?
---
Mixed Climate Patterns in December
. Dr. Mark Seeley reports on a fickle December (they all are) and a snowfall deficit across most of Minnesota in this week's edition of
Minnesota WeatherTalk
: "
After an extraordinary warm start, with scores of record high temperature values set on the 4th of the month, December has been tracking with alternating periods of below and above normal temperatures. Overall through the first half of the month most climate stations are showing average temperature values that range from 4 to 8 degrees F warmer than normal, a trend that is likely to make December the 10th month of 2017 with above normal temperatures. Over 60 climate stations so far have reported subzero low temperatures on at least one day this month, with a minimum of -19°F near Ely earlier this week on the 12th. Embarrass was -15°F on that date as well. Eveleth reported -9°F on December 8th, the coldest in the nation. Most observers have so far reported anywhere from 5 to 7 days with measurable snowfalls, mostly light in amounts from a dusting up to 1 inch
..."
---
---
---
---
Snow Cover. A series of 3 maps above shows snow on the ground now, courtesy of NOAA and AerisWeather.
---
January Outlook. NOAA's CFSv2 climate model predict a milder than average January for much of the USA, with the exception of far northern states, including Minnesota. Confidence levels are low, but this sure is a colorful map! Source: WeatherBell.
---
Dangers of Hypothermia. NOAA has some good reminders as we head into an extended cold wave late next week - the elderly and infants most prone to a slow, and potentially fatal drop in body temperature: "When your body temperature sinks below 96°F, you have hypothermia, a serious health hazard that occurs when body temperature is lowered to much. Get medical attention immediately. Move the victim inside to a heated location and begin warming the center of the body first. If the person is unconscious, administer CPR. Hypothermia can occur in temperatures as warm as 60°F, particularly in water or with if you are outside a long time and not dressed for the weather. Of the approximately 1,300 people the CDCP lists as being killed by hypothermia each year, most are seniors, according to the National Institute of Aging, but some are children and young adults. Everyone needs to be careful. Some medicines, problems with circulation, and certain illnesses may reduce your ability to resist hypothermia. As you age, your body becomes less efficient at letting you know when you are too cold. In addition, older people tend not to shiver effectively, one of the ways the body warms itself up. Remember these tips to help prevent hypothermia:
Dress in layers
Wrap up well when going outside in the cold.
Avoid breezes and drafts indoors.
Eat nutritious food and wear warm clothes to ward off winter chill.
Wear a warm hat in the winter.
Eat hot foods and drink warm drinks several times during the day.
If you live alone, ask a family member of neighbor to check on you daily or have a camera installed that a family member can view on their computer.
Ask your doctor if any medicine you're taking increases your risk of hypothermia. Drugs that may cause a problem include barbiturates, benzodiazepines, chlorpromazine, reserpine, and tricyclic antidepressants..." 
---
---
ECMWF Outlook for White Christmas 2017. The map above shows the European model forecast for 1" of snow cover on Christmas morning, December 25. Much of the northern USA should have a white Christmas, but it may be touch and go for Chicago, Des Moines and Kansas City. Map: weather.us.
---
Thomas Fire Grows To Nearly 250,000 Acres - Fire Danger Continues for California.
Praedictix Briefing: Friday, December 15th, 2017
Multiple major wildfires continue across parts of southern California

Friday

morning, with the Thomas Fire growing into the fourth largest California wildfire in modern history.
An update on the active wildfires:
Critical fire danger is expected this morning across southern California before winds start to weaken this afternoon. However, a new system will start to drop into the western United States, leading to elevated fire danger in the Bay Area by this evening. This system will produce gusty northerly winds

tomorrow

into

Sunday

morning in the Bay Area, leading to cricical fire danger. As high pressure settles back in

Saturday

night, gusty offshore winds will once again develop over southern California into

Sunday

.
---
Ongoing Wildfires. Four major wildfires continue to burn across southern California this morning. The Thomas Fire has grown to 249,500 acres burned and is 35% contained. Unfortunately one firefighter has lost their life batting this blaze. Here was the situation on the Thomas Fire from the Cal Fire incident report last night: 
Santa Barbara County: The majority of resources will focus on securing the western side of the fire, above the coastal communities in Santa Barbara County. Firefighters will remain engaged in structure defense operations and establish direct fireline where possible working to tie in to the Tea fire and Jesusita fire footprints. Fire will continue to threaten the communities of Santa Barbara, Carpinteria, Summerland, Montecito and surrounding areas.
Ventura County: Crews continued to actively engage in suppressing active and small spot fires around the Southeastern portion of the perimeter. Fire was active on the Northeast side and has established within the Sespe drainage make firefighting efforts difficult to access and mitigate. Areas currently evacuated are mitigating hazardous conditions. Utility companies continue to assess and mitigate infrastructure that was damaged from the fire so citizens can be safe when returning to these affected areas.
A detailed, interactive map of the fires can be found HERE.
---
Wind Gusts Past 24 Hours. Strong winds over the past 24 hours have been common across parts of southern California, with a number of locations observing winds of at least 40 mph. The peak wind gust was 79 mph, recorded at Fremont Canyon.
---
Critical Fire Danger This Morning. Strong offshore winds will continue across southern California during the morning hours today before weakening this afternoon. However, elevated fire conditions will continue as we will remain dry across the region. In central California, an elevated fire danger is in place late today as a new system digs into the western United States. Winds will be on the increase during the evening and overnight hours and that, combined with dry conditions, will allow any fires that do form to quickly spread.
---
Critical Fire Danger Continues Into Saturday. Critical fire weather concerns will be in place across two areas of California Saturday.
Across central and northern California, the critical fire threat will develop in the morning hours as winds will be out of the north to northeast at 20-30 mph in combination with low humidity values. This fire danger will continue into

Sunday

morning.
Across southern California, offshore winds will increase as we head toward

Saturday

night. With low humidity values still across the region, critical fire weather concerns will develop during this timeframe, lasting into

Sunday

.
---
Fire Danger Sunday As Well. Strong offshore winds will continue into Sunday across Ventura and Los Angeles counties, leading to another day of critical fire weather concerns.
---
Red Flag Warnings. Due to the continued fire weather conditions - including gusty Santa Ana winds and low humidity values - Red Flag Warnings are in effect across portions of southern California through the morning hours. Across the Sierra and Kern County mountains, Red Flag Warnings are in effect through this evening due to low humidity values as winds will be between 5-15 mph. In the Bay Area and Sacramento region, Red Flag Warnings are in effect from 10 PM this evening through 10 AM Sunday morning due to gusty winds (50+ mph, especially at higher elevations) and low humidity values.
Red Flag Warning text from local National Weather Service offices: http://forecast.weather.gov/wwamap/wwatxtget.php?cwa=usa&wwa=Red%20Flag%20Warning
---
Wind Advisories In Effect. Wind Advisories are in effect for parts of the Bay Area into northern California as we head into the weekend. Wind gusts are expected to be in the 40-50 mph range, especially at higher elevations, as we go through Saturday.
---
Bay Area Wind Gusts Saturday. Wind gusts in the Bay Area Saturday will easily top 30 mph across the region, including at the San Francisco airport.
---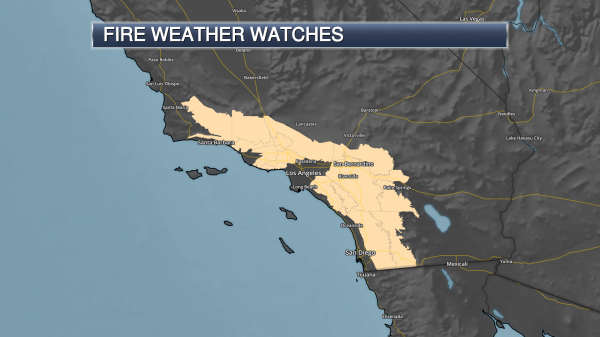 Fire Weather Watches. Fire Weather Watches have been issued for parts of the weekend across southern California:
They are in effect from late

tonight

through

Saturday

evening across the Santa Barbara County Mountains, as northerly winds will gust up to 40 mph with low humidity values.
From late

Saturday

Night through

Sunday

evening, Fire Weather Watches are in effect for the Los Angeles/Ventura County mountains/valleys and into other coastal mountain slopes and adjacent valley areas of southern California. Wind gusts of 50-55 mph are possible along with continued low humidity values.
---
Los Angeles Wind Gusts Sunday. At higher elevations, winds will easily top 30-40 mph as strong Santa Ana winds once again blow across the region. This will impede any firefighting efforts across the region for new and ongoing fires.
Meteorologist D.J. Kayser, Praedictix
---
Unfettered Building, Scant Oversight Add to Cost of Hurricanes In U.S. Reuters investigates: "...Across the country, newer construction in flood-prone areas generated more than $9 billion in claims for structural damage on the cash-strapped flood insurance program between 2000 and 2015. Flood-management authorities say that some of those claims probably never would have been filed had proper building controls and accurate flood maps been in place. "You look at the media images and you see new subdivisions, new strip malls and new buildings with water up to the rooftop. Those are red flags in my mind. Those shouldn't be happening," said Paul Osman, floodplain program manager for the Illinois Office of Water Resources. Controlling construction inside flood-prone areas is critical to keeping flood insurance affordable and reducing post-disaster costs, federal officials say..."
Photo credit: "UNDER WATER: Hurricane Harvey caused billions of dollars of flood damage in August in Texas, including this area of Northwest Houston." REUTERS/Adrees Latif/File Photo.
---
New Major Evidence That Fracking Harms Human Health. The Atlantic reports: "Hydraulic fracturing, or fracking, may pose a significant—but very local—harm to human health, a new study finds. Mothers who live very close to a fracking well are more likely to give birth to a less healthy child with a low birth weight—and low birth weight can lead to poorer health throughout a person's life. The research, published Wednesday in Science Advances, is the largest study ever conducted on fracking's health effects. "I think this is the most convincing evidence that fracking has a causal effect on local residents," said Janet Currie, an economist at Princeton University and one of the authors of the study..."
Photo credit: "A fracking well in Colorado." Jim Urquhart / Reuters.
---
New Research Finds Kids, Ages 4-6, Perform Better during Boring Tasks When Dressed as Batman. Well duh! Here are a couple excerpts from the World Economic Forum: "...Rachel E. White, from Hamilton College, and Emily Prager and Catherine Schaefer from the University of Minnesota, tested four and six-years-olds by giving them a boring computer task and asking them to do it for 10 minutes. They also offered the kids an out: If they got bored, they could play a game on the iPad, located nearby in the testing room...Not surprisingly to anyone who has kids, and iPads, the kids spent 37% of their time on the 'work' task, and 63% on the iPad. But those kids pretending to be superheroes 'worked' more than those who thought of themselves in the third person, and both of those groups did better than the kids who just thought of themselves as 'me'. In other words, the more the child could distance him or herself from the temptation, the better the focus…"
Photo credit: "Nowadays it's easy for children to be distracted, but this research shows how dress up keeps their focus." Image: REUTERS/Pilar Olivares.
---
Clothing Companies Are Trashing Unsold Merchandise Instead of Donating It. Here's an excerpt from a story at The Outline: "...There are a few reasons retailers — high-end clothing companies in particular — would rather destroy unsold merchandise than attempt to donate it. In a 2010 Slate post, fashion journalist Erika Kawalek claimed she knew of a "VERY high-up and profitable" fashion label that "sent two million dollars worth of clothing and purses to the shredder" rather than donating the goods, lest its wares end up on the unwashed masses "or in some unsightly discount bin." Even fast-fashion retailers like H&M were worried that donating unsold clothing would undercut their business — why pay full price for an H&M shirt if you can just get one at a thrift store?..."
---
Minnesota's Drivers Among Worst in the USA. Excerpts from GoMN and QuoteWizard: "...Minnesota saw big increases in accidents, speeding and citations between 2016 and 2017, which caused the state to rise from 11th in the table last year to 2nd this year. Only California has worse drivers, the website says. One of the biggest movers from 2016 to 2017, Minnesota climbed nine spots from 11th to second worst drivers in the nation. By our metrics, Minnesota saw big increases in accidents, speeding, and citations. We're not the first to highlight Minnesota's driving, with one transplant describing the state's drivers as "too fast, too slow, too angry." What's causing this? For one, Minnesota's brutal weather – including ice, snow storms, and tornados – turns cars into Zambonis. Second, the infamous 'Minnesota Nice' makes drivers passive-aggressive and indecisive behind the wheel. If you find yourself driving through the streets of Minneapolis, keep your wits about you..." (Map credit: QuoteWizard.com).
---
---
SATURDAY: Flurries taper, milder. Winds: E 5-10. High: 32
SATURDAY NIGHT: More clouds. Low: 22

SUNDAY: Mostly cloudy, good travel weather. Winds: NE 3-8. High: 31

MONDAY: Still gray, above average temps. Winds: W 10-15. Wake-up: 23. High: 37

TUESDAY: Partly sunny, still fairly pleasant. Winds: NW 10-15. Wake-up: 28. High: 35

WEDNESDAY: Chance of flurries, potentially slick up north. Winds: SE 10-15. Wake-up: 24. High: 29

THURSDAY: Few inches of snow possible. Winds: NE 10-20. Wake-up: 25. High: 27

FRIDAY: Few flurries, wind chill closer to 5F. Wake-up: 13. High: 16
* CHRISTMAS WEEKEND: Highs: 4-12F. Lows: 2 to -6F.
 
---
Climate Stories....
---
Global Warming Tied to Hurricane Harvey. Research highlighted at Scientific American predicts that Harvey's record rainfall was three times more likely than a storm from the early 1900s: "Climate change made Hurricane Harvey more powerful and increased its deadly flooding, according to new research released as major storms may be driving more Americans to worry about global warming. Human-caused climate change caused the storm to drop significantly more rain than storms would have before atmospheric carbon dioxide levels spiked from the consumption of fossil fuels, according to research published yesterday. Meanwhile, a new poll suggests that witnessing that type of damage and the suffering of those affected has also seemed to move public opinion slightly toward an acceptance of the risk that it poses to a large segment of the U.S. population..."
Hurricane Harvey file photo: Tom Fox, Dallas Morning News.
---
Scientists Link Hurricane Harvey's Record Rain to Climate Change. A warming atmosphere made the probability of Hurricane Harvey's 50"+ rains as much as 38% more likely, according to 2 new studies highlighted at The New York Times.
3-Day Hurricane Harvey radar loop with 2-minute updates from August 25-28, 2017, courtesy of AerisWeather.
---
Climate Change Made Harvey's Rainfall Three Times More Likely, Scientists Say: From Climate Nexus Hot News: "Climate change made Hurricane Harvey's record-breaking rainfall much worse, scientists reported this week. Peer-reviewed research from the World Weather Attribution initiative, presented Wednesday at the American Geophysical Union conference in New Orleans, found that climate change made the hurricane's rainfall totals 15 percent more intense than normal. Meanwhile, separate research published in the journal Geophysical Research Letters and also presented at AGU found that climate change likely increased Harvey's rainfall by 20 percent, and possibly as much as 38 percent. Harvey's record-breaking rainfall in August totaled 50 inches in some areas of Houston." (New York Times $, AP, Washington Post $, The Guardian, CNN, Houston Chronicle, Mother Jones, National Geographic, Huffington Post)
Hurricane Harvey file image: NOAA and AerisWeather.
---
Climate Change to Affect City and State Credit Ratings. Here is an excerpt from an Op-Ed from San Antonio's Express-News Editorial Board: "Cities and states, take note. Climate inaction could lower your credit rating. A recent report from Moody's explains how the rating agency will assess climate change risk for states and cities. Risk indicators include economic activity along the coast, potential for hurricane and other extreme-weather damage, and the number of homes in a floodplain. Moody's didn't identify cities in its report, but Texas is one of the states deemed most vulnerable to climate change. Not surprising since Texas has tremendous economic activity along the Gulf Coast and is prone to all sorts of extreme weather across the state. Hurricane Harvey, which slammed into the Coastal Bend before dumping more more than 50 inches of rain on Houston, has caused an estimated $180 billion in damages. Many of the properties damaged were not in designated floodplains, raising questions about whether our mapping and flooding expectations are accurate in light of climate change..."
Photo credit: Bryan Thomas, New York Times. "If your community isn't taking affirmative action on climate change, its credit rating could be at risk. For years, Houston, which suffered grievously during Hurricane Harvey, has paved over much. Has it done enough to stem climate change?"
---
Warm Arctic is 'New Normal,' Scientists Say: Here's a summary and link to relevant stories from Climate Nexus: "The Arctic is experiencing "unprecedented" warming with a rate of sea ice decline not seen in at least the last 1,500 years, a new government report shows. The National Oceanic and Atmospheric Administration's annual Arctic Report Card, released Tuesday, shows that the region is warming around twice as fast as the rest of the planet. The report also shows that thicker ice lasting through multiple melt seasons only made up 21 percent of total Arctic ice this year, as opposed to 45 percent in 1985. The report states that the Arctic "shows no sign of returning to the reliably frozen region it was decades ago." (AP, Washington Post $, The Guardian, BBC, Axios, USA Today, NPR, InsideClimate News, Earther, Mother Jones, The Hill)
Image credit: NOAA.