Wednesday Slush - Turning the Corner Next Week

True confession: I like snow. I prefer my snow in the winter. By late spring my lust for fresh powder begins to wane. When the seasons bog down, when patterns stall, I'm just as anxious as the next guy.
Only Siberia has greater swings than Minnesota and the Dakotas. Think about that. Last year at this time we were basking in the 60s. Ice was off the lakes. Spring was in full swing. This year? I'm wondering if the malignant glacier in my yard will ever melt.
It will. The sun is too high in the sky for winter chill to last much longer. All the models show a significant pattern shift next week, with a streak of 50s, even 60 degrees.
If we don't see a series of heavy rain events in the coming weeks we'll escape the worst river flooding. Dan Luna from the local National Weather Service office has details on the weather blog.
In the meantime, an inch or two of slush today may bring our winter snowfall total over 80 inches. Imagine that, a real winter! They're becoming increasingly rare.
Tonight on PBS NOVA I explain how the weather was a tip-off of much larger forces in play. 
---
Tracking South. The National Weather has a portion of far southern Minnesota under a Winter Storm Warning today, for as much as 2-5" snow and tough travel conditions. Advisories are posted for the far southern suburbs of the Twin Cities. Map credit: AerisWeather.
---
Passing South? NOAA's 3KM NAM guidance shows a few inches for far southern Minnesota, but hints that the immediate MSP metro may not see much snow from today's system. Source: pivotalweather.com.
---
Model Guidance. I predict (I hope) this is the last time I have to show the snowfall spaghetti plot until maybe October or November? We'll see. In the meantime today's event may fall in the "nuisance" category; most models hinting at a coating to 2" for MSP. Graphic: Iowa State University.
---
Yes. ECMWF is consistent, with 60F as early as Monday, and fairly consistent 60s by the end of next week. It's time to turn the corner. Of course how quickly we see 60F will depend on how quickly we melt the snow still left on the ground. Graphic: WeatherBell.
---
---
---
River Flood Potential Update. I had an e-mail conversation with Dan Luna, Meteorologist in Charge of the Twin Cities National Weather Service. I asked him to weigh in on the risk of flooding, in light of last weekend's historic snowfall and the fact that there's still over a foot of frost in the ground. Here is what he told me: "We see about 1.5' to slightly more than 2 inches of water contained in the snow pack across much of the area. This week into the weekend features a perfect orderly snow melt. It could not be better in terms of temperatures in the upper 30's to low 40's through Thursday with lows below freezing at night. Friday through Sunday see temperatures warming to the low 50's with lows dropping to around the freezing mark; perfect! No significant rain, that could cause the snow to liquidate overnight is in the forecast through the weekend which add to the "perfectness" of snow melting. In addition due points will be relatively low; not causing snow to melt rapidly. By Monday of next week, most of the runoff from snow melt will be well on it's way down the creeks and river systems. Snow that is forecast to fall over southern MN Tuesday night through Wednesday is not expected to provide much more to the potential of flooding in our state. It is amazing at this point in time that only one point on the MN River is expected to reach minor flooding; Montevideo. Much of this is due to the fact that we have been melting snow periodically the last 6 weeks. March was a dry month and April is running about an inch above normal. So at this point we are not very far out of bounds as to what we would expect in liquid precipitations. It is just the snow amounts are way out of bounds as evidenced by a new April record. We will have to pay close attention this month and into May; if we had widespread significant rains, we could expect widespread significant flooding, but that is not expected at this time...I actually think the bigger threat for flooding could come in May/June (after the snow melts). Rivers will be plenty high, soils wet, vegetation behind in terms of greenness and taking water out of the soils,  and if we get a significant convective system that produces widespread significant rains or a slow moving low pressure system, watch out."
* For the latest flood forecast for Minnesota's rivers and streams click here.
---
Thunder Blizzard: April 13-16. The Minnesota DNR has a very good summary of last weekend's meteorological craziness; here's an excerpt: "An extreme, late-season winter storm struck Minnesota from April 13-16, 2018, producing everything from thunderstorm wind damage to prolonged blizzard and whiteout conditions.The storm came in three distinct rounds, each separated by anywhere between four and eight hours. The first round began on the morning of Friday April 13th, as severe thunderstorms tore into far southwestern Minnesota from South Dakota, knocking over power poles, damaging farm equipment, and producing a wind gust of 78 mph near Rushmore in Nobles County. Precipitation accompanied by 45 mph wind gusts then spread across the southern half of the state, with a mix of rain, sleet, freezing rain, and eventually snow, resulting in 1-4 inches of accumulation from the Twin Cities northward, and up to 8 inches near the Minnesota River in western Minnesota, before ending just after midnight..."
---
Weekend Dumping Was 12th Biggest MSP Snowfall Since 1891. The Minnesota DNR puts our weekend dumping into perspective: "The April 13-16, 2018 blizzard was the largest Twin Cities April single snowfall on record and the 12th largest snowfall in the Twin Cities from 1891-2018. (Above) we have listed the 20 largest continuous snowfall events on record in the Twin Cities, using data back to 1891. Many of these storms were multi-day affairs. Some, like the Armistice Day Storm  and the 1991 Halloween Blizzard , were produced by massive and intense areas of low pressure and were accompanied by howling and even damaging winds. Others, like the March 8-9, 1999 surprise , had a softer touch. But many of these storms live in some sort of infamy, like the blizzard of December 10-11, 2010 , which will be remembered by many as the third and final "domebuster" snowstorm, resulting in significant damage to the roof of the former Metrodome . We will update this list as new snowstorms replace older ones..."
---
Updated Winter Misery Index. We are now enjoying (wrong word) a "moderate" winter, according to The Minnesota DNR. But wait, it's allegedly spring, right? "The Winter Misery Index is now up to 111 points. The April 13-16 Blizzard added 24 points to the total...The Winter Misery Index (WMI) is an attempt to weigh the relative severity of winter when compared with winters of the past. The WMI assigns single points for daily counts of maximum temperatures 10 degrees F or colder, and daily minimums of 0 degrees F or colder. If the minimum temperature drops to -20 degrees or colder greater, eight points are attributed to that day. Snowfall totals of one inch or greater in a day receive one point. Four-inch snowfalls generate four points for the day, an eight-inch snowfall receives a whopping 16 points. To quantify the duration of winter, one point is tallied for every day with a snow depth of 12 inches or greater. All current measurements are at the Twin Cities International Airport..."
---
When Spring's Snow Typically Happens. Read it and weep. Here's an excerpt from weather.com: "By spring, the sight of a blanket of snow may cause more aggravation among the snow-fatigued instead of the excitement it generated in October or November. We scoured National Weather Service records to compile both the average date of the final measurable (at least 0.1 inches) snow of the spring, and also the date of the latest spring accumulating snow on record. In some locations, that record latest date was in the summer..."
---
More Snowfall Records, More Recently. Yes, it may be a trend - for a variety of reasons: 1-2F warming means 4-8% more water vapor, and arctic amplification (rapid warming of the arctic) may be slowing jet stream winds, resulting in a wavier pattern, one more prone to slowing weather systems and storms that get "stuck" for extended periods of time. Climate Central reports: "...Nationwide, more than 40 percent of counties have had their biggest 2-day snow totals since 1980. Our analysis excluded counties where the 2-day snowfall record was less than 3 inches. So even if the average amount of snow at the local level may be trending down, the snow that falls may come in larger batches. This is notable in the northeastern cities, where the biggest storms are usually nor'easters, which tap into the Atlantic Ocean for moisture. As the Washington Post's Capital Weather Gang has pointed out:
Seven of Washington, D.C.'s top 10 snowstorms since 1889 have occurred since 1979.
All five of Philadelphia's highest snowfalls have occurred since 1983. Its top three have happened since 1996.
In New York City, seven of the nine biggest snows have occurred since 1996. Three of the top five have come in the past decade.
Eight of Boston's top 10 snowstorms have come since 1978. Half have occurred since 2003..."
---
Storms are Getting Stronger. There's more water vapor in the air, more fuel for storms, yearround. Here's an excerpt from NASA's Earth Observatory that caught my eye: "...William Lau, a scientist at NASA's Goddard Space Flight Center, concluded in a 2012 paper that rainfall totals from tropical cyclones in the North Atlantic have risen at a rate of 24 percent per decade since 1988. The increase in precipitation doesn't just apply to rain. NOAA scientists have examined 120 years of data and found that there were twice as many extreme regional snowstorms between 1961 and 2010 as there were from 1900 to 1960..."
---
---
---
Praedictix Briefing: Dangerous Fire Weather Conditions Southern Rockies Into the Plains.
Issued: Tuesday, April 17th, 2018:
As a storm system travels through the Great Basin into the Plains today, a round of dangerous and potentially life-threatening fire weather conditions is expected across the Southern Rockies into the Southern and Central Plains. This is where the Storm Prediction Center has issued an extreme fire danger for

Tuesday

.
Winds are expected to increase across this region today, gusting up to 70 mph in spots. This, along with low humidity values and dry fuel across the region, will allow any fires that develop over the course of the day to quickly grow in size.
---
Extreme Fire Danger Today. Dangerous fire weather conditions are expected to develop across portions of the Southern Rockies into the Southern and Central Plains today due to extremely dry conditions and very strong gusty winds across the region. We will even see the potential of record highs in parts of the region as temperatures climb into the 90s across parts of Kansas, Oklahoma, Texas and New Mexico. Due to these conditions and dry fuels in place, an extreme fire danger is in place across this region. The Storm Prediction Center notes in the discussion of this extreme fire danger that, "Given dry fuels and ongoing drought, the stage will be set for fast-moving fires exhibiting extreme behavior."
---
Red Flag Warnings. Due to this extreme fire danger today from the Southwest into the Plains, Red Flag Warnings are in effect throughout the day and, in some cases, into the evening hours.
---
Potential Wind Gusts. Winds will increase across the region expected to see extreme fire weather conditions today, with winds easily gusting over 40 mph. Across the Front Range into parts of New Mexico and the panhandle of Texas, winds could potentially gust up to 70 mph later today. These high winds, in combination with the dry fuels in place, would allow fires to quickly spread.
---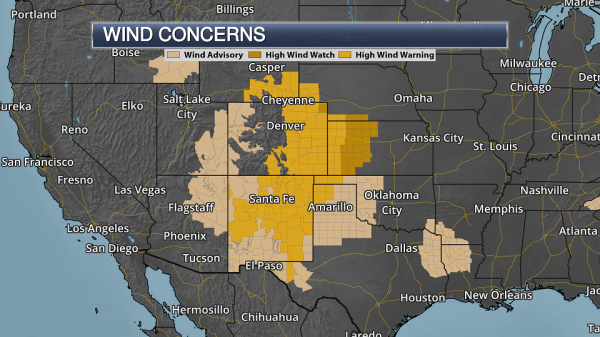 High Wind Concerns. An expansive area of Wind Advisories and High Wind Warnings are in effect across the Southwest into the Plains for the potential of these strong winds. Across High Wind Warning areas, wind gusts between 50-70 mph are expected. Map credit: AerisWeather.
D.J. Kayser, Meteorologist, Praedictix.
---
It's a Common Myth That Tornadoes Avoid Cities - But It's Not True. Meteorologist Marshall Shepherd makes the case at Forbes: "...About a decade ago, Dr. Josh Wurman and colleagues published a paper in the Bulletin of the American Meteorological Society called "Low-Level Winds in Tornadoes and Potential Catastrophic Tornado Impacts in Urban Areas." They used wind estimates from Doppler on Wheels mobile radars, census data, and modeling to estimate impacts of tornadoes crossing densely populated cities. Results were startling. For example, they argued that a large, intense tornado moving through parts of Chicago, Illinois could destroy nearly a quarter of a million homes and result in 4500 to 45,000 deaths. They did similar evaluations for Atlanta, Washington, D.C., Houston, Dallas-Ft. Worth, New York, and St. Louis. While this results may be exaggerated as noted by some scholars in the literature, I think the point that they convey is real..."
Image credit: FiveThirtyEight.
---
This Radio Hacker Could Hijack Emergency Sirens to Play Any Sound. Speaking of hacker in unlikely places. A story at WIRED.com made me do a double-take: "...Now, after two-and-a-half years of patiently recording and reverse-engineering those weekly radio communications, Seeber has indeed found that he or anyone with a laptop and a $35 radio could not only trigger those sirens, as unknown hackers did in Dallas last year. They could also make them play any audio they choose: false warnings of incoming tsunamis or missile strikes, dangerous or mass-panic-inducing instructions, 3 am serenades of death metal or Tony Bennett. And he has found the same hackable siren systems not only in San Francisco but in two other cities, as well as hints they may be installed in many more. "If you wanted to send out your own music or your own alert, you could broadcast it across entire cities," Seeber says. "You could do it with something as cheap and easy as a handheld radio you can buy from Amazon..."
---
How Large Outdoor Venues Prepare for Severe Weather. It's something that haunts me - how do you move 30,000 to 40,000 people in a few minutes if a confirmed tornado is approaching a stadium? Here's an excerpt from KSHB.com: "...The stadium is made of concrete and the main level and field are both underground. In the case of a tornado, fans in the upper decks would be brought to the main level and fans on the main level would be escorted down to underground tunnels. "If we have a full stadium and a weather event is bearing down on us, we could get all 40,000 people into a safer location within 15 minutes," said Cook. But until fans are inside the stadium, their safety isn't guaranteed..."
---
How Does One Prepare for Adverse Weather Events? Depends on your Past Experience. Science Daily has an intriguing post: "...The results indicate that people's risk perceptions are highly influenced by a memorable past tornado experience that contributes to unwelcome thoughts, feelings and disruption, which ultimately increase one's fear, dread, worry and depression. Also, the more experiences people have with tornadoes, and the more personalized those experiences, the more likely they are to believe their homes (versus the larger geographic area of their city/town) will be damaged by a tornado within the next 10 years..."
---
The National Weather Service Forecast: More Budget and Staff Cuts. Here's a clip from Chicago Magazine: "...Nationwide, NWS staffers are struggling to keep up as jobs go unfilled for long periods due to attrition, according to a GOA report that says ongoing staff vacancies make it difficult for those remaining to "complete key tasks." This is cause for concern given the frequency and intensity of weather-related disasters, including 16 separate events that each left more $1 billion in damages in 2017. "And those numbers don't account for the human toll," says Izzi. Weather and climate disasters killed 362 people last year, according to the National Oceanic and Atmospheric Administration. Some say the toll is much higher. A few months after Hurricane Maria hit, the New York Times reported that a more "reliable measure of the disaster's human impact" was 472 deaths just in Puerto Rico alone..."
Photo credit: "Despite last year's all-time high of extreme weather events, the NWS budget plan calls for more staff cuts and automation." Photo: E. Jason Wambsgans/Chicago Tribune.
---
Harsher Winters and Rising Seas: Study Finds Slowing Ocean Could Mean Climate Extremes. NBC News highlights new research into an apparent slowing of the Atlantic's Gulf Stream conveyor belt: "...A major system of currents in the Atlantic Ocean that carries millions of cubic meters of water north each day is slowing down, according to a new peer-reviewed study published in the journal Nature. That system is known as the Atlantic Meridional Overturning Circulation, or AMOC. "We know somewhere out there is a tipping point where this current system is likely to break down," said study co-author Stefan Rahmstorf, a climate scientist at the Potsdam Institute for Climate Impact Research in Germany. "We still don't know how far away or close to this tipping point we might be. ... This is uncharted territory..."
Image credit: National Academy of Sciences.
---
More Than 95% of the World's Population Breathes Dangerous Air. The Guardian reports: "More than 95% of the world's population breathe unsafe air and the burden is falling hardest on the poorest communities, with the gap between the most polluted and least polluted countries rising rapidly, a comprehensive study of global air pollution has found. Cities are home to an increasing majority of the world's people, exposing billions to unsafe air, particularly in developing countries, but in rural areas the risk of indoor air pollution is often caused by burning solid fuels. One in three people worldwide faces the double whammy of unsafe air both indoors and out. The report by the Health Effects Institute used new findings such as satellite data and better monitoring to estimate the numbers of people exposed to air polluted above the levels deemed safe by the World Health Organisation. This exposure has made air pollution the fourth highest cause of death globally, after high blood pressure, diet and smoking, and the greatest environmental health risk..."
Photo credit: Oliver Berg, EPA.
---
Paul Douglas Talks Climate Change Ahead of NOVA Special. I've seen an advance screener of the 2-hour documentary, and KARE-11 footage makes the final cut in Wednesday's 7-9 PM NOVA film. Here's an excerpt from KARE-11: "...I think its funny, we are wired to experience weather, none of us are wired to experience climate. You don't look out the window and see climate. But if you get clubbed over the head repeatedly and experience jaw-dropping historic weather events, it stops being a fluke, an aberration and it starts becoming a trend." "At first I thought I was imagining, I thought maybe it was my meds, maybe I was hallucinating. And I reached out to other meteorologists and they were seeing the same things. Some of them not excited to be talking about it on the air," Douglas continued. "As you know, if you try to connect the dots and you whisper climate change, you are going to alienate maybe 30 percent of the audience who think it's a scam, a hoax, a liberal conspiracy. No. No. No." "There's more water in the air, you warm up the air two degrees, that's 8 percent more water vapor, that's jet fuel for these storms which drives these intense summer rains..."
---
Paul Douglas Talks Conservative Values and Climate Change in PBS' NOVA Special. My thanks to Rachel Chazin at Star Tribune for the mention: "How does a self-described conservative meteorologist with Christian values interpret climate change? An upcoming "NOVA" special on PBS will feature longtime Twin Cities weatherman Paul Douglas and highlight his shift from skeptic to believer. "We've always had crazy weather, but in recent decades the extremes have been trending even more extreme," Douglas said. "It was the increasingly erratic, jaw-dropping weather that tipped me off that climate change had gone from theory to reality." Douglas, whose weather reports appear in the Star Tribune, said he grew up watching the popular prime-time science series, so "it was a thrill" to be able to work with "NOVA"..."
* The NOVA special airs Wednesday from 7-9 PM on TPT2.
---
Puerto Rico's Power Outage is Now the Second-Largest Blackout in History. Hurricane Maria's legacy lives on - here's an excerpt from CNN: "Since the monster storm slammed into the American Caribbean territory in September 2017 and heavily damaged the power grid, more than 3.4 billion hours of electricity have been lost there. That makes it the second-longest blackout in world history, according to a report from the Rhodium Group, an economic research firm. The only blackout in world history bigger than Puerto Rico's is the one that came after Typhoon Haiyan devastated the Philippines in 2013. About 6.1 billion hours of power were lost after that massive storm..."
Graphic source: Rhodium Group analysis
---
The Race to Find the Next Pandemic - Before It Finds Us. WIRED.com has the story; here's a clip: "...Solving that microbial mystery is an accomplishment, but its origins should make us nervous. This pig virus, since dubbed swine acute diarrhea syndrome coronavirus, is just one example of the viral threats that develop where humans bump up against the fringes of the nonhuman world—along roads that have been paved into forest, or farms that have pushed out from existing cities. Understanding those intersections is a critical part of defending against new human viruses. We need more surveillance, and much more robust defenses, all along that border. "Globally we let viruses emerge and trickle through our net quite often," says Peter Daszak, parasitologist and the president of EcoHealth Alliance. "That needs to stop. We need to start taking these things seriously..."
---
Scientists Inadvertently Create Mutant Plastic-Eating Enzyme. The Daily Beast explains: "An international group of scientists has accidentally created an enzyme that eats plastic, a discovery that is being hailed as a major breakthrough in the fight against pollution. The mutant enzyme stems from the 2016 discovery of a bacterium that had evolved to devour plastic at a waste site in Japan. Scientists from Britain's University of Portsmouth and the U.S. Department of Energy's National Renewable Energy Laboratory then altered that enzyme to study its evolution, but they later learned they had actually improved its ability to break down plastic. "Serendipity often plays a significant role in fundamental scientific research and our discovery here is no exception," Portsmouth biologist John McGeehan said of the finding. Researchers say the enzyme can be further enhanced and used as a new recycling solution. An estimated 8 million metric tons of plastic waste winds up in the world's oceans each year, wreaking havoc on the ecosystem..."
Photo credit: Carlos Jasso/Reuters.
---
World's First Electrified Road Opens in Sweden. This is pretty cool, but it made me wonder if America will, in fact, lead the inevitable clean-energy revolution. Here's an excerpt at Yale E360: "The world's first electrified road — which charges the batteries of electric cars and trucks as they drive over it — has opened near Stockholm, Sweden. The road stretches 1.2 miles and is part of a government-led plan to electrify nearly 12,500 miles of streets and highways across the country, The Guardian reported. The road charges vehicles through an embedded electric rail. To use the road, an electric car or truck needs to install a moveable arm on its undercarriage that connects with the rail and charges the vehicle's battery while driving over it. The system costs $1.2 million per kilometer, making it 50 times cheaper than building an urban tram line..."
---
When Will We Separate Women on TV From Their Bodies? An Op-Ed at ESPN.com caught my eye; here's an excerpt: "...This might sound naive to many, but I didn't understand just how commonly and flagrantly women are objectified or reduced to a body until I became a public figure on social media. Of course, men make comments to me in person, but the sheer volume of references to body parts or sex acts, lewd photos or comments I get on social media -- no matter the context, what I'm wearing, saying or doing -- has changed how I look at things. I now walk through the world understanding that no matter how I present myself and no matter my intentions or actions, I can't always control how I'm seen. I don't speak for all women, but for some of us, it can be a very uncomfortable feeling to be sexualized when you're not seeking out that kind of attention or intending in any way to project sexuality..."
---
Neflix Sees Itself as the "Anti-Apple". WIRED.com has another interesting story: "...The Netflix culture of information sharing builds a sense of responsibility among employees, Hastings said. "We're like the anti-Apple. They compartmentalize, we do the opposite. Everyone gets all the information." He added: "I find out about big decisions made all the time that I had nothing to do with." That's why Hastings promotes courage as a fundamental value at the company. "We want people to speak the truth, and we say, 'To disagree silently is disloyal.'" He added, "It's not ok to let a decision go through without saying your piece. We're very focused on trying to get to good decisions with a good debate..."
Photo credit: "Founder and CEO of Netflix Reed Hastings compares social media to television, which was viewed in the 1960s as "a vast wasteland" sure to rot the minds of humanity. "It turns out everybody was fine." Manu Fernandez/AP.
---
The World's Ultimate Bucket List. After bouts of intense shoveling I found trolling this site to be a badly-needed escape. Here's an excerpt from FlightNetwork: "Welcome to the world's best Bucket List ever assembled – a diverse collection of hidden gem locations and exhilarating activities from every stunning corner of our planet. To create the World's Ultimate Bucket List for 2018, Flight Network has consulted 800+ of the world's leading travel journalists, agencies, bloggers, and editors- the people who do this for a living- to gain insight from their opinions and expertise. By consulting the world's top travel professionals, Flight Network has produced the most reliable and precise bucket list for the modern era  — meant to captivate and inspire travellers all over the world. But don't just take our word for it — dive into this list yourself. Pack your bags and book a flight to the wonders of an African safari, the gorgeous purple night skies of the Sahara, ancient ruins infused with power, and crystallized waters begging you to dive in..."
---
Too Hot for the Beaches: Turkmenistan Bans Imports of Bikinis. You can't make this stuff up. Here's an excerpt from Radio Free Europe: "...The Turkmen government has banned the import of new bikinis and other traditional swimwear, forcing swimmers and other beachgoers to use their old suits or come up with their own fashions. Owners of swimwear shops say customs officials have also in recent months halted the import of any swimsuits, as well as short pants for both men and women...it's unclear what people without a bathing suit will wear in the arid Central Asia nation -- and for those who like wearing shorts in a country where summer temperatures can reach 50 degrees Celsius. It's also unclear whether old bikinis will also fall afoul of government fashion norms. New bikinis and shorts are just the latest in a long line of goods that the Turkmen government has decided aren't acceptable for its people..."
Photo credit: "On the shores of the Caspian: Bikinis and shorts are the latest in a series of things the Turkmen leader apparently doesn't approve of."
---
9" snow on the ground at MSP.
43 F. high yesterday in the Twin Cities.
59 F. average high on April 17.
59 F. high on April 17, 2017.
April 18, 2004: A strong cold front whips up winds of up to 55 miles an hour over southern Minnesota. The wind causes black clouds of soil to lift into the air, creating soil erosion and reduced visibility. Some old-timers remarked that it reminded them of the dust storms from the 1930's Dust Bowl era.
April 18, 2002: Baseball-sized hail falls in Eagan, creating small craters in the soft ground and broken windows in apartments.
April 18, 1977: A tornado touches down at the mouth of the Minnesota River.
---
---
---
---
WEDNESDAY: 1-2" slush. More south of MSP. Winds: N 8-13. High: 35
WEDNESDAY NIGHT: Flurries taper. Low: 27

THURSDAY: Partly sunny, limping into spring. Winds: NW 5-10. High: 44

FRIDAY: Blue sky - melting snow. Winds: NW 5-10. Wake-up: 30. High: 48

SATURDAY: Intervals of sun, feels like April. Winds: SE 5-10. Wake-up: 34. High: 53

SUNDAY: Plenty of sun, mercifully quiet. Winds: S 5-10. Wake-up: 39. High: 56

MONDAY: Mild sun, risk of hitting 60F? Winds: SW 10-15. Wake-up: 42. High: near 60

TUESDAY: Chance of rain showers. Winds: SW 10-15. Wake-up: 45. High: 55
---
Photo credit above: Jim Sochko, who captured this amazing image Saturday near Tettegouche State Park.
---
Climate Stories....
Warming Climate to Nearly Double Demand for Cooling Appliances. Which increases the need for more energy, much of which will depend on the burning of fossil fuels. Which amplifies warming. The Guardian explains: "A burgeoning middle class and a warming world will result in energy demand for cooling overtaking that for heating by the middle of the century, researchers have predicted. Energy use for air conditioning, refrigeration and other cooling appliances will jump 90% on 2017 levels, experts estimated, posing a challenge for energy grids and efforts to curb climate change. The University of Birmingham said the rise would come even with conservative estimates of how much demand for cooling was likely to increase in China, India and hotter countries. "Cooling just really isn't part of the big debate. And yet we lose 200m tonnes of food each year because of a lack of cooling. That has massive repercussions," said Toby Peters, professor in cold economy at the university..."
Photo credit: " The biggest energy demand for cooling comes from air conditioning to keep people comfortable, but it is also essential for stopping food from going to waste and protecting medicines." Photograph: Kin Cheung/AP
---
How the Science of Persuasion Could Change the Politics of Climate Change. Conservatives making the (economic) case to other conservatives? Imagine that. Here's a clip from MIT Technology Review: "...Now he's president of the Niskanen Center, a libertarian-leaning Washington, DC, think tank he founded in 2014. He and his colleagues there are trying to build support for the passage of an aggressive federal carbon tax, through discussions with Washington insiders, with a particular focus on Republican legislators and their staff. A small but growing contingent of fiscal conservatives and corporate interests are arguing for similar policies in the United States. They include party elders like former secretary of state George Shultz, energy giants like Exxon Mobil, and nearly two dozen college Republican groups. Taylor and others believe it's conversations like these—with political elites, and focused on policies they can justify in conservative terms—that could eventually lead to real action on climate change..."
Image credit: Nico Ortega.
---
New York City's Real Estate Industry Must Lead Way on Climate - And It Is. An Op-Ed at Crain's New York explains: "...Clearly, the real estate community must be at the forefront of the solution. The good news is, we already are. Building owners and managers recognize what must be done and we see it taking place. New boilers are more precise at calibrating heating levels and conserving energy; HVAC systems are cleaner and more efficient; better insulation and windows are more effective at reducing waste; innovations such as green roofs are regulating temperatures naturally. The switch by many buildings to natural gas, which burns cleaner and with less pollution than oil, has only accelerated. According to the Department of Environmental Conservation, natural-gas use in city buildings increased 25% from 2005 to 2015..."
Image credit: Lucas Jackson.
---
Shell Joins Exxon in the Climate Change Spotlight. Here's an excerpt from The Houston Chronicle: "Royal Dutch Shell, one the world's biggest oil companies, recognized that burning fossil fuels was raising global temperatures as early as the 1980s, but continued to produce and sell oil, gas and petroleum products, according to documents obtained and released by a European news site.Shell, which has its North American headquarters in Houston and employs about 12,000 here, joins Exxon Mobil as a target of intensifying questions about what oil companies knew about the role of fossil fuels in climate change and when they knew it. Exxon, headquartered in Irving, has received the brunt of the scrutiny in recent years, also facing accusations — which the company denies — that it knew about the climate repercussions of its business in the 1980s, but hid the evidence..."
Photo credit: "Royal Dutch Shell CEO Ben van Beurden speaks at the CERAWeek conference at the Hilton Americas, Wednesday, March 7, 2018, in Houston." ( Karen Warren / Houston Chronicle )
---
The Courts are Deciding Who's to Blame for Climate Change. The Guardian has the story: "There are numerous ongoing legal challenges in an effort to determine who's responsible for climate change. Exxon is under investigation by state attorneys general, cities are suing oil companies over sea level rise costs, and Our Children's Trust is suing the federal government for failing to protect their generation from climate change. At the heart of these legal challenges lies the question – who bears culpability for climate change and liability for its costs and consequences?..."
Photo credit: "An ice sculpture fashioned by protesters, to demonstrate their view of how the company's policies are affecting the environment, slowly melts outside an Exxon Mobil shareholders meeting in Dallas in 2006." Photograph: LM Otero/AP
---
"It's the Gulf Stream Stupid." Scientists Warn Tipping Point is Near. Here's a clip from an explainer at CleanTechnica: "...Climate scientists this week have issued a similar warning. While the world is absorbed in high dramas about trade wars, Syrian chemical attacks, whether Germany can extend the lifetime of diesel-powered cars, or the latest tweet from the White House, we are missing the implications of what is happening in the Atlantic Ocean. The Gulf Stream — known officially as the Atlantic Meridional Overturning Circulation or AMOC for short — is slowing down. In fact, it is at its lowest level in the past 1,600 years according to the data those scientists have available to them. The Gulf Stream pumps billions of gallons of warm water northward from the equator along the east coast of the United States before turning east toward Europe. Take away that heat and Europe becomes up to 10ºC cooler in winter, parts of Africa become more arid, and sea level rise along the eastern seaboard of the United States..."
Image credit: Icelandic Mountain Guides
---
An Antiscience Political Climate is Driving Scientists to Run for Office. Science News reports: "The upwelling of science activism witnessed in last year's March for Science led many to predict that a flood of scientists might leave the lab for the legislature. Now, on the eve of the second March for Science, a survey of the field suggests that's the case. As many as 450 scientists-turned-politicians are throwing their hats into state, local, and federal campaigns, according to 314 Action. The advocacy group (named for the first three digits of pi) encourages and supports people with science and technology backgrounds interested in running for office..."
Photo credit: "Hundreds of scientists have moved beyond marching and are now hoping to storm Washington (and beyond) as politicians." Amaury Laporte/Flickr (CC BY-NC 2.0).
---
Kids Sue: Headlines and links via Climate Nexus: "Kids are suing Gov. Rick Scott to force Florida to take action on climate change (Miami Herald) Meet the 10-year-old from Satellite Beach suing the state over climate change (Florida Today) Florida Kids Sue Gov. Scott Over Climate Change: You Have 'Moral Obligation' to Protect Us (InsideClimate News) Young people sue Florida governor to force action on climate change (The Hill) Kids Are Trying to Force Rick Scott to Face Climate Change in Court." (Earther)
---
Senator Rubio, Florida Needs You to Combat Coastal Threat of Sea Level Rise. Here's an excerpt of an Op-Ed at Sun Sentinel: "...Both science and current experience show us that rising seas are clearly a threat for Florida, the nation and other critical parts of the world. The threat will only grow unless we respond and hopefully join the global response. Unfortunately Director Mike Pompeo has been a public denier of climate change and of the threats it is bringing. This is an opportunity for Senator Rubio, on behalf of the people of Florida, to help the secretary revise his views and to help us begin to protect Florida's future, and in so doing help ensure our national security in a rapidly changing world. As you represent the State of Florida, we need you to be our true representative at this critical juncture and make certain that our next secretary of state understands the challenge ahead."
Image credit: NASA.