Heat Advisory Posted - Heat Index Near 100F

Welcome to Phoenix, with lakes. In reality, we just get a taste of extreme heat here in Minnesota. We groan when the mercury reaches 90F, which would be considered a cool front in Arizona. One TV meteorologist out there told me that management didn't want him to say the word "hot" in the 7-Day.
So a forecast of 105F is "very warm". Right.

Phoenix sees an average of 100 days a year with 100-degree heat. Last year 155 Phoenix residents died from extreme heat. Mayor Greg Stanton has called it a health emergency, one that may worsen over time.

When it's this humid, your body can't cool itself naturally by evaporating sweat off your skin. There's too much water in the air - it's so much easier for people to overheat.
A Heat Advisory calls for an afternoon heat index around 100F. I'm tempted to nap in my favorite lake.
Today looks dry, but random T-storms may ignite Thursday into Sunday, and a stronger push of Canadian air provides more relief early next week. Highs will hold in the 80s, with a few nights dipping into the 50s up north.

Good sleeping weather in mid-July? Sign me up. 
---
---
---
---
---
Just What Southern Minnesota Doesn't Need. The 00z NAM prints out some 1-2" rainfall amounts by Saturday morning, with more rain likely over the weekend. Map: pivotalweather.com.
---
Slight Severe Storm Risk North of St. Cloud. Almost all of central and northern Minnesota is under a slight risk of severe weather later today - the primary risk is straight-line winds and large hail. I expect NOAA SPC to issue a watch later today, with the greatest risk north of the Twin Cities. Map: NOAA.
---
EF-2 Tornado Hits Watford City, North Dakota.
An RV park that houses many families involved in natural gas operations on the Bakken was hit very hard, according to
AP
. It's a reminder that people living in manufactured housing should have an underground shelter within a minute or two of home, to ensure safety during a tornado: "
A newborn baby was killed and more than two dozen people were injured when a tornado whipped through a North Dakota oil patch city overnight, overturning recreational vehicles and demolishing more than 100 structures, officials said Tuesday. The storm moved through Watford City, in the northwestern part of the state, shortly after midnight, hitting an RV park the hardest, according to sheriff's officials. About 20 of the reported 28 injured were staying at the Prairie View RV Park where high winds overturned some campers and damaged mobile homes.
.."
Photo credit: "This aerial image from video, shot with a drone provided by HRI Aerial Imaging, shows damage at an RV park Tuesday, July 10, 2018, in Watford City, N.D., after a violent storm whipped through the northwestern North Dakota city overnight. More than two dozen people were hurt in the storm that overturned recreational vehicles and tossed mobile homes, officials said Tuesday." (HRI Aerial Imaging via AP).
---
---
Country Star Matt Hawk Reminds Us to "Turn Around, Don't Drown". Check out the video from NOAA:  "Floods and flash floods kill more people in the U.S. each year than any other weather disaster. Texas in particular experiences more flash flood deaths than any other state; flooding there can come on suddenly even after long rain droughts. "We can have 9-10 months of no rain, then suddenly get a torrential downpour, causing widespread flooding," Hawk said. "People get amnesia about the danger, especially adults who have a thousand things on their minds and take to the roads by habit, without thinking." Hawk was inspired to donate the song and lend his vocal and guitar talent to record the PSA after a young woman in a nearby town died in a car during a flash flood shortly before her high school graduation. The tragedy hit close to home both literally and figuratively, as Hawk's daughter had just started driving that year. "Her car was swept away, and she wasn't even two-tenths of a mile from her home," he said. Hawk was intent on turning the local tragedy into something beneficial for society. He deliberately wrote the jingle to be repetitious and upbeat to attract children to listen and sing along..."
---
Japan Struggles to Get Help to Victims of Worst Floods in Decades. According to a story at Reuters, this was the worst weather disaster in 36 years; the latest death toll up to 155 with many more missing: "...Most of the deaths in hard-hit Hiroshima were from landslides in areas where homes had been built up against steep slopes, beginning in the 1970s, said Takashi Tsuchida, a civil engineering professor at Hiroshima University. "People have been living for 40 to 50 years in an area that had latent risk, but decades went by without disaster," he said. "But intense rainfall has become more frequent, and the hidden vulnerability has become apparent," he said. Though the weather has cleared up, the disaster goes on. A new evacuation order went out on Tuesday in a part of Hiroshima after a river blocked by debris overflowed its banks, affecting 23,000 people..."
Photo credit: "A local resident walks in a flooded area in Mabi town in Kurashiki, Okayama Prefecture, Japan, July 10, 2018." REUTERS/Issei Kato.
---
Death Toll Rises After Torrential Rain in Japan: Headlines and links via Climate Nexus: "At least 155 are dead and dozens more missing in Japan after "historic" rainfall this weekend triggered intense flooding and landslides, the government reported Tuesday. According to Japanese public broadcaster NHK, nearly 15 inches of rain, roughly equivalent to 1.5 times the average rainfall for all of July, fell in just two hours on Sunday morning. Nearly 2 million people were still under evacuation order as of Monday, while thousands of homes have been damaged and phone lines are down across the country. Increased extreme rainfall, a signal of climate change that has been documented in Japan, can lead to flooding and landslides." (The Guardian, CNN, BBC, Reuters, New York Times $, AP)
---
Praedictix Briefing: Issued Tuesday, July 10th, 2018:
Typhoon Maria has weakened over the past 24 hours but is still the equivalent of a Category 3 hurricane with 125 mph winds. While it will continue to weaken as it approaches northern Taiwan and eastern China very strong winds and heavy rain will be a threat across this region, including in Taipei.
Tropical Storm Chris is finally starting to move to the northeast far off the Carolina coast and will continue to do so over the next few days. The main threat across the east coast of the United States will continue to be rip currents and high surf.
What is left of Beryl, moving across parts of Hispaniola this morning, still has about a 50% chance to regenerate into a named system as it moves into the western Atlantic and over the Bahamas later this week.
---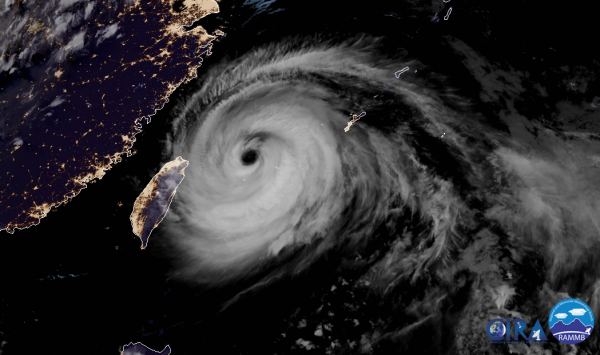 Typhoon Maria. Maria has weakened a little bit over the past 24 hours, now containing winds of 125 mph (the equivalent of a Category 3 hurricane) and moving off to the west-northwest at 18 mph as of 5 AM ET Tuesday morning (5 PM Taipei time). Maria has produced wind gusts up to 101 mph at Miyakojima as the eyewall of Maria hit the Miyako and Yaeyama Islands of Japan.
---
Maria Path. Maria will continue to weaken as it approaches northern Taiwan and eastern China, but it is likely to remain a typhoon until after landfall occurs in China. Typhoon Warnings are in effect across parts of northern Taiwan and for parts of Fujian and southern Zhejiang provinces in China. The strongest winds across northern Taiwan are expected Tuesday Night into early Wednesday local time, with the potential of at least 50-60 mph winds even in areas like Taipei. These winds will cause the potential for power outages and downed trees.
---
Heavy Rain Threat. Maria will continue to bring the threat of heavy rain across parts of far southern Japan, northern Taiwan, and eastern China over the next several days. Across these areas, rainfall totals of at least 3-12" are possible. This heavy rain could lead to flash flooding and mudslides, especially across areas of higher terrain.
---
Storm Surge Threat. Storm surge flooding will be possible across northern Taiwan, but the worst is expected to the north of where landfall occurs in eastern China.
---
Hurricane Chris. As of Tuesday evening "Chris" was a Category 1 storm with sustained winds of 85 mph; models consistently keeping the storm offshore. Visible image: AerisWeather.
---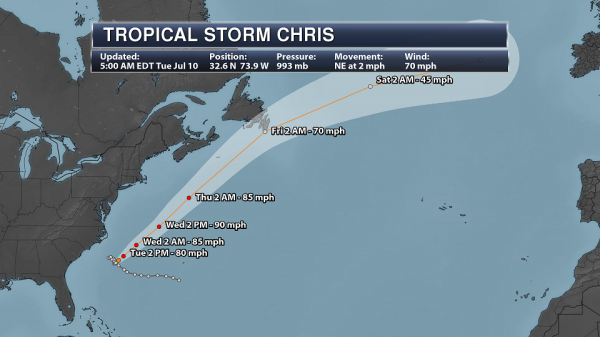 Tropical Storm Chris Update. Chris is still a tropical storm sitting far off the Carolina coast Tuesday morning with winds of 70 mph as of 5 AM ET. The storm was starting to move off to the northeast, though only doing so at 2 mph earlier today. Chris should pick up forward speed to the northeast later today and quickly start to accelerate off the northeast over the next couple days, staying away from the U.S. mainland and from Bermuda. As it does so, Chris will continue to strengthen and is expected to become a hurricane later today. The main impact along the U.S. east coast will continue to be high surf and rip currents.
---
Beryl To Reform This Week? We also continue to watch the remnants of Beryl which this morning was producing gusty winds and heavy rain across parts of Hispaniola. These remnants brought heavy rain to Puerto Rico yesterday, especially eastern parts of the island where radar estimated 4-8" fell. As Beryl moves into the western Atlantic Wednesday we could see the potential of this system regenerating as upper-level winds become a bit more favorable for development. As of Tuesday morning, the National Hurricane Center had the chances of regenerating at 20% over the next two days and 50% over the next five days.
D.J. Kayser, Meteorologist, Praedictix
---
---
The World Has Never Seen a Category 6 Hurricane. But the Day May Be Coming. Doubtful for the Atlantic, but I could see a rejiggered Saffir-Simpson Scale in the western Pacific, where super-typhoons are on the rise. Here's a clip from San Diego Union-Tribune: "...No one knows how strong they could get, as they're fueled by warmer ocean water. Timothy Hall, senior scientist at the NASA Goddard Institute for Space Studies, said top wind speeds of up to 230 mph could occur by the end of the century, if current global warming trends continue. This would be the strength of an F-4 tornado, which can pick up cars and throw them through the air (although tornadoes, because of their rapid changes of wind direction, are considered more destructive). Does that mean the five-category hurricane scale should be expanded to include a Category 6, or even Category 7?..."
Image credit: "Hurricane Patricia in 2015 achieved sustained wind speed of 215 mph. By comparison, last year's Hurricane Irma, a Category 5 storm, had winds of 180 mph." NASA.
---
Post-Harvey Report Provides Inundation Maps and Flood Details on "Largest Rainfall Event Recorded in U.S. History. Long headline notwithstanding, USGS has a good post mortem on the unimaginable amounts of rain that fell on Texas: "Nineteen inundation maps and detailed flood information from Hurricane Harvey are now available from the U.S. Geological Survey, in cooperation with the Federal Emergency Management Agency. Hurricane Harvey was the most significant rainfall event in U.S. history, both in scope and peak rainfall amounts, since records began in the 1880s. Hurricane Harvey's widespread 8-day rainfall, which started on August 25, 2017, exceeded 60 inches in some locations, which is about 15 inches more than average annual amounts of rainfall for eastern Texas and the Texas coast. The second largest rainfall event recorded in continental U.S. history was during Tropical Storm Amelia in 1978, which left Texas Hill Country with 48 inches of rain. Not only were rainfall totals exceptional during Hurricane Harvey, the area affected was also larger than previous events..."
Map credit: "Rainfall totals in southeastern Texas and southwestern Louisiana from August 25 through September 1, 2017, resulting from Hurricane Harvey."
---
When Does The Hottest Day of the Year Usually Occur? Brian Brettschneider has the answer at Forbes: "...July is upon us and many locations have already experienced triple-digit heat. Some locations in the Upper Midwest topped the century mark in May. Parts of southern California set all-time maximum records in early July! Will these be the warmest temperatures of the year? Of course no one has a crystal ball, but climatology allows us to peek into the record books and figure out what time of the year is the hottest. The thing about climatology is that no two places are exactly alike. It surprises no one that the climate of Texas is different than the climate of California. What most people do not realize is that patterns of hot/cold and wet/dry are wildly variable..."
---
Summer Storms Unkind to Upper Midwest Farmers.
DTN has a
blog post
that highlights the problems with too much rain: "...
In my almost 41 years of existence I have never seen water standing like this," wrote Jesse Fast in Delft, Minnesota, on a June 21 Twitter post. In his daily weather blog, Minneapolis-St. Paul meteorologist Paul Douglas noted on June 26, that according to the National Oceanic and Atmospheric Administration (NOAA), the Minnesota average June rainfall is roughly 4 inches. "Some sections of southwest and southcentral Minnesota and northwest Wisconsin have picked up three times the average amount of moisture in the last 30 days, with southern Minnesota receiving up to three months' worth of rain in that timeframe," said Douglas. On July 5, Fast told me that, "Fortunately we missed the rain over the weekend and only ended up with .3. It's still a mess with a lot of stuck sprayers and yellow corn. The first of some replants started today but most growers are saying it's too late for the beans and are just going to leave the drown outs. The water hasn't gone away in many holes from the rain three weeks ago yet
..."
Photo credit: "Not only did heavy rains swamp fields in parts of the Upper Midwest, hailstorms were merciless in most of that region as well. (Photo of wet fields looking south towards Pomeroy, Iowa, taken July 6 by Adam Ramthun, Manson, Iowa." Photo of hailed out corn taken June 30 by Andrew Philips, Loomis, Nebraska)
---
USDA Update. Here's an excerpt of a crop update for Minnesota, courtesy of USDA.
---
---
Phoenix Tries to Reverse Its "Silent Storm" of Heat Deaths. NPR outlines the scope of the problem in the Desert Southwest: "...More than 155 people died from heat-related causes in the Phoenix area last year, a new record in a place where the number of such deaths has been on the rise. Former Phoenix Mayor Greg Stanton deemed it a public health crisis, and the city has launched an overhaul of how it prepares for and deals with extreme heat. Just as other places prepare for hurricanes, Phoenix aims to create a model program for coping with the temperature spikes and heat waves that scientists say are becoming more common across the country as the climate warms. That effort includes trying to actually lower the temperature of the city. Already, more people die from heat-related causes than from all other extreme weather events..."
File photo: Mark Evans, AP.
---
Cargo Ships May Be Causing More Lightning - Here's Why. Another informative post from Dr. Marshall Shepherd at Forbes: "...A study published in the American Geophysical Union journal, Geophysical Research Letters, examined 12 years of global lightning stroke data (2005 to 2016) from the World Wide Lightning Location Network. Their analysis revealed that the density of lightning doubled over shipping lanes in the South China Sea and northeastern Indian Ocean compared to nearby, similar regions. They also found that this lightning enhancement had some degree of seasonality. November to April was the dominant period for the Indian Ocean while April to December was most significant in the South China Sea. The study, led by Joel Thornton at the University of Washington, concludes that meteorological factors like variations in wind or temperature do not explain the observed differences (see the graphic below). They hypothesize that aerosols (particulate matter) emitted from ship exhausts are the culprit..."
Image credit: "Ship tracks as revealed by clouds." NASA Earth Observatory.
---
How the EPA and the Pentagon Downplayed a Growing Toxic Threat. ProPublica reports: "...Now two new analyses of drinking water data and the science used to analyze it make clear the Environmental Protection Agency and the Department of Defense have downplayed the public threat posed by these chemicals. Far more people have likely been exposed to dangerous levels of them than has previously been reported because contamination from them is more widespread than has ever been officially acknowledged. Moreover, ProPublica has found, the government's understatement of the threat appears to be no accident. The EPA and the Department of Defense calibrated water tests to exclude some harmful levels of contamination and only register especially high concentrations of chemicals, according to the vice president of one testing company..."
---
Sources: EPA Blocks Warnings on Cancer-Causing Chemical. Politico has a troubling story: "The Trump administration is suppressing an Environmental Protection Agency report that warns that most Americans inhale enough formaldehyde vapor in the course of daily life to put them at risk of developing leukemia and other ailments, a current and a former agency official told POLITICO. The warnings are contained in a draft health assessment EPA scientists completed just before Donald Trump became president, according to the officials. They said top advisers to departing Administrator Scott Pruitt are delaying its release as part of a campaign to undermine the agency's independent research into the health risks of toxic chemicals..."
Photo credit: "Interfering with the formaldehyde study is one of several steps Trump's EPA has taken to side with the businesses the agency is supposed to regulate and undermine the agency's approach to science, critics say." | Pablo Martinez Monsivais/AP Photo.
---
It's Been a Great Year So Far For Wind Investments, Less So for Solar. Bloomberg runs the numbers: "The good news for clean energy is global investments in wind power surged during the first half of 2018. The bad news? Solar is slipping. Financing for wind farms totaled $57.2 billion from January through June, up 33 percent from the same period in 2017, Bloomberg NEF said in a report Monday. Solar investments declined 19 percent to $71.6 billion. The divergent trends demonstrate that investments in clean energy continue to hold steady, even as China slows development of solar farms. On balance, clean energy investments have been virtually flat so far in 2018, at $138.2 billion..."
---
Over 3 Million Electric Cars On The Road - You Driving One Yet? Here's a blurb from a post at Clean Technica: "...Which countries are leading the charge? According to the IEA, "China remained by far the largest electric car market in the world, accounting for half sold last year. Nearly 580,000 electric cars were sold in China in 2017, a 72% increase from the previous year. The United States had the second-highest, with about 280,000 cars sold in 2017, up from 160,000 in 2016." There was also impressive growth from "Nordic countries [which] remain leaders in market share. Electric cars accounted for 39% of new car sales in Norway, making it the world leader in electric vehicle (EV) market share. In Iceland, new EV sales were 12% of the total while the share reached 6% in Sweden. Germany and Japan also saw strong growth, with sales more than doubling in both countries from their 2016 levels..."
Graphic credit: "The number of electric cars on the road more than doubled from end of 2015 to end of 2017." (Source: IEA via Business Insider / Statista)
---
Metro Transit Fleet Will Soon Include Electric Buses. The Star Tribune has the article: "Eight new buses recently ordered by the Metropolitan Council will be the agency's first powered entirely by electricity, a mode of transit seen as quieter, more environmentally sensitive and cost effective. The 60-foot vehicles will be the first articulated electric buses to be put into service in the nation. The articulated buses, which will be part of Metro Transit's C Line, feature two rigid portions for passengers linked by an accordian-like connector..."
---
31% of U.S. Voters Think a Second Civil War is Likely. Avoid the temptation to polish your bayonet just yet, according to a story at Big Think: "...It should also be remembered that just because people think something is likely doesn't mean it will come to pass. After all, many people thought a war against the Soviet Union was going to happen at some point. While the poll results above seem high, they are similar to the ones seen ten years ago when Obama was president. It might be the case that some people just always worry about large outbreaks of violence. America is clearly divided right now. Our ever-decaying political discourse and strained institutions have led a plurality of Americans to think warfare is imminent. While this may be hysteria, the fact that so many people think we have gotten to that point is problematic in itself. Historically, the future has been hard to predict and these sentiments might be proven correct or dismissed next week..."
Image credit: "The first Civil war as painted by Mort Kunstler. What would a second one look like?"
---
Suicide is a National Epidemic. We Need to Treat It Like One. Here's another opportunity to highlight SAVE (Suicide Awareness, Voices of Education) which is based in Bloomington, with a global reach. They educate the public about depression, suicide prevention and help families trying to recover from the tragedy of suicide. Here's a clip from a Washington Post article: "...Suicide claims the lives of more than 120 Americans each day. Each year, more Americans die from suicide than were killed in action during the entire Vietnam conflict. It's time we confront this epidemic with the same determination that tamed HIV/AIDS. To do this, we must address the biology of suicide. Today, we regard suicide as a failure of psychology and perhaps personal circumstances, rather than a failure of neurochemistry. In fact, suicidal depression may be as treatable as diabetes. It's just that we may have been focusing on the wrong chemical target in the brain..."
Photo credit: "Fashion designer Kate Spade and chef and writer Anthony Bourdain." (Bebeto Matthews, Andy Kropa/AP
---
Wait. Is Grandma a Racist? Food for thought at Big Think: "...Grandparents have been horrifying their adult kids — and their children — forever. There are a few theories as to why it's so common. Is Grandma somehow frozen in time? This is the most commonly promoted defense of elder prejudice, and it's true that discriminatory attitudes are decreasing. A talk with most any teenager will reveal, for instance, that skin color plays no more of a role in their attraction to others than does hair or eye color. In the TV shows they watch, it's a non-issue, as it should be. What matters is who's hot — hey, they are teens. For the overall population, the data looks almost as good, with 87% of Americans fine with black/white marriage. Given that acceptance has been rising since Gallup first asked the question in 1958, when only 4% approved, that figure's likely to keep rising..."
File photo credit: "Did Grandma just say what I think she said?" (maxim ibragimov/Shutterstock)
---
Do Dating Apps Really Want You To Find Love? Probably not, according to a post at INSEAD Knowledge: "...So why don't we hear more about the successful matchmaking being done on these platforms? Perhaps because there is often more money to be made in serial flings than lasting relationships. Customers engaging in the former will keep paying monthly subscription fees, while those who enter into the latter are more likely to delete their account. So dating apps may not be strongly motivated to resist being pigeonholed as hookup facilitators. The same incentives may also affect the extent to which online dating platforms choose to innovate. In pairing up their users, most use proprietary algorithms that are ostensibly cutting-edge. But if improvements to the system lead to more customers finding long-term love matches (and therefore abandoning the service), why should they offer the most advanced technology?..."
---
Good Samaritan Firefighters in Florida. CNN has a heart-warming, life-affirming story: "When a man had a heart attack while laying sod in his front yard, first responders not only saved him, but they also finished the job for him. Gene Work of Pasco County, Florida, was racing to get the sod down Saturday to avoid getting a fine from his homeowner's association, his wife, Melissa Work, wrote on Facebook. "While he was having his heart attack, literally in and out of consciousness, he kept begging me to figure out the sod and have it put down because he didn't want it to go to waste and die," she wrote. "It's ALL he kept asking about literally during a massive heart attack..."
---
---
---
85 F. max temperature yesterday in the Twin Cities.
84 F. average high on July 10.
86 F. high on July 10, 2017.
July 11, 1903: The temperature plummets down to 26 at Leech Lake Dam.
---
WEDNESDAY. Heat Advisory. Hot sun, feels like 100-102F. Winds: S 10-20. High: 92
WEDNESDAY NIGHT: Partly cloudy and sultry. Low: 75

THURSDAY: Tropical with a few T-storms likely. Winds: SW 8-13. High: 91

FRIDAY: Best chance of storms over southern MN. Winds: W 5-10. Wake-up: 73. High: near 90

SATURDAY: Muggy with widely scattered T-storms. Winds: SE 10-15. Wake-up: 74. High: 89

SUNDAY: More numerous T-storms in the area. Winds: NW 10-15+ Wake-up: 71. High: 83

MONDAY: Partly sunny, almost comfortable. Winds: NW 8-13. Wake-up: 65. High: 84

TUESDAY: Plenty of sunshine, no weather drama. Winds: S 5-10. Wake-up: 63. High: 85
---
Climate Stories....
What Can Climate Hawks Agree On? Grist maps out the various options; here's an excerpt: "...Electricity currently powers a quarter of the U.S. economy. The other three quarters are cars and trucks using gasoline, factories using quadrillions of British thermal units to forge metals and refine petroleum, and buildings heated by gas or propane. Switching more of these cars and furnaces to run on electricity would allow us to tap into low-carbon energy from renewables and nuclear plants. A little over 1 percent of cars on the road run on electricity right now. To have a shot at keeping global warming under 2 degrees C — the goal set in the Paris Agreement — 10 percent of cars on the road would need to be electric by 2030, according to one scenario plotted by the International Energy Agency..."
Illustration credit: Grist / Amelia Bates.
---
The Guardian View on Climate Change - a Global Heat Wave. Here's a snippet of an Op-Ed at The Guardian: "...Instability in the Arctic affects the whole of the northern hemisphere, as it increases the chances that the northern jet stream, will stick for longer than usual in a particular pattern. When that happens, the weather stops changing in the affected areas. Heatwaves are prolonged and so are cold snaps. Extremes of every sort, such as the rains in Japan which have killed more than 100 people, become more likely. What seems to be happening at the moment is that a fixation of the jet stream has produced the heatwave in Siberia as well as ours here. Again, this is yet another feedback loop. This is a heatwave which makes further, hotter heatwaves more likely in the future..."
---
Designers Vs. Climate Change. Architects and urban planners are at the forefront designing commercial buildings that will stand the test of time, no matter what a warming climate throws at us. Architectural Digest reports: "Like a growing number of her peers, architect Stephanie Horowitz believes in the design community's inherent responsibility to address climate issues. So much so that her firm works only with clients who want to build or retrofit buildings that aim for net-zero energy use."When we meet with potential clients, it's a vetting process," says Horowitz, managing director of ZeroEnergy Design in Boston. "We're very clear that this is the way that we practice architecture—it's not negotiable." Sustainability-centric details such as flashing, insulation, air sealing, and decarbonization are presented on equal par with floor plans and cladding. "The way that all of these things are considered is part of the design service," she says. "It just kind of comes with the package..."
---
A Human Fingerprint to Southern California's Recent Heat Wave? Axios runs the numbers: "...Consider some of the records that have been set so far during what now ranks as one of Southern California's all-time hottest heat waves.
82° Fahrenheit: Hottest all-time overnight low temperature on record for any month in Burbank, California.
79°F: Hottest overnight low temperature on record for the month of July in L.A. on July 7.
111° F: Hottest daytime high temperature ever recorded at the UCLA weather station in Los Angeles, set on July 6. This beat the old record of 109°F, set in 1939.
114°F: Hottest all-time temperature on record at Burbank Airport, recorded on July 6.
120° F: Highest temperature — set in Chino on July 6 — ever recorded by any automated weather station in the valleys or coastal areas around Orange, Riverside, San Bernardino and San Diego Counties..."
---
---
What Individuals Can Do To Lessen Climate Change Risk. Grist has a few suggestions, some more practical than others: "...In fact, the researchers found that behavioral shifts could be faster than waiting for national climate policies and widespread energy transformations. As far as I know, this is the very first comprehensive analysis on the effectiveness of specific individual climate actions. The authors' audience was high school textbook publishers, who the researchers found prioritize relatively low-impact, easy actions like recycling and changing light bulbs. Well, guess what, buttercup? No one ever said fighting climate change would be easy..."