Plowable Snow: Blizzard Criteria South of MSP

Uh oh. Time to call out the National Guard, alert FEMA, resuscitate Al Roker, and put the President on hold. Yes, it's going to snow hard this afternoon.
I expect enough snow to shovel and plow, turning the PM commute into (forgive me, Stephen King) "a carnival of nightmare and death." Hopefully without the death part. But there's little doubt we're in for a white-knuckle PM commute.
Expect wind-whipped snow after lunch; over southern Minnesota winds may be strong enough (over 35 mph) and visibility low enough (under 1/4 mile) to reach blizzard criteria. Take it easy out there later on.
Weather models have been more maddening than usual with this on-again, off-again, on-again snow event. Now most of the models are in agreement: 4-8" possible by tonight; the heaviest amounts southof the Minnesota River.
Travel conditions improve Wednesday; a welcome weekend thaw before Canada flushes another export of bitter cold south of the border. Expect a night or two below zero by the middle of next week.
Another El Nino-flavored warming trend is likely the latter half of February.
---
* NAM accumulated snowfall predictions: NOAA and AerisWeather.
---
Storm and Blizzard Warnings. Click here for the latest interactive map from Aeris. Most of the MSP metro area is under a Winter Storm Warning (which means it's pretty much imminent). Blizzard warnings are posted as close as Mankato and Windom; travel expected to get progressively worse the farther south and west you travel away from the Twin Cities. Details via the Twin Cities National Weather Service:

SIGNIFICANT TRAVEL IMPACTS DUE TO SNOW AND BLOWING SNOW EXPECTED FOR MUCH OF CENTRAL AND SOUTHERN MINNESOTA AND WEST CENTRAL WISCONSIN TUESDAY AND TUESDAY NIGHT... SNOWFALL ACCUMULATIONS OF 6 TO 11 INCHES ARE EXPECTED ALONG AND SOUTH OF A LINE FROM REDWOOD FALLS...TO MINNEAPOLIS...TO CUMBERLAND WISCONSIN ON TUESDAY AND TUESDAY NIGHT. THE HEAVY SNOWFALL ACCUMULATIONS WILL COMBINE WITH BRISK NORTH WINDS TO YIELD BLOWING AND DRIFTING SNOW AND SIGNIFICANT VISIBILITY
REDUCTIONS. A BLIZZARD WARNING IS IN EFFECT FOR PARTS OF SOUTHWEST AND SOUTH CENTRAL MINNESOTA...GENERALLY FROM REDWOOD FALLS...TO MANKATO...TO OWATONNA...WHERE SUSTAINED WINDS OF 25 TO 30 MPH WITH GUSTS TO 45 MPH ARE EXPECTED TO REDUCE VISIBILITIES TO ONE QUARTER MILE OR LESS. TO THE NORTH AND EAST...A WINTER STORM WARNING IS IN EFFECT...GENERALLY FROM A GRANITE FALLS...TO LITCHFIELD...TO TWIN CITIES METRO...TO RICE LAKE WISCONSIN LINE. A WINTER WEATHER ADVISORY IS IN EFFECT JUST SLIGHTLY NORTH OF THE BLIZZARD WARNING
AND WINTER STORM WARNING AREAS...
---
4 KM NAM Guidance. The "WRF" model  prints out 5-7" for most o f the metro by midnight Tuesday night, closer to 8 or 9" south of the Minnesota River. Map: WeatherBell.
---
12 KM NAM Projections. The 00z run of the NAM shows a swath of 8-10" south of the Minnesota River, a good 4-8" for much of the MSP metro area - fairly good alignment with the 4 KM run.
---
Snowy Convergence. Here is why we have perpetual migraines and gray hairs, what hairs we have left. Every model has a slightly different version of reality-to-come. Meteorologist's confidence levels go up when the models converge on a roughly similar solution; in this case 4-8" for much of the metro; more southern suburbs, less northern suburbs. Source: Iowa State University.
---
Close to Blizzard Criteria. In open fields south and west of MSP we may have blizzard conditions during the PM hours Tuesday. Winds are forecast to gust past 30 mph this afternoon and evening. This won't be a dry, powdery snow with surface temperatures in the upper 20s, but I could see a fair amount of drifting souuthwest of Glencoe and Lakeville, especially in open spaces and exposed highways. A blizzard requires sustained winds close to 35 mph and visibility under 1/4 mile. Not quite, at least not in the metro.
---
Timing Amounts at MSP. Our internal model ensembles predict 1" on the  ground by 1 PM Tuesday afternoon,  4" by 6 PM, closer to 6-7" by the time steady snow tapers to flurries by 10 PM Tuesday night. Source: Aeris Enterprise Mobile.
---
NAM Numbers. Maximum vertical velocity is forecast late this afternoon and evening, when snow may be falling at the rate of 1"/hour. I expect the worst travel conditions from 3 PM to 10 PM tonight; NAM guidance printing out .65", which would verify around 6 or 7" at the airport.
---
---
Timing The Storm: Here is future radar (based primarily on NOAA NAM guidance). Graphics courtesy of AerisWeather, which has superimposed surface temperatures at specific points in time: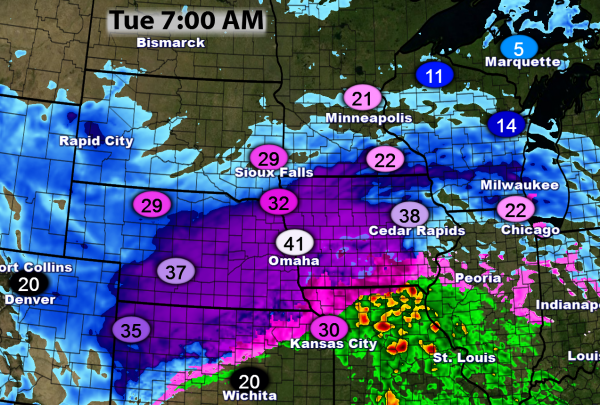 ---
---
---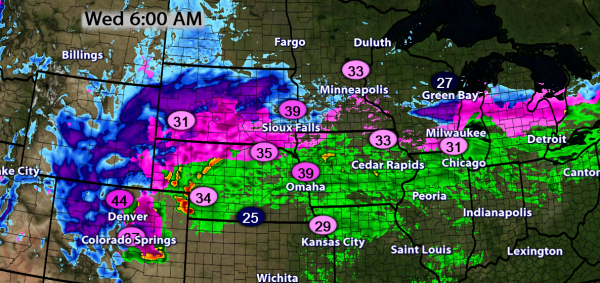 ---
Catching Up. As of Monday MSP snowfall for the wiinter was the same as Des Moines: 18.7" That's just not right. Sioux Falls has picked up two and a half times more snow than the Twin Cities, which (as of yesterday) was running a 15.3" snowfall deficit, to date. Those numbers will change today.
---
Regional Overview.  Most of Wisconsin and Minnesota is running a snowfall deficit for the winter, as of February 1. At International Falls a nearly 24" snowfall hole, a whopping 52.2" deficit at Marquette, Michigan! Numbers and maps courtesy of AerisWeather meteorologist D.J. Kayser.
---
No Cold Blast Until Next Week. Today's (freakish!) snow storm (I think we safely use that term now) won't be followed by a bitter blast, at least not this week, in fact temperatures blip to or above 32F again this weekend. A clipper-coating late Sunday and Monday gives way to a Canadian slap next week, a few days in teens or single digits, maybe a subzero night or two by the middle of next week. Source: WeatherSpark.
---
Warming Trend Latter Half of February. That higher sun angle will finally kick in by the second half of this month, kicking a lobe of arctic air over Hudson Bay and Greenland, a more zonal, west-to-east wind flow aloft thawing out most of the lower 48 states. Next week will feel like midwinter, but I expect fairly rapid moderation within 2 weeks, give or take. Source: GrADS:COLA/IGES.
---
The Strange - And Sometimes Secret - Ways Cities Deal With Massive Piles of Snow. A story at Atlas Obscura got my attention; here's a clip: "...St. Paul once built a mountain at Midway Stadium that didn't melt for months. In D.C., after this most recent storm, the city has piled up snow in parking lot of the RFK Memorial Stadium, where some of the snow piles have reached 12 feet high. As far as snow piles go, though, 12 feet tall is amateur hour. In Anchorage, the city builds snow mountains by creating a level of snow, then icing them down so trucks can climb up the initial level. "We keep ramping up and building up as the winter goes," the public works superintendent told the Alaska Republic in 2012. That year, the city got so much snow that its private dumps started filling up, and at least one snow pile reached 60 feet..."
---
Watch All of 2015's Weather in Super High-Def. Just how bored are you right now. This is better than wading through another Powerpoint deck or listening to the boss ramble; an excerpt from Climate Central: "Another year of wild weather is behind us. But thanks to EUMETSAT, you can now relive it in amazing high-definition video from space. The new visualization uses geostationary satellite data from EUMETSAT, the Japan Meteorological Agency and the National Oceanic and Atmospheric Administration to stitch together 365 days of data into one stunning highlight reel of 2015's weather..."
Animation credit above: "The transition of Hurricane Joaquin near the Bahamas to an extratropical storm that hit the U.K."
---
Parasites, Health Problems Killing Minnesota Moose. Here's a clip from a story at Duluth News Tribune: "...In summer, he said, moose can go to ponds or streams to cool down when they get too warm. In winter, moose can only lie in the snow and shade, which offers less cooling, DelGiudice said. When air temperatures reach 23 degrees in winter, he said, moose can begin to experience heat stress, increasing their metabolism, heart rates and respiration. "If the effects of climate change are negatively affecting the nutrition of moose in winter, it could clearly make them compromised and more vulnerable to disease and other things," he said. Fond du Lac's Schrage finds the correlation between winter temperature and moose nutrition significant..." (File photo: DNR).
---
Let's Kill All The Mosquitoes. Sounds pretty good to the average Minnesotan. I know they must serve a purpose in nature, but really? Here's an excerpt from a post at Slate: "...Consider the statistics: Mosquito-borne diseases kill hundreds of thousands of people every year. Malaria alone claims the lives of 6 million people per decade, mostly small children. The economic costs are similarly staggering, likely in the tens of billions of dollars every year. When researchers totaled up the losses caused by a single mosquito-related illness (dengue fever) in a single mosquito-ridden country (Brazil), it came out to $1.35 billion annually, not including the $1 billion that must be spent to control the spread of dengue-infected flies. You might've thought that news about the Zika outbreak would have convinced humanity to crush the mosquito. But all we keep hearing are proposals to take the battle to the virus, not its host..."
---
The Staggering Economic Cost of Air Pollution. The Washington Post reports; here's the intro: "Air pollution caused by energy production in the U.S. caused at least $131 billion in damages in the year 2011 alone, a new analysis concludes — but while the number sounds grim, it's also a sign of improvement. In 2002, the damages totaled as high as $175 billion, and the decline in the past decade highlights the success of more stringent emissions regulations on the energy sector while also pointing out the need to continue cracking down. "The bulk of the cost of emissions is the result of health impacts — so morbidity and particularly mortality," said the paper's lead author, Paulina Jaramillo, an assistant professor of engineering and public policy at Carnegie Mellon University..."
---
Paris Climate Deal Seen Costing $12.1 Trillion Over 25 Years. How do we invest capital with the greatest potential for economic and environmental returns; what is the role of government in jump-starting the new wave of (clean) technologies we're going to need? Here's an excerpt from Bloomberg Business: "If the world is serious about halting the worst effects of global warming, the renewable energy industry will require $12.1 trillion of investment over the next quarter century, or about 75 percent more than current projections show for its growth. That's the conclusion of a report setting out the scale of the challenge facing policymakers as they look for ways to implement the Paris Agreement that in December set a framework for more than 195 nations to rein in greenhouse gases..."
* The report referenced above is available here (pdf).
---
Wind, Sun and Fire. Here's an excerpt of a Paul Krugman Op-Ed at The New York Times: "...But things are actually much more hopeful than that, thanks to remarkable technological progress in renewable energy. The numbers are really stunning. According to a recent report by the investment firm Lazard, the cost of electricity generation using wind power fell 61 percent from 2009 to 2015, while the cost of solar power fell 82 percent. These numbers — which are in line with other estimates — show progress at rates we normally only expect to see for information technology. And they put the cost of renewable energy into a range where it's competitive with fossil fuels..." (File image: Shutterstock).
---
Sooner or Later, A New Economy. Here's an excerpt of an Op-Ed at Times-Argus that resonated: "...Someone, somewhere, is going to reinvent how we move around — how we transport ourselves and the material we use — in revolutionary ways that save energy, space and time. Someone, somewhere, is going to reach and uncover disruptive new technologies that change the way we build, rebuild, heat, cool and live in our homes and businesses while consuming as little of the earth's resources as possible. Someone, somewhere, is going to reimagine what — or if — we throw away, and what we renew or recycle..."
---
Regulators Approve Minnesota Power Solar Project at Camp Ripley. Here's the intro to a Star Tribune story: "Despite questions about the price tag, Minnesota regulators on Thursday approved Minnesota Power's planned $30 million solar power project at the Minnesota Army National Guard's Camp Ripley Training Center near Little Falls, Minn. The project's 120,000 solar panels covering 80 acres will generate electricity used by the Duluth-based utility's customers. But in a unique arrangement, the solar panels will switch roles during a power outage — feeding electricity just to Camp Ripley to complement other planned backup generation..."
---
Microsoft Plumbs Ocean's Depths to Test Underwater Data Center. I didn't see this coming. Here's an excerpt from The New York Times: "Taking a page from Jules Verne, researchers at Microsoft believe the future of data centers may be under the sea. Microsoft has tested a prototype of a self-contained data center that can operate hundreds of feet below the surface of the ocean, eliminating one of the technology industry's most expensive problems: the air-conditioning bill. Today's data centers, which power everything from streaming video to social networking and email, contain thousands of computer servers generating lots of heat. When there is too much heat, the servers crash..."
Photo credit above: "Ben Cutler, left, and Norman Whitaker, both of Microsoft Research, with the "Leona Philpot," a prototype underwater data center, at the company's headquarters in Redmond, Wash." Credit Matt Lutton for The New York Times.
---
Why Zika Is This Year's Scary Virus. Here's an excerpt from a good background piece at National Geographic: "...Zika infections carried by travelers have been brought back to Minnesota, New York, Hawaii (where a microcephalic baby was born), and other states in the U.S. The question about such cases, in the U.S. or elsewhere, is: Will infected people infect Aedes mosquitoes, who will infect other people? It's big question, given that the Asian tiger mosquito is now also present across southern Europe, including much of Italy, and both the tiger mosquito and the yellow fever mosquito inhabit most Asian cities. By one account, more than half the humans on Earth live within areas infested by Aedes mosquitoes..."
---
An Unprecedented Threat to Privacy. And here you thought Google Street View was invasive? A private company amassing a database of over 2 billion photos of license plates? Here's the intro to a story at The Atlantic: "Throughout the United States - outside private houses, apartment complexes, shopping centers, and businesses with large employee parking lots - a private corporation, Vigilant Solutions,  is taking photos of cars and trucks with its vast network  of unobtrusive cameras. It retains location data on each of those pictures, and sells it. It's happening right now in nearly every major American city. The company has taken roughly 2.2 billion license-plate photos to date. Each month, it captures and permanently stores about 80 million additional geotagged images. They may well have photographed your license plate..."
---
Fashion Industry Turning to Solutions That Remove The Photographer From The Process. The pace of disruption increases across (all) industry sectors. No wonder there's so much unease out there right now. Here's the intro to a story at DIY Photography: "Models, Photographers, MUA's – The computer is out to get your jobs! In recent years, we've seen how photography is being taken out of catalogs. IKEA was one of the first to embrace 3D rendering, with about 75% of its catalog being computer generated. Now it seems that fashion photography is following the same footprints. Looklet is a company that does to fashion catalogs what IKEA did to furniture catalogs. Almost..."
---
36 F. high in the Twin Cities Monday.
25 F. average high on February 2.
21 F. high on February 2, 2015.
February 2, 1996: The all-time state record low temperature is set in Minnesota. With numerous media folk present, the low dips to -60 three miles south of Tower. Governor Arne Carlson cancelled school statewide due to the cold.
February 2, 1988: The temperature bottoms out at -43 at Embarrass.
February 2, 1927: Spring-like temperatures are felt on Groundhog Day. Tracy is 57 and Fairmont reaches 56.
---
Can Extreme Exercise Hurt Your Heart? Swim the Pacific To Find Out. Can't a take a cleverly-shaped pill to find out instead? NPR has a head-scratcher of a story; here's a clip: "Any day now, Ben Lecomte will plunge into the Pacific Ocean off a Tokyo beach toward San Francisco. He wants to become the first person to swim across the Pacific. He's already the first person to free swim across the Atlantic Ocean, without a kickboard. No one knows how the physical feat of swimming 5,500 miles will affect Lecomte's heart, but cardiologists are anxious to find out. His swim offers a rare opportunity to study whether extreme athletic performance has a harmful effect on the heart..."
Image credit above: "Ben Lecomte has swum across the Atlantic Ocean, and now he aims to traverse the Pacific, which will take him five or six months." Bongani Mlambo/The Longest Swim.
---
---
TUESDAY: Winter Storm Warning, snow becomes heavier by afternoon. Winds: NE 15-30. High: 28
TUESDAY NIGHT: Snow tapers late, potential for 4-8" - heaviest amounts south metro. Treacherous travel. Winds: NE 15-30. Low: 16

WEDNESDAY: Flurries taper, travel slowly improves. Winds: NW 10-15. High: 20

THURSDAY: Weak clipper, few flurries. Wake-up: 14. High: 25

FRIDAY:  Patchy clouds, above avg. temps. Winds: W 5-10.  Wake-up: 16. High: 29

SATURDAY: Intervals of sun, thawing out by afternoon. Winds: W 5-10. Wake-up: 18. High: 33

SUNDAY:  Mostly cloudy, dripping icicles. Winds: SE 7-12. Wake-up: 25. High: 35

MONDAY: Colder wind, coating of flakes? Wake-up: 16. High:  22
---
Climate Stories...
New Department of Defense Directive on Climate and Security. Admiral David Titley (retired) has a summary of a new DoD directive at The Center for Climate and Security; here's an excerpt of his post: "...However, late last week Robert Work, the Deputy Secretary of Defense, signed out a DODD that may just be the most meaningful climate-related document the DoD has released. The document is mercifully short, at just seven pages of substance. The directive immediately states, in plain English, the impact of climate change on the Department:
"The DoD must be able to adapt current and future operations to address the impacts of climate change in order to maintain an effective and efficient U.S. military" to include:
Identification and assessment of the effects of climate change on the DoD mission.
Taking those effects into consideration when developing plans and implementing procedures.
Anticipating and managing risks that develop as a result of climate change to build resilience.
Pretty simple: Adapt to the climate impacts seen today and projected tomorrow; anticipate and manage climate-related risks to ensure the DoD can continue to successfully carry out its missions..."
---
Record Snowfall, Changing Climate Raise Questions About Preparedness for Storm Cleanup. Are we now seeing super-sized snowstorms and blizzards, the result of a warmer, wetter atmosphere with more water vapor available to fuel developing systems? Here's an excerpt from The Baltimore Sun: "...Meteorologists say it may be prudent to expect more snow. Paul Kocin, a NOAA meteorologist, said it may not be time for the Baltimore area to invest in the kind of snow removal equipment used in Buffalo or Boston. But he has noticed a pattern of megastorms hitting in recent years. While a link hasn't been proven, he said one cause could be global warming, and that could make big snowstorms more likely in the future. Antonio Busalacchi Jr., a professor of atmospheric and oceanic science at the University of Maryland, College Park, said: "As climate warms, there is an increase in water vapor that has to come down somewhere."
---
South England's 2014 Floods Made More Likely by Climate Change. Speaking of more fuel available to "juice" storms; here's an excerpt from New Scientist: "...Immediately after the January 2014 storms, Nathalie Schaller of the University of Oxford and her colleagues wanted to run simulations of the weather across the whole of Europe and asses its impact. To do so they utilised the spare capacity of people's home computers through a citizen science project called weather@home. In their 134,354 simulations, they varied sea surface temperature and sea ice to compare the actual climate with a hypothetical world in which there was no human influence on the atmosphere. "Being able to run this many simulations means we can have high statistical confidence in the results," says Neil Massey, also from the University of Oxford. Schaller and her colleagues showed that global warming made it 43 per cent more likely to happen..." (File photo: UK Met Office).
---
Climate Change and Vector-Borne Diseases. Will warming air and oceans accelerate the spread of Zika Virus? Here's an excerpt from Climate Nexus: "...By altering conditions--local temperatures, rainfall and population movements--that determine the spread of the pathogens, global warming makes the transmission of vector-borne diseases (VBDs) unpredictable and difficult to control. When it comes to VBDs like Zika, climate change is a threat multiplier.
Rising global temperatures can lengthen the season and increase the geographic range of disease-carrying insects. As temperatures warm, mosquitoes and other warm-weather vectors can move into higher altitudes and new regions farther from the equator.
Increased rainfall, flooding and humidity creates more viable areas for vector breeding and allows breeding to occur more quickly, as eggs hatch faster in hotter climates..."
---
Clinton: GOP Disbelieves Climate Change Because Koch Brothers Tell Them To.  Here's the intro to a  story at TheHill: "Democratic presidential candidate Hillary Clinton said late Saturday that most Republicans are skeptical of climate change because billionaire donors David and Charles Koch tell them to be. "Most of them are not that ill-informed," she said during a campaign rally in Cedar Rapids, Iowa. "They just have to do what the Koch brothers tell them. They say, 'don't believe your lying eyes — listen to us.' Clinton warned America's economy would slip behind other nations if lawmakers keep debating climate change instead of acting. "Some country is going to be the 21st Century clean energy superpower," she said. "I think it will be China, Germany or us. I want it to be us and I hope it's us..." (File photo: AP).
---
Scientific Literacy, Religion and The Fate of the World. A sign of the end times? Perhaps - nobody knows, but I explain that it's probably not a fatal heart attack, not the end of the world. More like a perpetual planetary migraine - one that should be addressed, not ignored, denied or glossed over. Here's an excerpt fromm Huffington Post: "... Surveys by the Public Religion Research Institute indicate a major divide in thinking among Americans, based on scientific versus religious worldviews. As reported by CNN, although 6 in 10 Americans stated they believe extreme weather events are related to climate change, "More than a third of Americans see recent extreme weather as a sign that the world is in biblical "end times," and "Thirty-six percent of Americans say that the severity of recent natural disasters indicate that we are at the precipice of Jesus' second coming and the end of the world. The survey found that 15 percent of Americans believe the world will end, as predicated in the book of Revelation, in their lifetime." This minority of Americans is preventing solutions to climate change from being implemented..."
---
Here Is The Weather Forecast For The Next Five Years: Even Hotter. The Guardian reports; here's a link and excerpt: "Global temperatures will continue to soar over the next 12 months as rising levels of greenhouse gas emissions and El Niño combine to bring more record-breaking warmth to the planet. According to the Met Office's forecast for the next five years, 2016 is likely to be the warmest since records began. Then in 2017 there will be a dip as the effects of El Niño dissipate and there is some planet-wide cooling. But after that, and for the remaining three years of the decade, the world will continue to experience even more warming..."
---
5-Year Global Trends. Following up on the previous post, here's an excerpt from a (very) extended outlook from the UK Met Office, based on global atmospheric and oceanic trends:
Averaged over the five-year period 2016-2020, forecast patterns suggest enhanced warming over land, and at high northern latitudes. There is some indication of continued cool conditions in the Southern Ocean, and of relatively cool conditions in the North Atlantic sub-polar gyre. The latter is potentially important for climate impacts over Europe, America and Africa.
During the five-year period 2016-2020, global average temperature is expected to remain high and is likely to be between 0.28°C and 0.77°C above the long-term (1981-2010) average. This compares with an anomaly of +0.44 ± 0.1 °C observed in 2015, currently the warmest year on record. These high global temperatures are consistent with continued high levels of greenhouse gases and big changes that are currently underway in the climate system and were highlighted in a recent Met Office research news article...
Image credits above: "Forecast (A) of surface temperature differences (°C) relative to 1981-2010 for the 5-year period November 2015 to October 2020. Forecasts consist of 10 ensemble members starting from November 2015. The probable range is diagnosed from the ensemble spread, and shown as the lower (B) and upper (C) limits for each 5° grid box, such that there is a 10% chance of the observations being cooler than (B), and a 10% chance of the observations being warmer than (C). Note that the actual anomaly patterns in (B) and (C) are unlikely to occur since extreme fluctuations would not be expected at all locations simultaneously."
---
The Climate-Change Refugee Crisis Is Only Just Beginning. Climate change and increasing volatility in weather (and water resources) as a "threat multiplier" - a perpetual planetary migraine that flavors troublespots, especially in unstable regions, like Africa and The Middle East. Here's an excerpt from Quartz: "...These days, climate change is in vogue. Everything from the war in Syria to unrest in West Africa has been laid at the feet of the weather gods. Some of the claims have been dismissed as spurious. But there's plenty of evidence that migration in sub-Saharan Africa is indeed partly due to extreme weather. 70% of the continent's migrants have left their homes because of poverty or a lack of work, according to research provided by the UN. Environment Program (UNEP).  The authorities estimate the number of migrants by counting the bodies of those who've succumbed to the heat. An estimated 64% of Africans—and close to 90% of Ethiopians—earn their living from agriculture..."
Image: NASA's Visible Earth.
---
New Satellite Collects Sea Level Data to Monitor Climate Change. Voice of America (VOA) has the article; here's a link and intro: "Scientists from the U.S. and Europe have a new eye in the sky monitoring the world's oceans.The Jason-3 satellite, launched on January 17, is the latest satellite to monitor rising sea levels. Scientists say data collected by satellites over the last two decades shows sea levels rising at an accelerating rate, which they say is an indicator of climate change. Josh Willis, Lead Project Scientist for the Jason-3 mission at NASA's Jet Propulsion Laboratory said rising sea levels were one of the factors that contributed to the destruction wrought by Hurricane Katrina in 2005. Hundreds of people died and the storm surge devastated gulf coast communities as Katrina became one of the deadliest storms in recent U.S. history..." (Image from NOAA NESDIS, which has more information on Jason-3 here).