Stinging Wind Chill Gives Way to Thaw Next Week

"God, grant me the serenity to accept the things I cannot change, Courage to change the things I can, And wisdom to know the difference" wrote American theologian Reinhold Niebuhr. That applies on a morning like this.
I'm no psychologist, but it boils down to common sense. If you tell yourself you're miserable you WILL be miserable.
I find solace in single digits. If it wasn't for a parade of cleansing cold fronts, Minnesota might have a population of 15 million. We'd be L.A. (with lakes). And our coldest days tend to be sunny, so I consider it a wash.
Rationalize much? You 'betcha!
A quiet pattern spills into next week, and this is about as cold as it gets looking out 2 weeks. While an ice storm batters much of the south we can expect a quiet, storm-freepattern, with a mellowing mercury. I still see at least 3 or 4 days above freezing next week. Hardly a warm front, but it'll feel good.
I still sense a change in the pattern, which may be related to an El Nino warming phase in the Pacific Ocean. Our weather turns milder before Christmas, with a few slushy snow/ice events. 
---
---
Snow Optional. Stating the obvious, we have plenty of cold air in place, but no source of moisture (unless you live downwind of the Great Lakes). Good travel weather expected into most of next week. Graphics above: Praedictix and AerisWeather.
---
---
---
More Whispers of El Nino. I may be hallucinating (it's been a long day) but I still see symptoms of a possible El Nino signal emerging by mid and late December, with a more pronounced split flow in the jet stream and a quickening of the pace of Pacific systems pushing into the west coast. We'll see if it's persistent, but if this forecast verifies it should mean milder temperatures with occasional snow/slush/ice events as we get close to Christmas.
---
---
Winter Storm On The Way. A developing winter storm will impact the Southern Plains starting tonight, lasting through tomorrow and into Saturday. This will bring the potential of heavy snow and ice accumulations with it that will impact travel and potentially cause power outages across the region. Here's some timing on the precipitation for select cities:
Lubbock, TX: The chance of rain and/or freezing rain will start after Midnight tonight, lasting through the day Friday. Snow will start to mix in with freezing rain Friday Night before changing over to all snow by Saturday morning. Snow will taper off after Noon Saturday.
Amarillo, TX: Patchy freezing drizzle is possible after Midnight tonight, but the bulk of the precipitation doesn't start until Friday. During the morning hours tomorrow, freezing rain and sleet will be possible, then a mix of rain and freezing rain is possible Friday afternoon into Friday Night. Precipitation should become all snow after Midnight Friday Night, tapering off after Noon Saturday.
Oklahoma City, OK: Some light freezing drizzle is possible after Midnight tonight. Rain will be possible Friday afternoon, becoming a mix of rain, freezing rain, and sleet Friday Night. Snow and sleet Saturday morning will become all snow by the afternoon, tapering off after Midnight Saturday Night.
---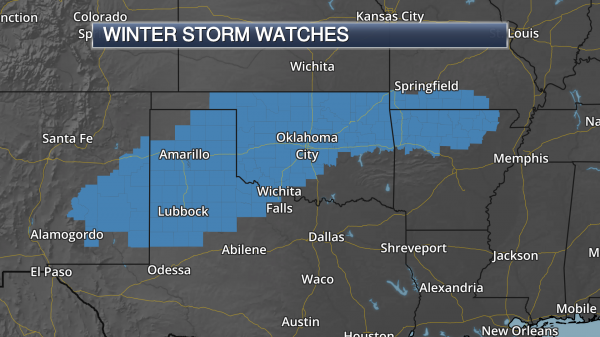 Winter Storm Watches. As of this morning, Winter Storm Watches have been expanded eastward to include more of Oklahoma as well as parts of Arkansas and Missouri. These continue to be in effect for the potential of accumulating ice and/or snow, starting tonight across parts of Texas and tomorrow across the rest of the area, lasting into at least Saturday. Cities that are under Winter Storm Watches as of Thursday morning include:
Roswell, NM: From 6 AM Friday to 6 PM Saturday for snow totals of 4"+ and ice accumulations up to a tenth of an inch.
Amarillo, TX: From 6 AM Friday to 6 PM Saturday for 4-8" of snow (isolated 10" amounts) and up to a tenth of an inch of ice.
Lubbock, TX: From Midnight tonight to Noon Saturday for 2-5" of snow and up to a quarter inch of ice.
Oklahoma City (OK) and Wichita Falls (TX): From 6 AM Friday to Midnight Saturday Night for 3-6" of snow and up to three-tenths of an inch of ice.
Tulsa (OK) and Fayetteville (AR): From Midnight Friday Night to Midnight Saturday Night for 1-3" of snow/sleet (isolated 6" amounts) and up to two-tenths of an inch of ice.
Branson, MO: From Midnight Friday Night to 6 AM Sunday morning for 3-6" of snow and a glaze of ice.
---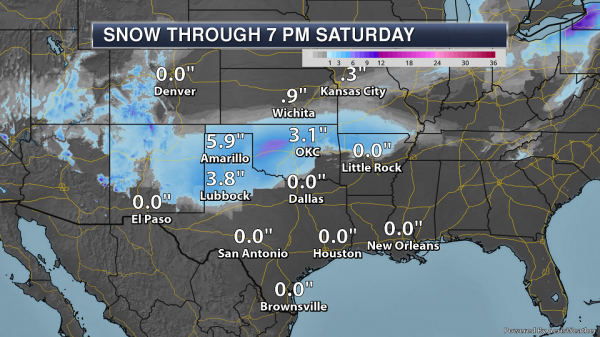 Forecast Snow Totals. Across the Southern Plains, the greatest potential of 6"+ of snow will be from parts of the Texas Panhandle to just northwest of Oklahoma City. Some totals could approach that mark, however, across southern Missouri and northern Arkansas as well. This snow will cause roads to deteriorate across the region, leading to rough travel conditions.
---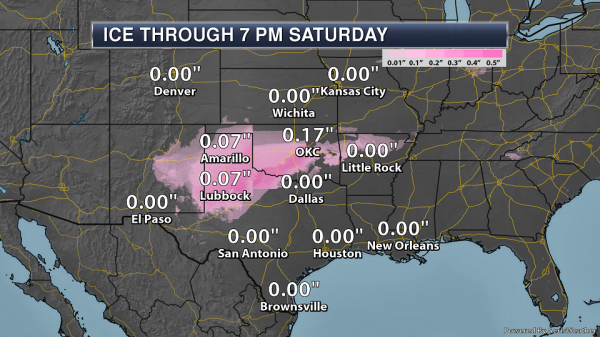 Forecast Ice Totals. Ice accumulations of at least a tenth to a quarter inch will be possible across parts of Texas and Oklahoma Friday into Saturday, with up to three-tenths of an inch of ice in some spots. This could have the potential to cause tree damage as well as impact the power grid.
---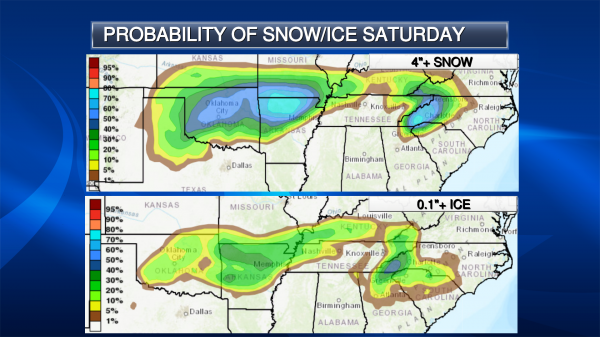 Saturday Snow & Ice Potential. While we continue to watch the wintry precipitation potential across parts of the Central and Southern Plains Saturday, snow and ice will also start to impact parts of the Mid-Atlantic late in the day into Saturday Night. We will be watching the snow and ice potential closely, especially across western North Carolina.
---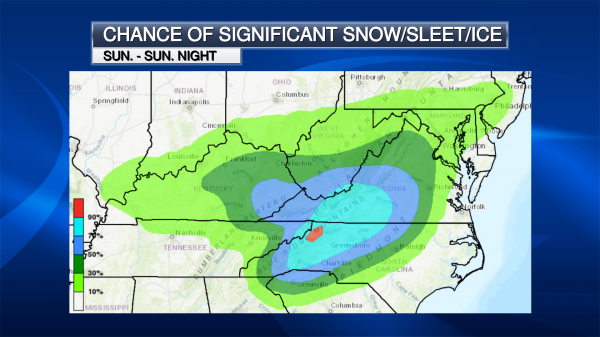 Sunday Snow & Ice Potential. This system will continue to bring the potential of snow and ice to the southern Appalachians Sunday. While it is still too early for exact totals, models continue to indicate the potential of at least a half a foot to a foot of snow for areas like western North Carolina and southwestern Virginia. Some ice accumulation will also be possible across this region.
---
Heavy Rain Potential. Another threat to watch on the warm side of this system across the Southern Plains is heavy rain. This storm will have the potential to produce copious amounts of rain for areas like Dallas, San Antonio, Austin, and Houston, with 2-6" in the forecast. Some areas could see isolated totals up to 10". This could lead to the potential of flash flooding. Most of the heavy rain will fall Friday into Friday Night across the region.
---
Flood Watches. Due to the heavy rain threat, Flood and Flash Flood Watches have been issued for areas like Waco, San Antonio, Austin, and Houston.
D.J. Kayser, Meteorologist, Praedictix.
---
---
Four Years With Most Billion-Dollar U.S. Disasters Have Occurred Since 2011
. Details via
Climate Central
: "...
These weather and climate disasters are becoming more frequent and more costly. According to NOAA's 2017 report, the seven years with the most billion-dollar disasters have all come in the last decade. Of the total inflation-adjusted costs since 1980, over 25 percent have come since 2015, including the record $312.7 billion in 2017
..."
---
150 Minutes of Hell. The San Francisco Chronicle describes, in vivid (horrifying) detail, what it was like trying to contain the Camp Fire in northern California. Here's an excerpt: "...Death was stalking each of them. Over 150 hellish minutes, they would claw for survival. Some would forge narrow escapes. Some would become heroes. Several wouldn't live through the night. Andrews had little choice but to hunker down. He gripped the dozer's protective foil curtains closed with his left hand to keep the wind from batting them open. With his right hand, he pulled his shirt over his nose and mouth. The heat seared his throat. This was how most firefighters died, he knew. Not from flames, but their own bodies roasting. Temperatures within the tornado soared to 2,700 degrees, flames blasting into the sky. A nearby Cal Fire truck exploded. Andrews dialed 911. His singed hands trembled. A dispatcher answered, on the verge of tears. Dozens of others had phoned in already describing the unfolding hell. Now, here was a call from ground zero..."
---
U.S. Coal Consumption Falls to Lowest Level Since 1970s. Take a bow, natural gas and renewables. The Houston Chronicle has the story: "The last time the United States consumed so little coal, Jimmy Carter was president and the Arab oil embargo was still fresh in motorists' minds. According to a report from the U.S. Energy Information Administration, the United States will likely burn through 691 million short tons of coal this year, the lowest level since 1979 and a 39 percent drop from coal's 2007 peak. The power sector accounts for more than 90 percent of the country's coal consumption, and coal's more than decadelong decline is "the result of both the retirements of coal-fired power plants and the decreases in the capacity factors, or utilization, of coal plants," the report reads..."
Photo credit: "NRG Energy is outfitting its W.A. Parish power plant in Fort Bend County with new infrastructure to capture carbon dioxide from coal burned in one of the plant s generators instead of releasing it into the atmosphere. The new facility will pipe the greenhouse gas to an oil field for use underground in enhanced oil recovery." (NRG Energy photo)
---
Xcel is First Big Utility to Swear Off Greenhouse Gas. Bloomberg has more perspective on the recent announcement to be carbon-neutral by 2050: "...Xcel did not pledge to quit fossil fuels. The company would consider using systems designed to capture and trap carbon dioxide emissions from gas or coal plants. "All technologies must be on the table," said Lisa Kiava, a company spokeswoman. "We are willing to explore all of them, including ones that are not yet cost effective." Xcel's push comes as wind and solar energy have become cheap enough to compete with conventional forms of electricity generation. Other utilities have goals to reduce carbon emissions by as much as 80 percent. But Xcel's goal is the most ambitious to date, according to Bloomberg NEF analyst Colleen Regan..."
Photo credit: Carla Gottgens, Bloomberg.
---
---
---
3M: Every New Product Must Reach a Sustainability Goal. Star Tribune reports: "Most companies have a general sustainability goal. However, 3M Co. is upping its green game by requiring every new product to have a sustainability component. That means designers and those who make the products must develop a goal on how the products or 3M factories producing them reduce waste, energy, water or material usage — or how the products can help customers achieve those reductions. The effort, announced at the United Nations Climate Change Conference in Poland early Wednesday, is expected to touch each of the roughly 1,000 new products 3M introduces each year..."
Photo credit: Glen Stubbe - Star Tribune file. "3M has increased its sustainability commitment. Pictured is its global headquarters in Maplewood."
---
World's Largest Container Shipper Maersk Aims To Be CO2 Neutral by 2050. Reuters has details: "Denmark's Maersk said on Wednesday it aimed to have carbon neutral vessels commercially viable by 2030 by using energy sources such as biofuels and would cut its net carbon emissions to zero by 2050. The shipping industry, which carries around 80 percent of global trade, accounts for 2.2 percent of CO2 emissions, the UN's International Maritime Organization (IMO) says. But along with aviation, it avoided specific emissions-cutting targets in a 2015 global climate pact which aims to limit a global average rise in temperature. However, the United Nations shipping agency reached an agreement in April to cut CO2 emissions by at least 50 percent by 2050 compared with 2008 levels..."
File photo credit: "Children play in the sea at New Brighton as the Maersk Line container ship Maersk Sentosa is helped by tugs as it navigates the River Mersey in Liverpool, Britain, July 31, 2018." REUTERS/Phil Noble/File Photo.
---
It's Almost Impossible To Be a Mom in TV News. I've worked with some amazing women in the broadcast television business over the years. It's a tough business (for everyone) but women trying to balance career and family have it much worse. Here's a clip from a story at The Atlantic: "...I was far from alone. According to a report by the Women's Media Center, television viewers are less likely to see women reporting the news today than just a few years ago. At the Big Three networks—ABC, CBS, and NBC—combined, men were responsible for reporting 75 percent of the evening news broadcasts over three months in 2016, while women were responsible for reporting only 25 percent—a drop from 32 percent two years earlier. What could be contributing to this? Much has been written about anti-mom bias and the so-called motherhood penalty in industries from law to finance to tech. Studies show that once a woman becomes a mother, she is likely to earn less, while once men become fathers, they tend to earn more in what's known as the "fatherhood premium...."
File image: Climate Central.
---
Facebook Secretly Shared User Data After Saying It Stopped. Why am I not surprised. Here's a clip from The Daily Beast: "Facebook secretly gave user data to companies including Netflix, Lyft, and AirBnb after claiming it had limited such data sharing, newly released documents show. Facebook CEO Mark Zuckerberg also discussed how to profit off sharing users' data. On Wednesday, Britain's Parliament released 250 pages of documents that included internal Facebook discussions on data-sharing. The documents show Facebook gave apps broad access to data about users' friends after 2014, when it publicly ended the practice. "If people don't feel comfortable using Facebook and specifically logging in Facebook and using Facebook in apps, we don't have a platform, we don't have developers," a Facebook spokesperson said of the policy change at the time..."
---
The Reason Many Ultrarich People Aren't Satisfied With Their Wealth. A non-stop treadmill of ever-higher expectations? A line from "Bonfire of the Vanities" stands out in my mind. "How many yachts can you waterski behind?" Here are a few excerpts from a post at The Atlantic: "...But at a certain level of wealth, the next million isn't going to suddenly revolutionize their lifestyle. What drives people, once they've reached that point, to keep pursuing more?...Norton says that research regularly points to two central questions that people ask themselves when determining whether they're satisfied with something in their life: Am I doing better than I was before? and Am I doing better than other people? This applies to wealth, but also to attractiveness, height, and other things that people fret about. "But the problem is," Norton says, "a lot of the things that really matter in life are hard to measure..."
---
Start-Ups Aren't Cool Anymore. Why are fewer younger people starting new businesses? Here's an excerpt from a story at The Atlantic: "...Research suggests entrepreneurial activity has declined among Millennials. The share of people under 30 who own a business has fallen to almost a quarter-century low, according to a 2015 Wall Street Journal analysis of Federal Reserve data. A survey of 1,200 Millennials conducted in 2016 by the Economic Innovation Group found that more Millennials believed they could have a successful career by staying at one company and attempting to climb the ladder than by founding a new one. Two years ago, EIG's president and co-founder, John Lettieri, testified before the U.S. Senate, "Millennials are on track to be the least entrepreneurial generation in recent history." Some of the reasons have been well-documented..."
---
Sleeping Too Much is Hazardous to Your Health. Everything is hazardous to your health these days. CNN.com has a summary of new research: "The recommended amount of sleep for adults is six to eight hours a night. Sleeping more than those hours is associated with an increased risk of death and cardiovascular diseases, says a global study published Wednesday in the European Heart Journal. Looking at data from 21 countries, across seven regions, the research team found that people sleeping more than the recommended upper limit of eight hours increased their risk of major cardiovascular events, like stroke or heart failure, as well as death by up to 41%. But a possible reason for this could be that people have underlying conditions causing them to sleep longer, which in turn could raise the risk of cardiovascular disease or mortality, explain the authors of the study..."
File image: sleepfoundation.org.
---
9-Year Old Boy Convinces Town to Stop Ban on Snowball Fights. AP has the unlikely story: "A 9-year-old boy has convinced the leaders of a small northern Colorado town to overturn a nearly century-old ban on snowball fights, and he already knows who his first target will be — his little brother. Dane Best, who lives in the often snow-swept town of Severance, presented his arguments at a town board meeting Monday night, and members voted unanimously to lift the ban. "I think it's an outdated law," Dane said in the lead-up to the meeting. "I want to be able to throw a snowball without getting in trouble."… Kyle Rietkerk, assistant to the Severance town administrator, said the rule was part of a larger ordinance that made it illegal to throw or shoot stones or missiles at people, animals, buildings, trees, any other public or private property or vehicles. Snowballs fell under the town's definition of "missiles..."
Photo credit: "In this Thursday, Nov. 29, 2018, photograph, 9-year-old Dane Best poses in the council chambers in Severance, Colo. Dane is trying to get rid of his town's ban on snowballs and officials are wondering what took so long." (Sara Knuth/Greeley Tribune via AP).
---
More Parents are Naming Their Babies After Healthy Foods. God help us. Quartz has the details: "...This year's findings suggest that parents are increasingly inspired by the wellness movement. Names related to spiritual practices like yoga or meditation, like Peace, Harmony, or Hope, have risen in popularity, and so have names tied to healthy food trends. Say hello to the age of Baby Kale. "As fast food and processed snacks lose ground to clean eating and Paleo diets, more Gen Z and Millennial parents are choosing baby names that reflect their love of healthy foods," BabyCenter explains in its press release. For girls, parents are increasingly picking names like Kale, Kiwi, Maple, Hazel, Clementine, Sage, Saffron, and Rosemary. Names like Saffron, Sage, and Hazel are also on the rise for boys..."
---
22 F. Twin Cities high yesterday.
30 F. average high on December 6.
20 F. high on December 6, 2017.
December 7, 1982: Due to unseasonably mild temperatures during the preceding weeks, a farmer near St. Bonifacius is able to bail his 4th crop of alfalfa hay on this day.
December 7, 1927: A blizzard hits the Arrowhead region with heavy snows and 70 mph winds at Duluth.
---
FRIDAY: Sunny and character-building. AM windchill: -5. Winds: SW 7-12. High: 20
FRIDAY NIGHT: Mostly clear. Low: 10

SATURDAY: Blue sky. Mosquito-free. Winds: S 5-10. High: 27

SUNDAY: Plenty of sun, getting better. Winds: S 5-10. Wake-up: 14. High: 30

MONDAY: Partly sunny, quiet pattern lingers. Winds: SW 5-10. Wake-up: 16. High: 32

TUESDAY: Peeks of sun, thaw likely. Winds: S 5-10. Wake-up: 19. High: 35

WEDNESDAY: More clouds, milder than average. Winds: SW 5-10. Wake-up: 26. High: 36

THURSDAY: Clouds linger, good travel weather. Winds: W 8-13. Wake-up: 30. High: 34
---
Climate Stories...
George H.W. Bush Put Environment Above Politics - We Should Too. An Op-Ed at TheHill resonated; here's an excerpt: "The death of George H.W. Bush is cause to honor a man who made it possible for all Americans to breathe cleaner air. It also reminds us that partisan politics need not obstruct progress toward a healthier environment. The historic Clean Air Amendments of 1990 would not have happened without the leadership of the late president Bush. Together with Senate Majority Leader George Mitchell — "the two Georges" — the Bush administration and Congress took on the hard work of crafting legislation to update the Clean Air Act, building on its strengths and repairing weaknesses that had emerged since 1970..."
---
Poll: Majority of Voters Worried About Climate Change. Politico has a summary of recent polling: "A new poll shows most voters side with elements of the federal government that sounded the alarm last month in a dire report on climate change rather than with the head of that government — and the nation's leading climate-change denier — President Donald Trump. According to the latest POLITICO/Morning Consult poll, two-thirds of voters say they are very or somewhat concerned about the report. A 58 percent majority agrees with the scientific consensus — and disagrees with Trump — that climate change is being caused by human activity..."
Photo credit: "President Donald Trump's stance on climate change conflicts with the opinion of the majority of American voters, according to a POLITICO/Morning Consult poll." | Peter Dejong/AP Photo.
---
Greenhouse Gas Emissions Are Up: Climate Nexus has links and headlines: "Global greenhouse gas emissions experienced a large jump in 2018 and are on track to reach their highest levels on record by the end of the year, scientists said Wednesday. New research from the Global Carbon Project published in three major scientific journals projects that emissions will increase 2.7 percent worldwide in 2018, after a 1.6 percent increase in 2017 and a plateau period from 2014 to 2016. As former UNFCCC leader Christiana Figueres and colleagues argue in an analysis accompanying the research in Nature, the dire findings coupled with some reasons for optimism--like the acceleration of clean technologies and "booming" subnational action--means that delegates in Katowice must "accelerate that momentum and keep everyone on board." (New York Times $, Washington Post $, AP, The Guardian, Reuters, CNN, NPR, BBC. Commentary: Nature, Christiana Figueres & colleagues op-ed, Washington Post, Philip Bump analysis $)
File image: Reuters.
---
---
Greenland's Ice Sheet Melting Faster Than Thought - Research. Reuters has details: "Greenland's ice sheet is melting at a faster rate than previously thought and continued global warming will accelerate thawing and contribute to rising sea levels, scientists said in a paper published on Wednesday...In a paper published in the journal Nature, scientists from the United States, Belgium and the Netherlands analysed melt layers in ice cores in western Greenland to develop a record spanning 350 years. The magnitude of Greenland ice sheet melting is "exceptional" over at least the last 350 years and continued growth of global average temperature will accelerate the melting and contribute to sea level rise, the study said..."
File photo credit: "An iceberg floats in a fjord near the town of Tasiilaq, Greenland, June 18, 2018." REUTERS/Lucas Jackson.
---
---
California Wildfires Accelerated Climate Change As Much As A Whole Year of Power Use. Quartz does the math: "California's 2018 fire season, including the largest fire in state history, released nearly as much climate-warming and air-polluting emissions as a year's worth of electricity use there. The wildfires released 68 million tons of carbon dioxide in 2018, according to the US Geological Survey, or 15% of the state's total emissions. For comparison, all electricity use in California in 2016 produced roughly 76 million tons in emissions. Those figures were the highlights of a Nov. 30 statement from the Interior Department that blamed the wildfires largely on forest-management practices..."
Photo credit: "The 2018 fire season amounted to 15% of the state's total emissions." AP Photo/Noah Berger.
---
Naval Academy to Raise Seawall to Counter Rising Sea Level. TheHill has the story: "The Naval Academy in Annapolis, Md., will raise a riverside wall to stave off the slowly rising water levels. The Academy will add 2.62 feet to the current 5.4-foot-tall Farragut Seawall along the Severn River, the Capital Gazette reports. The project is still in the design phase, and work will likely begin in 2020...Annapolis had the nation's biggest increase in yearly flooding between 2007 and 2013, according to data from the National Oceanic and Atmospheric Administration reviewed by the Capital Gazette..."
Photo credit: Visit Annapolis.
---
With 2020 Looming, Michael Bloomberg Brings Climate Change Doc to Iowa. Here's an explainer from TheHill: "Des Moines, Iowa, might seem like an unusual place to premiere a documentary, unless of course you're thinking of running for president. Michael Bloomberg on Tuesday will introduce his latest film on the topic of climate change and be part of a panel discussion in the state, which kicks off the 2020 Democratic primary season in 14 months. Bloomberg hasn't said whether he'll run, but many signs indicate that he's leaning more yes than no as it comes time for him to decide in the next few weeks. The former mayor of New York and founder of the Bloomberg business information empire spent $41 million on 24 House races during the midterms, according to The New York Times. He also registered as a Democrat this year and has funded plans seeking solutions to issues like gun violence, immigration and the opioid epidemic..."
---
"Mother of All Sustainability Challenges". Report Urges Global Diet and Farming Overhaul. Business Green has a summary of the report: "People in heavy meat consuming regions such as Europe, the US, Russia, and Brazil may have to limit their intake of beef, lamb and goat to 1.5 servings per week by 2050 if the planet is to sustainably feed its population and avert runaway climate change. That is one of several key recommendations from a new global report, which draws on six years of research and modelling, and has concluded the scale of the challenge to develop sustainable agricultural practices and secure food supplies may be greater than previously thought..."