Hard To Believe: Late Week Hot Front Brewing

Minnesota will probably have weather-boasting-rights in perpetuity. On June 4, 1935 residents of Mizpah were buzzing about the 1.5 inches of snow that accumulated; the latest official measurable snowfall in Minnesota. Ouch.
Yesterday was character-building with wind-whipped 50s and 60s, showers and wind chill. Instead of rocking the pontoon I spent the day cleaning the cabin. Great fun! But next weekend may feel 30-40 degrees warmer: 90s with a dew point near 70F that could make it feel like 100F in the shade by Saturday afternoon.
Just wear a sweatshirt over your swim suit and you'll be ready for anything.
Today is a baby-step in the right direction with enough sunshine for upper 70s. A few instability T-showers sprout over northern Minnesota & Wisconsin, but it won't be as foul as Saturday. A pinwheel of moisture pushes showers back into town Monday but skies clear Tuesday and Wednesday.
The same heat bubble cooking residents of Phoenix (highs near 115!) surges north late in the week: ECMWF guidance predicting 90s Friday and Saturday and a severe T-storm outbreak by Sunday.
---
* ECMWF forecast lows and highs for KMSP: WeatherBell.
---
Drier Than Yesterday - Few PM Pop-Up Showers and T-showers. Future Radar, courtesy of NOAA's 4 km NAM model hints at the best chance of instability convection north and east of the Twin Cities during the afternoon and evening hours. That said, today should be sunnier, drier and warmer. Loop: AerisWeather.
---
Shower Risk Returns Monday; Heavier Rains Early Next Week? Models print out a little rain Monday, with dry weather the rule from Tuesday into Saturday. ECMWF guidance is suggesting a few strong to severe T-storms by Sunday; the pattern more favorable for significant rain in 7-9 days. Source: Aeris Enterprise.
---
Gusty Winds Again Today. Our internal model ensemble predicts sustained winds in the 16-22 mph range by midday and afternoon with gusts as high as 25 mph. Winds ease considerably by Tuesday and Wednesday.
---
---
GFS Tracking With ECMWF. Although not as hot as the European model NOAA's GFS ensembles are suggesting 90 degrees by Friday and Saturday as well. We'll go from complaining about the "unusually cool weather" to griping about the heat in the span of about 6 days.
---
Aeris Weather Briefings: Issued Saturday afternoon, June 4, 2016.
* High confidence that a tropical storm (Colin) will form in the Gulf of Mexico by late Sunday, impacting Florida and Gulf Coast in a Monday-Tuesday time frame.
* Significant uncertainty remains about the track of this storm. Interests from New Orleans to Pensacola and Tampa should closely monitor this developing tropical cyclone.
* Enhanced risk of a significant severe thunderstorm outbreak Sunday for the Mid Atlantic region, including Philadelphia, Wilmington, Baltimore, Washington D.C., Richmond, Raleigh and Charlotte. Damaging hail and straight-line winds are expected by afternoon; I could see a few large, damaging tornadoes forming as well.
---
Developing Tropical Cyclone. Although the smear of heavy showers and T-storms doesn't look impressive (yet) conditions are ripe for strengthening over the next 48 hours with strong confidence Tropical Storm Colin will form within 48 hours. NOAA NHC says a 70% probability of tropical cyclone formation within 48 hours. Details:
 A broad area of low pressure is located over the northwestern Caribbean Sea, accompanied by a large area of showers and thunderstorms. Conditions appear to be favorable for some gradual development of this low as it moves near the Yucatan Peninsula and into the southern Gulf of Mexico on Sunday. This system is likely to become a tropical depression or a tropical storm by late Sunday or on Monday as it moves northeastward toward the Florida Peninsula. Regardless of development, locally heavy rains and flooding are possible over portions of the Yucatan Peninsula, western Cuba, the Florida Keys, and the Florida Peninsula during the next several days. Interests in these areas should monitor the progress of this system. An Air Force Reserve Hurricane Hunter aircraft is scheduled to investigate the system on Sunday. * Formation chance through 48 hours...high...80 percent * Formation chance through 5 days...high...80 percent
---
First Guess at Track. There seems to be early model consensus on a track that would bring the strongest winds, storm surge and rainfall amounts over Florida by Monday and Monday night, but it's early in the process, and a more westward track (closer to Pensacola, even New Orleans) cannot be entirely ruled out.
Track graphic: Tropical Tidbits.
---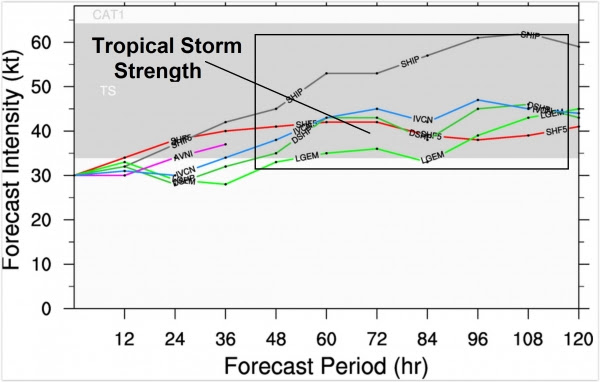 Tropical Storm Strength Likely. Nearly all models bring sustained winds for "Colin" up to tropical storm intensity (greater than 39 mph). Although hurricane strength is unlikely, we may be looking at a moderate to strong tropical storm impacting Florida and the Gulf Coast early next week.
---
European Solution. The ECMWF model (which we tend to favor for tropical systems) brings a weak to moderate tropical storm into the eastern Gulf of Mexico by Monday evening, with heaviest rains projected for northern Florida and the Panhandle. This solution suggests more torrential rains for the coastal Carolinas, which may result in additional flash flooding for counties impacted by Bonnie earlier in the week.
Map credit above: WSI.
---
12 KM NAM Solution. By late afternoon Monday the center of (Tropical Storm Colin) is forecast to be due south of Biloxi, with greatest storm impacts north and east of the storm center. (Map: WeatherBell).
---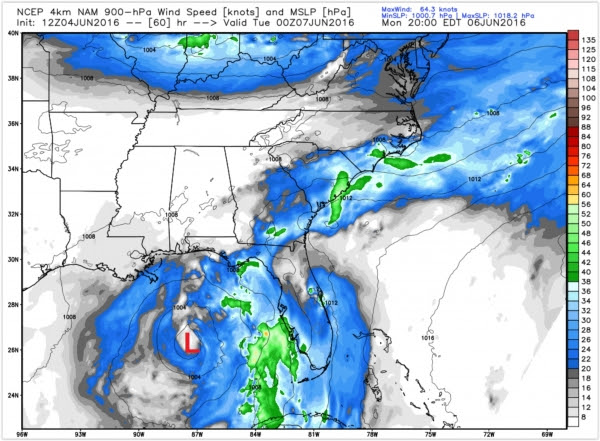 4 KM NAM Solution. High-resolution NAM guidance shows a similar solution, the forecast map above valid Monday evening, showing the most intense rain bands impacting the Gulf Coast of Florida. High surf and heavy rain is expected from the Florida Keys and Naples to Tampa and the Panhandle.
---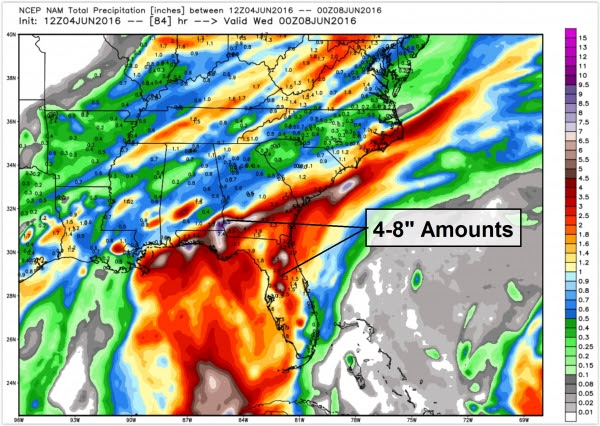 Rainfall Potential. Models are printinig out some 4-8" rainfall amounts from near Tampa and Orlando into the Florida Panhandle and southern Georgia. I expect considerable inland flash flooding from this system from late Sunday into Tuesday. Facilities that often flood may experience problems as rain bands from Colin push ashore. (Graphic credit: WeatherBell).
---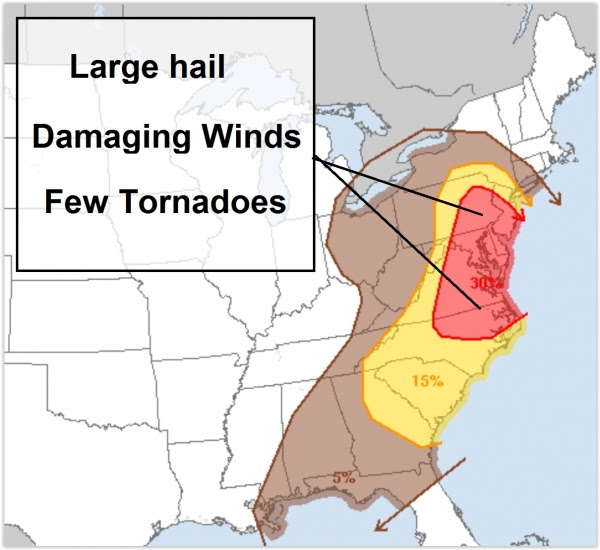 The Other Big Weather Risk Story: Damaging Sunday Winds Mid Atlantic Region. Here is the NOAA SPC forecast for severe thunderstorm damage risk on Sunday, showing an "enhanced" probability of large hail, damaging straight-line winds, even a few large and damaging tornadoes, most likely by late afternoon and evening. Major metropolitan areas are in the bulls-eye, including Philadelphia, Harrisburg, Baltimore, Washington D.C., Norfolk and Raleigh. The greatest risk is hail and straight-line winds, but conditions may be ripe for a few large, damaging tornadoes tomorrow. (Map credit: NOAA SPC).
Summary: we are closely monitoring 2 main threats: the birth of Tropical Storm Colin in the Gulf of Mexico, likely to impact Florida and the (eastern) Gulf Coast by Monday, and a potentially major severe thunderstorm outbreak Sunday afternoon and evening impacting the Mid Atlantic states. We'll have an update on both threats tomorrow morning.
Paul Douglas, Senior Meteorologist, AerisWeather
---
May Closes Wet For Some. Dr. Mark Seeley has a good recap of May and an assortment of other timely, interesting weather nuggets in this week's edition of Minnesota WeatherTalk; here's the intro: "The last week of May brought frequent, and sometimes heavy rains to many parts of the state. for some northern Minnesota climate stations it rained each day over the last week of the month. Sotty thunderstorms brought some new record daily rainfall amounts over the last day of May, including 0.99 inces at Lakefield; 1.67 inches at Hokah; 1.29 inches at La Crescent; 1.27 inches at Austin; 1.19 inches at Hallock; and an incredible 4.45 inches at Crookston. That amount at Crookston ranked as the 4th highest daily rainfall in history there...."
---
Weather Forecasting Equipment "Crude" in 1966. An article at the Topeka Capital-Journal served as a wake-up call (to me) of just how far we've come; here's a clip: "...Introduction of Doppler radar, satellite imagery and live video from storm chasers, as well as computer and cellphone communications, changed the game. Chad Omitt, the current NWS warning coordinator in Topeka, said real-time satellite data on where storms were developing and the diagnostic capacity of Doppler radar enhanced the opportunity to warn people. "The huge advancement in the ability to interrogate what's happening in a thunderstorm is the ability to see the wind speed and directions," Omitt said. "We can actually see what the winds are doing inside that storm, especially in the vicinity of where that tornado might be..."
Photo credit: "Mike Akulow, who retired in 2005 after more than 30 years with the National Weather Service in Topeka, says technology used at the time of the June 8, 1966, tornado was "very crude." Today, GPS technology, radar upgrades and an Internet-based chat system has improved the quality and quantity of weather information available."
---
Tough Guy Tries To Drive Across Flood, Fails Miserably. Geekologie reminds all of us what not to do when encountering a flooded highway: "This is a video of a man in Texas who really believes his Chevy Avalanche can get him across a heavily flooded road. So, at least in his mind, Avalanches > Floods. Unfortunately for his pride and dry underwear, he is wrong and has to jump out and swim to safety. This is dangerous and you shouldn't do it, I don't care how big you think your Truck Nuts are..."
---
Across U.S., Heaviest Downpours On The Rise. Here's an excerpt of an analysis at Climate Central: "...Across most of the country, the heaviest downpours are happening more frequently, delivering a deluge in place of what would have been routine heavy rain. Climate Central's new analysis of 65 years of rainfall records at thousands of stations nationwide found that 40 of the lower 48 states have seen an overall increase in heavy downpours since 1950. The biggest increases are in the Northeast and Midwest, which in the past decade, have seen 31 and 16 percent more heavy downpours compared to the 1950s..."
---
It's Summer in Arizona. Time To Come Inside. The L.A. Times summarizes the challenges of summer-living in Arizona; here's the intro: "In northern climes, dead leaves, gardeners bringing their plants inside and children praying for school closures all signal one thing: Winter is blowing in hard and mean. Here in Arizona, they mark something else. It's not winter. It's summer. The leaves are curling up and dying of heat. Gardeners bring in their plants, fearing not frost but the first truly hot day. And when children supplicate a higher power for bad weather, they're praying for school-shuttering monsoons..."
Photo credit: "A desert dust storm known as a haboob engulfs Interstate 10 near San Simon, Ariz., in May." (Arizona Department of Public Safety / Associated Press).
---
Floodwaters Begin to Recede in Germany and France But More Rain Forecast. Here's an excerpt of an update at Deutsche Welle: "Floodwaters are receding and the clean-up has begun but damage estimates in Germany are in the hundreds of millions. Repairing infrastructure and homes will likely take months..."
---
More Storms and Flooding: How We'll Need to Adapt to Extreme Weather. We are increasing the probability, loading the meteorological dice, for more extreme events. Here's an excerpt of an interview at Deutsche Welle: "...In general, we are seeing an increase around the world of the risk of a range of types of extremes, including rainfall extremes that may cause flooding events like what we have here. We see more people and assets at risk in places that can get flooded. In addition, people tend to not be aware enough of that risk, and how that risk is changing.... Climate change is changing the climate overall, including the peaks - the extremes - in the weather. When the climate changes overall, that changes the probability of certain events. So we won't say, "This event was caused by climate change," but we may say, "the chances of this event happening are now twice as likely than they were before..." (File photo: USGS).
---
A Suburban Experiment Aims for Free Energy. Yes, free has a nice ring. Here's the intro to a New York Times story: "At first glance, Anthony and Vanessa Genau's home in a subdivision beneath the San Gabriel Mountains here is like any other gracious new suburban dwelling, with an open-plan living space, granite countertops and stainless steel appliances. But, along with 19 other cream, taupe and rust stucco houses that cradle the landscaped playgrounds here, it is actually something else: a large-scale testing ground for an energy system of the very near future. With a combination of rooftop solar panels, smart thermostats, advanced water heaters and other high-efficiency features, the homes are all built with a similar goal: to make at least as much energy as they use over a year..."
---
10 Household Expenses You Can Eliminate Right Now. If not eliminate, maybe trim? Here's an excerpt of a helpful post at Trulia: "Paying bills is never fun, but it's even less exciting when those monthly expenses: a) keep you from enjoying the cultural events and great restaurants your city has to offer; or b) leave you eating noodles for the last few days before every payday. But you don't necessarily have to sacrifice the lifestyle you want to live in an apartment or home you love. In fact, it's probably easier than you think to eliminate some of those unnecessary household expenses..."
---
The Trends Driving Electric Vehicle Development. It's a convergence of factors, according to TechCrunch: "...Three technology trends are converging in automobile transportation — and not a minute too soon, given the giant emissions and human carnage wrought by conventional vehicles:
In my view, Tesla has demonstrated that electric vehicles can result in a superior automotive product in terms of driving performance, safety, comfort and even convenience.
On-demand and ridesharing services shifted billions of car miles (including more than 1.5 billion miles on Uber alone) to their offering and made the case that ownership is an unnecessary and perhaps even negative part of the car experience..."
Photo credit: Matej Kastelic, Shutterstock.
That could be bad news for SolarCity and Sunrun, two big solar providers that currently dominate the U.S. residential solar market. Both companies have built their businesses around long-term leases, and third-party ownership of rooftop solar stood at 72 percent in 2014.
---
A Worldwide Health Check Up. The new Vital Signs series at How We Get To Next is worth your time; here's an excerpt: "Active energy. Basal body temperature. Blood glucose. Body mass index. Caffeine intake. Calories ingested. Electrodermal activity. Forced vital capacity. Heart rate. Hydration level. Oxygen saturation. REM cycles. Respiratory rate. UV index. These days, we can track just about every vital sign and body movement we make — and mostly with free apps on our smartphones. Monitoring and understanding our health is, quite literally, at our fingertips. And yet, more Americans are dying. Or at least, given an adult mortality rate that's been steadily decreasing over the past half century in the United States and globally, they did last year..."
---
What's Going On With The Way Canadians Say "About"? Or aboot, if you prefer. Here's an excerpt from Atlas Obscura: "Considering the geographical, cultural, and economic closeness of our two countries, it's almost perverse that Americans take so much pride in their ignorance about all things Canada. Drake? Dan Aykroyd? The new hot prime minister? Is that it? But everyone knows what Canadians are supposed to sound like: they are a people who pronounce "about" as "aboot" and add "eh" to the ends of sentences. Unfortunately, that's wrong. Like, linguistically incorrect. Canadians do not say "aboot." What they do say is actually much weirder..."
Image credit: "The classic purveyors of Canadian accents in the U.S.—from sketch comedy troupe SCTV." (Photo: YouTube).
---
---
Saturday "Highs". Although the metro saw 74 temperatures never climbed out of the 60s across central  and northern Minnesota on Saturday. Hibbing got the worst of it, with over an inch of rain and a high of 53F.
74 F. high yesterday in the Twin Cities.
75 F. average high on June 4.
75 F. high on June 4, 2015.
.06" rain fell yesterday at KMSP.
June 5, 1930: Heavy rain falls at Waseca. 4.3 inches of rain would fall over 24 hours.
June 5, 1915: This date marks the first of a long stretch of days of measurable rain at Winton near Ely. Measurable rain would fall on each day until 19th. The total amount of rain for the fifteen days was over six inches.
---
TODAY: Lukewarm sun returns; PM shower north/east of MSP. Winds: NW 10-20. High: 79
SUNDAY NIGHT: Partly cloudy. Low: 57

MONDAY: More clouds, a few showers likely. Winds: NW 15-25. High: 67

TUESDAY: Skies clear, moods improve. Winds: NW 10-15. Wake-up: 52. High: 71

WEDNESDAY: Plenty of sun, warming up. Winds: SE 7-12. Wake-up: 54. High: 78

THURSDAY: Early thunder possible, then sticky sun. Winds: SE 10-15. Wake-up: 60. High: 85

FRIDAY: Hazy sun, plenty hot. Winds: S 10-15. Wake-up: 68. High: 92

SATURDAY: Steamy sun, escape to the lake. Dew point: 70. Winds: S 10-20. Wake-up: 71. High: 93
---
Climate Stories...
Global Warming is Greening Up The Far North. More tangible evidence of the changes underway, reported at Summit County Citizens Voice; here's an excerpt: "After taking a close look at 87,000 satellite images, NASA scientists say the northern parts of Canada and Alaska are getting greener. Shrubs are sprouting in grassy tundra zones and shrubs are growing bigger and denser — changes that could have impacts on regional water, energy and carbon cycles. The new NASA study adds more detail to previous research that reached similar conclusions and could help inform climate scientists about how the changes will affect global temperatures. The study covered the timespan between 1984 and 2012. The images came from the joint NASA/U.S. Geological Survey Landsat program, which provides the longest continuous space-based record of Earth's land vegetation in existence..."
Photo credit: "NASA scientists have detailed a widespread greening trend across Alaska and northern Canada in a new study." Photo courtesy NASA/Ross Nelson.
From Floods to Forest Fires: A Warming Planet - In Pictures. The Guardian has the photo essay; here's a link and story excerpt: "Droughts, floods, forest fires and melting poles – climate change is impacting Earth like never before. From the Australia to Greenland, Ashley Cooper's work spans 13 years and over 30 countries. This selection, taken from his new book, shows a changing landscape, scarred by pollution and natural disasters – but there is hope too, with the steady rise of renewable energy..."
---
CBO Warns of Climate Change's Budget Impact. Politico has the story; here's the intro: "The Congressional Budget Office is warning lawmakers about the fiscal risks of climate change, putting the studiously non-partisan agency at odds with Republican Party orthodoxy. The report, released as hurricane season begins, warns that hurricane damage will "increase significantly in the coming decades" due to climate change. The agency added that humans are playing a role in fueling rising temperatures and a shifting climate..."
---
Potential Increases in the Hurricane Damage in the United States: Implications for the Federal Budget. The CBO report referenced in the Politico story above is here.
---
Gisele Lands a TV Series. Not sure why this caught my eye. Vogue reports: "SUPERMODEL and environmental activist Gisele Bündchen is set to appear in the National Geographic channel's docuseries on the destruction of the Amazon and the efforts to save it, Years of Living Dangerously...."
Photo credit: Rex.