Flood Watch - Hurricane Michael Threatens Florida
On Saturday I gave a talk about weather and climate trends at Church of the Cross Lutheran Church in Nisswa. Afterwards a woman told me that they recently moved back to Minnesota from Ft. Myers, Florida. "After the third direct strike from a hurricane, we decided it was time to come home" she said.
I can't even imagine. I like the weather, but not even I want to watch The Weather Channel that much.
Hurricane Michael is forecast to hit the Florida Panhandle as a Category 3 storm Wednesday, with sustained winds up to 120 mph. Destin and Panama City may see major impacts from surf, wind and floods.
Michael puts our Flash Flood Watch into perspective; latest guidance suggests about 2 inches of rain by Wednesday morning; most of that falling later today and tonight.
Snow lovers may perk up: ECMWF guidance hints at a potentially plowable, 3-8 inch snowfall over the northern third of Minnesota Wednesday night. Bring it.
Driveway stakes are optional for the MSP metro until further notice, in fact NOAA models show 60s here the 3rd week of October.
A fabulously fickle weather pattern? Yep.
---
Watches and Warnings. Map courtesy of AerisWeather.
---
European Solution. ECMWF prints out some 1-2" rainfall totals by Thursday morning for much of the state, which seems reasonable. Wrong word. Map: WeatherBell.
---
Plowable? Models show a surge of colder air changing rain over to wet snow Wednesday night into Thursday, with serious slush-potential from Bemidji to near International Falls. Hunters have an itch that a scratch won't reach.
---
---
---
Cooling Back Down Again Late October. After a mild blip the 3rd week of October (a few days in the 60s?) GFS guidance from NOAA shows a zonal flow returning, along with a cooler bias over the northern tier of the USA.
---
Praedictix Briefing: Issued Monday evening, October 8th, 2018:
Key Messages:
Hurricane Michael's track has shifted farther west and further intensification is expected in the next 36 hours. By Wednesday morning, Michael may certainly strengthen to a Category 3 hurricane (a major hurricane), before making landfall in the Florida peninsula

Wednesday

afternoon. Landfall is most likely to occur between the Florida Panhandle and the Big Bend of Florida

Wednesday

into

Wednesday

night. Michael would be the first major hurricane to hit the Panhandle since Hurricane Dennis in 2005. It would also be only the 11th major hurricane to hit Florida in October since records began in 1851.
Hurricane conditions are currently occurring in western Cuba. A wind gust of 75 mph was reported at Isabel Rubio in the province of Pinar del Rio in Cuba.
A dangerous storm surge is expected along the coasts of the Florida Panhandle, Big Bend, and Nature Coast. Storm Surge warnings are in effect for these locations.
The National Hurricane Center has upgraded the Hurricane Watch in parts of Florida's Gulf Coast to a Hurricane Warning. The warning extends from the Alabama-Florida border to the Suwannee River, including Pensacola, Panama City, Destin, and Apalachicola.
The following 35 Florida counties are under a state of emergency per Governor Rick Scott: Escambia, Santa Rosa, Okaloosa, Holmes, Walton, Washington, Bay, Jackson, Calhoun, Gulf, Gadsden, Liberty, Franklin, Leon, Wakulla, Jefferson, Madison, Taylor, Hamilton, Suwannee, Lafayette, Dixie, Columbia, Gilchrist, Levy, Citrus, Bradford, Pasco, Hernando, Pinellas, Hillsborough, Manatee, Alachua, Union, Baker.
Alabama governor Kay Ivey has declared a state of emergency for the state in advance of Hurricane Michael.
---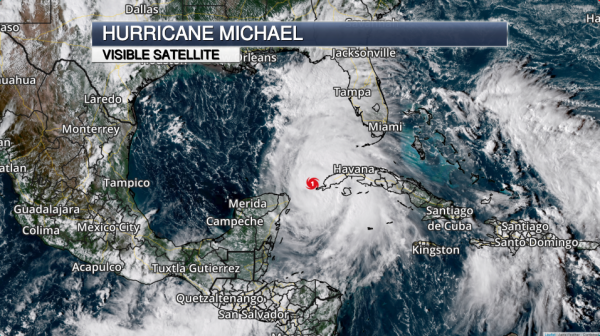 Michael on Satellite. Hurricane Michael continues to stay intact as it enters the Gulf of Mexico and is located just west of Cuba. Hurricane conditions are currently impacting western Cuba. Michael is currently a Category 1 hurricane with maximum sustained winds of 80 mph. It continues to move north at a speed of 9 mph. The outer rainbands from Michael are already soaking the Florida Keys and parts of western Florida, including Tampa.
---
Track Shifts West. The 4 PM update from the NHC shows a slight shift in the track (farther west). Landfall in the Florida Panhandle seems likely at this time occurring sometime Wednesday afternoon. Michael is expected to continue a general movement north with an increase in forward speed through Tuesday night. By Wednesday, a northeast turn is expected. A strong cold front will push the system east and speed up its movement considerably. This is relieving to see as this faster track will help mitigate some of the damage. Regardless, Hurricane Michael's impact will be high for the Gulf Coast with a dangerous storm surge, torrential rains, and hurricane-force winds. It should be noted that further intensification is expected with Michael moving into favorable conditions. This will be enough to strengthen the hurricane to a Category 3 by Wednesday before making landfall.
---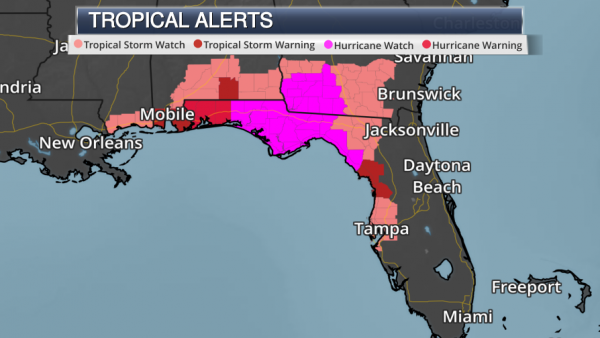 Hurricane Warnings in Effect. The NHC has now issued Hurricane Warnings for the Gulf Coast of Florida from the Alabama/Florida border east to the Suwannee River. There are a few other changes that occurred with this latest update. Here is the full list of tropical alerts now in effect: 
A Hurricane Warning is in effect for...
* Alabama/Florida border to Suwannee River Florida
* The Cuban province of Pinar del Rio
A Hurricane Watch is in effect for...
* Alabama/Florida border to the Mississippi/Alabama border
A Tropical Storm Warning is in effect for...
* Alabama/Florida border to the Mississippi/Alabama border
* Suwanee River Florida to Chassahowitzka Florida
* The Cuban province of the Isle of Youth
* The coast of Mexico from Tulum to Cabo Catoche, including Cozumel
A Tropical Storm Watch is in effect for...
* Chassahowitzka to Anna Maria Island Florida, including Tampa Bay
* Mississippi/Alabama border to the Mouth of the Pearl River
---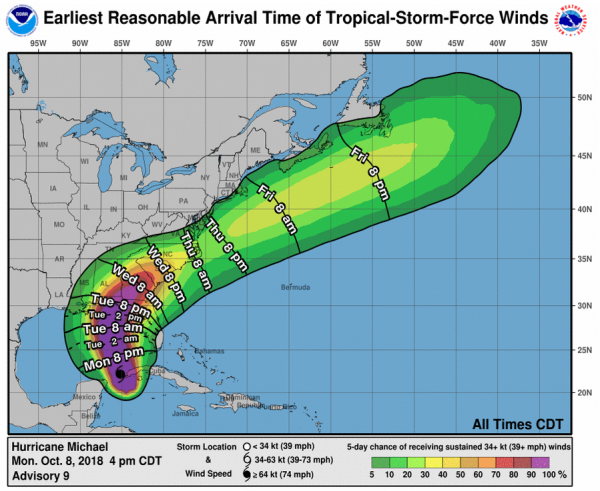 Damaging Winds Arrive Tuesday PM. Weather conditions will rapidly deteriorate for Florida's Gulf Coast Tuesday. Tropical-storm-force winds are expected to arrive sometime Tuesday evening for the Florida and Alabama Gulf coasts. Damaging winds will also extend inland into parts of southern Georgia and southeast Alabama as Michael tracks inland. Hurricane-force winds currently extend out up to 35 mph from the center of the storm with tropical-storm-force winds extending out 175 mph. Widespread power outages, major tree damage, and structural damage will be likely for the Florida panhandle, including inland areas near Michael's path.
---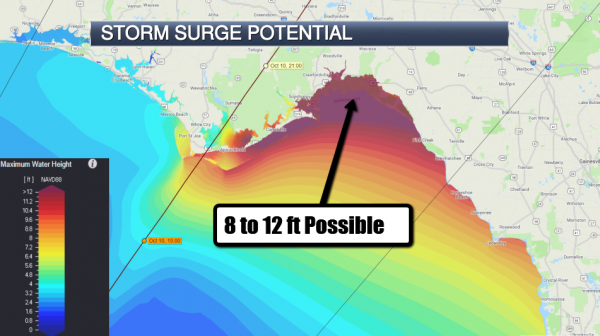 Dangerous Storm Surge. The NHC is warning of a life-threatening storm surge along the immediate coastline of Florida's Panhandle near and east where Michael is projected to make landfall. The combination of the storm surge with the high tide will result in coastal flooding. Here are the current storm surge forecasts: 
Indian Pass FL to Cedar Key FL: 8-12 ft
Cedar Key FL to Crystal River FL: 6-8 ft
Okaloosa/Walton County Line FL to Indian Pass FL: 5-8 ft
Crystal River FL to Anclote River FL: 4-6 ft
Anclote River to Anna Maria Island FL including Tampa Bay: 2-4 ft
Alabama/Florida border to Okaloosa/Walton County Line FL: 2-4 ft
---
Storm Surge Warning in Effect. The location and magnitude of the peak storm surge are sensitive to small changes in track and intensity, which is why it's important to closely monitor future updates. Anyone within the Storm Surge Watch or Warning will need to be prepared for a significant flooding event. The following areas are under a storm surge flood threat:
A Storm Surge Warning is in effect for...
* Okaloosa/Walton County Line Florida to Anclote River Florida
A Storm Surge Watch is in effect for...
* Anclote River Florida to Anna Maria Island Florida, including Tampa Bay
* Alabama/Florida border to Okaloosa/Walton County Line Florida
---
Torrential Rain and Flood Threat. Hurricane Michael will produce heavy rainfall for an extended period of time which will likely result in flash flooding from the Florida Panhandle and Big Bend region into Georgia and eventually South Carolina. While this is looking to be a significant rain event for the area, this will NOT be a Florence repeat as the storm will be moving along rather quickly once it makes landfall. The current forecast calls for 4 to 8 inches possible from Florida's Panhandle/Big Bend region into Georgia and South Carolina. The rest of the Florida peninsula (including the Keys), North Carolina, the Mid Atlantic, and the southern New England coast will see 2 to 4 inches of rain from Michael and its remnants with isolated amounts up to 6 inches.
Map credit: AerisWeather and Praedictix.
---
Potential Swath of Flooding Rains. ECMWF prints out some 4-8" rainfall amountsfrom near Macon to Augusta, Columbia, Charlotte, Raleigh and the Virginia Tidewater as the soggy dregs of "Michael" push northeast. No chance of it stalling for a couple days, like Florence did. Map: WeatherBell.
---
High Flash Flood Potential Today. Two HIGH RISK excessive rainfall areas exist today across portions of Texas, Oklahoma, and Kansas. It is these areas that have the greatest potential of widespread flash flooding today. Across both areas it appears that the setup is favorable for training storms that will bring heavy rain for an extended period of time.
---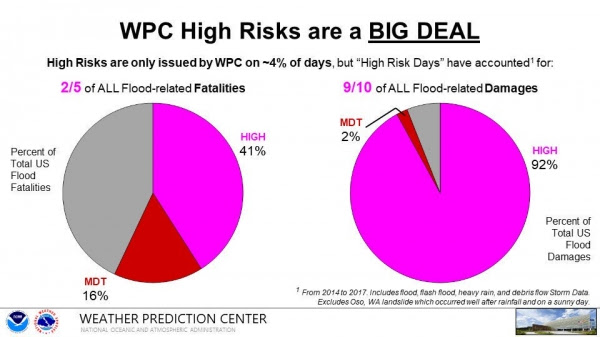 2 Out Of 5 Flood-Related Fatalities Occur On High Risk Days. This is why it is important to take these Excessive Rain High Risk days seriously – 41% of all flood-related fatalities between 2014-2017 have occurred on High Risk days, along with 92% of flood-related damages.
---
Dangerous Flooding in Central U.S. Other than Michael, we continue to track a broad stationary front that is continuing to drive in the torrential rain to the central part of the United States from Texas to Minnesota and Wisconsin. A swath of 2 to 5 inches of rainfall will be possible with isolated amounts reaching or exceeding 6 inches through Wednesday evening. Many of the impacted areas have experienced an unusually wet Summer and early Fall already.
Susie Martin, Meteorologist, Praedictix.
---
---
---
Why Are These Tiny Towns Getting So Much Hurricane Harvey Aid? Citylab takes a look at possible cases of inequality when it comes to recovering from a biblical flood: "...Across Southeast Texas, residents in a handful of small, white, affluent towns stand to reap far more Harvey recovery funds than those just a few miles away, in far more populous but poorer majority-minority cities—resulting in huge racial disparities in the distribution of recovery funds. According to experts, the gap reflects the process by which the state and region divvy up disaster recovery dollars, a formula that puts place before people. "The Southeast Texas [method of distribution] is by far the most problematic of all the methods of distribution," says Amelia Adams, a fair housing and disaster-recovery researcher and community planner for the Texas Low Income Housing Information Service..."
Photo credit: "Port Arthur, Texas, on September 28, 2017, in the wake of the destruction of Hurricane Harvey." David Goldman/AP.
---
As Storms Keep Coming, FEMA Spends Billions in "Cycle" of Damage and Repair. What's that old adage about insanity: doing the same thing over and over again - expecting different results? Here's an excerpt from The New York Times: "...FEMA's public assistance program has provided at least $81 billion in this manner to state, territorial and local governments in response to disasters declared since 1992, according to a New York Times analysis of federal data. But an examination of projects across the country's ever-expanding flood zones reveals that decisions to rebuild in place, often made seemingly in defiance of climate change, have at times left structures just as defenseless against the next storm. Other efforts have required enormously expensive engineering to ensure protection. Yet in some instances, restrictions on construction in flood plains have effectively prohibited FEMA from safeguarding its multimillion-dollar investments in new and repaired public buildings..."
Photo credit: "The Plaquemines Parish Detention Center was rebuilt for $105 million in a Louisiana marsh that had been ravaged by Hurricane Katrina." Credit: Edmund D. Fountain for The New York Times
---
Crop Quality Hurt by Rains. Although this post is focused on Iowa, similar concerns are cropping up over southern Minnesota. Here's an excerpt from Iowa State University Integrated Crop Management: "This year continues the chain of years with unusual harvest conditions driven by rapid weather changes in the latter part of the growing season. In mid August, crops were significantly ahead of schedule in terms of maturity. Heat and moisture in May and June accelerated the pace of development, to the point that signs of maturity were evident by the 15th of August. Rains followed by above average temperatures began over Labor Day weekend, and have been repeated nearly every weekend to date. The forecast for the weekend of October 7 is more of the same – very heavy rains with intermittent warm, sunny and high humidity periods. The 2018 crop is now at a point where the wet conditions are affecting quality.  In some areas, flooded streams inundated mature crops. Please see this ICM News article written on September 27, for guidance in handling these crops. Corn moisture contents vary widely but field mold is showing up. Most field molds grow on corn after blacklayer; rapid drydown normally prevents significant further problems..."
---
Southern Minnesota Unable to Catch a Crop Break This Year. A good summary at the DTN Market Matters blog caught my eye: "...Liz Stahl from the U of MN Regional Extension Office in Worthington, Minnesota, told DTN by email Sept. 28 that, "I do not have a good feel for how big the area was where corn and soybeans were blown down. That is another story as yield impacts could be significant, depending on if the crop is flattened and not able to be harvested, or if it is just lodged and they can still combine it." Stahl noted that the recent rains did not really affect yield in most of southwest Minnesota and much of south central Minnesota, since areas where water ponded had already drowned out earlier in the year. "If wet conditions persist and people can't get into the fields before we have a lot of downed corn or pod shatter in soybeans that is another story. But fortunately we haven't had much rain recently, and hopefully the weather will cooperate so harvest can continue. I did see some corn getting combined this morning, so that is a good sign..."
Photo credit: "Corn crops in southern Minnesota were compromised by bad weather as far back as early summer, as shown on Lyle Wessel's fields in Watonwan County." (Photo courtesy of Lyn Wessel).
---
Everything You Wanted to Know About Tesla's Model 3. Matthew DeBord has a long and detailed review about his experiences; if you're considering a Model 3 you'll want to check out this article at Business Insider: "...But what's really so hypnotically and addictively compelling about the Model 3 is how many great ideas have been crammed into one automobile. This is a car that's absolutely bursting with thought, about the present and the future — and the distant future. Those ideas are overwhelmingly optimistic. Clearly, because it creates no tailpipe emissions, you can buy a Model 3 to feel better about yourself and your life on the environmentally embattled Earth. But you can also feel better about yourself because the Model 3 by its nature makes you feel better about yourself. It is intellectually stimulating, a mood-improvement machine. I perked up every time I slipped behind the wheel, and most days I had to deal with rainy Northeast gloom. Gray skies weren't going to clear up, but it didn't matter, because the Model 3 helped me put on a happy face..."
Photo credit: "Yep, it's really that good." Matthew DeBord/BI.
---
Solar Power is Saving This Farmer Money. Yale Climate Connections has the article: "...Federal grants and tax credits reduced the farm's up-front investment. But Hood says the real advantage was making his electric bill more predictable. Hood: "We want to know what input costs we're going to pay year-in and year-out." The solar installation was recently completed. Hood says it takes up less than two acres of land. And yet it now offsets 100% of the grain storage facility's power. He expects that will save the farm 30 to 35 thousand dollars a year, and make the farm's grain business more profitable. Hood: "I would highly encourage any grower, no matter the size, to explore solar. The financial aspect of it just makes sense."
---
The Big Hack: How China Used a Tiny Chip to Infiltrate U.S. Companies. If you haven't read this story at Bloomberg, do yourself a favor and unpack the implications. Here's an excerpt: "One country in particular has an advantage executing this kind of attack: China, which by some estimates makes 75 percent of the world's mobile phones and 90 percent of its PCs. Still, to actually accomplish a seeding attack would mean developing a deep understanding of a product's design, manipulating components at the factory, and ensuring that the doctored devices made it through the global logistics chain to the desired location—a feat akin to throwing a stick in the Yangtze River upstream from Shanghai and ensuring that it washes ashore in Seattle. "Having a well-done, nation-state-level hardware implant surface would be like witnessing a unicorn jumping over a rainbow," says Joe Grand, a hardware hacker and the founder of Grand Idea Studio Inc. "Hardware is just so far off the radar, it's almost treated like black magic." But that's just what U.S. investigators found: The chips had been inserted during the manufacturing process, two officials say, by operatives from a unit of the People's Liberation Army..."
Illustration credit: Scott Gelber for Bloomberg Businessweek.
---
The New Era of Confrontation. I'm reminded of a saying that gets thrown around a lot in the Israeli/Palestinian conflict: one man's terrorist is another man's freedom fighter. Perspective is everything. Here's a clip from The Cut: "...This tactic of bird-dogging is the only way that we actually have the ability to directly ask the people who make decisions that represent their lives, to directly ask them where they stand." Tracey Corder, CPD's racial justice campaign director, confronted several senators on Monday, including McConnell and Corker. Each hour-long bird-dogging training, she told the Cut, is about learning how to be comfortable approaching a lawmaker, how to ask effective questions, and how to use your personal story in a way that will get you heard. They also role-play with participants to get them more comfortable with demanding answers from a politician who may not want to give them. But even for Corder, who has participated in these trainings all around the country, the experience of confronting someone and wielding your own trauma as a weapon can be "terrifying..."
Photo credit: "Senator Jeff Flake being confronted by Ana Maria Archila and Maria Gallagher." Photo: JIM LO SCALZO/EPA-EFE/REX/Shutterstock.
---
After Budget Cuts, the IRS' Work Against Tax Cheats is Facing "Collapse". Here's an excerpt from an explainer at ProPublica: "...Tax evasion is at the center of the criminal cases against two associates of the president, Paul Manafort and Michael Cohen. The sheer scale of their efforts to avoid paying the government has given rise to a head-scratching question: How were they able to cheat the Internal Revenue Service for so many years? The answer, researchers and former government auditors say, is simple. The IRS pursues fewer cases of tax evasion than it did less than 10 years ago. Provided you're not a close associate of President Donald Trump, there may never be a better time to be a tax cheat. Last year, the IRS's criminal division brought 795 cases in which tax fraud was the primary crime, a decline of almost a quarter since 2010. "That is a startling number," Don Fort, the chief of criminal investigations for the IRS, acknowledged at an NYU tax conference in June..."
---
Is Fasting the Fountain of Youth? Which brings up the "quantity vs. quality of life argument". Kale vs. cheeseburger. Not sure. Here's a clip from CNN.com: "...Research involving animals has revealed that intermittent fasting can reduce the risk of obesity and its related diseases, including non-alcoholic fatty liver disease, diabetes and cancer. According to Mark Mattson, chief of the Laboratory of Neurosciences at the National Institute on Aging, research from the 1980s revealed that the lifespan of rats increases substantially when they fast every other day, compared to rats who have food available at all times. A much more recent study, published this month, found that mice who fasted, whether because they were fed all of their calories only once per day or because their calories were restricted, which naturally caused them to eat all of their limited food at once -- were healthier and lived longer compared to mice who had constant access to food..."
Image credit: Harvard Medical School.
---
A Cautionary Tale About Selfies. Ars Technica takes a look at selfies gone (very) bad: "...A group of health researchers in India have tried to tally the death toll from selfie taking, counting 259 deaths worldwide from October 2011 to November 2017. In doing so, they also caught a blurry glimpse of the leading ways in which people perish during dicey photo ops. The top three were drowning, transportation related (mostly being hit by trains), and falling off of things, such as cliff edges… Risk-taking men accounted for 72.5 percent of the fatalities with gender data. Of those with age data, the mean age was about 23 years old. The majority of deaths were of those aged 10 to 29. India had the most deaths in the survey, with 159. That was followed by 16 in Russia, 14 in the US, and 11 in Pakistan. The rest were scattered in various countries. The top way to go while snapping a self-portrait was drowning..."
---
Instinct Can Beat Analytical Thinking. It turns out there is something to rumors of a "6th sense". Harvard Business Review has an interesting story: "...It is not, however, the only lens through which to view decision-making. Psychologist Gerd Gigerenzer has spent his career focusing on the ways in which we get things right, or could at least learn to. In Gigerenzer's view, using heuristics, rules of thumb, and other shortcuts often leads to better decisions than the models of "rational" decision-making developed by mathematicians and statisticians. At times this belief has led the managing director of the Max Planck Institute for Human Development in Berlin into pretty fierce debates with his intellectual opponents. It has also led to a growing body of fascinating research, and a growing library of books for lay readers, the latest of which, Risk Savvy: How to Make Good Decisions, is just out..."
---
Kelly, the Sassy Dolphin. Do animals have personalities? After reading this story at Hakai Magazine, I'm beginning to think the answer is a resounding yes: "...It turns out that this is a heated debate in animal psychology: do animals even have personality to begin with? For centuries, scientists refused to use the term to describe animal behaviors. The word itself indicates the reason: you can't spell personality without the word person. Instead, researchers talked about temperament and behavioral syndromes and reward systems. But in the past 15 years, more and more scientists have started entertaining the idea that animals might indeed have their own distinct and stable personalities. "It makes evolutionary sense," says Lauren Highfill, who's written several papers on animal personalities. "You wouldn't really want to have all dolphins in a social group behave in exactly the same way." You need a bold one, for example, who's willing to go check things out and give the all-clear. But a group full of fearless types, swimming right into shark-infested waters without a care in the world, would be an evolutionary disadvantage. "Just like with humans, it's nice that we have different personalities," Highfill says..."
Photo credit: "Kelly—a dolphin with a big "personality"—has been in show business for about four decades, most recently at the Atlantis resort in the Bahamas." Photo courtesy of Atlantis.
---
Meteorologist Brings Special Guest to Work to Promote "Baby Wearing". Forgive my ignorance - I had no idea this was a thing? Kudos to my friend and Praedictix manager and meteorologist Susie Martin for spreading the word! Here's an excerpt from a post at ScaryMommy: "It's International Baby-Wearing Week, a week-long advocacy event that promotes awareness of babywearing through local and online celebrations, media, and education. One awesome mom decided to participate in an amazing way — by wearing her baby to work. Even more awesome? Her job is slightly…unconventional, and her baby is completely over it in a video that's now gone viral...According to babywearingweek.org, medical professionals agree that infants thrive through touch; and "wearing" your baby is a great way to meet this need. The benefits of baby-wearing — to both parents and babies — are many. Babies who are "worn" regularly tend to cry less, are less nervous anxious and allows baby and parent to become attuned to each other's movements, which results in increased reciprocal confidence between both..."
---
54 F. maximum temperature yesterday in the Twin Cities.
62 F. average high on October 8.
72 F. high on October 8, 2017.
October 9, 1970: Montevideo sets a record low high temperature of 35.
October 9, 1938: Forest fires on the 9th and 10th claim 21 lives in northern Minnesota.
---
TUESDAY: Flash Flood Watch. Rain, heavy at times. Winds: NE 7-12. High: 54
TUESDAY NIGHT: Heavy rain. Low: 46
WEDNESDAY: Raw with more rain. Winds: NE 10-20. High: 49
THURSDAY: Mostly cloudy, hints of November. Winds: NW 10-15. Wake-up: 36. High: 43
FRIDAY: Frosty start. Rare sunshine sighting? Winds: W 7-12. Wake-up: 31. High: 48
SATURDAY: Clouds increase during the day. Winds: SW 5-10. Wake-up: 41. High: 55
SUNDAY: Sun north, cold rain possible south. Winds: N 10-15. Wake-up: 41. High: 45
MONDAY: Mostly cloudy, still chilly. Winds: W 7-12. Wake-up: 34. High 47
---
Climate Stories...
Major Climate Report Describes a Strong Risk of Crisis as Early as 2014. The New York Times reports: "A landmark report from the United Nations' scientific panel on climate change paints a far more dire picture of the immediate consequences of climate change than previously thought and says that avoiding the damage requires transforming the world economy at a speed and scale that has "no documented historic precedent." The report, issued on Monday by the Intergovernmental Panel on Climate Change, a group of scientists convened by the United Nations to guide world leaders, describes a world of worsening food shortages and wildfires, and a mass die-off of coral reefs as soon as 2040 — a period well within the lifetime of much of the global population. The report "is quite a shock, and quite concerning," said Bill Hare, an author of previous I.P.C.C. reports and a physicist with Climate Analytics, a nonprofit organization..."
A link to the latest IPCC report is here.
---
The World Has Just Over a Decade to Get Climate Change Under Control, UN Scientists Say. More perspective on the latest IPCC report from The Washington Post: "...With global emissions showing few signs of slowing and the United States — the world's second-largest emitter of carbon dioxide — rolling back a suite of Obama-era climate measures, the prospects for meeting the most ambitious goals of the 2015 Paris agreement look increasingly slim. To avoid racing past warming of 1.5 degrees Celsius (2.7 degrees Fahrenheit) over preindustrial levels would require a "rapid and far-reaching" transformation of human civilization at a magnitude that has never happened before, the group found. "There is no documented historic precedent" for the sweeping change to energy, transportation and other systems required to reach 1.5 degrees Celsius, the U.N. Intergovernmental Panel on Climate Change (IPCC) wrote in a report requested as part of the 2015 Paris climate agreement..."
Photo credit: "The Eiffel Tower is lit up with the slogan "Action Now" in December 2015, as countries signed the landmark Paris climate accord." (Michel Euler/AP).
---
Final Call to Save the World from "Climate Catastrophe". The BBC boils this down to laymans terms: "...Scientists might want to write in capital letters, 'ACT NOW, IDIOTS,' but they need to say that with facts and numbers," said Kaisa Kosonen, of Greenpeace, who was an observer at the negotiations. "And they have." The researchers have used these facts and numbers to paint a picture of the world with a dangerous fever, caused by humans. We used to think if we could keep warming below two degrees this century, then the changes we would experience would be manageable. Not any more. This new study says that going past 1.5C is dicing with the planet's liveability. And the 1.5C temperature "guard rail" could be exceeded in just 12 years, in 2030..."
Image credit: NASA ISS.
---
Covering This "Like It's The Only Story That Matters". The Washington Post weighs in with an Op-Ed; here's a clip: "...But it will need sustained emphasis, by the media and the public, all over the world, if we stand a chance of maintaining a livable planet. "A bracing reminder that every issue we devote attention to other than climate change is really a secondary issue," wrote Philip Gourevitch, author and New Yorker staff writer, on Twitter about the report. And The Post quoted Erik Solheim, executive director of the U.N. Environment Program: "It's like a deafening, piercing smoke alarm going off in the kitchen. We have to put out the fire." That will be very much against the grain for the distraction-prone media and the news-weary public..."
---
Climate Change Will Get Worse. These Investors Are Betting On It. Bloomberg Businessweek has the story: "A top investment strategist for JPMorgan Asset Management sent a note to clients earlier this year with a dire forecast. Despite global efforts to stop climate change, sea levels are likely to rise dramatically, threatening the 40 percent of Americans who live along the coast. On the other hand, there will probably be some investment opportunities in seawalls. "A storm surge barrier system protecting New York City and parts of New Jersey could cost $2.7 million per meter," Michael Cembalest, the asset manager's chairman of market and investment strategy, wrote in his annual "Eye on the Market" energy newsletter in April. He added that governments would probably struggle to pay that cost, perhaps turning to either bonds or outright privatization..."
---
Dealing with Collapse: The "Seneca Effect". Here's an excerpt of a timely post at Cassandra's Legacy: "...Using system dynamics, network science, agent-based modeling, and more, this new science has allowed us to penetrate a world that in a certain sense was familiar to us: the world of real things that are born, grow, and sometimes collapse in a ruinous way. The basic ideas in the behavior of complex systems are always the same, especially when dealing with collapses: complex systems are complex because they are dominated by the mechanism we call "feedback." Because of feedback effects, a large structure may collapse when just one of the elements that compose them fails. That may lead to the failure of the elements that surround it. These, in turn, cause the failure of other elements of the system, and so it goes. The result is what we call an "avalanche" and, as Seneca said, "ruin is rapid"..."
---
Wind Farms May Actually Warm the U.S., Controversial Study Finds. By stirring up the air in the vicinity of wind turbines are we keeping some surface temperatures milder? Here's a clip from Earther: "Climate change? Bad. Wind farms to fight climate change? Maybe...also bad? That's the weirdly veiled and instantly controversial conclusion of two new papers out on Thursday in Joule and Environmental Research Letters. The twin papers look at how wind power could create localized warming and how much energy wind farms produce. The results show that wind farms generate comparatively low power for the area they take up, and that installing a bunch of wind farms could heat up the surrounding land. The papers don't say wind energy is therefore bad, but it's hard to not feel that hanging over the proceedings or becoming a takeaway for bad faith actors looking to kneecap renewable power..."
File image: Greentech Media.
---
At Season of Creation's End, Know This: Climate Change is Here. Here's the intro of an Op-Ed at National Catholic Reporter: "As the liturgical Season of Creation for 2018 draws to a close, the serious need for prayer, study and widespread action in response to the destructive threats of climate change has never before seemed so urgent. Through all that I have heard through the years about the dangers of climate change and ecological degradation, I have never quite been able to imagine a possible end to human life or destruction of life as we know it on the planet. Until now. In the aftermath of Hurricane Florence and Typhoon Mangkhut, the aerial views of whole cities flooded brought back images of whole Mayan and Incan cities overgrown now by jungle, human life and developed civilizations completely and mysteriously gone. How many more "once-in-a-century" or "once-in-a-thousand-years" storm or fire disasters (that are now striking practically every year or every few years) will it take before people will no longer have the will or ability to rebuild?..."
Photo credit: "Water remains on a window sill in a middle school classroom Sept. 28 at St. Mary School in Wilmington, North Carolina, the first Catholic school in the state. The school sustained significant damage from Hurricane Florence." (CNS/Bob Roller)
---
Climate Change Apathy, Not Denial, Is the Biggest Threat to Our Planet. The Guardian has an interesting Op-Ed focusing on changing behavior to influence outcomes; here's a clip: "...Cutting emissions further to stop dangerous warming will depend on people changing how they live: flying less and eating less meat and dairy, for example. There's no way this can be done as quietly as what's been achieved so far. Persuading people to cut down on things they enjoy for the sake of the climate might seem impossible. In most European countries, about three-quarters of the public say they're worried about climate change, yet less than a third would accept higher taxes on fossil fuels to cut emissions. But this climate apathy can be overcome if it's tackled in the right way. The first step is to understand the psychology behind apathy. Climate change is exactly the kind of threat our minds aren't equipped to worry about. It seems distant, happening mostly in the future and to other people. The widespread tendency to think "I'll be OK", known as optimism bias, makes it easier for people to assume such distant problems won't affect them..."
Photo credit: "Cutting emissions will depend on people changing how they live: flying less, for example." Photograph: Graeme Robertson for the Guardian.