A Series of Clippers Likely into Christmas

If anyone asks (doubtful) College Station, Texas - home of Texas A&M - has picked up more snow so far this winter season (5 inches) than the Twin Cities, where 3.1 inches has fallen. Much of the southern and eastern USA is getting a wintry wake-up call: enough snow to make a snowman in New Orleans; an icy coating of frozen misery for Atlanta. A cool half foot of slush will pile up today from Richmond to Boston.
Meanwhile, hurricane-force Santa Ana winds ease up this weekend, giving California firefighters a chance to gain the upper hand. More than 150,000 acres have been scorched, with 200,000 people forced to evacuate their homes. Surreal. Remind me not to whine about a few flakes.
No big storms likely here between now and Christmas, just a rag-tag collection of Alberta Clippers over the next 2 weeks. We may still wind up with a couple inches of (dirty) snow on the ground by December 25. No prolonged polar air, in fact models hint at a string of days above freezing late next week.
America is plagued by fire and ice but Minnesota weather looks pretty tame the next 2 weeks. 
---
Graphic credit above: USA TODAY.
---
Minnesota Snow Cover. It's pretty brown out there; a few inches from the Red River Valley into the Minnesota Arrowhead. Details from the Minnesota DNR: "As of December 7, there is scant snowcover in Minnesota. The only exception is in far north central and northwest Minnesota with four to six inches of snow cover with a bit more just south of Lake of the Woods. The Twin Ciites has a snow depth of two inches. Most of the snowcover in the state was associated with a storm that hit the state on December 4-5."
---
---
---
84 Hour Snowfall Potential. Parts of the east coast will get a big serving of January this weekend; as much as 5-10" from near Richmond, Virginia to Dover, Delaware and Atlantic City, New Jersey. Plowable snows are expected from D.C. and Philly to New York City. NOAA NAM map credits: Tropicaltidbits.com.
---
---
---
---
Trending Milder. Temperatures much of next week may be running 5-10F warmer than average, as steering winds aloft blow milder air inland from the Pacific. ECMWF guidance hints at 40F next Friday. Twin Cities data: WeatherBell.
---
Zonal Flow for Christmas? The pattern doesn't look ripe for (major) storms a few days before Christmas; jet stream winds forecast to howl from west to east, with the coldest air north of the Canadian border. The GFS forecast above would imply temperatures near average for much of the USA, except colder than normal for New England.
---
---
Praedictix Briefing: Issued Friday, December 8th, 2017
Multiple major wildfires continue across parts of southern California

Friday

morning, with over 140,000 acres consumed since Monday.
Emergency proclamations have been declared by Governor Jerry Brown for Santa Barbara and San Diego counties, freeing up state resources. At least 16 school districts have been shut down due to the fires.
Breaking down the major wildfires in the region:

The Thomas Fire in Ventura County has burned 115,000 acres and continues to only be 5% contained. This fire has destroyed over 400 structures in Ventura according to the Los Angeles Times. Mandatory evacuations remain in place today - here is the evacuation map. Both Ventura County and Santa Barbara County are keeping their local government pages updated with evacuation orders, road closures, and other relevant information like evacuation shelters. 
The Creek Fire in Los Angeles County near Sylmar is the second-largest fire at the moment in southern California, burning 15,323 acres since Tuesday. It is 20% contained. Many residents have been allowed to return, however some mandatory evacuations remain in place.
The Rye Fire in Los Angeles County has burned 7,000 acres and is 25% contained. Firefighters are working on containment lines, and evacuations have been lifted at the moment.
Progress continues to be made on the Skirball Fire in Los Angeles County near Bel-Air, Skirball Center and Getty Center, as the fire is now 30% contained and still has only consumed 475 acres. However, more than 700 homes in a 3.2 square mile area continue to be under evacuation orders.  You can find out more information from the Los Angeles Fire Department. 
The Lilac Fire in San Diego County sparked

Thursday

, quickly consuming 4,100 acres. Mandatory evacutions are in place as the fire continues to grow at a fast rate. At least 20 structures have burned, with 5,000 more threatened.
The Liberty Fire in Riverside County also erupted

Thursday

, having burned 300 acres through yesterday evening. The fire is currently 10% contained, with some evacuations in place. The city of Murrieta has the latest on the fire.  
Critical fire danger continues into the weekend across southern California. This remains a rapidly changing situation and additional evacuations are likely as the fires continue to spread.
We're also tracking a system that is bringing a swath of snow from southern Texas to the Northeast over the next couple days. Already parts of southern Texas have picked up 2-4" of snow through the early morning hours.
---
Fires North Of Los Angeles. Four active wildfires continue to the north and west of Los Angeles, with the largest being the Thomas Fire, consuming 115,000 acres since Monday and only at 5% containment. Three other fires – the Rye Fire (7,000 acres), Creek Fire (15,323 acres), and Skirball Fire (475 acres) continue to burn as well. A detailed, interactive map can be found HERE. We'll continue to see strong Santa Ana winds and low humidity today, allowing these wildfires to rapidly spread.
---
Fires South Of Los Angeles. Two wildfires erupted southeast of Los Angeles Thursday – the Lilac and Liberty Fires. Both fires have quickly spread, the Lilac Fire seeing the most explosive growth since yesterday. A detailed, interactive map can be found HERE.
---
Strong Wind Gusts Continue. Numerous wind gusts over 50 mph (which is what is shown above on the map) have been reported across southern California over the past 24 hours, helping to quickly spread any new and ongoing fires across the region.
---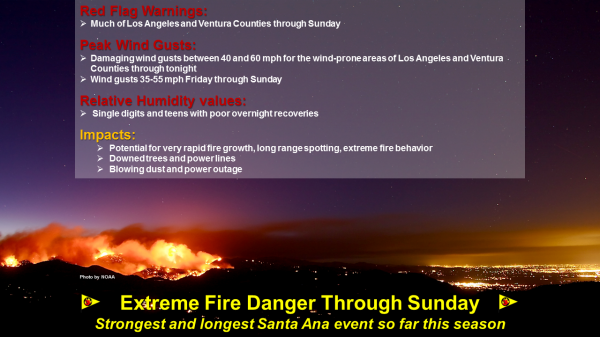 Update From The Los Angeles National Weather Service Office. The strongest and longest duration Santa Ana wind event we have seen so far this season will continue through at least Sunday. Damaging wind gusts of 40 to 60 mph will continue through tonight across wind prone areas of Los Angeles and Ventura counties, with slightly weaker winds Friday into Sunday. These Santa Ana winds combined with humidities in the teens and single digits, along with very dry fuels, will continue to bring an extended period of critical fire weather conditions to much of Los Angeles and Ventura Counties. If fire ignitions occur, there is a high likelihood of very rapid fire spread, long range spotting, and extreme fire behavior. Other potential impacts today include downed trees and power lines, blowing dust and debris, as well as power outages.
---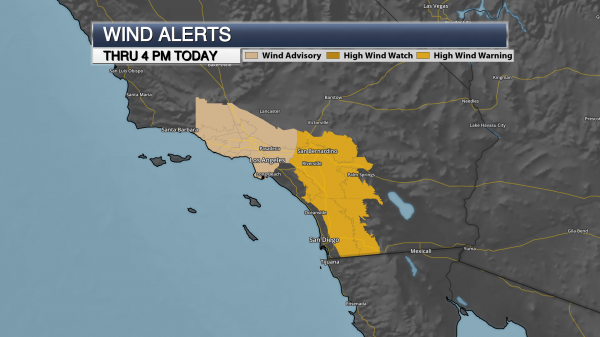 Strong Winds Continue Today. High Wind Warnings and Wind Advisories continue across southern California through 4 PM PST today. The good news is that winds will slowly be on the decrease as we head into Saturday, but the winds could become erratic, spreading fires in different directions. Stronger winds will be likely again Sunday across the region.
---
Red Flag Warnings Continue. Due to fire weather concerns into the weekend, Red Flag Warnings continue in many areas through Sunday evening. Here's a portion of the warning issued from the Los Angeles NWS yesterday (Thursday) afternoon: "An extended moderate to strong Santa Ana wind event will continue over much of Los Angeles and Ventura Counties through Sunday. The winds peak today (Thursday, gusts of 40 to 60 mph) and will gradually decrease through Saturday (gusts of 25 to 35 mph), then increase some on Sunday (gusts of 30 to 45 mph) before decreasing significantly Monday and Tuesday (gusts of 15 to 30 mph). Meanwhile, minimum humidities of 5 to 10 percent will be common through at least the middle of next week, with widespread poor overnight recoveries mostly staying under 30 percent. As a result, critical Red Flag conditions will persist over most of Los Angeles and Ventura Counties through Sunday, with at least elevated fire concerns through next week and a chance for locally critical. East winds will also affect the Santa Barbara Mountains and foothills through early Friday which will result in critical conditions."
---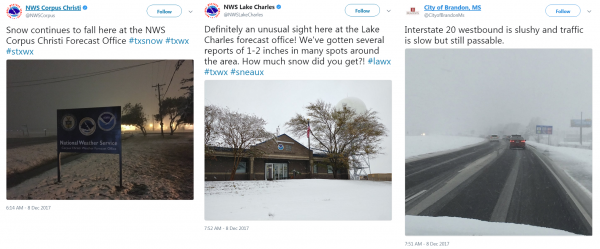 Snow Falling Across The South This Morning. Many people across portions of the southern United States are waking up to snow (especially on grassy surfaces) and some slick road conditions. Jackson, MS has measured 2.5" so far – the most at the airport since February of 2010.
---
Snow Totals So Far. The top total reported by local National Weather Service offices so far is 4" in Dime Box, TX, and there have been reports of up to 4" reported in parts of Corpus Christi, TX. This is leading to slick roads in spots. Check out the latest traffic information from local DOT offices:
---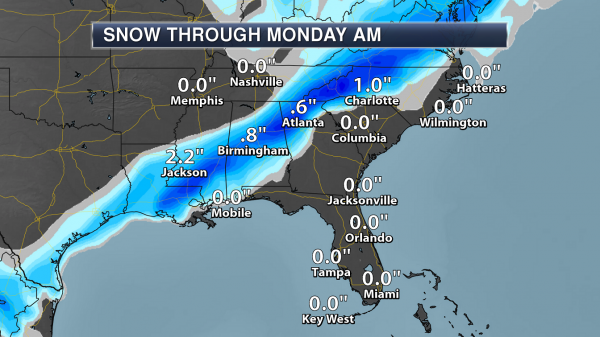 Snow Expected – Southeast Region. A swath of at least a half an inch of snow is expected throughout the day from southern Texas to the Mid-Atlantic, with the highest amounts (potentially up to 3") expected from southern Mississippi across central Alabama, northern Georgia and into western North Carolina. Snow accumulations are mainly expected on grassy and elevated surfaces; however, some slick roads are possible.
---
NWS Snowfall Amounts Expected For:
New Orleans/Baton Rouge:
---
Jackson, MS:
---
Birmingham: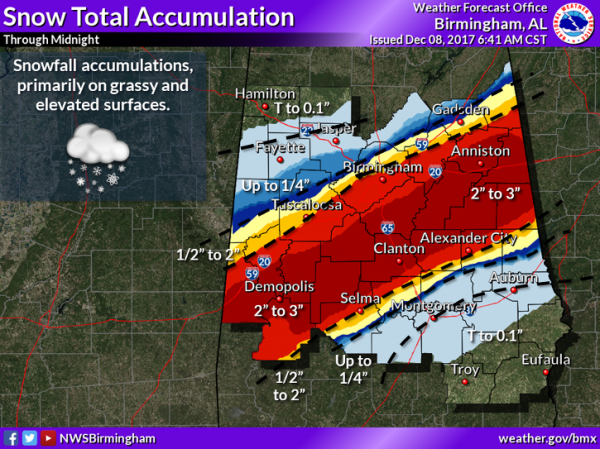 ---
Atlanta: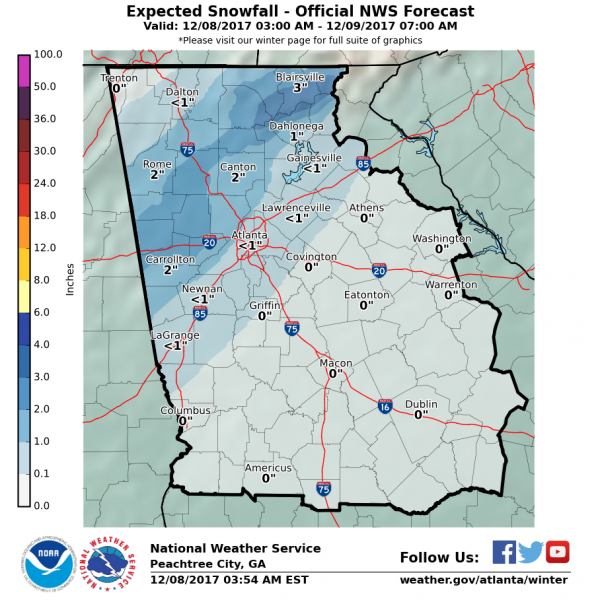 ---
Charlotte, NC/Greenville-Spartanburg, SC:
---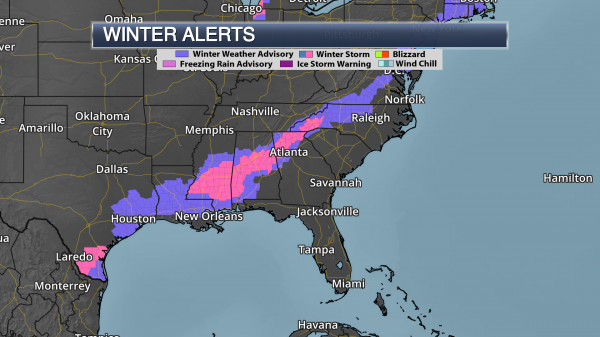 Winter Alerts Across The South. Due to the expected amount of snow across the region, Winter Weather Advisories and Winter Storm Warnings have been issued from southern Texas into the Mid-Atlantic. Generally, 2-3" of snow can be expected in Winter Storm Warning areas, with snowfall amounts up to 2" possible in advisory areas. Map credit: Praedictix and AerisWeather.
---
Snow Expected – Northeast Region. The system responsible for the snow across the south will continue into the Northeast as we head into tonight and Saturday, bringing the potential of heavy snow with it as well. Areas from Washington D.C. to Boston could see 2-6" of snow through the weekend, with some of the heaviest totals expected from southern New Jersey across central Long Island to just south of Boston.
---
NWS Snowfall Amounts Expected For
Washington D.C.: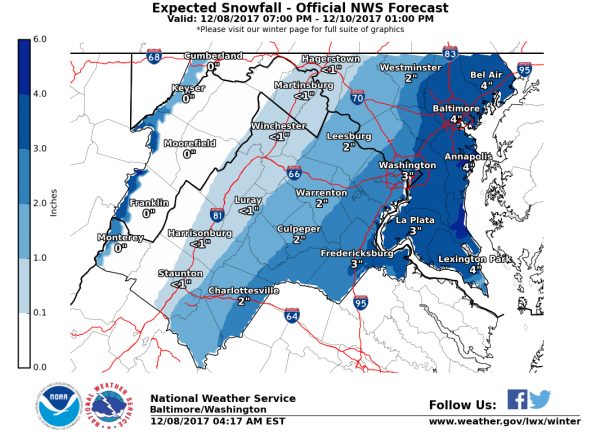 ---
Philadelphia:
---
New York City: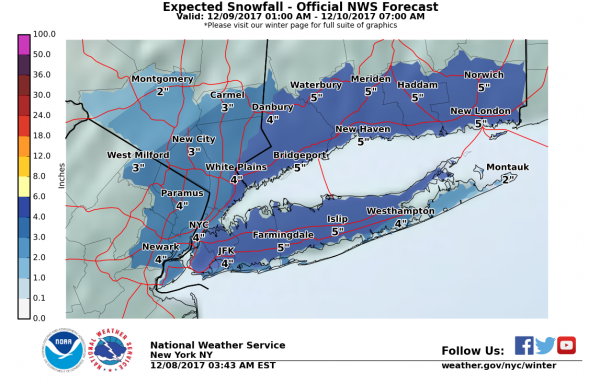 ---
Boston: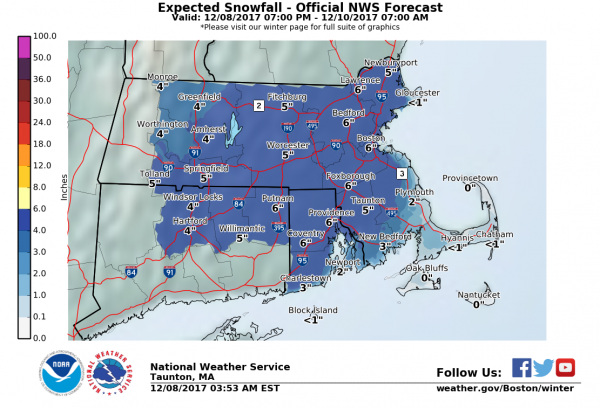 ---
Winter Weather Advisories In Place. Winter Weather Advisories continue northward from the Southeast to Massachusetts, including the I-95 corridor from D.C. to Boston. Winter Storm Watches are also in effect for the potential of 3-6" of snow across parts of New Jersey. Slippery roads are expected with this snow event as we head through the weekend.
Meteorologist D.J. Kayser, Praedictix
---
CALIFORNIA FIRES: More perspective from Climate Nexus Hot News: "Why are ferocious wildfires plaguing southern California? (The Guardian), Southern California's fire situation is worsening as 'epic' winds rage (Washington Post $), in a warming California, a future of more fire (New York Times $), Rupert Murdoch's $28.8 million Bel Air vineyard damaged by California wildfire (LA Times $), what's making California's wildfires so dangerous? (Time), we can't talk about the Los Angeles fires without talking about climate change (Mother Jones), California is running out of inmates to fight its fires (The Atlantic), scenes from Southern California's wildfire siege." (Mashable)
---
Thomas Fire Now Ranks Among California's 20 Worst Fires
California wildfire rankings parallel growing influence of climate change
Data courtesy of Climate Signals: With an updated official tally posted this morning reporting 132,000 acres burned, the Thomas Fire in southern California now ranks among California's top 20 largest wildfires on record in a California Department of Fire database that extends back through the 1930s.
The Wine Country Fires earlier this fall burned 245,000 acres. If grouped and viewed as one complex of wildfires (as CalFire occasionally does), that incident would rank as the fourth largest California wildfire incident on record.
Fourteen of California's largest 20 wildfires have burned since the year 2000, reflecting in part the growing influence of global warming. Temperatures are rising in California, which just endured its worst heat wave on record in early September. Rising temperatures are drying out the landscape, amplifying drought conditions, and lengthening the wildfire season in California.
The cost of fighting wildfires in California is rising in tandem with the frequency of very large fires. At $260 million, the 2016 Soberanes wildfire in California set the record as the costliest firefight in the U.S. history.
You are welcome to use and publish these resources in your reporting:
---
One of the Coldest Winter Olympics Predicted for South Korea. Reuters explains: "The Pyeongchang Games in February may feel like the coldest Olympics in at least three decades because the main stadium lacks a roof, leaving an estimated 35,000 spectators, including world leaders, exposed to extreme cold for the opening ceremony.  The organizing committee's concerns are contained in an internal document, seen by Reuters, which expects biting winds to make conditions inside the open-air stadium at the start of the Games seem like minus 14 degrees Celsius. That "feels-like" temperature is lower than the minus 11 degrees recorded at the 1994 Lillehammer Games in Norway, whose stadium also lacked a roof and is so far the coldest Olympics for which such data is available, the internal document shows..."
Image credit here.
---
The World Produces More Than 3.5 Million Tons of Waste a Day - And That Figure is Growing. The Washington Post has some staggering statistics: "...The world generates at least 3.5 million tons of solid waste a day, 10 times the amount a century ago, according to World Bank researchers. If nothing is done, that figure will grow to 11 million tons by the end of the century, the researchers estimate. On average, Americans throw away their own body weight in trash every month...On average, a person in the United States or Western Europe uses about 220 pounds of plastic per year, according to the Worldwatch Institute, a research organization. The packaging industry, growing thanks to the rise of online stores and other factors, poses a huge challenge. About one-third of the food produced in the world gets thrown away or otherwise wasted, according to U.N. data. The Dutch toss out the equivalent of over 400,000 loaves of bread per day, on average. The United States wastes by far the most food, due in part to fast-food restaurants at which employees and consumers dump unsold items or leftovers..."
Photo credit: "Scavengers dig through the trash at Jakarta's Bantar Gebang, one of the largest landfills in the world. Residents of the Indonesian capital's growing dump simply know it as "the Mountain." It receives over 6,000 tons of trash per day."
---
Robots Aren't Killing Jobs Fast Enough - And We Should Be Worried. A story at Quartz caught my eye: "...Job disruption in late 19th and 20th centuries was mostly attributable to the introduction of agricultural technologies that reduced the need for farm workers. The number of household workers also declined as low-cost appliances like washing machines and vacuum cleaners replaced domestic help. Jobs in manufacturing and the service sector replaced these jobs. Today, the composition of jobs is relatively stagnant. Atkinson and Wu say this is because true innovation is at an ebb. New digital technologies are impressive, the authors say, but not nearly as revolutionary as the changes that arose from widely available electricity and steel in the 1890s, and the electromechanical technologies that emerged in the 1950s and 1960s that greatly increased manufacturing efficiency..."
---
How Will Humanity React to Alien Life? Psychologists Have Some Predictions. Here's a clip from a story at The Washington Post: "...Given these results, Pennycook said he would be "pretty confident" that, if NASA announced the discovery of alien microbes tomorrow, Americans would react positively. "Results of this new study mirror a survey conducted by theologian Ted Peters, who explored the impact of discovering extraterrestrial life on a person's religious beliefs," Vakoch said. Most people responded that their own religious beliefs could withstand the announcement — but other believers would struggle. "It looks like we don't need to be worried about others not being able to handle an announcement of extraterrestrial life," he said. "They'll do just fine." Planetary scientist Lindy Elkins-Tanton, who is the director of Arizona State University's initiative but was not directly involved with this study, said that "getting ready for what we might find" in space is the first step. That Americans respond positively, she said, is "quite hopeful..."
---
10 Timeframes. Talk about perspective; a story from Paul Ford at Contents Magazine is definitely worth your time: "...You know that decades are a recent invention? Decades are hardly a century old. Not the concept of having ten years of course, but the concept of the decade as a sort of major cultural unit, like when I say "the 90s" and you think of flannel shirts and grunge music and great R&B music, or when I say "the 80s" and you think of people with big hair using floppy disks. You need a lot of change for a decade to be a meaningful demarcation. Back in the 1600s they didn't really talk about centuries as much either. It was all about the life of the king, the reign (of King James and so forth), or the era. And then they invent clocks and clocks get cheaper and cheaper. Clocks are an amazing experience, right? Two hands, and a bell. This sense of relentless forward motion and they go in only one direction. Imagine doing user testing on clocks..."
---
---
29 F. maximum temperature in the Twin Cities on Friday.
29 F. average high on December 8.
24 F. high on December 8, 2016.
December 9, 2003: Significant snow with amounts between 6 to 10 inches falls from southwest Minnesota across the Minneapolis-St. Paul area and into west central Wisconsin. Winds across the area were 25 to 30 mph, with blowing and drifting snow in open areas. Although some parts of far south central Minnesota only picked up 4 to 6 inches, winds in this area were a little stronger, creating near-blizzard conditions. The greatest snowfall totals occurred in the Twin Cities metro, where Chaska, Chanhassen and New Hope all picked up 11 inches. Ten inches were recorded at Lamberton, Springfield and Gaylord. There was a sharp cutoff on the northern edge of the snow; Lamberton in southernmost Redwood County tallied 10 inches, while 25 miles to the north at Belview in far northern Redwood County, only 2 inches was recorded. Rockford, straddling the Hennepin/Wright County line, received 6 inches, whereas Buffalo, 10 miles to the northwest in central Wright County, only received 1 inch.
December 9, 1995: The passage of a strong low pressure system on the 8th leads to wind chill readings of 50 to 75 below as strong northwest winds of 25 to 40 mph ushered significantly colder air across the region. The dangerously cold wind chill readings persisted through the morning of the 9th.
December 9, 1961: A snowstorm hits central Minnesota. Mora gets about a foot.
---
TODAY: Partly sunny, brisk. Winds: NW 10-15. High: 23
SATURDAY NIGHT: Partly cloudy, still chilly. Low: 20

SUNDAY: Intervals of sun, not as numb. Winds: NW 8-13.  High: 38

MONDAY: Next clipper, coating possible. Winds: NW 10-15. Wake-up: 20. High: 32

TUESDAY: Chilled sunlight, better travel. Winds: NW 5-10. Wake-up: 16. High: 23

WEDNESDAY: Mostly cloudy, few flakes. Winds: NW 10-15. Wake-up: 15. High: 27

THURSDAY: Peeks of sun, trending milder. Winds: W 7-12. Wake-up: 22. High: 33

FRIDAY: Mostly cloudy, thaw likely. Winds: W 7-12. Wake-up: 24. High: 37
---
Climate Stories....
Humanity's Fight Against Climate Change is Failing. One Technology Can Change That. Here's an excerpt from Quartz: "...Critics laughed at those pursuing a moonshot in "direct-air capture" only a decade ago. Now Climeworks is one of three startups—along with Carbon Engineering in Canada and Global Thermostat in the US—to have shown the technology is feasible. The Hellisheidi carbon-sucking machine is the second Climeworks has installed in 2017. If it continues to find the money, the startup hopes its installations will capture as much as 1% of annual global emissions by 2025, sequestering about 400 million metric tons of carbon dioxide per year. For decades, certain scientists have hoped carbon-capture technologies, deployed at large scales, could save humanity from catastrophic climate change by providing a bridge to a future in which we'll have enough capacity to create, store, and supply all the world's energy from only renewable sources. Now that seems imminent..."
Image credit: "Suck it up." (Tsjisse Talsma for Quartz).
---
In A Way, Oceans Have Absorbed All the Carbon Dioxide Produced From Burning Oil Since 1870. Quartz explains: "...If I hadn't looked at that chart, I would never have discovered that, in a way, nearly all the emissions from oil burned since 1870 have ended up in the oceans. That's remarkable for two reasons. We've burned a lot of oil, and thus produced a lot of carbon dioxide. Without the oceans, that carbon dioxide would have otherwise remained in our atmosphere and spent all those years absorbing sun's heat. On the other hand, it's still having a large negative impact on the environment: the oceans are acidifying and corals dying..."
Image credit: "The sacrifice." (Reuters/David Gray).
---
Does Hope Inspire More Action on Climate Change Than Fear? We Don't Know. Dave Roberts reports at Vox: "...Most important, when attempting to trace the links between emotional experiences and action, is the element of time. What matters in an overall assessment of someone's disposition toward climate change is not their raw feelings in the immediate aftermath of an emotionally significant experience (living through a hurricane, say, or reading a scary magazine story), but how those responses are reinforced and strengthened (or not) over the course of the following days and years. Any affective response will fade without reinforcement. It is not cleverness that matters most in communication, but repetition. Emotional experiences and messages need to be repeated over and over again before they stick. "The immediate responses and longer-term consequences of an emotionally evocative event," the authors write, "may or may not be aligned, and may even differ dramatically..."