Only 26.8" Of Snow So Far This Winter
It's been a wimpy winter so far here in the Twin Cities, with only 26.8" of snow falling. That's a good ten inches below average for this time of year! However, there are winters that have had less snow through this date. The least was back in 1890-91, when only 5.1" of snow had fallen through February 12th. More recently, only 23.7" had fallen through this date in 2014-15. Meanwhile, of course we can get the heavy snows as well - 1981-82 had received 76.9" through February 12th, on the way to 95" for the winter (and the second snowiest winter in Twin Cities history).
Meanwhile, through Saturday, Boston, MA had received 30.9" of snow so far this winter, over half of which has fallen this month (and a third of which fell on one single date: the 9th).
_______________________________________________
Feels Like Spring Fever – 50s By The End Of The Week
By D.J. Kayser, filling in for Paul Douglas
Today feels like the start of spring here across Minnesota. That's what is supposed to happen when pitchers and catchers report to spring training down in Florida, right?
Over the past few days I've felt that rush to get outside and enjoy the nice weather across the region. That drip… drip of melting snow and bursts of sunshine are inviting that spring fever feeling into my body. However, at the same time my mind is reserved - hoping that it isn't just a tease and that a snowstorm isn't right around the corner, waiting to deliver a foot of snow and plunge us back below zero.
Well, for at least the next week it isn't looking that way. You will have plenty of opportunities to get out and enjoy the March-like weather across the region, as highs hover in the 30s and 40s through Thursday with no real storms looming on the horizon. Highs will then warm into the 50s in the Twin Cities as we head into Presidents' Day weekend.
My advice: head out and enjoy the warm weather while you can!
_______________________________________________
Extended Forecast for Minneapolis
MONDAY: Another sunny, warm day. High 47. Low 28. Chance of precipitation 0%. Winds SW 5-10 mph.
TUESDAY: Dry cold front passes through early AM. Partly cloudy. High 38. Low 20. Chance of precipitation 5%. Winds NW 10-15 mph.
WEDNESDAY: Increasing clouds. Highs near average. High 31. Low 20. Chance of precipitation 0%. Winds NW 5-10 mph.
THURSDAY: Quickly warming back up. Partly cloudy. High 41. Low 29. Chance of precipitation 0%. Winds SE 3-5 mph.
FRIDAY: First 50 since November 28th. Mainly sunny. High 53. Low 33. Chance of precipitation 0%. Winds S 3-5 mph.
SATURDAY: Sunny. Highs 20+ degrees above average. High 51. Low 33. Chance of precipitation 0%. Winds W 3-5 mph.
SUNDAY: A little more wind, but still warm. Partly cloudy. High 50. Low 36. Chance of precipitation 0%. Winds SE 5-10 mph.
_______________________________________________
This Day in Weather History
February 13th
1872:
A snowstorm buries Sibley County with 12 foot drifts. Many people perished in the storm.
1866:
What may be Minnesota's 'Greatest Blizzard.' It lasted for three days and buried barns in drifts. Luckily, it began at night when many people were at home.
1838:
In the days before Tower…at 2:00 am the mercury thermometer at Ft. Snelling freezes at 40 below. The actual temperature is unknown.
_______________________________________________
Average Temperatures & Precipitation for Minneapolis
February 13th
Average High: 28F (Record: 51F set in 1890)
Average Low: 12F (Record: -23F set in 1905)
Average Precipitation: 0.02" (Record: 0.60" set in 1915)
Average Snow: 0.2" (Record: 5.2" in 1909)
________________________________________________
Sunrise/Sunset Times for Minneapolis
February 13th
Sunrise: 7:16 AM
Sunset: 5:39 PM
*Length Of Day: 10 hours, 22 minutes and 16 seconds
*Daylight Lost Since Yesterday: ~2 minutes and 53 seconds

*Next Sunrise At/Before 7 AM: February 24th (6:59 AM)

*Next Sunset At/After 6 PM: February 28th (5:00 PM)
________________________________________________
Minnesota Weather Outlook
It'll be another fantastic day in Minnesota on Monday, with highs climbing into the 40s across the southern half of the state. To the north, they'll remain in the 30s for highs. I'm expecting mainly sunny skies throughout the day across most of the state, with the only chance of precipitation occurring in International Falls. Even then, that looks to be more during the overnight hours Monday Night.
Highs Monday will certainly be above average for this time of year across the state - potentially up to 20 degrees above average across parts of southern Minnesota!
Here in the Twin Cities, highs will be in the low to mid 40s, about 15 degrees above the average high of 28. Winds will be out of the southwest at about 5-10 mph.
Looking into the future, temperatures will remain in the 30s and 40s through Thursday in the Twin Cities, with the coolest day of the next seven occurring Wednesday. Highs will then climb into the 50s as we head toward the end of the week and the beginning of Presidents' Day weekend, and hold there into next week.
Precipitation chances look slim as we head through the the weekend, but heading into next week the models are hinting at seeing more chances across the region.
________________________________________________
National Weather Outlook
A Warm Monday... For Some
Numerous MLB teams have pitchers and catchers that will be reporting to training camps in Arizona and Florida Monday. Those in Florida will have temperatures a few degrees above average for this time of year, while those in Arizona will be near average. The greatest warmth on Monday across the country will in in the upper Midwest, where temperatures will soar into the 40s and 50s, a good 10-20 degrees above average for this time of year. Across parts of Texas and New Mexico, however, temperatures will be 10-25 degrees below average.
84 Hour Forecast
The coastal storm impacting New England will continue to do so throughout the day today, with up to two feet of snow in spots and wind gusts up to 60 mph. As that pushes out another system looks to impact the region heading into the middle of the week. Across the south, a system will bring some showers and storms across portions of Texas Monday and Tuesday, before moving off along the Gulf Coast this week. A few storms from Houston to New Orleans may be on the strong side Tuesday, with damaging winds and tornadoes the greatest threats. A wintry mix might even be possible at times across the Oklahoma and Texas panhandles. Our eyes will then turn back to the west heading into the middle of the week as a few system come onshore, bringing rain to the Pacific Northwest and California, as well as snow to the mountains.
Snow Potential Over The Next 84 Hours In The Northeast
Snow will be measured in feet through the day today across portions of New England, however another system will move through toward the middle of the week, bringing another shot of snow with it.
Snow Potential Over The Next 84 Hours In The South
Temperatures will be cold enough for the potential of some wintry precipitation over the next couple days across portions of the Oklahoma and Texas panhandles. Accumulations are not expected to be a whole lot.
Five Day Precipitation Outlook
We'll be watching three pockets of the country for the heaviest precipitation through the week. The first will be in the Northeast, with the potential of a couple winter storms. Parts of Maine, New Hampshire and Massachusetts could end up with 2-4" of liquid locked up in the snow that comes to the region through Friday morning. We'll also be tracking the potential of 1-3" of rain across Texas, Oklahoma and Louisiana, mainly early this week. The third area is in the Pacific Northwest and into California, where another 1-5" of liquid is expected.
________________________________________________
A portion of the AerisWeather Briefing issued Sunday morning, February 12th, 2017 for the snowstorm in the Northeast: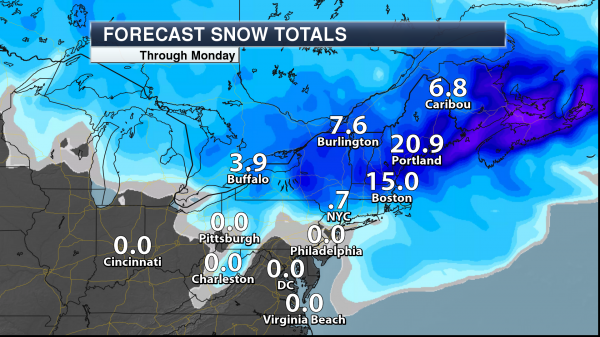 Potential Snow Totals. We have greatly increased snow totals across portions of the Northeast over the past 24 hours, with Boston now expected to pick up over a foot of snow over the next two days from this coastal storm. Parts of Maine are still expected to receive up to two feet of snow. Where Winter Weather Advisories are in effect snow totals are expected to be less over the next two days. New York City will potentially pick up an inch of snow through the morning hours today.
Breaking Down Expected Snowfall Totals Locally:
Boston, MA:
Portland, ME:
Caribou, ME: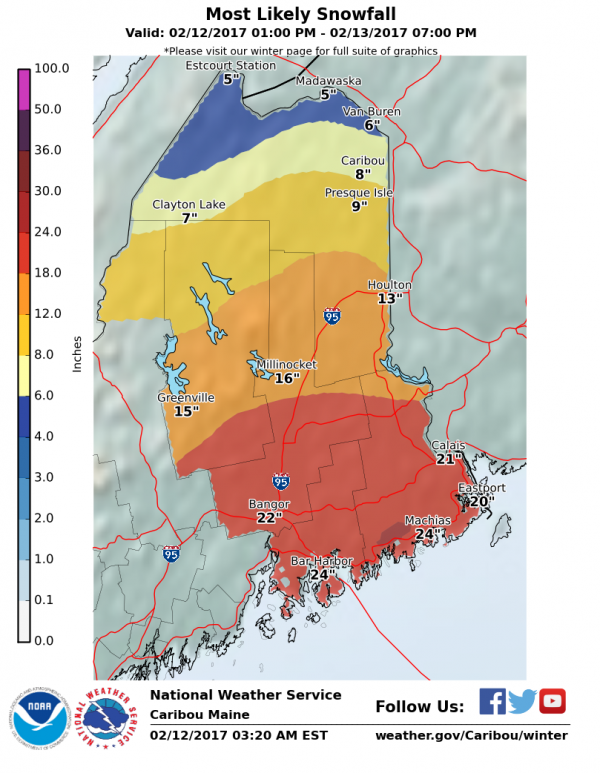 Wind Gusts Of 40-60 MPH. We are also still expecting wind gusts to increase as we head through the day Monday across the Northeast, even in areas outside the main snow. Where Blizzard Watches and Warnings are in effect we could see wind gusts between 40-60 mph as we head through Monday, causing white-out conditions with the heavily falling snow. Outside the system, however, we also expect to see wind gusts in the 50 mph range as far south as Washington D.C. on Monday.
________________________________________________
Coastal City Flooding To Increase
Are you looking to buy that home along the coast, so you can sit and watch the ocean day in and day out? Unfortunately, due to climate change, that may not be the best idea in the world. More from Climate Central: "The lawns of homes purchased this year in vast swaths of coastal America could regularly be underwater before the mortgage has even been paid off, with new research showing high tide flooding could become nearly incessant in places within 30 years."
Tropical Rainfall Study
Ever wonder why rainfall in the tropics falls at certain times of the day? Scientists have figured that out. More from the AGU GeoSpace blog: "A team of scientists led by postdoctoral researcher Takatoshi Sakazaki, from the University of Hawaiʻi at Mānoa's International Pacific Research Center (IPRC), has analyzed satellite-based observations and computer model simulations of tropical rainfall variation throughout the day in an effort to determine the root cause of the temporal patterns. Their results, accepted for publication in Geophysical Research Letters, a journal of the American Geophysical Union, show that daily tropical rainfall distribution is significantly shaped by heating of the upper atmosphere."
Image: "Fraction of the total rainfall, as a function of time of day, for a region including much of Indonesia and its surrounding oceans. Observations show strong peaks at early morning and mid-afternoon. IPRC modeling captures the observed modulation only when upper atmospheric forcing is included. Credit: Takatoshi Sakazaki"
A Record Breaking Winter In Miami
 
It's hard to believe that we are already talking about the end of (meteorological) winter coming in a few short weeks, but already at least one record has been broken in Miami, FL. They have seen 20 days with a high of 85+ since December 1st, shattering the previous record of 13 set in the winters of 1898-90 and 1941-42.

Life On Europa?
A new report from NASA shows that they want to explore Jupiter's moon of Europa for the potential of alien life - and they want to do it as soon as 2031.
Popular Science has more
: "
While the lander mission isn't officially on the books yet, Congress wants it it happen. The new report is preliminary, meaning the goals and instruments may be subject to change. But if all goes according to plan, the mission's primary goal would be to search for evidence of life on this frigid world.
" (Image credit: NASA/Goddard Space Flight Center)
________________________________________________
Thanks for checking in and have a great Monday! Don't forget to follow me on Twitter (@dkayserwx) and like me on Facebook (Meteorologist D.J. Kayser)!
 - D.J. Kayser