Another Big Rain Storm Shaping Up
By Paul Douglas
October can be a fickle month; all 4 seasons conveniently crammed into 31 fun-filled days.
The October weather report can bring everything from blizzards and floods to tornadoes. And temperature swings that can make you dizzy. On this date in 2000 the Twin Cities registered 84 degrees. In stark contrast to 1972, when an arctic front wrestled the mercury down to 9F in St. Peter on this date.
Nothing that dramatic in our future, I'm happy to share. A weak cool frontal passage sparks a shower early today; best chance south and east of the metro. Expect 50s, even 60F in the Twin Cities later today and Sunday, before the next powerful storm pushes a pinwheel of heavy rain into the state Sunday night and Monday. ECMWF prints out some 1-2 inch rainfall amounts (yes, it should be warm enough aloft for liquid precipitation this time around).
Soak up any relative warmth, because daytime highs droop into the 40s next week, with a risk of sweatshirts. Ah, October. Shorts and jackets in the very same closet.
_______________________________________________
Extended Twin Cities Forecast
SATURDAY: Early shower, some PM sun. Wake up 50. High 62. Chance of precipitation 40%. Wind W 7-12 mph.
SUNDAY: Fading sun, rain arrives Sunday night. Wake up 46. High 60. Chance of precipitation 70%. Wind SE 8-13 mph. 
MONDAY: Rain, heavy at times. Slower commutes. Wake up 49. High 54. Chance of precipitation 90. Wind E 10-20 mph.
TUESDAY: Windy & raw. Showers slowly taper. Wake up 40. High 46. Chance of precipitation 70%. Wind NW 15-25 mph.
WEDNESDAY: Mostly cloudy, less wind. Wake up 37. High 51%. Chance of precipitation 20%. Wind NW 7-12 mph.
THURSDAY: Light mix possible. Wet roads. Wake up 39. High 43. Chance of precipitation 70%. Wind NW 8-13 mph. 
FRIDAY: Early frost? Intervals of sun. Wake up 31. High 45. Chance of precipitation 10%. Wind NW 5-10 mph.
_______________________________________________
Fall Color Update
The weather looks nice this weekend to get out and take at least one last look at the fall colors across the state! Though some areas are reporting past peak color, many state parks are still reporting colors that are at or approaching the peak. The latest update from Fort Snelling State Park had colors at 25-50%, meanwhile, Afton and William O'Brian State Parks were reporting 75-100% color. Interstate State Park was reporting colors past peak, though they said: "There are still lovely fall colors to be seen from the park and along the river". Get the latest information from the Minnesota DNR by clicking here.
_______________________________________________
NOAA's Winter Outlook
On Thursday, NOAA released its winter outlook for the nation. Unfortunately for us in the upper Midwest (depending on how you feel about snow),\ the precipitation outlook shows wetter than normal conditions. That means you might want to get your snowblowers tuned up soon, as we could be seeing more snow than average here in Minnesota as we go through December through February.
Meanwhile, looking at temperatures, we have equal chances for below-, near- or above-average temperatures here across Minnesota and the upper Midwest. Cross your fingers for the above-average side - that's at least what I'm doing. I've already seen enough snow across the Dakotas earlier this month - I'd prefer not to see lots of it here.
_______________________________________________
This Day in Weather History
October 19th
2000: The warmest October 19th in Minnesota history occurs for many towns. Many cities had highs in the 80s, with the Twin Cities hitting 84. Appleton in Swift County reported 90 degrees.
1972: A cold snap moves through Minnesota, with lows of 1 above in Tower and 9 in St. Peter and Luverne.
1916: Redwood Falls receives a record-setting 7 inches of snow.
_______________________________________________
Average Temperatures & Precipitation for Minneapolis
October 19th
Average High: 57F (Record: 84F set in 2000)
Average Low: 39F (Record: 15F set in 1972)
Average Precipitation: 0.07" (Record: 2.75" set in 1934)
Average Snowfall: 0.0" (Record: 1.3" set in 1916)
_______________________________________________
Sunrise/Sunset Times for Minneapolis
October 19th
Sunrise: 7:33 AM
Sunset: 6:21 PM
*Length Of Day: 10 hours, 47 minutes and 55 seconds
*Daylight LOST Since Yesterday: ~2 minute and 59 seconds
*When Do We Drop Below 10.5 Hours Of Daylight? October 26th (10 hours, 27 minutes, and 17 seconds)
*Latest Sunrise Before Daylight Time Ends: November 2nd (7:52 AM)
*Next Sunset At/Before 6:00 PM: November 2nd (6:00 PM)
_______________________________________________
Minnesota Weather Outlook
While we will start off with a few clouds on Saturday across the state, they will be on the decrease as we head toward the afternoon hours. A few of those clouds may hold some light rain showers in the Arrowhead and southeast Minnesota early in the day. Highs will be in the 50s across the north, with 60s across southern Minnesota.
Highs on Saturday will be above average across the state - up to about 10F degrees depending on where you are. The average high for October 19th in the Twin Cities is 57F.
Temperatures will be a touch cooler across the state on Sunday by a few degrees. Clouds will be on the increase throughout the day, with shower and thunderstorm chances moving in mainly during the evening and overnight hours. Highs will range from the low 50s in northwestern Minnesota to the low 60s in southern Minnesota.
After the MEA weekend ends, we will see a temperature cool down across the region, with highs only in the 40s and 50s for the first few days back to school for kids early next week. These highs will be below average as we head into the last third of the month.
Watch as the temperatures slowly descend this weekend into next week - goodbye warmth! Just a sign that we are heading into the cooler months of the year, whether we like it or not. While we could see some occasional warm blips, highs will mainly be in the 40s once we get past Monday for the workweek.
Any precipitation that falls Friday Night across the region will be fairly light, but models are still indicating between about a half an inch and an inch of rain with the next system that rolls through late Sunday into early next week. 
_______________________________________________
National Weather Forecast
On Saturday, we will be watching a tropical system impacting portions of the Southeast with heavy rain, strong winds, and storm surge flooding (more on that below). A weak cold front moving across the central U.S. will spark showers from the Great Lakes toward Houston. Rain and snow are also expected across the Northwest, with heavy snow falling in some of the higher elevation areas.
The heaviest areas of rain through Sunday will be across the Southeast with that tropical system bringing the potential of 2-6" of rain. In the Northwest, some areas could see 1-3"+ of rain through the weekend. Feet of snow could pile up in some of the mountain ranges out west - including in the Cascades.
_______________________________________________
Praedictix Corporate Weather Briefing: Friday, October 18th, 2019
Potential Tropical Cyclone Sixteen continues to slowly organize this morning across the Gulf of Mexico. As of the 10 AM CT update, Sixteen had winds of 60 mph and was located 230 miles south-southwest of the mouth of the Mississippi River. It is still expected to become a tropical or subtropical storm (named "Nestor") later today.
This system will make landfall Saturday morning along the Florida Panhandle, bringing storm surge flooding, heavy rain, and strong winds to the Southeast into the weekend. Wind gusts to 60 mph are possible Saturday morning in Panama City and Apalachicola, with rainfall amounts of 2-6" possible (particularly near the coast).
Tropical Storm Warnings are in place across portions of Louisiana, Alabama, and Florida ahead of this system.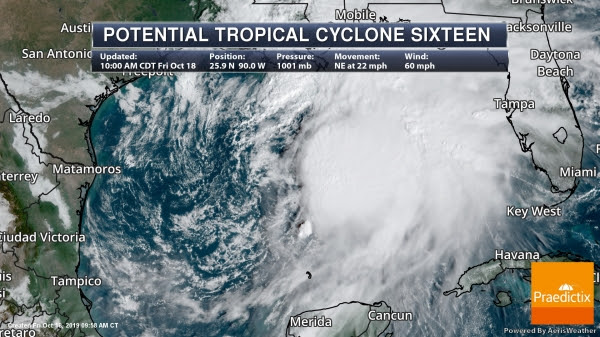 Potential Tropical Cyclone Sixteen. The area we've been tracking in the Gulf of Mexico labeled Potential Tropical Cyclone (P.T.C.) Sixteen is slowly becoming better organized and is expected to become a tropical or subtropical storm (named "Nestor") later today. As of the 10 AM CT update from the National Hurricane Center, P.T.C. Sixteen had winds of 60 mph and was moving to the northeast at 22 mph. The center of the system was located about 230 miles south-southwest of the mouth of the Mississippi River.
Landfall Less Than 24 Hours Away. This system will not have that much time to strengthen as it continues to quickly move off to the northeast over the next day or so. The center of the storm will approach the northern Gulf Coast tonight and is expected to make landfall Saturday morning along the Florida Panhandle between Panama City and Apalachicola. The system will continue off to the northeast through the weekend, crossing over the Southeastern United States and becoming extratropical while gradually weakening. This system will bring the potential of heavy rain, stronger winds, and storm surge flooding across portions of the Southeast over the next few days.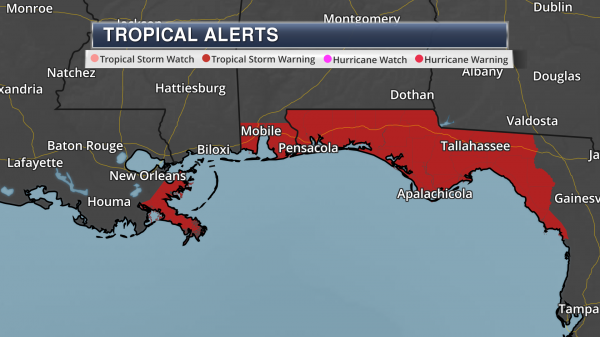 Tropical Storm Warnings. Tropical Storm Warnings have been issued across portions of southeastern Louisiana, southern Alabama, and the Florida Panhandle ahead of this system approaching the coast. Along the coast, they are in place from the Mississippi/Alabama border to Yankeetown, FL, and from Grand Isle, LA, to the Mouth of the Pearl River. A warning means that tropical storm conditions are expected within the next 36 hours, and in this case, they would likely start to occur within the next 12-24 hours. Portions of southeastern Louisiana and southern Alabama could see tropical storm force wind gusts as soon as this afternoon, with these winds spreading across the Florida Panhandle this evening.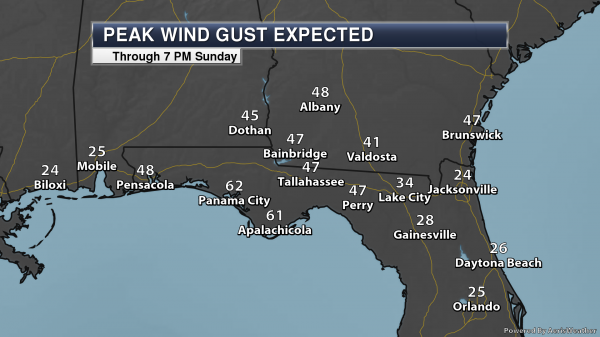 Peak Wind Gusts. The highest wind gusts with this system will be near where it makes landfall, with the potential of wind gusts around 60 mph in Panama City and Apalachicola tonight (mainly after midnight) into the mid-morning hours Saturday.
Storm Surge Warning. As this system pushes toward the coast, there will be the threat of a dangerous surge of water inland to areas that are typically dry, especially if the surge of water coincides with high tide. The NHC has issued a Storm Surge Warning from Indian Pass, FL, to Clearwater Beach, FL, where a dangerous storm surge inundation of up to five feet (if combined with high tide) will be possible. Here are the potential storm surge heights across portions of Florida:
Indian Pass FL to Chassahowitzka FL...3 to 5 ft
Chassahowitzka to Clearwater Beach FL...2 to 4 ft
Tampa Bay...1 to 3 ft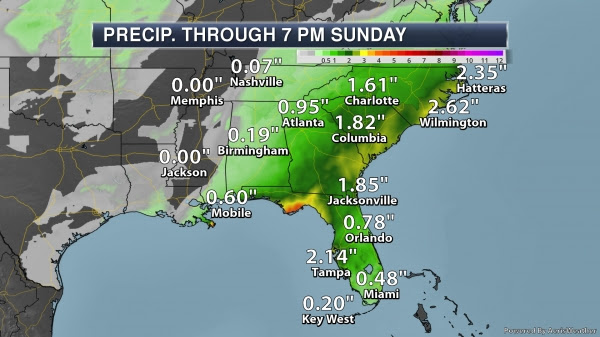 Heavy Rain Potential. This system will also bring the potential of heavy rain along the Gulf Coast into portions of the Southeast through the weekend, with at least 2-4" of rain and isolated 6" amounts possible. While some isolated flood issues could occur (especially near the coast), soils across the region are dry which should help mitigate the problem.
D.J. Kayser, Meteorologist, Praedictix
_______________________________________________
More Than 75 Million Americans Are Currently in a Drought — and It's Getting Worse
More from TIME: "A drought affecting more than 30 million people across the Southeastern United States is getting worse. The latest assessment from the U.S. Drought Monitor released Thursday shows arid conditions are deepening from Alabama to Virginia. Areas that were experiencing a moderate drought are now in a severe or extreme drought despite occasional rain."
Miami grapples with rising seas and stifling heat. But climate change won't be on the G-7 agenda at Trump's Doral resort
More from the Washington Post: "Holding the Group of Seven meeting in June in Miami — where streets flood on sunny days from rising seas, and stifling heat and humidity are worsening — seems to present an opportune time to discuss climate change. However, in announcing the choice of President Trump's Miami-area Doral resort as the summit site, acting White House chief of staff Mick Mulvaney told reporters Thursday that climate change isn't a priority for the meeting." 
Trees That Survived California Drought May Hold Clue To Climate Resilience
More from NPR: "When California's historic five-year drought finally relented a few years ago the tally of dead trees in the Sierra Nevada was higher than almost anyone expected: 129 million. Most are still standing, the dry patches dotting the mountainsides. But some trees did survive the test of heat and drought. Now, scientists are racing to collect them, and other species around the globe, in the hope that these "climate survivors" have a natural advantage that will allow them to better cope with a warming world."
_______________________________________________
Thanks for checking in and have a great Saturday! Don't forget to follow me on Twitter (@dkayserwx) and like me on Facebook (Meteorologist D.J. Kayser)!
 - D.J. Kayser