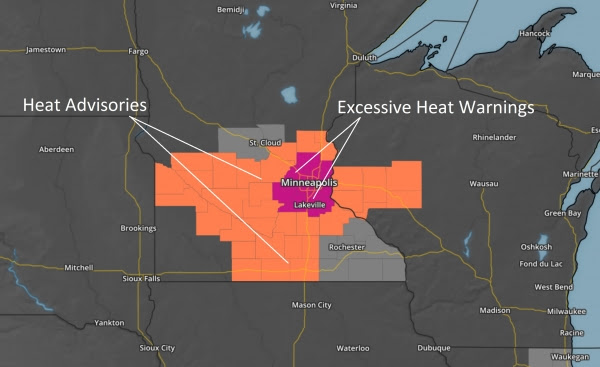 Excessive Heat Warnings Posted for Twin Cities Metro. With a predicted air temperature of 95-100F by late afternoon, heat indices are forecast to reach 105F in some urban communities later today, prompting the issuance of an Excessive Heat Warning. The risk of heat exhaustion and (sometimes fatal) heat stroke will be very high, especially within 30 miles of the Twin Cities, where the "urban heat island" will add about 5-10F to heat values.
Those most susceptible to heat ailments include infants, the elderly, the overweight, and people with chronic health conditions. Temperatures begin to cool off a bit by midweek - today should be the hottest day of the week (and possibly the entire summer season).
---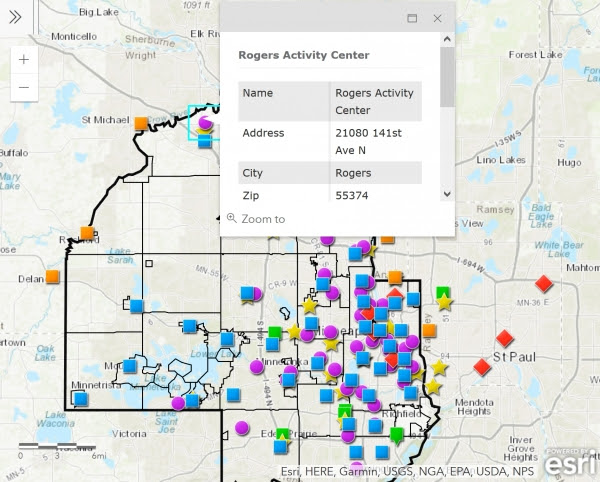 Cooling Centers Open for Business.
Hennepin County: https://www.hennepin.us/residents/health-medical/cooling-centers
Ramsey County: https://www.ramseycounty.us/residents/emergency-response-preparedness/emergency-preparedness-management/know-your-dangers/extreme-heat
---
---
---
Subtropical Storm Alberto. The fact that Alberto doesn't have a "warm core" makes it a subtropical system, but the impacts will be similar to a tropical storm as Alberto pushes into the Florida Panhandle later today, with 65 mph sustained winds and a moderate 2-4 foot storm surge focused on the Panhandle.
* Tropical-storm force (40 mph plus) winds extend 105 miles away from the center of Alberto.
* Storm Surge Watches are posted for the coastal waters of the Florida Panhandle for a 2-4 foot storm surge, capable of minor to moderate inundation,  especially close to high tide.
* Rainfall amounts of 3-5" are expected, capable of flash flooding in some communities. There is little to no chance of Alberto stalling as it pushes north, so extreme/historical rainfall rates and amounts are unlikely with this system.
---
Location....29N 86 W, about 100 miles south southast of Destin, Florida
Maximum Sustained Winds: 65 MPH
Present Movement: North at 6 MPH
Minimum Central Pressure: 29.26"
Storm Surge Watch: Suwannee River to Navarre, Florida
Tropical Storm Warning: Suwannee River to the Mississippi/Alabama border
---
Good Model Agreement on Track. The soggy remains of Alberta are forecast to push almost due north across the Tennessee River Valley into the Ohio Valley, sparking flash flooding with 200 miles of the projected path. Rainfall amounts should drop off fairly quickly, but serious flooding is possible as far north as Tennessee and Kentucky.
---
Tropical Storm Force Wind Field. Minor to moderate wind damage and scattered power outages can be expected over the Florida Panhandle, from Destin to Panama City, but winds diminish rapidly as the center of Alberto pushes ashore later today. Source: NOAA NHC.
---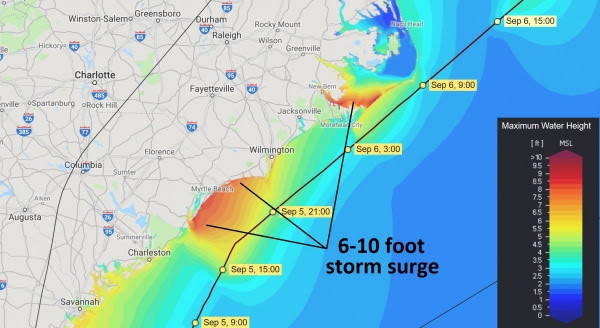 Storm Surge Watch. The combination of sustained winds and low pressure are forecast to create a 2-4 foot surge today, with greatest potential impacts focused to the right (east) of where Alberto pushes ashore, probably in the vicinity of Panama City Beach. Coastal flooding and beach erosion will be most pronounced near the time of high tide.
---
Peak Tides for Panama City Midday Today. A surge of roughly 2 feet above normal high tide is predicted for Panama City, with conditions gradually improving during the day Tuesday as Alberto pushes well inland. Minor to moderate flooding is possible.
---
A Big Footprint. Moisture from Alberto is creating a flash flood scenario for much of the southeastern USA and even the Mid Atlantic states, but the greatest potential of significant flooding will be over the Florida Panhandle (west of Tallahassee) and southern Alabama today and tonight. Map: AerisWeather and Praedictix.
---
Projected Rainfall Amounts. The forecast track of Alberto is "progressive", meaning it's predicted to keep on moving - not stall like Harvey did over the Houston area in 2017. That will limit total amounts somewhat, but a band of 3-6" is still like from near Panama City to Huntsville to Nashville. Map: pivotalweather.com.
Summary: Subtropical Storm Alberto's bark may be worse than its bite as it pushes into the Florida Panhandle and Alabama later today - the rough equivalent of a strong to severe thunderstorm (that lasts for the better part of 8 hours). There will be flash flooding and sporadic power outages, but storm surge flooding will be fairly limited.
Extreme July-like heat capable of setting records grips the Upper Midwest, with the Twin Cities and suburbs feeling the full effects of severe heat today. Extreme heat claims an average of 175 lives in the USA every year. Take the warnings and precautionary statements seriously today - many people will be impacted by the combination of excessive heat and humidity.
Paul Douglas, Senior Meteorologist, Praedictix.