Digging Out - Another Plowable Snowfall Saturday

Storms spinning up in late February and March have different characteristics than low pressure systems in January. A higher sun angle and milder temperatures tends to keep freeways wet and slushy, unlike January, when roads are snow-covered & icy. Snow is wetter, heavier, slushier; with a higher water content. Better for snowball fights (and heart attacks).
Be careful out there this morning as the flakes subside. We have about 24 hours to catch our breath and scrape away the snow, before the second storm arrives. Another 4-7 inches of snow may fall late Saturday, bringing the total from both storms up close to a foot at MSP. By Sunday many towns will be snowier than average, for the first time all winter. That's good news, considering western Minnesota is too dry; we need moisture for spring planting.
Not enthusiastic about all that frozen water in your yard? ECMWF guidance shows 2-3 days near 40F next week. Whatever snow falls should melt quickly, so get outside this weekend and romp in the slush. True confession: most meteorologists like snow. It gives us something to do!
---
Animation credit: 12km NAM Future Radar product from NOAA, courtesy of tropicaltidbits.com.
---
2 Storm's Worth of Snow. No, this isn't what's coming on Saturday; it's a total of last night and Saturday's projected snowfall totals; close to a foot (total between 2 storms) for much of central Minnesota into western Wisconsin. Last night's 00z NAM run prints out about .70" liquid, or roughly 6-8" of snow. Map credit: pivotalweather.com.
---
Saturday: More Snow Than Last Night? Models all seem to suggest a bigger snow accumulation for the PM hours Saturday. Plowable, and if we do wind up with 7-8" possibly the second biggest snowfall of the winter, to date.
---
Making Up For Lost Time. As of Thursday snowfall in the Twin Cities was 31.8", or 7.7" less than average,  to date (running 30-year average). After last night's snow and what's to come on Saturday I have a hunch we may be a couple inches snowier than average by Sunday. Just a gut call.
---
Moderate Drought West Central Minnesota.
There's also a small pocket of moderate drought near International Falls, and much of western Minnesota is too dry. That's why I won't be whining about snow in the forecast. Source:
Drought Monitor
.
---
---
Slushy and Mushy. Not a fan of snow? Know that whatever does fall will melt fairly rapidly next week, with metro highs in the mid to upper 30s much of the week. Nighttime lows mostly mid teens to low 20s will slow the rate of snowmelt just a bit. ECMWF guidance: WeatherBell.
---
Praedictix Briefing: Issued Thursday, February 22nd, 2018:
* We continue to watch a slow moving frontal system over parts of the central United States through the end of week. With abundant Gulf moisture available, rounds of heavy rain will continue across the region.
* Numerous 24-48 hour rainfall totals of 3-8"+ have already been reported from the Ohio Valley into the Southern Plains. An additional 2-5"+ will  fall on top of already saturated grounds from northeast Texas into the Ohio Valley through Saturday, which will continue the flooding threat across these areas.
---
Watches and Warnings courtesy of AerisWeather.
Local Department of Transportation Websites:
Texas: https://drivetexas.org/
Arkansas: https://www.idrivearkansas.com/
Louisiana: https://hb.511la.org
Mississippi: https://www.mdottraffic.com/
Alabama: https://algotraffic.com/
Tennessee: https://smartway.tn.gov
Kentucky: http://goky.ky.gov
---
Heaviest Rain From Louisiana To Alabama This Morning. The green outlined area above – from northern Louisiana through west-central and northern Mississippi into northwestern Alabama – is where some of the heaviest rain is occurring this morning that would be capable of flash flooding. This is occurring due to training of storms (storms that move over the same region within a short amount of time).
---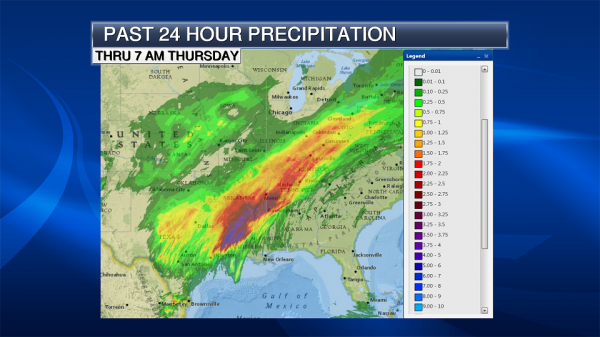 Past 24 Hour Rainfall. Over the past 24 hours, heavy rain has fallen across parts of Texas, Louisiana and Arkansas, with 3-5" of rain reported in some locations. Through this multi-day rain event (as of 8 AM this morning), Sweet Home, AR, has received 8.06" of rain, with Nobel, LA, observing 8.58" of rain. Numerous Flash Flood Warnings have been issued across the region due to heavy amounts of rain falling in a short amount of time, and some have been ongoing across parts of Louisiana and Mississippi this morning.
---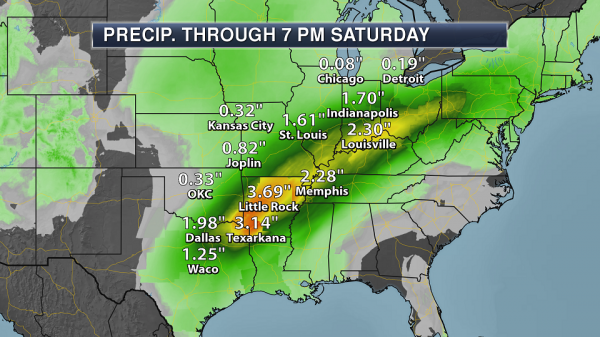 Additional Heavy Rain Expected. Through the first half of the weekend, the frontal boundary we've been watching will continue to slowly meander north and south. With abundant Gulf moisture continuing to flow toward the front, more rounds of heavy rain are likely. An additional 2-5" of rain will be possible from northeast Texas into the Ohio Valley though 7 AM Saturday on top of heavy rain already observed over the past few days. This will continue to exacerbate any ongoing flooding across the region.
---
Excessive Rainfall Outlook Next Three Days. With heavy rain expected the next three days across parts of the Mid/Lower Mississippi Valley into the Ohio Valley, the Weather Prediction Center has placed a moderate risk of rainfall exceeding flash flood guidance. This indicates areas that would have the greatest potential of flooding each day through the end of the week into the weekend. The good news is that rain should finally push south and east out of the region into the second half of the weekend.
---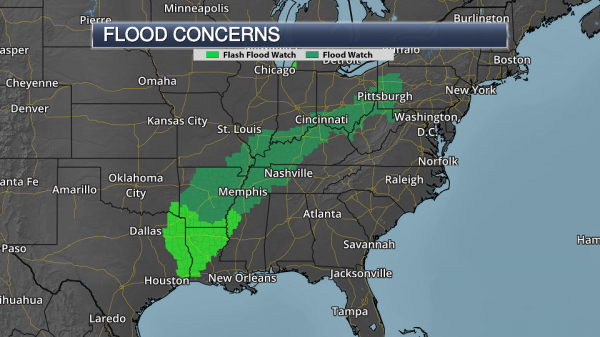 Flood Watches. Flood Watches and Flash Flood Watches continue from the Ohio Valley and parts of the Northeast into the lower Mississippi Valley due to the potential of heavy rain which could lead to flash flooding and river flooding over the next several days. Map: AerisWeather and Praedictix.
---
Forecast River Flooding. Heavy rain into the weekend is likely to cause additional river flooding from the Great Lakes to the lower Mississippi Valley. Over two dozen USGS river gauges could reach major flood stage over the next seven days, especially across the Great Lakes region, with some potentially reaching record levels. River levels will be slow to recede, and we could see flooding issues into next week.
Summary: Heavy rain will continue at times from the Ohio Valley into the Southern Plains through the beginning of the weekend. Already parts of Arkansas and Louisiana have picked up over 8" of rain over the past couple days, and with an additional 2-5"+ possible from northeast Texas into the Ohio Valley more flash flooding and river flooding will be likely to occur. Numerous Flash Flood Watches and Flood Watches are in effect. The good news is this stubborn front will finally start to move out of the region to the south and east late this weekend, bringing a period of drier weather to the region.
D.J. Kayser, Meteorologist, Praedictix
---
Summer in February? Simply Astonishing. So says Dr. Jeff Masters at Weather Underground; here's an excerpt of his post: "Astonishing summer-like heat cooked the Eastern U.S. on Wednesday, smashing all-time records for February warmth in cities in at least ten states, from Georgia to Maine. At least 24 cities recorded their hottest February temperature on record on Wednesday, including New York City (78°), Hartford, CT (74°) and Concord, NH (74°). According to Weather Underground weather historian Christopher C. Burt, February 20 - 21 marked the most extraordinary heat event to ever affect the Northeastern quadrant of the U.S. during the month of February, since official records began in the late 1800s. He catalogued the following eight states that tied or beat all-time February state heat records over the past two days, noting that in the case of Maine and Vermont, "It is simply amazing to beat a state temperature record by some 8°F!..."
---
Break Out Your Shorts: From Climate Nexus: "The Northeast is baking in unseasonably warm February weather for the second year in a row this week as temperatures skyrocket along the East Coast. New York, DC, Boston and Portland, Maine all set new temperature highs, while Pittsburgh broke a 127-year heat record as it hit 78 degrees F--10 degrees above the previous record--

on Wednesday

. One of the clearest findings of climate science is that global warming has already dramatically amplified the intensity, duration and frequency of extreme heat events, including winter warm waves." (Mashable, InsideClimate News, Washington Post $, Bloomberg, The Atlantic, Earther, The Verge)
---
Status of Spring.
Here's an update from
NPN
, The National Phenology Network: "
Spring continues to arrive early in the west and late in the east, compared to a long-term average (1981-2010). Spring is four weeks early in southern Utah and eastern Washington and 5-6 weeks early in the Grand Canyon. Spring is a few days late in Birmingham, AL, and Charleston, SC.  The timing of leaf-out, migration, flowering and other seasonal phenomena in many species is closely tied to local weather conditions and broad climatic patterns. The Spring Index maps offered by USA-NPN shed light on plant and animal phenology, based on local weather and climate conditions.
.."
---
An Arctic Up To 45F Warmer Than Average?
Jason Samenow reports at
Capital Weather Gang
: "...
Temperatures over the entire Arctic north of 80 degrees latitude have averaged about 10 degrees (6 Celsius) above normal since the beginning of the calendar year, sometimes spiking over 25 degrees  (14 Celsius) above normal (the normal temperature is around minus-22, or minus-30 Celsius). These kinds of temperature anomalies in the Arctic have become commonplace in winter in the past few years. "[T]he *persistence* of the above average temperatures is quite striking," tweeted Zack Labe, a PhD candidate in climate science at the University of California at Irvine.
.."
Image credit: "
---
It's Bizarrely Warm at the Northernmost Land Weather Station. Earther has the article; here's an excerpt: "...DMI scientists recorded temperatures crossing the freezing threshold at the world's northernmost land-based weather station, located in Greenland. An initial analysis shows that temperatures there rose an astonishing 39 degrees Fahrenheit in four hours on Sunday night. They've stayed above freezing through Tuesday. This is hardly the only instance of a weather station going haywire due to the heat. Sea ice in the Barents Sea, which sits to the east of Greenland, has also started to shrink at a time when ice is usually still climbing towards its maximum extent. The same process has played out on the Pacific side of the Arctic as well, where sea ice has been wiped out in the Bering Sea..."
Image credit: "The hourly temperature graph for Kap Morris Jesup, the northernmost weather station in Greenland." Image: DMI.
---
One Montana Town Experienced an 82-Degree Temperature Rise in One Day. Weather Underground has the jaw-dropping details: "Imagine seeing the temperature rise more than 80 degrees in just a few hours, but it's still cold. Yes, this really happened Tuesday in Fort Belknap, Montana, thanks to Chinook winds causing the temperature to rise from an early-morning low of minus 37 degrees to an afternoon high of 45 degrees, a temperature change of 82 degrees in less than 24 hours. Fort Belknap is in northern Montana, about 135 miles northeast of Great Falls. Chinook winds are the result of an airmass rising over mountain ranges – in this case, the northern Rockies – and as the air reaches the ridge tops, it begins to sink and warm as it descends the mountain slopes. The winds that result can be strong and gusty and can also create dramatic temperature changes..."
---
PUERTO RICO: From Climate Nexus: "Suicide rates spike in Puerto Rico, five months after Maria (NBC), iIn Puerto Rico, a skirmish over how much debt the bankrupt island can handle (Washington Post $), Puerto Rico utility gets $300 million after truce with creditors (Reuters), why does restoring full power in Puerto Rico seem like a never-ending task? (NBC), Puerto Rico recovery efforts plagued by power company's financial troubles." (ThinkProgress)
Hurricane Maria file image: NASA.
---
The United States Corn Belt is Making Its Own Weather. Science Magazine has the story: "The Great Plains of the central United States—the Corn Belt—is one of the most fertile regions on Earth, producing more than 10 billion bushels of corn each year. It's also home to some mysterious weather: Whereas the rest of the world has warmed, the region's summer temperatures have dropped as much as a full degree Celsius, and rainfall has increased up to 35%, the largest spike anywhere in the world. The culprit, according to a new study, isn't greenhouse gas emissions or sea surface temperature—it's the corn itself...This increases the amount of water going into the atmosphere and returning as rainfall. The cycle may continue as that rainwater eventually moves back into the atmosphere and causes more rainfall downwind from the original agricultural area..."
Map credit: "Map of the central United States, showing changes in rainfall during the last third of the 20th century. Areas of increased rainfall are shown in green, with darker colors representing a greater increase." Massachusetts Institute of Technology.
---
How "The Lean Start-up" Turned Eric Ries Into an Unlikely Corporate Guru. If you haven't read it, pick it up, no matter what business you're in. It's a simple, but powerful read. Here's an excerpt from an interview at Fortune: "...He never expected to be in such demand. After The Lean Startup came out, Ries was inundated with invitations to lecture, consult, and coach, a career he hadn't previously contemplated. "It just happened," he says, adding that it took a while to get used to people paying him to tell them what he thought. Indeed, Ries volunteers a startling admission for Silicon Valley's preeminent business guru. "This is probably not good for the profile," he says, the author-as-subject anticipating the impact of his words, "but I don't really like business that much, at least not as much as most of the people I talk to. I actually kind of feel bad about it." He says Jeffrey Immelt, the erstwhile chief executive of GE, once asked what Ries would do if he ran the conglomerate. "I was like, 'I would die. I wouldn't last 10 minutes. It would destroy me..."
---
Did Archaeologists Just Prove the Existence of the Prophet Isaiah? Daily Beast has an interesting post: "...The evidence itself comes in the form of a small piece of clay (an impression left by a seal), a mere 0.4 inches long, which appears to bear the inscription "Isaiah the prophet." It was unearthed as part of excavations of a previously undisturbed pile of debris at the Ophel excavation in Jerusalem. The dig is headed by Eliat Mazar, who provides a description of the discovery, significance, and translation of the seal in an article published in this month's issue of BAR. The debris contained figurines, pottery fragments, pieces of ivory, and some clay seal impressions, known as bullae. These impressions were created when the owners of the seals stamped their seals into the soft clay and include the mark of King Hezekiah, previously reported here at The Daily Beast..."
Image credit: Royal Doors.
---
Here Are the Tools That Could Be Used to Create the Fake News of the Future. We're just scratching the surface of what is possible - or inevitable. Here's a clip from The Washington Post: "...This is not exactly realistic, you'll notice. But it's easy to see how, using a different model and a different voice, this could be more convincing. There are two other things to remember here. The first is that, while professional animators and computer-effects specialists have been able to create fairly realistic virtual people for some time (including virtual versions of real people), better technologies mean that it's easier for nonprofessionals to create artificial videos such as the one above. More remarkable than the deepfakes tool, in some ways, was the deepfakes community, a group of people — not just one expert — who all had at their disposal a way to put Person X's face on Person Y's body..."
---
St. Louis Radio Host Gives Birth – Live – On the Air. Jordana, are you paying attention? KSDK.com has details: "A St. Louis radio host gave birth live on the air Tuesday morning.  Cassiday Proctor is the co-host of "Spencer's Neighborhood" on 106.5 The Arch. "Throughout her pregnancy, Cassiday shared every aspect of expecting a baby - including all of the ups and downs and the anticipation of baby's arrival - with the 106.5 The Arch listeners across St. Louis. And today, she and her husband Jerry were gracious enough to share the most intimate part of it with us," her co-host Spencer Graves said..."
---
Mixed Up Atmosphere. Thanks to Praedictix (and Star Tribune) meteorologist Todd Nelson for passing this along: Mill Country, Texas, where a Winter Weather Advisory AND a Severe Thunderstorm Warning were in effect at the same time Thursday morning. What season is this again?
---
30 F. high yesterday in the Twin Cities.
31 F. average high on February 22.
59 F. high in the MSP metro on February 22, 2017.
February 23, 1981: Warmth returns to Minnesota with a high of 55 at Pipestone and a high of 52 at Luverne.
---
---
FRIDAY: Slow, slushy start. Partly sunny skies. Winds: NW 8-13. High: 31
FRIDAY NIGHT: Mostly clear. Low: 15

SATURDAY: Winter Storm Watch. More snow, another 4-8 inches PM hours. Winds: E 7-12. High: 33

SUNDAY: Peeks of sun, better travel day. Winds: W 8-13. Wake-up: 23. High: 31

MONDAY: Partly sunny and milder. Winds: S 5-10. Wake-up: 21. High: 35

TUESDAY: More clouds than sun, not bad. Winds: NE 5-10. Wake-up: 25. High: 38

WEDNESDAY: Clouds linger, feels like March. Winds: NW 3-8. Wake-up: 27. High: 39

THURSDAY: Mix of clouds and sunshine. Winds: NW 5-10. Wake-up: 25. High: 37
---
Climate Stories...
The Reverend Billy Graham Called Climate Change a "Serious Problem". Here's an excerpt from a story at eenews.net: "America's Pastor" Billy Graham was a supporter, if not a leading advocate, of action on climate change. The Christian evangelist, who died yesterday morning at age 99, reached millions of people around the world and had advised U.S. presidents. Known for preaching about God's love in the Bible, Graham also talked about the need for mankind to be "stewards of God's creation." "Why should we be concerned about the environment? It isn't just because of the dangers we face from pollution, climate change or other environmental problems — although these are serious. For Christians, the issue is much deeper: We know that God created the world, and it belongs to Him, not us. Because of this, we are only stewards or trustees of God's creation, and we aren't to abuse or neglect it," Graham said in May 2006..."
---
East Coast Shatters Temperature Records, Offering Preview to a Warming World. Here's a clip from InsideClimate News: "...The warm temperatures do feel strange this time of year, but it's easy to forget that this isn't the only abnormally hot February in recent years. February 2017 saw extraordinary temperatures, too. February 2016? Same thing. It's been happening with greater frequency—and in line with what scientists have said to expect as the world warms. "It used to be said that 'scientists can't say anything about an individual event.' That statement is patently false now," said Michael Wehner, a senior staff scientist at Lawrence Berkeley National Laboratory. "We can say lots about individual events, and we have..."
---
We Can't Engineer Our Way Out of Climate Change. Bloomberg View has the Op-Ed; here's an excerpt: "...The human response to global warming has been so slow that it may be too late to avoid serious consequences just by reducing future emissions. This means tough decisions. Rapidly rising temperatures could so damage supporting ecosystems that we'll be forced to cool the planet with technological tricks – for example, injecting sulfate aerosols into the atmosphere to block the sun's rays. Such "geoengineering" is risky. For one, a single nation might be able to do it on its own, changing global patterns of weather that harm people elsewhere, and inciting conflict. Also, aerosols stay suspended in the atmosphere only for a year or so. If carbon emissions keep rising, we'll be locked into continuing the treatment forever, lest we face much faster warming – and biological disaster..."
File image: NASA.
---
Arctic Sea Ice at Record Low January Levels. USA TODAY has details: "The part of the Arctic covered by sea ice in January was the smallest for the month since records began in 1979, federal scientists announced Tuesday. January ice cover in the Arctic was a whopping 525,000 square miles less than average, which is an area the size of Texas and California put together. Sea ice is frozen ocean water that melts during the summer and refreezes in winter. It floats on top of the ocean. The report was released Tuesday by the National Oceanic and Atmospheric Administration..."
---
Scientists Concerned About Soaring Arctic Temperatures. Here's a clip from Think Progress: "...We are seeing what scientists have predicted for years," professor of thermal sciences John Abraham told ThinkProgress via email. "The temperatures in the Arctic are off the chart. This matters for the rest of us because this is the time of year when the Arctic ice should be growing. But it isn't growing like it should. So, this summer, there will be less ice and more open waters that will lead to more warming." In light of the lack of aggressive action to address climate change, Abraham warns that "We've started a feedback loop that we cannot stop." And indeed, Arctic sea ice levels have been at record lows most of 2018, according to Japan's National Institute of polar research..."
Image credit: "Arctic sea ice has been at record low levels for much of 2018 (red line)." CREDIT: Japan's National Institute of Polar Research.
---
Sea Levels In Future Depend on Action Now: From Climate Nexus: "Each five years of delayed action on climate change now could result in as much an additional eight inches of sea level rise by 2300, stark new research shows. A study published Tuesday in the journal Nature Communications assumes that the world will keep warming under 2 degrees C, and estimates that every five-year delay in reaching peak emissions over the next few decades adds additional inches of sea level rise to 2300 projections. The research also finds that sea levels will rise between 2.3 and 4 feet by 2300 even under best-case scenarios. "Sea level is often communicated as a really slow process that you can't do much about...but the next 30 years really matter," lead author Matthias Mengel told Reuters." (Washington Post $, Reuters, USA Today, Gizmodo).
---