Monday Showers - Stinking Hot Weekend Brewing

"What amazes you about Minnesota's weather"?
I get that question a lot - how much time do you have? I am still awestruck by the extremes. Few other spots on the planet can go from -60F to 115F. The rate at which we often go from flood to drought. And how quickly the weather at this latitude can change. Like turning on a light switch some weeks.
This will be one of those weeks. Showers and 60s today give way to a run of 90s by late week, in fact ECMWF (European) model guidance predicts 4 days in a row above 90F, starting Friday. Mid-90s, coupled with a sauna-like dew point in the 70s, could leave us with a heat index above 100F by Friday.
I may squeeze into my Star Tribune Speedo and annoy the neighbors. Sorry for the visual.
The big story is the impending heat spike, but at least we get to dry out this week. Dry weather is the rule Tuesday into Sunday; one week from today a parade of belligerent thunderstorms, some severe, may take the edge off the heat.
No complaints. Tropical Storm Colin is pushing toward Florida with flooding rain bands arriving today. Details below.
---
* Graphic credit above: Minnesota Department of Natural Resources.
---
Aeris Weather Briefings: Issued Sunday night, June 5, 2016.
* Tropical Storm Colin slowly intensifying, should strike Big Bend region of Florida's northwest Gulf Coast Monday night with 45-60 mph winds.
* Best-case scenario for Florida, with strongest storm surge hitting a lightly-populated area north of Tampa and Clearwater.
* West (Gulf) coast of Florida will see 2-3" rains with localized flash flooding Monday and Monday night from Naples and Sarasota to Tampa, Panama City and Pensacola.
* 1-3 foot storm surge possible for Tampa Bay, resulting in minor lowland flooding at high tide; a storm surge in excess of 3 feet is expected north of Tampa Monday night.
---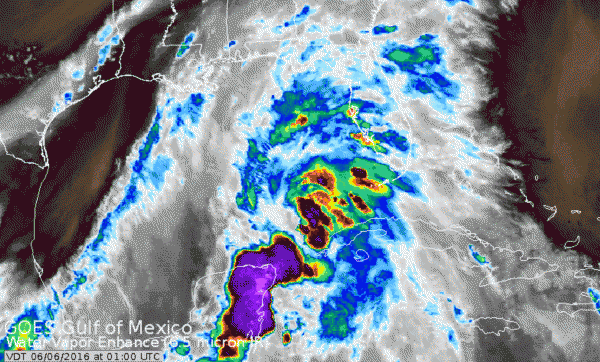 Tropical Storm Colin. Packing sustained winds of 40 mph the (disorganized) center of Tropical Storm is 460 miles southwest of Tampa, Florida, moving north at 9 mph. The storm is expected to slowly intensify over relatively warm water tonight and Monday, reaching the Big Bend area of coastal Florida Monday night as a moderate tropical storm. Likely impacts, courtesy of NOAA NHC:
 RAINFALL...Colin is expected to produce rainfall amounts of 3 to 5 inches with isolated maximum totals of 8 inches possible across the northeastern Yucatan peninsula, western Cuba, and Florida. STORM SURGE...The combination of a storm surge and the tide will cause normally dry areas near the coast to be flooded by rising waters. The water could reach the following heights above ground if the peak surge occurs at the time of high tide... Indian Pass to Tampa Bay...1 to 3 ft with slightly higher amounts possible in a few locations. Tampa Bay south to Florida Bay...1 to 2 ft. Localized coastal flooding and dangerous surf is possible along the Florida East coast, within the Tropical Storm Watch area. The deepest water will occur along the immediate coast. Surge-related flooding depends on the relative timing of the surge and the tidal cycle, and can vary greatly over short distances. For information specific to your area, please see products issued by your local National Weather Service forecast office. WIND...Tropical storm conditions are expected to first reach the coast within the warning area by 

Monday

 afternoon. Tropical storm conditions are possible within the watch area by 

Monday

. TORNADOES...A few tornadoes are possible 

on Monday

 across portions of Florida and far southern Georgia.
---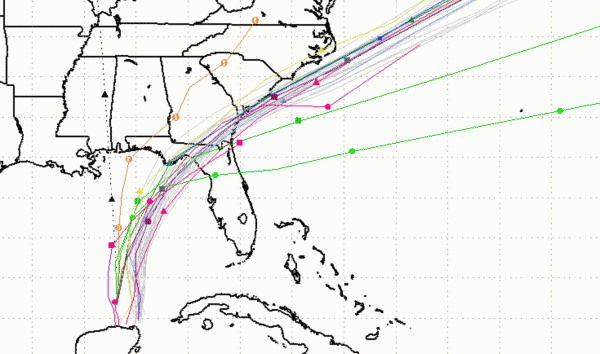 Good Model Agreement on Track. As we reported Sunday morning Tropical Storm Colin is forecast to come ashore between Tampa and Panama City Monday night; a tight grouping of model solutions increasing our confidence level to (high) that this will be, in fact, the actual track. The core of the storm comes ashore over the relatively lightly-populated Big Bend area of coastal Florida, pretty much a best-case scenario for the Sunshine State. (Graphic credit: http://www.sfwmd.gov/).
---
Odds Favor Landfall as a Tropical Storm. A few (outlier) models bring Colin ashore as a hurricane, but the vast majority of hurricane models predict tropical storm strength, with sustained winds of 45-60 mph as the storm reaches land Monday night. (Graphic credit: Levi Cowan, tropicaltidbits.com).
---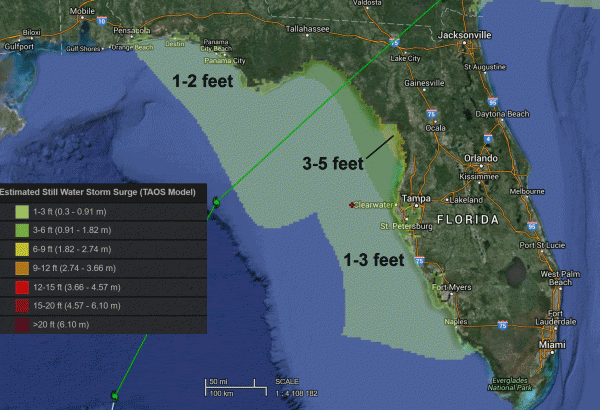 Potential Storm Surge. A 1-3 foot surge is possible for Sarasota, Naples and Tampa, with a higher surge in excess of 3 feet north of Tampa. Remember the highest surge takes place just to the right (east) of where the center of low pressure comes ashore.
---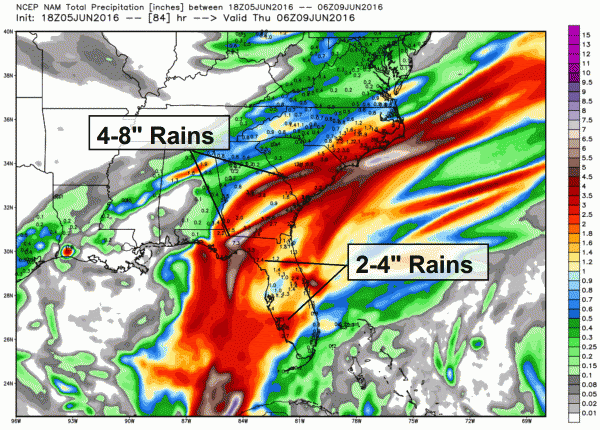 Significant Risk of Flash Flooding. Models continue to suggest that the heaviest rains with Colin may fall just north and west of the storm's track; the greatest potential for 4-6"+ amounts from Panama City to Valdosta, Athens, Charleston and Columbia. Tampa and Sarasota will see heavy rain bands comes ashore Monday with 2-4" rains possible, enough for localized flash flooding. I do not expect widespread power outages for major population centers from Naples to Tampa, but the combination of strong winds and flooding rains may result in sporadic outages for the Panhandle Monday night. (Map credit: WeatherBell).
We'll have another update on Tropical Storm Colin Monday morning.
Paul Douglas, Senior Meteorologist. AerisWeather
---
The Big Weather Story: Impending Heat. After today you may be ready to bake a little. Then again, factoring dew points in the low 70s by late week the heat index will surge into the oh-zone, maybe even the ugh-zone, possibly as high as 100F by Friday and Saturday afternoon, based on ECMWF guidance. Predicted temperatures above: WeatherBell.
---
Spotty Pop-Up Showers Today. With clouds and a few instability showers sprouting temperatures may hold in the 60s across much of Minnesota today, possibly nudging 70F in the MSP metro if skies brighten for an hour or two. Future Radar: NOAA and AerisWeather.
---
A Relatively Dry Week. Our internal model ensemble keeps us basically dry from Tuesday into Sunday, but 1-2 inches of rain may have 1 week from today as a cooler front approaches, preceded by a band of heavy rain, maybe a severe risk as well. Too early to say. Graph: Aeris Enterprise.
---
Small Cooler Advisory by Friday. NOAA models aren't as hot as ECMWF, but GFS runs also suggest low 90s by Friday. Enjoy the cool front, within 5-6 days neighbors will be whining about the humidity. Wait for it.
---
Weather Forecasting Equipment "Crude" in 1966. An article at the Topeka Capital-Journal served as a wake-up call (to me) of just how far we've come; here's a clip: "...Introduction of Doppler radar, satellite imagery and live video from storm chasers, as well as computer and cellphone communications, changed the game. Chad Omitt, the current NWS warning coordinator in Topeka, said real-time satellite data on where storms were developing and the diagnostic capacity of Doppler radar enhanced the opportunity to warn people. "The huge advancement in the ability to interrogate what's happening in a thunderstorm is the ability to see the wind speed and directions," Omitt said. "We can actually see what the winds are doing inside that storm, especially in the vicinity of where that tornado might be..."
Photo credit: "Mike Akulow, who retired in 2005 after more than 30 years with the National Weather Service in Topeka, says technology used at the time of the June 8, 1966, tornado was "very crude." Today, GPS technology, radar upgrades and an Internet-based chat system has improved the quality and quantity of weather information available."
---
A Suburban Experiment Aims for Free Energy. Yes, free has a nice ring. Here's the intro to a New York Times story: "At first glance, Anthony and Vanessa Genau's home in a subdivision beneath the San Gabriel Mountains here is like any other gracious new suburban dwelling, with an open-plan living space, granite countertops and stainless steel appliances. But, along with 19 other cream, taupe and rust stucco houses that cradle the landscaped playgrounds here, it is actually something else: a large-scale testing ground for an energy system of the very near future. With a combination of rooftop solar panels, smart thermostats, advanced water heaters and other high-efficiency features, the homes are all built with a similar goal: to make at least as much energy as they use over a year..."
---
10 Household Expenses You Can Eliminate Right Now. If not eliminate, maybe trim? Here's an excerpt of a helpful post at Trulia: "Paying bills is never fun, but it's even less exciting when those monthly expenses: a) keep you from enjoying the cultural events and great restaurants your city has to offer; or b) leave you eating noodles for the last few days before every payday. But you don't necessarily have to sacrifice the lifestyle you want to live in an apartment or home you love. In fact, it's probably easier than you think to eliminate some of those unnecessary household expenses..."
That could be bad news for SolarCity and Sunrun, two big solar providers that currently dominate the U.S. residential solar market. Both companies have built their businesses around long-term leases, and third-party ownership of rooftop solar stood at 72 percent in 2014.
---
A Worldwide Health Check Up. The new Vital Signs series at How We Get To Next is worth your time; here's an excerpt: "Active energy. Basal body temperature. Blood glucose. Body mass index. Caffeine intake. Calories ingested. Electrodermal activity. Forced vital capacity. Heart rate. Hydration level. Oxygen saturation. REM cycles. Respiratory rate. UV index. These days, we can track just about every vital sign and body movement we make — and mostly with free apps on our smartphones. Monitoring and understanding our health is, quite literally, at our fingertips. And yet, more Americans are dying. Or at least, given an adult mortality rate that's been steadily decreasing over the past half century in the United States and globally, they did last year..."
---
Drew Houston of Dropbox: Figure Out The Things You Don't Know. It's a pretty long list. Here's an excerpt of an interesting interview at The New York Times: "...Culture always starts out as the sort of bizarre average of the founders' personalities. But a couple of years ago, we decided to define our values and make our culture explicit. There are a lot of ways to think about it, but one of them is, how do you build something that sustains excellence over a long period of time? Or to put it another way, it seems that most companies, most organisms, decay as they get older and bigger, and so how do you inoculate your company from the most common things that tend to go wrong?..."
---
---
82 F. high on Sunday in the Twin Cities.
76 F. average high on June 5.
75 F. high on June 5, 2015.
June 6, 1930: Heavy rain falls at Waseca. 4.3 inches of rain would fall over 24 hours.
June 6, 1915: This date marks the first of a long stretch of days of measurable rain at Winton near Ely. Measurable rain would fall on each day until 19th. The total amount of rain for the fifteen days was over six inches. (Source: Twin Cities National Weather Service).
---
TODAY: Cool clouds, few showers around. Winds: NW 10-20. High: 67
MONDAY NIGHT: Evening showers, clearing late. Low: 51
 
TUESDAY: Sunny, breezy and pleasant. Winds: NW 8-13. High: 72

WEDNESDAY: Plenty of sun, warming up. Winds: SE 5-10. Wake-up: 56. High: 77

THURSDAY: Early thunder risk, then hot sun. Winds: S 10-15. Wake-up: 63. High: 85

FRIDAY: Sizzling sun, feels like 100F late PM. Winds: SW 10-15. Wake-up: 70. High: 94

SATURDAY: Evacuate to the lake. Steamy sunshine. Winds: SW 7-12. Wake-up: 73. High: 93

SUNDAY: Hazy sun, risk of a T-shower. Winds: S 10-15. Wake-up: 72. High: 91
---
Climate Stories...
Editorial: Carbon Pricing Will Be a Key to Fighting Climate Change. An Op-Ed at the Canadian Trucking Alliance caught my eye; here's an excerpt: "...As indicated above, carbon pricing is being promoted as an essential measure in the fight against climate change. There are two main forms of carbon pricing: (1) A carbon tax; or (2) A cap-and-trade system. Put simply, the difference is that the amount of GHG reduction from a carbon tax is a function of the market based on the price of fuel, whereas a cap and trade system sets an actual cap on GHG emissions and a market of tradeable credits is created where those who reduce their carbon footprint can sell the credits they receive to those who are not meeting their targets. Both have their positive and negative features, depending on your point of view. The outcome of both is – either directly (carbon tax) or indirectly (cap and trade) – an increase in fuel prices. It is argued that by placing a price on carbon, consumers of fossil fuels will economize (use less) of those fuels and seek alternative, cleaner fuels. But, the devil is always in the details..."
---
Global Warming is Greening Up The Far North. More tangible evidence of the changes underway, reported at Summit County Citizens Voice; here's an excerpt: "After taking a close look at 87,000 satellite images, NASA scientists say the northern parts of Canada and Alaska are getting greener. Shrubs are sprouting in grassy tundra zones and shrubs are growing bigger and denser — changes that could have impacts on regional water, energy and carbon cycles. The new NASA study adds more detail to previous research that reached similar conclusions and could help inform climate scientists about how the changes will affect global temperatures. The study covered the timespan between 1984 and 2012. The images came from the joint NASA/U.S. Geological Survey Landsat program, which provides the longest continuous space-based record of Earth's land vegetation in existence..."
Photo credit: "NASA scientists have detailed a widespread greening trend across Alaska and northern Canada in a new study." Photo courtesy NASA/Ross Nelson.
From Floods to Forest Fires: A Warming Planet - In Pictures. The Guardian has the photo essay; here's a link and story excerpt: "Droughts, floods, forest fires and melting poles – climate change is impacting Earth like never before. From the Australia to Greenland, Ashley Cooper's work spans 13 years and over 30 countries. This selection, taken from his new book, shows a changing landscape, scarred by pollution and natural disasters – but there is hope too, with the steady rise of renewable energy..."
---
CBO Warns of Climate Change's Budget Impact. Politico has the story; here's the intro: "The Congressional Budget Office is warning lawmakers about the fiscal risks of climate change, putting the studiously non-partisan agency at odds with Republican Party orthodoxy. The report, released as hurricane season begins, warns that hurricane damage will "increase significantly in the coming decades" due to climate change. The agency added that humans are playing a role in fueling rising temperatures and a shifting climate..."