It Finally Feels Like September Out There

Well, I guess we made up for a cooler than average August, didn't we. September is running nearly 6F warmer than average, after a recent run of obnoxiously hot and sweaty days. It wasn't just your imagination: a streak of 90s in late September IS odd.
Kenny Blumenfeld, Senior Climatologist at the Minnesota Climatology Office, e-mailed "The most impressive one to me is that this was the latest in the year that the Twin Cities has had three consecutive days with highs of at least 90F *and* lows of at least 70F. In fact, the next-latest-in-the-year run concluded on September 12, 1931. So we broke this record by 12 days!"
No flurries or frost in sight (yet) but a cool correction is on tap this week with a string of 60s; much closer to average. Showers taper this morning, with generally dry weather this afternoon into Saturday.
Meanwhile Maria buffets the Outer Banks of North Carolina with tropical storm force winds and coastal flooding today, a blunt reminder that hurricane season doesn't wind down until November, when ocean water cools.
No weather complaints here anytime soon.
---
---
84-Hour Rainfall Outlook. Maria finally veers out to sea after roughing up the Outer Banks of North  Carolina. Elsewhere the heaviest rains are forecast to fall over west Texas, where some 4-8"+ amounts are possible by Friday morning. Map: NOAA and Tropicaltidbits.com.
---
Close to Average. ECMWF forecasts data shows upper 60s and low 70s into next week - frost seems unlikely into mid-October, at least in the immediate Twin Cities metro area. Credit: WeatherBell.
---
Easing Into Autumn. No cold blasts looking out 2 weeks, in fact GFS guidance hints at a cold, stormy trough of low pressure for the Pacific Northwest, while a warm ridge builds downwind over the Plains; summerlike warmth expected over roughly the southern half of the USA into mid-October.
---
Puerto Rico's Devastation Grows: Climate Nexus reports: "Puerto Rico's humanitarian crisis continued to grow over the weekend, as officials describe "apocalyptic" conditions across the island in the wake of Hurricane Maria. Many of the 3.4 American citizens living on the island are without power and disconnected from communications, and officials estimate some areas won't see power restored for months. Isolated towns and low-income communities are facing increasing shortages of supplies and fuel. Officials estimate the storm also destroyed around 80 percent of the island's crop value, while a dam compromised by heavy rain is causing worries about flooding and accessibility of drinking water. "The devastation in Puerto Rico has set us back nearly 20 to 30 years," Jenniffer Gonzalez, the island's nonvoting representative in Congress, told the AP." (Conditions: CNN, AP, Washington Post $, Bloomberg, New York Times $. Communications & power: NPR, Vox, NBC. Agriculture: New York Times $. Dam: New York Times $, Reuters, NBC, USA Today, CNN. Commentary: New York Times editorial $)
---
Praedictix Briefing: Issued Monday morning, September 25th, 2017:
*Maria continues to slowly weaken as the system moves northward. As of 8 AM ET Maria had sustained winds of 75 mph. The system is expected to weaken into a tropical storm within the next couple days.
*While it is very likely Maria will remain offshore the East Coast through the middle of the week, it could make a close brush with the Outer Banks by Wednesday. After that time, the system will sharply turn to the east and head out into the Atlantic.
*Due to the large wind field associated with Maria, tropical storm force winds will be possible along portions of the Outer Banks and eastern North Carolina, especially Tuesday into Wednesday. High surf, strong rip currents, and storm surge flooding will be possible along the sound side of the Outer Banks. Tropical Storm Watches and Warnings, along with Storm Surge Watches, are in effect.
---
Maria Continues To Weaken. Maria has continued to weaken over the past 24 hours due to moderate wind shear aloft (helping to disrupt the system) and cooler water temperatures due to Jose. Maria is now a Category 1 hurricane with sustained winds of 75 mph as of this morning. The center of the storm is sitting 335 miles south-southeast of Cape Hatteras, NC, moving north at 7 mph. (Satellite data: AerisWeather)
---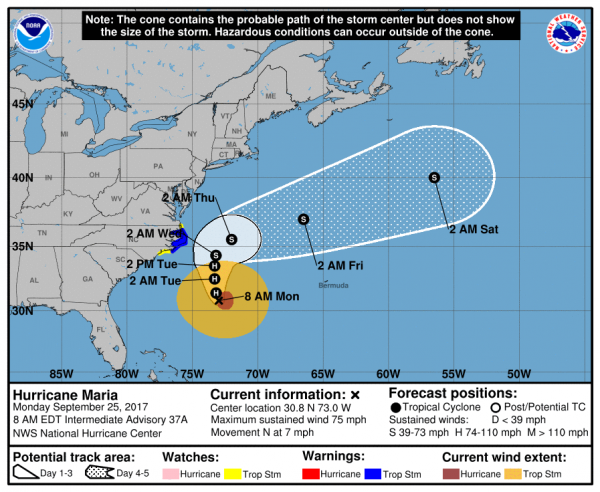 Maria Official Track. Maria will continue to move north over the next couple days, bringing the system close to the Outer Banks, although the worst of the system should remain offshore. Maria has a large wind field, with tropical storm force winds extending out 230 miles from the center of the storm. This means even if Maria does remain offshore, tropical storm conditions are possible, especially along the Outer Banks. During the middle of the week Maria is expected to take a sharp turn east, which will take the system further out into the Atlantic.
---
Timing Tropical Storm Force Winds. Tropical storm conditions will be possible starting later today across portions of the Outer Banks associated with Maria, but the highest likelihood of sustained tropical storm force winds will be Tuesday into Wednesday.
---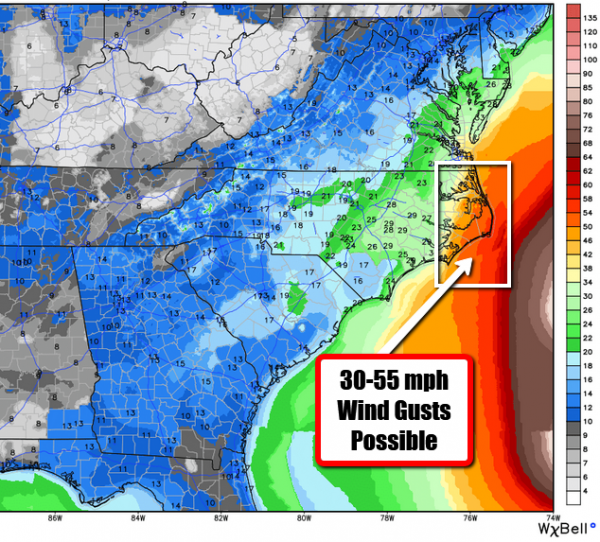 Wind Gusts Over 50 mph Possible. This is the official peak wind gust forecast from local National Weather Service offices (compiled together by WeatherBell) through Wednesday night. The winds are expected to be the strongest along parts of the Outer Banks, where wind gusts over 50 mph will be possible Tuesday into Wednesday. Areas further inland across eastern North Carolina have the potential of seeing wind gusts in the 20-30 mph range.
---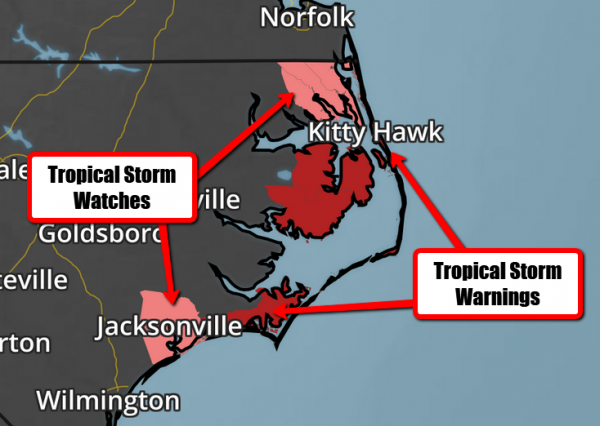 Tropical Storm Watches And Warnings. Mainly due to the potential of tropical storm force winds, Tropical Storm Watches and Warnings have been issued for portions of eastern North Carolina. Along the coast, they are in effect for the following locations:
A Tropical Storm Warning is in effect for...
* Cape Lookout to Duck
* Albemarle and Pamlico Sounds
A Tropical Storm Watch is in effect for...
* North of Duck to the North Carolina/Virginia border
* North of Surf City to south of Cape Lookout
Tropical statements from local National Weather Service offices: http://forecast.weather.gov/wwamap/wwatxtget.php?cwa=usa&wwa=Hurricane%20Local%20Statement
---
Forecast Storm Surge. We will watch the potential of storm surge flooding as well with Maria, especially along the sound side of the Outer Banks. We could see a water rise of 2-4 feet from Cape Lookout to Duck if the storm surge coincides with high tide. Due to this, a Storm Surge Watch is in effect for those areas.
---

Kitty Hawk High Tide Times. The highest potential of storm surge flooding will coincide with high tide, which will occur around midnight and noon on Tuesday and Wednesday.
Summary: While we aren't anticipating Maria to make landfall along the East Coast, it may pass a little too close for comfort through the middle of the week. This will bring tropical storm conditions to parts of eastern North Carolina – particularly the Outer Banks – by Tuesday with winds gusting over 50 mph at times. Storm surge flooding will also be a concern, especially along the sound side of the Outer Banks if the rise in water coincides with high tide. Due to this, Storm Surge Watches are in effect from Cape Lookout to Duck.
Meteorologist D.J. Kayser, Praedictix
---
Why Do We Ignore Warnings? Here's a post that caught my eye: "In 2012, two professors from the University of Buffalo School of Management studied why people failed to heed disaster warnings.  Dr. Raj Sharman and H. Raghav Rao examined a number of post-disaster reports to assess why some people refused to evacuate in the face of warnings about imminent tornadoes, hurricanes and other emergency situations such as campus shootings and industrial accidents. The reports were conducted by organizations including the National Weather Service, National Oceanic and Atmospheric Administration and the Congressional Research Service.
The researchers found that past personal experience in "riding out" storms can lead people to feel complacent when receiving emergency warnings. On the other hand, previous warnings that proved to be false can result in apathetic responses when another warning occurs. Post-disaster surveys also showed that many people lacked awareness about how serious the situation was when warnings happened.
To combat the factors leading to nonresponse, the researchers made three recommendations. First, warnings should come from more than one source. "Generally speaking, a single source of information rarely prompts people to take appropriate action," Sharman said. "Multiple sources are more effective." Second, warnings should include more descriptive language, using words such as "unsurvivable" and "catastrophic" and urging citizens to take "immediate, life-saving action" to motivate the public in the event of imminent and extreme severe weather. Finally, communities should take advantage of technological advances to make warnings more specific. Technology may help motivate people to take action because they can see the threat to themselves." (source: Peter Kennedy's Daily Devotionals)
---
How Safe Is Your City from Natural Disasters? You Might Be Surprised. It's impossible to remove all risk, but some metro areas are more disaster-prone than others, according to a story at realtor.com: "Mother Nature's fury has been devastating—and deadly—over the past few weeks, with Hurricanes Harvey, Irma, and, now, Maria, as well as two powerful earthquakes in Mexico. And that's just in North America. But despite the threats that natural disasters pose, U.S. property values in the areas most prone to them rose more than twice as quickly than in safer parts of the country over the past decade, according to a recent report from real estate data company ATTOM Data Solutions. Oklahoma City was rated the riskiest city in the country for natural disasters because of its tornadoes and a recent spate of earthquakes that scientists have linked to the local oil industry. Next on the danger list was a shocker: Silicon Valley's San Jose, perennially one of the nation's hottest and priciest real estate markets. Rounding out the top five were Los Angeles and Bakersfield, in California, and then Seattle..."
---
Harvey is Scaring Houston Straight on Flood Safety, But Dallas May Take Longer. The Dallas Observer has some interesting perspective on flood risk in Dallas: "...We have the same system, only more dangerous. If only one of our immense regional reservoirs fails, the toll in human lives would be staggering. As a special project in The Dallas Morning News by George Getschow revealed two years ago, a failure of the aged and decaying Lake Lewisville Dam would put 431,000 lives in immediate jeopardy. An upstream dam failure at any of the three major reservoirs that flow directly into downtown Dallas must be stacked against the old and rickety system of flood safety levees along the Trinity River through downtown. In 2009, the Corps of Engineers rated that entire levee system as "unacceptable," the most stupidly abused term in contemporary public double-speak. What they really meant was, "no good," "unsafe," "won't do the job," "grab your water-wings and paddle as fast as you can..."
Photo credit: "Harvey taught Houston that the things it had been told before about flood safety simply were not true." U.S. Army photo by 1st Lt. Zachary West.
---
Upper Air Observations: How Weather Balloons Improve Forecasts. Satellites derive wind, moisture and temperature - with weather balloons you get real measurements of the atmosphere in real-time. NOAA explains: "...The radiosondes allow the direct measurement of the upper atmosphere as opposed to the indirect remote sensing techniques employed by satellites or ground-based remote sensing instrumentation. As a result, these observational data are more accurate and reliable than indirect data types. The combination of the two allows for the best forecasts, ensuring public safety in the event of an approaching storm. "Models initialized with good data can provide better and more certain forecast information," said Aberson. "When the forecast is difficult or different models disagree, more frequent radiosonde observations are requested. This is likely to improve how accurate the forecasts are."
---
How Prices Rising Twice as Fast in U.S. Cities with Highest Natural Hazard Risk Than in Lowest-Risk Cities. Research conducted by ATTOM Data Solutions was the basis for the realtor.com story above. Here's an excerpt: "...Among the 735 U.S. counties included in the housing trends analysis, those with the highest overall natural hazard index were Oklahoma County, Oklahoma; Wakulla County (Tallahassee), Florida; Monroe County (Key West), Florida; Cleveland County (Oklahoma City), Oklahoma; and Nevada County (Truckee), California. Among 50 U.S. cities included in the analysis with a population of at least 500,000, those with the highest overall natural hazard housing risk index were Oklahoma City, Oklahoma; San Jose, California; Los Angeles, California; Bakersfield, California; and Seattle, Washington. Among the 735 U.S. counties included in the housing trends analysis, those with the lowest overall natural hazard index were Milwaukee County (Milwaukee), Wisconsin; Cuyahoga County (Cleveland), Ohio; Muskegon County (Muskegon), Michigan; and Lake County (Cleveland), Ohio..."
---
---
What Would An Entirely Flood-Proof City Look Like? The Guardian imagines how cities may be forced to reinvent themselves in the years ahead: "They call it "pave, pipe, and pump": the mentality that has dominated urban development for over a century. Along with the explosion of the motorcar in the early 20th century came paved surfaces. Rainwater – instead of being sucked up by plants, evaporating, or filtering through the ground back to rivers and lakes – was suddenly forced to slide over pavements and roads into drains, pipes and sewers. Their maximum capacities are based on scenarios such as 10-year storms. And once they clog, the water – with nowhere else to go – simply rises. The reality of climate change and more frequent and intense downpours has exposed the hubris of this approach. As the recent floods from Bangladesh to Texas show, it's not just the unprecedented magnitude of storms that can cause disaster: it's urbanisation..."
File photo credit: Jordan Anderson, DoubleHorn Photography.
---
"Disruption" is How Silicon Valley Eats Its Young
. The treadmill of change is moving ever-faster; a story at
WIRED.com
caught my eye: "...
The fact is, most businesses are very unlikely to "disrupt" anything any time soon—if ever. It takes years, if not decades, to know whether a new service, product, or piece of technology is really going to upend an industry or a process, despite founders' claims to the contrary. Yet promises of earth-shattering changes make an appearance from the get-go, in the pitch deck or launching blog post. Magic words seem to apply to all kinds of companies and products, be they multinational or garage-based.So why venture out onto that clichéd limb? Probably because we in the audience (readers, viewers, consumers, and shareholders) have been privy to a remarkable amount of genuine disruption in the last 10 years. In just this period we've witnessed the upending of retail, music, newspapers, mobile phones, advertising, TV, and even more. So now, when a company claims it will disrupt an entire industry, we're primed to believe them.
.."
---
The Shorter You Sleep, The Shorter Your Life: The New Sleep Science.
The Guardian
has a sobering, but important story: "...
Why, exactly, are we so sleep-deprived? What has happened over the course of the last 75 years? In 1942, less than 8% of the population was trying to survive on six hours or less sleep a night; in 2017, almost one in two people is. The reasons are seemingly obvious. "First, we electrified the night," Walker says. "Light is a profound degrader of our sleep. Second, there is the issue of work: not only the porous borders between when you start and finish, but longer commuter times, too. No one wants to give up time with their family or entertainment, so they give up sleep instead. And anxiety plays a part. We're a lonelier, more depressed society. Alcohol and caffeine are more widely available. All these are the enemies of sleep.
.."
---
Dutch Cyclist Who Broke Her Back in Horrific Rio Olympics Crash Returns to Win World Gold
. I needed this story at
The Washington Post
: "
Annemiek van Vleuten's teammates thought she had died last summer when the Dutch cyclist smashed headfirst into the pavement during a downhill stretch of the women's road race at the Rio Olympics. Van Vleuten, who sustained a concussion and broke three vertebrae in her back, vowed to come back and, even better, to win. While the 34-year-old will have to wait until 2020 to get another shot at an Olympic gold, van Vleuten only had to wait just more than a year to earn her first world gold. On Tuesday, she took the time trial in Bergen, Norway, finishing the 13-mile course in 28 minutes 50.35 seconds, 12 seconds ahead of fellow Dutchwoman Anna ven der Breggen, who won gold in Brazil. With tears in her eyes, van Vleuten addressed the crash after Tuesday's win, which she called "incredible
..."
---
71 F. high in the Twin Cities on Monday.
68 F. average high on September 25.
69 F. high on September 25, 2016.
1980: Cold morning lows are recorded, with 20 degrees at Tower and 16 at Embarrass.
1942: 1.8 inches of snow falls in St. Cloud.
---
TODAY: AM showers, PM clearing. Winds: NW 8-13. High: 63
TUESDAY NIGHT: Clear and cool. Low: 47

WEDNESDAY: Sunny and pleasantly cool. Winds: NW 7-12. High: 67

THURSDAY: Sunny start, late PM shower risk. Winds: NW 7-12. Wake-up: 52. High: 70

FRIDAY: Blue sky, a fresh breeze. Winds: N 5-10. Wake-up: 49. High: 65

SATURDAY: Partly sunny, a bit milder - nicer day of the weekend. Winds: SE 8-13. Wake-up: 48. High: 69

SUNDAY: More clouds, showers break out. Winds: SE 10-15. Wake-up: 52. High: 72

MONDAY: Showers likely, possible T-storms. Winds: SW 10-15. Wake-up: 56. High: 68
---
Climate Stories...
Hurricanes: A Perfect Storm of Chance and Climate Change.
Of course natural variability plays a (huge) role, but are [consistently warmer/deeper] ocean water temperatures priming the pump for more intense hurricanes? Here's a clip from
BBC News
: "...
Most researchers who study extreme events like hurricanes agree that climate change is most likely making the impacts of these events much worse. Rising temperatures lead to warmer air holding more moisture, which causes more intense downpours in a hurricane. The oceans have risen thanks to thermal expansion and glacier melt and this works to increase the dangers posed by storm surges. "In terms of the factors that control the genesis and the intensification of these hurricanes, a number of these point to the fact that they will undoubtedly be slightly more severe due to the extra heat content in the ocean due to the long-term warming of the climate," said Richard Allan.
.."
Hurricane Maria file image from Sunday morning, September 24, 2017, courtesy of AerisWeather.
---
"Eden is Broken": A Caribbean Leader Spotlights Climate Change
. Here's an excerpt from
The New Yorker
: "...
Since hurricanes began to be recorded and classified, in 1851, thirty-three storms have reached Category 5 strength in the Atlantic, according to Michael Lowry, a visiting scientist at the University Corporation for Atmospheric Research, in Boulder, Colorado. Two of those tore through the Caribbean within the last two weeks. Data compiled by Weather Underground shows that in only twelve hours Hurricane Maria strengthened from a Category 2 hurricane to a Category 5. When the storm made landfall in Dominica, on Monday, it unleashed a-hundred-and-seventy-five-mile-per-hour winds on the island of seventy thousand people.When the sun rose on Tuesday morning, swaths of the island's two hundred and ninety square miles looked like a war zone, Skerrit said. Eighty-five to ninety per cent of homes on the island were damaged, as was the main hospital, which lost its roof and is still without electricity
..."
---
Millenials Think About Climate Change Differently Than Anyone Else. Because deep down they realize they are the generation that will be cleaning up our messes; here's a clip from mindbodygreen.com: "...Millennials are fervent believers that climate change is an issue that needs to be dealt with, and 82 percent of them are concerned about how it will influence their children's quality of life. But for many, this concern seems to have morphed into a slight helplessness. Nowadays, millennials are doubting their ability to make a dent in such a huge issue and are instead choosing to support companies that have a larger perceived impact. Therefore, they seek out companies that value environmental stewardship and employee treatment practices, even going so far as to prioritize these values above their product's efficiency. According to data, young people are skeptical of many large corporations, but once they find one they trust, they put a lot of faith into it. Some of their top picks for eco-minded companies include Patagonia, Whole Foods, Tesla, and The Honest Company..."
Photo credit: Saptak Ganguly.
---
In Canada, Climate Change Could Open New Farmland to the Plow.
A story at
Reuters
highlights the trends: "
As global warming intensifies droughts and floods, causing crop failures in many parts of the world, Canada may see something different: a farming expansion. Rising temperatures could open millions of once frigid acres to the plow, officials, farmers and scientists predict. "Canada is one of the few countries where climate change may create some opportunities for growing crops in northern latitudes," said Rod Bonnett, president of the Canadian Federation of Agriculture, a lobby group representing 200,000 farmers. But determining just how much land in the world's second largest country could become suitable for farming as a result of climate change is not easy, said Ian Jarvis, a senior official with Agriculture and Agri-Food Canada, a government department
..." (File photo: Climate Reality).
---
Continued Denial Leaves Florida in Climate Change Crosshairs.
An Op-Ed from the Editorial Board at Florida's
Sun-Sentinel
pulls no punches: "...
Trump, who has called global warming a Chinese hoax, chose a notorious climate change denier, Scott Pruitt, to run the EPA. It would be hard to find a more banal remark than Pruitt's statement that Irma was no time to talk about climate change. "To use time and effort to address it at this point is very, very insensitive to the people of Florida," Pruitt said. No, what's insensitive to the people of Florida is his denial of climate science. Whitman responded to the news that Pruitt has appointed a "red team" of dissenting scientists to challenge the vast climate change consensus of thousands of others. She called it a "slow-rolling catastrophe in the making." People today increasingly feel free to believe whatever suits them and there are still some who believe the world is flat, the moon landings were faked and smoking doesn't cause cancer. But there is no excuse for so-called leaders to exploit such gullibility
..."
Photo credit: "Just keep going forward, keep helping," says Robert Barnes in Duck Key. Barnes has been helping clean up his neighborhood after Hurricane Irma tore through the Florida Keys."
---
---
Guest Opinion: How Many More Climate Disasters Can We Endure?
The Medford (Oregon)
Mail Tribune
has an Op-Ed worth reading: "...
In Oregon this summer, wildfires half the size of Rhode Island have caused the evacuation of thousands of people and pushed unhealthy air into cities and towns. While the scale and scope of Oregonians' suffering is not comparable to that of the hurricane victims, both situations should prompt self-reflection. We have to ask ourselves: How many more storms will force us to measure rain in feet, rather than inches? How many more billions of dollars of strain will we put on the National Flood Insurance Program? How many hundreds of millions of Forest Service dollars will be shifted from forest management to firefighting? How many lives are we willing to risk in extreme weather events like these? These all basically boil down to the same question: How many more years will we dump greenhouse gases into the atmosphere with impunity? Because as long as we're doing that, we're signing up for more of the same — and worse.
.."
---
Rural Texas Farmers and Ranchers Need to Speak Out About Climate Change
. Here's an excerpt of an Op-Ed at
The Houston Chronicle
: "...
We've overused aquifers, including the vital Gulf Coast Aquifer, thereby altering runoff patterns and allowing floodwaters to gather. Empty pastureland and rows of cotton and corn giving way to endless rows of subdivision housing and streets cannot help but alter the landscape in ways that make storms and droughts more destructive than they were in years past. Farmers and ranchers have always had to be amateur climatologists; their livelihoods depend on reading the weather. It's time they begin to speak up and speak out against a climate change-denying administration in Washington and its mini-me version in Austin. When secretaries of energy, agriculture and interior - not to mention the president himself - refuse to acknowledge climate-change storm clouds gathering, rural Texans need to become activist Texans. They know what it means to plan and prepare. A blinkered government that refuses to follow suit puts us all at risk
."
Photo credit
:
Alyssa Schukar, STR.