How Much Does Snow Cover Impact Temperature?
As we enter into the time of year when we start seeing almost consistent snowpack, it is interesting to take a look and see how much that actually does impact our temperatures. This chart, courtesy of the Iowa Environmental Mesonet, shows what our average high and average low per winter month is with or without snow cover. During November, our average high can be 14F degrees cooler when we have snow cover on the ground (an average high of 46F without snow cover and 32F with snow cover). This type of impact, though at a slightly lesser temperature difference, occurs from December through February as well. So if you want warmer temperatures during the winter... you're probably hoping there isn't snow on the ground.
_______________________________________________
Cold Start To November
Brr... I'm already getting tired of shivering. Sorry, my favorite seasons are Spring and Fall, and I feel like we missed those this year. Anyway, through the first 11 days of the month we have only had one day with an above average high. Meanwhile, the first 10 days of November had an average temperature of 32.9F, -6.6F below average and the 23rd coldest start to November on record. The NWS Twin Cities put together a different perspective on how cold it has been so far this month, finding that the temperatures we have observed so far this month are more typical of coastal Alaska!
_______________________________________________
Cold Start To The Week - 40s Return Mid-Week!
By D.J. Kayser, filling in for Paul Douglas
It's the time of year when snow starts to pile up on the yards across the region. As of Sunday morning, there was a snow depth of 1" at the Twin Cities airport.
This snow cover does make a difference on our temperatures, of course. According to data crunched by the Iowa Environmental Mesonet between 1938 and 2018 for MSP airport, the average November high without any snow cover is 46F. With snow cover, that drops to 32F. I'll have a chart showing how snow cover impacts the rest of the winter months in the blog.
Our chilly weather continues through Tuesday with highs only in the 20s. "Fun" fact - the only day we've had an above average high this month was on the 1st. We'll get our second above average high mid-week as highs climb into the 40s, but the warmth will be short-lived with another blast of cool air for the weekend. A longer stretch of sustained 40-degree weather is possible, though, heading into the week of Thanksgiving. The only precipitation chance over the next seven days appears to be a few flurries late in the week.
_______________________________________________
Extended Twin Cities Forecast
MONDAY: Cold. Mix of sun & clouds. High 22. Low 10. Chance of precipitation 0%. Wind NW 5-10 mph.
TUESDAY: Sunny skies. Feeling like December. High 25. Low 19. Chance of precipitation 0%. Wind NW 3-8 mph.
WEDNESDAY: Much warmer. A few passing clouds. High 42. Low 30. Chance of precipitation 0%. Wind SW 5-10 mph.
THURSDAY: Increasing clouds. High 44. Low 28. Chance of precipitation 0%. Wind SW 5-10 mph.
FRIDAY: Scattered flurries. Cloudy skies. High 35. Low 20. Chance of precipitation 20%. Wind NE 10-15 mph.
SATURDAY: Decreasing clouds late in the day. High 28. Low 17. Chance of precipitation 10%. Wind NW 10-15 mph.
SUNDAY: Sunnier half of the weekend. High 33. Low 28. Chance of precipitation 0%. Wind SW 5-10 mph.
_______________________________________________
This Day in Weather History
November 12th
2000: A winter storm system produces a narrow band of heavy snow across extreme western Minnesota. Winds toward the end of the event were clocked between 15 and 25 mph, resulting in blowing snow leading to visibilities of 1 to 1.5 miles. Some snow totals included: Canby (Yellow Medicine County) with 6.5 inches, Madison (Lac Qui Parle County) with 6.0 inches.
1940: Record low highs are set in west central Minnesota. Alexandria records a high of 8 degrees Fahrenheit, Springfield and Willmar have highs of 10 degrees, and St. Cloud and Minneapolis have highs of 11 degrees.
1933: A dust storm hits southwest Minnesota, while a blizzard rages in the northwest part of the state.
_______________________________________________
Average Temperatures & Precipitation for Minneapolis
November 12th
Average High: 43F (Record: 65F set in 2001)
Average Low: 28F (Record: -4F set in 1966)
Average Precipitation: 0.06" (Record: 0.90" set in 1965)
Average Snow: 0.2" (Record: 8.5" in 1940)
_______________________________________________
Sunrise/Sunset Times for Minneapolis
November 12th
Sunrise: 7:06 AM
Sunset: 4:47 PM
*Length Of Day: 9 hours, 40 minutes and 36 seconds
*Daylight Lost Since Yesterday: ~2 minutes and 28 seconds
*Next Sunrise At/After 7:30 AM: December 1st (7:31 AM)
*Earliest Sunset: December 6th-14th (4:31 PM)
*When Do We Dip Below 9.5 Hours Of Daylight?: November 17th (9 hours, 28 minutes, 47 seconds)
_______________________________________________
Minnesota Weather Outlook
While a few snow showers or flurries will be possible across far northern Minnesota Monday, most of the state will see a mixture of clouds and sun. Highs will be cold - stuck only in the teens and 20s.
Dark blue colors continue to show up on our departure from highs graphics early in the week, with highs on Monday a good 15-25 degrees below average across the state.
We'll stay cold through Tuesday before highs return to the 40s Wednesday and Thursday. That warm up is short-lived, however, as another blast of chilly air moves in for the weekend. Models are indicating the potential of an extended stretch with highs in the 40s for Thanksgiving week.
We'll see a fairly dry week here in the Twin Cities, with the only real chance of snow (likely either flurries or very light snow showers) occurring Friday into Friday Night.
_______________________________________________
National Weather Forecast
Two main stories will unfold across the nation Monday. A cold front pushing south and east will allow snow to fall from the panhandle of Texas into the Ohio Valley. The heaviest (outside of the mountains) will fall across parts of Texas, with 4-7" possible. More on that heavy snow potential in a moment. Meanwhile, an area of low pressure will move along the northern Gulf Coast. This will bring heavy rain to parts of the Southeast and Mid-Atlantic. Fire weather conditions - with strong winds and low humidities - will continue across California.
Through Tuesday, 3"+ of rain could fall from far eastern Texas into the Mid-Atlantic states. This heavy rain will bring the potential of flash flooding along with it.
While parts of the Rockies could see 10-15" of snow, a band of 4-7" of snow is possible in the Texas Panhandle Sunday Night into Monday. Heavy snowfall amounts of 6"+ will be possible in some of the higher elevations of the Northeast Monday Night into Tuesday.
_______________________________________________
Extreme California Fire Danger Continues - Heavy Texas Panhandle Snow: Praedictix Coporate Weather Briefing: Sunday morning, November 11th, 2018
Three large, destructive wildfires continue to burn in California this morning.
The Camp Fire in Butte County is the most destructive in California history, burning over 6,700 structures. This fire has burned 105,000 acres and is 20% contained.
The Woolsey Fire has burned 83,275 acres and is 5% contained. This fire has caused over 265,000 people to evacuate in Ventura and Los Angeles Counties.
The Hill Fire has burned 4,531 acres in Ventura County and is 65% contained.
Strong Santa Ana winds are returning to Southern California today, resulting in an extreme fire danger. This will continue into Tuesday. Strong winds are also likely through at least Monday across parts of Northern California. These winds, along with low humidity values, would allow any ongoing fires or new fires that ignite to quickly spread.
We're also tracking a winter storm that could bring parts of the Texas Panhandle over a half a foot of snow. Numerous Winter Storm Warnings and Winter Weather Advisories are in effect, including Amarillo.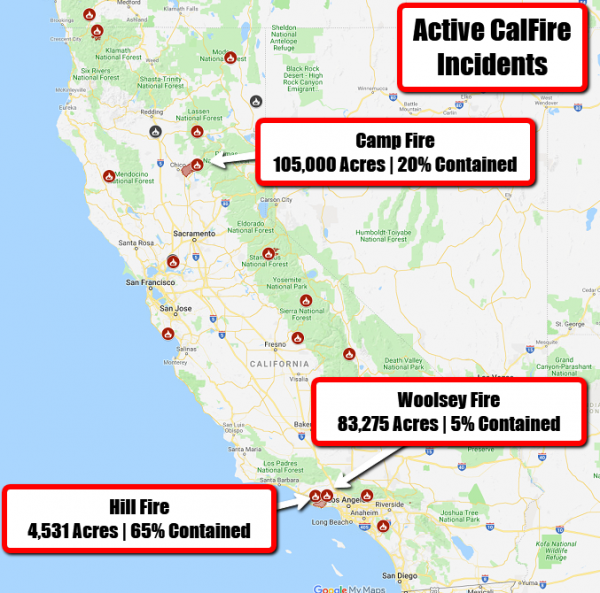 Numerous Large Wildfires in California. Multiple wildfires continue to burn in California with three major wildfires that are most concerning: the Camp Fire, the Woolsey Fire, and the Hill Fire.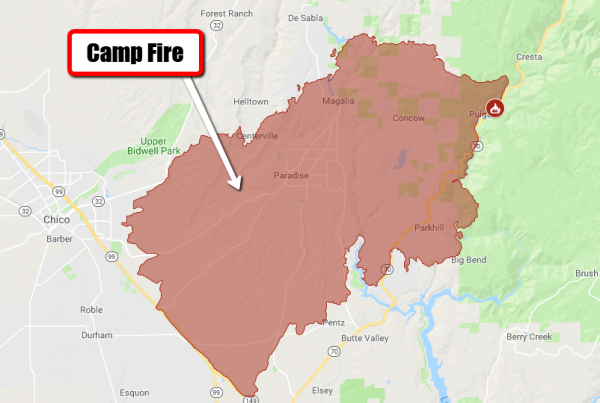 Camp Fire Update. The Camp Fire in Butte County has now burned 105,000 acres and is 20% contained. This fire is the most destructive in California recorded history as over 6,700 structures have been destroyed by the blaze. An additional 15,000 structures remain threatened by the fire. This fire has sadly also claimed the lives of at least 23 people, making it the third deadliest California wildfire in recorded history. Numerous evacuation orders and road closures continue to be in place. Increased winds today - in combination with low humidity values and dry fuels - will allow extreme fire behavior to continue. This would include the rapid spreading of the fire. More information is available from:
Woolsey And Hill Fires. The Woolsey Fire has burned 83,275 acres and is 5% contained. This fire has destroyed 177 structures with another 57,000 threatened. While numerous evacuation orders remain in place (with over 265,000 people evacuated), Ventura County did report that mandatory evacuations were lifted Saturday in pockets of Simi Valley, Long Canyon, Wood Ranch, Thousand Oaks, Bridal Path, and Erbes Rd.
The Hill Fire has burned 4,531 acres and is 65% contained. While repopulation of all areas of Camarillo Springs, California State University Channel Islands, and Dos Vientos occurred Saturday, the South Coast area and Point Mugu Naval Base remain under evacuation orders.
For both fires, strong winds, along with low humidity values and dry fuels, will impact firefighting efforts through early in the week. Firefighters are also battling steep terrain and limited access. More information is available from:
Extreme Fire Danger Today. Very strong winds will continue across California today, leading to an extreme fire danger in southern California. Across Southern California, wind gusts of up to 60-70 mph in favored areas are possible, with some of the strongest winds possible during the morning hours. In Northern California, wind gusts of 30-50 mph are possible. These winds, along with low humidity values, would allow any ongoing fires or new fires that ignite to quickly spread.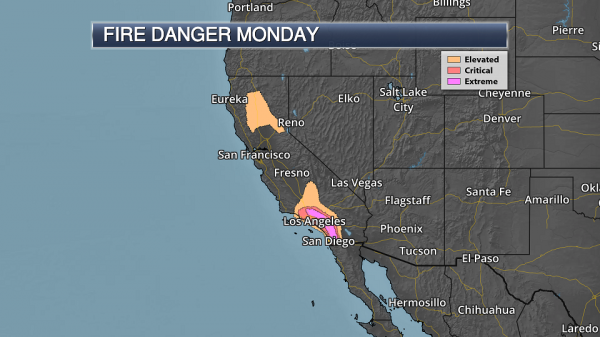 Extreme Fire Danger Monday. The extreme Fire Danger continues Monday across Southern California with the ongoing Santa Ana wind event. Once again, strong winds gusts in combination with low humidity values would allow fires to quickly spread. The strongest winds are expected during the morning hours, as sustained winds of 20-40 mph are likely with higher gusts.
Red Flag Warnings. Due to the ongoing fire weather threat across the region, numerous Red Flag Warnings are in effect. In Northern California, most of these are in effect through either today or Monday, with warnings continuing through Tuesday across Southern California.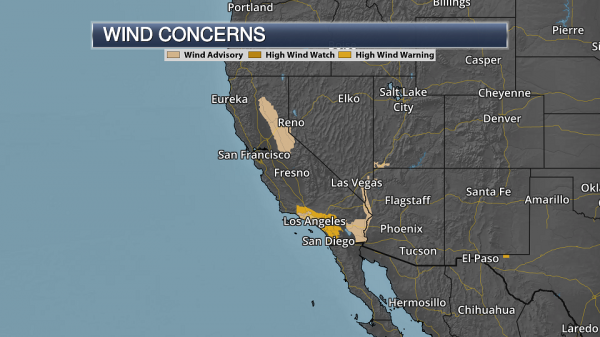 High Wind Warnings. With wind gusts up to 70 mph possible in favored areas, especially through the morning and early afternoon hours, High Wind Warnings have been issued across Southern California through 5 PM Tuesday.
Southern Winter Storm. We're also tracking a system which will bring heavy snow to parts of the Southern Plains today into Monday. Due to the potential of 4-7" of snow, a Winter Storm Warning has been issued for Amarillo, TX, from 6 PM tonight to Noon Monday. Numerous Winter Weather Advisories stretch from Wyoming into Colorado (including Denver), Kansas, Oklahoma, and New Mexico.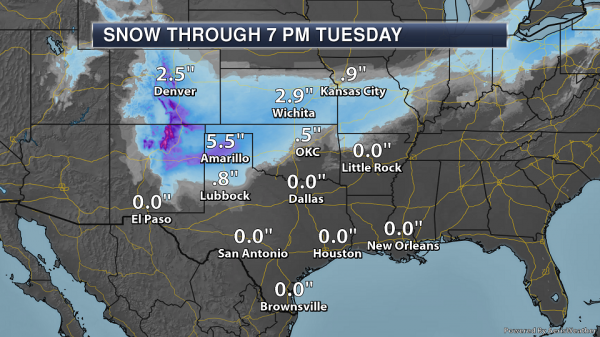 Potential Snowfall. While the heaviest snow with this system (10-15") will fall across the higher terrain of the Rockies, a band of up to 7" of snow is expected across parts of the Texas Panhandle through the midday hours Monday. This is expected to impact the Monday morning commute across the region.
D.J. Kayser, Meteorologist, Praedictix
_______________________________________________
The Kings' Arena Was Filled With Wildfire Smoke Before Saturday Night's Game
More from Deadspin: "Smoke from the Camp Fire raging in Butte County, California—which has killed 23 people since it began early on Thursday—made its way into the Sacramento Kings' arena ahead of the team's game against the Lakers on Saturday night. The game was not delayed, but smoke was visible above the court before tip-off, and it seemed to bother players during warm-ups. "You can smell it," said LeBron James before the game. "We haven't really gotten up and down [running] like that to the point where you can tell it affects you or not, but anytime smoke is around, you know it can affect all of us. Not only us as athletes but everyone. Everyone gets affected by pollution.""
As California wildfires rage, hundreds of teens talk climate change in San Jose
More from the Mercury News: "As the state's most devastating wildfires ripped through Northern and Southern California Saturday, hundreds of Bay Area teens descended on the Tech Museum of Innovation for an inaugural conference on climate change.  The Tech for Global Good Youth Climate Action Summit, organized by 12 students from eight Bay Area high schools, featured a range of panels and activities with decorated scientists and educators, from an immersive VR experience to a rainforest-themed escape room.  The conference came just weeks after a landmark report by the United Nations found that rising global temperatures will bring devastating consequences — such as drought, floods, extreme heat and poverty — if they're not controlled in the next 12 years.  Several speakers on Saturday pointed to the deadly Camp Fire in Butte County and the Woolsey Fire near Los Angeles, saying they're examples of the dire need for solutions to global warming. The solutions rest with the world's young people, they said."
Flash floods increase as mercury climbs
More from Climate News Network: "Scientists once again have confirmed that humankind's actions have triggered ever-greater extremes of rainfall – and an ever-greater rise in disastrous flash floods.  The study comes close on the heels of a warning by UN scientists of a dramatic increase in economic losses from climate-related disasters. Between 1998 and 2017, natural disasters cost the world's nations direct losses of $2.9 trillion, and although earthquake and tsunami accounted for most deaths, floods, storms and other climate-related catastrophes accounted for 77% of the economic damage.  Scientists and engineers from China and the US report in the journal Nature Communications that flash floods now cause more deaths as well as more property and agricultural losses than any other severe weather-related hazards. These losses have been increasing for the last 50 years and over the last decade worldwide have topped $30bn a year."
_______________________________________________
Thanks for checking in and have a great Monday! Don't forget to follow me on Twitter (@dkayserwx) and like me on Facebook (Meteorologist D.J. Kayser)!
 - D.J. Kayser