Cold Wave Coming - Dangers of Hypothermia

It's all hype, until it happens. Then it's "why wasn't there any warning?" The cold wave arriving in 6 days may last a few weeks; daytime highs in single digits, nights dipping below 0F. Probably not record-territory; we've seen much colder here. Yet potentially one of the 2 or 3 coldest spells of the winter.
Most of us know how to dress in layers to avoid frostbite. Hypothermia, a gradual drop in body temperature, is even more insidious. According to NOAA, most of the 1,300 Americans who die from hypothermia annually are seniors. As we get older our shivering mechanism (which keeps us warmer) tends to breaks down. Throw in reactions to medication and bad circulation, and the risk increases. Symptoms include a body temperature less than 96F, feeling sluggish or not thinking clearly. If in doubt, call a doctor or 911.
A clipper may drop an inch of slush tonight. Enjoy 30s Saturday into Wednesday, because by Christmas weekend highs hold in single digits with lows slipping below 0 F. Herd-thinning cold.
The arrival of bitter air may even spark a plowable snowfall next Thursday!
---
Christmas Smack. After reaching 30s into Wednesday of next week temperatures drop off into the teens late next week and over the Christmas weekend, with nighttime lows at or near 0F. Not record territory - but cold enough. Twin Cities ECMWF forecast graphic above: WeatherBell.
---
Dangers of Hypothermia. NOAA has some good reminders as we head into an extended cold wave late next week - the elderly and infants most prone to a slow, and potentially fatal drop in body temperature: "When your body temperature sinks below 96°F, you have hypothermia, a serious health hazard that occurs when body temperature is lowered to much. Get medical attention immediately. Move the victim inside to a heated location and begin warming the center of the body first. If the person is unconscious, administer CPR. Hypothermia can occur in temperatures as warm as 60°F, particularly in water or with if you are outside a long time and not dressed for the weather. Of the approximately 1,300 people the CDCP lists as being killed by hypothermia each year, most are seniors, according to the National Institute of Aging, but some are children and young adults. Everyone needs to be careful. Some medicines, problems with circulation, and certain illnesses may reduce your ability to resist hypothermia. As you age, your body becomes less efficient at letting you know when you are too cold. In addition, older people tend not to shiver effectively, one of the ways the body warms itself up. Remember these tips to help prevent hypothermia:
Dress in layers
Wrap up well when going outside in the cold.
Avoid breezes and drafts indoors.
Eat nutritious food and wear warm clothes to ward off winter chill.
Wear a warm hat in the winter.
Eat hot foods and drink warm drinks several times during the day.
If you live alone, ask a family member of neighbor to check on you daily or have a camera installed that a family member can view on their computer.
Ask your doctor if any medicine you're taking increases your risk of hypothermia. Drugs that may cause a problem include barbiturates, benzodiazepines, chlorpromazine, reserpine, and tricyclic antidepressants..." 
---
Clipped Again. The best chance of a couple of inches of snow tonight and Saturday morning comes north of Lake Mille Lacs; maybe some 3-4" amounts in the Red River Valley. MSP metro area may see a coating. 12km NAM guidance: NOAA and Tropicaltidbits.com.
---
Numbing End to December. The forecast 500mb map above (GFS) reminds me of the "Polar Vortex" winter 4 years ago, when bitter air stalled over Hudson Bay for week after week, month after month. There's no evidence that polar air will stall for an extended period of time, but I'd plan on 2 straight weeks of highs in single digits, maybe low teens southern Minnesota - nights below 0F. It's time.
---
January Outlook. NOAA's CFSv2 climate model predict a milder than average January for much of the USA, with the exception of far northern states, including Minnesota. Confidence levels are low, but this sure is a colorful map! Source: WeatherBell.
---
---
ECMWF Outlook for White Christmas 2017. The map above shows the European model forecast for 1" of snow cover on Christmas morning, December 25. Much of the northern USA should have a white Christmas, but it may be touch and go for Chicago, Des Moines and Kansas City. Map: weather.us.
---
Geminid Meteor Shower Peaks. Details from IMO, The International Meteor Organization: "The Geminid meteor shower is the favorite of most meteor observers as it usually provides the strongest display of the year. On the peak night (December 13/14) between the hours of 1:00 and 2:00am local standard time (LST), an observer located in mid-northern latitudes under clear skies has the opportunity to view at least 75 Geminid meteors. If you watch from a rural setting far from city lights then your counts could exceed 100. If watching from urban locations you will be limited to around 50 meteors during this period. The Geminids are one of the few annual meteor showers that are active all night long..."
---
Huge Trigger of Winter Injuries: Falls on Snow and Ice
. Check out the details from
CDC
: "
Each year, millions of older people—those 65 and older—fall. In fact, more than one out of four older people falls each year, but less than half tell their doctor. Falling once doubles your chances of falling again.
One out of five falls causes a serious injury such as broken bones or a head injury.
Each year, 2.8 million older people are treated in emergency departments for fall injuries.
Over 800,000 patients a year are hospitalized because of a fall injury, most often because of a head injury or hip fracture.
Each year at least 300,000 older people are hospitalized for hip fractures.
More than 95% of hip fractures are caused by falling, usually by falling sideways.
Falls are the most common cause of traumatic brain injuries (TBI).
Adjusted for inflation, the direct medical costs for fall injuries are $31 billion annually. Hospital costs account for two-thirds of the total..."
---
Critical Fire Danger Lingers Over SoCal - Slow Progress on Thomas Fire. Praedictix Briefing: Issued Thursday, December 14th, 2017:
Multiple major wildfires continue across parts of southern California

Thursday

morning, with almost 265,000 acres consumed since last week.
An update on the active wildfires:
Critical fire danger is expected

Thursday

into

Friday

morning across southern California, as wind gusts of 50+ mph will be possible. Red Flag Warnings are in effect into

Friday

morning across these areas.
---
Ongoing Wildfires. Four major wildfires continue to burn across southern California this morning. The Thomas Fire has grown to 238,500 acres burned and is 30% contained. Here was the situation on the Thomas Fire from the Cal Fire incident report last night:
Santa Barbara County:  Gusty north to northeast winds will continue to battle with terrain driven winds. In the evening, the offshore flow will prevail and strengthen, as it has each night, amplifying fire activity. Very high fuel loading, critically low fuel moistures, above average temperatures and single-digit relative humidities will continue to support fire growth on the west, east and north sides of the Thomas Fire. Firefighters will remain engaged in structure defense operations, scout for opportunities to establish direct perimeter control along with contingency planning and efforts ahead of the fire front. Fire will continue to threaten the communities of Santa Barbara, Carpinteria, Summerland, Montecito and surrounding areas.

Ventura County: Crews continued to actively engage in suppressing active and small spot fires around the Southeastern portion of the perimeter. Areas currently evacuated are mitigating hazardous conditions. Utility companies continue to assess and mitigate infrastructure that was damaged from the fire so citizens can be safe when returning to these affected areas.
A detailed, interactive map of the fires can be found HERE.
---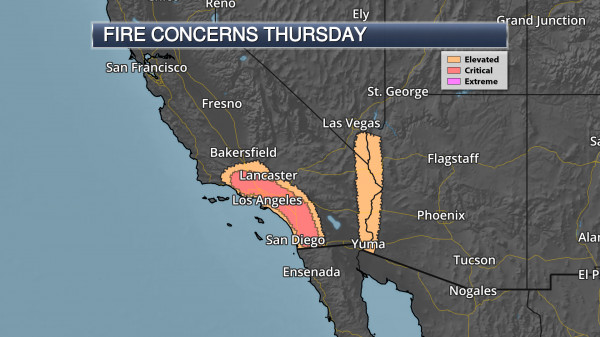 Critical Fire Danger Today. Today will be another day of strong Santa Ana winds across southern California, with low humidity values and wind gusts of 50+ mph. This will lead to a critical fire weather day across the region, as any ongoing or new fires will be able to quickly spread in the favorable fire weather conditions. Gusty winds and low humidity values are also leading to an elevated fire danger in the Colorado River Valley throughout the day.
---
Critical Fire Danger Continues Into Friday. We will continue to see critical fire weather concerns across southern California into Friday morning, however the strong offshore winds will be on the decrease throughout the afternoon hours. We should also see some higher humidity values at lower elevations as well as we head toward Friday night.
---
Red Flag Warnings. Due to the continued fire weather conditions - including gusty Santa Ana winds and low humidity values - Red Flag Warnings are in effect across portions of southern California. These warnings in the Los Angeles and San Diego areas are in effect through Friday morning, with warnings through Thursday afternoon for the Colorado River Valley and other portions of southern California, including Imperial. Across these warning areas, winds could gust over 50 mph at times. In the Sierra and Kern County Mountains, the Red Flag Warning goes through Friday evening and is due to low humidity values as winds will be between 5-15 mph.
---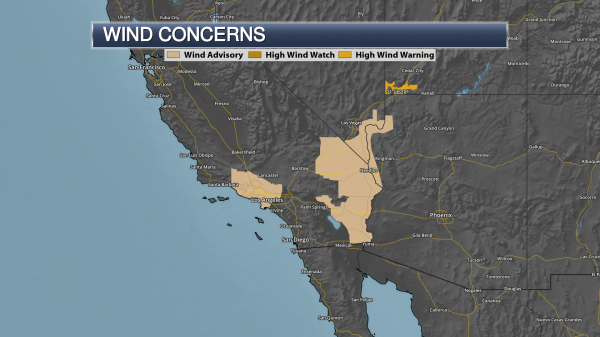 Wind Advisories In Effect. Wind Advisories are in effect today across portions of California, Nevada and Arizona (including the Los Angeles area) due to the potential of wind gusts up to 50 mph in spots. This wind will help spread any ongoing or new wildfires that spark across the region.
---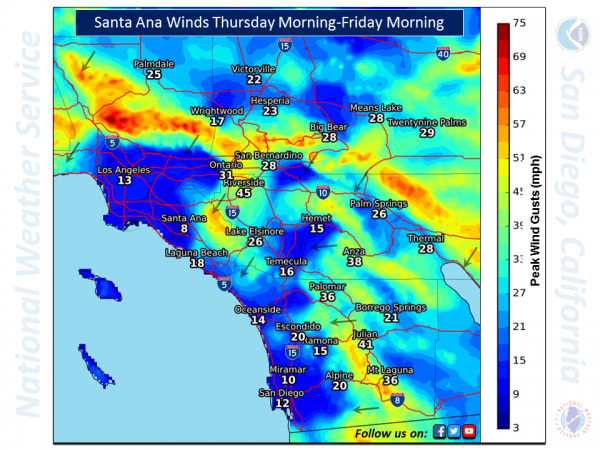 Forecast Peak Wind Gusts. Winds will be stronger at higher elevations as we head throughout the next 24 hours, with wind gusts of 30+ mph expected for areas like Ontario and Riverside. Graphic: NWS San Diego.
---
Latest Information From The National Weather Service – Los Angeles. Here is more information on the Red Flag Warning areas and expected fire weather over the next couple of days from the National Weather Service office in Los Angeles: "Gusty northeast winds are expected to continue through Friday morning, especially over Ventura and Los Angeles Counties. The greatest concern will be for the mountains of Los Angeles and Ventura Counties, the Santa Clarita Valley, and the Santa Ana wind prone areas of the Ventura County valleys and Oxnard Plain. The strongest winds are expected Thursday into Thursday night, where northeast wind gusts of 40 to 50 mph can be expected for the coast and valleys, with gusts up to 55 mph in the mountains. Relative humidities will continue to remain in single or low teens as well with poor overnight recoveries. The gusty offshore winds, very low relative humidity, unseasonably warm temperatures, and extremely dry fuels will allow the extreme fire danger to continue, with the potential for large fires, rapid fire growth, and extreme fire behavior if ignition occurs. Although there are no Red Flag Warnings issued for Santa Barbara County, there will be local northeast to east winds 15 to 25 mph over the mountains Thursday into Thursday evening, and combined with extremely low humidities will result in elevated fire weather concerns."
---
Smoke As Far North As The Bay Area. Due to high pressure, smoke has been drifting across portions of the eastern Pacific. Smoke has even been transported as far north as the Bay Area. Graphic: NWS San Diego.
---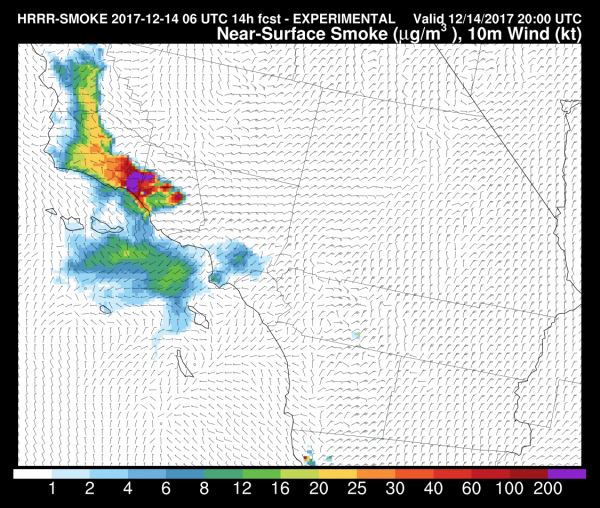 Smoke Impacts Continue. Poor air quality is once again expected today across the region due to the smoke from the Thomas Fire. This is the near-ground smoke forecast for Noon today.
Meteorologist D.J. Kayser, Praedictix
---
Unfettered Building, Scant Oversight Add to Cost of Hurricanes In U.S. Reuters investigates: "...Across the country, newer construction in flood-prone areas generated more than $9 billion in claims for structural damage on the cash-strapped flood insurance program between 2000 and 2015. Flood-management authorities say that some of those claims probably never would have been filed had proper building controls and accurate flood maps been in place. "You look at the media images and you see new subdivisions, new strip malls and new buildings with water up to the rooftop. Those are red flags in my mind. Those shouldn't be happening," said Paul Osman, floodplain program manager for the Illinois Office of Water Resources. Controlling construction inside flood-prone areas is critical to keeping flood insurance affordable and reducing post-disaster costs, federal officials say..."
Photo credit: "UNDER WATER: Hurricane Harvey caused billions of dollars of flood damage in August in Texas, including this area of Northwest Houston." REUTERS/Adrees Latif/File Photo.
---
216 Companies on the Fortune 500 List Were Founded by Immigrants or Their Children. Here are a couple of clips from Quartz: "...Of the companies that made the list in 2017, 43% were founded by an immigrant or the child of an immigrant, according to research from the Center for American Entrepreneurship. The  share of immigrant founders in technology is even higher, 45%—though there are immigrant entrepreneurs are represented in every sector… People born in other countries and their children have continued to feed the Fortune 500 list in more recent decades. Apple founder Steve Jobs, the son of a Syrian immigrant, and Russia-born Sergey Brin from Google—and its parent Alphabet—are among the most famous. But there are other relatively new companies with immigrant ties. Marc Randolph, one of Netflix's founders, is the son of an Austrian immigrant. Sol Barer, a German immigrant, helped start biotech firm Celgene…"
---
Andrew Zimmern Heads Up Minneapolis Food Hall. GoMN has the tantalizing details: "Minnesota's culinary king has signed on as the first tenant of The Dayton's Project – a $250 million makeover of the historic Dayton's building on Nicollet Mall that, when finished, will include offices, retail stores, a gym, a library and the food hall. According to a press release from developers, The Dayton's Food Hall and Market will be a "mix of well-known food vendors, local treasures, fresh food purveyors, and food makers creating a market that will be the first of its kind in the Twin Cities...Zimmern is hoping to create a food adventure similar to many European food halls and markets, where visitors can sample food from local vendors and shop for things like fresh meat and seafood, artisanal cheeses and fresh baked goods from local purveyors..."
Image credit: "An artist's rendering of The Dayton's Food Hall and Market." Tunheim.
---
New Research Finds Kids, Ages 4-6, Perform Better during Boring Tasks When Dressed as Batman. Well duh! Here are a couple excerpts from the World Economic Forum: "...Rachel E. White, from Hamilton College, and Emily Prager and Catherine Schaefer from the University of Minnesota, tested four and six-years-olds by giving them a boring computer task and asking them to do it for 10 minutes. They also offered the kids an out: If they got bored, they could play a game on the iPad, located nearby in the testing room...Not surprisingly to anyone who has kids, and iPads, the kids spent 37% of their time on the 'work' task, and 63% on the iPad. But those kids pretending to be superheroes 'worked' more than those who thought of themselves in the third person, and both of those groups did better than the kids who just thought of themselves as 'me'. In other words, the more the child could distance him or herself from the temptation, the better the focus…"
Photo credit: "Nowadays it's easy for children to be distracted, but this research shows how dress up keeps their focus." Image: REUTERS/Pilar Olivares.
---
23 F. maximum temperature in the Twin Cities on Thursday.
27 F. average high on December 14.
10 F. high on December 14, 2014.
December 15, 1971: A snowstorm hits Duluth with 10 inches.
---
---
FRIDAY: Gray skies with flurries. Winds: W 5-10. High: 27
FRIDAY NIGHT: Period of light snow - coating to an inch (more north). Low: 21

SATURDAY: Snow tapers to flurries - dry afternoon. Winds: SE 5-10. High: 33

SUNDAY: Mostly-gray, but better travel day. Winds: E 5-10. Wake-up: 26. High: 34

MONDAY: Overcast, milder than average. Winds: SW 10-15. Wake-up: 27. High: 37

TUESDAY: Peeks of sun, still pretty nice. Winds: NW 10-15. Wake-up: 28. High: 33

WEDNESDAY: Milder breeze, still cloud-cluttered. Winds: SE 8-13. Wake-up: 27. High: 35

THURSDAY: Potential for plowable snowfall. Wake-up: 30. High: 32
---
Climate Stories....
Scientists Link Hurricane Harvey's Record Rain to Climate Change. A warming atmosphere made the probability of Hurricane Harvey's 50"+ rains as much as 38% more likely, according to 2 new studies highlighted at The New York Times.
3-Day Hurricane Harvey radar loop with 2-minute updates from August 25-28, 2017, courtesy of AerisWeather.
---
Climate Change Made Harvey's Rainfall Three Times More Likely, Scientists Say: From Climate Nexus Hot News: "Climate change made Hurricane Harvey's record-breaking rainfall much worse, scientists reported this week. Peer-reviewed research from the World Weather Attribution initiative, presented Wednesday at the American Geophysical Union conference in New Orleans, found that climate change made the hurricane's rainfall totals 15 percent more intense than normal. Meanwhile, separate research published in the journal Geophysical Research Letters and also presented at AGU found that climate change likely increased Harvey's rainfall by 20 percent, and possibly as much as 38 percent. Harvey's record-breaking rainfall in August totaled 50 inches in some areas of Houston." (New York Times $, AP, Washington Post $, The Guardian, CNN, Houston Chronicle, Mother Jones, National Geographic, Huffington Post)
Hurricane Harvey file image: NOAA and AerisWeather.
---
Climate Change to Affect City and State Credit Ratings. Here is an excerpt from an Op-Ed from San Antonio's Express-News Editorial Board: "Cities and states, take note. Climate inaction could lower your credit rating. A recent report from Moody's explains how the rating agency will assess climate change risk for states and cities. Risk indicators include economic activity along the coast, potential for hurricane and other extreme-weather damage, and the number of homes in a floodplain. Moody's didn't identify cities in its report, but Texas is one of the states deemed most vulnerable to climate change. Not surprising since Texas has tremendous economic activity along the Gulf Coast and is prone to all sorts of extreme weather across the state. Hurricane Harvey, which slammed into the Coastal Bend before dumping more more than 50 inches of rain on Houston, has caused an estimated $180 billion in damages. Many of the properties damaged were not in designated floodplains, raising questions about whether our mapping and flooding expectations are accurate in light of climate change..."
Photo credit: Bryan Thomas, New York Times. "If your community isn't taking affirmative action on climate change, its credit rating could be at risk. For years, Houston, which suffered grievously during Hurricane Harvey, has paved over much. Has it done enough to stem climate change?"
---
Warm Arctic is 'New Normal,' Scientists Say: Here's a summary and link to relevant stories from Climate Nexus: "The Arctic is experiencing "unprecedented" warming with a rate of sea ice decline not seen in at least the last 1,500 years, a new government report shows. The National Oceanic and Atmospheric Administration's annual Arctic Report Card, released Tuesday, shows that the region is warming around twice as fast as the rest of the planet. The report also shows that thicker ice lasting through multiple melt seasons only made up 21 percent of total Arctic ice this year, as opposed to 45 percent in 1985. The report states that the Arctic "shows no sign of returning to the reliably frozen region it was decades ago." (AP, Washington Post $, The Guardian, BBC, Axios, USA Today, NPR, InsideClimate News, Earther, Mother Jones, The Hill)
Image credit: NOAA.
---
To Test for Climate Disasters: Break, Burn and Throw Stuff. The New York Times reports on how the insurance industry is preparing for a new generation of super-storms, extreme weather events and natural disasters.
---
How The Pentagon Can Step Up on Climate: From Climate Nexus: "The Department of Defense must do more to prepare its overseas bases for the impacts of climate change, according to a government watchdog. The Government Accountability Office said in a report made public Wednesday that integration of climate adaptation in overseas projects and planning is lacking, finding that only one-third of the plans the office reviewed addressed the impacts of climate change. The Pentagon is receiving some climate policy direction from an unusual source: President Trump on Tuesday signed a nearly $700 billion bill directing defense policy for the upcoming year which calls climate change "a direct threat to the national security of the United States." The climate provision in the bill, which directs the DoD to submit a report on the military bases most vulnerable to climate change, survived an attempt to strip it out of the final bill in the House this summer." (GAO: The Hill, Washington Post $, Washington Examiner. Bill: Quartz, The Hill)
---