Strong Winds And High Waves In Duluth Wednesday Morning
The North Shore dealt with strong winds and even some lakeshore flooding Wednesday morning. This video, courtesy of @wxjoe on Twitter, showed flooding in the parking lot near the lift bridge at 6:05 Wednesday morning.
High waves also battered the shore throughout the day, as shown on this webcam image from the Lake Superior Maritime Museum.
Major wind gusts occurred early Wednesday across the North Shore and Lake Superior, with reported gusts to 86 mph.
_______________________________________________
Winter... Has Arrived
For those of you wishing summer (or fall) would hold on longer... don't go to northern Minnesota. This was the view from a MNDOT cam in Donaldson, showing snow accumulating on grassy surfaces.
Much of the same in Gatzke where moderate snow was falling at times according to the MNDOT sensor.
Here's a look at snow totals that had been reported through 4 PM across northwest Minnesota and eastern North Dakota. In Minnesota, 1.5" had fallen near Richwood, with 1" of snow in Lake Bronson and Hawley. Snow totals have been greater in North Dakota, with 3" in Grand Forks, 9.3" at the Grand Forks AFB, 11" in Verona, 12" in Dazey, and 13" near Valley City.
The snow will continue Wednesday Night into early Thursday - and here are expected Wednesday/Thursday combined snow totals. Parts of northern Minnesota could see 6" or more of snow accumulate by the time this system finally pushes out of the region. Even across parts of central Minnesota there could be a little changeover to snow or a rain/snow mix through the overnight hours Wednesday night with very light accumulations.
_______________________________________________
Michael: 3rd Most Intense Hurricane To Hit USA
By Paul Douglas
Weather disasters are a vaguely interesting blur of statistics, until they happen to you, or someone you care about. Then it becomes personal.
Every February we rent a home for a week near 30-A, between Destin and Panama City. The Minnesotans who own the home have no idea what shape it's in, after Hurricane Michael smashed ashore yesterday. Based on everything I saw, I have a very bad feeling about the Panama City area, which bore the brunt of Michael's 155 mph winds.
By some accounts it was the 3rd strongest hurricane landfall on record for the U.S. Gulf water temperatures were 3-5F warmer than average for mid-October; high octane fuel for storms that get their strength from warm ocean water.
Lake Superior's North Shore is cleaning up from gale force gusts and 20-foot seas from the same storm that soaked Minnesota. A cold wind blows today, and the first freeze of the season is expected in the MSP metro Friday morning.
A series of clippers keep us chilly into early next week, but ECMWF is advertising highs near 60F in about 7 days. Oh be still my rain-chilled heart.
_______________________________________________
Extended Twin Cities Forecast
THURSDAY: Ragged and raw. High 39. Low 29. Chance of precipitation 20%. Wind NW 10-20 mph.
FRIDAY: Early freeze? Peeks of sunshine. High 43. Low 37. Chance of precipitation 0%. Wind W 8-13 mph.
SATURDAY: Mostly cloudy, not as chilly. High 53. Low 34. Chance of precipitation 20%. Wind SW 10-15 mph.
SUNDAY: Chilling breeze. Snow showers up north. High 43. Low 28. Chance of precipitation 30%. Wind NW 10-20 mph.
MONDAY: Glimmers of sunshine. High 46. Low 36. Chance of precipitation 20%. Wind SW 8-13 mph.
TUESDAY: Clipper comes through dry. Breezy. High 45. Low 32. Chance of precipitation 20%. Wind NW 10-20 mph.
WEDNESDAY: More sunshine, a little better. High 54. Low 38. Chance of precipitation 10%. Wind W 8-13 mph.
_______________________________________________
This Day in Weather History
October 11th
1909: A snowstorm hits the state, along with temperatures dropping to 7 degrees over northern MN.
_______________________________________________
Average Temperatures & Precipitation for Minneapolis
October 11th
Average High: 61F (Record: 85F set in 2015)
Average Low: 41F (Record: 22F set in 1876)
Average Precipitation: 0.09" (Record: 1.36" set in 1881)
Average Snow: 0.0" (Record: 0.5" in 1977)
_______________________________________________
Sunrise/Sunset Times for Minneapolis
October 11th
Sunrise: 7:23 AM
Sunset: 6:36 PM
*Length Of Day: 11 hours, 14 minutes and 28 seconds
*Daylight Lost Since Yesterday: ~3 minutes and 4 seconds
*Next Sunrise Of 7:30 AM Or Later: October 16th (7:30 AM)
*Next Sunrise Of 6:30 PM Or Earlier: October 14th (6:29 PM)
*When Do We Dip Below 11 Hours Of Daylight?: October 15th (10 hours, 59 minutes, 13 seconds)
_______________________________________________
Minnesota Weather Outlook
Quite a chilly day is expected across the state Thursday, with many areas not making it out of the 30s for highs. We'll be dry across southern Minnesota, but the chance of snow and a rain/snow mix will continue through at least portions of the day across northern Minnesota.
Lots of blue on the departure from average map as highs will be 15-25 degrees below average for mid-October Thursday.
It will also be blustery, with a northwest wind sustained between 10-15 mph and gusts reaching 30 mph in part of the state.
Good news though! We will see warmer weather return as we head toward Saturday. The bad news? It doesn't last long, with highs in the low 50s Saturday possible. Otherwise, we look to be stuck in the 30s and 40s for highs for much of the next week across the Twin Cities, with maybe a few blips of warmer weather toward the middle and end of next week (toward MEA).
After precipitation comes to an end Wednesday Night/early Thursday in the Twin Cities, very few precipitation chances are possible until next week.
_______________________________________________
National Weather Forecast
Michael will continue to be the main story Thursday across the Southeast and Mid-Atlantic as the system weakens but still produces strong winds and heavy rain. A cold front moving east across the eastern third of the nation will help push Michael along, but this front (along with a warm front in parts of the Northeast) could help bring areas not impacted by Michael along the East Coast some rain. A new system pushing out into the Plains will bring rain from South Dakota to Texas, and some chances of snow not only in the Rockies but across parts of South Dakota, Nebraska, and Iowa by Thursday Night.
The heaviest rain through Friday evening across the lower 48 will be in the Southeast and Mid-Atlantic, where 4-10"+ of rain could fall with Michael.
Two areas of heavier snow exist through the end of the week - one across the upper Midwest where some 5-8" totals are possible, and across the Rockies, where some higher elevation areas could see up to a foot or two feet of snow. You can see that Thursday night snow potential across parts of Nebraska and Iowa, with light amounts expected.
_______________________________________________
Michael Now A Category 3 After Slamming Into FL Panhandle - Widespread Severe Damage Being Reported - Praedictix Corporate Weather Briefing: Wednesday evening, October 10th, 2018
Key Messages:
Hurricane Michael officially made landfall near Mexico Beach, Florida as a high-end Category 4 storm with maximum sustained winds of 155 mph around 1:40 PM EDT today. This is the strongest hurricane to ever strike the Florida Panhandle.
Hurricane Michael has weakened to a Category 3 since making landfall with maximum sustained winds of 125 mph.
A recent gust of 102 mph was reported at the Marianna Florida Airport. The Tyndall Air Force Base reported a gust of 119 mph earlier today.
Widespread, severe damage has been reported in the Florida Panhandle with the worst damage between Apalachicola and Panama City. There have been reports of collapsed structures, downed trees, and inundated streets and buildings.
Curfews are in effect for Walton County, Gulf County, Franklin County, and Bay County.
Life-threatening hurricane-force winds continue this evening across the panhandle of Florida, southeast Alabama, and southwestern Georgia as the center of the storm tracks inland.
Tropical storm conditions are expected from northeast Florida into North Carolina. Tropical Storm Warnings are in effect for these areas. Watches and warnings extend into six states including Mississippi, Alabama, Florida, Georgia, South Carolina, and North Carolina.
Heavy rainfall will continue to batter Florida, Georgia, and Alabama with dangerous flash flooding expected. Rain will continue to track into the Carolinas and eventually Virginia as Michael continues its northeastward track.
A Historic Storm. Hurricane Michael has proven to be a devastating and historic storm. It is the strongest hurricane to ever strike the Florida panhandle and the strongest landfalling U.S. hurricane in the month of October. With a central pressure measured at 919 millibars, it is the most intense hurricane (by central pressure) to strike the United States since Hurricane Camille in 1969 and the third lowest landfall pressure in the United States. The NHC confirmed that Michael is the strongest hurricane to make landfall in the continental U.S. since Hurricane Andrew based on its landfall wind speeds of 155 mph. The hurricane is now well inland and rapid weakening is expected tonight with weather conditions improving quickly for those in the Panhandle.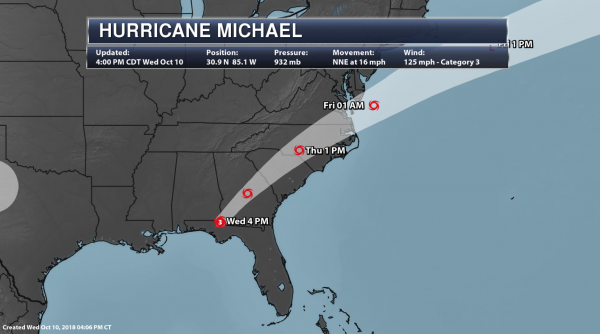 NHC 4 PM Update. At 4 PM CDT, Hurricane Michael has downgraded to a Category 3 storm with maximum sustained winds of 125 mph. Rapid weakening will continue tonight as the hurricane continues to move into Georgia. By the morning, it is expected to downgrade to a tropical storm. Michael continues to move northeastward at 16 mph. The storm will turn east-northeastward with an increase in forward speed. By Friday morning, it will begin its exit out into the Atlantic ocean. By then, the focus will be on marine concerns for those in the Mid-Atlantic with gale and storm-force winds.
Hurricane Warnings Still in Effect. Hurricane Warnings continue across parts of the Florida Panhandle, southeastern Alabama, and southwestern Georgia this evening. Those under the warning are still at the risk of experiencing hurricane-force wind gusts (74+ mph) tonight. At this time, hurricane-force winds extend 40 miles from the center of the storm and tropical-storm-force winds extend out 160 miles from the center. Here's a breakdown of the current warnings in effect:
A Hurricane Warning is in effect for...
* Okaloosa/Walton County Line to Suwannee River Florida
A Tropical Storm Warning is in effect for...
* North of Fernandina Beach Florida to Duck North Carolina
* Pamlico and Albemarle Sounds
Powerful Winds Reported. As expected, Hurricane Michael has produced powerful winds with the highest readings coming out of the Florida panhandle. Here are some of the top wind gusts reported so far:
Tyndall AFB: 119 mph
FSU Panama City Campus: 116 mph
Mexico Beach: 104 mph
Marianna Airport: 102 mph
Panama City Treatment Plant: 94 mph
Tallahassee Airport: 69 mph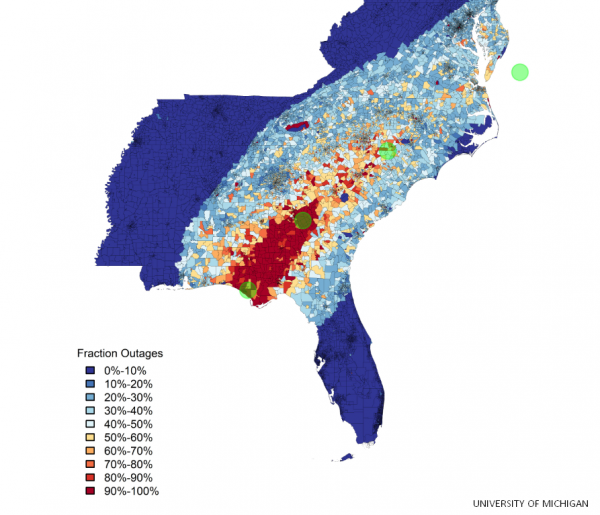 Widespread Power Outages. Nearly 200,000 customers are without power in the panhandle according to a recent report. With ongoing hurricane-force and tropical-storm-force winds, the number of power outages will continue to grow. A forecast model from the University of Michigan (seen in the image above), projects up to 1 million customers could lose power from Florida to North Carolina. Larger cities that are at risk include Tallahassee, Atlanta, Columbia, Greenville-Spartanburg, Jacksonville, Charleston, Charlotte, and Raleigh-Durham. Here is a list of outage maps in the Panhandle area:
Gulf Power
Gulf Power Outage Map
City of Tallahassee Utilities 
City of Tallahassee Utilities Outage Map
Talquin Electric 
Talquin Electric Outage Map
Duke Energy
Duke Energy Outage Map
Suwannee Valley Electric Cooperative
Suwannee Valley Electric Cooperative Outage Map
Tri-County Electric Cooperative 
Tri-County Electric Cooperative Outage Map
Florida Power and Light 
Florida Power and Light Outage Map
Georgia Power 
Georgia Power Outage Map
A Dangerous Storm Surge. While the water levels are receding in some locations, the remaining high waters in combination with the high tide will still result in flooding. The water levels remain high along the coast of the Florida Panhandle. For example, a National Ocean Service station in Apalachicola reported record water levels of up to 7.72 ft above high tide. This is the peak surge forecast for the impacted area:
Tyndall Air Force Base FL to Aucilla River FL...5-10 ft
Okaloosa/Walton County Line FL to Tyndall Air Force Base...3-5 ft
Aucilla River FL to Chassahowitzka FL...4-6 ft
Chassahowitzka to Anclote River FL...2-4 ft
Sound side of the North Carolina Outer Banks from Ocracoke Inlet to Duck...2-4 ft
The following Storm Surge Watches & Warnings are in effect:
A Storm Surge Warning is in effect for...
* Okaloosa/Walton County Line Florida to Anclote River Florida
A Storm Surge Watch is in effect for...
* Ocracoke Inlet North Carolina to Duck North Carolina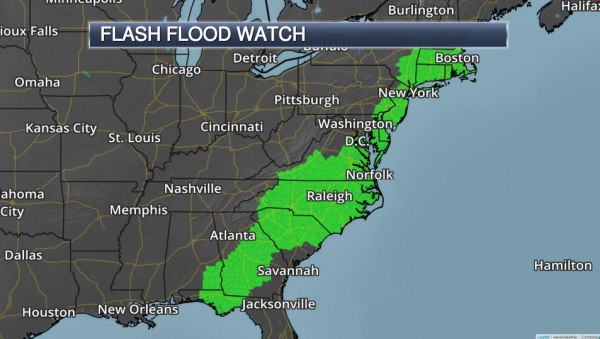 Dangerous Flash Flooding. Michael will continue to track torrential rain into the southeast where dangerous flash-flooding will be possible. Flash flood watches extend up the eastern seaboard as rich tropical moisture will feed into the East Coast.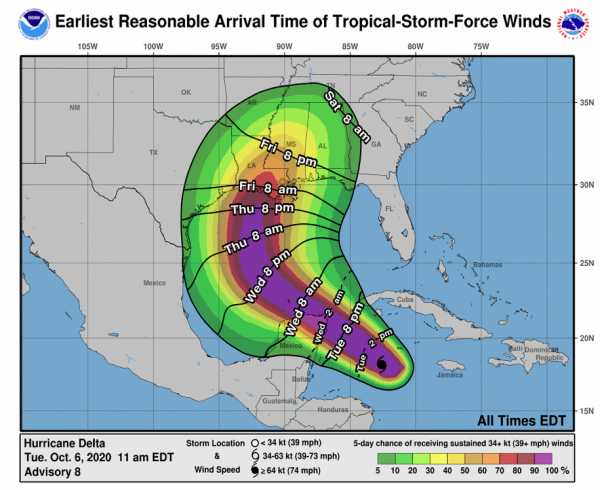 Up to a Foot of Rainfall. The heaviest precipitation will be expected for the Florida panhandle and Big Bend, southeast Alabama, and parts of southwestern and central Georgia where 4 to 8 inches of rain will be possible with isolated amounts up to 12 inches. The rest of Georgia, the Carolinas, and Virginia will likely see anywhere between 3 and 6 inches of rain with isolated amounts up to 8 inches. For the rest of the Florida peninsula, the eastern Mid Atlantic, and southern New England, around 1 to 3 inches is expected.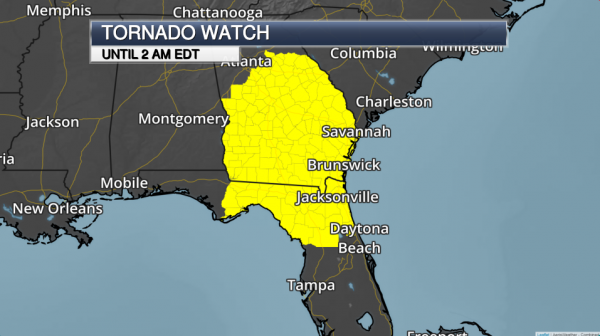 Tornado Watch in Effect. A Tornado Watch is in effect for Northern Florida, Georgia, and the coastal waters until 2 AM EDT as hurricane-related tornadoes will be possible within the bands of Michael. A few supercells will be capable of producing tornadoes within the watch area. A Tornado Watch means conditions are favorable for tornadoes and severe thunderstorms in and close to the watch area. Thursday, the tornado threat will spread into the coastal Carolinas.
Susie Martin, Meteorologist, Praedictix.
_______________________________________________
University of Alabama engineers develop solution to child heat deaths in cars
More from Alabama NewsCenter: "An average of 37 children die each year in the United States from being trapped inside a hot car, and engineering researchers at the University of Alabama have crafted a solution to prevent these tragic accidents. A patent-pending device can alert a cell phone when a human or animal is inside a parked vehicle getting too hot. It was developed by UA students from a concept devised by Dr. Timothy A. Haskew, department head and UA professor of electrical and computer engineering. The device monitors carbon dioxide levels from human breath inside a vehicle along with temperature and car movement, using computer algorithms to determine when to alert a cell phone."
Early Warnings of Terrible Earthquakes Appear High in the Sky, a New Theory Says
More from Scientific American: "On Friday afternoon, March 11, 2011, Kosuke Heki was in his office in Hokkaido University in northern Japan when the ground began to shake. The pulses were far apart, and each one lasted a few seconds. Heki, a geophysicist who studies an arcane phenomenon involving odd patterns formed by electrons in the sky after quakes, was interested but not unduly alarmed. It seemed like a large earthquake but far away. As the shaking continued, he thought perhaps data from the event might help his research. Then someone flipped on the news, and Heki's curiosity turned to horror."
Little-noticed treaty could help delay climate catastrophe
More from The Guardian: "From the beginning of next year, a new global pact will take effect that could have a profound impact on climate change, cutting harmful greenhouse gas emissions by amounts that could help stave off some of the worst impacts predicted by the IPCC. This little-noticed treaty has nothing to do with the Paris accord, the United Nations Framework Convention on Climate Change (UNFCCC) negotiations that have dragged on since 1992, or energy sector emissions, which have resumed their rise. The Kigali amendment, which was agreed on 15 October 2016 and comes into force on 1 January, will drastically reduce hydrofluorocarbons (HFCs). These heat-trapping gases are the byproduct of industrial processes such as refrigeration and can be eliminated from those processes by re-engineering. The amendment comes under the Montreal Protocol, the world's most successful international environmental treaty, which aims to stop the depletion of the ozone layer."
_______________________________________________
Thanks for checking in and have a great Thursday! Don't forget to follow me on Twitter (@dkayserwx) and like me on Facebook (Meteorologist D.J. Kayser)!
 - D.J. Kayser