No Major Weather Drama Between Now and Christmas

Overhead Sunday, on my way home from a Lorie Line concert in St. Paul: "I hope it's subzero for the Super Bowl. We don't want the weather to be too desirable - do we?" Interesting perspective.

For better or worse I've gone on record predicting Minnesota may benefit from a warming climate. Yes, we'll have to grapple with more flash floods, more pests and invasive species; with more stress on our watersheds overall. But compared with rising sea levels, super-sized hurricanes in the south and raging wildfires out west, Minnesota will make out better than much of the USA. Time will tell, but that's my (very) extended outlook.
I still don't see anything that could be misconstrued as a "storm" between now and Christmas. A series of nuisance clippers are possible later in the week, even a sloppy inch or two Saturday (more snow south of MSP).
Wind chills dip into single digits this morning, but I see highs 5-10F milder than average thru much of next week.
Confidence levels are low this far out, but NOAA's GFS model hints at subzero lows Christmas Day. A special gift from Canada?
---
Snowfall To-Date. NOAA released the map above, showing over a foot of snow so far over northern MInnesota and Wisconsin; as much as 3-4 feet plus over the U.P. of Michigan and much of the Rockies and highest terrain of the Cascades and Sierra Nevada range out west.
---
---
Subzero Christmas? It's early - I wouldn't get too riled up just yet, but the ECMWF (Euro) shows an arctic slap arriving around Christmas Eve with metro highs in the low teens and nighttime lows possibly dipping just below zero. Until the middle of next week temperatures trend as much as 5-10F warmer than average. Twin Cities forecast: WeatherBell.
---
---
84-Hour Snowfall Forecast. This is 12 km NAM guidance, showing the best chance of plowable snows from a series of clippers extending from near Duluth and Sandstone to Oshkosh and possible the Milwaukee area. With the exception of a couple inches over northern Minnesota nuisance amounts are expected between now and Friday morning. Map: Tropicaltidbits.com.
---
Thomas Fire Now 5th Largest Blaze in California History - Elevated Fire Concerns Into Tuesday. Here's an excerpt of a Praedictix briefing issued Monday, December 11, 2017 by Praedictix meteorologist D.J. Kayser:
Multiple major wildfires continue across parts of southern California

Monday

morning, with over 250,000 acres consumed since last week.
According to CNN, approximately 94,600 residents are under mandatory evacuations across Ventura and Santa Barbara counties.
Elevated fire danger continues through the beginning of the week across southern California, with strong Santa Ana winds and low humidity values. A Red Flag Warning is in effect for the Los Angeles area today.
An update on the major wildfires in the region:
---
Ongoing Wildfires. Five major wildfires continue to burn across southern California this morning. The only fire that saw growth Sunday was the Thomas Fire, which has now burned 230,000 acres and is only 10% contained. A detailed, interactive map of the fires can be found HERE.
---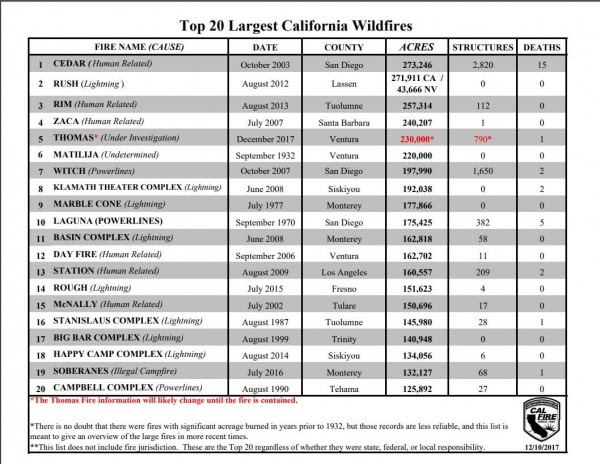 Thomas Fire Now The Fifth Largest In California Modern History. The Thomas Fire now ranks as the fifth largest wildfire since 1932 in California, and the largest that has ever occurred during the winter months.
---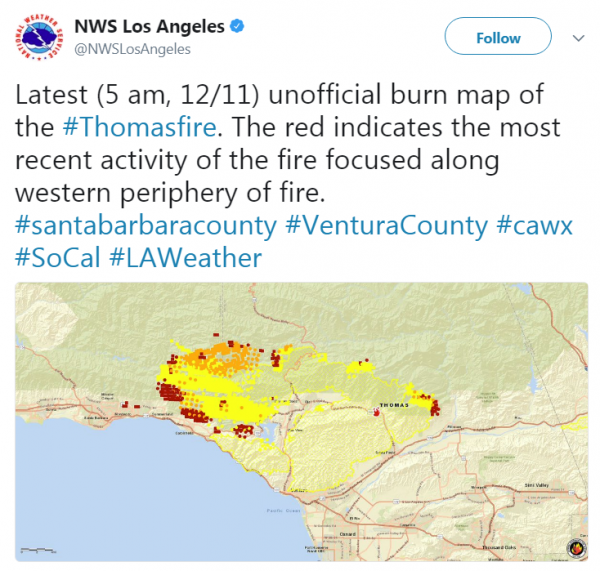 Westward Growth. Overnight fire activity has been mainly on the western side of the fire, with emergency operations occurring. Cal Fire says that the fire "will continue to threaten the communities of Carpenteria, Summerland, Montecito and surrounding areas."
---
Latest Information From The National Weather Service – Los Angeles. "Santa Ana winds will continue through Monday with gusts of 30 to 45 mph for the wind-prone areas of Los Angeles and Ventura Counties. These Santa Ana winds combined with humidities in the teens and single digits, along with very dry fuels, will continue to bring the extended period of critical fire weather conditions to much of Los Angeles and Ventura Counties. Warm temperatures and plume development over the Thomas Fire will lead to rapid fire growth today. Extreme fire behavior with rapid fire spread and spotting is possible for ongoing fires as well as for any future fire ignitions. Caution is advised with potential ignition sources during this period of critical fire weather conditions. Continue to heed evacuation orders near active fires."
---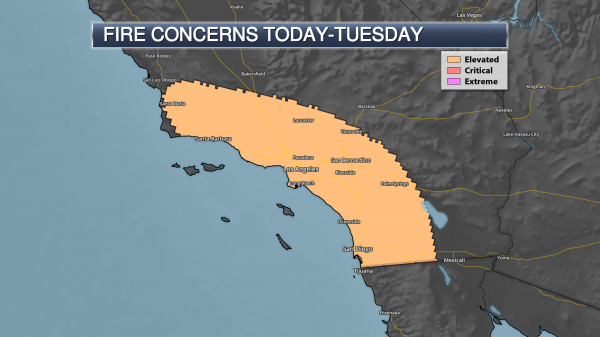 Elevated Fire Danger Today And Tuesday. Elevated fire concerns continue across a good portion of southern California over the next couple days due to the gusty Santa Ana winds and dry weather. These winds are likely to be weaker than what was observed over the past week, though, which might be able to help firefighting efforts. Record heat is also expected in the Los Angeles area over the next three days.
---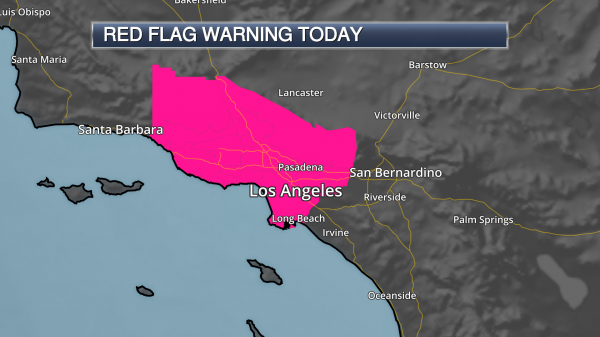 Red Flag Warnings Continue. Due to the continued fire weather conditions - including strong Santa Ana winds and low humidity values - Red Flag Warnings continue across the region through this evening. Here's a portion of the updated warning issued by the National Weather Service in Los Angeles yesterday (Sunday): "An extended period of Santa Ana offshore winds will continue through Monday focused over much of Los Angeles and Ventura Counties. East winds with gusts 30 to 40 mph are expected late tonight into Monday, however, winds are expected to be weaker overall on Monday. Meanwhile, minimum humidities of 3 to 10 percent will be common through at least the middle of this coming week, with widespread poor overnight recoveries...mostly staying under 30 percent. As a result, critical Red Flag conditions will persist over most of Los Angeles and Ventura Counties through Monday with a chance for locally critical conditions continuing into Tuesday, especially in the valleys and mountains. The Santa Barbara County Mountains will maintain elevated fire weather conditions due to continued very dry conditions with very poor overnight recoveries. There is a chance of additional plume growth on Monday."
---
Air Quality Concerns As Well. Easterly flow will continue to push smoke from the Thomas Fire across parts of southern California throughout the day, leading to poor air quality. The National Weather Service does warn that "Some coastal areas that have been protected by offshore flow may see smoke move in this afternoon or evening." This map shows expected smoke around noon today.
Meteorologist D.J. Kayser, Praedictix
---
California Wildfires Now Larger than New York City and Boston Combined. CNN has perspective: "The wildfires tearing through Southern California are now burning an area bigger than New York City and Boston combined. The biggest of the six blazes -- the 230,000-acre Thomas Fire -- is the fifth-largest blaze in state history. And the weather is not helping out firefighters at all. There's no rain in the forecast for 10 days, winds are still gusty and vegetation is still dry. Gov. Jerry Brown, who toured damage over the weekend, warned Californians wildfires are "the new normal."
ABC News has more details on the California blazes here.
---
Thomas Fire Now Ranks Among California's 20 Worst Fires
California wildfire rankings parallel growing influence of climate change
Data courtesy of Climate Signals: With an updated official tally posted this morning reporting 132,000 acres burned, the Thomas Fire in southern California now ranks among California's top 20 largest wildfires on record in a California Department of Fire database that extends back through the 1930s.
The Wine Country Fires earlier this fall burned 245,000 acres. If grouped and viewed as one complex of wildfires (as CalFire occasionally does), that incident would rank as the fourth largest California wildfire incident on record.
Fourteen of California's largest 20 wildfires have burned since the year 2000, reflecting in part the growing influence of global warming. Temperatures are rising in California, which just endured its worst heat wave on record in early September. Rising temperatures are drying out the landscape, amplifying drought conditions, and lengthening the wildfire season in California.
The cost of fighting wildfires in California is rising in tandem with the frequency of very large fires. At $260 million, the 2016 Soberanes wildfire in California set the record as the costliest firefight in the U.S. history.
---
Official Toll in Puerto Rico: 64. Actual Deaths May Be 1,052. The New York Times reports.
---
Authorities Release Updated Maria Death Toll as Journalists Do The Math: Here's the latest from Climate Nexus Hot News: "The official death toll from Hurricane Maria has risen to 64, Puerto Rican authorities announced Saturday, factoring in two additional "indirect" deaths from the storm to previously announced numbers. The official number of deaths, which critics say is suspiciously low considering the damage from the storm, is coming under some scrutiny: both a Center for Investigative Journalism (CPI) report published Thursday and a New York Times review of mortality data published Friday estimate the actual death toll to be closer to 1,000. These two reports follow earlier investigations from CNN, Vox and Buzzfeed that also show high death rates as a result of the storm. FEMA also reported Saturday that aid to the island has topped $1 billion." (Official toll: ABC, CNN. Analysis: Latino USA, New York Times $, Earther)
September 24, 2017 file image of Hurricane Maria: NOAA and AerisWeather.
---
"100-Year Floods" Every Year? New Texas Rain Data is Redefining Storms. Here's a snippet from American-Statesman: "If you feel like Texas has had a constant stream of 100- or 500-year floods in the past few years, you're not wrong. Texas rainfall estimates, the federal data used to describe flooding, were last updated in the 1960s and '70s, and the National Oceanic and Atmospheric Administration is updating them to reflect the increased frequency of heavy rainstorms documented over the past two decades. The data are not just for forecasting the weather and describing storms. Once adopted, the new numbers will be used in engineering standards for roads and buildings and in the National Flood Insurance Program's mapping of flood risk, potentially forcing more people to buy flood insurance or to build their homes to higher elevations..."
Photo credit: "Celia Rosales walks in front of a house that was damaged during the 2015 Memorial Day floods in San Marcos." MARLON SORTO / AHORA SI.
---
One of the Coldest Winter Olympics Predicted for South Korea. Reuters explains: "The Pyeongchang Games in February may feel like the coldest Olympics in at least three decades because the main stadium lacks a roof, leaving an estimated 35,000 spectators, including world leaders, exposed to extreme cold for the opening ceremony. The organizing committee's concerns are contained in an internal document, seen by Reuters, which expects biting winds to make conditions inside the open-air stadium at the start of the Games seem like minus 14 degrees Celsius. That "feels-like" temperature is lower than the minus 11 degrees recorded at the 1994 Lillehammer Games in Norway, whose stadium also lacked a roof and is so far the coldest Olympics for which such data is available, the internal document shows..."
Image credit here.
---
The Material That Built the Modern World Is Also Destroying It. There are solutions, and we need to turn up the dial and move faster and smarter. Here's an article, part of an excellent series at Quartz: "Remarkably, the material that built the first modern civilization remains key to building today's global economy. The cement we use in 2017 is not so different from the stuff used to build the concrete dome of the Roman Pantheon in 125 AD. What has changed is that today we use vastly greater quantities of the grey powder: more than 4.2 trillion kg annually. To put that in perspective, you could build 1,000 Hoover Dams each year with the amount of concrete that much cement would make. That'd be all well and good except for the fact that 1 kg of cement releases more than than 0.5 kg of carbon dioxide into the atmosphere. As a result, the cement industry is currently responsible for about 5% of global CO2 emissions—more than double the aviation industry..."
Image credit: "The right thing to do." (Tsjisse Talsma for Quartz)
---
The World Produces More Than 3.5 Million Tons of Waste a Day - And That Figure is Growing. The Washington Post has some staggering statistics: "...The world generates at least 3.5 million tons of solid waste a day, 10 times the amount a century ago, according to World Bank researchers. If nothing is done, that figure will grow to 11 million tons by the end of the century, the researchers estimate. On average, Americans throw away their own body weight in trash every month...On average, a person in the United States or Western Europe uses about 220 pounds of plastic per year, according to the Worldwatch Institute, a research organization. The packaging industry, growing thanks to the rise of online stores and other factors, poses a huge challenge. About one-third of the food produced in the world gets thrown away or otherwise wasted, according to U.N. data. The Dutch toss out the equivalent of over 400,000 loaves of bread per day, on average. The United States wastes by far the most food, due in part to fast-food restaurants at which employees and consumers dump unsold items or leftovers..."
Photo credit: "Scavengers dig through the trash at Jakarta's Bantar Gebang, one of the largest landfills in the world. Residents of the Indonesian capital's growing dump simply know it as "the Mountain." It receives over 6,000 tons of trash per day."
---
How Will Humanity React to Alien Life? Psychologists Have Some Predictions. Here's a clip from a story at The Washington Post: "...Given these results, Pennycook said he would be "pretty confident" that, if NASA announced the discovery of alien microbes tomorrow, Americans would react positively. "Results of this new study mirror a survey conducted by theologian Ted Peters, who explored the impact of discovering extraterrestrial life on a person's religious beliefs," Vakoch said. Most people responded that their own religious beliefs could withstand the announcement — but other believers would struggle. "It looks like we don't need to be worried about others not being able to handle an announcement of extraterrestrial life," he said. "They'll do just fine." Planetary scientist Lindy Elkins-Tanton, who is the director of Arizona State University's initiative but was not directly involved with this study, said that "getting ready for what we might find" in space is the first step. That Americans respond positively, she said, is "quite hopeful..."
---
10 Timeframes. Talk about perspective; a story from Paul Ford at Contents Magazine is definitely worth your time: "...You know that decades are a recent invention? Decades are hardly a century old. Not the concept of having ten years of course, but the concept of the decade as a sort of major cultural unit, like when I say "the 90s" and you think of flannel shirts and grunge music and great R&B music, or when I say "the 80s" and you think of people with big hair using floppy disks. You need a lot of change for a decade to be a meaningful demarcation. Back in the 1600s they didn't really talk about centuries as much either. It was all about the life of the king, the reign (of King James and so forth), or the era. And then they invent clocks and clocks get cheaper and cheaper. Clocks are an amazing experience, right? Two hands, and a bell. This sense of relentless forward motion and they go in only one direction. Imagine doing user testing on clocks..."
---
Minnesotans Have the Least Amount of Serious Debt in the USA. GoMN has the story: "The Urban Institute produced a map of America, down to the county level, showing how many Americans have "debt in collections." This basically means any debt they have that's "past due," which can stem from credit and unpaid bills. It compiled this map using credit bureau figures and U.S. Census data. Really well, as it turns out. While it's bad that anybody is struggling with past-due debt, it only affects 17 percent of Minnesotans – the lowest rate in the country. Our neighbors in South Dakota and North Dakota are doing well too. Debt collection rates in those states are 18 and 19 percent, respectively.Minnesota also has the least overdue medical bills, with just 3 percent of residents late on their bill payments..."
Map credit: The Urban Institute
---
The World's 50 Best Beaches. Thank you, Flightnetworks.com; I needed this: "Welcome to the most definitive list of beaches ever assembled — a diverse collection of off-the-beaten-path slices of paradise from every hidden corner of our planet. To create The World's 50 Best Beaches©, FlightNetwork has consulted 600+ of world's best travel journalists, editors, bloggers and agencies — the people who do this for a living — to gain insight from their opinions and expertise. By asking the top travel professionals, Flight Network has created the most trustworthy and accurate list out there to inspire travelers and help choose their upcoming winter holiday destinations. Pack your bags and book a flight to these amazing powder white beaches, swaying palm trees, turquoise waters, volcanic coastlines, and snow-capped mountain peaks steps from the sea. This comprehensive list will take you from the azure waters of Australia to the postcard-worthy shores of Africa, Europe, North, Central and South America, Caribbean, Asia and everywhere in between."
---
You Call This Progress? This is why North Korea hates us. CNN reports: "Thanks to the invention of cupholders, we can all safely drink coffee while we drive. And now, thanks to a new app from GM, we can safely order coffee from Starbucks (SBUX) and Dunkin' Donuts (DNKN) while we drive. The new technology will let drivers do everything from ordering hot wings to booking a hotel room or reserving a table at Applebee's -- all without even having to pull over. If you own a 2017 or 2018 model year Chevrolet, Buick, GMC or Cadillac, you might see a new icon on your vehicle's central computer screen Tuesday morning. It's labeled Marketplace. With a few pokes of your finger you can order food or drinks, or reserve a table at one of several restaurants that have teamed up with GM..."
Photo credit: "The new GM Marketplace App will allow users to make purchases and reservations from behind the wheel." General Motors.
---
.9" snow fell yesterday in the Twin Cities (MSP International Airport).
4" snow in the metro area (officially) so far this winter season.
35 F. high yesterday in the Twin Cities.
28 F. average high on December 11.
21 F. high on December 12, 2016.
December 12, 2004: A strong cold front pushes through Minnesota during the early morning hours. By dawn, winds turn to the northwest and increase to 25 to 40 MPH with gusts as high as 70 MPH. The windiest part of the day was from mid morning through mid afternoon when many locations suffered sustained winds in the 30 to 45 MPH range. The highest wind gusts recorded in southern Minnesota during this time included 71 MPH in Welch and 62 MPH near Albert Lea, St. James, Winthrop and Owatonna. Other notable wind gusts included 59 MPH at New Ulm, 58 MPH in Mankato, 55 MPH in St. Cloud and Morris, 54 MPH at Redwood Falls, and 52 MPH at the Minneapolis/St. Paul International Airport. Scattered trees were downed and a few buildings received minor roof damage across the region.
December 12, 1939: A December gale along the North Shore leads to winds clocked at 48 mph at Duluth.
---
---
TODAY: Partly sunny, brisk. Wind chill in the single digits. Winds: NW 7-12. High: 25
TUESDAY NIGHT: Partial clearing. Low: 19

WEDNESDAY: Milder with a few flurries. Winds: NW 10-15. High: 32

THURSDAY: Mostly cloudy, few flurries. Winds: NW 10-15. Wake-up: 17. High: 29

FRIDAY: Chance of light snow or flurries. Winds: W 7-12. Wake-up: 22. High: 31

SATURDAY: Light snow, inch or two possible. Winds: NE 7-12. Wake-up: 18. High: 27

SUNDAY: Partial clearing, drier day of weekend. Winds: SW 5-10. Wake-up: 16. High: 29

MONDAY: Gusty wind, few flakes around. Winds: NW 10-15. Wake-up: 18. High: 32
---
Climate Stories....
Did Climate Change Worsen the Southern California Fires? A warmer, drier climate was one of multiple reasons why the fires have been so bad, according to a story at The Atlantic: "...The answer isn't as clear-cut as it was this summer, when drought- and heat-stoked fires raged across the Rockies and Pacific Northwest. Instead, a mix of forces are driving the fires in Southern California, and only some of them have a clear connection to global warming. "These fires are not immediately emblematic of climate change," said John Abatzoglou, an associate professor of geography and climate at the University of Idaho, in an email. "Yes, California did have the warmest summer on record. But the big anomaly here is the delay in the onset of precipitation for the southland that has kept the vegetation dry and fire-prone." In other words, late-fall and winter rains would normally end California's fire season in November. Because those rains haven't yet arrived, the blazes continue..."
---
California's Hellish Fires: A Visit from the Ghost of Christmas Future. Here's more perspective from The Guardian: "...A 2006 study published in Geophysical Research Letters found that global warming would push the Southern California fire season associated with Santa Ana winds into the winter months. As a 2015 study published in Environmental Research Letters found, Santa Ana fires are especially costly because of the speed at which they spread due to the winds and their proximity to urban areas. That study concluded that the area burned by Southern California wildfires will increase by about 70% by mid-century due to the drier, hotter, windier conditions caused by global warming. A 2010 study published in Forest Ecology and Management found that global warming may extend the fire season year-round in California and the southwestern USA. These December fires will become more commonplace in a hotter world. We're literally getting a glimpse at Christmas future, and though there are other factors at play, human-caused global warming is largely to blame..."
---
Scientists Thought at Alaskan Weather Station Was Broken, But It Was Just Climate Change. Earther has details: "...There is indeed something odd going on at Utqiaġvik. It's warmed 4°F since the station began reliably returning data in 1925 with almost all of that rise coming since the 1960s. But the change comparing the 21st century to the last 20 years of the 20th century is where things get really crazy. I honestly had to do a double take looking at the graph (above). No, your eyes are not deceiving you: Utqiaġvik warmed an average of 6.5°F from October-December, including an astounding 7.8°F in October alone, when comparing the 20 years before 2000 to the 17 years since. That's thawed out permafrost, shrunk sea ice extent, and caused a host of other changes that are endangering people's lives and livelihoods in the region, particularly for Alaska Natives. This year has been particularly brutal for sea ice, which has failed to grow back this winter..."
Image credit: climate.gov.
---
The Teenager Inventor Who Could Change the Way the World Fights Climate Change. Stating the obvious, we need more people like Ethan Novek. Here's an excerpt from Quartz: "Ethan Novek speaks fast and insists on giving you every detail, even in response to simple questions. It can be overwhelming. But it's worth sticking with him. Novek started winning science fairs in middle school and was awarded his first patent at 16. Now, at 18, he has his own company, Innovator Energy, and is working on a technology he believes could help dial down global warming. Despite the growing use of renewable energy, more than 80% of the world's energy still comes from burning fossil fuels and will continue to do so for decades to come; we simply won't be able to replace it with renewable energy fast enough. At the same time, under the Paris climate agreement, the world needs to cut emissions fast, in order to reach net-zero emissions by about 2060. If it works, Novek's technology would allow us to keep burning fossil fuels, without the climate-changing emissions, until we've found more sustainable options..."
Photo credit: "Ethan Novek and Andrew Bramante in the research labs of Greenwich High School." (Quartz/Akshat Rathi)
---
The House of the Future is Elevated. A story at CityLab caught my eye, in the wake of Hurricane Harvey and the massive flooding of the Houston area: "...More than a million people live in the 100- and 500-year flood zones across the Houston area, and hundreds of thousands more do in other U.S. cities, including Miami and New York. Harris County's move conforms with the advice of building engineers, climate experts, and the insurance industry. If you live in an area that's prone to flooding—or will be soon—getting off the ground is the best way to avoid recurring, expensive, and heart-rending damage to your house. "There's no real substitute for elevation. That's your best bet," said Tim Reinhold, senior vice president and chief engineer of the Insurance Institute for Business and Home Safety (IBHS), a research organization based in Tampa and funded by insurers. Houses don't have an engineered safety margin for avoiding flooding the way they do for wind resistance, Reinhold points out; even a few inches of water can be devastating..."
Image credit: Madison McVeigh/CityLab.
---
Humanity's Fight Against Climate Change is Failing. One Technology Can Change That. Here's an excerpt from Quartz: "...Critics laughed at those pursuing a moonshot in "direct-air capture" only a decade ago. Now Climeworks is one of three startups—along with Carbon Engineering in Canada and Global Thermostat in the US—to have shown the technology is feasible. The Hellisheidi carbon-sucking machine is the second Climeworks has installed in 2017. If it continues to find the money, the startup hopes its installations will capture as much as 1% of annual global emissions by 2025, sequestering about 400 million metric tons of carbon dioxide per year. For decades, certain scientists have hoped carbon-capture technologies, deployed at large scales, could save humanity from catastrophic climate change by providing a bridge to a future in which we'll have enough capacity to create, store, and supply all the world's energy from only renewable sources. Now that seems imminent..."
Image credit: "Suck it up." (Tsjisse Talsma for Quartz).
---
In A Way, Oceans Have Absorbed All the Carbon Dioxide Produced From Burning Oil Since 1870. Quartz explains: "...If I hadn't looked at that chart, I would never have discovered that, in a way, nearly all the emissions from oil burned since 1870 have ended up in the oceans. That's remarkable for two reasons. We've burned a lot of oil, and thus produced a lot of carbon dioxide. Without the oceans, that carbon dioxide would have otherwise remained in our atmosphere and spent all those years absorbing sun's heat. On the other hand, it's still having a large negative impact on the environment: the oceans are acidifying and corals dying..."
Image credit: "The sacrifice." (Reuters/David Gray).
---
Does Hope Inspire More Action on Climate Change Than Fear? We Don't Know. Dave Roberts reports at Vox: "...Most important, when attempting to trace the links between emotional experiences and action, is the element of time. What matters in an overall assessment of someone's disposition toward climate change is not their raw feelings in the immediate aftermath of an emotionally significant experience (living through a hurricane, say, or reading a scary magazine story), but how those responses are reinforced and strengthened (or not) over the course of the following days and years. Any affective response will fade without reinforcement. It is not cleverness that matters most in communication, but repetition. Emotional experiences and messages need to be repeated over and over again before they stick. "The immediate responses and longer-term consequences of an emotionally evocative event," the authors write, "may or may not be aligned, and may even differ dramatically..."