5th Coldest Large Metro Area on Earth?

Winter in Minnesota is an acquired taste. Like liver and onions, "uni" (sea urchin sushi) and most mullets. Then again, it gives us something to talk about that doesn't involve Russians.
Speaking of which, lead developer at AerisWeather, Lee Huffman, sent me a
post
explaining how the Twin Cities is even colder than Moscow. Looking at average January highs for metropolitan areas of over 3 million people, worldwide, Minneapolis, St. Paul is 5th on the list. The 4 coldest large cities are all in China. Chicago is 14th - Seoul, South Korea is 16th, in case anyone asks. Doubtful.
Monday was fairly unpleasant on area highways; a reminder that snow at 17F is icier than snow falling at 27F. Snow tapers this morning with 1-2 inches total for most towns and 'burbs, more over central Minnesota.
Weak waves of low pressure swept up in a southwest flow aloft may squeeze out nuisance amounts of snow Thursday, again Saturday.
If it's any consolation after daytime highs in the 20s this week the mercury mellows into the 30s next week, as we limp into a more March-like pattern. Hints of relief.
---
Somewhere Between Nuisance and Plowable. An inch or two of fluff will slow down your morning commute; hopefully the drive home a bit less stressful this afternoon. I agree with the local NWS, predicting 1-2" for much of the metro early today; closer to 3" at St. Cloud and 5" Alexandria to Brainerd.
---
Another Shot Late Thursday? Models suggest another couple of inches during the PM hours Thursday from the next fast-moving system. Dribs and drabs, but maybe the inches will add up.
---
Slow Moderation. Expect mainly 20s for highs this week, but ECMWF guidance suggests a fairly consistent run of 30s next week as we end the month of February - the bleakest month for many of us. Twin Cities numbers: WeatherBell.
---
Modified Zonal. The southern states may continue to see record warmth in the coming weeks. In spite of slow moderation and more of a Pacific flow frequent cold frontal passages will keep the northern tier of the USA from warming up too quickly into early March.
---
---
Sumatra Volcanic Eruption. Here's commentary from a friend, Dan Lilledahl, who works for Delta in Atlanta: "Mt Sinabung on the island of Sumatra erupted overnight while I was on shift here at Delta....here are a few pictures. All the news stories so far say that it was "up to 16,400ft above summit". WRONG! This picture alone says that is not accurate. A few of us here at work looked at special satellite data that estimates ash height from volcanic eruptions and concluded that it erupted to AT LEAST 52,000ft, and possibly over 60,000ft!..."
---
Volcano From Space. A NASA image shows the volcanic ash plume spreading across Sumatra. It's still too early to know whether ash injected into the stratosphere will have a (temporary) cooling effect on the planet, but at this point nothing would surprise me.
---
---
---
Praedictix Briefing: Issued Monday, February 19th, 2018:
* A complex system will bring significant icing and flooding rains to the central part of the nation through the middle of the week.
* On the cold side of the system, a significant icing event is likely from Iowa into Wisconsin and the Upper Peninsula of Michigan. Through Tuesday, two to four tenths of an inch of ice could fall across this region, which would cause difficult (if not impossible) travel conditions as well as the potential of power outages and downed tree branches. Ice Storm Warnings and Winter Weather Advisories are in effect for the icing potential.
* Winter Weather Advisories and Winter Storm Warnings are in effect from the Rockies into Minnesota as well for snow. In advisory areas, 2-5" of snow is expected, with a half a foot or more of snow across warning areas.
* On the warm side of the system, lots of moisture will be streaming north as we head into Tuesday and Wednesday, creating the potential of very heavy rain which could lead to flooding. Some Flood Watches have already been issued for Chicago and Detroit.
---
Road Conditions. Slippery and icy roads are already being reported across parts of Nebraska, Iowa and Minnesota this morning with that batch of snow and freezing rain/drizzle moving across the region.
Local Department of Transportation Websites:
Nebraska: https://hb.511.nebraska.gov
South Dakota: https://www.safetravelusa.com/sd/
Iowa: https://hb.511ia.org/
Minnesota: https://hb.511mn.org
Wisconsin: https://511wi.gov/
Michigan: https://mdotnetpublic.state.mi.us/drive/
---
Winter Weather Concerns. Numerous Winter Weather Advisories and Winter Storm Warnings are in effect across the upper Midwest over the next couple days. From the Rockies to parts of central and northern Minnesota, the alerts are in effect for the potential of snow accumulation. Areas under advisories could see 2-5" of snow, with over a half a foot possible in the Winter Storm Warning. Winter Weather Advisories across eastern Kansas and Nebraska stretching into Wisconsin and the Upper Peninsula of Michigan are mainly in effect for the potential of icing, and there is also an Ice Storm Warning across parts of Wisconsin. These advisories are in effect for the potential of a tenth to a third of an inch of ice over a prolonged period of time (today into Tuesday), with the greatest icing potential (up to four tenths of an inch) in the Ice Storm Warning area which includes the Wisconsin Dells, Montello and Fond Du Lac (WI).
---
Ice Expected. The heaviest ice is expected to fall from Iowa to the Upper Peninsula of Michigan over the next 24-36 hours, with some areas receiving between a tenth and three tenths of an inch. This ice will make travel difficult (if not impossible) across the region today into Tuesday, and would have the potential to cause power outages and downed tree branches. Map: AerisWeather and Praedictix.
---
Snow Expected. The heaviest snow is expected to fall across parts of the Rockies to South Dakota, where an additional half a foot of snow could fall in spots. Into North Dakota, Minnesota, northern Wisconsin and the Upper Peninsula of Michigan, 2-5" of snow will fall.
---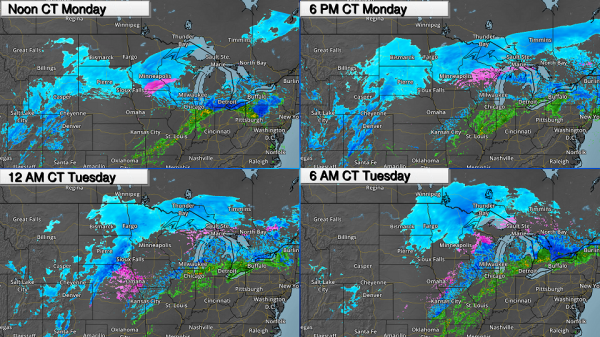 Timing The Precipitation. Wintry precipitation will continue across the upper Midwest as we go throughout the day, with a second round of precipitation expected to move across the region tonight into Tuesday. From the Dakotas into central and northern Minnesota, the precipitation is expected to be mainly snow. From eastern Nebraska to northern Wisconsin, temperature profiles will be warm enough aloft to change snowflakes over to liquid, which will then freeze as it approaches the surface with temperatures below freezing. This is what will cause 0.10-0.40" of ice to accumulate across this region.
---
Heavy Rain From Texas To Michigan. With a slow moving cold front associated with this complex storm system, heavy rain is expected through the middle of the week in the warm sector from the southern Plains to the lower Great Lakes. There's the potential of 2-5"+ of rain across this region through 7 PM Wednesday. The rain will be heavy at times, and could lead to flash flooding across the area. Some of the heaviest rain across the southern United States will fall Tuesday into Wednesday, with rain possible for areas like Chicago and Detroit today through Wednesday.
---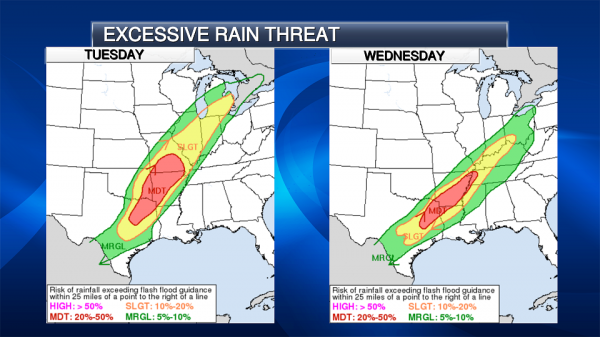 Excessive Rainfall Expected. Due to the potential of heavy rain Tuesday and Wednesday across the Mid/Lower Mississippi Valleys and Southern Plains, a moderate risk of rainfall exceeding flash flood guidance has been issued by the Weather Prediction Center. We will be watching the potential of not only flash flooding but river flooding, especially later into the week.
---
Flood Watches. Flood Watches have already been issued from Chicago to Detroit today into the middle of the week for the potential of moderate to heavy rain with frozen ground and snowpack in some areas. Rainfall amounts across the watch area of 1-4" are expected. I would expect additional Flood Watches across the southern United States to be issued before the heavy rain starts across the region tomorrow.
---
Seven Day Rain Outlook. Additional heavy rain is possible late week into the weekend from the Southern Plains into the Ohio Valley, and seven day rain totals across parts of Texas, Oklahoma and Arkansas could top 7" through next Monday morning. We will continue to watch the potential of flash flooding and river flooding throughout the week and into the weekend.
Summary: Significant icing is expected from eastern Nebraska into the Upper Peninsula of Michigan over the next 24-36 hours as a slow moving, complex system moves across the region. Ice accumulations of 0.10-0.40" are possible, which could make travel nearly impossible across the region and cause power outages. North of that, an area of 2-5" of snow is possible across North Dakota, Minnesota, and northern Wisconsin. The warm, southern side of the system will feature heavy rain, especially as we head into Tuesday and Wednesday, with the potential of several inches of rain that could lead to flash flooding and river flooding through the middle of the week. Another round of rain is possible late in the week and into the weekend across this region, potentially making the flooding situation worse depending what happens the next few days.
D.J. Kayser, Meteorologist, Praedictix
---
In the "Weather App Era" Cuts to The National Weather Service Are Dangerous. It's all about trusted sources of information. Here's an excerpt from meteorologist Marshall Shepherd at Forbes: "... The National Weather Service (NWS) is a jewel of the United States Government. I trust them for my weather information (by the way, so do you even if you may not realize it). Their computer models, satellites, radars and meteorologists are at the heart of most weather information that you consume on television and digitally. They also provide our valuable watches and warnings. Yet, President Trump's proposed 2019 budget includes dangerous cuts to the National Weather Service. I normally reserve this space to provide insights on weather and climate science. However, there are times in which I provide commentary from my lens as 2013 president of the American Meteorological Society, a past member of the National Oceanic and Atmospheric Administration (NOAA) Science Advisory Board, and an active voice within the weather enterprise. Irrespective of those credentials, I am an American citizen that understands the value of weather forecasts..."
Screen shot: AerisPulse.
---
Researchers See Shift in Tornado Activity. The Joplin Globe highlights research focused on "Dixie Alley": "...In a study published in 2016, Ernest Agee, of Purdue University, and several other scientists mapped tornado activity between 1984 and 2013, then compared it with the three prior decades. They concluded that the center of tornado activity appears to be moving east. Oklahoma saw a decrease in tornado activity during the more recent period, while Tennessee saw an increase. Between 1954 and 1984, Oklahoma and Texas were the centers of tornado activity in the country. Over the subsequent three decades, the number of tornadoes there decreased. During the same period, the zone with the most tornadoes, located in northern Alabama, the number of twisters jumped by roughly half, to 477..."
---
Study: 73% of Fish in Northwestern Atlantic Have Plastic in Their Guts. Here's an excerpt from Big Think: "...A report in Frontiers of Marine Science suggests that almost 3 out of every 4 fish in the Northwestern Atlantic most likely has plastic polymers in their stomachs. Oceanic researchers (or as I'd love to call them, seasearchers) from the University of Galway conducted a study off of the coast of Newfoundland in April of 2015 and found that a huge percentage of the 233 fish from 7 different species studied had traceable amounts of plastics within them. The findings of that study were only recently published — click here if you want to read the full thing. Most of the plastic fibers found were polyethylene, one of the most commonly available commercial plastics found in everything from grocery store bags to water bottles..."
Image credit: Outwardon.com and Fotos593 / Shutterstock.com
---
Here Are the Places That Struggle to Meet the Rules on Safe Drinking Water. The New York Times reports: "To ensure that tap water in the United States is safe to drink, the federal government has been steadily tightening the health standards for the nation's water supplies for decades. But over and over again, local water systems around the country have failed to meet these requirements. In a new study published in the Proceedings of the National Academy of Sciences, researchers found that, since 1982, between 3 and 10 percent of the country's water systems have been in violatioon of federal Safe Drinking Water Act health standards each year. In 2015 alone, as many as 21 million Americans may have been exposed to unsafe drinking water..."
---
Earth is Not in the Midst of a Sixth Mass Extinction
. A little reassuring news from
The Atlantic
: "...
Erwin is one of the world's experts on the End-Permian mass extinction, an unthinkable volcanic nightmare that nearly ended life on earth 252 million years ago. He proposed that earth's great mass extinctions might unfold like these power grid failures: most of the losses may come, not from the initial shock—software glitches in the case of power grid failures, and asteroids and volcanoes in the case of ancient mass extinctions—but from the secondary cascade of failures that follow. These are devastating chain reactions that no one understands
..."
Image credit: NASA, Reuters.
---
In a Surprising Study, Scientists Say Everyday Chemicals Now Rival Cars as a Source of Air Pollution. The Washington Post reports: "In a major study released Thursday, a team of government and university scientists say that the nature of air pollution is changing dramatically as cars become cleaner — leaving personal-care products, paints, indoor cleaners and other chemical-containing agents as an increasingly dominant source of key emissions. "Over time, the transportation sector has been getting cleaner when it comes to emissions of air pollutants," said Brian McDonald, lead author of the study in Science, who works for the University of Colorado at Boulder and the National Oceanic and Atmospheric Administration. "And as those emissions come down, the sources of air pollution are becoming more diverse..."
---
Consumer Products Have A Pollution Problem: Climate Nexus has more perspective on the WaPo story above: "Petroleum-based chemicals, such as used in personal care products, paints and cleaners, contribute as much to volatile organic air pollution in urban areas as cars and trucks, according to a new finding published in Science. The consumer products emit synthetic "volatile organic compounds" or VOCs that contribute to ground-level ozone or small particulate pollution, causing asthma, lung disease, and other serious health problems. According to the research led by Colorado University, the source of non-vehicle VOC sources is likely two or three times higher than estimated under present air pollution inventories. Meanwhile, stricter vehicle emission controls have made cars and trucks cleaner – resulting in consumer products rivaling cars in air pollution contribution." (Washington Post $, New York Times $, Axios, Financial Times $, BBC, The Guardian, KPCC, SF Gate, LA Times $)
File image: National Park Service.
---
In Oklahoma, a War Over Wind Power. The Houston Chronicle reports: "The fossil fuel and renewable power industries have fought a low-grade conflict for years, maneuvering in state capitols and Congress to gain advantage in tax and energy policies that might increase or protect market share. But in Oklahoma, where officials are contending with a massive budget deficit, the long-simmering tensions have broken out into a war over wind power that has already eliminated the state's renewable energy tax credit program and threatens to further undermine financial supports for the burgeoning wind industry. In the latest development, a plan backed by oil and gas interests to impose new taxes on wind energy production failed in the Oklahoma House this week when it failed to gain the three-fourths majority needed to approve tax increases..."
Photo credit: "In this Monday, June 12, 2017 file photo, wind turbines are pictured near El Reno, Okla. Oklahoma rolled out the red carpet to the growing wind industry two decades ago with the promise of generous state tax incentives and a steady stream of wind sweeping down the Central Plains. But with budget shortfalls that have persisted for several years, lawmakers have already scaled back almost all of the incentives and are now looking to impose a new production tax on the industry." (AP Photo/Sue Ogrocki, File).
---
Renewables Thrive As Spending on Electricity Reaches a Low: Overview and links courtesy of Climate Nexus: "Renewable energy generated nearly as much electricity as nuclear power plants for the first time in 2017, a new report shows. Bloomberg New Energy Finance's 2018 Sustainable Energy in America Factbook, released this week, shows how the "massive and historic transformation" of the electricity sector continued at a fast pace in 2017, as renewable energy deployment grew at a "near-record" pace and helped the US keep greenhouse gas emissions to a 25-year low, coupled with an increase in hydropower generation. The factbook also shows that renewable energy contributed 18 percent of overall US electricity generation--double its contribution a decade ago--and that US consumer spending on electricity in 2017 was at its lowest level in nearly 60 years." (Washington Examiner, Bloomberg, Greentech Media, Houston Chronicle, Power Magazine, BusinessGreen, E&E News $. Commentary: The Hill, Charles Hernick and Lisa Jacobson op-ed)
Image: Energy.gov.
---
The Only Way to Get Snowdrifts Removed in Moscow? The BBC explains: "Moscow residents say they have found that the only way to get the council to clear snow is to write the name of opposition leader Alexei Navalny on it. Posts on Facebook and Twitter have received thousands of likes, after disgruntled residents took to social media, saying that they tried spray-painting "Navalny" on the city's deep snow out of frustration at the authorities' slowness in removing them. One user said the move prompted immediate reaction and that council workers removed the graffiti "within hours". Mr Navalny is Russia's best-known critic of President Vladimir Putin, and state media never mention him by name..."
Photo credit: "Image caption Activists spray-painted "Navalny" on several large snow drifts." Tatyana Grigoryeva.
---
Flatulence forces an emergency landing. Kind of makes you want to take the bus. Here's a clip from Fox News: "A Transavia flight was forced to land and summon the police when a passenger's gassiness led to an onboard fight. A pilot made an emergency landing after a fight broke out over a passenger who allegedly refused to stop passing gas. Two Dutchmen sitting next to the flatulent passenger reportedly asked the man to stop, but he refused and continued to break wind aboard the Transavia Airlines flight from Dubai to Amsterdam Schiphol..."
---
.8" of snow fell at MSP International Airport on Monday.
2" snow on the ground as of Monday evening.
27 F. high on Monday.
30 F. average high on February 19.
59 F. high on February 19, 2017
February 20, 1981: Due to the long spell of warm weather in the 60s, a farmer near Le Center is plowing some alfalfa ground.
---
---
TUESDAY: Snow tapers. Icy roads. 1-2" total. Winds: NW 8-13. High: 22
TUESDAY NIGHT: Clearing. Low: 5

WEDNESDAY: Bright sunshine, chilly. Winds: W 5-10. High: 21

THURSDAY: Light snow, light accumulation? Winds: SE 7-12. Wake-up: 10. High: 24

FRIDAY: Getting sunnier, not as cold. Winds: NW 5-10. Wake-up: 16. High: 28

SATURDAY: Light snow or flurries possible. Winds: E 5-10. Wake-up: 18. High: 31

SUNDAY: Intervals of sun, better travel. Winds: SW 5-10. Wake-up: 20. High: 32

MONDAY: More flurries, mainly wet roads. Winds: NE 7-12. Wake-up: 22. High: 33
---
Climate Stories...
How Climate Change is Altering Air Travel. More flooding, more turbulence, flight delays due to excessive heat? A story at Ensia caught my eye: "Phoenix gets hot. But not usually as hot as last June, when the mercury at the airport one day soared above 118 °F (48 °C). That exceeded the maximum operating temperature for several aircraft ready for take-off. They didn't fly. More than 50 flights were canceled or rerouted. Thanks to climate change, soon 118 °F may not seem so unusual. Welcome to the precarious future of aviation in a changing climate. As the world warms and weather becomes more extreme, aircraft designers, airport planners and pilots must all respond, both in the air and on the ground. With around 100,000 flights worldwide carrying some 8 million passengers every day, this is a big deal..."
File image: Alan Diaz, AP.
---
Scientists Can Connect with Skeptics Over Shared Risks of Climate Change. Here's an excerpt from AAAS: "It is a scientist's worst nightmare — that the facts are not enough to be convincing. But climate change skeptics are not "blank slates" who can be swayed to accept the facts of climate change with more education or different religious leanings, said Katharine Hayhoe, an atmospheric scientist from Texas Tech University, in a plenary address on Feb. 15 at the 2018 AAAS Annual Meeting. Instead, political conservatism is the biggest predictor of whether a person will be a climate change skeptic, she said citing studies, and distrust of the government "telling them what to do" often underlies their skepticism. Politicians are not immune to this line of thinking, Hayhoe suggested. She shared a quote from Oklahoma Sen. James Inhofe, who said in 2012 he was convinced of scientists' evidence for climate change and "I was on your side until I found out how much it would cost..."
---
Global Editorial: Why Conservatives Really Ought To Love Carbon Taxes. The Op-Ed is courtesy of Canada's Globe and Mail: "Ignore your lying eyes for a second and entertain the following: Conservatives really ought to love carbon taxes. Bear in mind all that is wholesomely right-wing about the idea. First of all, unlike our progressive income-tax regime, with higher brackets for higher incomes, a carbon tax doesn't disproportionately affect the rich – it's "flat." Even better, it harnesses the power of markets by letting consumers decide how much (plausibly priced) carbon it's worth emitting, rather than using regulations and subsidies to tweak emissions from the top down. And, yes, it's a tax, but because it's explicitly designed to reduce the thing it's taxing (emissions), it's a lousy way for treasuries to gobble up revenue and permanently expand the size of government..."
Image credit: NOAA.
---
The Intellectual War on Science. It's nothing new, according to a post at The Chronicle of Higher Education: "...The highbrow war on science continues to this day, with flak not just from fossil-fuel-funded politicians and religious fundamentalists but also from our most adored intellectuals and in our most august institutions of higher learning. Magazines that are ostensibly dedicated to ideas confine themselves to those arising in politics and the arts, with scant attention to new ideas emerging from science, with the exception of politicized issues like climate change (and regular attacks on a sin called "scientism"). Just as pernicious is the treatment of science in the liberal-arts curricula of many universities. Students can graduate with only a trifling exposure to science, and what they do learn is often designed to poison them against it..."
Image credit: Kevin van Aelst for The Chronicle Review.
---
Risk of Extreme Weather Events Higher if Paris Agreement Goals Aren't Met. Here are a couple of excerpts from a summary of new research at Stanford News: "...In their 2017 paper on severe events, they found that global warming from human emissions of greenhouse gases has increased the odds of the hottest events across more than 80 percent of the globe for which reliable observations were available, while also increasing the likelihood of both wet and dry extremes...The researchers found that emissions consistent with the commitments countries have made are likely to result in a more than fivefold increase in probability of record-breaking warm nights over approximately 50 percent of Europe, and more than 25 percent of East Asia. This 2 to 3 degrees of global warming would also likely result in a greater than threefold increase in record-breaking wet days over more than 35 percent of North America, Europe and East Asia. The authors found that this level of warming is also likely to lead to increases in hot days, along with milder cold nights and shorter freezes..."
Image credit: Citizens Climate Lobby.
---
Marine Corp General Says Its Parris Island Boot Camp is Threatened by Climate Change. Details via The Washington Examiner: "The Marine Corps' iconic Parris Island boot camp is threatened by rising seas, Gen. Glenn Walters, the service's assistant commandant, said Wednesday. Walters told the Senate Armed Services Committee that the base on the South Carolina coast faces the "most critical vulnerability" among Marine installations when it comes to sea rise, and a seawall may be needed to protect it...The Navy also testified to the Senate committee Wednesday that it faces stark threats from sea rise to many of its bases over the next 30 years unless some action is taken. Rising sea levels are widely attributed to climate change, which the Trump administration has cut from its new national security strategy. Meanwhile, Congress has called climate change a direct threat to national security and ordered the military to take a closer look at its facilities over the coming year..."
Photo credit: "New Marines run under the iconic "We Make Marines" sign during a traditional motivational run through the streets of Parris Island, S.C. Marine Corps general says that the base faces the "most critical vulnerability" among Marine installations when it comes to sea rise, and a seawall may be needed to protect it." (Photo: Marine Corps).