Weekend Thaw - Slush Potential Sunday & Monday

On Friday I talked to a combined Minneapolis - St. Paul gathering of the Rotary, from the 50th floor of the IDS Building. Which brought back very good memories.
During a job interview in 1983 the managers at Channel 11 took me to lunch at the "Orion Room" at IDS. Then they drove me past Mary Tyler Moore's home on Lake of the Isles, followed by a stop at Byerly's in St. Louis Park. Which really blew me away. Any community with a grocery store like this must be doing something right!
I suggested backyard weather, before having a firm grasp of how cold it gets here in the wintertime. This
winter has been closer to average, but coming after 3 relatively mild, easy winters it feels like punishment.
Temperatures thaw out this weekend; a little freezing drizzle today, most snow north of MSP on Sunday. A wave of low pressure may drop sloppy snow or an icy mix on Monday, but it doesn't look impressive for amounts - maybe a couple inches.
No more arctic adventures in sight, in fact we end February and start March with 30s and low 40s. Inevitable storms may bring snow, rain or a mix.
---
Snowfall Potential: NOAA NAM. This is the 12km run initialized Friday evening, predicting a foot of snow for the central Dakotas into the Red River Valley. An inch or two of slush between now and Tuesday morning seems reasonable for the Twin Cities, considerably more north of a line from Duluth to Bemidji. Map: pivotalweather.com.
---
A Couple Bumps of Snow. RAP model guidance is printing out an inch of snow Saturday morning, another inch or two possible Monday in the Twin Cities. No, this doesn't look like the Big One.
---
---
---
Hints of March. Friday was chilly but highs near 20F will be the exception and not the rule as we sail into March. ECMWF guidance shows highs near 40F the last few days of February - no subzero lows in the 2 week outlook for the Twin Cities. Graphic: WeatherBell.
---
Stormier Pattern, But Precipitation May Fall As a Mix. The pattern looks relatively mild as we kick off March with highs consistently in the 30s. A series of Pacific storms may bulk up on additional moisture from the Gulf of Mexico before tracking across the Plains toward Minnesota. The question: will it be cold enough aloft for all-snow?
---
---
Weekend Snow New York City to Boston - Praedictix Briefing: Friday, February 16th, 2018
* A coastal low moving along the Northeast coast this weekend will bring a quick round of heavy snow to the region late Saturday into early Sunday.
* Winter Storm Watches have been issued for New York City and Boston for this timeframe, as 4-8" snowfall totals are expected.
---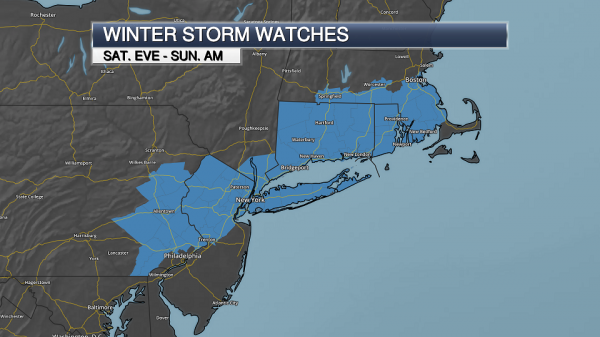 Winter Weather Concerns. A coastal low is expected to develop along the Mid-Atlantic coast Saturday morning, quickly moving southeast of Cape Cod by Sunday morning. This will bring the potential of a quick round of heavy snow to parts of the Northeast, from southeastern Pennsylvania to eastern Massachusetts. Winter Storm Watches have been issued for areas that have the best potential of 4-8" of snow from this system, including in New York City and Boston. Map: Praedictix and AerisWeather.
---
Forecast Snowfall. The heaviest snow will fall from New York City to Boston, where the greatest potential of 6"+ of snow exists from late Saturday into early Sunday morning. Areas like Philadelphia could receive 2-4" of snow late Saturday into Saturday Night, with about 0.5"-1.5" for Washington D.C. and Baltimore Saturday into Saturday evening. Map: Praedictix and AerisWeather.
---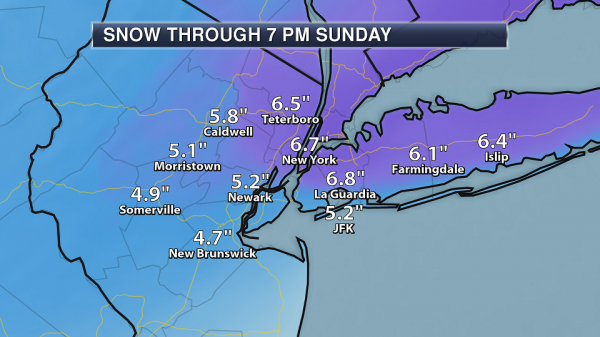 New York City Snow Expected. Snow will move into the New York City area during the late afternoon hours Saturday, falling heavily during the overnight hours and likely coming to an end before daybreak Sunday. During this time, 4-7" of snow will be possible across the region. What snow does fall will already start to melt away on Sunday as highs climb into the mid 40s.
---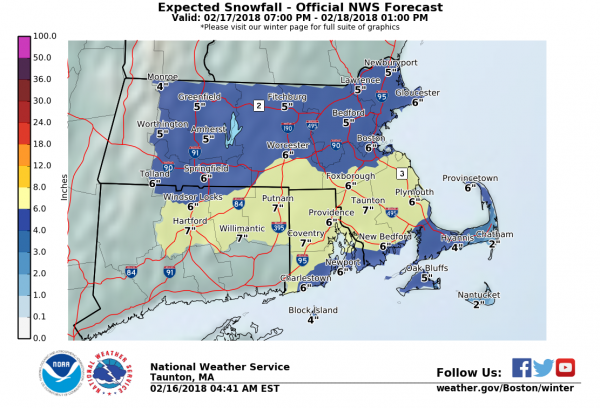 Boston Snow Expected. Snow will start in Boston during the evening hours Saturday, mainly coming to an end before 7 AM Sunday. Snowfall will be heavy at times, with up to one inch per hour, leading to overall snow totals of 4-8" across the region. This will be a heavy snow, with the potential of some downed tree branches. Snow will quickly start to melt away in Boston Sunday as well as highs will be in the mid 40s.
---
Timing The Snow. Snow will spread across parts of the northern Mid-Atlantic during the day Saturday, with snow quickly tapering off into the overnight hours for areas like D.C. and Baltimore. Snow will start in New York City during the late afternoon hours Saturday, working into Boston during the evening. Heavy snow will be possible as this system moves across the region, with up to 1" per hour possible. By 7 AM Sunday, snow will be confined to mainly the Cape and eastern Maine, with all snow offshore by Sunday afternoon. One thing that should be noted is that there is still some uncertainly in the overall path of this system. If the track is 50 miles to the south, overall snow totals for the metropolitan areas could be considerably less (1-4").
Summary: A quick-moving coastal low will bring the potential of wet, heavy snow along with it Saturday into early Sunday across parts of the Mid-Atlantic and into the Northeast. The heaviest snow is expected from New York City to Boston, with accumulations of 4-8" expected mainly Saturday Night. By 7 AM Sunday, most of the snow will have pushed out of the region. As highs will climb into the 40s on Sunday and with warm weather expected to continue into next week, any snow will quickly start to melt away.
D.J. Kayser, Meteorologist, Praedictix
---
Earth is Not in the Midst of a Sixth Mass Extinction
. A little reassuring news from
The Atlantic
: "...
Erwin is one of the world's experts on the End-Permian mass extinction, an unthinkable volcanic nightmare that nearly ended life on earth 252 million years ago. He proposed that earth's great mass extinctions might unfold like these power grid failures: most of the losses may come, not from the initial shock—software glitches in the case of power grid failures, and asteroids and volcanoes in the case of ancient mass extinctions—but from the secondary cascade of failures that follow. These are devastating chain reactions that no one understands
..."
Image credit: NASA, Reuters.
---
Scientists Know How You're Respond to Nuclear War, and They Have a Plan. WIRED.com lays out the scenario nobody wants to think about: "It will start with a flash of light brighter than any words of any human language can describe. When the bomb hits, its thermal radiation, released in just 300 hundred-millionths of a second, will heat up the air over K Street to about 18 million degrees Fahrenheit. It will be so bright that it will bleach out the photochemicals in the retinas of anyone looking at it, causing people as far away as Bethesda and Andrews Air Force Base to go instantly, if temporarily, blind. In a second, thousands of car accidents will pile up on every road and highway in a 15-mile radius around the city, making many impassable. That's what scientists know for sure about what would happen if Washington, DC, were hit by a nuke..."
---
In a Surprising Study, Scientists Say Everyday Chemicals Now Rival Cars as a Source of Air Pollution. The Washington Post reports: "In a major study released Thursday, a team of government and university scientists say that the nature of air pollution is changing dramatically as cars become cleaner — leaving personal-care products, paints, indoor cleaners and other chemical-containing agents as an increasingly dominant source of key emissions. "Over time, the transportation sector has been getting cleaner when it comes to emissions of air pollutants," said Brian McDonald, lead author of the study in Science, who works for the University of Colorado at Boulder and the National Oceanic and Atmospheric Administration. "And as those emissions come down, the sources of air pollution are becoming more diverse..."
---
Consumer Products Have A Pollution Problem: Climate Nexus has more perspective on the WaPo story above: "Petroleum-based chemicals, such as used in personal care products, paints and cleaners, contribute as much to volatile organic air pollution in urban areas as cars and trucks, according to a new finding published in Science. The consumer products emit synthetic "volatile organic compounds" or VOCs that contribute to ground-level ozone or small particulate pollution, causing asthma, lung disease, and other serious health problems. According to the research led by Colorado University, the source of non-vehicle VOC sources is likely two or three times higher than estimated under present air pollution inventories. Meanwhile, stricter vehicle emission controls have made cars and trucks cleaner – resulting in consumer products rivaling cars in air pollution contribution." (Washington Post $, New York Times $, Axios, Financial Times $, BBC, The Guardian, KPCC, SF Gate, LA Times $)
File image: National Park Service.
---
Odd Couple of Energy Agrees on One Thing: Clean Power is Coming. Here's the intro to a story at Bloomberg: "Two groups that have been at odds in the past over environmental issues have come together on Valentine's Day to promote clean energy. The Natural Resources Defense Council, a New York-based environmental advocacy group, and Edison Electric Institute, the utility industry's main trade group, presented a list of policy recommendations Wednesday at a national meeting of utility regulators. Their ideas are aimed at increasing the use of wind and solar power, boosting energy-efficiency measures, raising spending on smart grids and spurring wider adoption of electric cars. "Our perspectives and constituencies are very different, but we find much common ground," the two groups said in a statement Wednesday. "A clean energy transition is underway and accelerating..."
Image: U.S. Department of Energy.
---
In Oklahoma, a War Over Wind Power. The Houston Chronicle reports: "The fossil fuel and renewable power industries have fought a low-grade conflict for years, maneuvering in state capitols and Congress to gain advantage in tax and energy policies that might increase or protect market share. But in Oklahoma, where officials are contending with a massive budget deficit, the long-simmering tensions have broken out into a war over wind power that has already eliminated the state's renewable energy tax credit program and threatens to further undermine financial supports for the burgeoning wind industry. In the latest development, a plan backed by oil and gas interests to impose new taxes on wind energy production failed in the Oklahoma House this week when it failed to gain the three-fourths majority needed to approve tax increases..."
Photo credit: "In this Monday, June 12, 2017 file photo, wind turbines are pictured near El Reno, Okla. Oklahoma rolled out the red carpet to the growing wind industry two decades ago with the promise of generous state tax incentives and a steady stream of wind sweeping down the Central Plains. But with budget shortfalls that have persisted for several years, lawmakers have already scaled back almost all of the incentives and are now looking to impose a new production tax on the industry." (AP Photo/Sue Ogrocki, File).
---
Renewables Thrive As Spending on Electricity Reaches a Low: Overview and links courtesy of Climate Nexus: "Renewable energy generated nearly as much electricity as nuclear power plants for the first time in 2017, a new report shows. Bloomberg New Energy Finance's 2018 Sustainable Energy in America Factbook, released this week, shows how the "massive and historic transformation" of the electricity sector continued at a fast pace in 2017, as renewable energy deployment grew at a "near-record" pace and helped the US keep greenhouse gas emissions to a 25-year low, coupled with an increase in hydropower generation. The factbook also shows that renewable energy contributed 18 percent of overall US electricity generation--double its contribution a decade ago--and that US consumer spending on electricity in 2017 was at its lowest level in nearly 60 years." (Washington Examiner, Bloomberg, Greentech Media, Houston Chronicle, Power Magazine, BusinessGreen, E&E News $. Commentary: The Hill, Charles Hernick and Lisa Jacobson op-ed)
Image: Energy.gov.
---
Canadian Lawmaker Uses "Tight Underwear" Excuse to Explain Absence. You just can't make this stuff up. Here's an excerpt from NPR: "A member of Canada's House of Commons has earned laughs and toasts from his colleagues, after he blamed his absence during a vote on tight underwear that makes him uncomfortable. MP Pat Martin of Winnipeg Centre gave the explanation to foil an attempt to have his vote thrown out because, contrary to parliamentary rules, he had left his seat during the voting process. "I can blame it on a sale that was down at the Hudson's Bay [store]," Martin announced. "They had men's underwear on for half price. I bought a bunch that was clearly too small for me..."
Image credit: "An explanation by Canadian legislator Pat Martin brought laughs and applause from his colleagues." YouTube.
---
The Only Way to Get Snowdrifts Removed in Moscow? The BBC explains: "Moscow residents say they have found that the only way to get the council to clear snow is to write the name of opposition leader Alexei Navalny on it. Posts on Facebook and Twitter have received thousands of likes, after disgruntled residents took to social media, saying that they tried spray-painting "Navalny" on the city's deep snow out of frustration at the authorities' slowness in removing them. One user said the move prompted immediate reaction and that council workers removed the graffiti "within hours". Mr Navalny is Russia's best-known critic of President Vladimir Putin, and state media never mention him by name..."
Photo credit: "Image caption Activists spray-painted "Navalny" on several large snow drifts." Tatyana Grigoryeva.
---
1 hour, 42 minutes of daylight in the Twin Cities since December 21.
3" of snow at MSP International Airport Friday evening.
18 F. maximum temperature yesterday.
29 F. average high in the Twin Cities on February 16.
42 F. high on February 16, 2017.
February 17, 1981: Warm weather continues across Minnesota with a record high of 55 in the Twin Cities. Crocuses were blooming.
February 17, 1894: The Minneapolis Weather Bureau journal notes: 'Sleighing is very poor, about half of the vehicles are on wheels'.
---
---
---
SATURDAY: Breezy, a little ice possible. Winds: W 7-12. High: 32
SATURDAY NIGHT: Cloudy skies. Low: 17

SUNDAY: Windy with wet snow north of MSP. Winds: SE: 10-15. High: 39

MONDAY: Slushy snow or an icy mix. Winds: NE 10-20. Wake-up: 24. High: 28

TUESDAY: Colder, light snow or flurries. Winds: NW 8-13. Wake-up: 14. High: 20

WEDNESDAY: Bright sunshine, still chilly. Winds: W 5-10. Wake-up: 6. High: 22

THURSDAY: Clouds increase, not as cold. Winds: S 7-12. Wake-up: 12. High: 32

FRIDAY: Chance of a little snow. Winds: E 7-12. Wake-up: 21. High: 33
---
Climate Stories...
The Intellectual War on Science. It's nothing new, according to a post at The Chronicle of Higher Education: "...The highbrow war on science continues to this day, with flak not just from fossil-fuel-funded politicians and religious fundamentalists but also from our most adored intellectuals and in our most august institutions of higher learning. Magazines that are ostensibly dedicated to ideas confine themselves to those arising in politics and the arts, with scant attention to new ideas emerging from science, with the exception of politicized issues like climate change (and regular attacks on a sin called "scientism"). Just as pernicious is the treatment of science in the liberal-arts curricula of many universities. Students can graduate with only a trifling exposure to science, and what they do learn is often designed to poison them against it..."
Image credit: Kevin van Aelst for The Chronicle Review.
---
Risk of Extreme Weather Events Higher if Paris Agreement Goals Aren't Met. Here are a couple of excerpts from a summary of new research at Stanford News: "...In their 2017 paper on severe events, they found that global warming from human emissions of greenhouse gases has increased the odds of the hottest events across more than 80 percent of the globe for which reliable observations were available, while also increasing the likelihood of both wet and dry extremes...The researchers found that emissions consistent with the commitments countries have made are likely to result in a more than fivefold increase in probability of record-breaking warm nights over approximately 50 percent of Europe, and more than 25 percent of East Asia. This 2 to 3 degrees of global warming would also likely result in a greater than threefold increase in record-breaking wet days over more than 35 percent of North America, Europe and East Asia. The authors found that this level of warming is also likely to lead to increases in hot days, along with milder cold nights and shorter freezes..."
Image credit: Citizens Climate Lobby.
---
---
Marine Corp General Says Its Parris Island Boot Camp is Threatened by Climate Change. Details via The Washington Examiner: "The Marine Corps' iconic Parris Island boot camp is threatened by rising seas, Gen. Glenn Walters, the service's assistant commandant, said Wednesday. Walters told the Senate Armed Services Committee that the base on the South Carolina coast faces the "most critical vulnerability" among Marine installations when it comes to sea rise, and a seawall may be needed to protect it...The Navy also testified to the Senate committee Wednesday that it faces stark threats from sea rise to many of its bases over the next 30 years unless some action is taken. Rising sea levels are widely attributed to climate change, which the Trump administration has cut from its new national security strategy. Meanwhile, Congress has called climate change a direct threat to national security and ordered the military to take a closer look at its facilities over the coming year..."
Photo credit: "New Marines run under the iconic "We Make Marines" sign during a traditional motivational run through the streets of Parris Island, S.C. Marine Corps general says that the base faces the "most critical vulnerability" among Marine installations when it comes to sea rise, and a seawall may be needed to protect it." (Photo: Marine Corps).
---
Climate Change Revealed This U.S. Military Secret. Popular Science explains: "...The Army never finished what it started at Camp Century. It abandoned the base in 1967, scrapping Project Iceworm, as its secret mission was called. But the Army left behind a nasty legacy buried under all that ice and snow — tons of toxic waste that military officials assumed would stay frozen forever. Guess they didn't count on climate change. Fifty years ago, the Army probably didn't know about climate change. But now, thanks to global warming, the ice has begun to melt, leaking chemicals the Army thought would stay frozen in perpetuity. This poses a danger to the marine ecosystem, not to mention the potential diplomatic nightmare that could result between the United States and the host country..."
Photo credit: "A nuclear power plant at Camp Century." U.S. Army.
---
---
More Extreme Weather on the Horizon With Increased Warming: From Climate Nexus: "The world could see a significant increase in extreme weather events even with just a slight uptick in warming, a new study shows. The study, published Wednesday in the journal Science Advances, finds that 2 to 3 degrees C of additional warming could see five times more record-setting hot nights over half of Europe and lead to three times as many record-setting wet days in parts of the US. "Sizeable increases" in extreme hot and wet days, the study's authors write, are still likely even if the world keeps warming under the 1.5 degree C target set out in the Paris Agreement. "Damages from extreme weather and climate events have been increasing, and 2017 was the costliest year on record," lead author Diffenbaugh said. "These rising costs are one of many signs that we are not prepared for today's climate, let alone for another degree of global warming." (USA Today, LA Times $, Phys.org).
Graphic credit: Climate Central.
---
Lisa Murkowski Challenges Her Fellow Republicans: "Why is it Politically Charged to Say Climate Change?" I feel your pain, Senator. Here's an excerpt from The Washington Examiner: "Sen. Lisa Murkowski, R-Alaska., the chairwoman of the Senate Energy and Natural Resources Committee, challenged her party on Wednesday morning to take climate change more seriously. "We have to have a better discussion about climate change and the responses to it," Murkowski said during an address at the National Association of Regulatory Utility Commissioners' Winter Policy Summit. "We have to not be afraid to use terms that some might say, that's politically charged. Why is it politically charged to say climate change? I see in my state the impact we have from warming temperatures..."
Photo credit: "We have to not be afraid to use terms that some might say, that's politically charged. Why is it politically charged to say climate change?" Sen. Lisa Murkowski asked. "I see in my state the impact we have from warming temperatures." (AP Photo/Jacquelyn Martin).