Heat Advisory Sunday For The Twin Cities
As we head into Sunday, a Heat Advisory has been issued for the afternoon hours, as forecast heat index values are expected to top 95F. Here's the advisory from NWS Twin Cities:
 Hennepin-Ramsey- Including the cities of Minneapolis and St Paul 224 PM CDT Sat May 26 2018 ...HEAT ADVISORY IN EFFECT FROM 1 PM TO 8 PM CDT SUNDAY... The National Weather Service in Twin Cities/Chanhassen has issued a Heat Advisory, which is in effect from 1 PM to 8 PM CDT Sunday. * TEMPERATURE...Heat index values climbing to between 95 and 100 degrees within the Twin Cities. * IMPACTS...Heat illnesses are possible for those active outdoors or those susceptible to heat illnesses, such as children and the elderly. PRECAUTIONARY/PREPAREDNESS ACTIONS... A Heat Advisory means that a period of hot temperatures is expected. The combination of hot temperatures and high humidity will combine to create a situation in which heat illnesses are possible. Drink plenty of fluids...stay in an air-conditioned room...stay out of the sun...and check up on relatives and neighbors. Take extra precautions...if you work or spend time outside. When possible...reschedule strenuous activities to early morning or evening. Know the signs and symptoms of heat exhaustion and heat stroke. Wear light weight and loose fitting clothing when possible and drink plenty of water. To reduce risk during outdoor work...the occupational safety and health administration recommends scheduling frequent rest breaks in shaded or air conditioned environments. Anyone overcome by heat should be moved to a cool and shaded location. Heat stroke is an emergency...call 9 1 1.
Forecast Peak Heat Index Values Sunday:
_______________________________________________
Longest May Stretch Of 90s On Record?
Hot enough for you? Yes, for those of you who were begging for hot weather last month (especially around the time of a certain late season blizzard) the heat has certainly arrived! 90s were recorded at NWS climate sites as far north as Duluth in the state, and record highs were reported in Duluth, Brainerd, St. Cloud and Rochester.
Saturday marked the third day in a row of 90+ degree heat in the Twin Cities, and we have a few more days to go of this heat and humidity.
As we take a look at the future forecast temperatures, we can see 90s stick around through the rest of the extended Memorial Day weekend and even into Tuesday here in the Twin Cities before some cooler air finally starts to work on into the region.
And this stretch of 90+ degree weather looks to set a record for the number of consecutive days in May with a 90+ high. That record is currently four days set three times in Twin Cities history, most recently in 1988. So if we can get a 90+ high on both Sunday and Memorial Day (which looks very likely) we will set a new record.
One other fun stat - the most ever 90+ degree days in May was back in 1934 when we had eight days that reached that mark. Based off the current forecast, we could certainly have six days this month with a high of 90 or higher if we can reach that mark every day through Tuesday, which would knock 1874 out of second place. In May 1874 we had five days at or above 90. Now, does May heat indicate the potential of a hot summer? Statistics actually show that that answer is "yes!" The Minnesota State Climatology Department has more information on that.
_______________________________________________
Statistical Odds of a Hot Summer Just Went Up
By Paul Douglas

In the timeless words of Paris Hilton, "That's hot". Well said.
Saturday saw upper 90s in a few Minnesota towns; it was hotter here than Atlanta, even Phoenix! Models suggest today may even be a few degrees hotter.
We should wind up with at least 5 days above 90F in May. The last time that happened was 1874, when MSP hit 90F a total of 26 days. Average for a summer season is 13 days above 90F.
Dr. Kenny Blumenfeld, Senior Climatologist at the MN DNR, shared some eyebrow-raising research. Data show two or more days of 90s in May brings an average of 23.4 days of 90s the summers that follow; an 80 percent increase. Odds favor a sweaty summer.
While "Alberto" churns toward the Florida Panhandle, we bake under an Arizona sun: mid-90s today and Memorial Day. I wouldn't be shocked to see 100F somewhere in Minnesota.
A late-day T-storm may provide temporary relief late Monday and Tuesday; highs flirt with 90F much of this week. No big cool fronts are brewing. Check in on older friends and neighbors - make sure they're staying cool.
A Small Cooler Advisory is now in effect.
_______________________________________________
Extended Twin Cities Forecast
SUNDAY: Blazing sunshine. High 96. Low 72. Chance of precipitation 10%. Wind SW 5-10 mph.
MONDAY: Sticky sun, chance of a T-storm. High 96. Low 73. Chance of precipitation 30%. Wind S 7-12 mph.
TUESDAY: Steamy, better chance of T-storms. High 90. Low 70. Chance of precipitation 60%. Wind S 10-15 mph.
WEDNESDAY: Not as hot, but T-storms linger. High 86. Low 67. Chance of precipitation 60%. Wind SW 7-12 mph.
THURSDAY: Sunnier & drier. Still plenty warm. High 88. Low 66. Chance of precipitation 10%. Wind NW 7-12 mph.
FRIDAY: Partly sunny, heating up again. High 90. Low 68. Chance of precipitation 20%. Wind E 8-13 mph.
SATURDAY: Some sun, T-storms may arrive late. High 84. Low 66. Chance of precipitation 40%. Wind E 10-15 mph.
_______________________________________________
This Day in Weather History
May 27th
1914: An early heat wave hits the state, with a high of 103 at Tracy.
_______________________________________________
Average Temperatures & Precipitation for Minneapolis
May 27th
Average High: 73F (Record: 95F set in 1969)
Average Low: 52F (Record: 34F set in 1907)
Average Precipitation: 0.11" (Record: 2.17" set in 1978)
_______________________________________________
Sunrise/Sunset Times for Minneapolis
May 27th
Sunrise: 5:32 AM
Sunset: 8:48 PM
*Length Of Day: 15 hours, 15 minutes and 12 seconds
*Daylight Gained Since Yesterday: ~1 minutes and 42 seconds
*Next Sunrise Of 5:30 AM Or Earlier: May 30th (5:30 AM)
*Next Sunset Of 9:00 PM Or Later: June 12th (9:00 PM)
*Day With Most Daylight? June 21st (Daylight Length: 15:36:49)
_______________________________________________
Minnesota Weather Outlook
Sunday will be another hot and humid day across the state, with most areas reaching into the 80s and 90s for highs. Many areas could actually see record highs once again Sunday! The only exception to that will be up around Grand Marais, where a lake breeze will help keep temperatures a touch cooler by the lake. A few storms will be possible Sunday Night mainly across northern Minnesota.
And a few of those storms Sunday Night could be on the strong side. There is a Marginal Risk of severe storms across northern Minnesota, with large hail and damaging winds the main threats.
Highs will be well above average for this time of year once again Sunday, with most areas 15-25 degrees above average.
Hot temperatures will continue into Memorial Day on Monday with highs topping off in the 80s and 90s, but a few storms will be possible mainly across northern Minnesota during the afternoon and overnight timeframe.
Once again those storms could be on the strong side. A Marginal Risk of severe weather is in place across northern Minnesota Monday and Monday night for the potential of large hail and damaging winds.
Tuesday looks to be the last day of our 90 degree streak, as temperatures "cool" back into the 80s for the rest of the work week. Some models are even hinting at the potential of some 70s for highs heading into the the first full week of June.
Rain chances will start to increase as well as those cooler temperatures work in later this week here in the Twin Cities, with the potential of up to an inch of rain between Tuesday and Wednesday Night.
_______________________________________________
Praedictix Corporate Weather Briefing On Subtropical Storm Alberto - Issued Saturday Morning
Praedictix Briefing: Saturday morning, May 26th, 2018
Alberto remains a bit unorganized this morning; however strengthening is expected once the system moves into the Gulf of Mexico later today into

Sunday

. As of

Saturday

morning, Alberto had sustained winds of 40 mph.
Alberto will continue to move in a northerly direction over the next couple days, gradually turning to the northwest

Sunday

. This will bring the center of circulation close to the northern Gulf Coast late

Monday

into early

Tuesday

.
Heavy rain continues to be the main threat with Alberto over the next several days as a prolonged rain event is expected to set up starting today through the middle of next week. Overall, 6-12"+ of rain is possible for areas like Mobile and Pensacola. This would lead to the potential of flooding across the region.
We will also be watching the potential of 40-70 mph wind gusts (especially near the northern Gulf Coast) as this system approaches, and a storm surge of 2-4 feet.
Expected Track Of Alberto. An increase in forward motion is expected to continue with Alberto today, with the system expected to pass near the western tip of Cuba later today and into the Gulf of Mexico by tonight. As we head into Sunday, Alberto will start to turn to the northwest and start to strengthen. This motion will bring the system near the northern Gulf Coast by Monday Night as a strong tropical storm with sustained winds potentially near 60-65 mph. After Alberto makes landfall, the system will quickly weaken and turn to the north and northeast. Tropical Storm Watches are in effect for parts of the northern Gulf Coast, including the following locations:
* Cuban province of Pinar del Rio
* Indian Pass Florida to Grand Isle Louisiana
* Lake Pontchartrain and Lake Maurepas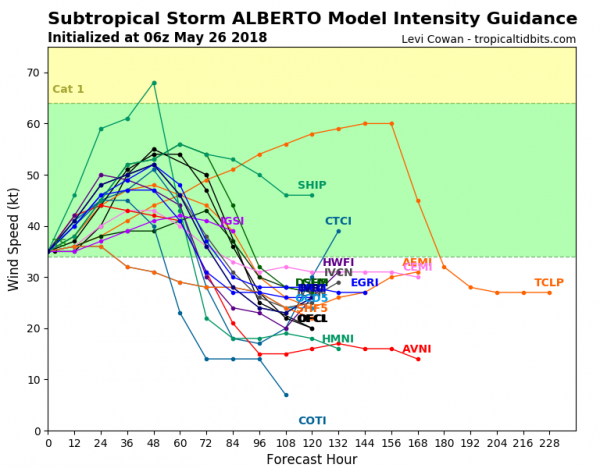 Alberto Should Remain Below Hurricane Strength. Alberto is expected to gain strength as it moves through the Gulf of Mexico Sunday into Monday, as atmospheric conditions will be favorable for strengthening. At this time, though, the system is expected to remain below hurricane strength (winds of 74+ mph).
Biggest Threat: Heavy Rain. The largest threat from Alberto will continue to be the potential of heavy rain over an extended period of time. Widespread rainfall totals of 3-12"+ can be expected across portions of the Southeast as we head into the middle of next week, with some of the heaviest concentrated in a couple areas:
In southern and central Florida, 3-8" of rain could fall as we go through the extended Memorial Day weekend due to deep moisture brought northward across the state due to Alberto.
Along the north-central Gulf Coast, heavy rainfall totals continue to be expected due to multiple days of rain starting today. The heaviest rain amounts of 6-12" (potentially double in localized areas) will fall around and east of the overall track of Alberto, including areas like Mobile and Pensacola. This heavy rain could lead to the potential of flash flooding across the region.
Flood Watches. Due to the potential of heavy rain over the next several days in association with Alberto, Flood Watches and Flash Flood Watches continue to be in effect, including:
Flood Watches across central and southern Florida for the potential of a widespread 3-8" of rain through the Memorial Day weekend. These watches are in effect in southern Florida through

Sunday

evening and in central Florida though

Monday

evening. With this prolonged heavy rain, flooding will be possible, especially in areas that already saw heavy rain earlier this month.
Flash Flood Watches are in effect through

Tuesday

evening along the north-central Gulf Coast, including New Orleans, Gulfport, Biloxi, Mobile and Pensacola. A widespread 3-12"+ of rain is expected across this region, with the heaviest rainfall amounts expected in southeastern Mississippi, southern Alabama and northwestern Florida.
Excessive Rainfall Outlook For Monday. Already the Weather Prediction Center has parts of southeastern Mississippi, southern Alabama and northwestern Florida under a Moderate Risk of excessive rainfall that could lead to flash flooding as we head into Monday.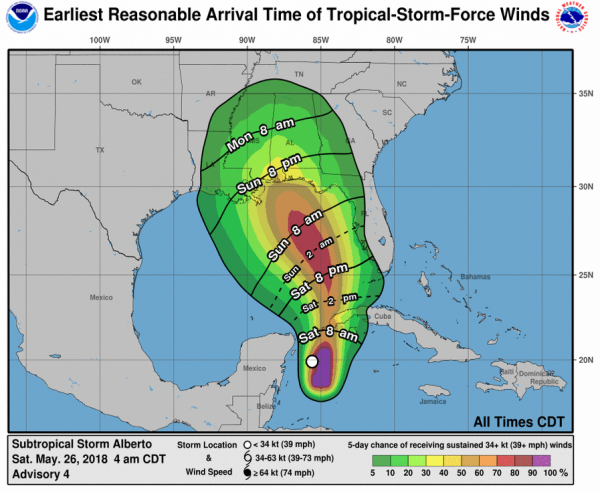 Timing Tropical Storm Force Winds. Tropical storm force wind gusts (39+ mph) will be possible across parts of the Southeast as Alberto approaches. Tampa could see some strong winds by early Sunday morning, with strong winds reaching the northern Gulf Coast (including New Orleans, Mobile and Pensacola) throughout the day Sunday. These stronger wind gusts will continue to spread into parts of central Louisiana, Mississippi and Alabama by Monday morning.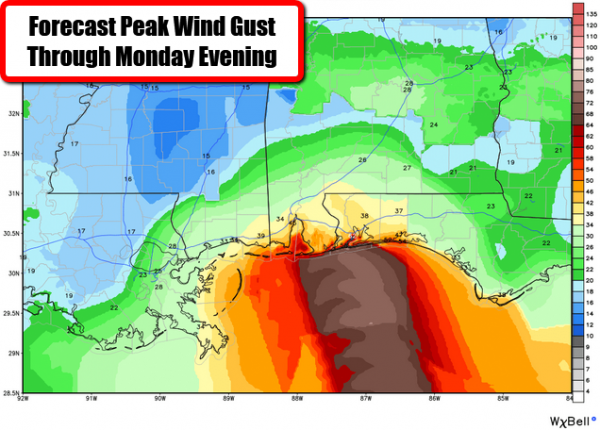 Forecast Peak Wind Gusts Through Monday Evening. The strongest wind gusts as Alberto approaches the coast will occur Monday and Monday Night across the region. During this timeframe, wind gusts of 40-70 mph will be possible. These winds would have the potential to cause the following type of damage according to NWS Mobile:
- Some damage to roofing and siding materials, along with damage to porches, awnings, carports, and sheds. A few buildings experiencing window, door, and garage door failures. Mobile homes damaged, especially if unanchored. Unsecured lightweight objects become dangerous projectiles.
- Several large trees snapped or uprooted, but with greater numbers in places where trees are shallow rooted. Several fences and roadway signs blown over.
- Some roads impassable from large debris, and more within urban or heavily wooded places.
- Scattered power and communications outages, but more prevalent in areas with above ground lines.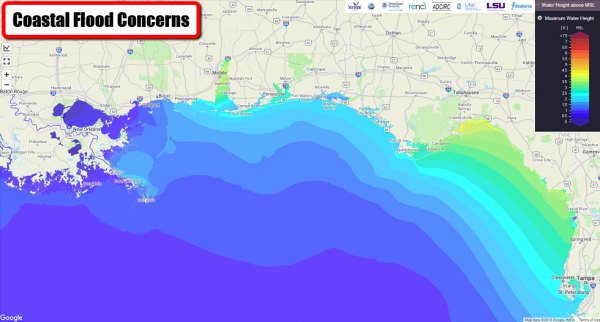 Storm Surge/Coastal Flooding Concerns. Along the coast we are also monitoring the threat of storm surge starting later today and lasting into Tuesday. It appears the greatest water rises of 2-4 feet above normally dry ground are expected late Sunday into Monday Night as Alberto approaches the coast, and the deepest water should occur near the coast.
Storm Surge Watches. Due to the potential of inundation of 2-4 feet within the next 48 hours, Storm Surge Watches are in effect from the mouth of the Mississippi River to Horseshoe Beach, FL.
Summary. Subtropical Storm Alberto continues to move to the north as we head through Saturday. This will bring Alberto into the Gulf of Mexico later today, and eventually approach the northern Gulf Coast by Monday night. The main threat with Alberto continues to be heavy rain, with the potential of 3-8" of rain this weekend across central and southern Florida, and at least 6-12" of rain across parts of southeastern Mississippi, southern Alabama and northwestern Florida. This will lead to the potential of flash flooding and river flooding across the region. We will also be watching the potential of 40-70 mph wind gusts (especially near the northern Gulf Coast) as this system approaches, and a storm surge of 2-4 feet. We'll continue to provide updates on Alberto over the extended holiday weekend.
D.J. Kayser, Meteorologist, Praedictix
_______________________________________________
National Weather Forecast
A rainy Sunday is possible across the eastern United States due to a number of factors. First, Alberto will bring heavy rain to parts of the Southeast. Meanwhile, frontal systems will help spread rain across the Northeast and Mid-Atlantic. An area of low pressure will help bring rain to parts of the Northern Rockies and Great Basin, with rain spreading toward parts of the Northern and Central Plains through the afternoon and evening hours.
Numerous record highs will be possible across the central United States - especially in the upper Midwest - on Sunday. Areas as far north as the Twin Cities could see highs in the mid 90s.
On Memorial Day Monday, Alberto will be approaching the northern Gulf Coast, likely to make landfall Monday Night. Heavy rain will fall across the Southeast associated with that system. Rain will also be possible from the Northern Rockies into the Central and Northern Plains associated with a slowly-moving system.
More record heat is expected Memorial Day Monday from the Great Lakes to the Texas Gulf Coast, though less records are likely Monday versus Sunday.
The bullseye of rain through next Thursday morning will be across the Southeast due to Alberto. Some areas, as stated above, could receive a foot or more of rain through the middle of next week.
_______________________________________________
The Places in the U.S. Where Disaster Strikes Again and Again
More from the New York Times: "In the last 16 years, parts of Louisiana have been struck by six hurricanes. Areas near San Diego were devastated by three particularly vicious wildfire seasons. And a town in eastern Kentucky has been pummeled by at least nine storms severe enough to warrant federal assistance. These places are part of a small fraction of the United States that has sustained most of the damage from major natural disasters, forming a pattern of destruction concentrated in particular areas. About 90 percent of the total losses across the United States occurred in ZIP codes that contain less than 20 percent of the population, according to an analysis of data from the Small Business Administration."
In a Warming West, the Rio Grande Is Drying Up
More from the New York Times: "Mario Rosales, who farms 365 acres along the Rio Grande, knows the river is in bad shape this year. It has already dried to a dusty ribbon of sand in some parts, and most of the water that does flow is diverted to irrigate crops, including Mr. Rosales's fields of wheat, oats, alfalfa and New Mexico's beloved chiles. Because last winter's mountain snowpack was the second-lowest on record, even that irrigation water may run out at the end of July, three months earlier than usual. But Mr. Rosales isn't worried. He is sure that the summer thunderstorms, known here as the monsoon, will come. "Sooner or later, we'll get the water," he said."
Arkema officials were warned of flood risks a year before Hurricane Harvey
More from the Houston Chronicle: "Officials at Crosby's Arkema chemical plant were warned that the facility was at risk for flooding a year before Hurricane Harvey's deluge resulted in a chemical fire at the plant. But facility employees, with the exception of a manager who retired in early 2017, "appeared to be unaware of this information," an inquiry by the U.S. Chemical Safety and Hazard Investigation Board found. The board concluded that Arkema, a French multinational company that manufactures chemicals used to create plastic products, was not prepared for the 6 feet of water that wiped out the facility's power and backup generators. With the power out and cooling systems failing, volatile organic peroxides exploded multiple times over the course of a week, producing towering pillars of fire and thick plumes of black smoke."
_______________________________________________
Thanks for checking in and have a great Sunday! Don't forget to follow me on Twitter (@dkayserwx) and like me on Facebook (Meteorologist D.J. Kayser)!
- D.J. Kayser