Major Hurricane Florence Threatens East Coast
Florence may be poised to become the strongest hurricane to strike the East Coast in 3 decades. "Hugo" was the last Category 4 storm to hit north of Florida, punishing South Carolina September of 1989. Records show it's been 22 years since a major hurricane made landfall north of Florida, which was Category 3 Hurricane Fran.
Florence poses a triple whammy: extreme coastal damage from high winds and a 10 foot storm surge. But the storm is forecast to stall for the better part of 3 days, wringing out 2-3 feet of water on some towns already waterlogged from recent storms. Hurricane Harvey was a reminder of the dangers of inland flooding, days after landfall. Remind friends and family from the Carolinas northward to Washington D.C. to pay attention.
At the diametrically opposite end of the weather spectrum, Minnesota enjoys a weather winning streak of August-like days, with humidity levels creeping upward - highs mostly in the 80s south and 70s north in Sunday.
A puff of fresh air cools us off next week, but you can leave heavy jackets in cold storage until further notice.
---
Monday midday visible image: NOAA, Praedictix and AerisWeather
---
---
Significant Storm Surge Threat. A storm surge in excess of 10-12'? We can't rule that out, especially from Wilmington to Topsail Beach and Jacksonville, North Carolina. Map credit: PDC Disaster Alert.
---
ECMWF Ensemble. The 12z Monday European model guidance is fairly consistent, showing landfall near Wilmington, North Carolina, and then a steady push inland, where the tropical remains (and flooding rains) may linger for the better part of 3-4 days after landfall. I'm especially concerned about hilly terrain magnifying some of the rains, with flooding as far inland as Ohio. Some 2-4 foot rainfall amounts may result as Florence crosses the Appalachians. Map: University of Albany.
---
---
---
---
Hurricane Florence Strengthens - Evacuation Orders Begin in North Carolina. There will probably be widespread coastal destruction from surge and wind, but the risk of severe inland flooding is high as Florence stalls for the better part of 3 days. Here's some perspective from Capital Weather Gang: "...With each passing flight into the eye of the storm and every new computer model forecast, it has become increasingly unlikely Florence will turn out to sea and spare the Eastern Seaboard from potentially devastating storm surge, flooding and wind. There's even some indication the hurricane will slow or stall out over the Mid-Atlantic later this week, which could lead to a disastrous amount of rain. "There is an increasing risk of life-threatening impacts from Florence: Storm surge at the coast, freshwater flooding from a prolonged and exceptionally heavy rainfall event inland and damaging hurricane-force winds," the National Hurricane Center wrote Monday. Storm surge is the rise in ocean water above normally dry land at the coast, which can inundate homes, roads and businesses..."
Image credit: "South Carolina Gov. Henry McMaster (R) said on Sept. 9 he has ordered emergency preparedness measures as Hurricane Florence approaches the state." (Reuters).
---
---
CNN Live Blog on Florence. To get the latest information click here.
---
Praedictix Briefing: Issued Tuesday morning, September 11th, 2018:
Hurricane Florence has weakened a little overnight, but is expected to restrengthen over the next 24-36 hours, potentially approaching Category 5 strength. As of

8 AM AST

, Florence had 130 mph and was moving to the west-northwest at 15 mph
Weather conditions will deteriorate across the Mid-Atlantic

Wednesday

Night into

Thursday

as Florence approaches as a dangerous major hurricane, even though some slight weakening is expected before landfall. Landfall is expected along the North Carolina coast, potentially near Jacksonville,

Thursday

Night or early

Friday

.
Hurricane Watches – including locations like Hatteras, Greenville, New Bern, Jacksonville, and Wilmington (NC) and Myrtle Beach and Charleston (SC) – as well as Tropical Storm Watches (including Fayetteville, NC) have been issued.
Numerous impacts can be expected from Florence, including the following:

Hurricane-force wind gusts (74+ mph) across areas under the Hurricane Watch late

Thursday

into early

Friday

.
Heavy rain and inland flooding, especially if Florence slows down/stalls out across the Mid-Atlantic into the weekend. Some areas could receive at least one to two feet of rain if this occurs, leading to disastrous flooding. Areas that could see at least 6" of rain from Florence include Wilmington, Raleigh, Greenville (NC), Richmond, Charlottesville, and Lynchburg (VA), and Washington D.C.
A coastal storm surge of 5-12 feet will be possible along and especially to the north of where Florence makes landfall along the North Carolina coast. Storm Surge Watches have been issued from Edisto Beach South Carolina to the North Carolina-Virginia border, including Albemarle and Pamlico Sounds and the Neuse and Pamlico Rivers.

Tropical Storm Olivia will start to impact Hawaii later today, crossing over the islands over the next couple days. Tropical Storm Warnings are in effect for the Big Island, Maui County, and Oahu, with a Tropical Storm Watch for Kauai.
Super Typhoon Mangkhut could have impacts on southeastern Asia into the weekend.
We're also tracking a few other tropical systems in the Atlantic and Pacific, Meanwhile, an area of disturbed weather across the northwestern Caribbean has a 60% chance of become a tropical system late in the week as it moves into the Gulf of Mexico.
---
Florence As Of Tuesday Morning. Florence has weakened slightly this morning as the system undergoes an eyewall replacement. As of the 8 AM AST update from the National Hurricane Center, Florence was a Category 4 hurricane with wind speeds of 130 mph. The storm was located 950 miles east-southeast of Cape Fear, NC, or 405 miles south of Bermuda, and was moving to the west-northwest at 15 mph.
Numerous mandatory evacuations are in effect in coastal areas of Virginia, North Carolina, and South Carolina ahead of Florence, with over one million told to leave the area. In South Carolina, mandatory evacuations include the entire coastline – these go into effect at noon today. State emergency management offices have more on how states are preparing for the storm:
South Carolina: https://www.scemd.org/
North Carolina: https://www.ncdps.gov/florence
Virginia: https://www.vaemergency.gov/ (Please note that the Virginia Department of Emergency Management website has been overwhelmed with visitors and may be down at times. They are hoping to fix this issue later today.)
---
Tracking Florence. Florence is expected to restrengthen later today, and is expected to remain a dangerous major hurricane through Thursday Night as it approaches the Mid-Atlantic coast. During this restrengthening period over the next 24-36 hours, Florence could approach (if not achieve) Category 5 strength before slight weakening before landfall. Landfall is currently expected Thursday Night or early Friday along the North Carolina coast, potentially near Jacksonville. A concerning aspect about Florence is that this system is expected to quickly lose forward speed as the system approaches and moves across the Eastern United States, which would potentially lead to a very heavy rain event in the Mid-Atlantic from this system.
Numerous impacts across parts of the Eastern United States – especially in the Mid-Atlantic – are expected from Florence. These threats include dangerous storm surge at the coast, inland heavy rain and flooding, and damaging winds topping hurricane force across areas under a Hurricane Watch. Facilities along the East Coast - especially across the Carolinas and Mid-Atlantic - should make sure contingency/hurricane plans are rushed to completion over the next couple days. Conditions are likely to worsen across this region as we head into Wednesday night and Thursday.
Local Weather Service Offices have issued statements on what to expected from Florence – you can find those here: https://www.nhc.noaa.gov/text/refresh/index_hls1+shtml/111230.shtml
---
Tropical Alerts. Hurricane and Tropical Storm Watches are now in place due to Florence across parts of North and South Carolina. Locations under the Hurricane Watch include Hatteras, Greenville, New Bern, Jacksonville, and Wilmington (NC) and Myrtle Beach and Charleston (SC). Areas under the Tropical Storm Watch include Fayetteville, NC. Along the coast, Hurricane Watches are in effect from Edisto Beach South Carolina to the North Carolina-Virginia border including Albemarle and Pamlico Sounds.
---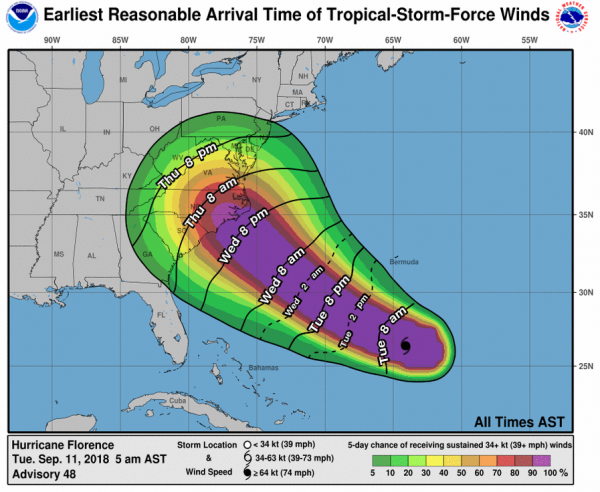 Potential Earliest Tropical Storm Force Winds. Tropical storm force winds will approach the East Coast Wednesday night, with stronger winds following Thursday into Thursday Night. By this time frame, most preparations should be completed, as these winds will impact any last minute preparations. As winds increase across the region where Florence approaches the coast, power outages and downed trees will be likely.
---
Hurricane-Force Wind Gusts Possible At Landfall. Major hurricane wind gusts can be expected in and around the area of landfall Thursday night into early Friday. According to this model, winds of over 100 mph may be possible especially in coastal areas near and along the path of Florence. These winds would be capable of knocking out power to the region, as well as downing trees and power lines.
---
Storm Surge Potential. As Florence approaches the coast Thursday into Friday, a destructive, life-threatening storm surge will be possible, especially at high tide. Storm surge flooding occurs when rising waters move inland, causing normally dry areas to be flooded. In some coastal areas of North Carolina, a storm surge of 5-12+ feet will be possible. Here are forecast storm surge heights according to the NHC:
Edisto Beach to Murrells Inlet...2-4 ft
Murrells Inlet to Cape Fear...4-6 ft
Cape Fear to Cape Lookout including The Neuse and Pamlico River...6-12 ft
Cape Lookout to Ocracoke Inlet...5-8 ft
Ocracoke Inlet to North Carolina/Virginia Border...3-5 ft
---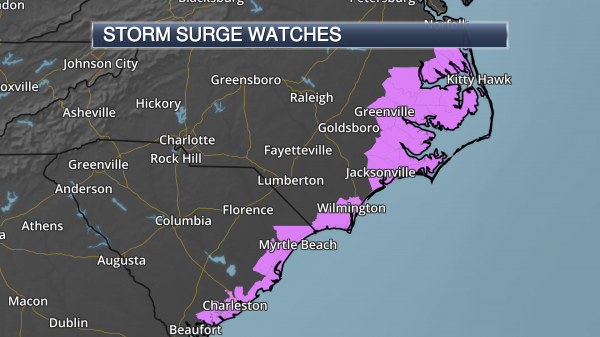 Storm Surge Watches. Due to the potential of a destructive storm surge associated with Florence, Storm Surge Watches have been issued for parts of coastal North and South Carolina. These are in effect from Edisto Beach South Carolina to the North Carolina-Virginia border, including Albemarle and Pamlico Sounds and the Neuse and Pamlico Rivers.
---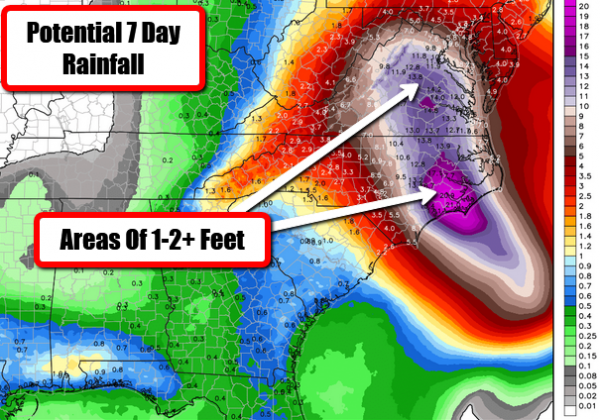 Flooding Rains Likely. Florence will produce heavy rain along the coast as well as inland near the track of the system, especially as the system slows down. In some areas, this rain could last for days due to the expected slow movement of Florence. Rainfall totals could easily top one to two feet, with isolated 30" totals, near the track of Florence across parts of the Carolinas and Virginia. This heavy rain could cause life-threatening and disastrous flooding. Areas that could see at least 6" of rain from Florence include Wilmington, Raleigh, Greenville (NC), Richmond, Charlottesville, and Lynchburg (VA), and Washington D.C.
---
Potential Formation In The Gulf? We're also tracking an area across the northwestern Caribbean that, while showing some organization, does not have a surface low. As this disturbed weather moves into the Gulf of Mexico late this week, however, conditions are expected to become more favorable for tropical formation, with a tropical depression possible. Right now there is about a 30% of formation in the next two days, and 60% over the next five days. This system will be worth keeping an eye on over the next several days for facilities along the Texas and Louisiana coasts.
---
Busy In The Tropics. We are also tracking several other systems both the Atlantic and Pacific basins.  Quickly looking at these systems:
Hurricane Helene continues to move northward over the eastern Atlantic. This system will approach the Azores late this weekend.
Tropical Storm Isaac continues to move west across the central Atlantic, and could strengthen back into a hurricane. This system could impact the Lesser Antilles later this week at or near hurricane strength.
Tropical Storm Olivia will start to impact Hawaii later today, crossing over the islands over the next couple days. I'll have more on this storm below.
Paul is expected to become a remnant low later this week, and is not a threat to land.
---
Tracking Olivia. Out in the Central Pacific, Olivia continues to move west this morning but has weakened into a Tropical Storm. As of the 2 AM HST update, Olivia had sustained winds of 65 mph and was moving to the west at 10 mph. The center of the storm was located 320 miles east-northeast of Hilo. This system will start to move more to the west-southwest later today, moving across the Hawaii Islands Tuesday Night or Wednesday. While Olivia will gradually weaken over the next 48 hours, it will remain a tropical storm as it moves over Hawaii.
---
Tropical Alerts. With Olivia tracking directly over the Hawaiian Islands over the next couple days, Tropical Storm Watches and Warnings have been issued. Tropical Storm Warnings are in effect for the Big Island, Maui County, and Oahu, with a Tropical Storm Watch for Kauai. Tropical storm conditions will be possible across the Big Island and Maui County starting later today, across Oahu tonight, and in Kauai County Wednesday afternoon.
---
Potential Earliest Tropical Storm Force Winds. As Olivia tracks closer to Hawaii, tropical storm force winds are possible starting later today and tonight across the islands. These winds would start to disrupt preparations ahead of the storm.
---
Olivia Potential Wind Gusts. Some of the strongest wind gusts across the Hawaiian Islands are expected Tuesday night into Wednesday, with gusts approaching hurricane force (74 mph) possible tomorrow in both Honolulu and Kahului. The greatest potential for strong tropical storm force winds (58-73 mph) will be across Maui County, far southeastern Oahu, and parts of the northern Big Island. Winds will start to decrease across the islands by Wednesday Night as Olivia continues to push to the southeast.
---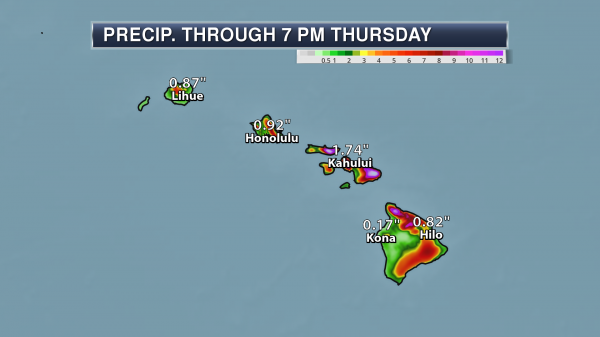 Rainfall Potential. The potential exists for 10-20" of rain, especially in windward sides of Maui and the Big Island. This heavy rain could cause flash flooding across this region.
---
Flash Flood Watches. Due to heavy rain expected from Olivia, Flash Flood Watches have been issued for all the Hawaiian Islands from Tuesday evening through late Thursday Night. The Honolulu office of the National Weather Service notes that, "Rain events of this size can cause widespread flooding and can affect areas that do not usually flood. Low spots in roads will become dangerous and impassable due to severe runoff. Debris in streams and gulches may clog bridges and culverts resulting in dangerous flooding. Numerous landslides are expected, especially along the Hana Highway on Maui and the Mamalahoa Highway on the Big Island."
---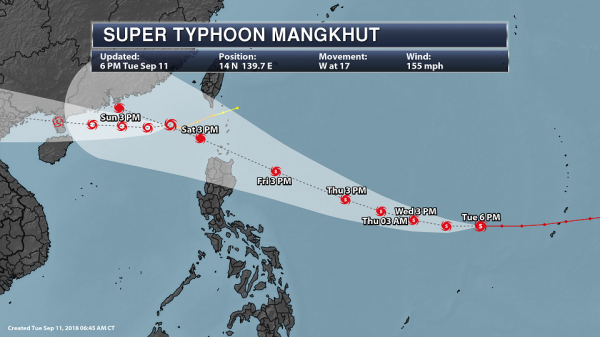 Tracking Mangkhut. Further out into the western Pacific, Mangkhut is now a Super Typhoon, but has pushed away from Mariana Islands and Guam. As of the 6 PM local time update, Mangkhut was moving to the west at 17 mph with 155 mph winds. Mangkhut will continue to move west into early Wednesday before turning to the west-northwest. This path would bring Mangkhut toward Southeast Asia, including Taiwan, late in the week into the weekend.
D.J. Kayser, Meteorologist, Praedictix
---
---
Hurricane Harvey Spurred the Spread of Dangerous Diseases. Learn the lessons of previous tragedies, right? A story at NexusMedia caught my eye: "... Hurricane Harvey dumped 50 inches of drenching rain, wrecking buildings and infrastructure. But it also brought hidden dangers lurking in the urban floodwaters. These came from deadly bacteria present in untreated sewage that leaked from wastewater treatment plants and toxic chemicals that spilled from more than 40 petrochemical plants and refineries in the Houston area. This week, experts and advocates advocates spoke about the myriad dangers of flooding as part of the Freedom to Breathe Tour, a cross-country campaign calling attention to issues of climate, environment and social justice in cities across the United States. "It's not just the flooding," said Robert Bullard, a professor of urban planning and environmental policy at Texas Southern University in Houston, who talked with advocates about the risks of extreme weather. "It's also the industrial pollution and the impact of having so many industries located adjacent to residential areas, and the potential for having accidents..."
Photo credit: "Houston after Hurricane Harvey, August 31, 2017." Source: Technical Sergeant Larry E. Reid Jr., U.S. Air Force
---
---
Is the "Heat Day" the New Snow Day? Schools closing early because of extreme heat and humidity? Here's an excerpt from The New York Times: "...But "heat days" might soon become just as regular an occurrence. With extreme temperatures blanketing towns in New Jersey, Connecticut and New York this week, schools in dozens of districts across the region where air conditioning is not always the norm closed early or canceled after-school activities. On Thursday, as temperatures climbed above 90, more than two dozen New Jersey districts dismissed students early. Dozens of schools in Connecticut, including those in West Haven, Milford, Naugatuck, Waterbury, Bristol and Farmington, did the same. And in New York, at least two districts closed schools early, with a number of others canceling after-school sports..."
---
The Farmer's Almanac Forecast is "Fake News", And You're Falling For It. I have to agree with Praedictix meteorologist Joe Hansel; here's an excerpt of his timely post: "...Direct from their website, they "admit to is using a specific and reliable set of rules that were developed back in 1818 by David Young, the Almanac's first editor. These rules have been altered slightly and turned into a formula that is both mathematical and astronomical. The formula takes things like sunspot activity, tidal action of the Moon, the position of the planets, and a variety of other factors into consideration. The only person who knows the exact formula is the Farmers' Almanac weather prognosticator who goes by the pseudonym of Caleb Weatherbee. To protect this proprietary and reliable formula, the editors of the Farmers' Almanac prefer to keep both Caleb's true identity and the formula a closely guarded brand secret." I have a few problems with this. Problem #1… their formula was "altered slightly" from the 1st one made back waaaaaaaaaay back in 1818. We live in a time today that has seen scientific, engineering, mathematical, and technological marvels that have lead to multiple advancements in weather forecasting. I would never believe a model that so firmly stands by only obsolete information that is nearly 200 years old and refuses to get with the times..."
---
Carbon Dioxide Emissions Fall as Nation Uses Less Coal and More Natural Gas. The trends are encouraging. Here's a clip from The Houston Chronicle: "The electric power industry made such a dramatic shift last year away from coal and toward natural gas and renewable energy sources, contributing to the industry's 4.6 percent decrease in emissions of carbon dioxide, the Energy Department reported. The decline was enough to offset emissions increases from all other business sectors. Electricity producers cut their emissions of carbon dioxide, a greenhouse gas that traps heat in the atmosphere and increases worldwide temperatures, by relying more on natural gas, a cleaner, more efficient fuel source that uses less energy to generate each kilowatt hour of power..."
---
The Cost of American Retreat. The Wall Street Journal has a must-read story; here's the intro: "The liberal world order established by the United States a little over seven decades ago is collapsing. This should not be surprising. It was always a historical anomaly. The long period of prosperity, widespread democracy and peace among the great powers was a dramatic departure from the historical norm. It certainly was not where the world had been heading before 1945. Less than 80 years ago, liberalism outside North America was on its death bed. Dictatorships were thriving, the great powers were fighting their second global conflagration, and acts of unspeakable inhumanity were being committed in the very heart of Western Judeo-Christian civilization and in the ancient civilizations of the East. The very idea of progress seemed absurd..."
---
What Cyber-War Will Look Like. The Scholar's Stage takes a look at a hypothetical scenario: "...Finally, a swatting campaign, especially if conducted in tandem with other attacks of a similar nature, could have a demoralizing effect on both the citizenship and the leadership of the enemy. The effect on the leadership is especially interesting to contemplate. Obviously decision making will be hampered if important decision-makers have to spend time in a crisis convincing policemen that there is actually no hostage crisis in their house, finding a way to pay for lunch now that their credit cards don't work, or investigating the rape threats being sent to their teenage daughters' Instagram. Less clear is how psychologically damaging this might be. The political and military leaders of many countries are not used to having their families targeted in times of war. It may very well break their nerve--especially on the short term. In the long term, however, it will likely just embitter enemy leadership and give them a very personal reason to stay committed to the fight..."
---
How Real News is Worse Than Fake News. Huh? Is more news making us more cynical and skeptical (of everything?) Here's an excerpt of an Op-Ed at Bloomberg: "...The world of the internet — fundamentally a world of information — is reporting on the failures of the elites 24/7. And while pretty much every opinion is available, some have more resonance than others. Is it not the case that, post-2008, most people really are skeptical of the ability of American elites to prevent the next financial crisis? Going even further back, I recall the optimism surrounding the Mideast peace talks of the 1970s or the Oslo accords of the 1990s. Hardly anyone honest has the same positive feelings about today's efforts at peace talks. Again, these impressions are based on actual information. An informed populace, however, can also be a cynical populace, and a cynical populace is willing to tolerate or maybe even support cynical leaders. The world might be better off with more of that naïve "moonshot" optimism of the 1960s..."
---
Americans Expect to Get Their News From Social Media, But They Don't Expect It to be Accurate. A sobering thought, backed up by recent polling, highlighted at Nieman Journalism Lab: "Lots of news on social media? Yep. Lots of accurate news on social media? Nope: That's the mindset of the typical U.S. news consumer in 2018, according to a new Pew Research Center report on news use on social media platforms. Around two-thirds of U.S. adults say they get news from social media. (That figure is just about flat compared with 2017.) But 57 percent say they expect the news on social media to be "largely inaccurate." (Pew interviewed 4,581 U.S. adults.)..."
---
The Decision Matrix: How to Prioritize What Matters. It all comes down to effective time managment, and in the end life (and decision-making) is a matrix. Here's a clip from Farnam Street: "...This matrix became a powerful ally to help me manage time and make sure I wasn't bogged down in decisions where I wasn't the best person to decide. I delegated both types of inconsequential decisions. Inconsequential decisions are the perfect training ground to develop judgment. This saved me a ton of time. Before this people would come to me with decisions that were relatively easy to make, with fairly predictable results. The problem wasn't making the decision—that took seconds in most cases. The problem was the 30 minutes the person spent presenting the decision to me. I saved at least 5–7 hours a week by implementing this one change. I invested some of that time meeting with the people making these decisions once a week..."
---
If You Want to Spot a Narcissist, Look at the Eyebrows. Say what? Try to follow along this post at Big Think: "...Fortunately, new research has provided an excellent clue for identifying the narcissists lurking among us: the eyebrows. A study by Miranda Giacomin and Nicholas O. Rule has shown that bushier eyebrows are associated with higher levels of narcissism. There are a few different flavors of narcissism, but this study examined the classic type: grandiose narcissists. They're the kind that craves attention, are extroverted, have a high opinion of themselves, and fail to recognize their inner emptiness. According to Giacomin and Rule's results, this type of narcissist has far more distinctive eyebrows than non-narcissists..."
---
---
TUESDAY: Sunny, warm winds. Winds: S 10-20. High: 81
TUESDAY NIGHT: Clear and mild. Low: 65
WEDNESDAY: What September? Shades of August. Still sunny. Winds: S 10-15. High: 83
THURSDAY: Hazy sun, more noticeable humidity. Wake-up: 66. High: 84
FRIDAY; More clouds, stray T-shower north? Wake-up: 66. High: 83
SATURDAY: T-storms north, warm sunshine south. Winds: S 7-12. Wake-up: 68. High: 85
SUNDAY: Dog Days of September. Sticky sun. Winds: S 10-15. Wake-up: 67. High: 86
MONDAY: Muggy sunshine, T-storms up north. Winds: S 10-15. Wake-up: 70. High: 86
(Turning much cooler next Tuesday - one week from today).
---
Climate Stories...
The Most Ambitious Climate Plan in History.
Fee and dividend.
Fortune
takes a look at how it might work: "...
Even if all nations meet their Paris commitments, the best studies indicate that far greater emissions reductions will be necessary for the world to maintain global temperatures below the agreed-upon 2 degrees Celsius threshold. The goal of U.S. climate policy should therefore be to exceed Paris. We believe the most politically viable way to accomplish this is a plan co-authored by former Republican Secretaries of State James Baker and George Shultz. The Baker-Shultz plan is based on a gradually rising fee applied to all carbon emissions, with all the revenue rebated directly to the American people. A family of four would receive approximately $2,000 per year in "carbon dividends.
.."
---
The Most Honest Book About Climate Change Yet.
Honest, and sobering.
The Atlantic
explains: "...
Nearly every book

about climate change that has been written for a general audience contains within it a message of hope, and often a prod toward action. Vollmann declares from the outset that he will not offer any solutions, because he does not believe any are possible: "Nothing can be done to save [the world as we know it]; therefore, nothing need be done." This makes Carbon Ideologies, for all its merits and flaws, one of the most honest books yet written on climate change. Vollmann's undertaking is in the vanguard of the coming second wave of climate literature, books written not to diagnose or solve the problem, but to grapple with its moral consequences. It is also a deeply idiosyncratic project: Vollmann's idiolect is obsessive, punctilious, twitchy, hyperobservational, and proudly amateurish. The data he presents are at times revelatory
..."
Photo credit
:
Michał Klimczak.
---
Is There Reason for Optimism on Climate Change?
Yale Insights
has food for thought: "...
Many governors, mayors, and business leaders across the country believe that the climate change problem is real and demands attention. So they are launching initiatives to reduce the emissions that they might be seen as responsible for and to advance adaptation agendas. They are thinking about how to engage their workers, in the case of companies, and citizens, in case of cities and states. One of the important things about that 2015 Paris Agreement was the overt recognition that the prior strategy of global climate change action centered on national governments being in charge, and being the ones doing the work, wasn't working. The 2015 agreement shifted from a top-down approach to a much more bottom-up implementation strategy. I think this is one of the reasons to remain optimistic
..."
---
Longer, Warmer Autumns.
Although the warming signal is most pronounced during the winter months (at night) falls are trending milder in the Twin Cities - snow and ice pushed deeper into November and December. Skeptical? Ask anyone who plays pond-hockey or tries to ice fish before December 1. Climate Central has details: "
This week, we examined the trends in average fall temperature across the U.S. Of the 244 cities analyzed, 80 percent have warmed at least 1°F in the last half-century, compared to only 1 percent which have cooled 1°F or more. The warming has been especially pronounced recently, as the last three falls have been within the 10 warmest on record in the U.S., and the two warmest came in 2015 and 2016. The warming climate effectively makes early fall an extension of summer, as the last characteristically hot day in most cities is also coming later in the year. While some will find that appealing, it means a delay in the return to cozy fall sweaters and hot chocolate in the evenings. And in the future, climate change may delay the time of peak fall foliage and cause leaves to drop more quickly, shortening the foliage season
..."
---
We Could Shift to Sustainability and Save $26 Trillion. Why Aren't We Doing It ?
Dave Roberts asks the rhetorical question at
Vox
: "
$26 trillion by 2030. That, according to the most authoritative research to date, is the amount of money humanity could save through a global shift to sustainable development. It's a lot of money. Before you break your brain trying to imagine it, just pause to make a note that it's a positive sum (uh, extremely positive), not negative. Net savings, not costs. That might come as a surprise since decades of conservative and fossil fuel propaganda have made it conventional wisdom that cleaning up our act is expensive — that it costs more than the status quo. It is the argument hauled out against every single pollution regulation. The argument has always been false on a sufficiently long time scale. Sooner or later, humanity must live sustainably or it won't go on living — that's what "sustainable" means
..."
---
Submerged Risks Haunt Low-Level Airports
.
Bloomberg Opinion
explains the challenge: "...
Although most climate models predict between 0.2 meters and 2 meters of sea-level rise by 2100 (with a median estimate of 1 meter), the main risk to airports isn't that they'll be permanently submerged. Instead, it's that elevated waters and more extreme storms cause flooding that had previously happened only rarely to become a regular threats, necessitating increased capital spending on prevention measures and pushing up insurance premiums. That in turn risks undermining valuations, resulting in writedowns for the asset owners and in a worst-case scenario the necessity of moving to higher ground
..."
---
The World is Utterly Failing to Keep Climate Change Under Control
.
Popular Mechanics
reports: "...
Speaking in Bangkok ahead of a UN-sanctioned climate change conference there, Espinosa told the Reuters news agency that the goals set in Paris by almost 200 nations in 2015 are proving difficult to meet. First and foremost among those goals was "keeping a global temperature rise this century well below 2 degrees Celsius above pre-industrial levels and to pursue efforts to limit the temperature increase even further to 1.5 degrees Celsius." Speaking to Reuters, Espinosa said that "1.5 is the goal that is needed for many islands and many countries that are particularly vulnerable to avoid catastrophic effects. In many cases it means the survival of those countries
..."
Image credit: NASA.