Severe Storms And Heavy Rain Friday Night
Several strong storms moved across parts of northern Minnesota Friday evening. Some of these storms did produce large hail, with 2" in diameter hail reported in Twin Valley (Norman County) and 1.75" hail near Wilton (Beltrami County) and Ironton (Crow Wing County).
These storms also produced heavy rain across the region. The heaviest rainfall totals came out of Sturgon Lake (5.52") and near Twig (5.50").
_______________________________________________
Hot, Sticky Saturday
Enjoying a taste of summer in mid-September? Highs skyrocketed into the 90s across parts of southern Minnesota. Here's a look at highs at NWS climate sites across the state Saturday. You can see those 90s across parts of southern Minnesota... but a lot cooler weather off to the north. There was a front that divided the state, which meant that parts of nothern Minnesota where only in the 60s and 70s for highs.
Here's another look at highs across the state Saturday (including more cities) with that temperature divide north to south.
With the high reaching the 90s in the Twin Cities, it only marked the 27th time that this has occurred September 15th or later in the Twin Cities. Here's a list of the 26 previous times MSP has hit 90 on or after September 15th.
The dewpoints were also high across the region Saturday, with values reaching the 70s across central and southern Minnesota. This caused heat index values to climb into the mid-90s in the Twin Cities metro.
_______________________________________________
Around 90 Again Today – Big Change By Mid-Week
By D.J. Kayser, filling in for Paul Douglas
As we have reached mid-September, now is a good time to check in on the month weather-wise across Minnesota. So far, most areas of the state have observed an above average monthly temperature, but many areas (the exceptions being southeastern and parts of northeastern Minnesota) have received below average rainfall. At MSP, the monthly temperature is 5 degrees above average with around average rainfall.
If you're a fan of summer, soak up the next couple days! Highs will climb to around 90 again today in the Twin Cities. Through 2017, we have only recorded 26 days on or after September 15th with a high of 90+, so highs this warm this late in the year are uncommon. A definite switch to fall-like weather arrives mid-week with highs in the 60s and 70s.
Rain chances will start to increase across southern Minnesota this week. The first shot of rain, associated with a cold front, will occur Monday and Monday night. Another system moves through mid-week with the potential for several inches of rain across central and southern Minnesota.
_______________________________________________
Extended Twin Cities Forecast
SUNDAY: Another hot and humid day. Mainly sunny. High 90. Low 71. Chance of precipitation 0%. Wind S 5-15 mph.
MONDAY: Partly sunny. Afternoon and overnight storms. High 83. Low 61. Chance of precipitation 50%. Wind SW 5-10 mph.
TUESDAY: Cooling down. Mix of clouds and sun. Late night storms. High 72. Low 56. Chance of precipitation 30%. Wind NW 5-10 mph.
WEDNESDAY: Showers and storms, potentially heavy at times. High 67. Low 57. Chance of precipitation 70%. Wind E 5-10 mph.
THURSDAY: Showers and storms continue throughout the day. High 72. Low 53. Chance of precipitation 70%. Wind E 5-15 mph.
FRIDAY: Drying out. Feeling like fall. High 62. Low 48. Chance of precipitation 10%. Wind NW 5-15 mph.
SATURDAY: A few more clouds. Late night rain. High 64. Low 52. Chance of precipitation 30%. Wind SE 10-15 mph.
_______________________________________________
This Day in Weather History
September 16th
2006: A rapidly forming tornado hits Rogers just before 10pm, causing one fatality.
1992: New Market receives nearly a foot of rain. A bridge collapses during a flood in northern Le Sueur County.
1955: An F1 tornado touches down in Mille Lacs and Kanabec Counties, causing 1 fatality and $500,000 in damages.
_______________________________________________
Average Temperatures & Precipitation for Minneapolis
September 16th
Average High: 72F (Record: 94F set in 1955)
Average Low: 52F (Record: 38F set in 1873)
Average Precipitation: 0.10" (Record: 1.97" set in 1997)
_______________________________________________
Sunrise/Sunset Times for Minneapolis
September 16th
Sunrise: 6:53 AM
Sunset: 7:21 PM
*Length Of Day: 12 hours, 28 minutes and 49 seconds
*Daylight Lost Since Yesterday: ~3 minutes and 5 seconds
*Next Sunrise Of 7:00 AM Or Later: September 22nd (7:00 AM)
*Next Sunrise Of 7:00 PM Or Earlier: September 27th (7:00 PM)
*When Do We Dip Below 12 Hours Of Daylight?: September 26th (11 hours, 57 minutes, 46 seconds)
_______________________________________________
Minnesota Weather Outlook
It'll continue to feel like summer across most of the state Sunday as highs will climb into the 80s with a mix of clouds and sun. In some areas of southern Minnesota, including the Twin Cities, the temperature will flirt with 90.
These highs on Sunday will be a good 10-20 degrees above average across most of the state.
Heat index values will once again reach into the 90s across parts of central and southern Minnesota during the afternoon Sunday.
It'll be another gusty day as well across the state, with wind gusts out of the south in the 30 mph range across parts of northern Minnesota.
Due to the expected windy conditions Sunday across northwestern Minnesota, a Wind Advisory has been issued. Wind gusts to 45 mph will be possible.
On Monday, a cold front will move across the state. A few of the storms along that front in the afternoon and overnight hours could be on the strong side. Due to that, a marginal risk of severe weather is in place across southern Minnesota.
I hope you'll enjoy this burst of summer while it lasts... as it isn't lasting long. Cooler weather - highs in the 60s and 70s - return as we head toward the middle of the week, and it looks like this more fall-like weather will stick around for the forseeable future.
While we're tracking that rain chance Monday and Monday night across the region, a second system will work into the upper Midwest Wednesday and Thursday. That system does have the potential to produce heavy rain across central and southern Minnesota, with models indicating 2-4" of rain during this time frame the past couple of days fairly consistantly.
_______________________________________________
National Weather Forecast
On Sunday, Florence will continue to produce heavy rain across portions of the Mid-Atlantic states. An area of low pressure will produce some showers and storms across Texas and Oklahoma. Meanwhile a cold front moving into the Pacific Northwest will produce showers and some mountain snow.
Three areas of heavy rain will be possible through Thursday morning across the nation. Heavy rain will be possible along the path of Florence, from the Mid-Atlantic into the Northeast. An area of low pressure could contribute more heavy rain across parts of southern Texas. And a couple systems across the upper Midwest could produce 1-3"+ of rain.
_______________________________________________
Praedictix Corporate Weather Briefing Excerpt: Saturday evening, September 15th, 2018
Written by Susie Martin, Meteorologist, Praedictix
Key messages:
Tropical Storm Florence continues to lash the Carolinas with heavy rain bands after dumping 20 to 30 inches of rain already. A catastrophic and life-threatening flash flood event will continue into

Sunday

as an ADDITIONAL 6" to 15" + of rainfall is expected.
Prolonged river flooding will occur well into next week.
Coastal waters subside

Sunday

as storm surge flooding no longer is a threat.
Weather will not improve until

Monday

in the Carolinas.
Tropical Storm conditions will continue

tonight

for those under Tropical Storm Warnings, including Wilmington NC and Myrtle Beach SC.
The Lumber River at Lumberton, North Carolina, is rising rapidly and is expected to reach MAJOR flood stage by

tonight

or

tomorrow

. Water levels are forecast to reach 24 ft. If that occurs, parts of I-95 would be inundated (between exits 17 and 19).
Department of Transportation urges out-of-state travelers to avoid traveling through North Carolina. All lanes of I-95 are closed in both directions between Exit 81 near Raleigh-Durham and Exit 65 near Godwin, due to flooding. NC DOT anticipates additional closures in the Fayetteville area, near the Cape Fear River, which could last a week.
Water rescues have been completed in the city of New Bern, one of the hardest hit cities by Florence's storm surge.
Nearly 800,000 households and businesses are without power in both North and South Carolina.
Mandatory evacuations were issued earlier today in Fayetteville, NC, due to rising river waters that are expected to result in widespread flooding. The police department stated that "all residents within one mile of the banks of the Cape Fear and Little River should leave IMMEDIATELY."
Tropical Storm Florence 5 PM Update. Florence continues its snail-paced journey through the Carolinas, which is the key factor in why this has been such a devastating storm. The center of the storm is located over eastern South Carolina. The lack of movement has resulted in a torrent of rain and catastrophic flooding, which will continue into Sunday. Now that the core of the storm is over land, the structure will begin to weaken significantly though has held itself together steadily throughout the day--this will change tomorrow. We're still seeing impressive feeder bands lashing North Carolina with heavy bursts of rain. These bands have been feeding into the same locations repeatedly. These bands should weaken significantly tomorrow, but downpours are still expected to continue. Florence is currently a Tropical Storm with maximum sustained winds of 45 mph.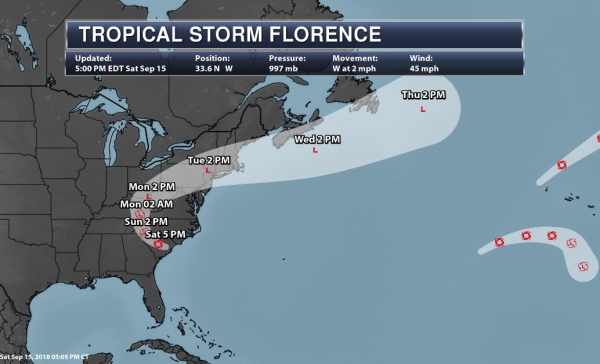 Florence's Track. Florence is still moving incredibly slowly at just 2 mph. This is less than average walking speed. A slow westward trend continues with Florence with a gradual west-northwestward turn expected. As a ridge of high pressure shifts eastward in the northeast U.S. and weaken, we'll finally see Florence turning northward and picking up speed. Continued weakening is expected with a downgrade to a tropical depression anticipated by tomorrow. Sunday night into Monday, Florence will track up the I-75 corridor into eastern Kentucky with a northeast turn expected into the Northeastern U.S into Tuesday. By this point, Florence will be considered an extratropical system.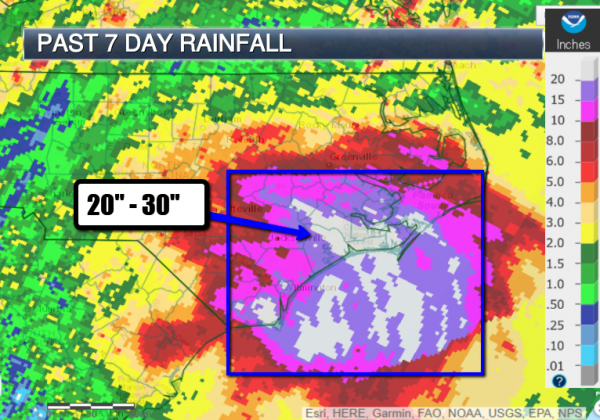 Over 2 Feet of Rain in North Carolina and Counting. The most severe part of the storm has been the torrential rain it has dumped so far. We expected this to be a high-impact flood event and that certainly has been the case. Hundreds of water rescues have been performed. The amounts of rainfall are astounding. Here are the latest preliminary numbers so far:
...NORTH CAROLINA...
SWANSBORO 1.4 N 30.59
HOFMANN RAWS 25.87
NEWPORT/MOREHEAD CITY NWS WFO 23.75
EMERALD ISLE 0.2 ENE 23.66
ELIZABETHTOWN 6.2 NW 20.17
CROATAN RAWS 19.89
TRENTON 19.71
CEDAR POINT 0.9 WSW 19.25
MAYSVILL 3.4 SSW 18.50
MT. OLIVE 0.4 NW 16.80
JACKSONVILLE 1 WNW 16.13
KINSTON 6 SW 16.01
TRENT WOODS 1.3 SSE 15.57
PINK HILL 2.5 NE 14.18
WILMINGTON WFO 13.82
SANDY RUN RAWS 13.52
BURGAW 5.1 SE 12.10
STONEWALL 3 SSE 11.90
WALLACE 3 E 11.87
SUPPLY 4 NNW 10.26
GOLDSBORO 4 NW 10.11
...SOUTH CAROLINA...
CONWAY W6KRP 9.90
CONWAY HADS 8.38
BUCK CREEK NEAR LONGS 1 NE 8.36
MYRTLE BEACH CWOP 7.61
NORTH MYRTLE BEACH (KCRE) 6.89
MYRTLE BEACH AIRPORT (KMYR) 6.74
JAMESTOWN 3.50
LIMERICK 1 NNW RAWS 3.45
MCBEE 3.01
JEFFERSON 6 E 2.99
SOUTH SANTEE 3 ESE 2.99
MCCLELLANVILLE 7 NE 2.79
SAINT STEPHEN 2.55
If the Swansboro report of over 30" verifies, this would break the tropical cyclone rain record for North Carolina set in 1999 by Hurricane Floyd (24.06").
_______________________________________________
'Bathtub ring' expanding at Colorado reservoirs as drought continues​
More from Fox 31 Denver: "There's something wrong with the stunning panorama at Colorado's largest waterway. Blue Mesa Reservoir is dehydrating by the day with a 4- to 6-inch drop every 24 hours. "You can see the high-water mark, it's very apparent after 52, 53 years of Blue Mesa being full," said Brant Porter, supervisory park ranger at Curecanti National Recreation Area. They call the now-barren shore surrounding the reservoir the "bathtub ring," and it's expanding. Blue Mesa Reservoir is barely a third full."
Solar Broke Records All Over Europe This Summer
More from Green Tech Media: "This year saw new solar output highs across Europe as summer temperature records were smashed. In the U.K., solar broke the record for weekly output between June 21 and June 28, producing 533 gigawatt-hours of energy. The spike in output led solar to take over from gas as the number-one energy source in the country, said the European PV industry body SolarPower Europe. In July, solar also reached a new high in Germany, with a record 6.17 terawatt-hours of production, SolarPower Europe said. Further north, Denmark registered 361 hours of sunshine in May. This led to an increase of 33 percent in solar electricity production, smashing previous records."
25 zones along the proposed Shell Falcon Pipeline are at risk of explosions due to landslides
More from Environmental Health News: "Shell Pipeline Company has identified 25 locations that are prone to landslides in or near the route of its proposed Falcon Ethane Pipeline through Pennsylvania, Ohio, and West Virginia. Fourteen of those locations are in Southwestern Pennsylvania. The Falcon Pipeline is just one piece of a massive network of unconventional oil and gas-related infrastructure being built by Shell and its affiliates and business partners in Pennsylvania with the aim of turning the region into a new petrochemical hub. The development has elicited concern from researchers, residents and environmental groups about the increased risk of explosions and spills, as well as the cumulative impact on air and water quality in the region."
_______________________________________________
Thanks for checking in and have a great Sunday! Don't forget to follow me on Twitter (@dkayserwx) and like me on Facebook (Meteorologist D.J. Kayser)!
 - D.J. Kayser