7-Day Outlook Calls for a Gradual Warming Trend

Here's a semi-serious question: can you feel any colder than numb? Not sure. We've picked up nearly 12 minutes of daylight since December 21. Having that sun out sure helps.
Meteorologist Todd Nelson fills in for me when I'm traveling. His sons, Crosby and Cash, ages 7 and 5, are blaming him for a lack of snow. "There's a dirty 1 inch crust of glaze ice out there. What happened to the snow?" Todd laments.
We had 9 inches on the ground December 17 but there have been 3 separate rain events since then, including nearly an inch of rain Christmas Day. Rain, then subzero. Our weather is manic.
I still don't see any big storms; but a plowable snow is possible next Monday and Tuesday. Expect 20s early next week, maybe 30s within 2 weeks as a January Thaw sets up with winds blowing from the Pacific.
Meanwhile Atlanta may pick up 3-4 inches of snow this morning while California sees flooding, mudslides & avalanches. On the blog: 2016 brought 160 natural disasters and 19 major floods to the U.S., the most on record, according to reinsurance company Munich Re.
Hoping for a quieter year.
---
---
---
Coastal Storm. Over a foot for Raleigh, Norfolk and the suburbs of Boston? That's what NOAA's 4 KM NAM model is predicting with the 00z forecast. It looks like 2-3" for D.C. and metro New York City. Source: Tropicaltidbits.com.
---
Polar Positives. We get a lot of grief for living here, but there's something to be said for cold air. There are advantages. When it's this cold it means the main storm track has been shoved well south of Minnesota. We can get flurries, maybe a coating of fluff, but no big accumulation when it's -5F or 0F or even 10F. In a weird way the bitter cold inoculates us from the craziest storms. Am I rationalizing? You betcha!
---
Yosemite Park Evacuated Amid Flooding Fears. This could rival 1997. Here's an excerpt from The San Francisco Chronicle: "...They were among hundreds of visitors being evacuated from Yosemite National Park so federal officials could prepare to do battle with the mighty Merced River, which is expected to leap its banks and hit peak level Sunday. The storm, dubbed the Pineapple Express because of the warm air moving in from the Pacific, will likely cause the river to rise nearly 7 feet above flood stage at its worst, an event that could, depending on a variety of factors, approach the severity of the devastating flood that inundated the valley in 1997..."
Photo credit: Michael Macor, The Chronicle. "Tricia Guyot and children Chris, 13, and Kayleigh, 10, pack up the car for their trip back to Orange County after being told to evacuate the Yosemite Valley Lodge because of an impending storm."
---
Future Radar. I like this animation from Tropicaltidbits.com because it shows future radar (precipitation type) and isobars. You can see the fast-moving storm pushing up the east coast, brushing major city centers but pounding the Carolinas. Meanwhile check out the nearly steady-state fire hose of Pacific moisture aimed at the Bay area and much of central and northern California, where some of the worst flooding since 1997 may be imminent. From uber-drought to instant-flood. Talk about whiplash.
---
Now This Is More Like It! Almost anywhere else on the planet a 15-Day temperature outlook that looked like this would be greeted by shrieking and cursing, maybe weeping and running with scissors. But Minnesota? Can I get a high five? 20s early next week; a good chance of a well-deserved January Thaw within 2 weeks. I may have to take off my shirt and scare the neighbors. ECMWF numbers: WeatherBell.
---
Minnesota: Most Miserable Winters in the USA? I happen to disagree, and not just because I live here. Our coldest days tend to be sunny. That is NOT the case in big cities near the Great Lakes. Chicago was far more depressing: miserably cold and gray with lake-effect clouds and snow bands every other day with high humidity (from Lake Michigan) that made it feel even colder. The only thing worse than sunny and bitter is cloudy and bitter/damp. In the end it's all a bit subjective, but I had to laugh reading Thrillist. Wear it as a badge of cold, hard honor: "...How can you remain so upbeat when you get all the winter weather patterns? Alberta clippers? Sure. Panhandle hooks? You betcha! Parts of northern Minnesota see up to 170in of snow in a winter. One hundred seventy inches! That's like two and a half times the height of Kent Hrbek!! It can get down to -60 degrees, a temperature at which frostbite can occur in fewer than five minutes. There are no chinook winds or moderating oceans to temper things outside of a small area by Lake Superior. Your sports teams never win championships. All of your good high school hockey players end up starring for NHL teams in other cities. Ice fishing can't be that cool, really. And so we think that -- despite all appearances -- Minnesota does in fact have the most miserable winter in the United States..."
---
Good News for Minnesota Snow Lovers? I happen to agree with Mark Seeley's assessment and outlook for an average or above average winter for snow for most of Minnesota. Here's an excerpt from this week's edition of Minnesota WeatherTalk: "...Most climate stations in southern Minnesota are reporting less than normal seasonal snowfall so far this winter, generally values that are under 20 inches. There are some exceptions, Redwood Falls reports over 27 inches, which is above normal for them. Most of the seasonal surplus of snow has fallen in northern Minnesota, where many climate observers are reporting above normal values. Kabetogama, Orr, and Cook have reported over 60 inches so far. International Falls is also above normal with 44 inches so far. In western counties Argyle (Marshall County) and Ottertail are reporting well over 3-feet of snow so far which is above normal there. The outlook models continue to favor above normal seasonal snowfall for many parts of the state through March..."
---
AerisWeather Briefing: Issued Friday morning, January 6th, 2017
* A high impact winter weather event is set to unfold across portions of the Southeast and Mid-Atlantic today into tomorrow.
* Winter Storm Warnings are in effect today and tomorrow across this region. This includes the cities of Birmingham, Atlanta, Charlotte, Raleigh and Norfolk. Snowfall totals will likely approach 4" in the Atlanta metro, with over a half a foot in portions of eastern North Carolina and southeast Virginia.
* A Winter Storm Watch is in effect for Boston Saturday, as 4-8" of snow is likely to fall.
* In the west, a high impact rain and flooding event is likely across California this weekend as the next atmospheric river system moves in from the Pacific.
* Rainfall totals of a foot or more in a 48 hour period will be likely across parts of California through the weekend. Flash Flood Watches are in effect. Facilities that have had issues in the past with situations like this will likely see issues as we head into the weekend and next week.
---
Snow Moving East. Snow is already falling in Oklahoma City, Little Rock and Memphis this morning, and there are reports of slick roads across northern Mississippi. As we head through the day today, the wintry mix will spread east. A breakdown of timing by city:
Birmingham: Sleet, freezing rain and snow will start to move in during the midday hours, with travel conditions deteriorating after that. Sleet will become all snow during the evening, gradually ending toward

midnight

.
Atlanta: Rain and sleet will start toward the mid to late afternoon hours, gradually changing to all snow throughout the evening hours before pushing out during the morning hours

Saturday

.
Charlotte: Rain during the afternoon hours today will change to snow during the evening hours

tonight

, lasting through the midday hours

Saturday

.
Raleigh:  Rain and sleet will move in early this evening, transitioning to snow and sleet during the mid-evening hours, then all snow overnight

tonight

into the day

on Saturday

.
Norfolk: Snow will begin late this evening and last through the day

Saturday

.
---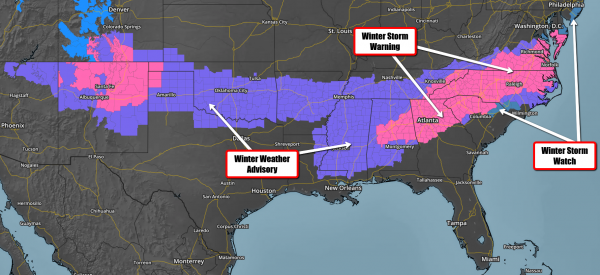 Winter Storm Warnings. Where the heaviest/most impactful snow is expected to fall, Winter Storm Warnings have been issued. This includes the cities of Birmingham, Atlanta, Charlotte, Raleigh and Norfolk.
---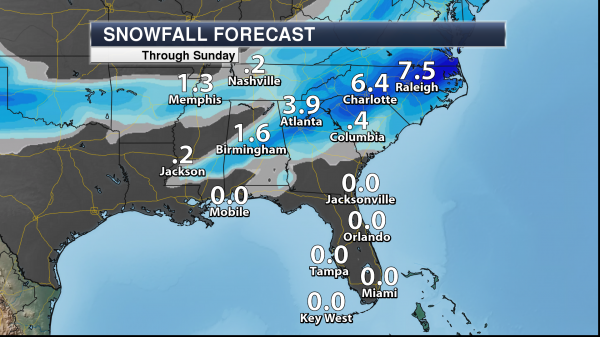 Significant Snow Totals. Here are expected snow totals across the region. While the heaviest snow will fall across eastern North Carolina and southeast Virginia where over a half a foot is possible (including near 9" in Norfolk, VA), we are looking at almost four inches of snow in the Atlanta metro, and about an inch of snow and sleet in Birmingham. Travel will be difficult or near impossible across these regions, as even 1-2" of snow is enough to make travel treacherous in these areas.
Local Snowfall Forecast:
---
Birmingham, AL:
---
Atlanta, GA:
---
Charlotte, NC:
---
Raleigh, NC:
---
Norfolk, VA: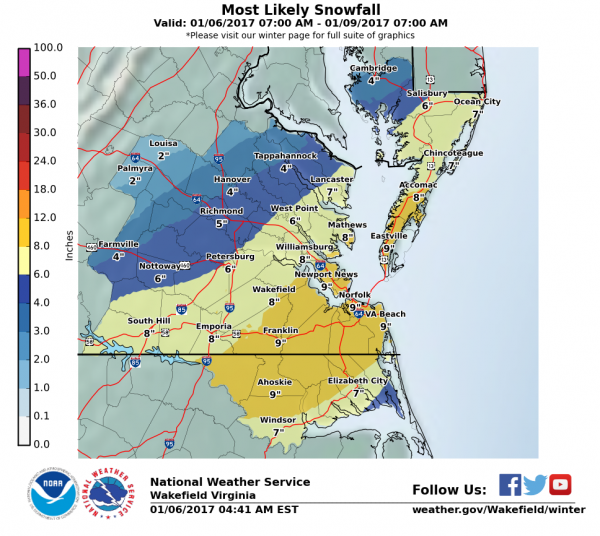 ---
Winter Storm Watch - Boston. We're also watching a Winter Storm Watch Saturday for the Boston area. 4-8" of snow is expected to fall in the Boston metro, with 8-15" for Cape Cod and the Islands.
---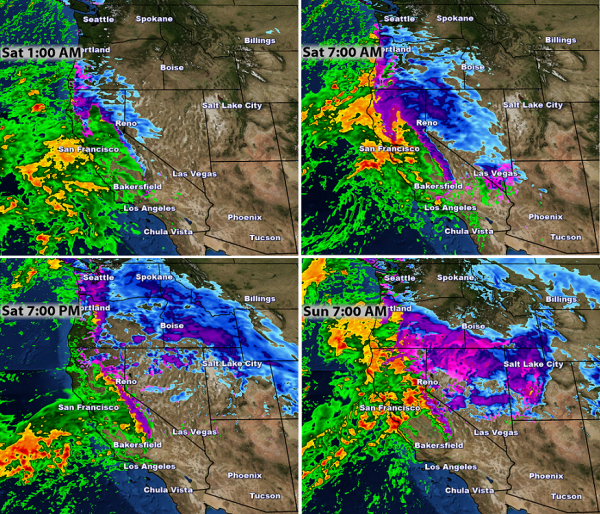 Western Rain Moves In Saturday. While we continue a break in the precipitation today across California, another atmospheric river situation will quickly set up as we head into the weekend. An atmosphere river is essentially a plume of moisture that originates from the tropics/subtropics. This will bring very heavy rain and snow to California through the weekend. By the time this rain event ends early Monday, parts of California could end up with a foot of rain, likely leading to flooding.  What could also make this worse is snow levels are expected to increase heading into the weekend, so heavy rain could fall on top of snowpack, making the flooding situation worse in parts of the mountains.
---
Flood Watches In Effect. Flood Watches continue to be in effect for the weekend and into early next week across parts of central/northern California and western Nevada. Rainfall totals of 3-15" will be possible through early Monday in these areas, leading to more flooding across the region.
---
Rain Through Monday AM. Over 3" of rain is expected to fall in the Bay Area into Monday with the weekend atmospheric river event; however, the heaviest rainfall totals (a foot or more) will be toward the Sierras, where snow levels are likely to very high (even above the passes). This heavy rain will fall on top of already saturated soils from the last few days – or, in some locations, on top of snowpack – which will lead to excessive runoff and flooding of roads, rivers and urban areas.
With the very heavy rain expected, I see the potential of a significant flooding event across the region. Facilities that have had issues in the past with situations like this will likely see issues as we head into the weekend and next week. Map: Aeris AMP.
---
Significant River Flood Threat. With the heavy rain expected, a significant flood threat will exist across central and northern California. There are already river gauges that are expected to exceed flood stage as we head over the next seven days shown above.
---
---
Very Heavy Mountain Snow. While snow levels will be high during the next event, we are still expecting the potential of two or more feet of snow in parts of the Sierras through the weekend. While 3-7" are expected near Truckee Saturday, snow levels will rise Saturday Night and Sunday, bringing rain to the area.
---
Rain Through Wednesday AM. Going out through Wednesday, we'll see another atmospheric river event occur across the region on Tuesday, bringing another round of heavy rain with it, with over 2" more of rain expected in the Bay Area, continuing to elevate the flood threat.
Summary: We're tracking two high impact weather events as we head into the weekend. The first will impact the Southeast and Mid-Atlantic as we go through today and the first half of the weekend, bringing accumulating snow to the region – heavy in spots. Approximately four inches of snow is expected for the Atlanta metro, with over a half a foot across eastern North Carolina and southeast Virginia. Like what we saw back in "Snowjam 2014" when roads were gridlocked in Atlanta, roads will be treacherous across these regions once snow/sleet/freezing rain starts falling, with slush refreezing quickly on the roads. The good news for Atlanta this time around is the heaviest of the snow is expected to fall overnight. However, travel will continue to be difficult into the early weekend across the region. The second event is out west, where heavy rain is expected to impact California throughout the weekend, with parts of the mountains expected to receive over a foot of rain and over 3" expected in the Bay Area. This will have the potential to cause significant flooding across the region, with major impacts for some areas. Facilities that have had issues in the past with situations like this will likely see issues as we head into the weekend and next week.
D.J. Kayser, Meteorologist, AerisWeather
---
State Braces for Floods, Mudslides, Chaos as Giant Storm Rolls In. SFgate.com in the Bay Area has specifics: "A roaring atmospheric river bearing down on California is set to deliver the type of punishing rains that only happen around once every quarter century, forecasters said. Emergency agencies and residents in the path of the fire hose are bracing for what's expected to be disastrous weather-related chaos when the storm hits this weekend. "We're prepared for significant flooding," said Brad Alexander, a spokesman for the California Office of Emergency Services. "It's a similar approach that we have with all major emergencies. Everyone is available, and we have our emergency playbooks at hand." While the northern two-thirds of the state will be washed over from Saturday to Monday, a relatively narrow swath of highly concentrated moisture in the epicenter of the storm is taking aim south of San Francisco in Santa Cruz County and near Big Sur in Monterey County..." (384-hour GFS rainfall map: Tropicaltidbits.com)
---
California's Snow Is Turning to Rain. All this rain is good for California's perpetual drought, but snow would be much better. Snow sticks around, melts slowly, providing water year-round. Much of the rain will wash into creeks and rivers and flow into the Pacific. Here's a clip from Bloomberg View that caught my eye: "Drought-weary California is getting soaked this week. Most of the state is already having a wetter-than-normal rainy season, it's been raining and snowing for the past couple of days, and on Saturday and Sunday an "atmospheric river" of precipitation is expected to arrive. That sounds like great news -- California needs water, right? What it needs even more is snow, though, and that's where this weekend may disappoint. Current forecasts estimate that the snow will move to above 9,000 feet in the Sierra Nevada on Sunday, subjecting all but the state's tallest peaks and ridges to a downpour that will melt a lot of the earlier snowfall and possibly cause extensive flooding..." (Map credit: EPA).
---
Minnesota Snow Cover: The Have's and Have-Nots. Head north if you want to romp in the snow; recent rain and ice has really taken a toll on snow cover over central and southern Minnesota. Here's an excerpt from the Minnesota DNR's HydroClim: "Snow depths across Minnesota range from as little as one or two inches in portions of central and southern Minnesota, to over twelve inches in northern Minnesota. Snow depth totals approaching two feet can be found in the far northwestern part of Minnesota, and the higher terrain of Cook County in northeast Minnesota. Snow depths are near, to above, historical medians for the date in the northern one-third of Minnesota. Snow cover is below the historical median for the date in many southern and central Minnesota counties..."
---
New Obama Reports Warns of Changing "Threat Environment" for the Electricity Grid. The Washington Post reports: "...The agency urged policymakers to grant regulators new emergency powers should threats become imminent, among other recommendations. The document notes the sprawling scale of U.S. electric infrastructure: The nation has 7,700 power plants (ranging from coal-fired to nuclear) and 55,800 substations. Some 707,000 miles of high-voltage transmission lines link the two, and then 6.5 million additional miles of local lines spread out from the substations. Dramatic change is sweeping over the sector. For instance, so-called smart meters are being added to bring more online control to the electrical grid. And more and more households are adding solar systems to their rooftops, providing new connecting points. A "rapidly evolving system" is in major need of modernization and upgrades to keep pace, the report says..." (Map credit: FEMA).
---
Large-Scale Tornado Outbreaks Increasing in Frequency, Study Finds. Here's a clip from Military Technologies: "... In the study, published in the Dec. 16 issue of Science, the researchers used new statistical tools, including extreme value analysis—a branch of statistics dealing with deviations—to analyze observation-based meteorological estimates associated with tornado outbreaks together with National Oceanic and Atmospheric Administration datasets. The researchers estimated that the number of tornadoes in the most extreme outbreak in a five-year interval doubled over the last half-century. This means that in 1965 the worst outbreak expected over five years would have had about 40 tornadoes, while in 2015 the worst outbreak expected over five years would have had about 80 tornadoes..."
File photo: Aaron Shafer.
---
U.S. Had More Major Floods in 2016 Than Any Year on Record. USA TODAY has more details: "2016 really was the year of the flood in the U.S.: In total, 19 separate floods swamped the nation last year, the most in one single year since records began in 1980. This is according to an analysis by Munich Re, a global reinsurance firm. The worst flood was in August in Louisiana. At least 13 people were killed and roughly 60,000 buildings were destroyed. The disaster cost $10 billion, Munich Re reported, which noted it was the worst natural catastrophe in the U.S. since Hurricane Sandy in 2012. "We had a lot of severe flash floods in heavily developed areas," said meteorologist Mark Bove of Munich Re. Other major flood disasters in 2016 included those in West Virginia in June, Houston in April and Maryland in July. "We did get very unlucky" last year, Bove said..."
---
2016: Most North American Natural Disasters on Record. Data from Munich Re goes back to 1980, reports Yale Environment 360: "North America was hit by 160 natural disasters in 2016, more than any other year since records began in 1980, according to an analysis by the global reinsurance firm Munich Re. The disasters — which included floods, wildfires, droughts, heat waves, and coastal storms — caused an estimated $55 billion in damage. Only 54 percent of those losses were insured, Munich Re said..."
Press release from Munich Re is here. Flood photo: USGS.
---
2016 Electric Vehicle Sales Soar. Huffington Post has the details: "This past December brought in the highest electric vehicle (EV) sales in the U.S. ever - by a lot. According to Inside EVs, American consumers bought nearly 25,000 EVs last month, an amazing 80 percent increase over December of 2015 and a more than 7,000 car increase over the last monthly high last September. In fact, electric vehicles really hit the road throughout 2016, with the total increase from 2015 to 2016 jumping an impressive 37 percent. This contrasts sharply from the previous year-on-year comparison, which was about a 5 percent decrease in sales. To put this milestone in context, 2016 saw three times the 52,000 EVs sold in the U.S. in 2012 — a major leap for any industry in just four years..."
---
Get a Look at the Innards of a 270-Foot Wind Turbine. Vox has the story and video link: "The video above was taken at the National Wind Technology Center, a research facility run by the Department of Energy outside Boulder, Colorado. In it, DOE's Simon Edelman scales the inside of a 270-foot GE wind turbine, pointing out various features of the turbine and safety procedures for moving around inside it. Eventually, he pops out on top, making my stomach flip. Wind turbines have become a familiar feature of the landscape in some parts of the country, but many people don't understand how they work and why they keep getting better and cheaper..."
---
New Utility Program Helps Customers Go Off-Grid. Renewable Energy World has the story: "...According to GMP if more customers go off-grid the utility might be able to some retire line sections over time, reducing maintenance costs that would directly lower costs for customers. In addition, off-grid homes that otherwise would be connected to the grid will no longer contribute to costly system peaks during peak summer energy days, lowering costs further and reducing the need to build and maintain lines to meet that demand, said GMP. With net-metering challenges taking place in multiple states and energy storage prices dropping, utilities are in a race to figure out a solution to the dilemma of how to keep customers satisfied but still have enough money to pay for the grid. If a customer wants solar and won't be compensated to their satisfaction by their utility through net-metering, and if storage prices are low enough, why not pair storage with the solar and just go off-grid? For now, that doesn't make economic sense for customers but what happens when storage costs come down and utilities have cut off net-metering? Instead of waiting for the day to happen, it appears that GMP is embracing what some consider the biggest threat to utilities today – customers not using the grid..."
---
Top 15 Gadgets from CES. This might be cool on your favorite lake this summer. Here's a snippet from Fortune: "The Consumer Electronics Show (CES) 2017 has gathered an estimated 180,000 visitors in Las Vegas, Nev., for a 5-day festival where manufacturers will unveil some 20,000 new products, from the highly technical to the downright weird (and most of them with the word "Smart" in the title). Here are our 15 favorite gadgets from Day 1."
Photo credit: "The PowerRay, an underwater drone, is designed to detect and take footage of fish. The device can be controlled b VR goggles." Photograph: John Locher - AP.
---
The 5 Dirtiest Things You Touch Every Day. Turns out the toilet seat is the least of your concerns, according to TIME: "...In the kitchen, your trusty sink sponge is health enemy number one. In fact, that sponge is likely the dirtiest item in your home, Gerba says. "It's probably home to hundreds of millions of bacteria," he says. NSF agrees. Its researchers found that 75% of home dish sponges and rags contained Coliform. You want a kitchen cleaning tool you can throw into the dishwasher to disinfect—like a brush, Gerba says. The same goes for cutting boards. "Most people just rinse or wipe them off," he says. But only a run through the dishwasher—or a good scrub with dish soap—will get it clean. When it comes to the items you touch most, Gerba says your cell phone is a big bacteria haven. Studies have found that one in six phones is contaminated with fecal matter, even though a simple swab with a disinfectant wipe is enough to clear away that icky residue..."
---
What The Heck is a "Snow Mushroom"? No, it's not a hippie thing. Atlas Obscura has a good explanation: "...Snow mushroom formation begins with a tree, fallen or felled, that leaves behind a wide stump a few feet in height. In the winter, these stumps start accumulating snow. In Glacier National Park, the snow falls heavy and fast—as much as 12 inches an hour, at some times, averaging 48 feet in total over the course of the winter—and the wind is calm. The result is that the snow gathers around the top of the stump. The resulting snowballs can become giant. Cornish found snow mushrooms as wide as 12 feet in diameter. They were also surprisingly sturdy, as he reported in a 1902 issue of The Geographical Journal..."
Photo credit: "Guide Fred Pepper standing by a snow mushroom along the line of Canadian Pacific Railway." Image courtesy of Peel's Prairie Provinces, a digital initiative of the University of Alberta Libraries
---
-9 F. wake-up temperature Friday morning in the Twin Cities.
5 F. "high" temperature yesterday. Right.
23 F. average high on January 6.
33 F. high temperature on January 6, 2016.
January 7, 2003: Record warmth develops over Minnesota. Many places reached the 50s, including the Twin Cities. St. James hit 59 and the Twin Cities reached 51. Nine golf courses were open in the Twin Cities and 100 golfers were already at the Sundance Golf Course in Maple Grove in the morning.
January 7, 1873: A storm named the 'Great Blizzard' hits Minnesota. This three-day blizzard caused extreme hardship for pioneers from out east who were not used to the cold and snow. Visibility was down to three feet. Cows suffocated in the deep drifts and trains were stuck for days. More than 70 people died, and some bodies were not found until spring. Weather conditions before the storm were mild, just like the Armistice Day storm.
---
---
TODAY: Sunny and brisk, feels like -10F. Winds: NW 7-12. High: 9
SATURDAY NIGHT: Clear and nippy. Low: -7

SUNDAY: Clouds increase, not quite as harsh. Winds: S 8-13. High: 17

MONDAY: Period of light snow or flurries develops. Winds: E 8-13. Wake-up: 11. High: 23

TUESDAY: More snow, few inches possible. Winds: NW 10-20+ Wake-up: 21. High: 32

WEDNESDAY: Clouds increase, flurries late. Winds: SE 8-13. Wake-up: 12. High: near 20

THURSDAY: Gusty winds, turning colder again. Winds: NW 10-20. Wake-up: 11. High: 16

FRIDAY: Sunny, serious lack of kinetic energy. Winds: NW 8-13. Wake-up: -7. High: 4
---
Climate Stories...
World Heat Shatters Records in 2016 in New Sign of Global Warming. Here's the intro to a summary at Reuters: "Last year was the hottest on record by a wide margin, with temperatures creeping close to a ceiling set by almost 200 nations for limiting global warming, the European Union's Copernicus Climate Change Service said on Thursday. The data are the first of the New Year to confirm many projections that 2016 will exceed 2015 as the warmest since reliable records began in the 19th century, it said in a report. The Arctic was the region showing the sharpest rise in temperatures, while many other areas of the globe, including parts of Africa and Asia, also suffered unusual heat, it said. A few parts of South America and Antarctica were cooler than normal.Global surface temperatures in 2016 averaged 14.8 degrees Celsius (58.64°F), or 1.3C (2.3F) higher than estimated before the Industrial Revolution ushered in wide use of fossil fuels, the EU body said..."
---
---
Large Iceberg Poised to Break Off from Antarctica. This may be a REALLY big iceberg, as reported by Climate Central: "A rift that has been wending its way across Antarctica's massive Larsen C ice shelf just made another leap forward, growing by more than 10 miles, scientists monitoring it reported Thursday. Now, a chunk of ice bigger than New York's Long Island is hanging on by a relative thread. When it breaks off — possibly very soon — it could put the ice shelf in a more precarious position that could eventually lead it to disintegrate. That could contribute further to the global sea level rise that is threatening the many populous cities that lie within a few miles of the world's coasts. "This event will fundamentally change the landscape of the Antarctic Peninsula," the scientists at Project MIDAS, an Antarctic research effort that has been watching the rift closely, wrote in update..."
Photo credit: "A large rift in Antarctica's Larsen C ice shelf, photographed by NASA's IceBridge mission on Nov. 10, 2016. The rift surged ahead by about 10 miles in late December." Credit: NASA/John Sonntag
---
Wisconsin Can't Ignore Climate Change. Here's an excerpt of an Op-Ed at lacrossetribune.com: "The Northwest and the Upper Midwest are the climate regions seeing the largest decreases in precipitation falling as snow over the past 66 years." Some 72 percent of the stations in the region including Wisconsin, Minnesota, Michigan and Iowa were reporting less snow and more rain. Those findings have consequences beyond winter tourism; snowfall also has an impact on agriculture. "Snow on the ground is also a good insulator, helping keep soils moist during the winter, rather than exposing them to the bitter Arctic winds that can dry them out," the Climate Central report noted..."
---
The Dirt on Tourism and Climate Change. GreenBiz has details: "More than many other industries, tourism relies on a stable climate, whether attracting customers to lavish lakes, bountiful beaches or majestic mountains. But as myriad scientific studies show, climate change is causing more extreme and unpredictable variations in weather that only will worsen as carbon continues to spew into the atmosphere. Even if the world follows through on its landmark commitments outlined in the Paris Agreement, we've already reached a point of no return. We still may avoid the worst impacts if we get our act together, but significant damage already has been done enough to forecast unpredictable weather into the foreseeable future. The tourism industry is both a victim of and contributor to global warming. A warming planet actually might help some tourism businesses — at least for a while..." (Image: Flickr  Wqguayana).
---
Beware of Nice Weather - It May Be Playing Tricks On Your Mind. We live in our bubbles - it's human nature to look out the window and make broad (global) assumptions. Here's an excerpt from Think Progress: "Most likely, you don't write down the number of days each year when the temperature in your town reaches a record high or record low. But, in fact, you do keep track — subconsciously — and this practice could influence your attitude about climate change. Subliminal awareness of local climate change can push people into either accepting or doubting climate change, depending on local climate patterns, according to new research published recently in the Proceedings of the National Academy of Sciences (PNAS). "Even when you know the facts, understand the science, and have seen the maps of global trends, it is very tempting to rely on what you are experiencing,'' said Michael Mann, co-author of the PNAS study and an associate professor of geography at George Washington University (and not the climate scientist of the same name)..."
---
The Detective of Northern Oddities. Outside Online has the story: "When a creature mysteriously turns up dead in Alaska—be it a sea otter, polar bear, or humpback whale—veterinary pathologist Kathy Burek gets the call. Her necropsies reveal cause of death and causes for concern as climate change frees up new pathogens and other dangers in a vast, thawing north....Nowhere in North America is this work more important than in the wilds of Alaska. The year 2015 was the planet's hottest on record; 2016 is expected to have been hotter still. As human-generated greenhouse gases continue to trap heat in the world's oceans, air, and ice at the rate of four Hiroshima bomb explosions every second, and carbon dioxide reaches its greatest atmospheric concentration in 800,000 years, the highest latitudes are warming twice as fast as the rest of the globe. Alaska was so warm last winter that organizers of the Iditarod had to haul in snow from Fairbanks, 360 miles to the north, for the traditional start in Anchorage. The waters of the high Arctic may be nearly free of summertime ice in little more than two decades, something human eyes have never seen..."
---
Earth on Edge: Record Breaking 2016 Was Close to 1.5C Warming. Here are a few bullet points from Copernicus and Climate Change Service:
2016 confirmed as the warmest year on record, warmer than 2015 by close to 0.2°C
Global temperatures reached a peak in February 2016 around 1.5°C higher than at the start of the Industrial Revolution
Extreme conditions impacting several regions across the Earth
The first global analysis of the whole of 2016 has confirmed last year as the warmest on record and saw the planet near a 1.5°C warming, according to the Copernicus Climate Change Service (C3S).
The latest figures from C3S, part of the EU's Copernicus earth observation programme, show that 2016's global temperature exceeded 14.8°C, and was around 1.3°C higher than typical for the middle years of the 18th century. 2016 was close to 0.2°C warmer than 2015, which was previously the warmest year on record..."
Graphic credit: "Annual global air temperature at a height of two metres (left axis) and estimated change from the beginning of the industrial era (right axis). Sources: Copernicus Climate Change Service, ECMWF, for data from 1979; Met Office Hadley Centre, NASA and NOAA for blended data prior to 1979." (Credit: ECMWF, Copernicus Climate Change Service)
---
Turns Out There Was No "Global Warming Pause". A frequent meme of perpetual climate science deniers has been debunked - again. All that excess warmth went into the world's oceans. Scientific American has an explanation: "Various studies have debunked the idea of a pause, or hiatus, in global warming—the contention that global surface temperatures stopped rising during the first decade of this century. The arguments for and against "the pause" were somewhat muted until June 2015, when scientists at the National Oceanic and Atmospheric Administration published a paper in Science saying that it had slightly revised the sea surface temperatures it had been citing for the 1900s. The measurement methods, based on sensors in the engine intake ports of ships, had been flawed, NOAA said. The revised methodology also meant that sea surface temperatures during the 2000s had been slightly higher than reported. NOAA adjusted both records, which led to a conclusion that global surface temperatures during the 2000s were indeed higher than they had been in previous decades. No hiatus..." (Image: NASA ISS).
---
Beyond 2016: Year in Review. More details on last year's warmth from NOAA.
---
China Aims To Spend at Least $360 Billion on Renewable Energy by 2020. Here's an excerpt from The New York Times: "China intends to spend more than $360 billion through 2020 on renewable power sources like solar and wind, the government's energy agency said on Thursday. The country's National Energy Administration laid out a plan to dominate one of the world's fastest-growing industries, just at a time when the United States is set to take the opposite tack as Donald J. Trump, a climate-change doubter, prepares to assume the presidency. The agency said in a statement that China would create more than 13 million jobs in the renewable energy sector by 2020, curb the growth of greenhouse gasses that contribute to global warming and reduce the amount of soot that in recent days has blanketed Beijing and other Chinese cities in a noxious cloud of smog...."
Photo credit: I snapped this picture from our room at the St. Regis in Beijing during a severe smog event during the first week of December, 2016.
---
Signs of Climate Change Hit Great Lakes. NCPR, North Country Public Radio, has the story: "...The Great Lakes Integrated Sciences and Assessments Center in Michigan specializes in presenting climate change information specific to this area. Researcher Laura Briley said one sure sign of regional climate change can be found in the water. "The lakes themselves, are actually changing," she said. "Water temperatures have been increasing and in some cases increasing at a faster rate than air temperatures." Briley said other signs of climate change in the Great Lakes basin include severe storms, increased precipitation and reduced ice cover on the lakes. "In the last 30 or so years, we've seen a large increase in extreme precipitation events ... so more risk of flooding and runoff," she said..."
Photo credit: "Lake Erie at Buffalo, NY." Photo: Angelica Morrison.
---
New Technique Predicts Frequency of Heavy Precipitation with Global Warming. Here's an excerpt from phys.org: "...Now MIT scientists have found that such extreme precipitation events in California should become more frequent as the Earth's climate warms over this century. The researchers developed a new technique that preicts the frequency of local, extreme rainfall events by identifying telltale large-scale patterns in atmospheric data. For California, they calculated that, if the world's average temperatures rise by 4 degrees Celsius by the year 2100, the state will experience three more extreme precipitation events  than the current average, per year..." (File photo: Munich Re).