Quiet Pattern Here - "Snowmageddon" Out East?

"Snowflakes are one of nature's most fragile things, but just look what they can do when they stick together" wrote Vesta Kelly. According to the Michigan Science Center and Random History.com every winter at least one septillion (1 followed by 24 zeroes) snowflakes fall from the sky.
A significant percentage of those perfect crystals will hurl themselves at the East Coast this weekend, as the biggest storm of the winter roars up the coast. Sea surface temperatures are still abnormally warm, while surface temperatures should be cold enough for all snow from Washington D.C. to New York. Some 1-2 foot amounts are likely by Sunday. If you're flying east see if you can get in no later than midday Friday.
Coastal flooding, power outages; the first Blizzard Watch for DC since 1986. Why should they have all the
fun?
El Nino often nudges the storm track south of Minnesota; nothing but a parade of scrawny clippers for us - maybe a coating Monday. Temperatures approach 30F this weekend; again next week. No cold blasts. While an epic blizzard shuts down the northeastern USA.
Seems a little unfair huh?
---
Snowfall Predictions. Latest 12 KM NAM guidance from NOAA continues to print out a blizzard for much of the Mid Atlantic Region; the heaviest (2 foot plus) amounts just north and west of Washington D.C. and Baltimore - another snowy bullseye over central and northern New Jersey. Washington may still pick up nearly 20", with a potential 12-18" in New York City. Stating the obvious: travel will be non-existant by land and air late Friday into Sunday; many people will be stuck in their homes for 72 hours. The saving grace: Snowmageddon, the Sequel is hitting on a weekend, and there has been plenty of warning. Map: AerisWeather.
* The Washington D.C. office of the National Weather Service isued a Blizzard Watch for the first time since 1986. Check out the wording, which is about as strident and forceful as I can ever remember:
 BLIZZARD WATCH REMAINS IN EFFECT FROM FRIDAY AFTERNOON THROUGH LATE SATURDAY NIGHT... * HAZARD TYPES...HEAVY SNOW AND WIND WITH BLOWING AND DRIFTING SNOW FRIDAY AFTERNOON THROUGH SATURDAY NIGHT. SLEET MAY MIX WITH THE SNOW FRIDAY NIGHT INTO SATURDAY MORNING EAST OF INTERSTATE 95...BEFORE CHANGING BACK TO ALL SNOW BY SATURDAY AFTERNOON. * ACCUMULATIONS...SNOW ACCUMULATION OF 18 TO 24 INCHES. * TIMING...HEAVY SNOW FRIDAY AFTERNOON THROUGH SATURDAY NIGHT. CONDITIONS ARE EXPECTED TO DETERIORATE FRIDAY AFTERNOON WITH THE HEAVIEST SNOW... STRONGEST WINDS...AND POTENTIAL LIFE THREATENING CONDITIONS EXPECTED FRIDAY NIGHT THROUGH SATURDAY. * IMPACTS...HEAVY SNOW AND BLOWING SNOW WILL CAUSE DANGEROUS CONDITIONS AND WILL BE A THREAT TO LIFE AND PROPERTY. TRAVEL IS EXPECTED TO BE SEVERELY LIMITED IF NOT IMPOSSIBLE DURING THE HEIGHT OF THE STORM FRIDAY NIGHT AND SATURDAY. VISIBILITY WILL BE REDUCED TO NEAR ZERO AT TIMES IN WHITEOUT CONDITIONS. * WINDS...NORTHEAST 20 TO 30 MPH WITH GUSTS UP TO 40 MPH. * TEMPERATURES...IN THE UPPER 20S. PRECAUTIONARY/PREPAREDNESS ACTIONS... FOR FRIDAY AND SATURDAY...A BLIZZARD WATCH MEANS SEVERE WINTER WEATHER IS POSSIBLE. USE THIS ADVANCE NOTICE TO PLAN AHEAD! ADJUST TRAVEL PLANS...AND PLANNED ACTIVITIES. STOCK UP ON NECESSITIES. MAKE PLANS FOR ELDERLY FAMILY AND THOSE MOST AT RISK. PREPARE FOR THE POSSIBILITY OF POWER OUTAGES DURING SNOWY AND COLD CONDITIONS. USE THIS TIME TO MINIMIZE IMPACT ON YOU... YOUR FAMILY...AND YOUR COMMUNITY.
---
Like Pouring Rocket Fuel on a Bic Lighter. Yesterday I was amazed to see SST (sea surface temperatures) as warm as mid to upper 70s in the Gulf Stream, just 150 miles east of Norfolk, Virginia. I'm no oceanographer but that seems very warm for late January. The additional warmth in the Pacific will increase water vapor available for this storm, pulling it into a rapidly intensifying Nor'easter, more fuel for extreme snowfall amounts from Washington D.C. to New York City. It's not a Nor'easter but a More'easter.
SST map: earth.nullschool.net.
---
This Winter Storm Could Make It Into Coastal Flood Record Books. Unseasonably warm water in the Gulf Stream will fuel rapid intensification and pressure falls, a partial vaccuum that will pull air into the core of this developing Nor'Easter, whipping up high winds and pounding surf; the rough equivalent of a wintertime tropical storm (without the warm core). Here's an excerpt from WXshift: "...On Saturday, powerful winds in excess of 60 mph could whip up waves that could reach 30 feet. As they come ashore, beaches will take a pounding and face widespread erosion. Models also show a current storm surge of around 5 feet coming ashore with Saturday's high tide. In Cape May, N.J., the current forecast high tide mark on Saturday evening would be the third-highest on record while Atlantic City would come in at 10th in the record books, according to Stephen Stirling at NJ.com. That could push water inland and cause widespread property damage..."
Animation credit: "Forecast storm surge from this weekend's winter storm." Credit: Ocean Prediction Center.
---
Timing the storm. Here is a sequence of future radar maps from Aeris Weather,  showing the progression of snow (heaviest snow is shaded in purple, light snow in blue):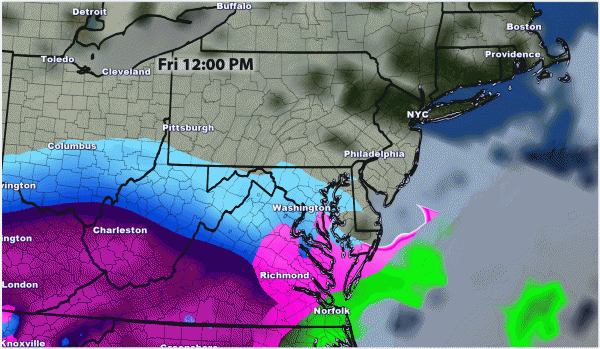 Noon Friday. Moderate to heavy snow will stretch from Louisville and Lexington to Greensboro, NC; light snow may spread into Washington D.C. during the afternoon hours on Friday. Maps: AerisWeather.
---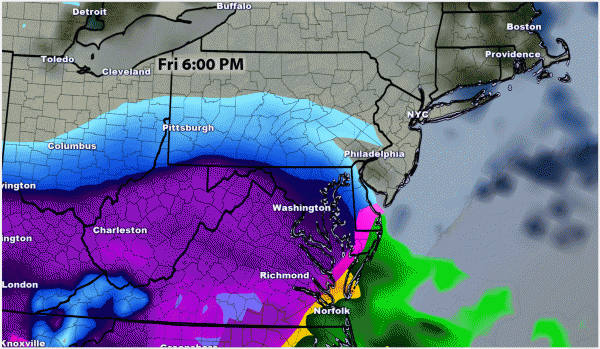 6 PM Friday. Moderate to heavy snow will be reaching DC, mixed with ice in the Virginia Tidewater. Light snow reaches the Delaware Valley by evening rush hour on Friday.
---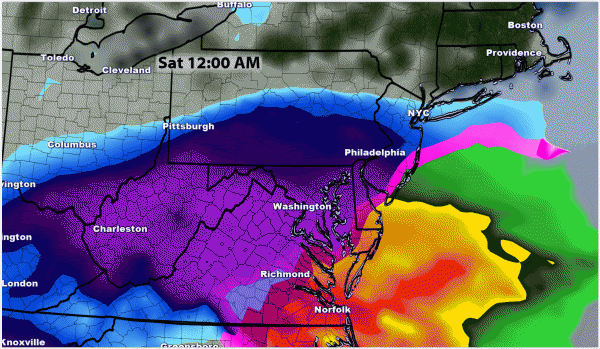 Midnight Friday. Heavy snow is  falling from Charlottesville and Washington D.C. northward to Altoona, Harrisburg, Lancaster and Philadelphia; light snow spreads into New York City.
---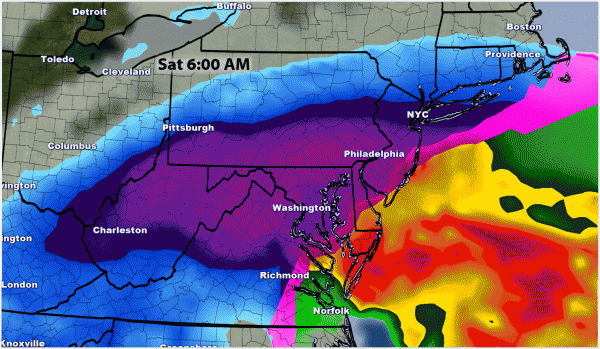 6 AM Saturday. The brunt of the storm hits Saturday for most major urban centers straddling I-95 on Saturday, when snowfall rates (and winds) are expected to peak. Snow may be falling at the rate of 1"/hour at times Saturday and Saturday night. 
---
Noon Saturday. An ensemble of computer models suggests that light snow will be falling in Boston by noon on Saturday, still moderate to heavy from New York City and Philadelphia to Harrisburg, Baltimore annd Washington D.C.
---
Air Pollution Health Advisory for Central and Southern Minnesota. Great, the Northeast is bracing for a couple feet of snow. Minnesota? A lovely midwinter smog event. Not quite winter the way I remembered it. Here's an excerpt from MPCA, The Minnesota Pollution Control Agency: "The Minnesota Pollution Control Agency (MPCA) has issued an air pollution health advisory for central and southern Minnesota effective early Thursday morning through early evening of Thursday, January 21. Air quality monitors indicate slowly-rising levels of fine particle pollution across the majority of the state of Minnesota. Overnight Wednesday, a combination of low clouds and fog and light southeasterly to easterly winds are expected to cause fine particle pollution to approach a level considered unhealthy. The peak will be during the morning rush hour and to continue into the late afternoon hours on Thursday, January 21. Much of central and southern Minnesota will be impacted. Conditions are expected to improve by late afternoon or early evening on Thursday when increased northwesterly winds begin to disperse pollutants..."
Map credit: MPCA.
---
Couple of Clippers, Hints of a January Thaw. European guidance shows a chance of light snow and flurries today, up to an inch of snow before skies clear Friday. Temperatures trend upward next week; a few days above 32F. Source: WeatherSpark.
---
Analysis: How 2015 Became the Hottest Year on Record. Carbon Brief takes a look at how global temperatures and trends are measured; here's an excerpt: "...As well as being a symptom of the long term warming trend, scientists are interested in 2015 global temperature because of what it tells us about how natural fluctuations in the climate can act to amplify or dampen the warming signal, Osborn explains. A huge El Niño in the Pacific – among the biggest on record – contributed to the record warmth in 2015, say scientists. In total, 10 out of the 12 months in 2015 either tied with or broke previous records, according to NASA and NOAA's joint analysis. Since the El Niño only recently reached peak strength, scientists expect its impact to be even larger in 2016..."
Graphic credit above: "Global average surface temperatures in the three major global datasets, all relative to the 1961-1990 average: Met Office/University of East Anglia (blue), NASA (orange) and NOAA (red)." Credit: Rosamund Pearce, Carbon Brief.
---
We Just Lived in the Hottest Year on Record. Here's more perspective from ThinkProgress: "NOAA and NASA have announced that 2015 was by far the hottest year on record globally. In fact, NOAA reports that "2015 is Earth's warmest year by widest margin on record." 2015 set the record for setting records! While global temperature records are normally measured in hundredths of degrees Fahrenheit, NOAA reports 2015 crushed the previous record just set in 2014 by nearly three tenths of a degree, or 0.29°F (0.16°C) above the previous record, which was set in 2014..."
---
2015: Hottest Worldwide, Second Hottest in the USA on Record. Details via The New York Times.
February: Mild Signal Returns? NOAA's CFSv2 (Climate Forecast System) model continues to show a mild bias stretching across most of Canada into the Upper Midwest, Great Lakes and New England; temperature anomalies as much as 5-8F warmer  than average. Stay tuned. Map: WeatherBell.
---
Unusual El Nino Weather May Increase Risk of Water Damage to Homes This Winter. A different angle in this story at Yahoo News; here's a clip: "...Winter is already a challenging season for many homeowners, but the moisture from El Niño will likely create additional headaches this year," said Paul Quinn, head of claims customer experience at Farmers Insurance. "This year's unique weather conditions mean we may see hazards like flooding and power outages combine with more traditional winter hazards, like ice dams and frozen pipes, as major concerns for homeowners." El Niño, which is characterized by unusually warm temperatures in the Pacific Ocean, is expected to create wetter-than-average conditions in the South, the Mid-Atlantic and southern portions of New England, as well as in California, Texas and Florida. Homeowners in these areas will likely have to contend with an increased risk of flooding, water damage and power outages..." (File photo: Dave Gatley, FEMA).
---
10 Billion Dollar Weather and Climate Disasters in 2015. Here's an excerpt from NOAA: "...The U.S. has sustained 188 weather and climate disasters since 1980 where overall damages/costs reached or exceeded $1 billion (including CPI adjustment to 2015). The total cost of these 188 events exceeds $1 trillion. In 2015, there were 10 weather and climate disaster events with losses exceeding $1 billion each across the United States. These events included a drought event, 2 flooding events, 5 severe storm events, a wildfire event, and a winter storm event. Overall, these events resulted in the deaths of 155 people and had significant economic effects on the areas impacted. The 1980–2015 annual average is 5.2 events (CPI-adjusted); the annual average for the most recent 5 years (2011–2015) is 10.8 events (CPI-adjusted). Further cost figures on individual events in 2015 will be updated when data are finalized..."
---
15 Before-And-After Images That Show How We're Transforming the Planet. Vox has a terrific photo-essay; here's an excerpt: "...One of the most dramatic ways we're transforming the planet is through global warming. And a great place to see its effects is through the melting of glaciers and ice sheets around the world. The images above show the Columbia Glacier in Alaska, which flows directly into the sea. The glacier had stayed more or less fixed in place between its discovery in 1794 and 1980, but then suddenly began shrinking. Between 1986 and 2014, its nose had retreated 12 miles north, making it one of the fastest-receding glaciers in the world..."
Image credit above: "Alaska's Columbia Glacier, seen on July 28, 1986 and July 2, 2014." (NASA, Images of Change)
---
Brain-Tangling Algae Lurks in our Waters. USA TODAY has the story - here's a link and excerpt: "Algae blooms may be slowly eating away at our memories. Chronic exposure to a commonplace algae toxin in crabs, shellfish and other seafood increases risk of Alzheimer's disease, Parkinson's disease and amyotrophic lateral sclerosis (ALS), a new study suggests. The study, published Tuesday in the biological research journal Proceedings of the Royal Society B,  found similar "brain tangles" and protein deposits in the brains of monkeys fed fruit dosed with the same amino acid produced by blue-green algae species common to Florida and elsewhere..."
Photo credit: National Geographic, which has more background on the global  spread of algal blooms here.
---
How the "Perfect Storm" Became the Perfect Cop-Out. Here's a link to the New York Times Magazine.
---
Amidst Drop in Oil Prices, U.S. Navy Deploys "Great Green Fleet". Reuters reports: "The U.S. Navy will formally deploy its so-called "Great Green Fleet" on Wednesday, sending warships to sea on biofuels even though oil prices have dropped 70 percent since congressional Republicans first criticized the high cost of alternative fuels. Navy Secretary Ray Mabus told Reuters the deployment is the next step in a fleet-wide effort that has seen the Navy cut its oil consumption by 15 percent since he took charge in 2009 and the Marine Corps curb its use by 60 percent. A focus on energy and energy-saving technology gives the U.S. Navy a military advantage, Mabus said..."
---
How Big Cities Are Finding Innovative Ways to Nudge People to Ditch Cars. The Guardian takes a look at novel approaches: "Home to more than half of the planet's 7 billion people and a large portion of its 1.2bn cars, cities face a huge challenge as the world strives to meet the Paris climate goal of limiting global warming to 1.5C above pre-industrial levels. Cutting emissions in cities is critical: they make up only 2% of the world's total land area, but produce up to 70% of its climate emissions from human activity, according to a 2011 United Nations report..."
Photo credit above: "A cyclist rides his bicycle during "No Car Day" in Bogota, 2015. The event was organized to encourage residents to use other modes of public transportation to help reduce the amount of pollution." Photograph: Jose Gomez/Reuters
---
Mapping Places in America Where Prohibition Never Ended. I had no idea, but a story at Atlas Obscura set me straight; here's the intro: "If you think that Prohibition is a thing of the past, think again. There are a surprising number of places in the U.S. where the sale and consumption of alcohol is still illegal. The above map illustrates the places in the United States where alcohol is banned: red indicates that alcohol is forbidden from being sold, blue indicates it is allowed, and yellow indicates that the county is "partially dry;" either wet communities exist within dry counties or vice versa..."
Map credit above: "Blue: Alcohol is not prohibited. Red: Alcohol is prohibited. Yellow: Some alcohol controls/alcohol prohibited in some municipalities." Data from March 2012. (Photo: Public Domain/Wikipedia Commons).
---
22 F. high yesterday in the Twin Cities.
24 F. average high on January 20.
32 F. high on January 20, 2015.
January 21, 1936: Warroad drops to a bone-chilling 55 below zero.
January 21, 1922: The barometer at Collegeville hits 31.11 inches, a record high pressure reading for the state.
---
---
TODAY: Gray, coating of snow. Winds: NW 3-8. High: 23
THURSDAY NIGHT: Flurries taper. Low: 12

FRIDAY: Sunshine returns, still chilly. Winds: N 7-12. High: 20

SATURDAY: Partly sunny, a bit milder. Winds: S 10-15. Wake-up: 8. High: 27

SUNDAY: Mostly cloudy, feels pretty good. Winds: SW 5-10. Wake-up: 20. High: 31

MONDAY: Light snow, coating to 1" possible. Wake-up: 22. High: 27

TUESDAY: Partly sunny, no travel worries. Wake-up: 14. High: 23

WEDNESDAY: Milder, few flurries around. Wake-up: 17. High: 31
---
22-degree halo photo above courtesy of Steve Burns.
---
Climate Stories...
The Hottest Year on Record Signals that Global Warming is Alive and Well. NCAR climate scientist Kevin Trenberth has a summary at The Conversation; here's an excerpt: "...The year 2015 stands out because of the unusually strong El Niño that has been under way, only the third El Niño categorized as "very strong" going back as far as records allow (into the late 1800s). In fact, the higher temperatures from El Niño could account for most of the difference from 2014, which had been the warmest year on record until last year. El Niño plays a major role regionally in affecting where the hot and dry spots are and where the torrential rains and hurricanes occur. Global warming makes all of those effects more brutal..."
 
Photo credit above: "Wildfires devastated large parts of California and the West, which has been suffering from a historic drought." Max Whittaker/Reuters.
---
California to Investigate Whether Exxon Mobil Lied About Climate Change Risks. Here's the intro to a Los Angeles Times story: "California Atty. Gen. Kamala D. Harris is investigating whether Exxon Mobil Corp. repeatedly lied to the public and its shareholders about the risk to its business from climate change — and whether such actions could amount to securities fraud and violations of environmental laws. Harris' office is reviewing what Exxon Mobil knew about global warming and what the company told investors, a person close to the investigation said..."
Photo credit above: "Exxon Mobil, which operates a refinery in Torrance, above, has issued statements denying news reports that it suppressed climate-change research." (Christina House / For The Times).
---
Pentagon Ordered to Address Climate Change. Here's the intro to story at The Washington Free Beacon: "A new directive issued by Pentagon leaders mandates that the agency work to "assess and manage risks associated with the impacts of climate change," according to a copy of the Jan. 14 directive issued by Deputy Secretary of Defense Robert Work. As the Obama administration focuses on a larger effort to push its climate change agenda, the Pentagon will now "address the impacts of climate change." This includes engaging in "deliberate preparation, close cooperation, and coordinated planning" to "improve climate preparedness and resilience," according to the directive..." (File photo: Wikipedia).
---
Climate Change and Minnesota Agribusiness: a Reason for Hope. I've personally witnessed much more attention being paid to climate volatility from General Mills, Cargill and other Minnesota-based companies. Here's another perspective in an Op-Ed at Minnpost: "Too often big business is written off as an environmental problem, without exploring its potential as a tool for progress. Agribusiness must be part of the solution for climate-change adaptation, especially for smallholder farmers in the global south. Right now, the fields in Minnesota may be covered with snow, but according to social responsibility reports, corporations like Cargill and General Mills are helping farmers in developing countries improve their livelihoods. Conscious consumers should demand more information about these programs to determine if they are creating the social impact they claim to generate..."
Photo credit above: CC/Flickr/David Wright. "Agribusiness is a leading contributor to climate change. The industry and lawmakers should do more to address this issue and support the farmers most affected by our carbon-intensive lifestyles."
---
Why Climate Change is a Moral Concern for the Religious Community. Here's an excerpt of an Op-Ed at NJ.com: "...We have a national self-interest in addressing climate change, protecting our economy and security for the next generation, but we also have a moral obligation. The poor and vulnerable suffer most from the impacts of climate change, though they often contribute least to the problem. Loving others should be a primary focus for faith communities, but this is rarely instilled in dialogue or action in the context of climate change. If we are to love our neighbors, then we have no choice but to take action against the injustices associated with environmental changes. To quote an often referenced piece of biblical wisdom, "For of those to whom much is given, much is required." We cannot and should not ignore those who are fighting to survive..."
---
Iowa Gov: Don't Vote for Cruz. TheHill explains why; here's an excerpt: "The governor of ethanol-rich Iowa says voters there should reject Republican presidential candidate Ted Cruz over his position on the federal renewable fuel mandate. Speaking with with reporters Tuesday at the Iowa Renewable Fuels Summit, Gov. Terry Branstad (R) said voters should oppose Cruz when they turn out to caucus next month, calling him the "biggest opponent of renewable fuels" in the presidential race. "He's heavily financed by Big Oil," Branstad said, according to the Des Moines Register. "So we think once Iowans realize that fact, they might find other things attractive but he could be very damaging to our state..."
---
CEO's Are Waking Up From Obsession with Profits and Facing Harsh Reality. Here's a passage that jumped out at me from a story at Huffington Post: "...The same survey in 2015 failed to even ask corporate leaders about the risks of climate change, as the issue did not make it into the top 19 risks the CEOs identified. But the 2016 report shows that half now see climate change as a threat to their growth prospects. While this is a welcome improvement, climate change still ranks at only number 11 on their list of concerns, despite a year that has been marked by an increase in extreme weather events and some of the warmest temperatures on record..."
---
How to Drive a Stake Through the Heart of Zombie Fossil Fuel. Bill McKibbon pens an Op-Ed at The Los Angeles Times; here's a clip: "...Even as global warming makes it clear that coal, natural gas and oil are yesterday's energy, two centuries of fossil fuel development means new projects keep emerging in zombie-like fashion. In fact, the climactic fight at the end of the fossil fuel era is underway. In statehouse hearing rooms and far off farmers' fields, local activists are making desperate stands to stop new fossil fuel projects, while the energy companies are making equally desperate attempts to build while they still can. The outcome of these thousands of fights, as much or more than the paper promises made at the U.N. climate conference in Paris in December, will determine whether we emerge from this century with a habitable planet. They are the battle for the future..."
---
3rd Annual Minnesota Climate Adaptation Conference on January 28. If your state agency or business  is already seeing impacts from a more volatile climate you should consider attending - a few spots are still available. Here's more information on who, what, where and why from Dr. Mark Seeley:
"We are trying to nurture an educated community of practitioners when it comes to climate adaptation and sustainability, and we are slowly succeeding. In past statewide conferences we have heard from a number of academic researchers and government practitioners concerning sustainability strategies and procedures that give consideration to climate change, but this year we will hear more from the business and corporate community (morning plenary session on climate adaptation and sustainability), as well as a panel of city mayors in the afternoon plenary session.
The CAP Conference will take place on January 28, 2016 at the Doubletree Hotel in Brooklyn Center, MN.   Many of the presentations and discussions will center on the need for sustainability as an underlying principle when it comes to considerations of climate change and how it will affect management of our natural resources, our societal infrastructure, and the future of products and services from the highly competitive corporate world  This would be a valuable discussion for our wider community to hear, and perhaps even foster some closer working relationships among the partnerships of practitioners we are trying to build."
More information and a link to online registration is here.
---
Church of England and New York State Fund to Press Exxon on Climate Change.  Here's the intro to a Wall Street Journal story: "New York's state pension fund and the Church of England, both investors in Exxon Mobil Corp. , plan to file a shareholder resolution demanding the largest U.S. oil company assess the impact on its business of climate change policy. The shareholder resolution would require Exxon to conduct an assessment of how its business would fare in the event governments take various actions to limit global warming. Government attempts to tax or put a price on carbon, for example, could affect the viability of some of Exxon's long-term investment plans, said Edward Mason, head of responsible investing for the Church of England, which has a portfolio of about £10 billion ($14.44 billion)..."
Photo credit above: "A view of the Exxon Mobil refinery in Baytown, Texas." Photo: Reuters.
---
Today's Oceans are Different Than They Were Twenty Years Ago. Here's an excerpt of a story at Forbes: "While we can't say that climate change causes El Nino, the evidence is mounting that the warming of our planet could be intensifying the natural phenomenon, which in turn can lead to some extreme weather events. New research published today in the journal Nature Climate Change found that half of the warming of our oceans seen since 1865 has happened in the past twenty years. "Since the 1990s, the total amount of heat content change in the oceans is twice that of what we'd seen up until that point in the past 150 years," said Chris Forest, a Penn State meteorology professor and coauthor of the paper. While El Nino and La Nina are cyclical phenomena, they are powered by warm water in the Pacific and this current El Nino is accompanied by record-setting ocean temperatures..."
Illustration credit above: "Pacific and Atlantic meridional sections showing upper-ocean warming for the most recent complete decade. Red colors indicate a warming (positive) anomaly and blue colors indicate a cooling (negative) anomaly." (Source: Timo Bremer/LLNL)
---
* More perspective on the massive amounts of heat going into the world's oceans at Discovery News.
---
NPS Drone Checks Arctic Ice Loss.
The Monterey Herald
has an interesting story about new technologies being deployed to monitor ice loss; here's the intro: "
When you are flying a drone over the Arctic ice cap you need warm clothing and armed sentries to ward off prowling polar bears. Naval Postgraduate School polar meteorologist and professor Peter Guest spent more than 40 days late last year as the only scientist from NPS in a group from the U.S. and other countries researching the region's receding ice cover. It's a part of the world the United States and other nations are showing great interest in. Russia renewed its claim to a United Nations committee on the Arctic, a region potentially rich in mineral resources, which the U.S., Canada, Denmark and Norway are also laying claim to.
.."
Photo credit
above: "
Naval Postgraduate School polar meteorologist and professor Peter Guest works with a drone in the arctic
."
Photo by Byron Blomquist.
---
What's Melting Greenland's Ice Sheet? Night Clouds, say Scientists. Clouds keep daytime temperatures cooler, but result in warmer nights, trapping additional radiation near the ground. Here's an excerpt from Christian Science Monitor: "
Clouds play an important role in melting Greenland's ice sheet, say scientists.
A team of scientists from the University of Leuven in Belgium have found that clouds are raising the temperature of the Greenland Ice Sheet by up to 3 degrees, contributing to almost 30 percent of the sheet's melting, according a study published Tuesday in the journal Nature Communications
..."
Photo credit
above: "
Heimdal Glacier in southern Greenland is seen in a NASA image captured by Langley Research Center's Falcon 20 aircraft October 13 and released November 24. NASA's Operation IceBridge North is an airborne survey of polar ice aimed at learning how much snow and ice disappeared over the summer, according to a NASA news release
.
" John Sonntag/NASA/Reuters.