"Frizzle" Today - Hazards of Falling On Ice

When in doubt, obfuscate! Fake news? Let's tee up some fake weather terminology, which should exist - but doesn't - probably for good reason. "Snizzle": a light, snowy drizzle, capable of a sugary glaze of crunchy snow. "Frizzle": freezing drizzle, which is more insidious than snow, because gazing out the window it looks like generic drizzle. Until you walk out the door and fall flat on your butt.
Over the years it's dawned on me that many older Minnesotans don't fear the cold, they fear falling on ice. And for good reason. According to CDC "1 out of 5 falls causes a serious injury such as broken bones or a head injury. Each year, 2.8 million older people are treated in emergency departments for fall injuries." Good grief.
A weak clipper may coat roads and sidewalks with a coating of snow and ice today. No big storms are brewing, but clippers may whip up more flurries Saturday, again Monday of next week.
The rumors are true: a legitimate cold front drops highs into single digits and teens by Christmas with lows just below 0F. I fear Santa may freeze his jingle bells off.
---
File photo courtesy of Steve Burns.
---
Nuisance Snow. The latest NAM model prints out a whopping .01" of precipitation on the metro area today, flurries and a little freezing drizzle capable of icy patches. 3 KM NAM guidance from NOAA shows the best chance of plowable 2-5" amounts from near Siren to Oshkosh, Wisconsin. Map: Tropicaltidbits.com.
---
Icy Wednesday. A period of wet snow, possibly mixed with freezing drizzle, may ice up roads today. Details from the local Twin Cities National Weather Service: "Snow will develop across northern Minnesota and Wisconsin late tonight and continue through Wednesday morning. Freezing drizzle is possible south and west of the snow, including much of Minnesota. Little or no ice accumulation expected. Strong winds gusting to 45-50 mph will develop during the morning in western and southern Minnesota."
---
Huge Trigger of Winter Injuries: Falls on Snow and Ice
. Check out the details from
CDC
: "
Each year, millions of older people—those 65 and older—fall. In fact, more than one out of four older people falls each year, but less than half tell their doctor. Falling once doubles your chances of falling again.
One out of five falls causes a serious injury such as broken bones or a head injury.
Each year, 2.8 million older people are treated in emergency departments for fall injuries.
Over 800,000 patients a year are hospitalized because of a fall injury, most often because of a head injury or hip fracture.
Each year at least 300,000 older people are hospitalized for hip fractures.
More than 95% of hip fractures are caused by falling, usually by falling sideways.
Falls are the most common cause of traumatic brain injuries (TBI).
Adjusted for inflation, the direct medical costs for fall injuries are $31 billion annually. Hospital costs account for two-thirds of the total..."
---
Above Average, And Then Not Above Average. Temperatures trend milder than average into Thursday of next week, but by Christmas Eve and Christmas Day highs hold in the low teens with nights dipping just below 0F, based on ECMWF forecast data. We're due for a colder front, but this isn't unusual for late December, coming a few days after the Winter Solstice. Twin Cities data: WeatherBell.
---
Numbing End to December. Arctic air lingers into the last week of December - not exactly record territory, but easily 10-20F colder than average, based on GFS data (above).
---
Late December Temperature Outlook. GFS guidance (above) shows daytime highs in single digits and low teens around Christmas, maybe 2-3 nights below zero before some moderation as we get closer to New Year's Eve.
---
Statistical Probability of a "White Christmas" in the Twin Cities: 74%
So says
NOAA
, based on the latest 30-year climate data: "
Minnesota. Maine. Upstate New York. The Allegheny Mountains of Pennsylvania and West Virginia. Practically anywhere in Idaho. And of course, the Rockies or the Sierra Nevada Mountains. These are the parts of the Lower 48* where weather history suggests you want to be if you're looking for the best chance of a white Christmas. The map at right shows the historic probability of there being at least 1 inch of snow on the ground in the Lower 48 states on December 25 based on the latest (1981-2010) U.S. Climate Normals from NOAA's National Centers for Environmental Information (NCEI). The background map shows interpolated values for all locations. (Interpolating means estimating unknown values using known values and physical relationships, such as the way temperature is known to change with altitude.) You can also click and zoom in to specific stations used for the interpolation.
.."
---
Can You Catch a Cold From the Cold?
Here's an excerpt of a story from KTHV and
11alive.com
: "...
Hopkins said while the cold weather doesn't make you sick and germs do, research suggests that cold weather does create a condition that helps those germs survive. He pointed to a study after study to verify. Publications include Smithsonian Magazine, Pediatric Infectious Disease Journal among other medical studies that all come to the same conclusion. That conclusion is cold temperatures and low relative humidity are favorable to the spread of the flu. And rhinoviruses, which are the most common cause of colds. But what is the science behind your immune system dropping when it is so cold? According to Hopkins, "There are multiple different barriers our body puts up to infections. One is that we have linings in our moist parts of our body – our nose and our mouth. When it gets cold and dry the cells shrink, you may open up the gaps a little bit more between the cells, and you may be able to get more of these viruses through those barriers
..."
---
Alaska Just Reported One of the Most Extreme Snowfall Rates on Record: 10"/Hour.
Wow. Here are details from the
Salt Lake Tribune
: "...
Well that's kind of what happened Wednesday at Alaska's Thompson Pass, outside of the town of Valdez, when an incredible 10 inches of snow piled up in one hour - around 1.7 inches every 10 minutes. This is an absolutely incredible snowfall rate. The furious storm dropped another 5 inches in 30 minutes, for a remarkable 15 inches in a brief hour and a half period. In the end, 40 inches of heavy wet snow accumulated in 12 hours
..."
---
Snowfall To-Date. NOAA released the map above, showing over a foot of snow so far over northern MInnesota and Wisconsin; as much as 3-4 feet plus over the U.P. of Michigan and much of the Rockies and highest terrain of the Cascades and Sierra Nevada range out west.
---
Elevated Fire Concerns Continue Over SoCal. Praedictix Briefing: Tuesday, December 12th, 2017
Multiple major wildfires continue across parts of southern California

Tuesday

morning, with over 260,000 acres consumed since last week. That is more than the area of New York City and Boston combined.
An update on the major wildfires:
Elevated fire danger continues through

Wednesday

across southern California, with gusty Santa Ana winds and low humidity values expected. Red Flag Warnings are in effect for portions of Los Angeles and Ventura Counties over the next couple days.
---
Ongoing Wildfires. Five major wildfires continue to burn across southern California this morning. We are still seeing some growth of the Thomas Fire – especially into Santa Barbara County – as the fire has grown to 234,200 acres and is 20% contained. Fire growth is expected to continue into Santa Barbara County today, potentially threatening communites like Santa Barbara, Carpinteria, Montecito and Summerland. At least 98,000 residents have had to be evacuated due to the fires according to CNN. A detailed, interactive map of the fires can be found HERE.
---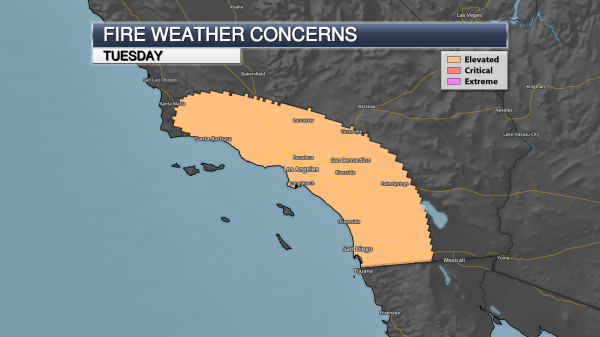 Elevated Fire Danger Continues Today. With offshore wind gusts up to 40 mph expected across southern California today, humidity values will remain low. This will lead to another day of elevated fire weather concerns across the region.
---
Elevated Fire Danger Wednesday As Well. The elevated fire risk remains for portions of southern California as we head into Wednesday as well, however we do expect some slight weakening in the winds as we head into the middle of the week. That will hopefully help firefighting efforts across the region.
---
Red Flag Warnings Continue. Due to the continued fire weather conditions - including gusty Santa Ana winds and low humidity values - Red Flag Warnings are in effect for parts of Los Angeles and Ventura counties over the next couple days. Here's a portion of the updated warning issued by the National Weather Service in Los Angeles yesterday (Monday): "Little change is expected through Thursday. The extended period of offshore flow will continue, but will be half as strong as what occurred last week. Expect daily peak gusts in the 20 to 40 mph range...but some weakening is expected Wednesday into Thursday. The humidities will remain incredibly dry with extremely poor overnight recoveries nearly everywhere."
---
Latest Information From The National Weather Service – Los Angeles. Here is more information on the Red Flag Warning areas and expected fire weather over the next couple of days from the National Weather Service office in Los Angeles: "Gusty northeast winds are expected to continue through much of this week, but should remain below wind advisory levels. Relative humidities will continue to remain in single or low teens as well with poor overnight recoveries. The gusty offshore winds, very low relative humidity, unseasonably warm temperatures, and extremely dry fuels will allow the extreme fire danger to continue. The greatest concern will be the Los Angeles and Ventura county mountains, Santa Clarita, and the Santa Ana wind prone areas of the Ventura County valleys and Oxnard Plain. If these conditions develop, there will be the potential for large fires, rapid fire growth, and extreme fire behavior if ignition occurs. Although there are no Red Flag Warnings issued for Santa Barbara County, there will be local north to northeast winds 15 to 25 mph around the hills above Montecito over the next couple of evenings bringing some elevated fire concerns."
---
Smoke Impacts Continue. Poor air quality is once again expected today across the region due to the smoke from the Thomas Fire, with the biggest impacts expected in parts of Ventura and Santa Barbara counties.
Meteorologist D.J. Kayser, Praedictix
---
California Wildfires By The Numbers. The most expensive year on record for wildfires? CNN.com has the story.
---
Official Toll in Puerto Rico: 64. Actual Deaths May Be 1,052. The New York Times reports.
---
Authorities Release Updated Maria Death Toll as Journalists Do The Math: Here's the latest from Climate Nexus Hot News: "The official death toll from Hurricane Maria has risen to 64, Puerto Rican authorities announced Saturday, factoring in two additional "indirect" deaths from the storm to previously announced numbers. The official number of deaths, which critics say is suspiciously low considering the damage from the storm, is coming under some scrutiny: both a Center for Investigative Journalism (CPI) report published Thursday and a New York Times review of mortality data published Friday estimate the actual death toll to be closer to 1,000. These two reports follow earlier investigations from CNN, Vox and Buzzfeed that also show high death rates as a result of the storm. FEMA also reported Saturday that aid to the island has topped $1 billion." (Official toll: ABC, CNN. Analysis: Latino USA, New York Times $, Earther)
September 24, 2017 file image of Hurricane Maria: NOAA and AerisWeather.
---
"100-Year Floods" Every Year? New Texas Rain Data is Redefining Storms. Here's a snippet from American-Statesman: "If you feel like Texas has had a constant stream of 100- or 500-year floods in the past few years, you're not wrong. Texas rainfall estimates, the federal data used to describe flooding, were last updated in the 1960s and '70s, and the National Oceanic and Atmospheric Administration is updating them to reflect the increased frequency of heavy rainstorms documented over the past two decades. The data are not just for forecasting the weather and describing storms. Once adopted, the new numbers will be used in engineering standards for roads and buildings and in the National Flood Insurance Program's mapping of flood risk, potentially forcing more people to buy flood insurance or to build their homes to higher elevations..."
Photo credit: "Celia Rosales walks in front of a house that was damaged during the 2015 Memorial Day floods in San Marcos." MARLON SORTO / AHORA SI.
---
EXTREME WEATHER: From Climate Nexus: "Firefighters protect seaside California towns as blaze rages (AP), health concerns swirl in Texas months after floods from Harvey spread toxic waste (PBS NewsHour), Hurricane Maria has made Puerto Rico a testbed for new technology (Quartz), what fire researchers learned from Northern California blazes (High Country News), UN visits Puerto Rico to assess help for hurricane victims." (AP)
---
The Loss of Arctic Sea Ice Cover Could Affect Millions Worldwide. Turns out what happens in the Arctic doesn't stay in the Arctic. A story at Futurism connects the dots: "...Far from just being bad news for polar bears or vulnerable island chains, melting Arctic sea ice caps can affect areas a long way from the Arctic region, bringing not only higher sea levels, but also severe drought. This may be the case for California, which could see its already extreme lack of water getting worse in the coming decades, according to researchers at the Lawrence Livermore National Laboratory. In a study published on November 5 in Nature Communications, climatologist Ivana Cvijanovic and her team found that shrinking glaciers in the Arctic can modify atmospheric temperatures over the tropical Pacific. In turn, this heat imbalance can push rain-rich clouds away from California towards Alaska and Canada..."
File image: Esther Horvath.
---
Alaska Weather Service Cuts Balloon Launches Due to Staffing. U.S. News has an update on a development that may, in theory, impact forecast accuracy thousands of miles downwind, over the Lower 48 states: "Workers at 13 Alaska sites are supposed to release balloons twice a day that collect data on temperature, pressure and wind, but the National Weather Service has reduced weather balloon launches in rural Alaska, affecting the quality of forecasts. Launches have been limited in recent years by staffing shortages and by an overtime policy change in August, the Fairbanks Daily News-Miner reported . The Weather Service has launched 28 percent fewer balloons at six of the remote sites in order to keep employees to a 40-hour work week. The loss of any input data affects weather models, but the degree it hurts the accuracy of forecasts isn't easy to quantify. The Weather Service supplements data from weather balloons with data from satellites, Weather Service Alaska Region Director Carven Scott said..."
---
The Material That Built the Modern World Is Also Destroying It. There are solutions, and we need to turn up the dial and move faster and smarter. Here's an article, part of an excellent series at Quartz: "Remarkably, the material that built the first modern civilization remains key to building today's global economy. The cement we use in 2017 is not so different from the stuff used to build the concrete dome of the Roman Pantheon in 125 AD. What has changed is that today we use vastly greater quantities of the grey powder: more than 4.2 trillion kg annually. To put that in perspective, you could build 1,000 Hoover Dams each year with the amount of concrete that much cement would make. That'd be all well and good except for the fact that 1 kg of cement releases more than than 0.5 kg of carbon dioxide into the atmosphere. As a result, the cement industry is currently responsible for about 5% of global CO2 emissions—more than double the aviation industry..."
Image credit: "The right thing to do." (Tsjisse Talsma for Quartz)
---
Minnesotans Have the Least Amount of Serious Debt in the USA.  GoMN has the story: "The Urban Institute produced a map of America, down to the county level, showing how many Americans have "debt in collections." This basically means any debt they have that's "past due," which can stem from credit and unpaid bills. It compiled this map using credit bureau figures and U.S. Census data. Really well, as it turns out. While it's bad that anybody is struggling with past-due debt, it only affects 17 percent of Minnesotans – the lowest rate in the country. Our neighbors in South Dakota and North Dakota are doing well too. Debt collection rates in those states are 18 and 19 percent, respectively.Minnesota also has the least overdue medical bills, with just 3 percent of residents late on their bill payments..."
Map credit: The Urban Institute
---
How The Way We Think About the World Failed. No, more stuff does not equal more happiness or contentment. Here's an excerpt of an eye-opening post at Eudaimonia and Co: "...Only a minority of people feel their lives are better today than they might have been fifty years ago. In response, the intellectuals I follow tweeted something like: "these foolish people! Don't they know how good they have it! They should be happy!! What's wrong with them?!" Their words dripped with the strange hallmark of what passes for thought today: hubris, arrogance, pride, and derision. Fascism, authoritarianism, and tyranny can only really arise when our institutions fail, and among the most important of these is the way we think. It's no overstatement to say today that thought itself has failed — witness daily the constant, perpetual surprise outrage of pundits and intellectuals, whose inability to explain or predict the world anymore is expressed in a furious anger which soon turns to disdain..."
Graphic credit: Huffington Post.
---
How Tech Companies Could Keep the Workforce Alive. Think your job is safe from automation and AI? A story at The Atlantic caught my eye: "...Jobs in industries such as food services, transportation, and retail trade are at high risk of being automated, forcing workers to gain new skills to compete for well-paying jobs. From Google's self-driving cars to Apple's communication technology to Amazon's retail model, automation is becoming more and more pervasive. As communities across the U.S. witness growing gaps between the skills that workers have and the ones that employers need, workers will need training. Debate about how to prepare workers for the future has largely focused on what educators and employers are doing and could do more of..."
Illustration credit: Molly Mendoza.
---
The World's 50 Best Beaches. Thank you, Flightnetworks.com; I needed this: "Welcome to the most definitive list of beaches ever assembled — a diverse collection of off-the-beaten-path slices of paradise from every hidden corner of our planet. To create The World's 50 Best Beaches©, FlightNetwork has consulted 600+ of world's best travel journalists, editors, bloggers and agencies — the people who do this for a living — to gain insight from their opinions and expertise. By asking the top travel professionals, Flight Network has created the most trustworthy and accurate list out there to inspire travelers and help choose their upcoming winter holiday destinations. Pack your bags and book a flight to these amazing powder white beaches, swaying palm trees, turquoise waters, volcanic coastlines, and snow-capped mountain peaks steps from the sea. This comprehensive list will take you from the azure waters of Australia to the postcard-worthy shores of Africa, Europe, North, Central and South America, Caribbean, Asia and everywhere in between."
---
Google's True Origin Partly Lies in CIA and NSA Research Grants for Mass Surveillance. Lovely. Quartz has the story: "Two decades ago, the US intelligence community worked closely with Silicon Valley in an effort to track citizens in cyberspace. And Google is at the heart of that origin story. Some of the research that led to Google's ambitious creation was funded and coordinated by a research group established by the intelligence community to find ways to track individuals and groups online. The intelligence community hoped that the nation's leading computer scientists could take non-classified information and user data, combine it with what would become known as the internet, and begin to create for-profit, commercial enterprises to suit the needs of both the intelligence community and the public. They hoped to direct the supercomputing revolution from the start in order to make sense of what millions of human beings did inside this digital information network. That collaboration has made a comprehensive public-private mass surveillance state possible today..."
---
For the Good of Society - and Traffic - Delete Your Map App! So says the author of a story at nymag.com: "...Bayen points out that this is sort of a gigantic version of the prisoner's dilemma. "If everybody's doing the selfish thing, it's bad for society," says Bayen. "That's what's happening here." Even though the app makes the route quicker for the user, that's only in relation to other drivers not using the app, not to their previous drives. Now, because everyone is using the app, everyone's drive-times are longer compared to the past. "These algorithms are not meant to improve traffic, they're meant to steer motorists to their fastest path," he says. "They will give hundreds of people the shortest paths, but they won't compute for the consequences of those shortest paths..."
---
You Call This Progress? This is why North Korea hates us. CNN reports: "Thanks to the invention of cupholders, we can all safely drink coffee while we drive. And now, thanks to a new app from GM, we can safely order coffee from Starbucks (SBUX) and Dunkin' Donuts (DNKN) while we drive. The new technology will let drivers do everything from ordering hot wings to booking a hotel room or reserving a table at Applebee's -- all without even having to pull over. If you own a 2017 or 2018 model year Chevrolet, Buick, GMC or Cadillac, you might see a new icon on your vehicle's central computer screen Tuesday morning. It's labeled Marketplace. With a few pokes of your finger you can order food or drinks, or reserve a table at one of several restaurants that have teamed up with GM..."
Photo credit: "The new GM Marketplace App will allow users to make purchases and reservations from behind the wheel." General Motors.
---
Family Sends the Most Awkward Christmas Cards for 15 Years, and It's Too Funny. After seeing this post at Bored Panda I have to agree: "If you think you've already seen the funniest family Christmas card of the season, think again. Every year since 2003, the Bergeron family has been ringing in the holidays by producing the most clever and hilarious greeting cards we've ever seen, and just like the snow outside, they're showing no signs of stopping. Mike Bergeron, his wife Laura, and their two daughters known online as 'Gigi' and 'Juju' have made an annual tradition out of the refreshingly original photoshoots, and each December, they choose a new knee-slapping theme. Whether they draw on pop culture, local culture, or embarrassingly awkward family cards of yore, they always seem to pull it off as a team. Special credit is due, of course, to the JC Penney Portrait Studio, which has seen them all the way from 'white trash Christmas' to a full drag ensemble..."
---
21 F. maximum temperature yesterday in the Twin Cities.
28 F. average high on December 12.
14 F. high on December 12, 2016.
December 13, 1995: A low pressure system moved across northern Minnesota, depositing a band of five to seven inch snowfall along a line from around Wheaton to north of St. Cloud and around Rush City. Alexandria received seven inches of snow. Meanwhile, in southern Minnesota, one to four inches of snow fell, along with one-quarter to one-half inch of freezing rain, which forced some school closures.
December 13, 1821: An extended cold snap begins at Ft. Snelling. Highs were below zero for all but one day of a 19-day stretch.
---
---
Rush Hour On The Lake. Amazing what you can do with a pair of ice skates and a chainsaw. Video courtesy of imgur.
---
---
TODAY: Light snow and ice - coating possible. Winds: NW 15-25. High: 31
WEDNESDAY NIGHT: Flurries taper. Low: 20

THURSDAY: Colder breeze, few flakes in the air. Winds: NW 8-13. High: 28

FRIDAY: Mostly cloudy and quiet. Winds: W 7-12. Wake-up: 16. High: 27

SATURDAY: Overcast and milder, flurries north. Winds: SE 10-15. Wake-up: 23. High: 34

SUNDAY: Still gray, partial clearing PM? Winds: NW 7-12. Wake-up: 27. High: 32

MONDAY: Next clipper, light snow possible. Winds: NW 8-13. Wake-up: 28. High: 34

TUESDAY: Partly sunny and pleasant. Winds: NW 7-12. Wake-up: 22. High: 31
---
Climate Stories....
Judges Push Trump Lawyers in Kids' Climate Suit Hearing: From Climate Nexus Hot News: "Federal judges expressed doubt on Monday at the Trump administration's attempt to toss out a lawsuit brought against the US government by a group of 21 young people suing over climate change. The three-judge panel of the 9th Circuit Court of Appeals in San Francisco heard arguments from the Trump administration, which had made a rare request for the appeals court to halt the Juliana v. United States case, which is scheduled to go to trial in February. While administration lawyers argued that the "unprecedented" case would create a "constitutional confrontation" if allowed to proceed, multiple outlets report that the judges' line of questioning seemed to indicate that they will allow the case to move forward. "If we don't stop climate change, I might not have a home when I'm older," 10-year-old plaintiff Levi Draheim, a Florida resident, told the court. "That's why our case has to go to trial." (San Francisco Chronicle, Washington Post $, Reuters, Bloomberg, InsideClimate News, Buzzfeed, ThinkProgress, Mashable, Mercury News, Vox, Climate Liability News, Washington Examiner, The Hill, KQED)
File image: NASA.
---
---
Graphic credits: The Economist.
---
Wind Energy Is Supposed to Help Fight Climate Change. It turns Out Climate Change is Fighting Back.
A tortured headline, sure, but the gist of the article at
The Washington Post
: a rapidly changing climate may be changing where wind power works best over time: "...
But the second study, published Monday in Nature Geoscience and apparently the first comprehensive look at wind energy resources under climate change, projects forward to the future using 10 climate change models. And it finds more of the same across the mid-latitudes of the Northern Hemisphere — a key area for wind energy installation from the United States to Europe to China — even as under some scenarios, the models show a growth of wind resources in the tropics and the Southern Hemisphere. "What we found is that global warming will reduce the wind energy resource across much of the Northern Hemisphere, especially in the central U.S.," said Karnauskas, who conducted the work with university colleagues Julie Lundquist and Lei Zhang.
.."
Photo credit: "
---
---
Did Climate Change Worsen the Southern California Fires? A warmer, drier climate was one of multiple reasons why the fires have been so bad, according to a story at The Atlantic: "...The answer isn't as clear-cut as it was this summer, when drought- and heat-stoked fires raged across the Rockies and Pacific Northwest. Instead, a mix of forces are driving the fires in Southern California, and only some of them have a clear connection to global warming. "These fires are not immediately emblematic of climate change," said John Abatzoglou, an associate professor of geography and climate at the University of Idaho, in an email. "Yes, California did have the warmest summer on record. But the big anomaly here is the delay in the onset of precipitation for the southland that has kept the vegetation dry and fire-prone." In other words, late-fall and winter rains would normally end California's fire season in November. Because those rains haven't yet arrived, the blazes continue..."
---
California's Hellish Fires: A Visit from the Ghost of Christmas Future. Here's more perspective from The Guardian: "...A 2006 study published in Geophysical Research Letters found that global warming would push the Southern California fire season associated with Santa Ana winds into the winter months. As a 2015 study published in Environmental Research Letters found, Santa Ana fires are especially costly because of the speed at which they spread due to the winds and their proximity to urban areas. That study concluded that the area burned by Southern California wildfires will increase by about 70% by mid-century due to the drier, hotter, windier conditions caused by global warming. A 2010 study published in Forest Ecology and Management found that global warming may extend the fire season year-round in California and the southwestern USA. These December fires will become more commonplace in a hotter world. We're literally getting a glimpse at Christmas future, and though there are other factors at play, human-caused global warming is largely to blame..."
---
Scientists Thought at Alaskan Weather Station Was Broken, But It Was Just Climate Change. Earther has details: "...There is indeed something odd going on at Utqiaġvik. It's warmed 4°F since the station began reliably returning data in 1925 with almost all of that rise coming since the 1960s. But the change comparing the 21st century to the last 20 years of the 20th century is where things get really crazy. I honestly had to do a double take looking at the graph (above).  No, your eyes are not deceiving you: Utqiaġvik warmed an average of 6.5°F from October-December, including an astounding 7.8°F in October alone, when comparing the 20 years before 2000 to the 17 years since. That's thawed out permafrost, shrunk sea ice extent, and caused a host of other changes that are endangering people's lives and livelihoods in the region, particularly for Alaska Natives. This year has been particularly brutal for sea ice, which has failed to grow back this winter..."
Image credit: climate.gov.
---
The Teenager Inventor Who Could Change the Way the World Fights Climate Change. Stating the obvious, we need more people like Ethan Novek. Here's an excerpt from Quartz: "Ethan Novek speaks fast and insists on giving you every detail, even in response to simple questions. It can be overwhelming. But it's worth sticking with him. Novek started winning science fairs in middle school and was awarded his first patent at 16. Now, at 18, he has his own company, Innovator Energy, and is working on a technology he believes could help dial down global warming. Despite the growing use of renewable energy, more than 80% of the world's energy still comes from burning fossil fuels and will continue to do so for decades to come; we simply won't be able to replace it with renewable energy fast enough. At the same time, under the Paris climate agreement, the world needs to cut emissions fast, in order to reach net-zero emissions by about 2060. If it works, Novek's technology would allow us to keep burning fossil fuels, without the climate-changing emissions, until we've found more sustainable options..."
Photo credit: "Ethan Novek and Andrew Bramante in the research labs of Greenwich High School." (Quartz/Akshat Rathi)
---
The House of the Future is Elevated. A story at CityLab caught my eye, in the wake of Hurricane Harvey and the massive flooding of the Houston area: "...More than a million people live in the 100- and 500-year flood zones across the Houston area, and hundreds of thousands more do in other U.S. cities, including Miami and New York. Harris County's move conforms with the advice of building engineers, climate experts, and the insurance industry. If you live in an area that's prone to flooding—or will be soon—getting off the ground is the best way to avoid recurring, expensive, and heart-rending damage to your house. "There's no real substitute for elevation. That's your best bet," said Tim Reinhold, senior vice president and chief engineer of the Insurance Institute for Business and Home Safety (IBHS), a research organization based in Tampa and funded by insurers. Houses don't have an engineered safety margin for avoiding flooding the way they do for wind resistance, Reinhold points out; even a few inches of water can be devastating..."
Image credit: Madison McVeigh/CityLab.