Spectacular Saturday - Drier Pattern Emerging

Minnesota meteorologists will be at a rare (and welcome) loss for words in the coming days, as our pattern finally quiets down a little. And not a moment too soon.
Governor Dayton has declared a State of Emergency for 36 Minnesota counties. The biggest problem has been flooding; the Cottonwood River had its highest crest in New Ulm since 1965.
Historically, our weather tends to dry out in late July and August - hoping that's the case in 2018 as well. We'll see. For now expect a brilliant Saturday; the nicer day of the weekend. Humidity levels creep into the 'oh-zone' Sunday, with metro highs near 90F. In fact ECMWF guidance hints at 4 days at or above 90F next week.
Not as sizzling as Los Angeles, where a few all-time heat records were set on Friday (hotter than 110F in a few suburbs). Models keep the most intense heat just south and west of Minnesota in the coming weeks.
Meanwhile Hurricane Beryl is pushing into the Caribbean, and Tropical Storm Chris may form off the Carolina coast by Sunday.
But today, let's unplug the Doppler and enjoy a rare dry day, statewide. 
---
Governor Dayton Declares State of Emergency for 36 Minnesota Counties Hit By Severe Weather. Bring Me The News has details: "Torrential rains and severe storms plaguing Minnesota over the last month have resulted in Governor Mark Dayton on Monday enacting a State of Emergency for 36 impacted counties.  Dayton said that widespread locations across the state have been hammered by a "series of severe summer storms producing torrential rains, flash flooding, high winds and tornadoes" since June 9. The 36 counties in Dayton's emergency declaration: Aitkin, Becker, Beltrami, Blue Earth, Brown, Carlton, Cass, Clearwater, Cottonwood, Faribault, Fillmore, Freeborn, Jackson, Kittson, Lake, Lyon, Mahnomen, Martin, Mille Lacs, Mower, Murray, Nicollet, Nobles, Pine, Pipestone, Polk, Red Lake, Redwood, Renville, Rock, Sibley, Stearns, Stevens, St. Louis, Waseca, and Watonwan and the Red Lake Nation..."
Photo credit: Beltrami County Emergency Management.
---
Cresting Cottonwood River. According to NOAA the crest at New Ulm may be the highest since 1965.
---
Wet Start to July Continues a Trend. More perspective from Dr. Mark Seeley at Minnesota WeatherTalk: "Through the first six days of July thunderstorms have brought 1 to 3 inches of rain to many parts of the state. On July 3-4 heavy thunderstorms occurred causing some flash flooding, road closures, and ponded crop fields, as well as cancellation or postpone of some 4th of July events. Southwestern Minnesota was especially hard hit with many observers reporting rainfall totals of 3 to 7 inches. A couple of places in Redwood County reported over 7 inches. For many southwestern counties all of this recent rain came on top of getting 8 to 12 inches just last month (June). As a consequence many rivers there are running above flood stage and some roads and bridges remain closed..."
---
---
Scorching Heat Wave for California and Desert Southwest. Here's an excerpt from CNN.com: "A dangerous heat wave is expected to grip California and parts of the southwest Friday and into the weekend, threatening millions of people and likely fueling existing wildfires. More than 25 million people are under excessive heat watches, warnings or advisories, including in Los Angeles, San Diego, Las Vegas, and Phoenix metro areas. The scorching heat will bring triple-digit temperatures to Los Angeles, where the mercury is forecast to reach 105 degrees on Friday and 100 on Saturday, CNN meteorologist Haley Brink said. Over a dozen record highs are forecast to be broken Friday afternoon across California. Areas directly along the coast seeing temperatures in the 90s and inland areas hitting the triple digits, Brink added..."
---
---
How Hot Was It in the UK? Hot enough for one guy to get stuck in the tarmac at Newcastle. In Glasgow a roof "melted" on the hottest June day ever recorded. A notch above stinking hot, it seems. Links via BBC.
---
Africa's Hottest Temperature On Record: 124F at Algeria. Jason Samenow reports for Capital Weather Gang: "The planet's hottest continent probably just endured its hottest weather ever reliably measured. An Algerian city soared to 124.3 degrees (51.3 Celsius) Thursday, adding to the onslaught of records for extreme heat set around the planet during the past 10 days. The blistering-hot temperature reading, observed in Ouargla, is probably the highest temperature ever reliably measured both in Algeria and in all of Africa. The record was first identified by weather records expert Maximiliano Herrera..."
Map credit: "European model analysis of high temperatures in northern Africa on July 5. It shows maximum values over Algeria around 120 degrees." (WeatherBell.com)
---
The Impact a Heat Wave Can Have on your Health and Body. A story at Cambridgeshire Live includes a list of people most susceptible to prolonged heat: "...The health website states that, while a heatwave can affect anyone, the most vulnerable people are:
older people, especially those over 75;
babies and young children;
people with a serious chronic condition, especially heart or breathing problems;
people with mobility problems – for example, people with Parkinson's disease or who have had a stroke;
people with serious mental health problems;
people on certain medications, including those that affect sweating and temperature control;
people who misuse alcohol or drugs..."
---
---
Worst of the Heat Grips Western USA. If you believe the latest GFS model ensembles the core of the semi-permanent heat dome remains stuck out west, with waves of heat pushing across the Midwest to the East Coast, but the worst of the heat index west of the Great Plains by the third week of July.
---
Praedictix Briefing: Issued Friday, July 6th, 2018:
We are monitoring an area southeast of the North Carolina coast that could develop into a tropical system over the next couple days. As of

Friday

morning, the system had an 80% chance of forming into a tropical depression in the next five days. The system does have the potential to stall or meander near the coast into next week, which could bring some impacts near the coast depending on the overall track and development.
Hurricane Beryl has also formed in the Atlantic and is forecast to still be a hurricane as it approaches the Lesser Antilles late this weekend before weakening in the Caribbean next week.
Image credit above: AerisWeather.
---
Tropical Formation Possible Off The Carolina Coast. As we head into the weekend, we are keeping an eye on a low-pressure center located southeast of the North Carolina coast. The National Hurricane Center says that there is a 70% this system could form into a tropical depression this weekend and an 80% chance over the next five days. The problem with this system is that it could stall out and meander near the Carolina coast through the weekend and into next week, which could bring some impacts near the coast depending on the overall track and development. Facilities along the Carolina coast should keep an eye on this system over the next several days for potential impacts. Map credit: NOAA NHC.
---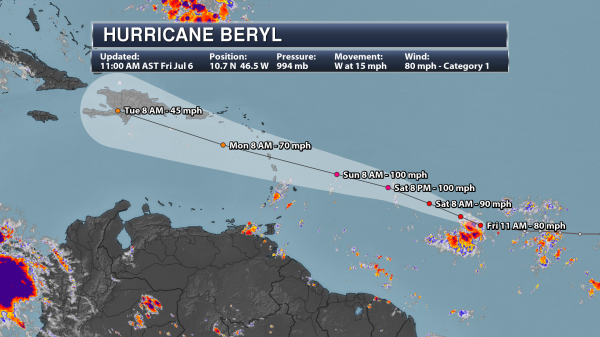 Hurricane Beryl. We are also tracking a small, compact Hurricane Beryl in the Atlantic. As of 11 AM ET, Beryl had sustained winds of 80 mph and was moving toward the west at 15 mph. It looks like Beryl could strengthen a little bit more as we head through the next 36-48 hours before starting to weakening as the system approaches the Lesser Antilles and the eastern Caribbean. There is the potential that it could still be at hurricane strength as it approaches the Lesser Antilles late this weekend, and the National Hurricane Center does mention that Hurricane Watches may be needed across this area later tonight. Beryl should weaken as it moves through the Caribbean due to increased upper-level winds, and any interaction with the terrain of Hispaniola by next Tuesday should help to dissipate the storm. Map: AerisWeather and Praedictix.
D.J. Kayser, Meteorologist, Praedictix
---
Hurricane Beryl Forms in the Atlantic. Dr. Marshall Shepherd has a few thoughts about the first official hurricane in the Atlantic at Forbes: "Most experts adjusted their projections for the 2018 Atlantic hurricane season because one of the primary formation regions has exhibited cooler than normal sea surface temperatures. There has also been some discussion about whether a potentially emerging El Nino (warmer than normal sea surface temperatures in the eastern Pacific Ocean) will impact activity. Even with these circumstances, it is important to remember that it only takes "one" hurricane to significantly impact society so it is important to pay attention. Hurricane Beryl has formed, and there are a few interesting things about it...."
---
Bemidji Tornado Makes Case for NOAA Weather Radio. Residents of Bemidji, Minnesota got quite a scare the morning of July 4. A tornado touched down in town at 6:18 AM; 200 yards wide - on the ground for nearly a mile. Winds were estimated at 100 mph. Which brings up an interesting quandary: how do you get the warning you need to take evasive action when you're asleep; not paying attention to warnings on TV or radio? Apps on smartphones are part of the solution, but my phone is beeping & vibrating most of the day - not sure a tornado warning beep would stand out from all the other noise. NOAA Weather Radio is still your best bet. It's the only device that will set off an alarm if your county is under a tornado warning, day or night. Battery back-up means you'll always get the alert in time.
Photo credit: bemidjipioneer.com.
---
Coal Bailout Would Be Deadly: Headlines and links via Climate Nexus: "The Trump administration's plan to bail out coal and nuclear industries could cause one American death from pollution for every two to four additional coal jobs generated over the next two years, according to new research. A study released Thursday from Resources for the Future, a nonpartisan think tank, finds that the plan could cause between 353 to 815 premature deaths between 2019 and 2020 while generating less than 800 coal jobs. The study also finds that the plan would increase CO2 emissions by 22 million tons, or roughly the same amount as 4.3 million additional cars on the road." (Bloomberg, The Hill, Axios, Washington Examiner)
File photo: Joby Warrick, Washington Post.
---
New Study Links Air Pollution and Diabetes. Here's an excerpt from a post at The Atlantic: "It's fairly well known that a bad diet, a lack of exercise, and genetics can all contribute to type 2 diabetes. But a new global study points to an additional, surprising culprit: the air pollution emitted by cars and trucks. Though other research has shown a link between diabetes and air pollution in the past, this study is one of the largest of its kind, and it's unique because it both is longitudinal and includes several types of controls. What's more, it also quantifies exactly how many diabetes cases in the world are attributable to air pollution: 14 percent in 2016 alone. In the United States, it found, air pollution is responsible for 150,000 cases of diabetes. The study, published in The Lancet Planetary Health, linked data from 1.7 million American veterans who had been followed for a median of 8.5 years with air data from the EPA and NASA..."
File image: Climate Reality.
---
Fossil Fuel Consumption Drops to Lowest Level Since 1902. Say what? Daily Energy Insider has the scoop: "Fossil fuel consumption dropped to its lowest share of total energy consumption in the United States since 1902 while renewable energy consumption hit a 100 year high in 2017, according to the Energy Information Administration. Fossil fuels — which includes oil, gas, and coal – account for about 80 percent of total U.S. energy consumption, its lowest share since 1902. It dropped for the third straight year in 2017. The decrease in 2017 was driven by declines in natural gas and coal consumption. Coal fell by 2.5 percent in 2017 while natural gas fell by 1.4 percent. The drop in natural gas consumption bucks recent trends as it had gone up in eight of the last 10 years..."
---
Sonic Weapons. What is going on in Cuba and China? Are we on the cusp of new (acoustic) weapons? Here's an excerpt from Quartz: "...LONG-RANGE ACOUSTIC DEVICES (LRADs), aka sound cannons, look like large speakers but are far more powerful: They emit low frequency pulses at volumes as high as 162 decibels. Around the world, they're used by commercial ships to scare off pirates, and by militarized police forces to control crowds or transmit spoken messages that can be clearly heard up to 5.5 miles away. Although LRAD Corporation says its machine is not a sonic weapon, scientists say it can cause permanent hearing loss, headaches, and loss of balance. "When on high power, the effects are like a 'punch in the guts'," a computer science professor wrote in The Conversation. LRADs can also cause nausea and "involuntary evacuation of the bowels," he writes...
---
Rebel Developers Are Trying to Cure Our Smartphone Addiction - With an App. Seems a bit counterintuitive, eh? The Washington Post explains: "...In an experiment, he tracked the smartphone use of more than 200 people. Most received between 65 to 80 notifications a day. When he eliminated their alerts, their stress levels dropped. A haze of inattention lifted. Their concentration improved. But cutting off the updates also caused a spike of anxiety in most of his subjects, who reported feeling fears of missing out (FOMO in millennial speak). So Fitz and a team of developers created an app to bundle those notifications and deliver them in three batches — morning, afternoon and evening. The people with the app on their phone reported lower stress, higher productivity and no spike in anxiety..."
Image credit: "A growing number of developers are creating apps to help wean users off their phones. A particularly popular one — called Forest — plants a virtual tree on your phone whenever you put it down. The second you pick the phone back up, the tree withers and dies." (forestapp.cc)
---
The Eye's Structure Holds Information About the Health of the Mind. Soon an eye-doctor may be able to diagnose your risk of dementia - by looking into your eyes, according to a post at The Economist: "...There is just one tendril of brain tissue that can be seen from outside the body without any mucking about of this sort. That is the retina. Look into someone's eyes and you are, in some small way, looking at their brain.This being so, a group of researchers at Moorfields Eye Hospital in London, working with others around the world, decided to study the structure of the eye for signs of cognitive decline. Changes in the brain, they reasoned, might lead to changes in the nervous tissue connected to it. They focused on a part of the eye called the retinal nerve-fibre layer (RNFL). This is the lowest layer of the retina and serves to link the light-sensitive tissue above to the synapses which lead to the brain. The team's results, published in JAMA Neurology this week, show that people with a thin RNFL are more likely to fail cognitive tests than those with a thick one. They are also more likely to suffer cognitive decline as they age..."
---
U.S. Postal Service Paying Millions for Accidentally Putting a Fake Statue of Liberty on a Stamp. Now there's fake...stamps? Quartz has the head-shaking story: "The Statue of Liberty is a beloved American symbol. That's why, in 1996, the New York-New York Hotel and Casino in Las Vegas, Nevada, commissioned a replica of the iconic lady. Sculptor Robert Davidson gave the classic statue a fresh look, with softer facial features inspired by a photograph of his mother-in-law. And so when the US Postal Service featured the "mighty woman with a torch" on its 2011 Forever stamp, experts knew that the stamp depicted not the original statue, but Davidson's creation. Now a federal court has ruled that USPS must pay Davidson $3.5 million for its accidental copyright infringement. The June 29 ruling explains that the postal service mistakenly printed and sold stamps with the replica statue's face on it, having failed to distinguish between the real Lady Liberty and her Las Vegas counterpart..."
Image credit: "Lady Liberty and the US Flag - Forever stamps issued together in 2011." Reuters/Hyungwon Kang.
---
82 F. high on Friday in the Twin Cities.
84 F. average high at MSP on July 6.
94 F. high on July 6, 2017.
July 7, 2000: Torrential rains douse the southern Twin Cities metro area with 8 inches in a three to five hour span in northern Dakota county. Eagan receives the most damage; many homes were flooded.
July 7, 1955: A tornado hits Marshall, leaving one dead and 13 injured. Hail causes one million dollars in damage.
---
---
SATURDAY: Spectacularly sunny. Winds: S 10-20. High: 85
SATURDAY NIGHT: Clear and mild. Low: 68

SUNDAY: Sticky sun, few T-storms up north. Winds: S 10-15. High: near 90

MONDAY: Stray T-storm, partial clearing. Winds: NE 7-12. Wake-up: 70. High: 87

TUESDAY: Sunny, just hot enough. Winds: SE 5-10. Wake-up: 69. High: 88

WEDNESDAY: Steamy sunshine, heating up. Winds: S 10-15. Wake-up: 72. High: near 90.

THURSDAY: Still tropical, isolated T-shower. Winds: W 7-12. Wake-up: 71. High: 91

FRIDAY: Peak summer, slight thunder risk. Winds: S 10-20. Wake-up: 73. High: 93
---
Climate Stories....
Global Temperatures Rises Could be Double Those Predicted by Climate Modeling. Here's an excerpt of a summary of new research at The Guardian: "Temperature rises as a result of global warming could eventually be double what has been projected by climate models, according to an international team of researchers from 17 countries. Sea levels could also rise by six metres or more even if the world does meet the 2 degree target of the Paris accord. The findings, published last week in Nature Geoscience, were based on observations of evidence from three warm periods in the past 3.5m years in which global temperatures were 0.5-2 degrees above the pre-industrial temperatures of the 19th century. The researchers say they increase the urgency with which countries need to address their emissions..."
File image: U.K. Met Office.
---
Climate Change is Making Our Planet Hotter - But We Might Have to Ditch the AC. Or find ways to keep our cool without burning fossil fuels. Mic has the story: "Americans love air conditioning — and to a serious fault. At least three quarters of all homes in the U.S. have an air conditioner, according to the Department of Energy, and Americans consumes more energy for cooling alone than what the entire continent of Africa uses for all purposes combined. That's not without serious consequence. The burden of a high utilities bill aside, fossil fuel is ultimately being burned and converted into the electricity that's chilling our homes this summer. As a result, an estimated 117 million extra metric tons of carbon dioxide is being pumped into the air solely because of U.S. air conditioning..."
File image: NASA.
---
Climate Change Scrubbed from Government Report on Health and Climate Change. Here's an excerpt from Countable: "A new report finds that multiple references to climate change in a CDC study on climate change's contribution to occupational hazards were removed without clear explanation. The CDC described the changes as "planned updates." While President Donald Trump has sought to downplay climate change at various federal agencies, the changes in this case were made before he took office..."
---
---
"Climate Gentrification" Will Deepen Urban Inequality. When in doubt, build on higher ground, right? Except that the poorest of the poor often live closer to sea level, more vulnerable to sea level rise and flooding. Here's an excerpt from CityLab: "...But global climate change poses another risk for cities: accelerated gentrification. That's according to a new study by Jesse Keenan, Thomas Hill, and Anurag Gumber, all of Harvard University, that focuses on "climate gentrification." While still emerging and not yet clearly defined, the theory of climate gentrification is based, the authors write, "on a simple proposition: [C]limate change impacts arguably make some property more or less valuable by virtue of its capacity to accommodate a certain density of human settlement and its associated infrastructure." The implication is that such price volatility "is either a primary or a partial driver of the patterns of urban development that lead to displacement (and sometimes entrenchment) of existing populations consistent with conventional framings of gentrification." The study, published in Environmental Research Letters, advances a simple "elevation hypothesis," arguing that real estate at higher elevations in cities at risk for climate change and sea-level rise appreciates at a higher rate than elsewhere..."
Graphic credit: Nature Climate Change.
---
Ask an Astronomer. Should We Block Out the Sun To Stop Climate Change? The short answer is no, as explained at Big Think: "...So even if the one thing you solved was cooling the earth down, if we continue to put more and more carbon dioxide into our atmosphere there will be other serious repercussions. We could end up killing the ocean life system, for example. So the problem really isn't an external one, it's not simply cooling the planet putting up lots of dust or building a wonderful shade like you suggest, the problem is really getting at our emissions of carbon dioxide and stopping those and stopping these dramatic changes that we see coming. Some of them are going to be very difficult to stop. I mean right now we're observing the ice caps at both poles of the planet, in Antarctica and in the North Pole, melting very quickly. That won't stop. Those ice caps will largely melt over many, many centuries and the ocean levels will rise in accordance..."
---
Our Reaction to Scott Pruitt's Resignation. Full disclosure: I'm on the board of EEN, the Evangelical Environmental Network. Here's an excerpt of a post from Rev. Mitch Hescox, President and CEO of EEN: "...Mr. Pruitt moved our nation backward, and our children continue to suffer as a result. According to the American Lung Association's 2018 State of the Air Report, over 41% of Americans live in counties with unhealthful levels of either ozone or particle pollution 2016, placing them at risk for premature death and other serious health effects such as lung cancer, asthma attacks, cardiovascular damage, and developmental and reproductive harm. In 2018, 48 years after the EPA was established, 1 in 3 children in the US still suffer from asthma, ADHD, autism, and severe allergies with links to fossil fuels and petrochemicals. Enough is enough. We are calling on President Trump to direct his new acting Administrator Andrew Wheeler to put our children first and defend the most vulnerable, keep his promise to be pro-life, and do what the Bible commands..."
---
There's a Crazy Plan to Tow and Iceberg from Antarctica to Fix Cape Town's Water Crisis. Someone is going to figure this out, and have a significant payday as a result. Quartz explains: "An improbable idea is being floated to solve Cape Town's water crisis: towing an iceberg from Antarctica over 2,000 kilometers to the South African city. For much of the past year, Day Zero—when Cape Town, a city of 3.7 million will run out of water—has loomed but with restrictions such as two-minute showers and only using 50 liters of water daily, Day Zero has been temporarily postponed without a date. Officials say Day Zero could still happen in 2019. But to prevent that reality, Nick Sloane, a marine salvage expert says towing an iceberg from Antarctica could solve the problem. The ideal iceberg would need to be one kilometer in length, 500 meters across and 250 meters deep with a flat surface. .."
File photo credit: "A possible solution." (Reuters/Alexandre Meneghini/File Photo)
---
Climate Change Not One Heat Wave, But a Pattern of Extremes: Scientist.  A story at Canada's The Province has some interesting perspective: "...A 2017 study in the journal Nature Climate Change found that about one-third of the world's population already lives somewhere where the daily temperatures are considered lethal more than 20 days a year.Even with drastic cuts to greenhouse gas emissions in the next 75 years, that number is still expected to grow to 50 per cent of the population — or 75 per cent, including parts of Ontario and Quebec, if nothing is done at all. With limited mitigation, parts of India, Africa and South America would hit lethal temperatures every day of the year. Canadians need to brace themselves for an influx of eco-migrants over the next century, Feltmate warned — people who are fleeing their homelands because they are simply too hot..."
---
Red-Hot Planet. All-Time Heat Records Have Been Set All Over the World During the Past Week. The Capital Weather Gang has details; here's an excerpt: "...A massive and intense heat dome has consumed the eastern two-thirds of the United States and southeast Canada since late last week. It's not only been hot but also exceptionally humid. Here are some of the notable all-time records set:
Image credit: University of Maine Climate Reanalyzer.