2 Plowable Snowfalls Brewing by Saturday Night

"The weather never repeats, but sometimes it rhymes." There has never been a weather map identical to today. It may be similar, but every new scenario is uniquely baffling. What can go wrong, and what time?
Now that the atmosphere is showing signs of a slow thaw the storm track is shifting north, pulling more moisture from the Gulf of Mexico into Minnesota. Storms swept up in a southwest flow aloft will frustrate commuters and delight snow lovers into Saturday.
The first storm arrives later today; capable of 2-4 inches by Friday morning. A second storm spreads snow into Minnesota on Saturday afternoon, and although it's premature to be throwing around inch-amounts, let's just say it may be plowable, meaning over 3 inches.
When I arrived in Minnesota back in 1983 March was the snowiest month of the year. Now it's January, at least on paper. Not a fan of snow? At least temperatures are moderating, reaching mid-30s most of next week, with no more subzero lows in sight. So far MSP has enjoyed 25 nights below 0F. Last year? Only 13 nights. Average is 23 nights colder than 0F.
---
84-hour 12km NAM model showing forecast precipitation: NOAA and tropicaltidbits.com.
---
Predicted Snowfall by Friday Morning. A reminder that the forecast map above is only a simulation (12km NAM from NOAA), but it shows the best chance of 5-6" snows over central Minnesota, a healthy 3-6" for much of the metro - most of that coming tonight. Map: pivotalweather.com.
---
Total Snowfall by Sunday Morning. The map above takes 2 snow events into account, Thursday night and Saturday PM hours. I wouldn't be surprised to see some 10-12" amounts (total between the 2 storms) by  Sunday. Making up for lost time.
---
2 Distinct Snowy Possibilities. You can see the model spread with tonight's snowfall (2-6" for MSP) and the local NWS office (green line) is going 4", which seems realistic. We get a brief break on Friday before the next surge of southern snow arrives Saturday, with another 3-8" of accumulation. Let it snow.
---
---
Stormier and Trending Milder. As we speculated a couple weeks ago a reluctant thaw is pulling the main storm track farther north, increasing the probability of substantial snow for Minnesota. By next week highs should fairly consistently be above 32F; an outside shot at 40F next Tuesday and Wednesday, based on ECMWF forecasts for the Twin Cities. Graphic: WeatherBell.
---
March Moderation. You may not believe it (I'm skeptical too) but GFS guidance is fairly consistent in pulling milder, Pacific air back into Minnesota and the Upper Midwest within 2 weeks - the pattern hinting at 30s, even a shot at a few 40s by the second week of March.
---
Status of Spring.
Here's an update from
NPN
, The National Phenology Network: "
Spring continues to arrive early in the west and late in the east, compared to a long-term average (1981-2010). Spring is four weeks early in southern Utah and eastern Washington and 5-6 weeks early in the Grand Canyon. Spring is a few days late in Birmingham, AL, and Charleston, SC.  The timing of leaf-out, migration, flowering and other seasonal phenomena in many species is closely tied to local weather conditions and broad climatic patterns. The Spring Index maps offered by USA-NPN shed light on plant and animal phenology, based on local weather and climate conditions.
.."
---
Praedictix Briefing: Issued Wednesday, February 21st, 2018:
* A slow moving frontal system will continue to produce heavy rain and icy conditions in the central United States over the next several days.
* Numerous 24-48 hour rainfall totals of 2-5"+ have already been reported from Texas to the lower Great Lakes, with more heavy rain on the way over the next several days. An additional 2-6"+ will be possible through the end of the week from the Southern Plains into the Ohio Valley, especially in parts of Texas and Arkansas, which will lead to flash flooding and river flooding.
* Frozen precipitation – including freezing rain – will fall today from parts of northern Texas into Missouri, with ice totals mainly under two-tenths of an inch. The heaviest ice totals (potentially a quarter to a half an inch of ice) will fall around Abilene, TX, where an Ice Storm Warning is in effect. Icy conditions will lead to difficult travel conditions.
---
Local Department of Transportation Websites:
Missouri: http://traveler.modot.org/map/index.html
Oklahoma: https://www.oktraffic.org/map.php?location=statewide
Texas: https://drivetexas.org/
Arkansas: https://www.idrivearkansas.com/
---
Past 24 Hour Rainfall. Heavy rain of 1-4"+ has fallen over the past 24 hours from Texas into Michigan on the warmer side of this system. In the past 24 hours (through 7 AM), 5.68" of rain has fallen in Mena, AR, with 3.15" at the Dallas/Ft. Worth airport. There have also been reports of event totals of 3-5" of rain across portions of Michigan and Illinois. A portion of Highway 88 between Ink and Pine Ridge, AR, was reported under water earlier this morning. Meanwhile, a controlled water release is occurring with the Remmel Dam along the Ouachita River in Hot Spring County, AR, which will result in lowland flooding.Map: NOAA.
---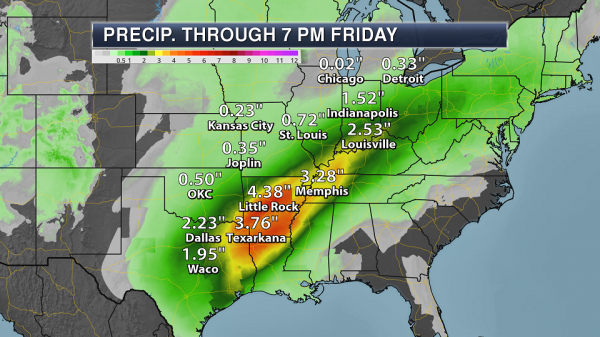 Additional Heavy Rain Expected. As moisture continues to stream into the central United States along a slow moving frontal boundary across the region, more heavy rain is expected to fall from the Southern Plains to the lower Great Lakes over the next few days. The heaviest rain will fall from Texas into the Ohio Valley, where an additional 2-5"+ of rain is expected through Friday evening. With reports of flash flooding and river flooding already occurring across portions of the region, any additional rain would exacerbate the flooding situation. Map: AerisWeather and Praedictix.
---
Excessive Rainfall Outlook Today. Due to the potential of heavy rain today across the Lower Mississippi Valley and Southern Plains, the Weather Prediction Center has placed a moderate risk of rainfall exceeding flash flood guidance across that area. Rainfall amounts of 2-4" today are likely across this moderate risk area, with the potential of isolated 6"+ amounts. This heavy rain – on top of recent rain – could lead to flooding across the region.
---
Flood Watches. Flood Watches and Flash Flood Watches are in place from the lower Great Lakes into the Southern United States due to the potential of heavy rain which could lead to flash flooding and river flooding over the next several days. Map: AerisWeather and Praedictix.
---
Excessive Rain Outlook Thursday And Friday. Heavy rain will continue from the Southern Plains into the Ohio Valley Thursday and Friday, with the potential of more flash flooding across the region. For this reason, there is a slight risk of rainfall exceeding flash flood guidance both days. Map: NOAA.
---
Forecast River Flooding. Heavy rain over the next several days is likely to cause additional river flooding from the Great Lakes to the lower Mississippi Valley. Over two dozen USGS river gauges could reach major flood stage over the next seven days, especially across the Great Lakes region, with some potentially reaching record levels. River levels will be slow to recede, and we could see flooding issues into next week.
---
Winter Weather Concerns. We're also keeping an eye on the cold side of this system, which will continue to produce the potential of ice from northern Texas into parts of the middle Mississippi Valley. Winter Weather Advisories are in effect for the potential of this freezing rain – up to two-tenths of an inch in areas – from Texas to Missouri. An Ice Storm Warning has been issued around the Abilene area through this evening for the potential of a quarter to a half an inch of ice.
---
Southern Ice Expected. Ice accumulations of between 0.05" and 0.20" are expected across parts of the Southern Plains mainly over the next 24 hours due to the potential of freezing rain. Heavier totals are expected around the Abilene, TX, area where that Ice Storm Warning is in effect. Icy conditions will make travel difficult (if not impossible in spots), and would have the potential to cause power outages and tree damage.
---
Northern Ice Expected. Another round of freezing precipitation is possible across parts of the upper Midwest Thursday into Friday with a system moving through the region, but ice totals are expected to be under 0.20" at the moment.
Summary: We continue to watch a slowly moving frontal system which will bring flooding rains and some ice accumulation to the central part of the nation over the next several days. Heavy rain has already fallen in the past 24-48 hours from the Southern Plains to the Great Lakes, with numerous reports of flooding. Additional rain of 2-6" will be possible through the end of the work week across this region, especially in parts of the Southern Plains and Ohio Valley. This will cause the potential of flash flooding and river flooding. More heavy rain is expected into the weekend as well, potentially causing more flooding issues across the region. We are also watching the cold side of this front, which will continue to bring the threat of freezing rain from northern Texas into Missouri today. In most spots, ice totals over the next 24 hours will be under two-tenths of an inch, but they are expected to top a quarter inch around Abilene, TX, where an Ice Storm Warning is in effect.
D.J. Kayser, Meteorologist, Praedictix.
---
It's Bizarrely Warm at the Northernmost Land Weather Station. Earther has the article; here's an excerpt: "...DMI scientists recorded temperatures crossing the freezing threshold at the world's northernmost land-based weather station, located in Greenland. An initial analysis shows that temperatures there rose an astonishing 39 degrees Fahrenheit in four hours on Sunday night. They've stayed above freezing through Tuesday. This is hardly the only instance of a weather station going haywire due to the heat. Sea ice in the Barents Sea, which sits to the east of Greenland, has also started to shrink at a time when ice is usually still climbing towards its maximum extent. The same process has played out on the Pacific side of the Arctic as well, where sea ice has been wiped out in the Bering Sea..."
Image credit: "The hourly temperature graph for Kap Morris Jesup, the northernmost weather station in Greenland." Image: DMI
---
Minnesota Climate Extremes. I always feel a little better after reviewing Minnesota's craziest weather extremes, courtesy of the Minnesota DNR.
---
One Montana Town Experienced an 82-Degree Temperature Rise in One Day. Weather Underground has the jaw-dropping details: "Imagine seeing the temperature rise more than 80 degrees in just a few hours, but it's still cold. Yes, this really happened Tuesday in Fort Belknap, Montana, thanks to Chinook winds causing the temperature to rise from an early-morning low of minus 37 degrees to an afternoon high of 45 degrees, a temperature change of 82 degrees in less than 24 hours. Fort Belknap is in northern Montana, about 135 miles northeast of Great Falls. Chinook winds are the result of an airmass rising over mountain ranges – in this case, the northern Rockies – and as the air reaches the ridge tops, it begins to sink and warm as it descends the mountain slopes. The winds that result can be strong and gusty and can also create dramatic temperature changes..."
---
Hurricanes Aren't To Blame for Most Big Storm Surges in Norrtheast. Claims Journal has the counterintuitive story: "Hurricanes spawn most of the largest storm surges in the northeastern U.S., right? Wrong, according to a study by Rutgers University–New Brunswick scientists. Extratropical cyclones, including nor'easters and other non-tropical storms, generate most of the large storm surges in the Northeast, according to the study in the Journal of Applied Meteorology and Climatology. They include a freak November 1950 storm and devastating nor'easters in March 1962 and December 1992..."
File image from January 4, 2018: NOAA.
---
PUERTO RICO: From Climate Nexus: "Suicide rates spike in Puerto Rico, five months after Maria (NBC), iIn Puerto Rico, a skirmish over how much debt the bankrupt island can handle (Washington Post $), Puerto Rico utility gets $300 million after truce with creditors (Reuters), why does restoring full power in Puerto Rico seem like a never-ending task? (NBC), Puerto Rico recovery efforts plagued by power company's financial troubles." (ThinkProgress)
Hurricane Maria file image: NASA.
---
The United States Corn Belt is Making Its Own Weather. Science Magazine has the story: "The Great Plains of the central United States—the Corn Belt—is one of the most fertile regions on Earth, producing more than 10 billion bushels of corn each year. It's also home to some mysterious weather: Whereas the rest of the world has warmed, the region's summer temperatures have dropped as much as a full degree Celsius, and rainfall has increased up to 35%, the largest spike anywhere in the world. The culprit, according to a new study, isn't greenhouse gas emissions or sea surface temperature—it's the corn itself...This increases the amount of water going into the atmosphere and returning as rainfall. The cycle may continue as that rainwater eventually moves back into the atmosphere and causes more rainfall downwind from the original agricultural area..."
Map credit: "Map of the central United States, showing changes in rainfall during the last third of the 20th century. Areas of increased rainfall are shown in green, with darker colors representing a greater increase." Massachusetts Institute of Technology.
---
Researchers See Shift in Tornado Activity. The Joplin Globe highlights research focused on "Dixie Alley": "...In a study published in 2016, Ernest Agee, of Purdue University, and several other scientists mapped tornado activity between 1984 and 2013, then compared it with the three prior decades. They concluded that the center of tornado activity appears to be moving east. Oklahoma saw a decrease in tornado activity during the more recent period, while Tennessee saw an increase. Between 1954 and 1984, Oklahoma and Texas were the centers of tornado activity in the country. Over the subsequent three decades, the number of tornadoes there decreased. During the same period, the zone with the most tornadoes, located in northern Alabama, the number of twisters jumped by roughly half, to 477..."
---
The 12 Worst Habits For Your Mental Health. A few in here that strike close to home. Time has the post: "Depression is usually brought on by factors beyond our control—the death of a loved one, a job loss, or financial troubles. But the small choices you make every day may also affect your mood more than you may realize. Your social media habits, exercise routine, and even the way you walk may be sucking the happiness out of your day, and you may not even know it. Luckily, these behaviors can be changed. Read on for 12 ways you're sabotaging your good moods, and what you can do to turn it around..."
---
Here Are the Tools That Could Be Used to Create the Fake News of the Future. We're just scratching the surface of what is possible - or inevitable. Here's a clip from The Washington Post: "...This is not exactly realistic, you'll notice. But it's easy to see how, using a different model and a different voice, this could be more convincing. There are two other things to remember here. The first is that, while professional animators and computer-effects specialists have been able to create fairly realistic virtual people for some time (including virtual versions of real people), better technologies mean that it's easier for nonprofessionals to create artificial videos such as the one above. More remarkable than the deepfakes tool, in some ways, was the deepfakes community, a group of people — not just one expert — who all had at their disposal a way to put Person X's face on Person Y's body..."
---
China Cracks Down on Funeral Strippers.  Let's hope this trend doesn't catch on here. The Telegraph explains: "China has launched its latest crackdown against a phenomenon which just won't seem to die in rural areas - funeral strippers. The Ministry of Culture said last month that it was targeting "striptease" and other "obscene, pornographic, and vulgar performances" at funerals, weddings and traditional Chinese New Year public gatherings…Some communities in rural China reportedly believe that bigger attendances at funerals help to honor the dead and bring them good fortune…"
---
"I do not feel obliged to believe that the same God who has endowed us with sense, reason, and intellect has intended us to forgo their use." – Galileo
---
19 F. maximum temperature yesterday in the Twin Cities.
31 F. average high on February 21.
62 F. high in the Twin Cities on February 21, 2017.
February 22, 1922: A blizzard, ice storm and thunderstorms all occur on the same day across Minnesota. Winds hit 50 mph in Duluth while thunderstorms were reported in the Twin Cities. Heavy ice over southeast Minnesota with 2 inches of ice on wires near Winona. Over two inches of precipitation fell. This was also one of the largest ice storms ever in Wisconsin history with ice four inches in diameter on telegraph wires. One foot of ice covered wire weighed 11 pounds. One killed and four injured in Wisconsin.
---
---
THURSDAY: Clouds increase with light snow developing. Winds: SE 7-12. High: 26
THURSDAY NIGHT: Snow likely, 2-4" totals. Low: 23

FRIDAY: Flurries taper, slow PM clearing. Winds: W 5-10. High: 30

SATURDAY: Another shot of snow, potentially plowable? Winds: NE 8-13. Wake-up: 19. High: 31

SUNDAY: Peeks of sun, better travel day. Winds: W 8-13. Wake-up: 22. High: 32

MONDAY: Partly sunny and milder. Winds: S 7-12. Wake-up: 20. High: 35

TUESDAY: Mostly cloudy, feels like March. Winds: NW 5-10. Wake-up: 23. High: 36

WEDNESDAY: Patchy clouds, drama-free. Winds: NE 5-10. Wake-up: 18. High: 33
---
Climate Stories...
Arctic Sea Ice at Record Low January Levels. USA TODAY has details: "The part of the Arctic covered by sea ice in January was the smallest for the month since records began in 1979, federal scientists announced Tuesday. January ice cover in the Arctic was a whopping 525,000 square miles less than average, which is an area the size of Texas and California put together. Sea ice is frozen ocean water that melts during the summer and refreezes in winter. It floats on top of the ocean. The report was released Tuesday by the National Oceanic and Atmospheric Administration..."
---
Scientists Concerned About Soaring Arctic Temperatures. Here's a clip from Think Progress: "...We are seeing what scientists have predicted for years," professor of thermal sciences John Abraham told ThinkProgress via email. "The temperatures in the Arctic are off the chart. This matters for the rest of us because this is the time of year when the Arctic ice should be growing. But it isn't growing like it should. So, this summer, there will be less ice and more open waters that will lead to more warming." In light of the lack of aggressive action to address climate change, Abraham warns that "We've started a feedback loop that we cannot stop." And indeed, Arctic sea ice levels have been at record lows most of 2018, according to Japan's National Institute of polar research..."
Image credit: "Arctic sea ice has been at record low levels for much of 2018 (red line)." CREDIT: Japan's National Institute of Polar Research.
---
Sea Levels In Future Depend on Action Now: From Climate Nexus: "Each five years of delayed action on climate change now could result in as much an additional eight inches of sea level rise by 2300, stark new research shows. A study published Tuesday in the journal Nature Communications assumes that the world will keep warming under 2 degrees C, and estimates that every five-year delay in reaching peak emissions over the next few decades adds additional inches of sea level rise to 2300 projections. The research also finds that sea levels will rise between 2.3 and 4 feet by 2300 even under best-case scenarios. "Sea level is often communicated as a really slow process that you can't do much about...but the next 30 years really matter," lead author Matthias Mengel told Reuters." (Washington Post $, Reuters, USA Today, Gizmodo).
---
---
Making America Toxic Again. Here's an excerpt from Mother Jones: "...I asked Garland to shed some light on the remark. "Either we're going to steward the Earth and use it for God's glory and man's good, or we serve the Earth," Garland says. Failing to use the Earth for our benefit, he notes, would violate Genesis 2:15, which concerns the relationship between humans and the natural world: "The Lord God took the man and put him in the Garden of Eden to work it and take care of it." Garland does not believe humans are the main cause of climate change, and neither does Pruitt. "I would not agree that it's a primary contributor to the global warming that we see," Pruitt said in March 2017. But his biblical references are not restricted to climate change..."
Image credit: Tim O'Brien.
---
This Olympic Skier Wants to Save the World's Snow. Kudos to Jessie Diggins for raising awareness about what a warming climate is doing to winter sports around the world. Here's a link and excerpt from The New York Times: "Jessie Diggins is a cross-country skier on the American women's team and a favorite to win a medal at the Winter Games in Pyeongchang, South Korea. If she succeeds, it will be only the second time the United States has won a medal in the sport and the first for an American woman. Diggins is also an advocate for climate action. I interviewed her to understand more about why she believes winter is worth protecting...
Photo credit: Star Tribune.
---
---
A Big-Sky Plan to Cool the Planet. Again, the rhetorical question: what can possibly go wrong? Here's a clip from an Op-Ed at The Wall Street Journal: "Seriously addressing climate change means cutting carbon emissions and, ultimately, reducing the carbon already in the atmosphere. There's no way around it. Another type of intervention, however, is increasingly garnering attention: solar geoengineering, that is, cooling the planet by making it reflect back more of the sun's rays. It's not a permanent solution to climate change, and it carries worrisome environmental and political risks of its own, but it's an idea worth exploring. The principle underlying solar geoengineering is simple enough: Brighter colors reflect more light and cool what's underneath. That's why houses in Mediterranean villages are often painted white..."
Graphic credit: Harry Campbell.
---
Countries Made Only Modest Climate-Change Promises in Paris. They're Falling Short Anyway. Here's a clip from a story at The Washington Post: "...Tremendous gains in energy efficiency and renewable power aren't yet reducing our global hunger for fossil fuels, especially oil and natural gas," he added. "Until they do, greenhouse gas concentrations will keep rising." The Paris agreement laid out ambitious goals to limit the planet's warming — world leaders knew they would be difficult to achieve. The deal called for finding ways to remain "well below" a rise of 2 degrees Celsius (3.6 degrees Fahrenheit) above preindustrial levels, and if possible, not above 1.5 degrees Celsius (2.7 degrees Fahrenheit). A rise of about 1 degree Celsius already has occurred. But at the same time, the emissions-cutting pledges that countries brought to the table in Paris were nowhere near sufficient to meet such goals, which world leaders acknowledged at the time..."
---
Climate Change Changes Everything. Because those with the least are first to be impacted. Here's a link and call to action from Catholic Relief Services: "All of us must take steps to address this problem, including Congress. By joining the bipartisan Climate Solutions Caucus, your Representative can do their part by working with other members of Congress from both sides of the aisle to care for our common home and address the devastating impact climate change is having on our communities in the United States and around the world. The list of members of the Caucus is growing, so now is the perfect time to invite your Representative to join! And, if your Representative has already joined, please send them a thank you message..."
---
What's Going On With the Earth's Climate? News & Observer has an article; here's a link and excerpt: "...As it turns out, there is good reason to believe that temperature analyses published by science agencies in the U.S. and around the world are accurate. The data are carefully controlled for errors and biases, and the warming they show aligns closely with what is happening elsewhere on Earth. Among many such indicators glaciers are melting, Arctic sea ice and snow cover are retreating, the atmosphere above the ground is warming, ice sheets – in Greenland and the Antarctic are shrinking, and ocean temperatures and sea level are rising. These are independent measures of the climate, and they all point to a warming world. For example, ocean observations beneath the surface, taken in oceanographic surveys and, more recently by thousands of autonomous (robot) floats, show a steady rise in the heat content of the oceans..."
File photo credit: "Waves crash under a row of beach houses in south Nags Head in 2010, which planned a $36 million project to pump fresh sand onto its eroding strand. Rising sea level will only magnify the damages of erosion and storms on the state's oceanfront and sounds, scientists say." Charlotte Observer JOHN D. SIMMONS.