3-Day Thaw - Plowable Possibilities on Monday

Here in The Land of Low Weather Expectations 40F in mid-January is a pretty big deal. Please excuse our irrational exuberance.
A couple of things floating around my muddled brain. The MSP metro has enjoyed 16 nights below 0F so far this winter. The coldest: -16F on December 31. Last winter we had 13 nights below 0F as of this date; the coldest was -20F. A La Nina cooling phase in the Pacific has been one factor keeping prevailing winds blowing from the Yukon, instead of Seattle.
Another nugget: looking at 30-year climate data, tracking the temperature "mean" from day to day, you can make the case that, statistically, the coldest day of the year is January 16. Average temperatures are on the rise again. Yes.
NOAA models suggest 34 hours above 32F between today and Saturday; the better travel day of the weekend. It's still too early for details, but a sloppy southern storm may produce plowable snow amounts late Sunday into Monday. We're due - stay tuned.
Meanwhile, Minnesotans may wear shorts to Sunday's Vikings game in Philly, where a high of 50F is likely. I'm hoping a Skol Chant cools things off a little in Philadelphia late in the 4th quarter.
---
34 Hours Above Freezing? So says NOAA models between now and Saturday evening in the immediate Twin Cities; closer to 20 hours at St. Cloud and 18 hours at Little Falls.
---
3-Day Thaw, Then Back to Reality. Friday still looks like the mildest day with low 40s, and roads may stay mostly-wet during the daylight hours Sunday before potential accumulation Sunday night into Monday. 20s return next week, but no more subzero nighttime lows in sight looking out 10-14 days. Twin Cities ECMWF numbers: WeatherBell.
---
Not Buying It (Yet). Beware of inflated snowfall forecasts days out - something usually happens to gum up the storm and cheat us out of the snow we so rightfully deserve in January, allegedly the snowiest month of the year. GFS guidance is impressive with over a foot for central Minnesota, but a slight jog in the storm track could mean the difference between a few inches and a cool foot. That said, caveats aside, this could be an impressive snow-maker for parts of Minnesota. GFS snowfall by Monday evening: NOAA and tropicaltidbits.com.
---
---
Starting February on a Chilly Note. Although the Motherlode of arctic air may be behind us now, we'll still see a few more subzero swipes into February, but I doubt it will get as cold or stay as cold for day after day, like it's been off and on since the last week of December. GFS guidance shows colder, drier air pushing into Minnesota to start the month of February, a chilly sting that may extend into Super Bowl weekend (highs in the 20s?)
---
Accumulated Winter Season Severity Index. An "average winter" for the Twin Cities, St. Cloud, La Crosse and Duluth? A lack of significant snow and snow cover may have something to do with that. Here's an explanation from the Midwestern Regional Climate Center: "Winter seasons have significant societal impacts across all sectors ranging from direct human health and mortality to commerce, transportation, and education. The question "How severe was this winter?" does not have a simple answer. At the very least, the severity of a winter is related to the intensity and persistence of cold weather, the frequency and amount of snow, and the amount and persistence of snow on the ground. The Accumulated Winter Season Severity Index (AWSSI) was developed to objectively quantify and describe the relative severity of the winter season..."
---
---
---
---
Praedictix Briefing: Issued Wednesday, January 17th, 2018:
* Snow is falling from New England to the Southeast this morning. Residents across parts of Alabama and Georgia have been told to stay off the roads due to slick conditions. I-85 has been closed in both directions north of Charlotte, NC, due to multiple crashes this morning.
* Snow will continue across the Southeast and Mid-Atlantic today, with the heaviest accumulations (4"+) expected across portions of North Carolina and Virginia, including Raleigh. 
* A coastal low will continue to bring snow to parts of the Northeast today as well. The heaviest amounts (4"+) will fall from central Massachusetts to eastern Maine.
---
Morning Radar. A strong cold front continues to move across the Mid-Atlantic and Southeast today, bringing accumulating snow behind it which is causing issues on local roadways. Civil Emergency Messages have been issued across parts of Alabama requesting drivers stay off roadways until this afternoon. Atlanta has also asked residents to refrain from travel unless necessary. Snow is also falling in the Northeast with a coastal low moving near southeastern New England.
Local Department of Transportation Websites:
Alabama: https://algotraffic.com/
Georgia: http://www.511ga.org/
South Carolina: http://www.511sc.org/
North Carolina: https://tims.ncdot.gov/tims/
Virginia: http://www.511virginia.org/
---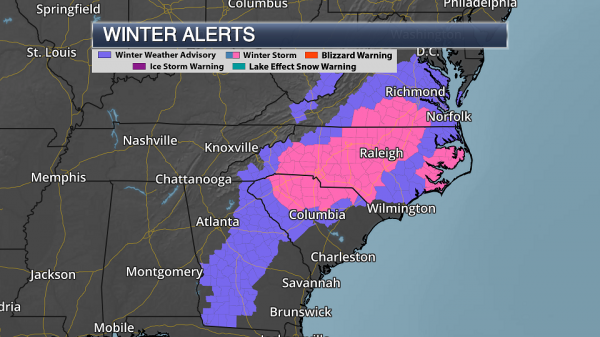 Warnings And Advisories. Numerous winter warnings and advisories remain in effect this morning across the Mid-Atlantic and Southeast. These alerts are in effect for the potential of accumulating snow across the region. Places under:
Winter Storm Warnings include Spartanburg (SC), Charlotte, Raleigh and Hatteras (NC), and Wakefield (VA).
Winter Weather Advisories include Macon and Athens (GA), Columbia (SC), and Richmond and Norfolk (VA).
---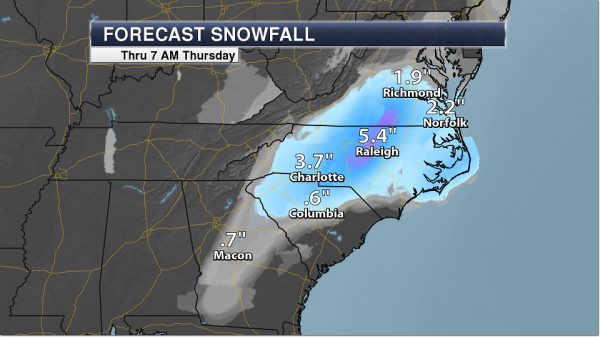 Southeast And Mid-Atlantic Snow Forecast. Over the next 24 hours, the heaviest snow is expected across portions of North Carolina and Virginia, where 4-6"+ will be possible in spots. Significant reductions in visibility can be expected in heavy snow, and travel will become difficult to impossible across the region.
---
Northeast Snow Expected. Snow will continue to fall across the Northeast as well today as low pressure moves near southeastern New England. The heaviest snow amounts today – in excess of 4" – are expected from central Massachusetts to eastern Maine.
---
Northeast Winter Advisories And Warnings. Due to the potential of snow across the Northeast, Winter Weather Advisories and Winter Storm Warnings have been issued. Breaking down some of the larger metropolitan areas under winter weather alerts:
Portland, ME is under a Winter Storm Warning until

7 PM

Wednesday

for the potential of 5-7" of snow.
Boston is under a Winter Weather Advisory until

6 PM

Wednesday

for the potential of 3-4" of snow.
Summary: Snow continues this morning from the Southeast north into Maine, with hazardous roads reported in parts of Alabama and Georgia. Snowfall will continue across this region today, with the heaviest amounts of at least 4" of snow expected across parts of North Carolina and Virginia, as well as central Massachusetts into eastern Maine. Numerous Winter Storm Warnings and Winter Weather Advisories are in effect.
D.J. Kayser, Meteorologist, Praedictix
---
---
Themometer in World's Coldest Village Breaks as Temperatures Plunge to -62C. That's -79.6F air temperature. The Independent has the chilling details: "The thermometer in a remote Siberian village known as the coldest inhabited place on earth has broken as temperatures plunged to near-record depths. The public device, which was installed in Oymyakon as a tourist attraction, recorded -62C, before malfunctioning this week. Meanwhile the Siberian Times reports that some locals had readings as low as -67C - in touching distance of the record -67.7C, which was logged in the village in February 1933..."
Photo credit: "The thermometer in Oymyakon stopped working shortly after temperatures reached -62C." Credit: Instagram/@sivtseva9452.
The Siberian Times has more amazing photos from the cold wave here.
---
Seismic Sensors Record Hurricane Activity. A story at Phys.org made me do a double-take: "..Scientists have known since the beginning of the 20th century that large storms in the ocean, including tropical cyclonnes (also known as "hurricanes" and "typhoons"), leave their signature in seismic data. The signal comes from the ocean waves generated by the hurricane's strong winds. But they're not just any waves. "The waves you see when you go to the beach are not enough," says Gualtieri, who led the study as a postdoctoral researcher at Columbia University's Lamont Doherty Earth Observatory..."
File image of Hurricane Gaston: NOAA and AerisWeather.
---
No Tornado-Related Deaths in the USA for a Record 240 Days. So says The Weather Channel; here's an excerpt: "...The last tornado fatalities were reported on May 16, 2017, in Wisconsin and Texas. Since then, 245 days (as of Jan. 16) have gone by without a twister taking a life, easily besting the previous record-long streak of 219 days set June 25, 2012-Jan. 29, 2013. Before that, the record was a 197-day span that ended Feb. 28, 1987. This streak is in big contrast to how the first half of 2017 unfolded when a rash of tornado outbreaks occurred early in the year. By mid May of last year, 34 people had lost their lives from tornadoes..."
---
Their Continuing Mission: Hurricane Hunters Gather Data for Winter Storms. Here's an excerpt of a post from The U.S. Air Force: "Some people might think that when hurricane season comes to an end, so does the mission of the Air Force Reserve "Hurricane Hunters." But that's not the case. For members of the 53rd Weather Reconnaissance Squadron, also known as the Hurricane Hunters, the hurricane tasking is only one part of their overall data-gathering mission. Hurricane Hunters track winter storms off the East and West Coast of the United States and in the Gulf of Mexico. While the normal flying season for these missions runs Nov. 1 to March 31, some missions can take place either before or after these dates depending on the weather that season. "So far this season, the Hurricane Hunters have flown two winter storm missions, one today and the other Jan. 3. The data from these and other winter storm missions help forecasters determine what type of weather conditions these storms might bring to coastal communities and even further inland, whether it be freezing rain, sleet, ice or snow." said Maj. Christopher Dyke, 403rd Operations Group weather standards and evaluation officer..."
Photo credit: "Aircrew members from the 53rd Weather Reconnaissance Squadron "Hurricane Hunters" taxi a WC-130J Super Hercules aircraft to its parking spot on the runway at Keesler Air Force Base, Miss., after a winter storm flight Jan. 12, 2018. In addition to their hurricane taskings, Hurricane Hunters fly winter storm missions to gather weather data used by forecasters in generating models for systems that could affect the East, West or Gulf Coast of the United States." (U.S. Air Force photo by Tech. Sgt. Ryan Labadens).
In a new study, Gualtieri and her colleagues have found that those seemingly trivial blips can actually encode the power of hurricanes moving over ocean waters. The findings may make it possible to estimate the strength of past hurricanes, to reveal how climate change is influencing the severity and frequency of these storms.
Seismic Fingerprints
Scientists have known since the beginning of the 20th century that large storms in the ocean, including tropical cyclones (also known as "hurricanes" and "typhoons"), leave their signatures in seismic data. The signal comes from the ocean waves generated by the hurricane's strong winds. But they're not just any waves. "The waves you see when you go to the beach are not enough," says Gualtieri, who led the study as a postdoctoral researcher at Columbia University's Lamont Doherty Earth Observatory.
Read more at:
https://phys.org/news/2018-01-seismic-sensors-hurricane-intensity.html#jCp
---
NOAA's Future Constellation: Large and Small Satellites In Variety of Orbits. SpaceNews.com explains the evolution of weather satellites over time: "In the future, the U.S. National Oceanic and Atmospheric Administration may rely on a mix of large government owned and operated satellites, imaging instruments hosted on commercial satellites, small satellites in low Earth orbit and data purchased from commercial firms. That was one of the key findings of an extensive quantitative analysis NOAA's Satellite and Information Service performed over the last two years to identify ways to create an increasingly capable and resilient space-based architecture in light of budget constraints. The NOAA Satellite Observing System Architecture (NSOSA) study evaluated about 100 possible constellations, ranging from continuing its existing model of relying almost exclusively on a handful of large government owned and operated satellites to radical alternatives with swarms of small satellites..."
Graphic credit: "This was NOAA's constellation before GOES-16 moved into position as GOES-East and retired GOES-13. NOAA's future constellation may include hosted payloads and small satellites in low Earth orbit." Credit: NOAA.
---
Ford "All In" On EVs: From Climate Nexus Hot News: "Ford Motors will spend billions on electric vehicle development and create dozens of electric models by 2022, the company announced Sunday. Speaking at the Detroit Auto Show, Chairman Bill Ford said the auto giant would spend $11 billion to provide 40 models of electric and hybrid vehicles for its 2022 rollout, including 16 fully electric models and a possible all-electric SUV. "We're all in on this," Ford told reporters. "We're taking our mainstream vehicles, our most iconic vehicles, and we're electrifying them." The move comes as other auto giants, including Toyota and Volkswagen, commit to spending billions on EV development and models through the early 2020s." (Reuters, TechCrunch, The Guardian, Bloomberg, MarketWatch, BBC)
---
"Adapt or Die". A Stark Farewell Message to Carmakers. A story at Bloomberg Pursuits made me do a doubletake: "...Sergio Marchionne, one of the longest-serving CEOs in the automotive industry, has a blunt warning: Carmakers have less than a decade to reinvent themselves or risk being commoditized amid a seismic shift in how vehicles are powered, driven and purchased. Developing technologies like electrification, self-driving software and ride-sharing will alter consumers' car-buying decisions within six or seven years, the Fiat Chrysler Automobiles NV chief executive officer said in an interview in Detroit, ahead of this week's North American International Auto Show. The industry will divide into segments, with premium brands managing to hold onto their cachet while mere people-transporters struggle to cope with the onslaught from disruptors like Tesla Inc. and Google's Waymo..."
---
Electricity From All Forms of Renewables Will Be Consistently Cheaper Than Fossil Fuels by 2020. Quartz explains: "Turning to renewables for new power generation is not simply an environmentally conscious decision, it is now overwhelmingly a smart economic one," said Adnan Amin, who has the numbers to back it up. Amin heads the International Renewable Energy Agency (Irena), and the numbers can be found in a new report the agency released at its annual summit on Jan. 13 in Abu Dhabi. In most of the world, renewable electricity is already competitive with fossil-fuel power. Better still, the report makes the extraordinary prediction: By 2020, all forms of renewable electricity will be consistently cheaper than power produced by burning fossil fuels..."
Photo credit: "A new dawn." (Reuters/Marcelo del Pozo
---
RENEWABLES: From Climate Nexus Hot News: "US working hard to boost wind energy, adviser says in Denmark (Bloomberg), France plans to accelerate wind power projects (Reuters), Saudi Arabia plans up to $7 billion of renewable energy projects this year (Bloomberg), for a vision of offshore wind in New England, look to the UK" (WBUR)
Image credit: Greentech Media.
---
How the Mediterranean Diet Can Help You Live Longer and Think Better. Here's a clip from a story at Big Think: "...The new study analyzed previously-published studies and shows how eating a diet that stresses plant-based foods, like fruits and veggies, whole grains, nuts, legumes as well as lots of fish may keep one healthy well into advanced years. When older adults experience more frailty, their life quality gets worse. They may feel low in energy, lose weight and muscle strength, and be subject to health concerns like falls and fractures, hospitalization, dementia, disability, and even premature death. One way to keep such effects at bay - adopt the right nutrition, says a UK research team led by Kate Walters, PhD and Gotaro Kojima, MD, from the University College London..."
File photo credit: Pixabay.
---
Why are Japanese Women Paying to Cry with a Handsome Man? National Geographic has the curious story; here's an excerpt: "...Even though numerous animal species shed tears, emotional crying is a uniquely human activity. Regardless of the reason behind it, many people believe that expressing one's emotions in this way can be both cathartic and healthy. In Japan, entrepreneur Hiroki Terai has even adopted this belief as a business strategy. He is the founder of a group crying service that encourages people to cry together while a "handsome weeping boy" wipes their tears away.  Known as rui-katsu or "tear-seeking," the practice is especially popular with women and is said to relieve stress levels..."
---
Lilium Receives $90 Million to Build Electric Flying Taxi. Is this how our kids will be commuting? Here's an excerpt from The Verge: "German start-up Lilium has secured $90 million in funding to build a five-seat, all-electric flying taxi. The funding will be used to develop the company's five-seat commercial Lilium Jet, as well as to grow the company's team of more than 70 people. As envisioned, a fully charged Lilium Jet would be able to stay aloft for about an hour and travel at speeds in excess of 180 mph. It will also have an on-demand feature where users can order the air taxi to a nearby landing pad..."
---
One Benefit To Living in Michigan? I found a post at mlive.com somewhat amusing, extolling the virtues of living in natural disaster-proof Michigan! Of course Michigan does see tornadoes and blizzards and lake effect snow and numbing cold, but in a relative sense, the threat is, in fact, lower than much of the USA: "This map, which sources the American Red Cross and National Oceanic and Atmospheric Administration, shows where natural disasters like earthquakes, tornadoes, flooding and hurricanes are most frequent. Unsurprisingly, earthquakes are most likely on the west coast. Meanwhile, the plains states make up "Tornado Alley" and the southeast is susceptible to hurricanes. In fact, virtually every state is at risk for a natural disaster of some kind. Except one. Michigan. As you can see on the map, Michigan's peninsulas are colored white, which means there's little risk of earthquakes, tornadoes or hurricanes..."
---
---
27 F. high temperature yesterday in the Twin Cities.
23 F. average high on January 17.
35 F. high on January 17, 2017.
January 18, 1996: A blizzard begins across the upper midwest. The Twin Cities Airport was spared the heavy snow, but received nearly one inch of rain. Heavy ice coating in the northwest metro area caused thousands of power outages. Wind chills were as low as -88 (on the old windchill scale) at Crookston. Snow totals were 18 inches at Ely and 12 inches at St. Cloud. Mail delivery was stopped for the day in Duluth and I-94 was closed all day from Rothsay and Moorhead. Flooding problems were caused in the Twin Cities due to backed up water.
January 18, 1994: Governor Arne Carlson orders all Minnesota public schools closed due to the extreme cold and severe winter weather. Morning readings were in the 30-below-zero range. The biggest problem was from high winds that came with the cold.
---
TODAY: Partly sunny, thawing out. Winds: SW 7-12. High: 37
THURSDAY NIGHT: Partly cloudy, not as cold. Low: 28

FRIDAY: Hello February. Clouds increase. Winds: SW 8-13. High: 43

SATURDAY: Mostly cloudy, good travel day. Winds: W 5-10. Wake-up: 29. High: near 40

SUNDAY: Cloudy. Wet snow arrives late. Winds: NE 5-10. Wake-up: 30. High: 35

MONDAY: Heavier wet snow, possibly plowable. Winds: NE 10-20. Wake-up: 30. High: 32

TUESDAY: Early flurries, then clearing. Winds: NW 10-15. Wake-up: 20. High: 29

WEDNESDAY: Partly sunny, back down to "average". Winds: NW 7-12. Wake-up: 13. High: 26
---
Climate Stories...
Humans Did Not Cause the U.S. Cold Snap. Natural variability? Probably, according to a summary of new research at Scientific American: "...In recent years, climate scientists have studied the connection between global warming and freezing temperatures. They are examining how shifting air patterns over the Arctic, and their incursion into North America and Europe, are connected to climate change. But the two-week deep freeze didn't carry the hallmarks of human activity, according to a rapid attribution study from Climate Central, a science communication project based in Princeton, N.J. World Weather Attribution, a group of international researchers, performed the analysis..."We conclude that this was an exceptional two-week cold wave in the area in the current climate," the authors wrote. "Cold outbreaks like this are getting warmer (less frequent) due to global warming, but cold waves still occur somewhere in North America almost every winter..."
---
Congress Ignores Biggest Security Risk: Climate Change. Here's an excerpt of an Op-Ed at The San Francisco Chronicle: "...The act also warns that rising sea levels "will threaten the operations of more than 128 United States military sites," that permafrost melting is jeopardizing "radar and communication installations, runways, seawalls, and training areas" in the Arctic, and that drought-fed wildfires have damaged "roads, runways, and buildings on military bases" in the Western United States. Yet in the recent tax bill, Congress for the first time approved oil drilling in the pristine Arctic National Wildlife Refuge. Promoting greater use of fossil fuels can only accelerate the threat of global warming, which contributed to storms and fires that cost the United States a record $300 billion in 2017, according to a recent analysis issued by the National Oceanic and Atmospheric Administration..."
---
Are Our Better Lives Today Robbing Future Generations of a Livable World? A story at Quartz examines the ethical question: "...We may be living longer, but we are doing it in a way that will rob our children of their health, well-being and long lives," said Gina McCarthy, who served as administrator of the Environmental Protection Agency during the Obama Administration. "We need to be looking at how human interference in Earth's natural systems is playing out, and how humans are changing them. We also must find different solutions, not the traditional ones." This means society must begin to focus more on the health of forthcoming generations, a process that will require "a game-changing shift in thinking," said Susanne Sokolow, a senior research scientist at the Stanford Woods Institute for the Environment..."
Image credit: Reuters/Tim Peake and NASA.
---
BlackRock: Companies Must Be Better to Keep Our Support: From Climate Nexus Hot News: "Some of the world's largest publicly traded companies take a more active role in solving social issues or face blowback from investors, the CEO of BlackRock said Tuesday. "To prosper over time, every company must not only deliver financial performance, but also show how it makes a positive contribution to society," Laurence Fink wrote in his annual letter to CEOs of companies in which BlackRock, the world's largest money manager, invests. The letter notifies CEOs that BlackRock will take a more active role in paying close attention to companies' involvement in social issues and urges companies to "understand the societal impact of your business as well as the ways that broad, structural trends—from slow wage growth to rising automation to climate change—affect your potential for growth." The letter follows several well-publicized moves from BlackRock to pressure ExxonMobil to disclose climate risk to investors." (New York Times $, Washington Post $, WSJ $, FT $, NPR, Business Insider. Commentary: Bloomberg Gadfly, Stephen Gandel analysis)
---
What's Behind the Cold Snaps and Does Climate Change Have Anything To Do With Them? Weather Underground has an interesting post; here's a link and excerpt: "...Deepti Singh, a Lamont-Doherty Earth Observatory post-doctoral fellow who studies the human impact on climate change, told Columbia University's Earth Institute that the western U.S. is warming faster than the East, and it could be causing the configuration of the jet stream to become more extreme. Thus, the jet stream could more frequently surge further north in the West and dip in the East, which allows such cold blasts to occur in the winter. Past studies have also suggested climate change's impact on the jet stream is allowing extreme weather to persist even longer. The recent arctic blast is a perfect example, Singh noted. The East has seen a similar pattern in four of the last five winters. Last year was the lone exception, as the pattern flipped and the West experienced cold weather and feet upon feet of snow at the higher elevations. According to a study published recently in the journal Nature Communications, the jet stream's big fluctuations could be leading to more extreme weather in Europe and North America..."
More perspective on recent research into jet stream configurations during the winter months from Columbia University's Earth Institute.
Image credit: NASA.
---
Primer on Climate Skepticism. Kudos to Alice Bell for some much-needed perspective at tinyletter.com: "It's wrong to assume all climate sceptics are in the pay of the fossil fuel industry. Many are just hobbyists who like to hold what they perceive as outsider views, and/ or have found a community of friends online to talk about the weather, swap numbers and rant about the world with. Plus, climate scepticism comes in a range of flavours, with a mix of things you can be sceptical about. Very few people can accurately be described as outright climate denialists (they generally hate that word themselves too). These days, many sceptics are just 'luke-warm' to some degree or another, in that they believe the basics of climate science but don't think the risk is that big. And we should remember there's a fair bit of diversity of views and fighting within climate science too. Being sceptical, disagreeing and asking questions is part and parcel of how we do science, even if it can also be a great distraction from it too. But all these views - for whatever reason they are held - can be used by those who'd like to keep us hooked on fossil fuels..."
File image: NASA.