Twin Cities Daily Snow Records
As I was digging through the data for Monday, I was intrigued by the fact that the daily snow record for December 10th is only 2" set in 2016. Seems low for a winter month, doesn't it? It made me wonder how many other "low" daily snow records there are for MSP during November through March. Above is a list of the daily snowfall record for each day during the five-month time span. Overall there are only four days over the 152-day time span (including Leap Day) where the record for the day is 2" or less:
November 4th: 1.0"
November 6th: 1.6"
November 24th: 1.7"
December 10th: 2"
Meanwhile, a total of 23 days over the 152-day time span have a daily record of 4" or less - four days in November, three days in December, nine days in January, four days in February, and three days in March.
_______________________________________________
It's Not Hype: Milder El Nino Signal Emerging
By Paul Douglas

On WCCO Radio, Jordana Green and I express our opinions - with a caveat: we are in no position to tell people what to think or what to believe. But hearing multiple voices can help us reach our own conclusions.
There are multiple voices bringing you weather updates; sometimes they're contradictory. "You guys are just hyping the weather for ratings!" Do more people tune in before a major storm? Yes, but consistently exaggerating storm potential isn't sustainable. If you mislead people once too often, they'll go elsewhere. That said, I'd rather take criticism for over-estimating a storm than underestimating its potential. "Paul, why didn't you mention a chance of tornadoes, floods or icing?" Don't ever want to hear that.
The winter season got off to a cold start. Many thought it was an omen of the winter to come. Not so fast.
As I've been saying for over a week, there's growing evidence an El Nino signal is kicking in, with a milder Pacific flow into late December. Expect 30s this week, maybe 40F-plus by Saturday. OK, hardly Indian Summer, but it may just feel like sweet relief.
_______________________________________________
Extended Twin Cities Forecast
MONDAY: Some sun, not bad. High 30. Low 17. Chance of precipitation 0%. Wind SW 10-15 mph.
TUESDAY: Patchy clouds, light winds. High 28. Low 19. Chance of precipitation 10%. Wind E 5-10 mph.
WEDNESDAY: Mostly cloudy, probably dry. High 31. Low 25. Chance of precipitation 20%. Wind SW 5-10 mph.
THURSDAY: Chance of light snow or flurries. High 32. Low 23. Chance of precipitation 60%. Wind NW 7-12 mph.
FRIDAY: Intervals of sunshine. High 33. Low 26. Chance of precipitation 10%. Wind SW 7-12 mph.
SATURDAY: Stronger breeze, thawing out nicely. High 41. Low 29. Chance of precipitation 10%. Wind S 10-15 mph.
SUNDAY: Partly sunny, good travel weather. High 35. Low 17. Chance of precipitation 10%. Wind NW 7-12 mph.
_______________________________________________
This Day in Weather History
December 10th
1992: By this time there is partial ice cover in the Duluth harbor.
1979: A 'heat wave' develops across Minnesota. Highs of 54 at Twin Cities and 57 at Winona are recorded.
1978: Alexandria ends its fourteen day stretch of low temperatures at or below zero degrees Fahrenheit.
1889: A late season thunderstorm is observed at Maple Plain.
_______________________________________________
Average Temperatures & Precipitation for Minneapolis
December 10th
Average High: 29F (Record: 54F set in 1979)
Average Low: 14F (Record: -18F set in 1977)
Average Precipitation: 0.04" (Record: 0.61" set in 1911)
Average Snow: 0.4" (Record: 2.0" in 2016)
_______________________________________________
Sunrise/Sunset Times for Minneapolis
December 10th
Sunrise: 7:40 AM
Sunset: 4:31 PM
*Length Of Day: 8 hours, 51 minutes and 11 seconds
*Daylight Lost Since Yesterday: ~55 seconds
*Latest Sunrise: December 30th - January 5th (7:51 AM)
*Earliest Sunset: December 6th-14th (4:31 PM)
*Least Amount Of Daylight?: December 21st (8 hours, 46 minutes, 12 seconds)
_______________________________________________
Minnesota Weather Outlook
Monday will be another day with a mix of sun and clouds across the state, with the potential of some fog to start out the day .Highs will be in the 20s to low 30s.
Highs will be a few degrees above average across much of central and northern Minnesota on Monday but slightly below average across southern parts of the state.
Fairly steady temperatures are expected this work week in the Twin Cities, with highs in the 20s and 30s.
It also looks like a fairly quiet week precipitation-wise, with maybe a few snowflakes possible Thursday.
_______________________________________________
National Weather Forecast
On Monday, lingering wintry precipitation is likely across parts of the Mid-Atlantic with a departing winter storm. Meanwhile, rain and snow is likely across parts of the Northwest south to the Bay Area. While highs will be a good 10 degrees above average in Denver and Billings, they will be 10-20 degrees below average across parts of the Southeast and Mid-Atlantic.
Two areas of heavy precipitation are expected through Tuesday evening - one from the Mid-Atlantic to Florida (parts of this across the Mid-Atlantic will be in the form of snow), and another across the Pacific Northwest. In these areas, at least 1-2" of precipitation (rain or melted snow) is possible.
Looking at snow, from Sunday into Monday at least a foot will be possible across parts of western North Carolina and southern Virginia. In the Cascades and Olympics, 1-2 feet of snow will be possible.
_______________________________________________
Snow And Ice Continues Today In The Mid-Atlantic - Already Over A Foot Of Snow In Parts Of Western North Carolina - Praedictix Corporate Briefing: Sunday morning, December 9th, 2018
Snow and ice are impacting parts of the Mid-Atlantic this morning, stretching back into parts of the mid-Mississippi Valley as well. The heaviest snow total reported so far has been in the Lake Toxaway, NC, area, which has received 13". A quarter inch of ice has also been reported in Rock Hill, SC.
This snow and ice is causing numerous power outages across the region, with over 110,000 without power in North Carolina.
Wintry precipitation will continue across the Mid-Atlantic into Monday. The heaviest precipitation will occur through today across the region, but lingering wintry precipitation Monday will prolong impacts from the system into the work week.
Morning Radar. Snow and ice continue to fall from the mid-Mississippi Valley to the Mid-Atlantic this morning. This snow and ice is having impacts on local roadways. Here is an update on road conditions from local DOT offices: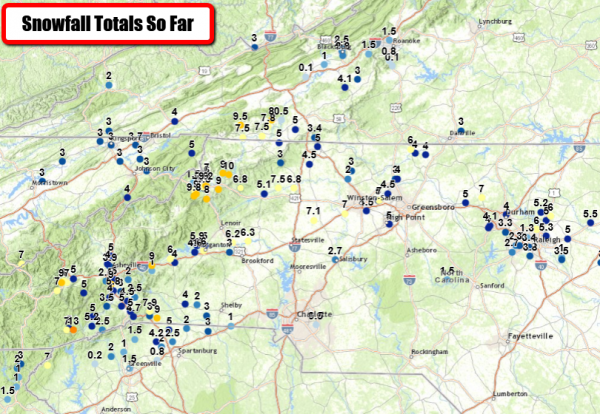 Snow Reports So Far. Already snow totals topping a half a foot have been reported across western North Carolina. So far the top total has been from the Lake Toxaway area, which has received 13" as of 1:45 AM. Further north, 10" of snow was reported in Idlewild, NC, and 9.5" had been reported near Troutdale, VA. Moving eastward, 7" was reported in Clemmons, NC (southwest of Winston-Salem), and 6-6.5" had been reported north of Raleigh. In Rock Hill, SC, a quarter inch of freezing rain had been reported.
Power Outages. Due to the snow and ice falling across the Mid-Atlantic, over 110,000 were without power across North Carolina with ~78,500 without power in South Carolina as of around 7:30 AM ET (6:30 AM CT) Sunday morning. Image: poweroutage.us
Winter Storm Impacts Continue Today. Snow and ice will continue across parts of the Mid-Atlantic today, at times changing over to rain as temperatures warm. The heaviest precipitation will occur through today across the region, but lingering wintry precipitation Monday will prolong impacts from the system.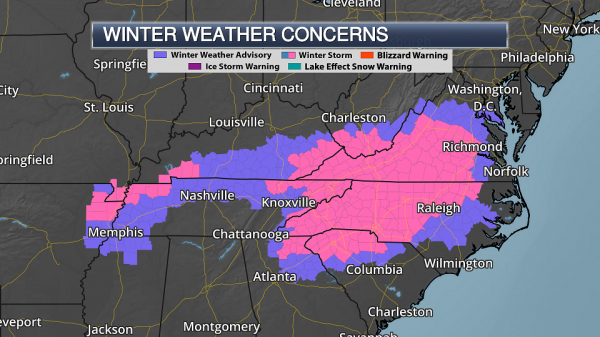 Winter Weather Concerns. Due to the expected snow and ice from Arkansas to the Mid-Atlantic, numerous Winter Weather Advisories and Winter Storm Warnings are in place. Most of the alerts in place across the Mid-Atlantic will last into Monday. Some cities that are under winter alerts as of Sunday morning include:
Jonesboro, AR: Winter Storm Warning until 9 AM today due to an additional 1" of snow/sleet and ice accumulations of 0.1-0.2".
Memphis, TN: Winter Weather Advisory until 9 AM today for freezing rain accumulations of up to 0.1" and some sleet mixed in.
Nashville, TN: Winter Weather Advisory until Noon today for mixed precipitation with up to 0.1" of ice and some minor snow and sleet.
Athens, GA: Winter Weather Advisory until 1 AM Monday for up to 1" of snow and 0.1" of ice.
Greenville, SC: Winter Storm Warning until Noon Monday for additional ice accumulation of up to 0.3".
Asheville, NC: Winter Storm Warning until Noon Monday for additional snow up to 5" and ice up to a quarter inch.
Charlotte, NC: Winter Storm Warning until Noon Monday for up to 0.4" of ice and up to 2" of snow.
Greensboro, NC: Winter Storm Warning until 7 PM Monday for 8-12" of snow and up to 0.2" of ice.
Raleigh, NC: Winter Storm Warning until 7 PM Monday for total snow of 4-8" and up to a quarter inch of ice.
Roanoke, VA: Winter Storm Warning until 11 AM Monday for an additional 8-16" of snow.
Richmond, VA: Winter Storm Warning from 10 AM today to 4 AM Monday for 3-6" of snow.
Additional Mid-Atlantic Snow Forecast. Significant snowfall totals will continue to be possible across western North Carolina into southern Virginia, where snow storm totals of at least a foot are expected. This heavy snow will continue to greatly impact travel across the region, and may lead to some power outages.
Additional Mid-Atlantic Ice Forecast. The greatest ice accumulations are expected from upstate South Carolina into central North Carolina, where ice totals of a quarter to a third of an inch will be possible. This will likely cause numerous downed trees and power outages.
D.J. Kayser, Meteorologist, Praedictix
_______________________________________________
How Flint's Water Crisis Almost Turned Into a Plastic Bottle Disaster
More from Earther: "If the water pouring out your sink is full of lead, you might reasonably turn to bottled water. That's exactly what happened in Flint, Michigan, after the city switched its drinking water source and lead began leaching into everyone's taps. In the first three weeks after the state declared the situation an emergency in January 2016, the city accumulated up to 100 million plastic bottles, according to a new study shared online Tuesday. That amount of plastic waste should've overwhelmed the city of nearly 100,000's waste management infrastructure. As the study authors note, however, that never happened. The study, published in Resources, Conservation, and Recycling, examined how city officials were forced to revise their waste management practices on the fly. They didn't have a plan in place prior to the water crisis, but they had to come up with one—and quickly!—to deal with the onslaught of trash that resulted. The study's findings can help other cities around the U.S. prepare for water outages of their own."
'Worst drought I have seen': Afghan farmers forced to flee
More from Phys.org: "Wheat and opium farmer Murad Khan Ishaqzai, 80, has never seen a drought as bad as the one ravaging western Afghanistan where more than 250,000 people have been forced to abandon their homes. After his crops dried up in Gormach district of Badghis province earlier this year, Ishaqzai rented a truck and drove his family hundreds of kilometres through Taliban-infested areas to the neighbouring province of Herat. There, he and his family of seven took refuge in a squalid camp on the rocky outskirts of the provincial capital where aid agencies are struggling to meet growing demand for food, shelter and sanitation."
Rural Jobs: A Big Reason Midwest Should Love Clean Energy
More from InsideClimate News: "Wind turbines have become a familiar part of the landscape in the rural Midwest, and with them have come jobs, income for farmers and tax revenue for communities. They're one sign of how the clean energy transition is helping to transform areas that sometimes struggle to attract jobs and investment. A new report from the Natural Resources Defense Council shows the extent to which clean energy is contributing jobs to the rural economies of 12 Midwestern states. It also reflects what the rural Midwest stands to lose from Trump administration actions that harm clean energy, such as its recent call to eliminate subsidies for renewable energy, its tariffs on solar energy equipment, and its plan to weaken the Obama-era Clean Power Plan. The authors say the numbers underscore the need in the Midwest for government policies that are supportive of clean energy instead."
_______________________________________________
Thanks for checking in and have a great Monday! Don't forget to follow me on Twitter (@dkayserwx) and like me on Facebook (Meteorologist D.J. Kayser)!
 - D.J. Kayser