Pretty Tame Outlook, Compared to Previous Octobers

If you're not just a little bit paranoid you may not be paying attention. Minnesota's growing season is getting longer. That's not a computer model, that's reality. Fall lingers later, spring tends to arrive a few weeks earlier than it did 1-2 generations ago.
No early arctic smacks brewing yet, but mid-October can be wild & wintry at this latitude. According to NOAA records, pioneers at Fort Snelling were digging out from 11 inches of snow on this date in 1820. On this date in 1880 a freak blizzard buried Canby, Minnesota under 20 FOOT drifts that didn't melt until the following spring!
Nothing nearly that controversial in this forecast. Squeeze in leaf-raking chores this morning, because a surge of showery rain is likely this afternoon and tonight. We dry out behind a Sunday cold front with blue sky punching holes in stratus clouds; temperatures stuck in the 40s across much of the state.
You'll want to stick around for next week as a Pacific breeze lures the mercury into the 60s; even 70s late next week.
Considering we could, in theory, be hip-deep in snow drifts - I'm relieved.
---
Very Wet October So Far. Dr. Mark Seeley provides perspective in this week's installment of Minnesota WeatherTalk: "Harvesting of corn and soybeans has been slowed or delayed due to wet weather this month. So far at least 55 climate stations have reported new daily record amounts of rainfall, mostly during the first three days of the month, and over the the sixth through the 9th. In addition many places have reported consistent rain, about every two days or so. As a result a number of climate stations, especially in southern counties have reported a total of 4 to 7 inches of rainfall and we have not reached the mid-point of October yet. Across Minnesota normal October monthly rainfall ranges from two to three inches, so many locations have already received twice the average amount. This October rainfall pattern follows the recent trend towards wetter than normal. Sixteen of the past twenty-two Octobers in Minnesota have been wetter than normal on a statewide basis, with three among the top five wettest historically. The silver lining in all this is that for most places the soils will be recharged with moisture for next spring's crops..."
---
Cool Weekend - Hints  of September Next Week. MEA Weekend? Talk about good timing with a streak of 60s, even a few 70s possible late next week in the Twin Cities, according to ECMWF guidance, courtesy of WeatherBell.
---
1"+ Rain Later Today and Tonight? Although heaviest (2"+) rains are forecast to soak Madison, Chicago and Grand Rapids, over an inch of rain may fall across much of southern and central Minnesota. 84-hour NAM guidance: NOAA and Tropicaltidbits.com.
---
Ophelia Pushes Toward Ireland. By Sunday or Monday Hurricane Ophelia may lose most tropical characteristics, but damaging winds and power outages are still possible across the British Isles early next week.
---
---
---
---
Deadliest Week of Fires in California History. The New York Times has more detail.
---
Husband and Wife Survive California by Hiding in Pool. The New York Post has the unbelievable story: "...I just kept going under," Jan explained. "And I kept saying, 'How long does it take for a house to burn down?'" In order to protect themselves from the smoke and embers, the Pascoes told the Times, they held T-shirts over their faces — while bobbing in and out of the water. "I thought someone would come to get us," Jan said. But no one came. Luckily for her and her husband, though, the pool was just 4 feet deep all the way across — making it easy to stay submerged. The couple wound up staying in the water for about six hours, according to the Times. They reportedly held each other to stay warm and stood back-to-back to stay awake. When they got out, Jan's shoes and personal belongings that she had left by the pool were melted — and everything around them, including their home and their neighbors' homes, was completely destroyed..."
---
Critical California Wildfire Danger Continues Into the Weekend. Praedictix Briefing:
Issued Friday, October 13th, 2017:
* There are now 31 confirmed deaths from the wildfires across California, making this the deadliest week of wildfires in state history. At least 3,500 structures have been destroyed, with more than 220,000 acres consumed. There are still at least 17 ongoing fires.
* An evacuation advisory has been put in place for parts of Napa for areas west of Highway 29 between Oakville Grade and Rutherford Road, alerting residents that they should prepare in case a mandatory evacuation is issued. The San Francisco Chronicle has a live blog running with the latest updated news information, including evacuations and updated fire information.
* The wildfires have caused the worst air quality ever recorded in the Bay Area, and air quality will continue to be in the unhealthy range into the weekend, causing health concerns.
* Fire weather conditions continue to be critical across California into the weekend, as strong winds and low humidity values will allow any ongoing wildfires (and any new fires) to spread quickly across the region.
---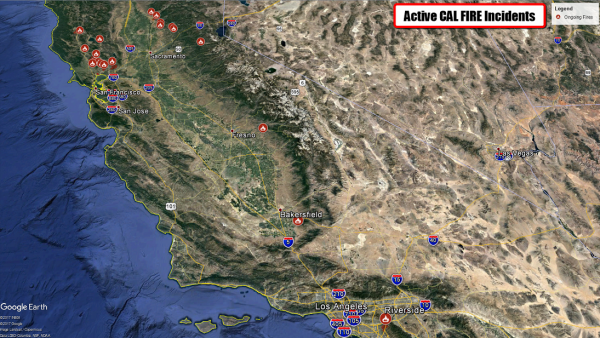 Map: CAL FIRE
Numerous Fires Continue Across California. We continue to watch at least 17 wildfires burning across the state of California, which has burned more than 220,000 acres. Most of the ongoing fires are burning across northern California. You can view an interactive map of the active wildfires from CAL FIRE and view more information on individual fires.
CAL FIRE has also issued a statewide fire summary this morning, summing up the latest information on the fires.
---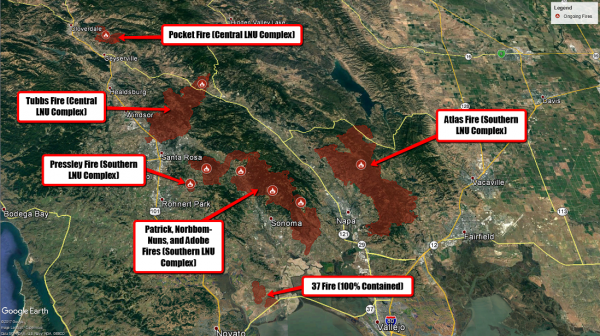 ---

Both Maps: CAL FIRE
Central And Southern LNU Complex Fires. The deadliest of the northern California wildfires have occurred within what is being called the Central and Southern LNU complexes. As of this morning, here is the latest acres burned and containment from CAL FIRE:
Central LNU Complex

Tubbs Fire: 34,770 acres – 25% contained
Pocket Fire: 9,996 acres - 5% contained  

Southern LNU Complex:

Atlas Fire: 48,228 acres - 27% contained
Patrick Fire: 12,379 acres - 18% contained
Norbbom/Adobe/Nuns Fires: 44,381 acres - 5% contained
Pressley Fire: 473 acres - 10% containment  
You can view an interactive map of these active wildfires from CAL FIRE.
---
Mendocino Lake Complex.The Mendocino Lake Complex, consisting of the Redwood and Potter Fires, was 10% contained as of last night and has consumed 34,000 acres. Numerous evacuation orders continue to be in effect as steep terrain and critical fire conditions continue to pose issues for firefighters.
You can view an interactive map of this active wildfire from CAL FIRE.
---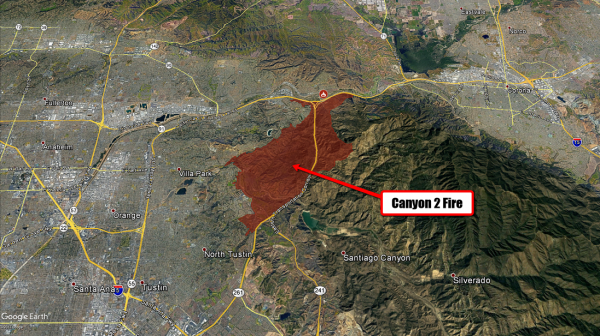 Map: CAL FIRE
Canyon 2 Fire. Progress continues to be made on the Canyon 2 Fire burning east of Anaheim. As of yesterday evening, the fire had burned ~9,000 acres but was 65% contained as favorable weather allowed firefighters to improve containment lines. More information on this fire can be found from local officials:
We will continue to watch the potential for new fires in the Los Angeles area and across California into the weekend, however, as fire weather conditions worsen.
CAL FIRE has more on the fires mentioned above, as well as the other ongoing fires across the state.
---

Map: Berkeley Earth
Air Quality Concerns. Air quality due to the numerous wildfires continues to be in the unhealthy range across parts of the Bay Area, with KQED reporting that the air quality in some areas of the Bay Area being the worst they have recorded on record. Due to this, the Bay Area Air Quality Management District has declared a Health Advisory and Spare the Air Alerts through the weekend.
AirNow has the latest air quality index numbers across California.
---
Critical Fire Danger Today. Critical fire conditions will be in place across portions of southern California today, as we continue to see strong winds and low relative humidity values. While some weakening in the winds will be possible this afternoon, they are expected to strengthen once again tonight across the region. There is even the potential of a Sundowner wind event, with the strongest winds across the western Santa Ynez. Across central and northern California, winds will be relatively light throughout the day, but increase into the evening and overnight, leading to an elevated fire danger.
---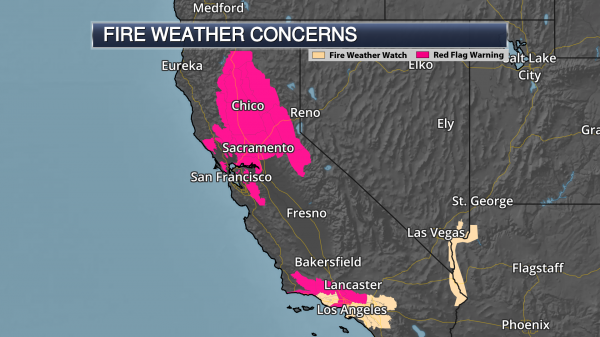 Red Flag Warnings In Effect. Due to the continued critical fire weather conditions expected over the next several days, Red Flag Warnings and Fire Weather Watches are in effect across the state of California. Across the Bay Area, these are in effect through Saturday evening, while the rest of the warnings across central/northern California are through Sunday morning. In southern California, Red Flag Warnings are in effect from this evening through Saturday morning, with Fire Weather Watches for Saturday and Sunday. These are in effect due to the expected strong winds and low humidity values. These conditions will make firefighting conditions difficult, and ongoing fires – and any new ones that spark – will be able to spread quickly, once again endangering communities downwind of the fires. Map credit: Praedictix.
---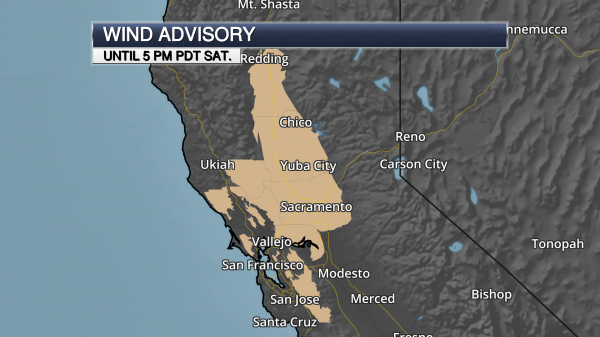 Wind Advisory. Due to the gusty winds expected tonight into Saturday across parts of northern and central California, Wind Advisories are in effect from 11 PM tonight through 5 PM tomorrow. Winds of 20-35 mph are possible, with gusts of 50 mph or higher at the highest elevations.
---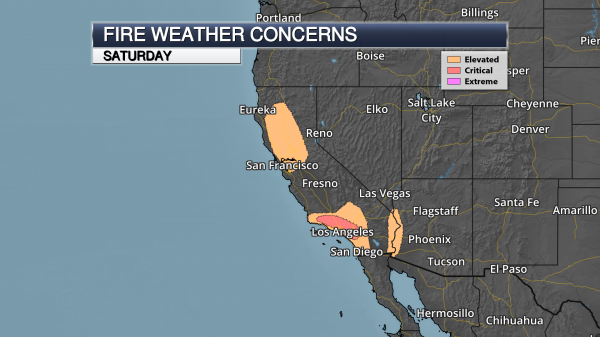 Fire Danger Continues Saturday. Gusty winds and low humidity values will continue across southern California Saturday with a Santa Ana wind event setting up across the region. A critical fire danger is in place across parts of southern California and an elevated risk in the San Diego area. Winds will continue to be gusty during the overnight hours. Sunday also looks quite windy across this region. In central/northern California, we will continue to see low humidity and gusty winds Saturday, with a decrease in the winds possible during the day.
---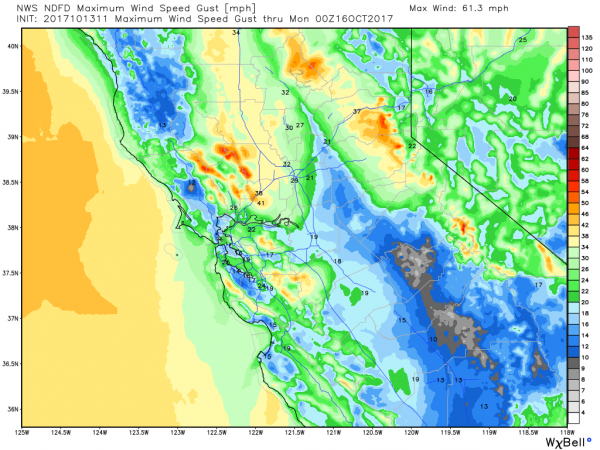 Forecast Peak Wind Gusts Through The Weekend – San Francisco Area. Overall peak wind gusts across the northern Bay Area are expected to top 40 mph through the weekend. Some higher peaks could see gusts to 60 mph. These winds will help ongoing wildfires to spread quickly.
---
Forecast Peak Wind Gusts Through The Weekend – Los Angeles Area. Some of the strongest winds tonight will be across the western San Ynez, with the strongest gusts Saturday and Sunday in and around a line from Santa Clarita to Camarillo. Gusts in these areas will be in the 30-40 mph range Saturday, with potentially gusts up to 55 mph Sunday. Map credit: WeatherBell.
---
Air Quality Forecast. Air quality will continue to be in the unhealthy range today and into the weekend in the Bay Area due to the wildfires. AirNow will have the latest air quality forecasts over the next several days.
Meteorologist D.J. Kayser, Praedictix
---
"A Recipe for Disaster": Urban Growth Fuels Deadly California Wildfires That Challenge Traditional Firefighting Tactics. The Washington Post explains the challenge development brings: "...Stornetta and his crew were fighting back the flames at Woodley Place, a line of modest houses surrounded on three sides by wooded hills. The prevalence of this kind of development — a low-density combination of homes and wild vegetation — has increased in California in recent years, said Jonathan Cox, battalion chief and spokesman for Cal Fire. Called "Wildland-Urban Interface," or "intermix" in firefighter parlance, these environments are among the factors that have made the Tubbs fire in Sonoma and Atlas fire in Napa so difficult to contain — along with five years of brutal drought, powerful winds and resources stretched thin from simultaneous fires around the state. Although hard-hit Santa Rosa neighborhoods such as Coffey Park are more traditionally urban, intermix areas are part of an upward trend throughout California. "Areas that would 20 years ago have nothing now are interface environments," Cox said. "Take the sheer number of square acres that are involved with intermix and wildland-urban spaces, combine that with the frequency and intensity of fires increasing — it's a recipe for disaster..."
---
House Approves $36.5 Billion Disaster Aid with Puerto Rico, Wildfires, Flood Insurance Funds. Insurance Journal has the story: "The U.S. House of Representatives on Thursday approved $36.5 billion in emergency relief for hurricane-hit Puerto Rico and other areas that have suffered recent disasters. In addition to the U.S. territory of Puerto Rico, which is recovering from devastation wreaked by Hurricane Maria, the bill will also provide funds for the storm-struck areas of Florida, Texas, and the U.S. Virgin Islands, and fire-ravaged California. The bipartisan bill sailed through the Republican-controlled House – approved by a 353-to-69 vote – just hours after President Donald Trump said that government response teams could not stay in Puerto Rico "forever..."
File image of Hurricane Irma: NASA.
---
Fall Color Update. Colors are peaking from the northern suburbs into the Brainerd and Alexandria Lakes area - peak color may be 7-10 days away for southeastern Minnesota. Map credit: Minnesota DNR.
---
---
---
La Nina Watch Issued for Fall/Winter. Details via NOAA CPC: "For the upcoming Northern Hemisphere fall and winter of 2017-18, a weak La Nina is favored in the dynamical model averages ofthe IRI/CPC plume and North American Multi-Model Ensemble (NMME). Several models indicate a period of near-average Nino-3.4 values in the upcoming weeks, but then predict reinvigorated growth of negative SST anomalies across the equatorial Pacific Ocean. These forecasts are supported by the ongoing easterly wind anomalies across portions of the Pacific Ocean and the reservoir of below-average subsurface temperatures. In summary, La Nina conditions are favored (55-65%) during the Northern Hemisphere fall and winter 2017-18..."
---
---
CA Wildfire Toll Jumps to 31: From Climate Nexus: Massive wildfires sweeping Northern California have killed at least 31 people, making them the blaze the deadliest in the state's history. Officials warn that more deaths are likely as the fires, which span 300 square miles, have yet to be contained. "We're not even close to being out of this emergency," said Mark Ghilarducci, the director of California's Office of Emergency Services. Fires have destroyed at least 3,500 homes and businesses in California's wine country and have forced 20,000 people to evacuate since Sunday. Gov. Jerry Brown said Wednesday that the "warming climate, dry weather and reducing moisture" contributed to the fires. (Fires: NPR, NECN, WUFT, ABC News, LA Times $, CNN, USA Today, Mashable, Pacific Standard, WSJ $, AP. Climate Links: CBS News, Vox News, InsideClimate News, MIT Tech Review, ClimateWire. Commentary: LA Times editorial $, Modesto Bee editorial. Background: Climate Signals.)
---
If You Had Only 5 Minutes to Evacuate, What Would You Take? An interesting though-experiment none of us hope to ever realize, courtesy of SFGate.com: "...
Medical supplies. It sounds obvious, but it's worth repeating. Pack first aid supplies, ample quantities of any prescription medication you, your family or your pets may require, and useful over-the-counter medicines like pain relievers, anti-diarrhea medication, antacids or laxatives. Glasses and contact lens solution are also critical for those who need them, as well as menstrual supplies, infant formula and diapers as needed. Consider bringing moist towelettes, garbage bags and plastic ties for personal sanitation.
.."
Photo credit:
---
---
5 Things the Weather-Climate Community Needs in the Next NOAA Administrator
. Dr. Marshall Shepherd weighs in at
Forbes
: "...
The National Weather Service is a national treasure. Weather observations and forecasts impact almost every aspect of our daily lives. There has been an obvious tension in the past on the role of the private and public sector. This makes many people nervous about the next NOAA administrator (whomever it is). Will there be an attempt to undermine what I believe is an inherent federal role to provide the foundational weather information for our military, private stakeholders and the public? You would be surprised at how many people say stuff like, "Why do we need a National Weather Service when we have TV stations and private companies?" Ummmm, helloooooo. This statement, in my view, is like saying, "Who needs potato farmers when we have people that make french fries and potato chips?" NOAA models, satellites, radar system and personnel enable the capacity for our vital private sector and media partners. These partners add value to the information so that it can be consumed by people, Apps, businesses, the military and so forth
..."
---
"Katrina Brain": The Invisible Long-Term Toll of Megastorms. A story at Politico summarizes the long-term implications of major natural disasters: "...More than 1,800 people died in Katrina from drowning and other immediate injuries. But public health officials say that, in the aftermath of an extreme weather event like a hurricane, the toll of long-term psychological injuries builds in the months and years that follow, outpacing more immediate injuries and swamping the health care system long after emergency workers go home and shelters shut down. That's the rough reality that will soon confront regions affected by this year's string of destructive hurricanes. As flood waters recede from Hurricanes Harvey, Irma, Maria and Nate, and survivors work to rebuild communities in Texas, Florida and the Caribbean, mental health experts warn that the hidden psychological toll will mount over time, expressed in heightened rates of depression, anxiety, post-traumatic stress disorder, substance abuse, domestic violence, divorce, murder and suicide..."
Katrina file image: FEMA.
---
Hurricane Season Isn't Even Over, But It's Already Secured Its Place in History Books. Here's an excerpt of an insightful post at Capital Weather Gang: "This year's hurricane season isn't over. It still has 50 days left, but it's already one of the most terrible on record, which will be talked about and remembered for generations. Like other famous seasons — 1995, 2004 and 2005 to name a few — 2017 has had many storms and many significant landfalls. Impressive records are falling this year. In an average season, we would typically have seen 10 named storms, five hurricanes and two major hurricanes by Oct. 11. This year — far from average — there have been 15 named storms from Arlene in April through Ophelia in early October. Nine of those storms became hurricanes, and it just happened to be nine consecutive storms from Franklin to Nate. That's only happened three other times that we know of..."
Map credit: "The entire coastline from Texas to North Carolina has experienced tropical-storm-force winds this year." (Laris Karklis/The Washington Post).
---
First 10-Hurricane Streak in Atlantic Since 1886. The New York Times provides perspective on a crazy year in the Atlantic basin.
---
Almost No Puerto Rican Households Had Flood Insurance. Floods They Got. The Miami Herald has the harrowing details: "One of the most eye-opening statistics in the aftermath of Hurricane Maria's roar through here is that there were just 5,675 federal flood insurance policies on an island with nearly 1.57 million housing units. That means less than one-half of 1 percent of the commonwealth's homes were covered. Many will instead try to tap low-interest federal loans to rebuild. The dearth of flood policies in Puerto Rico means the federal program will be required to pay little of the perhaps $85 billion in privately and federally insured losses from Hurricane Maria; the total includes not just homeowners' flood claims, but also, for instance, property damage. most of the losses occurred in Puerto Rico..."
Photo credit: "Homes in the Juana Matos community are surrounded by flood waters in Catano, Puerto Rico, one week after Hurricane Maria came through. Few in the territory were covered by flood insurance." Carlos Giusti AP.
---
The Plan to Launch Giant Wi-Fi Balloons Over Puerto Rico
.
Atlas Obscura
reports on the ambitious idea: "
With disaster relief efforts still

in crisis mode in Puerto Rico, a number of private companies and citizens are doing what they can to help the island's residents. While some are providing food and other necessary materials, Project Loon, a division of Alphabet's X lab (formerly Google X), is trying to set up temporary internet and cell service using giant balloons. As Futurism is reporting, Project Loon has received expedited approval from the FCC to launch wireless data-providing balloons over Puerto Rico and the U.S. Virgin Islands as soon as possible. The goal of Project Loon is to provide internet coverage to inaccessible or less developed parts of the world by floating large balloons in the stratosphere, at about 65,000 feet. The balloons carry signal relay points capable of communicating with service providers on the ground—in a sense they are more or less floating cell towers. According to Project Loon's website, the balloons can stay up for as long as 190 days at a time
..."
---
Some of NOAA's Satellites are Still Dependent on Floppy Disks
.
Marketplace
has the jaw-dropping story: "...
When you get the data down from the satellite, it's only as good as where you can send it," said Bill Carter, IT systems specialist at NOAA's Satellite Operations Facility. Some of the machines are older than the people working in the building. "A lot of the equipment is from 1986, '87," said Carter, pointing out the openings for the 3.5" floppy disks, which they still use. "If you do the proper maintenance, you can make things last for a long, long time.
" 
Photo credit
: "
Satellites dishes on the roof of the National Oceanic and Atmospheric Administration."
Kimberly Adams / Marketplace.
---
Yellowstone Supervolcano Could Erupt Sooner Than We Thought. Here's What We Know.
I thought we could all use a little cheering up; here's an excerpt from
Fortune
: "
Did you know there's a supervolcano in Yellowstone National Park? Maybe you've heard that it could erupt with much less advance warning than expected? Researchers from Arizona State University spent weeks studying fossilized ash deposits from the Yellowstone volcano and recently shared their findings. The minerals in these deposits revealed that the critical changes in temperature and composition preceding an eruption build up over a matter of decades, rather than thousands of years as scientists originally thought. "It's shocking how little time is required to take a volcanic system from being quiet and sitting there to the edge of an eruption," Hannah Shamloo, a graduate student at Arizona State University who worked on the research,
told The New York Times..."
---
Could Cyber-Attacks Knock Out Lights in the US? Not So Easily. The Washington Post attempts to put our minds at ease: "...It's easier to hack into emails and a front-end computer system than tap into industrial controls. That's why, in theory, most energy companies isolate their regular workplace networks from high-security control rooms. The nuclear power industry, for good reason, is considered to be the best at such security practices. But some smaller and locally focused electricity providers fall short in creating an impenetrable wall around industrial controls, often referred to as an air gap. "There's always some sort of a bridge, whether it's a human being in their sneakers, or a wireless connection," said Michael Daly, the chief technology officer for cybersecurity and missions at defense contractor Raytheon, based in Waltham, Massachusetts. "There's no such thing as a totally air-gapped system..."
Photo credit: "In this Nov. 12, 2015, file photo, a concrete pole carrying feeder lines stands outside an electric company substation in the U.S. Hackers likely linked to the North Korean government targeted U.S. electricity grid workers in September 2017, according to a security firm that says it detected and stopped the attacks, which didn't threaten any critical infrastructure. But the attempted breaches raise concerns." (Gerald Herbert, File/Associated Press).
---
The World's First Negative Emissions Plant Has Opened in Iceland - Turning CO2 Into Stone. Quartz has a fascinating story: "There's a colorless, odorless, and largely benign gas that humanity just can't get enough of. We produce 40 trillion kg of carbon dioxide each year, and we're on track to cross a crucial emissions threshold that will cause global temperature rise to pass the dangerous 2°C limit set by the Paris climate agreement. But, in hushed tones, climate scientists are already talking about a technology that could pull us back from the brink. It's called direct-air capture, and it consists of machines that work like a tree does, sucking carbon dioxide (CO2) out from the air, but on steroids—capturing thousands of times more carbon in the same amount of time, and, hopefully, ensuring we don't suffer climate catastrophe..."
Image credit: Climeworks.
---
Wind and Solar's Future Hang on Taxes, Not Clean Power Plan. Bloomberg has the story: "...Clean-energy's fiscal advantage stems in part from two tax credits that Congress extended in 2015. Both measures are scheduled to be phased out in the 2020s, but Environmental Protection Agency administrator Scott Pruitt on Monday called for them to be eliminated. That could upend wind and solar's edge. "Without tax credits, those economics no longer work," said Amy Grace, an analyst at Bloomberg New Energy Finance. Unlike the Clean Power Plan, tax credits cannot be unilaterally scuttled by the White House. But with Republican Congressional leaders pushing to rewrite the tax code, opponents of the wind and solar tax credits, including those in the Trump Administration, are jockeying to torpedo the measures..."
---
These Conservatives Are Making a Case for Clean Energy. Here's a clip from The PBS NewsHour: "...Data from the Solar Energy Industries Association's annual report showed fortune 500 companies such as Target, Apple and Costco are the top-10 corporate solar users, and there are now more than 9,000 solar businesses in America. According to the American Wind Energy Association (AWEA), the U.S. is the leading producer of wind energy in the world. With over 99 percent of all wind farms on private land, wind energy projects are now giving more than $245 million a year to American landowners, AWEA reported last year. Mariah Bastin, a member of the Washington D.C. Young Republicans, said she has seen this job influx in action. Bastin's father grew up on a farm in Kansas and understood that money was often tight for agricultural communities. After her father retired a few years ago, the Bastin family moved to Colorado and saw sophisticated wind turbines popping up on farmland. Local farmers were actually able to make ends meet by selling wind power on their property. Because of this cooperation, wind energy in Colorado has increased from 1.5 percent to 17.3 percent since 2005 and accounted for three-quarters of all renewables used in the state in 2015 alone..."
Photo credit: "The solar industry employed 200,000 more individuals than the coal industry in 2016." Photo by the Georgia National Guard/via Flickr.
---
Why China is Winning the Clean Energy Race. Is the USA really going to play second fiddle to China in the (inevitable) clean energy revolution? A story at Axios made me do a double-take: "...U.S. politicians have been warning for years that America couldn't let China win the clean energy race. That's exactly what has happened, with the trends most stark in electric cars, solar and nuclear energy. Why it matters: Building for the last decade, these trends have accelerated in the last couple of years. Politicians and business leaders said America's dominance in this space would bring jobs to the U.S. and security to our clean energy resources, and now both of those goals are at risk. Why China is doing this:
 
It needs to literally energize its 1.4 billion people, both how they travel and how they power their homes.
Its leadership feels compelled to do it in a cleaner way than the U.S. did. Air quality is at dangerously high levels across many of China's cities. People are seeing and feeling health repercussions of China's dependence on fossil fuel-fired cars and power plants in an acute way. Traditional air pollution, not climate change, is a big driver..."
Image credit: Rhodium Group; Chart: Chris Canipe - Axios.
---
The Meaning of Life: It Could Just Be a Quirk - Or Quark - Of Consciousness. Big Think had a video that made me (wait for it) think: "In the centuries since Galileo proved heliocentrism, science has gradually come to understand more and more of our universe's natural phenomena: gravity, quantum mechanics, even ripples in space-time. But the final frontier of science isn't out there, says cosmologist and MIT professor Max Tegmark, it's the world inside our heads: consciousness. It's a highly divisive issue—some scientists think it's unimportant or a question for philosophers, while others like Tegmark think that the human experience and the meaning and purpose of life would disappear if the lights of our consciousness were to go out..."
---
Searching for Gold? Try the Sewers of Switzerland. Or not. CNN reports: "Scientists have struck gold in an unlikely place: Swiss sewage and waste water treatment plants. An estimated 95 pounds of gold is flushed through Swiss sewage systems each year, according to a study by the aquatic science institute Eawag. The lost gold is worth nearly $2 million at current prices. The researchers believe the tiny flecks of gold flow into the waste water system from the country's famed watchmaking industry and gold refineries. The study, commissioned by the Swiss Federal Office for the Environment, involved surveys of 64 waste water treatment plants across the country..."
---
The New Decluttering Trend is Called Death Cleaning and We Tried It. A bit morbid, but your kids will thank you. Here's an excerpt from Whimn.com.au: "...Let's get it out of the way right now: Swedish death cleaning is a little bit morbid. The idea is that when people die they leave stuff. Lots of stuff. Reams and reams of it, piles and piles of it. And it's friends and family that are left to dealt with this stuff surfeit, this surplus of minutae. That's where dostadning comes in. In Sweden, people start the process as early as their '50s, slowly but steadily decluttering as the years roll by. "Death cleaning is not about dusting or mopping up," Margareta Magnusson, the author of The Gentle Art of Swedish Death Cleaning (Scribe, $24.99), who is currently in the process of dostadning and says she is between the age of 80-100. "It is about a permanent form of organisation that makes your everyday life run more smoothly..."
Photo credit: Scribe.
---
Flexible Flyer Museum in New Jersey. Who knew? Atlas Obscura fills us in: "After picking up a book at the Moorestown Library in New Jersey, take a look around and you'll catch a glimpse of an unusual collection. Local resident Phil Snow donated his collection of 26 Flexible Flyer sleds and assorted memorabilia to the library, and it is now on display and open to public. The sleds are right at home in Moorsetown. The sled was invented in 1889 by Samuel Leeds Allen, a local farm and garden equipment manufacturer. Although Leeds was better known for his potato diggers and grass edgers, his desire to keep his factory workers employed during the winter gave him the idea to manufacture a winter product..."
Photo credit: "Collector Phil Snow donated his collection o f 26 Flexible Flyers to the Moorsetown, NJ Library." Joe Galbraith, Moorsetown Library.
---
Fawn Over This - Arby's Bringing Back Venison Sandwiches. Oh happy day! Here's a clip from GoMN: "Arby's is bringing back a specialty menu item that Midwesterners love deer-ly. Last year, the fast-food chain debuted a venison sandwich in six major deer hunting states, including Minnesota. Being the only venison sandwich in fast food, it was a risk – that totally paid off. The sandwiches sold out faster than a speeding bullet (okay maybe not that fast, but many locations sold out of them before noon). Meat lovers who missed out last year will have a second chance when the venison sandwich returns for a limited time on October 21 – this time at every Arby's restaurant in America, the chain announced in a news release..."
---
---
61 F. high yesterday in the Twin Cities.
60 F. average high on October 13.
54 F. high on October 13, 2016.
October 14, 1966: An enormous hailstone crashes through the windshield of a truck near Claremont in Dodge County. It was reported to be 16 inches in circumference.
---
---
TODAY: Clouds increase, rain arrives PM hours. Winds: E 8-13. High: 58
SATURDAY NIGHT: Showery rains linger. Low: 40

SUNDAY: Cooler and drier with peeks of sun. Winds: NW 10-15. High: 51

MONDAY: Bright sun, a good-looking day. Winds: SW 10-15. Wake-up: 38. High: 62

TUESDAY: Blue sky, distractingly nice. Winds: S 8-13. Wake-up: 47. High: 68

WEDNESDAY: Lukewarm sun, cooling off late. Winds: W 10-20. Wake-up: 54. High: near 70

THURSDAY: Plenty of sun, weather winning streak lingers. Winnds: S 10-20. Wake-up: 51. High: 67

FRIDAY: I smell a 3-day weekend. Wow - plenty of sun. Winds: S 10-15. Wake-up: 54. High: 72
---
Climate Stories...
AP-NORC Poll: Americans Blame Wild Weather on Global Warming. Here's an excerpt from Associated Press: "After hurricanes Harvey, Irma and Maria blitzed the nation, most Americans think weather disasters are getting more severe and see global warming's fingerprints. A new poll from the Associated Press-NORC Center for Public Affairs Research finds that 68 percent of Americans think weather disasters seem to be worsening, compared to 28 percent who think they are staying the same and only 4 percent who say they are less severe. And 46 percent of those who think it's getting worse blame man-made climate change mostly or solely for the wild weather, while another 39 percent say it's a combination of global warming and natural variability..."
---
Americans Find Human Fingerprint in Extreme Weather: From Climate Nexus: The large majority of Americans (68 percent) think weather disasters are getting more severe, according to a new poll from the Associated Press-NORC Center for Public Affairs Research. Of those, 46 percent say human-caused climate change is to blame, while another 39 percent say it's a combination of human-caused climate change and natural variability. Two-thirds of American disapprove of how President Trump is tackling climate change, and some 63 percent believe that climate change is happening now and the government needs to act. The findings were published shortly after Hurricane Ophelia became this year's tenth named storm, tying a record set in 1893. (AP, The Hill).
File images: Climate Nexus.
---
Climate Change Will Always Hurt Poor People The Most. Gizmodo explains why: "...Stefanie Sarnat at Emory University has studied the effects of both extreme heat and air pollution on Atlanta. Heat leads to more emergency room visits among the elderly, as well as those susceptible to renal disease and asthma, she explained. Higher temperatures can also lead to more emergency room visits for fluid and electrolyte imbalance. It's difficult to weed the injustice out of the dataset, the poor are more susceptible to diseases like asthma, diseases which could face consequences from the increased heat. Additionally, she noted the poor may have worse access to care, making heat-related exacerbations even worse...:
Illustration credit: Angelica Alzona/Gizmodo.
---
EPA's 4-Year Plan Says Nothing About Climate Change. VICE News reports: "Climate change, greenhouse gas emissions, and carbon dioxide are nowhere to be found in the Environmental Protection Agency's four-year strategic plan. The recently released 38-page draft of the EPA plan instead focuses on cleaning up the environment, and it proposes redistributing certain federal responsibilities to the states. The agency is accepting public feedback on the plan until the end of October, and it is scheduled to submit the proposal to Congress for approval in February. Although EPA chief Scott Pruitt does not deny climate change exists — a contrast from other members of Donald Trump's Cabinet — he questions the role humans play in this drastic environmental shift..."
---
Investing in the Age of Climate Change. Check out a story at Forbes: "...What we're seeing now is that investors are focused on how a changing climate brings two highly impactful risks: transition and physical. Transition risks are linked to the political commitment to curb greenhouse gas emissions. For example, a government may choose to introduce a tax on greenhouse gas emissions that could leave several companies with unburned fossil fuel assets but support the emergence of renewable energy technologies. These policy and technology-related changes could directly affect the value of an investor's portfolio. Physical risks are linked to extreme weather events, such as floods, droughts or hurricanes that arise as a result of global temperature rises, with proponents of this argument pointing to recent storms that hit Texas, Florida and the Caribbean islands as evidence of this. The financial losses that can be felt by these hurricanes, alongside the more obvious humanitarian and environmental devastation triggered by the events, are materially significant for global investors far more so today than ever before..."
---
---
First Frost Coming Later. WXshift takes a look at long-term trends, for the Twin Cities and the nation: "According to the EPA, the growing season is now nearly two weeks longer on average across the U.S. compared to the beginning of the 20th century. While this may delight warm-weather lovers, warmer overnight temperatures can reduce productivity and quality of grains and fruits, which might increase their costs at the supermarket. Warmer average temperatures lead to an increase in the frequency of extreme temperatures, which can shift the geographical areas where certain crops have historically grown best, potentially causing problems for farmers. Warmer temperatures could also prevent necessary plant-pollinator interactions from occurring, due to the potential shift in ecological cues, which would affect the delicate balance between species. Going longer without a frost also means that more pests survive into the winter to damage or destroy crops...."
---
EPA Rolls Back Clean Power Plan (CPP) as Country Pushes Back: From Climate Nexus: Reasoning that the Obama administration overstepped legal boundaries in formulating its signature climate regulation, the EPA formally began the process of rescinding the Clean Power Plan Tuesday. The agency took the unusual step of providing a closed-door, pre-announcement briefing to conservative allies only, leaving businesses, reporters, state regulators and environmental groups--who are usually provided briefings ahead of major federal announcements--in the dark. While some red states and industries applauded the move, major companies (including Apple, Amazon, Google and Microsoft) and city and state leaders have condemned the repeal, and more attorneys general have pledged to join legal action against the rollback. The Wall Street Journal reports that many of the country's biggest power companies plan to continue shifts to natural gas and renewables, and policymakers and experts emphasize that the EPA's move could prove to be nothing more than a morale boost for the faltering coal industry.  For more on the legal reasoning behind the CPP rollback, scroll down to the Denier Roundup. (Rollback: Washington Post $, Reuters, Politico, BBC, Bloomberg, Vox, The Hill. Replacement options: New York Times $, Politico Pro $. Pushback: The Guardian, AP (CT), AP (MA), Red state response: Washington Examiner, AP, Great Falls Tribune. Power companies: WSJ $. Coal industry and CPP: NPR. Commentary: New York Times editorial $, NPR, Gina McCarthy interview, New York Times explainer $, Mother Jones, Rebecca Leber analysis, ThinkProgress, Joe Romm column, LA Times editorial $, Miami Herald editorial, Baltimore Sun editorial, Greensboro News & Record editorial, Salisbury Post editorial, Wilmington News Journal editorial, Madison.com, Phil Hands cartoon)
---
---
Florida State Researchers Link Declining Bee Populations With Climate Change. WGCU News has the story: "A Florida State University study links declining bumble bee populations with climate change. The researchers examined three bumble bee species in the Colorado Rocky Mountains and found warmer temperatures are affecting flowers, the animals' food source. Lead investigator Jane Ogilvie considers the findings a warning for other places like Florida, where she says the issue is not as well-studied. "There could be subtle changes in how flowers are distributed in a place like Florida that could have these knock-on effects on pollinators..."
Photo credit: NPR.
---
Mysterious Hole Larger Than Maryland Has Reappeared on Antarctic After 42 Years. Business Insider explains: "A mysterious 'hole' larger than Maryland has reappeared in the middle of Antarctica after 42 years. Scientists aren't sure how it got there. But this isn't the first time it's appeared. The hole is a type of polynya. Polynyas are a region of open water surrounded by sea ice. But the Weddell polynya is unlike any other. While most polynyas form near the shore, this polynya is located hundreds of kilometers from the coast. Scientists first saw it in 1974. Back then, the opening was as large as Oregon. But in 1976, the opening closed up seemingly for good. Then, in 2016, a NASA satellite spotted a small opening. It was the first sighting of the polynya in over 40 years. Since then, the opening has grown considerably larger. Now, it's large enough to fit Maryland..."