Paul's Confusing Theory of Weather Relativity

I'm no Albert Einstein (and I'm reminded of that daily) but I have my own peculiar "Theory of Weather Relativity". Freezing temperatures, or a lousy inch or two of snow, sounds so much worse in November than it does in March. Why? Because in November we're not yet accustomed to snow and cold. By March, we're sufficiently acclimated to winter's icy grip. It's all relative!
Profound huh?
No blizzards are brewing (yet) but an Alberta Clipper, approaching from...Alberta will drop a light carpet of white later today and tonight. Models show the best chance of 1-3 inches setting up south and west of the MSP metro by tonight. The immediate Twin Cities may pick up an inch, maybe 2 inches southern suburbs. Sometimes all it takes is an inch of sloppy snow to fishtail down I-35.
Then again, old timers would probably shrug and wonder why people are getting their undies in a bunch over "flurries".
We dry out and chill down over the weekend, but Pacific air returns next week, with 40s by Wednesday. NOAA predicts 40F on Thanksgiving Day, but ECMWF is hinting at 51F.
Good timing for once! 
---
Timing the Clipper. Snow will spead into far western and southwestern Minnesota by midday, probably reaching the MSP metro late afternoon hours.
---
Future Radar. Travel conditions will deteriorate over western and central counties Friday afternoon; the heaviest burst of snow in the MSP metro during the evening and nighttime hours. Maps: Praedictix and AerisWeather.
---
WRF Solution. NOAA's high-resolution (3km) NAM model prints out a band of 2-5" for much of west central and southern Minnesota, with some 1-3" amounts possible in the immediate metro (greatest amounts south metro). Guidance: WeatherBell.
---
European Solution. ECMWF doesn't look as impressive this time around, keeping the heaviest snow band well south and west of the Twin Cities. I'm leaning more toward the NAM/WRF solution with 1-3" for the metro Friday evening and Friday night.
---
A Well-Timed Pacific Mild Front Next Week? 50F on Thanksgiving Day? It's possible, especially if we pick up a few hours of sunshine. Either way 40s seem likely from Wednesday into Saturday of next week - good news for Turkey Day travel and Black Friday shopping. Ugh. Graphic: WeatherBell.
---
---
A Busy 2018 Air Quality Alert Season: Blame It On The Wildfires. MPCA has an update on air quality conditions in 2018, made considerably worse by smoke from western (and Canadian) wildfires: "...In 2018, the MPCA issued nine air quality alerts, in large part due to wildfire smoke transported hundreds or thousands of miles from its source. For the first time ever, an air quality alert was issued for the entire state due to the expansive clouds of smoke that were enveloping the region. The MPCA anticipates that for years to come Minnesota will continue to see air quality concerns related to distant wildfires due to ongoing climate change-related drought and heat, and to previous fire management practices that have led to accumulation of excess fuels..."
---
WILDFIRES: Troops search for 130 missing in California wildfire, death toll climbs to 56 (Reuters), experts look ways to curb deaths as fires get more severe (AP), outbreak of norovirus at wildfire shelter (AP), autumn is getting drier in California, fueling deadly wildfires (InsideClimate News), California's largest utility pummeled by wildfire risks (Wall Street Journal $), a search in fire-ravaged California for what no one wants to find (New York Times $), California's deadliest wildfire is also a massive air quality problem (Washington Post $), 'it was a gem': idyllic mobile home community scorched by wildfire (The Guardian), utility customers may be on the hook for billions in wildfire damage (New York Times $), California's wildfire epidemic is blamed on bad building decisions (Bloomberg), Brown, Zinke mend fences at site of deadly California fires (Politico Pro $), Zinke: California wildfire destruction 'worse than any war zone I saw in Iraq' (The Hill), Trump offers support to California governor amid feud over wildfires (The Hill)
---
The Simple Reason That Humans Can't Control Wildfires. Stating the obvious, fire is unlike any other natural disasters. Here's a clip from The Atlantic: "...It was not like a bonfire or even a house fire. It was a wall of flame, probably 100 feet high. The vision made him realize it is impossible to fight wildfires. It also changed his life. Williams had never seriously studied wildfires before he saw the Las Conchas Fire in New Mexico. He is now a professor at Columbia, and one of the world's leading experts on how climate change has intensified the problem of wildfire. "The fire, to me—it's like an ocean," he said. "It's so strong that we don't really stand a chance of doing much to it. When it's that big, and there are helicopters dropping water and retardant on it, they're doing nothing. When you see firefighters spraying hoses at it, [the fire] is so hot that they can't even be close enough to be within hose-shot..."
Photo credit: "Firefighters battle the Camp Fire near Paradise, California." Stephen Lam / Reuters.
---
Praedictix Briefing: Issued Thursday, November 15th, 2018:
A winter storm is bringing heavy snow and ice this morning from the Mississippi Valley to the Mid-Atlantic. Already over 6" of snow has been reported in parts of Missouri, and over a quarter inch of ice has been reported across portions of the Ohio Valley. This is causing slick roads and power outages.
This system will continue to spread snow and ice into the Northeast over the next couple days, with numerous winter alerts (including watches, warnings, and advisories) in place from Tennessee into Maine.
The heaviest additional snow is expected in parts of the interior Northeast, with over 6" possible. The heaviest additional ice totals will be possible across the Appalachians, with up to a quarter inch.
We continue to watch destructive wildfires burning in California. The Camp Fire has burned 138,000 acres and is 35% contained. The Woolsey Fire has burned 98,362 acres and is 52% contained. The Hill Fire has burned 4,531 acres and is 96% contained. Strong winds will still be possible through the morning hours across southern California today, leading to an elevated fire danger.
---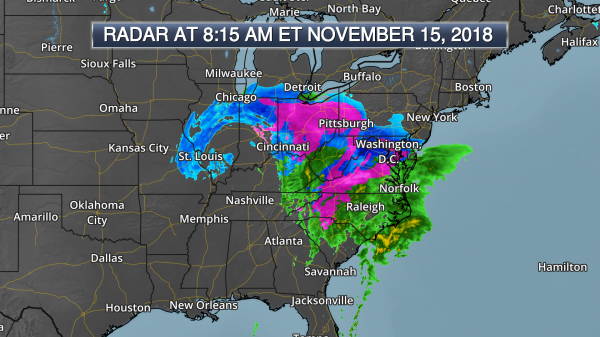 Snow And Ice Falling This Morning. An expansive area of snow and ice is falling this morning from Missouri into the Mid-Atlantic, with numerous reports of slick roads. Snow totals over 6" have been reported in Missouri and Illinois, with over a quarter inch of ice reported in parts of the Ohio Valley. This system is causing numerous flight delays and cancellations across the impacted regions.
Top snow totals so far:
8.5" – Foristell, MO
7" – Beaufort, MO
6.6" – Drake, MO
Top freezing rain totals so far:
0.4" – Wilmington, OH
0.35" – Pitchin, OH
0.3" – Clayton, OH and Batesville, IN
0.25" – Crofton, KY
0.25-0.5" – Grandmother Mountain, NC
---
Power Outages. The icy side of this system has been causing power outages, especially across the Ohio Valley so far. As of about 8 AM ET this morning, over 100,000 were without power in both Kentucky and Ohio. (Image and numbers: https://poweroutage.us/)
---
Tracking Wintry Weather. We're tracking two low-pressure areas causing the snow and ice expected over the next several days in the eastern United States. First, an upper-level low responsible for the snow and ice across the Mississippi and Ohio Valleys will continue to move to the northeast through the Ohio Valley today. This will bring snow and ice across that region. Meanwhile, a surface low is strengthening and moving up the Eastern Seaboard through the end of the week, spreading snow, ice, and even heavy rain from the Mid-Atlantic into the Northeast.
---
Winter Alerts In Place. Due to the wintry weather expected from the Mississippi Valley to the Mid-Atlantic and Northeast, numerous winter weather alerts are in place, including Ice Storm Warnings, Winter Storm Watches and Warnings, and Winter Weather Advisories. Ice Storm Warnings are in effect for the potential of at least a quarter to a third of an inch of ice in parts of the Ohio Valley. Meanwhile, Winter Storm Warnings are in effect across the Mid-Atlantic for the potential of ice and snow, with Winter Storm Warnings across the Northeast in effect for mainly heavy snow totals. Some of the larger cities under winter alerts this morning include:
St. Louis, MO: Winter Storm Warning until

6 PM

tonight

for an additional 1-4" of snow.
Indianapolis, IN: Ice Storm Warning until

Noon

, with a Winter Weather Advisory from

Noon to 7 PM

today for an additional 1" of snow and up to 0.25" of ice.
Cincinnati, OH: Ice Storm Warning until

Noon

for up to 0.3" of ice.
Columbus, OH: Winter Weather Advisory until

Noon

today for total snow accumulations of up to 1" of snow and up to 0.2" of ice.
Cleveland, OH: Winter Weather Advisory until

7 PM

for up to two inches of snow and a light glaze of ice.
Roanoke, VA: Winter Storm Warning until

1 PM

for up to an additional 1" of snow and sleet and up to an additional 0.2" of ice.
Washington, D.C.:  Winter Weather Advisory until

1 PM

for up to 1" of sleet and snow and up to 0.1" of ice.
Baltimore, MD: Winter Weather Advisory until

4 PM

for up to 2" of sleet and snow and up to 0.2" of ice.
Pittsburgh, PA: Winter Weather Advisory until

7 PM

for snow of 1-2" and up to 0.1" of ice.
State College, PA: Winter Storm Warning until

6 AM

Friday

for 5-8" of snow and up to 0.1" of ice.
Philadelphia, PA: Winter Weather Advisory until

3 PM

for up to 1" of sleet and snow and a light glaze of ice.
Boston, MA: Winter Weather Advisory from

7 PM

tonight

to

7 AM

Friday

for up to 4" of snow. Winds will gusts as high as 40 mph.
Portland, ME: Winter Weather Advisory from

1 AM to 1 PM

Friday

for 2-4" of wet snow and a light glaze of ice.
Augusta, ME: Winter Storm Warning from

1 AM to 4 PM

Friday

for 4-7" of snow (with localized 10" amounts) and a light glaze of ice.
---
Snow Forecast. The heaviest snow totals will fall in and around the St. Louis metro and across parts of the interior Northeast into most of Maine. In these areas, snow totals of 6"+ will be possible through Friday evening. In the Northeast, this includes areas like State College (PA), Binghamton (NY), Augusta and Caribou (ME). Most of the major cities along I-95 (including D.C., Baltimore, Philadelphia, New York City, and Boston) will see up to an inch of snow.
---
Ice Forecast. Ice accumulation will continue to be an issue as well with this winter storm. The heaviest additional ice totals will be possible across the Appalachians, from northern Virginia into eastern West Virginia and western Maryland. In these areas, up to an additional quarter inch of ice is possible. These ice totals would be capable of damage to trees and power outages.
---
California Wildfire Update. Multiple wildfires continue to burn in California with three major wildfires that are most concerning: the Camp Fire, the Woolsey Fire, and the Hill Fire.
The Camp Fire has burned 138,000 acres and is 35% contained. The fire remained active

Wednesday

, with firefighters working to attack it both directly and indirectly. Numerous evacuation orders and road closures remain in effect.
The Woolsey Fire has burned 98,362 acres and is 52% contained. An estimated 504 structures have been destroyed, with 370 of those confirmed through a damage assessment which is 25% complete.
The Hill Fire has burned 4,531 acres and is 96% contained. Firefighters expect full containment of the fire

tomorrow

.
More information is available from:
---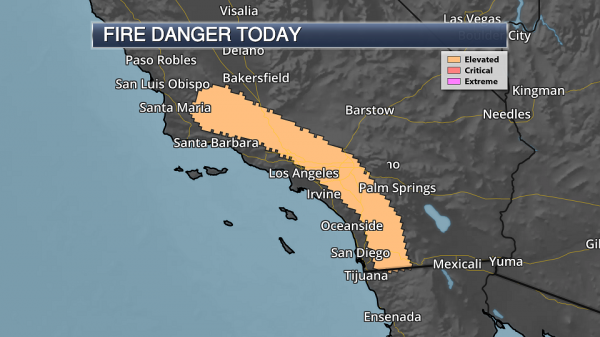 Elevated Fire Danger Thursday. While the pressure gradient (which helped to cause the strong winds across the region the past few days) has weakened, there is still enough of one in place to cause some stronger 15-20 mph winds during the morning hours today. Slightly higher winds will possible along higher terrain areas as well. Due to this, an elevated fire danger is in place today across parts of southern California.
D.J. Kayser, Meteorologist, Praedictix.
---
What Trump Gets Wrong About Wildfires, By a Fire Scientist. Here's a snippet from a story at The Guardian: "...The severity of these fires is moderated by rain and snowfall. California's Mediterranean climate means that the state receives heavy precipitation for only a few short months in the winter, and this is all that the vegetation has to tide it over until the winter storms begin the next year. As the temperature increases in spring and summer and plants use up the water stored in the soil, the amount of water held in plants decreases, making them more flammable. Similar to fire wood, the drier it is, the easier it burns. Climate change is causing warmer temperatures, which dry out vegetation more. It is also causing winter precipitation to fall over a shorter period and the length of the fire season is increasing. Vegetation in California is increasingly primed for fire..."
---
The Media Barely Covered One of the Worst Storms to Hit U.S. Soil. The Atlantic explains: "...Despite the tens of thousands of American citizens affected, mainstream-U.S. media coverage of Yutu has been woefully limited. This reality is at once disappointing and expected for those living in the CNMI and on the nearby island of Guam. Together, the two U.S. territories make up the Mariana Islands—an archipelago about a three-hour flight from Japan and at least 13 hours from California. Home to the indigenous Chamorro people as well as many other Asian and Pacific Islander ethnic groups, the Marianas can seem like an abstraction to those in the continental U.S. Many Americans know these islands either as distant sites hosting major U.S. military bases (as highlighted by North Korea's nuclear threat to Guam last year), or as postcard-perfect tropical paradises..."
Image credit: "A satellite image provided by the National Oceanic and Atmospheric Administration shows the moment the eye of Super Typhoon Yutu passed over Tinian, one of the three main islands in the U.S. Commonwealth of the Northern Mariana Islands." (NOAA / AP).
---
Hurricane Michael Summary. This is only preliminary information, but NOAA's office in Tallahassee, Florida will be updating: "Hurricane Michael made landfall as an unprecedented high-end Category 4 Hurricane for the Florida Panhandle region with maximum sustained wind speeds of 155 mph and a minimum pressure 919 mb. The storm caused catastrophic damage from wind and storm surge, particularly in the Panama City Beach to Mexico Beach to Cape San Blas areas. The widespread damage spread well inland as Hurricane Michael remained at hurricane strength into southwest Georgia. Each tab across the top of this page provides additional details relating to the storm, including a detailed description of the storm's history and impacts to the tri-state area. With such a large impact, some assessments are still ongoing and thus information on this page is preliminary and will be updated as needed."
---
Cloud Seeding: It Just Might Work. Quartz has some fascinating statistics on cloud seeding, trying to nudge Mother Nature to make rain or snow. Here's an excerpt: "It sounds like the stuff of cartoon supervillains, but weather modification techniques like cloud seeding could be a powerful tool as the planet warms and droughts worsen. Seeding clouds aims to squeeze more precipitation out of them, boosting rainfall in dry areas and adding to the snowpack that feeds streams and rivers winding down from mountains. It's a product of WWII-era scientific utopianism resurrected to head off climate-change-era dystopias, and it could be a last-ditch effort to halt global warming itself. Water managers from Australia to Israel to the American West are investing millions of dollars into the technique, with China—which has a considerable need for it—leading the way..."
Image credit: Snowbrains.com and sanjindumisic.com
---
The Hail Mary Plan to Restart a Hacked U.S. Electric Grid. It's probably just a matter of time before this happens, according to experts interviewed in a WIRED.com story: "...Over the past few years, the threat of grid hacking has morphed from a distant possibility to a stark reality. The most chilling incidents to date are two cyberattack-induced blackouts in Ukraine—one in December 2015 and the next a year later in December 2016—that caused power outages for hundreds of thousands of residents in Kiev for a few hours each time. Both attacks are thought to have been perpetrated by Russian state-sponsored hackers. And though a similar incident hasn't played out in the US so far, there is increasing evidence that various hacker groups have infiltrated US grid defenses. The Department of Homeland Security warned repeatedly this year that it has detected extensive Russian probing of the US grid. But awareness can only get you so far. For actual resilience, the industry needs what cybersecurity practitioners call an "assume breach" mentality: thinking not just about how to keep attackers out, but knowing how to respond if and when they do break in..."
Photo credit: "A Plum Island grid utility pole. The power lines for the RADICS test grid were physically separate from the Plum Island lines." DARPA.
---
Growing the Future. High-tech farmers are using LED lights in ways that almost resemble science fiction, according to a story at The Washington Post: "...We think climate change is making it much more difficult for a lot of farms around the country, around the world," he says, speaking from his office overlooking a demonstration kitchen for visiting chefs and others. In addition to shaping the plants, LEDs allow speedy, year-round crop cycles. This permits Zelkind and his team of growers and technicians to produce 200,000 pounds of leafy greens, vine crops, herbs and microgreens annually in a 12,000-square-foot warehouse, an amount that would require 80 acres of farmland (hence the company's name)..."
Photo credit: "Mike Zelkind, chief executive of 80 Acres Farms, grows tomatoes and other produce with artificial-light recipes made possible with new LED technology." (Maddie McGarvey for The Washington Post).
---
Delay, Deny and Deflect: How Facebook's Leaders Fought Through the Crisis. Which reminds me, if a product or service is "free" YOU are the product. Here's an excerpt from a fairly damning New York Times story: "...But as evidence accumulated that Facebook's power could also be exploited to disrupt elections, broadcast viral propaganda and inspire deadly campaigns of hate around the globe, Mr. Zuckerberg and Ms. Sandberg stumbled. Bent on growth, the pair ignored warning signs and then sought to conceal them from public view. At critical moments over the last three years, they were distracted by personal projects, and passed off security and policy decisions to subordinates, according to current and former executives. When Facebook users learned last spring that the company had compromised their privacy in its rush to expand, allowing access to the personal information of tens of millions of people to a political data firm linked to President Trump, Facebook sought to deflect blame and mask the extent of the problem..."
Photo credit: "Facebook has gone on the attack as one scandal after another — Russian meddling, data sharing, hate speech — has led to a congressional and consumer backlash." Credit:Tom Brenner for The New York Times.
---
1 Million Americans Live in RVs. Meet the "Modern Nomads". Some days this sounds pretty good. The Washington Post has the story: "...A million Americans live full-time in RVs, according to the RV Industry Association. Some have to do it because they can't afford other options, but many do it by choice. Last year was a record for RV sales, according to the data firm Statistical Surveys. More than 10.5 million households own at least one RV, a jump from 2005 when 7.5 million households had RVs, according to RVIA. Interest in "RVing" — either full time or on weekends — appears to be picking up, especially among young couples. Half of new sales are going to Americans under 45, and purchases by people of color are rising, RVIA found in its 2016 surveys, a change from the 20th century, when white retirees dominated campsites..."
File credit: thewoodoffice.com.
---
A Visual History of the Future. Utopian over-reach or a realistic vision of what's to come. To quote Yogi Berra: "Predictions are hard, especially about the future". Here's a link to a compelling series at How We Get To Next: "Skies full of personal flying vehicles, robotic servants, and mail carriers with jetpacks.  Decades ago, artists' imaginings formed high expectations about the world to come. Were these just fantasies — or was it the work of pioneers whose visions of the future actually helped to shape it? "A Visual History of the Future" will explore how imagery in advertising, magazines, and other media has been used to inspire, sell, and build our ideas of the future. We'll look at everything from the home to infrastructure to the cities we live in — at ideas that ranged from the insightful to the absurd. And we'll be looking at the times in which these images were created: what was happening in the world that formed "the future" of that time?..."
---
The Best Snow Shovels of 2018. And what a lovely Christmas gift this would make. Here's a clip from a thorough review at Review.com: "...And after many hours of scooping and maneuvering, some of our findings surprised us: Features, such as additional handles, turned out to be more troublesome than we anticipated.But it was easy to pick the most well-made shovels—like one of our favorites, Forest Hill Homeowner Aluminum Scoop Shovel (available at Amazon)—from the more indifferent products on the market. Here's how the best snow shovels we tested ranked, in order:
True Temper Aluminum Blade 20-inch Shovel
Forest Hill Homeowner Aluminum Scoop Shovel
Tabor Tools 18-inch Blade Snow Pusher
Snow Joe Shovelution
True Temper 18-inch Mountain Mover
Bully Tools 22-inch Combination Snow Shovel
Suncast 20-inch Steel Core Combo
Emsco Bigfoot Shock Shield 25-inch Snow Pusher..."
Photo credit: Reviewed / Dan Roth.
---
MAGA "Build the Wall" Toy Out In Time for Holidays. And what kid wouldn't love to see this under the tree Christmas morning? Yes, it's real. And no, Jim Acosta didn't put me up to this. CNN has details: "...The toy is sold by Keep and Bear, a conservative apparel and gifts website that also sells Christmas cards featuring President Donald Trump in a Santa cap. The set includes 100 building-block pieces and a Trump figurine wearing a Make America Great Again hard hat. The pieces snap together, allowing kids -- or their parents -- to build a section of a miniature border wall..."
---
44 F. high yesterday at MSP.
41 F. average high on November 15.
46 F. maximum temperature on November 15, 2017.
November 16, 1933: Record lows are set in a few locations including Farmington with a low of 11 degrees below zero, Little Falls at 10 degrees below zero, Chaska at 9 below and Milaca at 8 degrees below.
November 16, 1931: A tornado touches down near Maple Plain in Hennepin County. The tornado damage path was five miles long.
---
---
FRIDAY: Clouds increase, metro flurries by late afternoon. Winds: NW 8-13. High: 33
FRIDAY NIGHT: 1-3" snow possible. More south/west of MSP. Icy roads. Low: 18

SATURDAY: Colder, but sunshine on the increase. Winds: NW 8-13. High: 28

SUNDAY: Partly sunny with a stiff breeze. Winds: W 10-20. Wake-up: 14. High: 33

MONDAY: Next clipper, few flurries. Winds: SE 7-12. Wake-up: 19. High: 29

TUESDAY: More sun, a bit nicer. Winds: S 5-10. Wake-up: 20. High: 34

WEDNESDAY: Some sun, touch of Indian Summer? Winds: S 10-20. Wake-up: 24. High: 46

THANKSGIVING DAY: South breeze. Drama-free Thanksgiving. Winds: S 10-15. Wake-up: 35. High: 49
---
Climate Stories...
Farms and Forests Could Be Key to Curbing Greenhouse Gas Emissions. A Thursday story at Star Tribune caught my eye; here's the intro: "Managing the nation's landscapes with carbon in mind — from prairies to farms to urban and northern forests — could cut greenhouse gas emissions as much as 21 percent annually, or about equal to the discharge of all cars and trucks on the road today. And Minnesota is among the states that could do the most: It ranks 8th overall, with the potential to reduce its net carbon emissions by up to a third, according to a study published Wednesday in the journal Science Advances. The strategy won't solve climate change on its own, said the lead author, Joe Fargione, an ecologist with The Nature Conservancy in Minneapolis. But the study, which measured 21 specific practices, illustrates that such "natural climate solutions" have enormous potential..."
Photo credit: Jeff Wheeler – Star Tribune. "Gallery: Martin Larsen in a field with a cover crop of rye grass that remains after he harvested the corn from the land he farms near Byron."
---
How Hurricanes Are Getting Stronger: Headlines and links from Climate Nexus: "Two studies published Wednesday in the journal Nature shed new light on how human influence made the impacts of recent devastating hurricanes worse. One study used historical modeling to find that climate change increased rainfall from Hurricane Katrina by 8.7 percent, Hurricane Maria by 8.9 percent, and Hurricane Irma by 6.3 percent. The study also predicts that warming will increase the strength and intensity of future storms. A second study finds that Houston's buildings caused Hurricane Harvey to dump more rain on the city as the storm snagged on skyscrapers, while the city's paved areas reduced drainage and upped flood levels." (AP, NPR, Wired, PBS, The Guardian, Bloomberg)
October 10, 2018 file image of Hurricane Michael: NOAA and AerisWeather.
---
What Electrical Vehicle Sales Say About Transition Off Fossil Fuels. Here's a clip from a story at TheHill: "...So, what can be done? Likely the greatest challenge is to increase consumer awareness. Research shows the vast majority of Americans have only the vaguest awareness of EVs. Public knowledge has stayed stagnant in the past few years — even in California, where public chargers are being rolled out, incentives are generous, and political leaders continue to tout the cars. Public awareness campaigns are underway, such as those by Veloz and 'Drive Change. Drive Electric', but they are only just getting started on mobilizing consumer interest. The second challenge is getting a more diverse set of EV models into the showroom. Automakers need to electrify SUVs, minivans, and pickup trucks, which Americans are increasingly flocking to..."
---
Getting Crabby With Fossil Fuels: More headlines from Climate Nexus: "A coalition of commercial Pacific crab fishermen filed suit against 30 oil companies Wednesday, seeking damages for losses to the industry caused by warming waters. The lawsuit, which charges giants including ExxonMobil, Chevron, and BP, describes algal blooms in warming waters causing delayed seasons and closed fisheries, and charges that the companies concealed the impacts of climate change from the public. "We just about can't make a living fishing crabs any more," fourth-generation crab fisherman John Beardon told the Guardian. "I'd like to see the industry that caused this take responsibility for that." (The Guardian, InsideClimate News, San Francisco Chronicle)
---
Crime Likely to Increase in Winter as Temperatures Warm, CU Boulder Research Finds. The Denver Post highlights a new study that points out a possible trend: "Researchers at the University of Colorado Boulder have established scientific backing for long-held accepted wisdom that rising temperatures can lead to trouble in the streets. Scrutiny of monthly violent and property crime data from the FBI reported by 16,000 law enforcement agencies across the U.S. cemented the case for a seemingly simple concept: When the weather is more mild, people have more chance to get out and interact — and to cause trouble. That dynamic has been dubbed the Routine Activities Theory. A second, partner theory is the Temperature-Aggression Hypothesis, which holds that people act more aggressively in extreme heat..."
---
Scientists Acknowledge Key Errors in Study of How Fast the Oceans Are Warming. This is how science works. The Washington Post has an update: "Scientists behind a major study that claimed the Earth's oceans are warming faster than previously thought now say their work contained inadvertent errors that made their conclusions seem more certain than they actually are. Two weeks after the high-profile study was published in the journal Nature, its authors have submitted corrections to the publication. The Scripps Institution of Oceanography, home to several of the researchers involved, also noted the problems in the scientists' work and corrected a news release on its website, which previously had asserted that the study detailed how the Earth's oceans "have absorbed 60 percent more heat than previously thought." "Unfortunately, we made mistakes here," said Ralph Keeling, a climate scientist at Scripps, who was a co-author of the study. "I think the main lesson is that you work as fast as you can to fix mistakes when you find them..."
Photo credit: "The sun sets over sea ice floating on the Victoria Strait along the Northwest Passage in the Canadian Arctic Archipelago during the summer of 2017." (AP Photo/David Goldman).