First Major Hurricane in 12 Years Aimed at Texas

The weekend will be relatively cool and showery - but I'll be counting my blessings, atmospheric and otherwise. Hurricane Harvey is now forecast to strike coastal Texas between Corpus Christi and Victoria as a major, Category 3 storm, with sustained winds over 111 mph and a 10 foot storm surge early Saturday.
This will probably be the first Category 3+ storm to strike the USA since Wilma, in October of 2005. Ironically, most of the (inevitable) damage, injuries and deaths from Harvey will come from inland flooding. The storm is forecast to stall over southeast Texas for the better part of 3 days, dumping out 20-30 inch rains. The result may be catastrophic flooding from Austin to Houston & New Orleans.
By comparison our weekend storm looks positively puny, but 1-2 inches of rain may fall from later today into Saturday night. Have a Plan B for tomorrow. We may salvage part of Sunday, but once again temperatures may not climb out of the 60s.
Warmer, sunnier weather returns next week at the State Fair. We haven't seen the last of the hot fronts. More, sweaty 80s are inevitable!
---
Central Pressure of 26.93" at Landfall? Not buying it (yet) but NOAA's 3 KM WRF model shows a landfall pressure of 912 millibars, which translates into 26.93", which suggests a Category 4-5 intensity storm coming ashore near Corpus Christi Friday night. We'll see. Animation: NOAA and Tropicaltidbits.com.
---
Boomtown, Flood Town. There is no single smoking gun to explain why Houston floods so much. Over-development, proximity to sea level - the nation's 4th largest city is a sitting duck when it comes to flooding. And Harvey may prove to be the biggest test yet. Here's an excellent explainer from late in 2016, courtesy of ProPublica and The Texas Tribune: "...The area's history is punctuated by such major back-to-back storms, but many residents say they are becoming more frequent and severe, and scientists agree."More people die here than anywhere else from floods," said Sam Brody, a Texas A&M University at Galveston researcher who specializes in natural hazards mitigation. "More property per capita is lost here. And the problem's getting worse." Why? Scientists, other experts and federal officials say Houston's explosive growth is largely to blame. As millions have flocked to the metropolitan area in recent decades, local officials have largely snubbed stricter building regulations, allowing developers to pave over crucial acres of prairie land that once absorbed huge amounts of rainwater. That has led to an excess of floodwater during storms that chokes the city's vast bayou network, drainage systems and two huge federally owned reservoirs, endangering many nearby homes — including Virginia Hammond's..."
Photo credit: "An aerial shot of downtown Houston during the "Tax Day Flood" in April." (Jordan Anderson/DoubleHorn Photography).
---
---
Hurricane Hazards. Hurricanes whip up a witch's brew of life-threatening weather. Here's a reminder from NOAA: "While hurricanes pose the greatest threat to life and property, tropical storms and depression also can be devastating. The primary hazards from tropical cyclones (which include tropical depressions, tropical storms, and hurricanes) are storm surge flooding, inland flooding from heavy rains, destructive winds, tornadoes, and high surf and rip currents.
Storm surge is the abnormal rise of water generated by a storm's winds. This hazard is historically the leading cause of hurricane related deaths in the United States. Storm surge and large battering waves can result in large loss of life and cause massive destruction along the coast.
Storm surge can travel several miles inland, especially along bays, rivers, and estuaries.
Flooding from heavy rains is the second leading cause of fatalities from landfalling tropical cyclones. Widespread torrential rains associated with these storms often cause flooding hundreds of miles inland. This flooding can persist for several days after a storm has dissipated.
Winds from a hurricane can destroy buildings and manufactured homes. Signs, roofing material, and other items left outside can become flying missiles during hurricanes.
Tornadoes can accompany landfalling tropical cyclones. These tornadoes typically occur in rain bands well away from the center of the storm.
Dangerous waves produced by a tropical cyclone's strong winds can pose a significant hazard to coastal residents and mariners. These waves can cause deadly rip currents, significant beach erosion, and damage to structures along the coastline, even when the storm is more than a 1,000 miles offshore..."
---
---
---
A Texas-Size Storm Threatens the Gulf Coast, and We're Not So Ready. Eric Holthaus at Grist explains: "...On Twitter, some meteorologists were agog over Harvey's rainfall potential, using words like "unsettling" and "borderline unfathomable." The region just experienced one of the wettest starts to August on record, and the already saturated soil increases the flood risk. All of these signals point to a setup that favors a major disaster. Inland flooding is the leading cause of death in tropical storms and hurricanes. Floods like the one in the worst Harvey forecasts have come at an increasingly frequent pace. Since the 1950s, the Houston area has seen a 167 percent increase in heavy downpours. At least four rainstorms so severe they would occur only once in 100 years under normal conditions have hit the area since May 2015. With a warmer climate comes faster evaporation and a greater capacity for thunderstorms to produce epic deluges...."
Thursday midday visible image: NOAA and AerisWeather.
---
Conditions Ripe for Further Strengthening. Bob Henson has more details at Category 6, courtesy of Weather Underground: "...The current favorable conditions for development will remain in place along Harvey's path through Friday night, according to the 18Z Thursday run of the SHIPS model. Southerly wind shear will remain light to moderate, with its effect minimized by Harvey's northward motion, and the atmosphere will be moist. Harvey will continue to traverse sea-surface temperatures near 30°C (86°F), about 2°F above average for this time of year. The warm waters extend to considerable depth, with a total ocean heat content of 70 - 85 kilojoules per square centimeter. Beginning early on Friday, Harvey will get an extra boost in energy as it passes over a warm-core eddy that broke off from the Loop Current. The oceanic heat content within the eddy exceeds 80 kilojoules per square centimeter--enough to support rapid intensification. When warm waters are especially deep, the strong winds of a hurricane are less likely to churn up cooler water that might blunt its growth, so intensification becomes more likely..."
---
---
---
A "Loop" in Harvey's Track? Many of the models show a looping pattern to Hurricane Harvey's path, prolonging the storm's circulation over Texas, meaning a much longer-duration extreme rainfall event.
---
Key Messages from NOAA NHC:
 Key Messages: 1. Harvey is expected to be a major hurricane at landfall, bringing life-threatening storm surge, rainfall, and wind hazards to portions of the Texas coast. Preparations to protect life and property should be completed by tonight, as tropical-storm-force winds will first arrive in the hurricane and storm surge warning areas on Friday. 2. A Storm Surge Warning is in effect for much of the Texas coast. Life-threatening storm surge flooding could reach heights of 6 to 12 feet above ground level at the coast between the north entrance of the Padre Island National Seashore and Sargent. For a depiction of areas at risk, see the Storm Surge Watch/Warning Graphic at hurricanes.gov. 3. Devastating and life-threatening flooding is expected across the middle and upper Texas coast from heavy rainfall of 15 to 25 inches, with isolated amounts as high as 35 inches, from Friday through next Wednesday. Please refer to products from your local National Weather Service office and the NOAA Weather Prediction Center for more information on the flooding hazard. 4. The Potential Storm Surge Flooding Map is available on the NHC website. This product depicts a reasonable worst-case scenario - the amount of inundation that has a 10 percent chance of being exceeded at each individual location. This map best represents the flooding potential in those locations within the watch and warning areas.
---
---
Get the latest emergency information for:
---
---
Predicted Intensity. Models are showing the quick strengthening of Harvey, and some are now starting to indicate the potential of a Category Three system at landfall along the coast. This would be capable of numerous power outages across the region.
---
---
Potential Power Outages. This experimental model from the University of Michigan shows the potential power outages across parts of southern Texas with the expected path of Harvey. The percentage indicates the fraction of population expected to lose power. The model takes into account wind speed estimates and soil moisture, but not rainfall or flooding.
---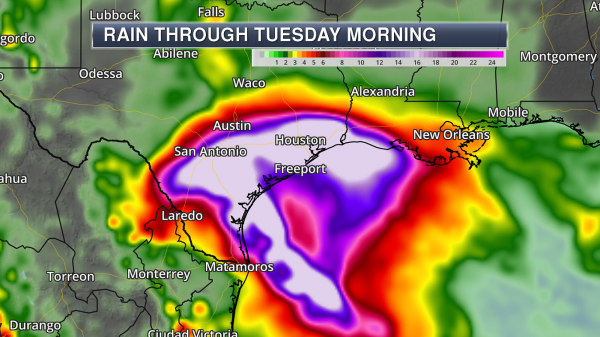 Extreme Heavy Rain Potential. With Harvey expected to slow down (even stall out) over the weekend and into next week, we will be watching the potential for very heavy rain across parts of Texas, Louisiana and the lower Mississippi Valley. Rainfall amounts of 10-15" are likely, with potentially totals topping 25" in spots. This rain will be easily capable of dangerous flooding across the region, with even the potential to lead to catastrophic flooding where the heaviest rain does fall. This rainfall forecast goes through Tuesday morning, but rain could easily last into Wednesday across parts of Texas.
---
Corpus Christi Forecast. Winds in the Corpus Christi area will rapidly increase heading into Friday Night and Saturday, with wind gusts approaching 90 mph Friday Night. This will cause numerous power outages across the region.
---
Storm Surge Potential. Life-threatening storm surge – where rising water moves inland – is possible as this system moves toward the coast. Right now National Hurricane Center forecasts show the potential of storm surge up to 10 feet along the coast, which would cause normally dry areas to flood. Storm surge accounts for about half of all hurricane deaths from 1963-2012.
---
More Realistic Solution? The 12 KM NAM model has a more believable solution, with Harvey coming ashore as a Category 2 or 3 storm. Elsewhere heavy showers and T-storms flare up across the Midwest later today and Saturday - a disturbance off the Carolina coast brushes the Outer Banks with high surf and heavy showers. The western third of the USA stays dry.
---
---
Hell and High Water. It's worth another look at a special story from ProPublica and The Texas Tribune, talking about Houston's vulnerability to hurricane rainfall and storm surge: "Houston is the fourth-largest city in the country. It's home to the nation's largest refining and petrochemical complex, where billions of gallons of oil and dangerous chemicals are stored. And it's a sitting duck for the next big hurricane. Learn why Texas isn't ready..."
---
5 Most Vulnerable U.S. Cities to Hurricanes. Here's an excerpt from a timely and relevant 2012 article at Climate Central: "The sprawling Houston metropolitan area, with a population of 6.1 million and vital oil and gas infrastructure located on low-lying land, is vulnerable to hurricanes that traverse the Gulf of Mexico. Hurricane Ike heavily impacted Houston and the nearby city of Galveston in 2008, causing $27.8 billion in damage, and killing 20. The communities of Crystal Beach, Gilchrest, and High Island experienced "near total destruction of property," according to the Weather Service. Typically, hurricanes will strike the Texas coast once every nine to 16 years, while tropical storms are more common than that. While Ike was a powerful Category 2 storm at landfall, it was a large storm, and it drove a storm surge onshore that was more typical of a Category 4 storm. Parts of Jefferson County, Texas, and Cameron Parish, La., experienced a storm surge of up to 17 feet. The highest storm surge as measured by a National Ocean Service tide gauge was 12.79 feet at Sabine Pass North, Texas, as Ike was coming ashore at Galveston..."
Photo credit: "One of the few homes left standing after Ike's storm surge swept across the Texas community of Gilchrest. Click on image for a larger version." Credit: FEMA.
---
The "Opal Effect". What keeps meteorologists up at night? Predicting flurries and waking up to 2 feet of snow. Missing a tornado. That, and "hurricane amnesia" - people forgetting what a hurricane can do - or thinking technology will save them. Or believing that "if it's really bad I can get out at the last minute!" In 1995 Hurricane Opal strengthened from a Category 1 to a Category 4 storm overnight in the Gulf of Mexico. All the people on Florida's barrier islands who thought they could easily ride out a Category 1 storm woke up to a true weather monster. Suddenly you had hundreds of thousands of people, all trying to evacuate to the mainland at once. The result was massive traffic jams on causeways and interstates, with some people getting out of stalled cars and RUNNING to higher ground! It was a chaotic mess - and a major catastrophe was only narrowly averted as Opal weakened suddenly as it approached the Florida Panhandle. The models generally do a good job with tropical tracks, but intensities are much harder to predict.
---
Minor Market Reforms Are Called Enough to Support Electric Grid. It turns out that renewables aren't a threat to the overall health and stability of the grid. The Wall Street Journal explains: "A widely anticipated federal report suggests minor market reforms can help ensure a reliable electric power grid and shies away from handouts to struggling coal and nuclear-power producers. The Energy Department study of the electric grid says cheap natural gas is the primary culprit behind dozens of coal and nuclear plant closings in recent years. Renewables and expanding regulations are only secondary factors, says the study, which suggests more research investment can help the grid better adapt to increasing wind and solar power. When Energy Secretary Rick Perry commissioned the study in April, some in the coal and nuclear industries anticipated that it would encourage the federal government to help them. And critics alleged rhetoric from Mr. Perry suggested he was prescribing conclusions for a rollback of regulations or government incentives for renewable power..."
---
Drone Delivery Has Arrived! Engadget has the details: "At last, a fully operational urban delivery drone system is here... only you probably won't get to use it. Drone logistics startup Flytrex has teamed up with Iceland's main online retailer, AHA, to launch a courier drone service in Reykjavik. Specifically, it's serving one part of Reykjavik -- robotic fliers carry food across a river in the city, cutting the delivery time from 25 minutes to 4..."
Photo credit: FlyTrex.
---
Cargill Provides Vote of Confidence for Lab-Grown Meat. Interesting development; details via Grubstreet: "Meatpacking giant Cargill today joins a large group of A-list investors who are taking a stake in Memphis Meats, a start-up that grows beef and poultry from animal cells. Memphis announced Bill Gates, Richard Branson, and two billion-dollar VC firms also invested, but the odd financier out was clearly Cargill — America's second-largest beef processor and the world's largest supplier of ground beef. It's the first investment by a traditional meat company in a lab-meat venture, although nowadays these people prefer the term "clean meat" to avoid having their products associated with microscopes and petri dishes..."
Photo credit: "The chicken strip Memphis Meats created earlier this year." Photo: Memphis Meats.
---
Online Start-Up Crowd Cow Wants to Disrupt the Meat Market. The Stakes Have Never Been Higher. Stakes or steaks? Suddenly I'm hungry, after reading the details cow-crowdsourcing at Grist: "...Within 24 hours of launching, Crowd Cow sold its first animal to a group of "steak holders." Throughout 2016, the company expanded beyond Washington state. In January, Crowd Cow raised $2 million in funding; even the aptly named Joe Montana invested. So how does Crowd Cow work? On a recent weekday, I opened my laptop, typed in the URL, and plugged in my zip code. Crowd Cow offered me the chance to buy grain-finished beef from a 13,000-acre Washington farm owned by Hutterites (a religious group similar to the Amish). I wanted to see how it would work for someone on the East Coast, so I put in a Brooklyn zip code. This time, Crowd Cow offered meat from a tiny Virginia operation that practices rotational grazing..."
Image credit: Grist / Amelia Bates.
---
How NASA's Using AI to Model the Universe - And Prevent Disaster. The Daily Dot explains why this is so important: "...There are 16,000 known near-Earth asteroids, only 700 of which we've observed by radar, and only a fraction of that number whose exact shapes we know. Using a density-based clustering algorithm, the team potentially improved how fast we can model the size and shape of asteroids, from a period of one to two months (currently) to only a few weeks. Another team used AI to develop a technique that could give us more warning time before impact with a long-period comet—comets that disappear into our solar system for 200 years or more. First, they had to train their AI algorithm on what a comet looks like in the sky..."
File image: NASA.
---
Cycling Death Rate Continues to Rise. The good news: more people are cycling for commuting and health benefits, but that also means a corresponding rise in bicycle-related accidents, according to The Washington Post. 45,000 cyclists were injured in 2015, the most recent year where data is available: "...The report by the Governors Highway Safety Association, with funding from State Farm insurance, also determined that the increase in bike deaths of 12.2 percent in 2015 outpaced the rise in overall traffic fatalities. "More of us are getting out and riding our bikes, and that's great," said Jonathan Adkins, executive director of the safety association, "but we're seeing [cycling] deaths go up by about 55 deaths per year." The report also found: Alcohol was a factor in 37 percent of fatal bike crashes, with drivers doing the drinking in 12 percent of the cases and bike riders drinking in 22 percent, the latter a decline from 38 percent 10 years ago..."
---
Tips to Prevent Serious, Common Injuries in Child Athletes. All The Moms has a story with good advice: "...Children sports medicine experts urge parents to play a role in preventing injuries. For example, if your student athlete can avoid training on concrete, he or she is less likely to suffer shin splints. According to Centers for Disease Control and Prevention figures, roughly 2.6 million children end up in an emergency room every year from sports-related injuries. The actual number of injuries is higher, since many children are treated at home. The injuries are divided in terms of "traumatic" or "non-traumatic."  Non-traumatic includes overused injuries developed over time, but are no less problematic than traumatic injuries...The six most common sports injuries he said can be partially prevented are:
Concussion.
Shoulder dislocations.
Knee sprains.
Ankle sprains.
Muscle strains.
Shin splints..."
---
Teenage Friendship That Lasts a Lifetime. Common sense? Perhaps, but new studies confirm all those things that mom taugh you a long time ago. Here's an excerpt at Quartz: "...New research published in the journal Child Development shows that teens aged 15 and 16 who had a close friend, rather than a bigger peer group featuring less intense relationships, reported higher levels of self-worth and lower levels of social anxiety and depression at 25 compared with their peers who were more broadly popular as teens. Prior research has shown that friendship is important in adolescence—it predicts everything from stronger psychological health and better stress responses to improved academic motivation and success during adolescence..."
Photo credit: "Besties." (Reuters/Alexandre Meneghini).
---
How Therapy Can Cure Overeating. A story at The Atlantic caught my eye: "...One out of every 35 adults suffers from binge eating disorder, almost twice the combined rate for anorexia and bulimia. It is characterized by repeated episodes of eating large quantities of food quickly and to the point of discomfort; a feeling of a loss of control during the binge; and guilt following the binge, but without any consistent purging behavior. Up to 40 percent of people trying to lose weight suffer from BED and up to 70 percent of patients with BED are medically obese. The good news is that BED is highly treatable, particularly with the help of cognitive behavioral therapy: Nearly 80 percent of patients abstain from bingeing after 20 sessions. And, unlike most calorie-restricting diets, the success of CBT holds for many patients over time. However, a 2013 study in Biological Psychiatry found that less than half of lifetime bingers receive treatment..."
---
If You Missed This Year's Eclipse, Chase Another. There's always next time. Atlas Obscura explains: "Eclipse chasers may seem a little intense—they often go to great lengths to see total solar eclipses around the world, booking hotels and flights years in advance. If you didn't plan years ahead for totality on August 21, or if you find yourself addicted after experiencing it, you're in luck. The next eclipse is just less than two years out, and another chance comes to the United States in just seven years. Here's a list of notable upcoming total solar eclipses, and some of the stunning places you can view them..."
Map credit: Canada's CBC.
---
Disco Isn't Dead, It's Being Used as a Secret Weapon for Disarming British Nazis. Who knew? Quartz explains the strategy: "...Who were these bewigged boogiers? They were also called the EDL, it turned out: the English Disco Lovers, a self-described "pro-disco, anti-racism group" with the motto "Don't hate, gyrate!" They were founded by artist Chris Alton, whose aim was to subvert the EDL acronym, "making it more synonymous with 'disco' than 'defence', more synonymous with a message of love, rather than a message of hate," he said in a 2015 TEDx talk. Alton traces the history of disco as a defense against fascism and bigotry back to the original La Discothèque in Nazi-occupied Paris..."
Photo credit: "The English Disco Lovers march in Brighton, UK." (Courtesy of Chris Alton).
---
73 F. high yesterday in the Twin Cities.
79 F. average high on August 24.
82 F. high on August 24, 2016.
August 25, 1976: The Roy Lake Fire results in 2,600 acres burned during a drought.
August 25, 1875: A tornado strikes near Hutchinson.
---
TODAY: Showers & T-storms developing. Winds: SE 10-15. High: 69
FRIDAY NIGHT: More T-storms, rain heavy at times. Low: 60

SATURDAY: More T-storms, locally heavy rain likely. Winds: SE 10-15. High: 70

SUNDAY: Some sun, few PM pop-up showers. Winds: NW 8-13. Wake-up: 59. High: 69

MONDAY: Patchy clouds, isolated shower possible. Winds: NE 5-10. Wake-up: 58. High: 72

TUESDAY: More sun, a very pleasant day. Winds: NW 5-10. Wake-up: 60. High: 78

WEDNESDAY: Sunny, pretty spectacular. Winds: SW 3-8. Wake-up: 59. High: near 80

THURSDAY: Mix of clouds and sun, lukewarm. Winds: E 5-10. Wake-up: 61. High: 75
---
Climate Stories...
Exxon Duped Public Over Climate Concerns, Harvard Research Says. Here's a clip from Bloomberg: "Exxon Mobil Corp. spent the last 40 years undermining public concern over climate change, even as its own scientists determined man-made global warming was real and a serious threat, according to Harvard University researchers writing in a peer-reviewed journal. "Exxon Mobil contributed to advancing climate science -- by way of its scientists' academic publications -- but promoted doubt about it in advertorials," the Harvard researchers wrote in the journal Environmental Research Letters. "Given this discrepancy, we conclude that Exxon Mobil misled the public." The findings could add fuel to lawsuits brought against the world's largest oil explorer by market value. New York's attorney general is probing whether Exxon lied to investors and the public for almost four decades about the impact of climate change on profits..."
File photo: Reuters.
---
Harvard Scientists Took Exxon's Challenge, Found It Using the Tobacco Playbook. More perspective from a story at The Guardian: "Read all of these documents and make up your own mind. That was the challenge ExxonMobil issued when investigative journalism by Inside Climate News revealed that while it was at the forefront of climate science research in the 1970s and 1980s, Exxon engaged in a campaign to misinform the public. Harvard scientists Geoffrey Supran and Naomi Oreskes decided to take up Exxon's challenge, and have just published their results in the journal Environmental Research Letters. They used a method known as content analysis to analyze 187 public and internal Exxon documents. The results are striking:
In Exxon's peer-reviewed papers and internal communications, about 80% of the documents acknowledged that climate change is real and human-caused.
In Exxon's paid, editorial-style advertisements ("advertorials") published in the New York Times, about 80% expressed doubt that climate change is real and human-caused..."
Photo credit: "Exxon Mobil's Billings Refinery in Billings, Montana." Photograph: Matt Brown/AP
---
Climate Change is Coming For Your Cava and Champagne. Oh no, not the champagne! Here's a clip from Quartz: "First it wreaked havoc on our tea, then coffee. Now sparkling wine—both cava and champagne—is under threat from climate change. A new study in Agricultural and Forest Meteorology looked at grape varieties in northeastern part of Spain, which is famous for producing cava. They found that, as global temperatures continue to rise, it'll lead to warmer and drier conditions in the region. In turn, grapes will ripen more quickly and that could negatively affect the flavor and aroma of the wine..."
Photo credit: "Enjoy it while you can." (Reuters/Maxim Shemetov).
---
Climate Change Could Shrink Fish By As Much as 30 Percent, New Study Claims. CNBC.com has details: "Warmer waters as a result of climate change could shrink the size of fish by 20 to 30 percent, a new study by researchers at the University of British Columbia (UBC) has claimed. In a statement on Monday, co-author William Cheung said that fish, as cold blooded animals, were not able to regulate their body temperatures. When the waters they are in become warmer their metabolism accelerates, and they require more oxygen to sustain their body functions. "There is a point where the gills cannot supply enough oxygen for a larger body, so the fish just stops growing larger," Cheung added..."
---
Alaska's Permafrost is Starting to Thaw. Which is a positive feedback. Warmer weather causes more thawing, which releases more methane, a greenhouse gas far more potent than CO2. Which causes more warming, etc etc. Here's an excerpt from The New York Times: "...There is plenty of debate among scientists abouut when and how much of Alaska's permafrost will thaw. And there is no doubt that thawing of the full depth of permafrost would take millenniums. But Dr. Romanovsky said that his and others' work shows that permafrost "is not as stable as people thought." In addition to greenhouse gas emissions, thawing wreaks havoc on infrastructure, causing slumping of lannd when ice loses volume as it turns to  water..."
---
Warming Arctic Spurs Battles for Riches, Shipping Routes. When in doubt, follow the money. Here's an excerpt from The Washington Post: "...The geography also opens up new opportunities. Sailing through the Northwest Passage could potentially cut the distance from East Asia to Western Europe by more than 10,000 kilometers (6,200 miles), compared with the traditional route through the Panama Canal, offering huge fuel savings. The battle for the Arctic is being fought by geologists and legions of lawyers. Greenland has staked its claim to the Lomonosov Ridge beneath the Arctic Sea, which would greatly extend its rights to the sea bed for possible mining. Russia contests the claim. Russia boldly planted an underwater flag at the North Pole 10 years ago, and has been expanding infrastructure along its northern coast..."
---
Midwestern Agriculture Stands to Lose With Climate Skeptics in Charge. Here's an excerpt of an Op-Ed at The St. Louis Post-Dispatch: "...The Catholic tradition to which I belong celebrates faith and reason, and sees both as ways to inform how to promote human flourishing and the common good. St. John Paul II, Pope Benedict XVI, and Pope Francis relied on the scientific evidence that humans are the driving force behind climate change, and they recognized that it could have severe and negative impacts on all life, especially human life. With many other faith traditions, the Catholic Church regards climate change, which threatens human life and exacerbates the burdens borne especially by the poor, as an urgent moral issue..."
File image: iStock.
---
How Deeply Will Rising Temperatures Cut into Crop Yields? A story at InsideClimate News reviews new research into the potential impacts of rising temperatures: "A sweeping study examining decades of research says that yields of the globe's most important crops—providing two-thirds of the world's calories—will plummet as temperatures rise. For every degree Celsius that the Earth warms, corn yields will go down an average of 7.4 percent, according to the study, which focused on the effects of rising temperatures and did not directly examine other influences related to climate change. Wheat yields similarly will drop by 6 percent on average for every degree Celsius that temperatures rise, rice yields by 3.2 percent, and soybean yields by 3.1 percent, according to the study....Twenty-nine researchers from across the globe conducted the analysis of more than 70 studies—covering various types of models, approaches and locations across the world—and found that existing research all led, consistently, in one direction..."